Quick Big Brother Spoilers
Head of Household:  Taylor
Nominees: Indy and Terrance
POV Players: Taylor, Indy, Alyssa, Kyle, Terrance, Jasmine (Host is Turner)
POV Winner: Kyle
Veto Ceremony: Veto was not used.
Havenots: 
Lock your ranks in before midnight
The twist
Wording from the Thursday night show
For the first time ever the game will completely change as the house splits into two groups. These two groups will have no interaction and in a Big Brother first, two completely separate games of Big Brother will play out simultaneously all week long all of it culminating with a double eviction like no other"
Reward / Punishment Veto Results:
– Kyle won the veto
– Alyssa won $5000
– Jasmine won a trip to London, England
– Terrance – "Ink 182" 182 temp tattoos
– Indy has to wear a "Punkitard" for 1 week and perform concerts
– Taylor and Joseph will be chained together for 24 hours.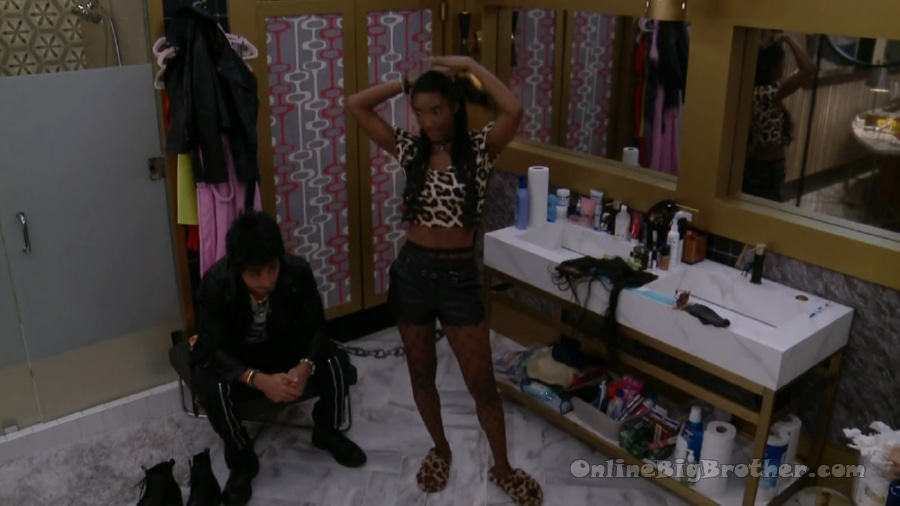 1:34 pm Kyle, Joe, and Taylor
Kyle – I feel bad how things turned out a little bit I'm just curious.. we were chatting at the pool table I had one stance. You, Monte, and Taylor had another. I'm like I'm curious where the other people stood with that. Michael, Brittnay, and Turner all voiced to me individually that they wanted Alyssa to stay, 'Don't use the veto'
Kyle – what were your conversations like? Cause they were dead silent when we were out there.
Kyle – In front of the group they never mentioned a word.
Joe in his best English accent. "In the moment I did not speak directly to Michael and Brittnay. Turner said he was indifferent.. His exact words were Indy annoys me more but when I talk game oh shit Indy oh shit I need Alyssa to leave"
Kyle – so he was back and forth
Joe – for sure he was back and forth
Joe – I was indifferent leaning towards Alyssa because I thought of the next few HOH..
Joe – my Highest priority is hiding (Leftovers) as long as I can
Kyle – right
Joe – you bring a good point about Brittany.. also for your own personal game I thought it wouldn't help your game. Terrance and jasmine are two and Indy which is one. Now Terrance and Jasmine are concerned about your movements as opposed to INdy who's always going to be concerned about your movements. Now you have two concerns, not one. It's easy to settle two than one.
Kyle – I just wonder what the conversations were like because Michael and Brittany were very much on the side to keep the nominations the same. Turner was very on the side to keep them the same
Joe – Turner was flip-flopping back and forth
Taylor – I never heard from Michael or Brittnay if anything they were very indifferent but were leaning more Alyssa than indy
Kyle – really
Joe – I said at the end of the day it is your veto so if it's truly neutral whoever leaves I would rather leave it to the Hoh and Veto holder to make the decision.
Kyle – the thing that is the concern of mine is people say things behind closed doors then when it's all 7 of us it's silence. neutral
Kyle – it's a smart game move to do that
Joe – If we don't agree we can discuss like adults
Taylor – lucky with our alliance we can do that
Kyle – as long as they weren't telling you HEY we need to get rid of Alyssa
Kyle – to me they were like Let's keep Alyssa
Taylor – it was always a matter of Indifferent indifferent indifferent BUT there's a reason right now.
Joe – before this stupid move from Alyssa I was supposed to go up to send Indy out. (Alyssa going for a trip during veto?)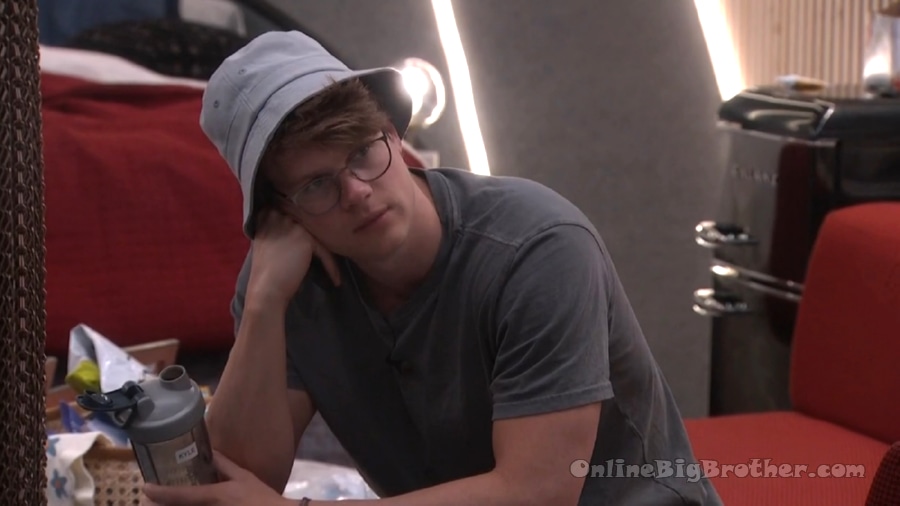 Joe – Jasmine is now thinking you worked with Monte to keep Noms the same. (Powerhouse)
joe says the remaining two in the house thinking he's working with Monte and has a sweet spot for Alyssa.
Joe – All I want is the seven of us to make it to the end. The order we get there isn't a high concern of mine
Taylor – it just matters what makes it easier.
Joe goes on about being willing to sit on the block this week to take indy out.
Kyle – awesome..
Joe – Indy who is the closest to me personally.. I don't feel all of you pain because it's not romantic but it really really really sucks
Kyle – I don't feel like I can trust Alyssa Game-wise
Taylor – we both know she's more willing to take shots
Taylor warns that Alyssa has done well in Mental and Physical competitions.
Joe – it was your decision as the veto holder and I absolutely respect it..
Kyle – it's going to be an interesting next couple of weeks as we continue to pick them off. Think it will get easier or harder?
Joe – umm.. in the Alyssa situation I think harder with every conversation I have I genuinely enjoy her company. with the Jasmine situation Slightly easier. She starts to IRK people. Terrance Harder, I do enjoy his company as well.
Kyle – jasmine comes into the room and is like 'wheres the granola that I Hid?'
Kyle – I was like I don't know it was there yesterday. She says 'there's just crumbs'
Kyle – She's like 'I DON'T like the CRUMB DUST'
Taylor – oh my god
Kyle – then she was like 'Ohhh and my baked Lays that I hid'
Taylor – In what world are those hers.
Taylor – I'm going to lock this door.. you know she'll come up here and look.
Kyle says Alyssa knows she f**8ed up during the veto by taking Taylor's award but she thinks her Social game is fine.
Kyle says he told Alyssa that his social connections with other people in the house have declined. He had suggested to her they spend less time together. She told him her social game was fine.
Joe says it's difficult for him to hear from Indy that she has the votes to stay knowing that she doesn't. The same thing is going to happen when Alyssa goes up. She'll think she has the votes.
Joe – we're both looking at two different realities
Joe says when Indy was an option before Alyssa he thought the personal relationship he has with her could cost him 750K dollars.
Kyle – she did accept the fact.. hey we need to balance this
Taylor – when she came to me to chat yesterday.. she was explaining how time with you is time where she's not consumed with the game. I told her that Joe.. became when I didn't feel like I had one. Having him as a friend to this day it's my time to remove myself from this game. I told him don't let any fear of the perception of other people take that from you"
Kyle- for sure..
Taylor – don't be afraid to spend time with that
Joe – Of course
Kyle – there has to be a balance
Joe- The leftovers wholeheartedly trust you so you can move how you feel. part of the reason we are the way we are is we don't like people controlling anything.
Joe warns that the "remainers" are worried about his showmance.
2:29 pm Showmancing incoming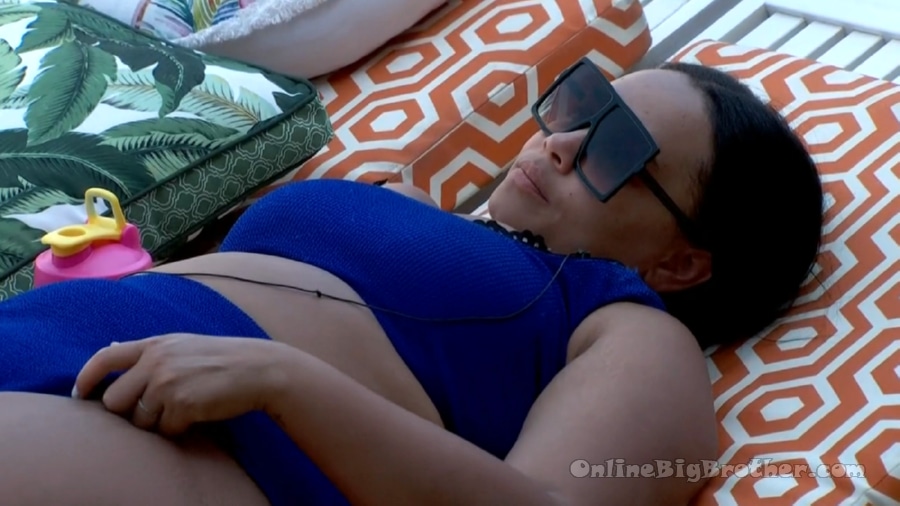 2:46 pm (Where's the granola and baked lays?+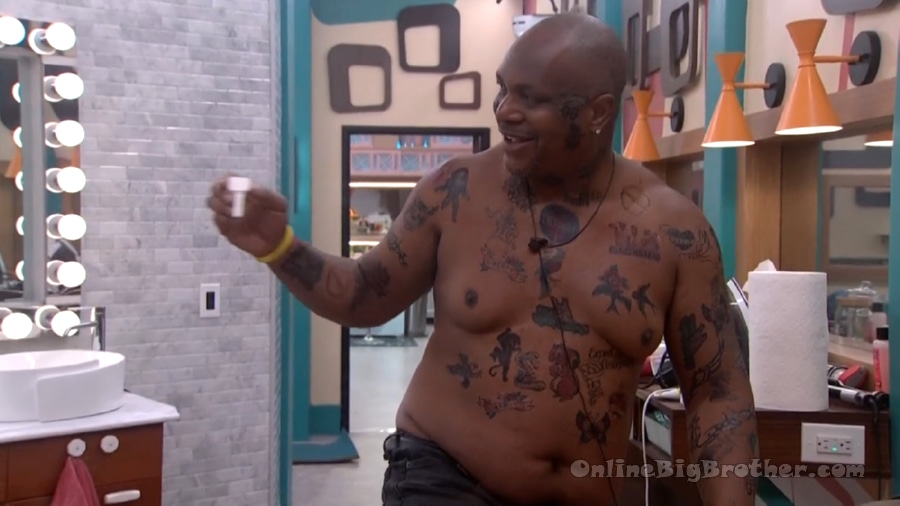 3:57 pm Adding more tattoos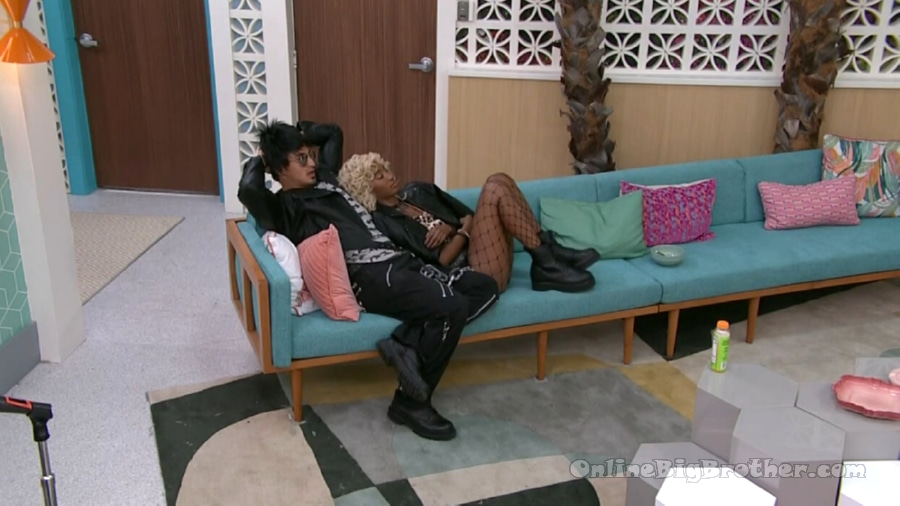 4:37 pm Joe and Taylor
Taylor – you can kiss my hand or Cheek
Joe – it would be funny and good TV in terms of game I think that would really.. Kyle and Alyssa don't even kiss It will really start to .. yeah it's a joke blah blah.. but the undertones of Jaylor would be really really strong
Joe – whatever your thoughts are.. for fun I'm on board but game-wise what are your thoughts? Alyssa wants us to (Showmance)
Joe says his only concern if they continue with this fauxmance is the spotlight will be on them.
Joe – it will make great TV and be fun but in the long run. I don't think it helps with the leftovers either
Taylor – you can always kiss my hand and cheek baby.
Joe – and it will always be my pleasure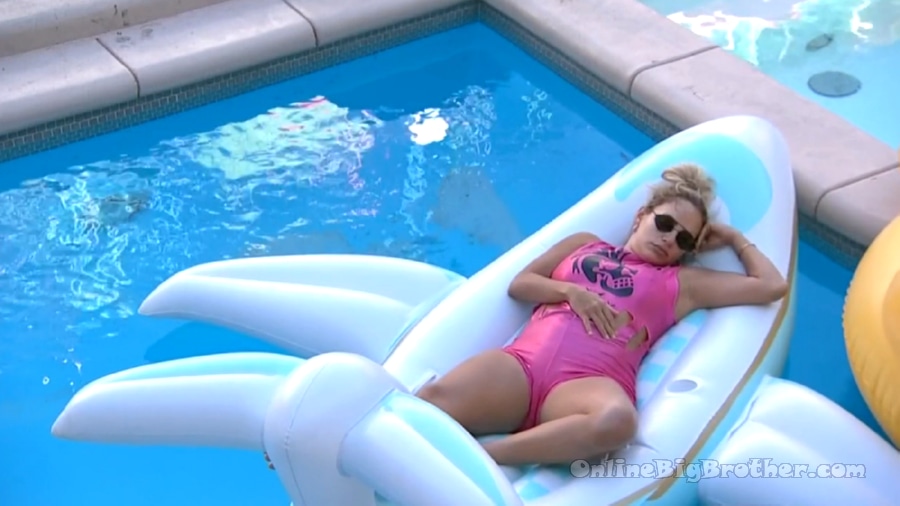 4:45 pm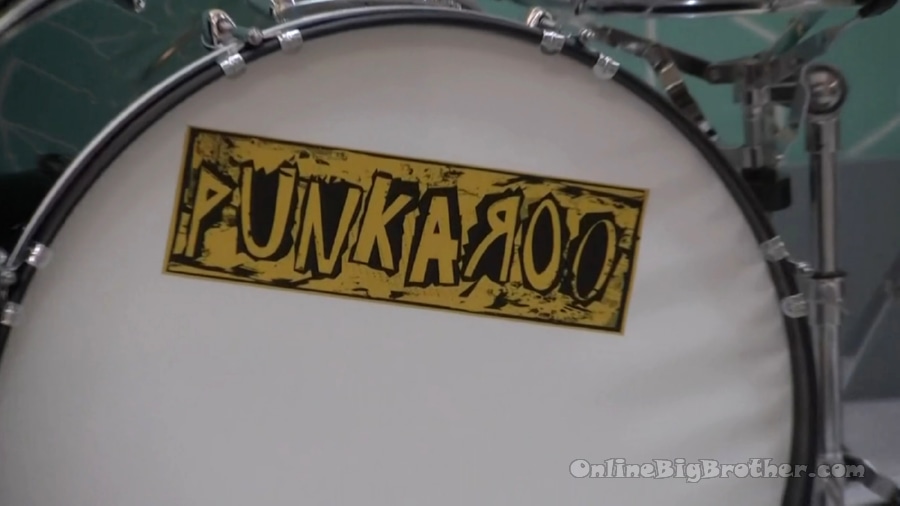 4:53 pm "Punkaroo"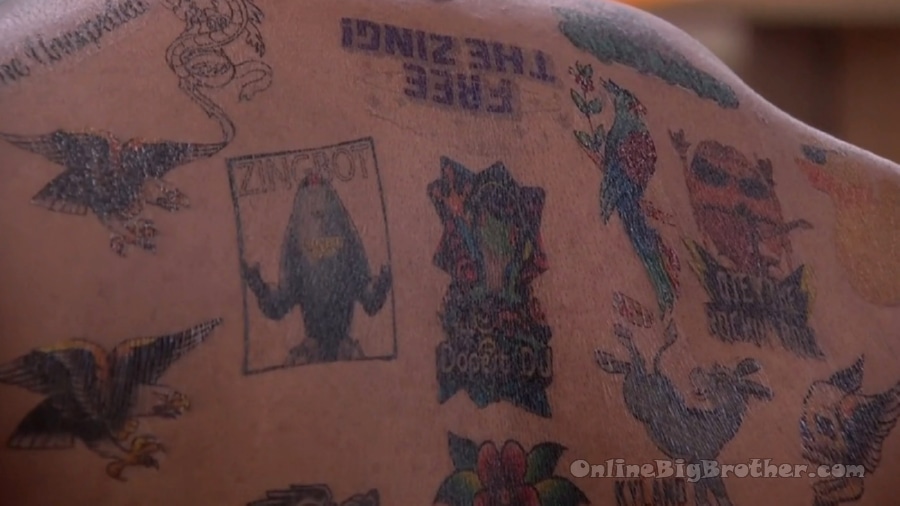 5:02 pm the back is coming in nicely.
5:05 pm Skid and Fancy up to the HOH.
They're talking about shutting down the fauxmance. "I think Alyssa Preasureing us.. or strategically setting us up to be the next them.. It doesn't make much sense to me because her and Kyle are actively talking about their showmance impacting their game it doesn't make sense for us to get Closer"
Taylor – Mmhmmmm
Joe – no offense to Alyssa but I don't want to play the game she played
Taylor – I didn't play her to play that game.
Joe is wanting the vote to be split. Taylor wants it to be unanimous.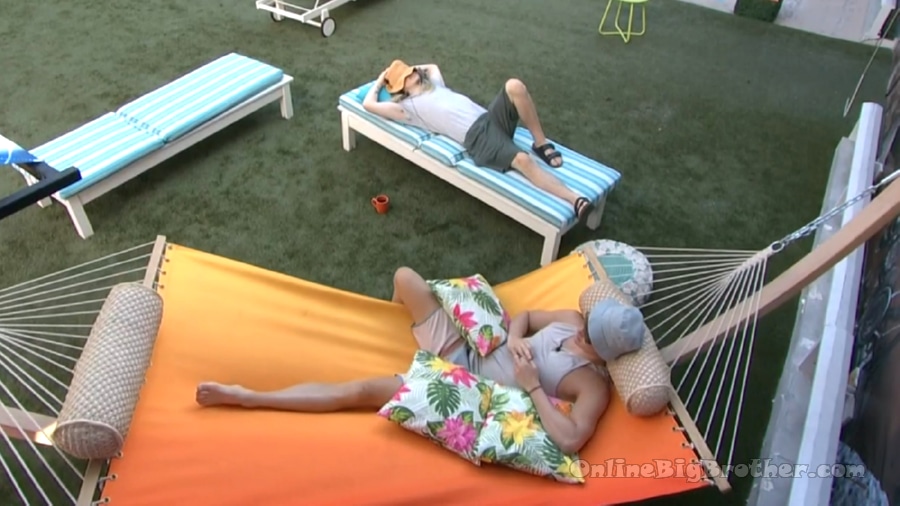 5:25 pm Kyle and turner
We start with this Conversation with Kyle talking about Jasmine not liking the granola crumbs " I don't like the dustiness at the bottom of the bag.. OHH and someone took my baked lays"
Turner – I didn't realize she dug into the stash daily.
Kyle – first thing in the morning she went to that granola and then straight to the stash of chips. It was all gone.
Kyle – we're like what are we doing for your birthday just chilling. she said 'NO EVERYBODY WRITE A CARD'
Turner – there's not chance on Gods green earth I'm writing you a card.
Kyle – Monte just laughed.
Kyle says he feels bad for Indy because she's trying to make it a special birthday but Jasmine is the highest maintenance person on the planet.
Kyle – I don't know how.. she thought it was a good idea to promise the entire other side of the house safety than say you and Monte go up as pawns. Dude i'm in disbelief she said that
Kyle – what was that like.. you go up to the HOH room and she was like here's my plan
Turner – yeah and to top it off with 'and Terrance is my target'
Turner – WHY WHY is that your target and why would you put two alliance members as pawns and we have four people to pick between.
Kyle – DUDE she's pissed I didn't backdoor Alyssa.
Turner – Is she actually?
Kyle – I think she's cooled now but at the time she was pissed.
Kyle – I was like you are the only one that really wants this, Monte and joe were on board but more indifferent.
Turner – the crazy thing is the one person everyone wants she's not putting up
Kyle – exactly
Turner – you can't be picking and choosing if you are already taking out 25% of the options.
Kyle – why would she protect Jasmine?
Turner – Jasmine put her on the block, doesn't like her, and shits on her
Kyle – for real. jasmine put her on the block.
Kyle – what would you have done if you won the veto
Turner – there isn't a chance I would put Alyssa up. one that's a Homie that would f** up my game.
Kyle – she's a number right now
They talk about Alyssa not being a huge social or physical threat like Joe was saying last week.
Kyle – I am nervous about Joe, Monte, and Taylor being pretty tight. I feel like they spend a lot of time together
Turner – Yeah I know. I'm less worried about Monte as opposed to JOe
Kyle – yeah I think Joe wins the game if he's at the end.
Turner – for sure.. he's playing the other side I wonder how they'll feel about that especially if he doesn't win an HOH.
Kyle – they love him, Alyssa is completely blind
Turner – that won't serve him well in the end. People have lost when they play both sides of the house.
Kyle – they wanted Alyssa gone because they can persuade jasmine to come after me, you or Michael. Same with Terrance and Indy..
Turner – for sure
Kyle – but if it's Alyssa that wins they know she's coming for MOnte and joe. that is why they wanted her out so bad. Not any other reason
Turner – I wholeheartedly agree with that.
Kyle asks what do they do when Jasmine, Alyssa, and Terrance are gone.
Turner says if one of the POUND wins Taylor and Brittany. If the veto is played Michael is gone.
Kyle – Joe and MOnte are getting closer to Taylor over you and I.. will that final 4 be legit
Turne r- it is the other day Monte talked about the Pound.. Maybe I have too much trust in that. I feel good about that final 4
Kyle – I do too. That would be sick if we road that to the end.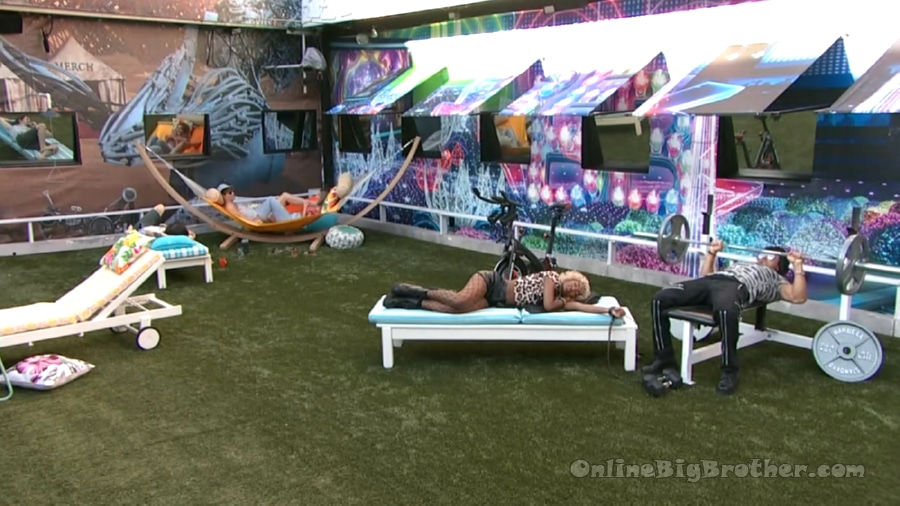 5:46 pm Skid lifting. Fancy relaxing and Chit-chat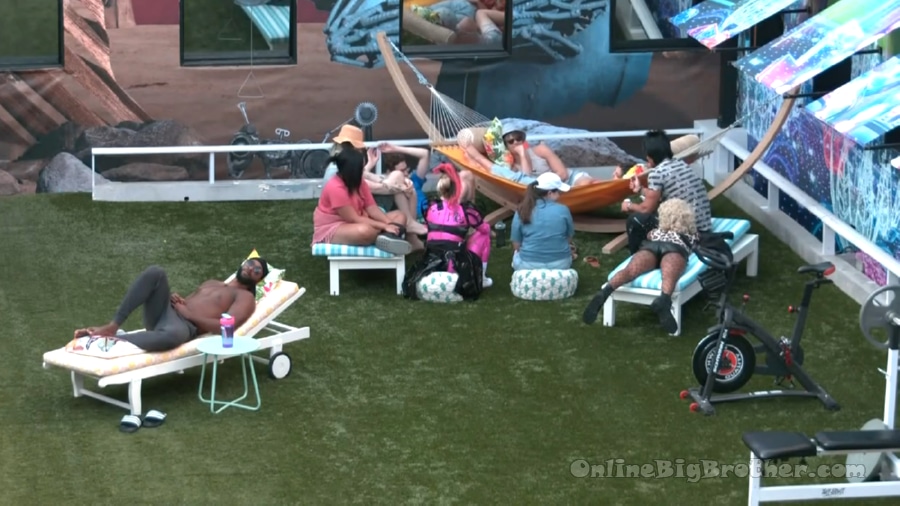 6:25 pm Chit-chat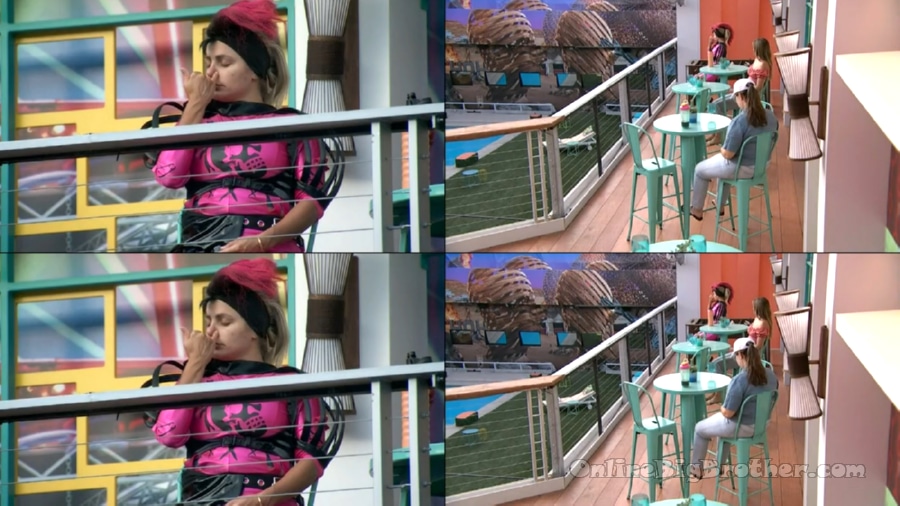 6:56 pm FEEDS