Quick Big Brother Spoilers
Head of Household:  Taylor
Nominees: Indy and Terrance
POV Players: Taylor, Indy, Alyssa, Kyle, Terrance, Jasmine (Host is Turner)
POV Winner: Kyle
Veto Ceremony: Veto was not used.
Havenots: 
Lock your ranks in before midnight
The twist
Wording from the Thursday night show
For the first time ever the game will completely change as the house splits into two groups. These two groups will have no interaction and in a Big Brother first, two completely separate games of Big Brother will play out simultaneously all week long all of it culminating with a double eviction like no other"
Reward / Punishment Veto Results:
– Kyle won the veto
– Alyssa won $5000
– Jasmine won a trip to London, England
– Terrance – "Ink 182" 182 temp tattoos
– Indy has to wear a "Punkitard" for 1 week and perform concerts
– Taylor and Joseph will be chained together for 24 hours.
7:15pm Taylor and Joseph come out of the diary room chained together for their 24 hour punishment. Their punishment is called "Skid and Fancy" a parody of Sid and Nancy. They have to talk in an accent.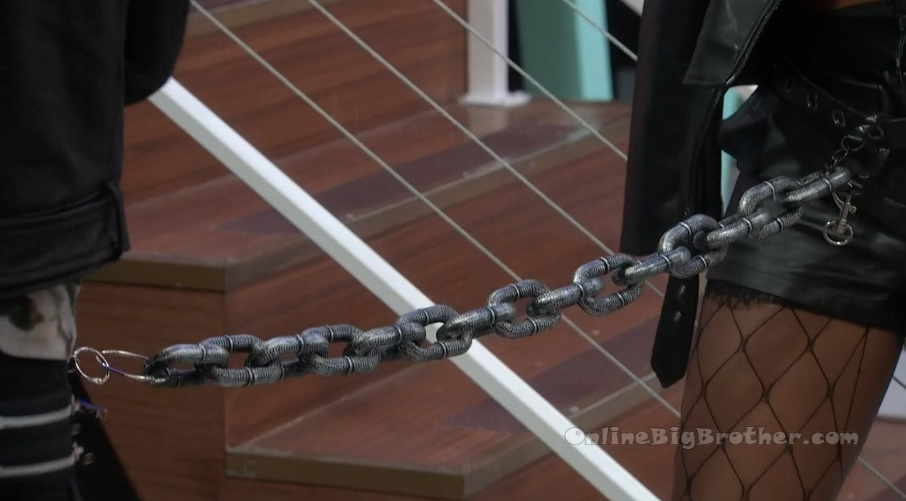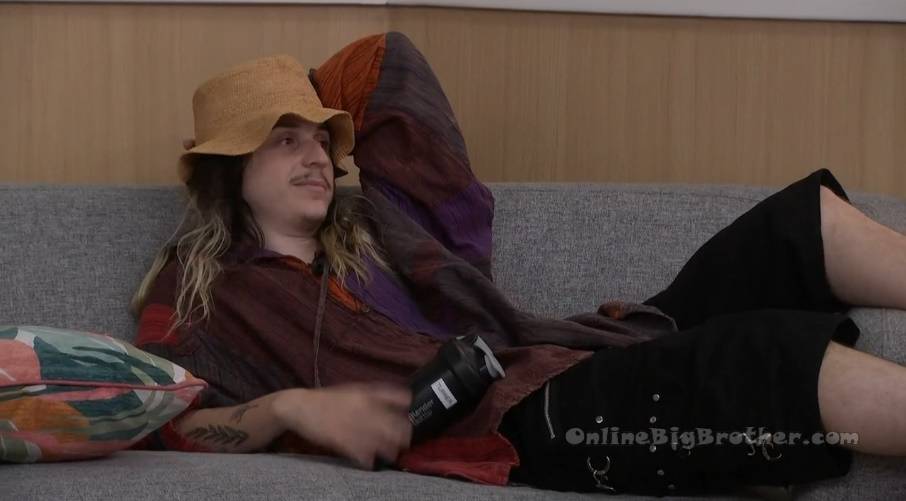 7:28pm Hammock – Alyssa and Kyle.
Kyle – last night I was out here with Jasmine and Indy. She was like I'm the one on the block and she is out looking for people and she is not treating me good. Alyssa – she will figure it out .. she was just emotional last night. Kyle – she was very emotional last night. Alyssa – she came to me today and was like I love Kyle so much I want him to know that I wouldn't come for him. I said you should let him know yourself that then. She was like yeah, I am going to wait till Wednesday. She said that she was super emotional last night saying that she didn't want to be here but said that wasn't true. Kyle – I mean the day before I am using the veto she tells me that whether she stays on the block or don't use it she is going to leave and go home rather than stay in jury?! Like what options do I have at that point!? Its fine, I've come to terms with it I think. Its fine either way.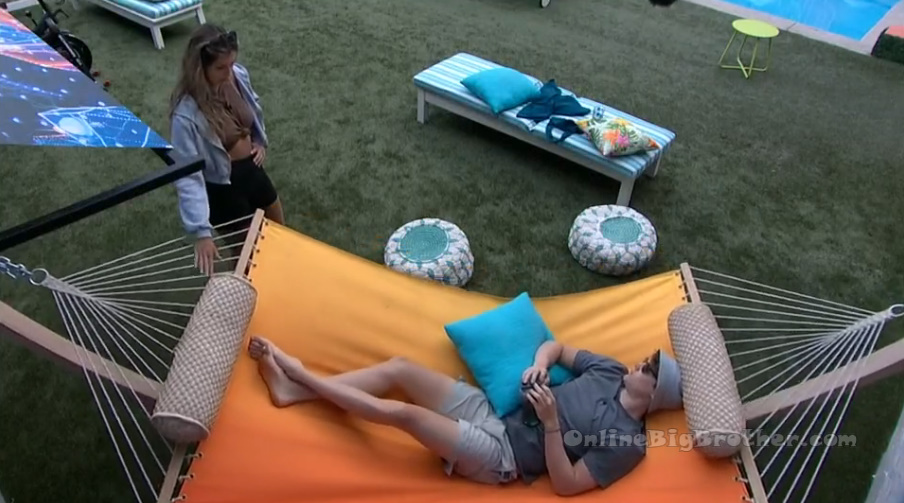 7:50pm Hammock – Kyle and Michael.
Michael – I'm sorry did I interrupt something? Kyle – no, not at all! I was honestly happy because right after we talk about having balance she comes out here when I am just chilling and its not the optics we need right now. Lets have some space. I can't blame her though .. she doesn't really like Indy. She doesn't really like Jasmine anymore. Michael – really? Kyle – I mean I think she likes her on a personal level but she has to know that Jasmine is kind of a mean girl and people are catching onto that. Michael – yeah. Kyle – I don't know .. no you did not interrupt anything. How was the conversation with Indy and Terrance. Michael – I mean there isn't really a conversation with Indy. Terrance, I don't believe anything he says. There's a lot of there's something big going on and pretty soon we need to do something about it. I am just like okay.. I heard you were throwing my name as one of the big things to do .. so… but I don't know. He did say that when he talked to Jasmine .. he did say that she did not say like yes I am going to vote to keep you. Which then if she does end up voting to keep him.. then we can be like remember who was on the fence? Kyle – its just so funny because what are the girls going to think at that point? I don't think they will vote to keep Indy at this point. Michael – no. Kyle – because they know I am not going to vote to keep Indy. So if Indy does go this week and one of us wins HOH and we put up Jasmine and Terrance or Jasmine and Alyssa. Michael – I would do Jasmine and Terrance. Kyle – yeah, same. So Jasmine goes home .. double eviction.. we win again. Say I win, what are your thoughts at that point? Michael – I mean we would be down to the scenario we talked about the other day.. being at 9 so… the thing that would be scary is if it was a double and say you, me or Brittany win and we don't take a shot … and if one of them win, are they going to finish it off to get us to 7 or will they be like well close enough. Or alternatively if we do take a shot and then whoever stays wins, we know they're going to fire back. Kyle – yeah its game on at that point. Michael – which at that point if we think they will take a shot no matter what …do we stick to seven and then.. Kyle – that will be difficult … like dude I don't believe a word Joseph says. Michael – I don't either. Kyle – I am telling you he is so good, when Alyssa got hurt everyone in the kitchen was like yeah she is hurt but its also anxiety which is making things worse.. and then we go in the backroom and Joseph reiterates that to her to try and connect to her and Alyssa is like yeah exactly! My anxiety makes it worse … just seeing him pick up information and then use that information to build a connection with Alyssa .. like that is amazing. That is amazing gameplay. Michael – well and you see how he has a little inside joke with every person. Its good gameplay. Kyle – its better than me. So what I was going to say was .. with the alliance.. the four people in that room and then you and Brittany got brought on. Like Turner, I talked to him to see where his head was at and he thinks Joseph is the biggest threat. He wins the game right now. He was like do we really want to go up against Joseph, Taylor and Monte? Or do we want to group with Michael, Brittany and Alyssa? Like that is the much better option. He feels more comfortable. Michael – yeah. Kyle – I was very happy about that. I think he would be open to something if we felt like it. Brittany joins them.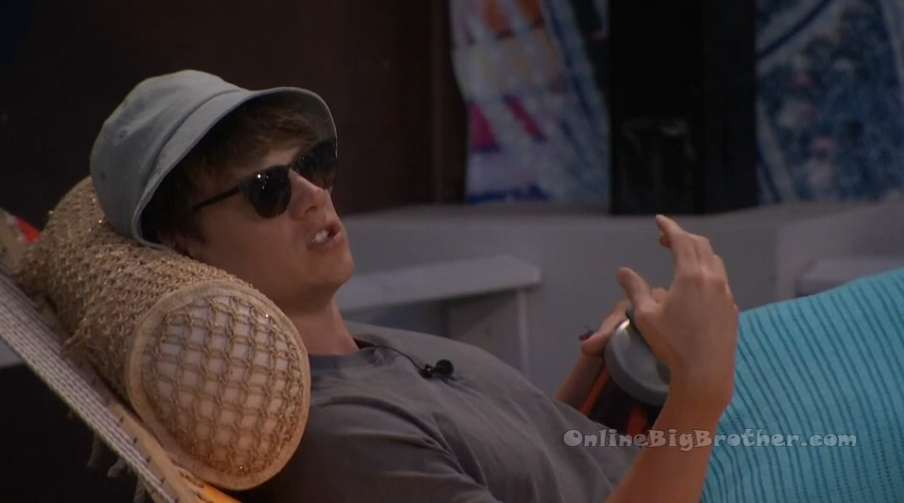 Kyle – Its just hard adding another layer with Alyssa. Like I have to balance her feelings. I have to take her feelings into consideration and spend time with her.. which I enjoy doing but its just an added layer. Michael – if in the seven, things flip before the seven you know that Joseph is going to go to her and be like Kyle told us about Old School. Kyle leaked this and that. At what point do we have to tell her ourselves? Kyle – that's what I was thinking and that's my worry of.. Indy goes home this week. Next week Jasmine is up on the block and she goes and that's when we find out its a double and we think it might be the best time to take a shot but that would give us no prep time to go and tell everyone everything to build trust with us. Other than Joseph, Monte and Taylor going to them and building trust… I don't know what the best option is. I don't know that I trust her with the info beforehand. Michael – right because she is going to go and tell Jasmine. Michael – unless it was Alyssa and Jasmine on the block .. then she wouldn't share it. Maybe Joseph would offer himself as a pawn again. Kyle – not a chance. Turner might. Michael – to send Jasmine home. Kyle – he might. Kyle – other option, if I win next week .. is there an appropriate way to take a big shot or is it too early? Michael – I am conflicted on the because if we strike first we are up a number but the fear is .. and I think that could force Turner to choose a side and he will probably choose whoever is in power that week. The risk of leaving Jasmine in the game .. scares me. Look at Taylor .. we'll get her out next week, then next week and now look.. you know?! Taylor and Joseph join them and the conversation ends.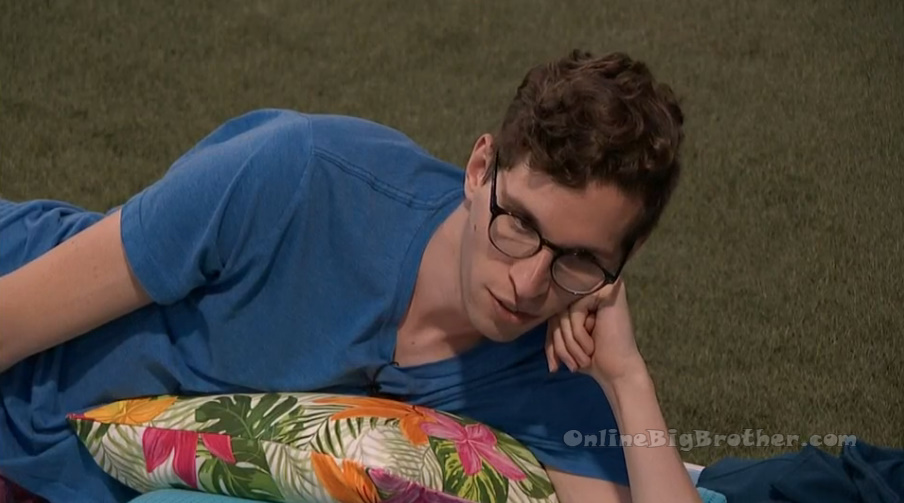 8:50pm Backyard pool with Michael, Kyle and Turner. Turner has anything interesting happened in the last few hours? Kyle – nothing really, we got some costumes.. Indy came up to me for the 7 hundredth time to say are you b***hes conspiring against me? Turner – she has not seen that season so I don't know how.. Dinner time is announced. They head inside to eat.
9:40pm Hammock – Joseph, Taylor and Indy.
Taylor and Joseph check up on Indy in the hammock as she is alone. Indy – So I was counting the votes .. I think I have enough. Joseph – what's your count so far baby? Indy – You… I didn't ask you but.. Joseph – of course baby! Indy – You, Jasmine, Alyssa, Brittany and Michael. Joseph – have you spoke with Turner, Monte and Terrance.. oh Terrance is on the block. Indy – I spoke with Terrance and I think he is going to vote for Terrance.. I believe so. Kyle said more so vote for me but I don't want to count that. And Monte say he will talk to the house and see. Taylor – he is my least favourite. Indy – but if I have at least five. Taylor – then it shouldn't matter. Joseph – then it shouldn't matter baby .. its fine. Indy – I don't want to be bothering people I know.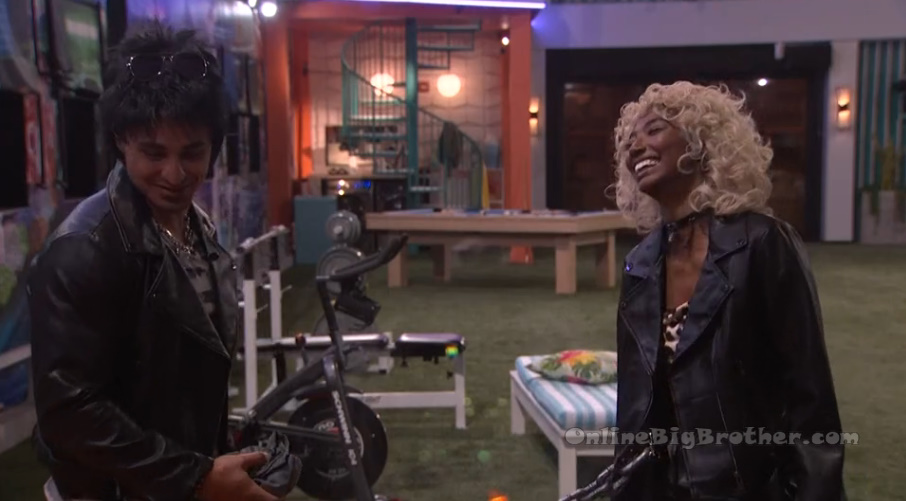 9:45pm – 10:15pm Bedroom – Brittany and Terrance.
Terrance – he (Turner) gave me a thumbs up. He was absolutely. Brittany – I know. So I don't know if you heard but Indy came in and it was me, Taylor, Jasmine and Michael. Terrance – I think Michael told me a little bit. And it wasn't like a question, it was like you're voting for me right!! In this whole group setting and of course I said yes.. but that is just not how you do it. That's not how you do it. And first of all it was not a question. It was just you're doing this. Terrance – she gave you guys the Ameerah. Brittany – exactly .. I froze and then I was like yes. I just wanted you to know that in case you hear anything. Just know whatever you hear.. just know. Terrance – I got you guys. Brittany – I am serious.. I want to go as far as we possibly can in this game. Terrance – yes, I want to be here. There's got to be a memory comp coming soon and you'll win that. I talked to Jas and its so confusing like her game? Like she was like I just don't want to see another girl go home. I was like what are you basing it on.. like she is playing "Friends". I promise you I will never from this point on from that kitchen moment I am never giving up again. It will never happen and I am thankful that you gave me that slap in the face pep talk. I needed it, thank you. Brittany – I think at a certain point in time our value skyrockets and I think we're getting close to that time. There has got to be a point where we get to start taking the big shots or the stronger players start turning on each other. Terrance – and then we sit back.. and be a number.. at some point they got to do it. They got to.
10:25pm Big Brother tells Terrance its time for more tattoos. Terrance says he has another 132 tattoos to go before he is done. Terrance gets Jasmine to help put the tattoos on him. He then heads outside and shows Turner / the cameras. Terrance – 59!! We at 59! We got a little more to go! This is what 59 looks like. Turner – My god! Dude that is pretty dope honestly! Terrance – I'm my own favorite rapper. Turner – they really love those squirrels.

11pm Michael, Turner and Kyle playing pool. Michael – Jasmine got a call to change her microphone and Terrance is across the way with a hurt back and she is like this could be my second birthday present. Kyle – no she did not! Turner – did he do it? Michael – yes! I hope they do a compilation of all the times she says "My Birthday". Kyle – and then include when I was about to steal the London trip and losing it "my birthday, my birthday, my birthday!". Turner – and then it ends with the balloon silence because I learned something about her birthday. Kyle – I wish I was a part of that. Turner – no you don't, that was the worst moment in this house.

11:35pm Terrance gets more tattoos to put on..
11:45pm Backyard – Turner, Kyle, Michael, Brittany.
Turner – has she (Indy) counted me in any of her vote counts? I told her I didn't know. Michael – no. Brittany – Terrance is counting you. Turner – yeah I told Terrance I was going to vote for him. Kyle – same. Brittany – Yeah I told him too. Kyle – Terrance is going to make it to the end.. he's going to be the last one of the seven and then we're going to be like wait a minute?! It would kind of be nice to be sitting next to him at the end. Michael – that's exactly why we can't let him stay. Brittany – that's the last thing that any of us need is one of the last two spots locked in. Kyle – sealed. Michael – lets all make a deal that if any of us bring Terrance to the final 2 .. we all vote for Terrance. Kyle – yes. Brittany – say it now Terrance wins. Kyle – can you imagine .. the guy that gives up week 3 wins! They all laugh.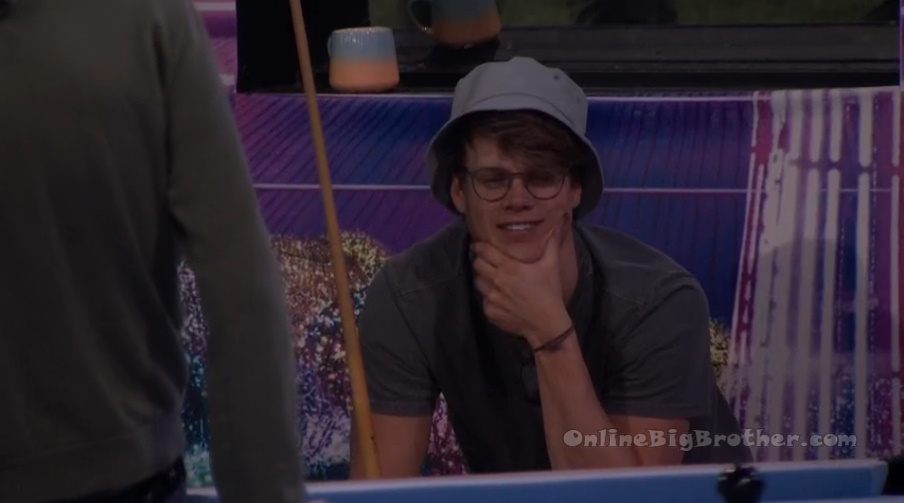 12am – 1am Chinese checkers in the bedroom (Monte, Alyssa, Jasmine and Terrance). By the hammock – Brittany, Indy and Michael. Indy – This week I told both of you where I was vulnerable and upset and I told both of you that I want to go home and stuff like that. So I hope you don't think that.. its just me on a bad day. You guys know how much I fought to be here ..coming from a different country and a different language. I am trying to lay low as you told me. Brittany – I know its hard. Indy – Did Kyle say anything about me? Michael – no not really just that he is keeping an open mind about you and Terrance. Indy – Its important to talk to everyone .. but I will probably talk on Wednesday night. I am feeling pretty safe. I don't want to feel comfortable but …I feel safe because Jasmine, Alyssa and Joseph.. like I am good.. so and you two so its five and that's it. I don't want to push Kyle or Monte. But I am glad that you guys don't think I will leave. Brittany – not that I can tell. Not that I can tell..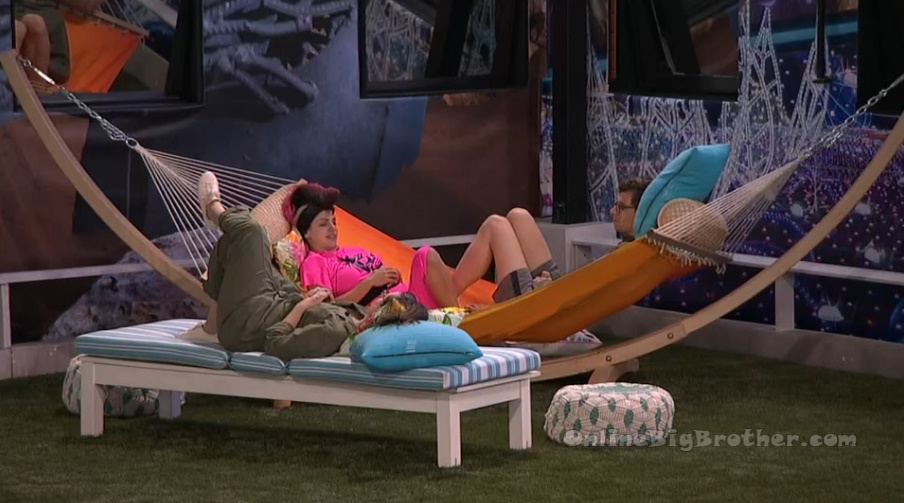 1:40am Terrance, Alyssa and Indy are in bed sleeping.
1:50am Big Brother gets Terrance up to put on more tattoos. Terrance sees Brittany in the kitchen and says its going to be a long night! He puts on more tattoos and then heads to bed.
2am – 2:40am HOH room – Michael, Turner Kyle, Monte, Joseph and Taylor are chatting about random things. They talk about breaking the news to Indy that she's going home after Jasmine's birthday. (Oh how kind, its another gift for Jasmine!!) Taylor – who should be the one to tell her? Monte – it can't be me, I have no relationship with her what so ever. Joseph – I personally have the closest relationship with her but how do I say that to her? Brittany – its a little nerve racking if we do tell her too early. Then she will try to fight like anyone would and then how do we still keep us hidden from the rest of the house. Joseph – if its a unanimous vote then I don't think she can hold anyone against it.
2:05am Big Brother gets Terrance up again to put on more tattoos..
2:53am More tattoos.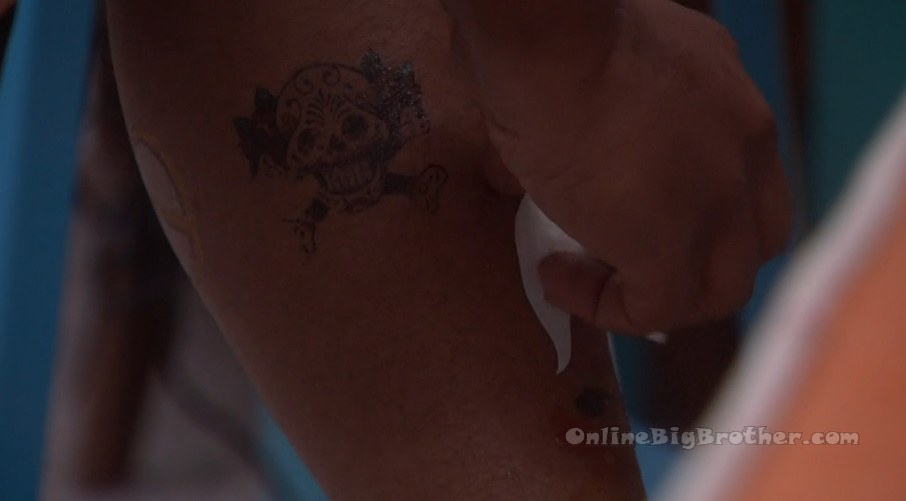 4am All the house guests are sleeping..