Quick Big Brother Spoilers
Head of Household:  Taylor
Nominees: Indy and Terrance
POV Players: Taylor, Indy, Alyssa, Kyle, Terrance, Jasmine (Host is Turner)
POV Winner: Kyle
Veto Ceremony: Veto was not used.
Havenots: 
Lock your ranks in before midnight
The twist
Wording from the Thursday night show
For the first time ever the game will completely change as the house splits into two groups. These two groups will have no interaction and in a Big Brother first, two completely separate games of Big Brother will play out simultaneously all week long all of it culminating with a double eviction like no other"
Reward / Punishment Veto Results:
– Kyle won the veto
– Alyssa won $5000
– Jasmine won a trip to London, England
– Terrance – "Ink 182" 182 temp tattoos
– Indy has to wear a "Punkitard" for 1 week and perform concerts
– Taylor and Joseph will be chained together for 24 hours.
7pm Backyard –
Michael, Kyle and Turner playing pool.
Turner – I feel like Terrance looks like Rick Ross with all those tattoos. Michael – who is Rick Ross? Turner – he's a rapper. We heard him in one of our songs once upon a time.
Kitchen – Alyssa making the cake for Jasmine's Birthday. (I sure hope they're planning a lot more than just a simple cake.)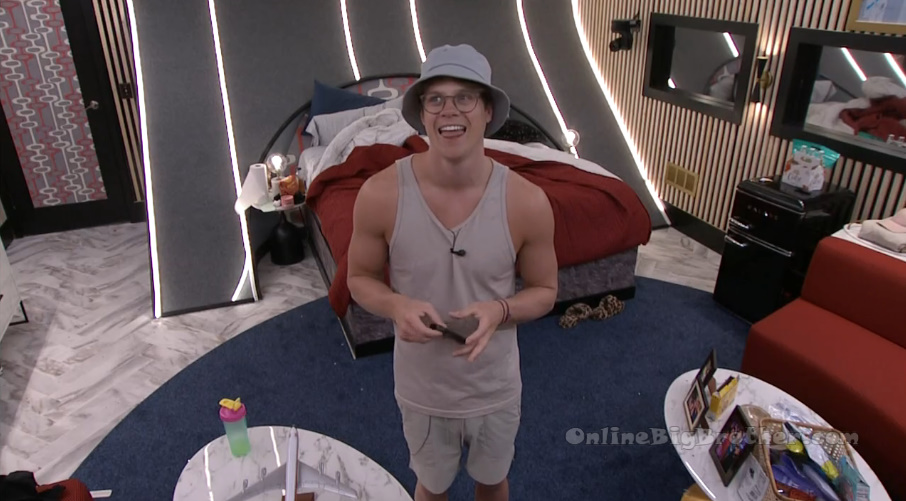 7:35pm HOH room – Kyle talking to the camera.
Kyle – so she wants to put up Terrance. The camera focuses on Kyle and he says Okay, we're back. Should I recap!? Let me recap, now I'm on live. I want to explain everything that's happened this week because its been a freaking whirlwind. I need to talk to you guys about where I'm at. So its the wall comp, Taylor and I are the last two, we had an agreement of both keeping each other safe but I am never throwing another comp in my entire life because I almost threw it to Ameerah in the "lets get lit" and she would have wiped us out. Anyways, I am trying my hardest and I fall off. Taylor wins. She goes down and is super emotional and I go over to embrace her. So we are sitting there and she is starting to cry. I am going to get a letter. Obviously emotional after her season.. and I hear later that Alyssa over on the sideline.. is pissed and jealous that I am embracing her after her huge win. Emotional and as a human I am excited for her. She verbally goes "That's enough!" And everyone on the sidelines hears her!! So that is one, obviously Taylor finds out about that and is not stoked because of Taylors season so far and for someone to say that in Taylor's shining moment is like .. Come on Alyssa! Okay, moving forward.. Taylor wins HOH, now time for nominations. She promised the four people on the outside of the Leftovers .. she promised Indy, Jasmine and Alyssa all safety for the week. So now she is HOH, what does she do? She comes up with the bright idea to put up Monte and Turner as pawns… WHAT?!! That is her initial thought!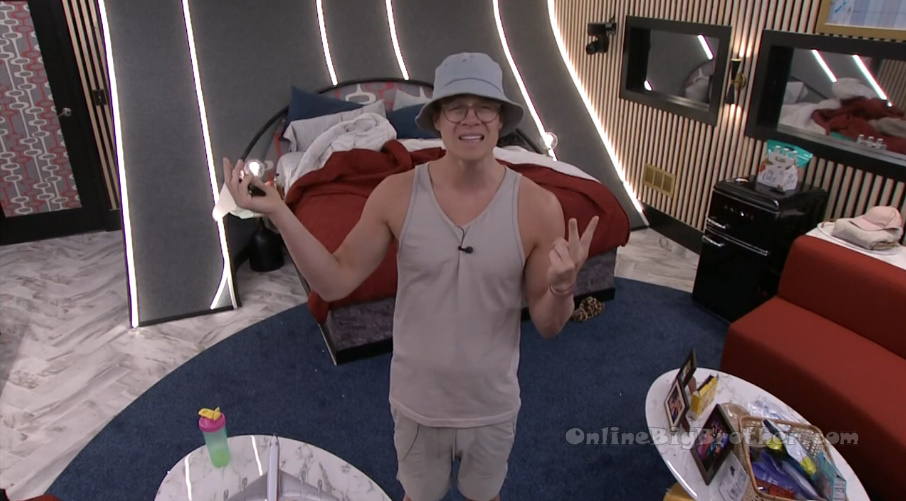 So we're all like are you kidding me!? If one of the girls win the veto keep the noms the same we have to take a shot at one of our numbers and we have four viable options on the outside. We talk her off that ledge and she comes up with Terrance as the prime target. Whatever Terrance is the target. Next day, all of a sudden everything flips .. its the day of the veto .. I am up here and I hear if I win veto, take down Terrance and put up Joseph as a pawn and we're going to take out Indy now. And I am like what on gods green earth do you mean.. why on earth would you put Joseph up as a pawn and okay things change to Indy without me even knowing it .. whatever I am more happy about that because Indy.. I know she will attack my game if she wins. She doesn't like me being with Indy. She bosses me around and now that I'm in the fake alliance the "fly swatters" she is just .. she bosses everyone around. So I am stoked, whatever you want me to do with the veto I will take Terrance down as long as Indy is the target if that's the plan. I win the veto and okay things are good. The next day, the day between the veto (Sunday) and the veto ceremony .. all of a sudden Michael comes to me and .. Oh and recap of the veto ..During the veto Alyssa takes the reward from Taylor and gives her a punishment.. WHAT?!!? Alyssa, you have no idea how low you are on the totem pole right now in this house. I can't keep trying to stick my neck out for you when you make these bad moves. So that happens.. WHY?! Like just take the veto or take the punishment.. they're not that bad. Especially when it was 48 hours with someone .. I would be so happy if it was 48 hours with you. Like I would love to do what they're doing just for the experience. So she is making these bad moves and she thinks that her game is so strong right now.. and I am like NOOOO! Alyssa NOO!! So Alyssa takes Taylor's reward and she is fueled with fire. She is very vindictive. She holds grudges. She wants to make it a big statement game for her. And so now Michael comes to me and is like dude Taylor is switching it to Alyssa.. get ready.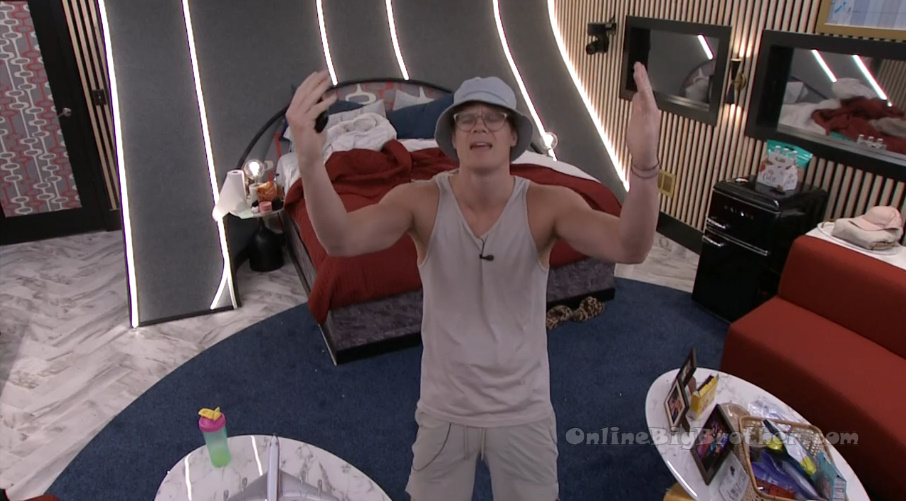 Then Joseph comes to me and is like dude its got to be Alyssa. He is trying to talk me into putting up Alyssa and I am like dude there is no reason I should be backdooring Alyssa this week. Like Indy is the number one threat to my game and Terrance was the single vote last week for me to leave. Like are you outside of your mind?! Why would I use the veto on either of them?! I used the veto on Indy when they were Festie Besties and she didn't even say thanks. She gave me a hug in the ceremony and didn't talk to me again since. So I am like no, there is no way in hell I am using the veto especially to backdoor Alyssa. I don't feel comfortable with that. Alyssa is no threat to me. Whatever! So I tell that to Joseph and he runs up to Taylor and continues to hype up the Alyssa thing. Joseph can 100% not be trusted. He is like behind Taylor right now. He is pulling the strings with Monte right now. I think Taylor, Monte and Joseph are a threesome. They have a final three. I am worried about them in the Leftovers. So that happened then I talk to everyone in the alliance. Michael is like keep the noms the same. I want Alyssa as a number moving forward. Me the same thing. Brittany same thing. Turner same thing. Me the same thing. So we have four people that are very strong at keeping Alyssa, getting rid of Indy and keeping the noms the same. I talked to Monte and he is like I'm indifferent .. but! And proceeds to pitch me on why we need to get rid of Alyssa.. so red flag. Joseph red flag. Taylor has a 15 minute sales pitch where she is like okay let me lay it out for you and goes through all these terrible reasons why I should backdoor Alyssa and I am like actually no I am not going to do that .. and I name laundry list of reason why I am not going to do it. Especially after she wouldn't consider Jasmine after she is everyone's number one target this week.. and she wouldn't even consider it because of moral reasons right.. Because she is a strong black woman which I can respect but if she is going to hold those moral grounds then I don't feel like I need to be put in a position where I have to backdoor Alyssa because of the same moral issues. Then we all get in a room and I basically lay it out. Joseph's face was white as a ghost.. it looked like he was pooping his pants. We settle it and go outside. Then Joseph comes out and says not everyone is on board with this, we need to talk again… it needs to be Alyssa. He keeps saying "people" and "they" all want this. I basically laid down the law and said I am not using it.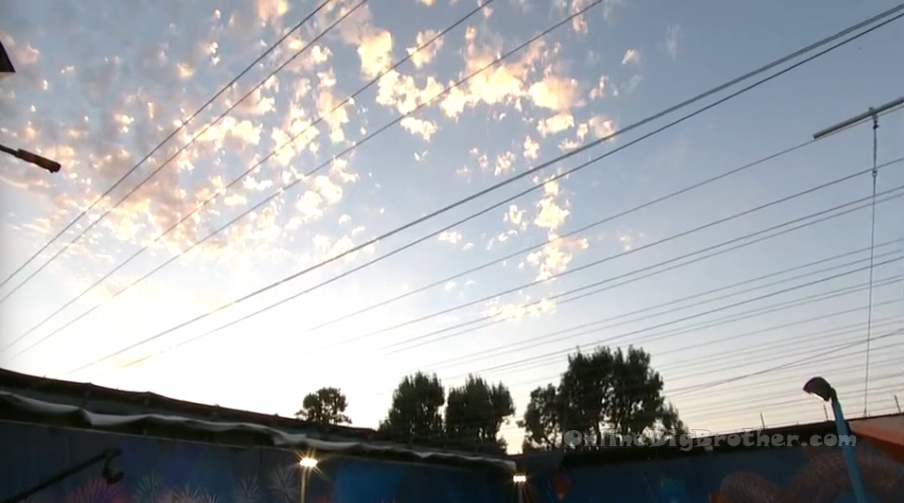 7:40pm The house guests gather to look at the sunset. Alyssa – cloud salad! Turner – That is huge! That is the best thing I've ever heard.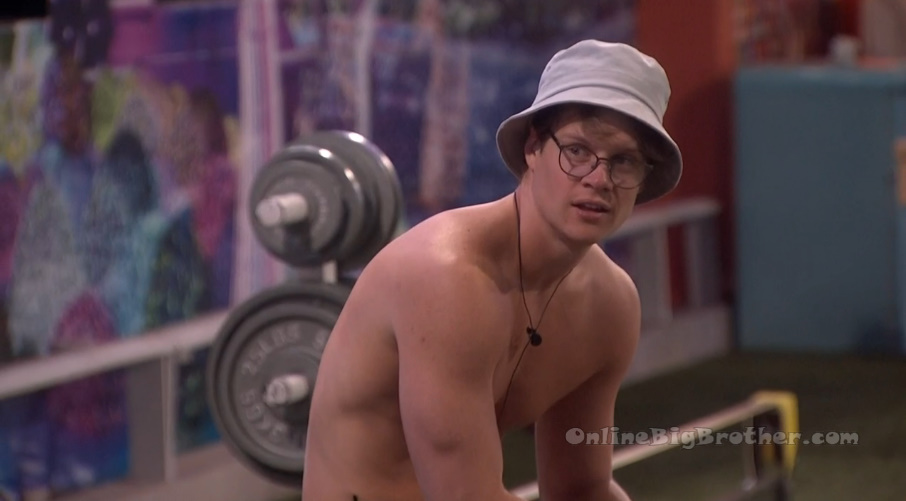 8:17pm Backyard – Michael, Kyle and Brittany.
Michael – are you guys prepared for Jasmine's Birthday? Kyle – have you two prepared your 3 minute speech? Brittany – I have not! Kyle – it could be very awkward. Turner its your turn. Michael – its your birthday, that's gas! Brittany – you're born today? FACTS! I cannot provide details but the world is going to know the true version of Jasmine. Remember our argument? Like how will the edit be… The truth will.. Big Brother switches the feeds.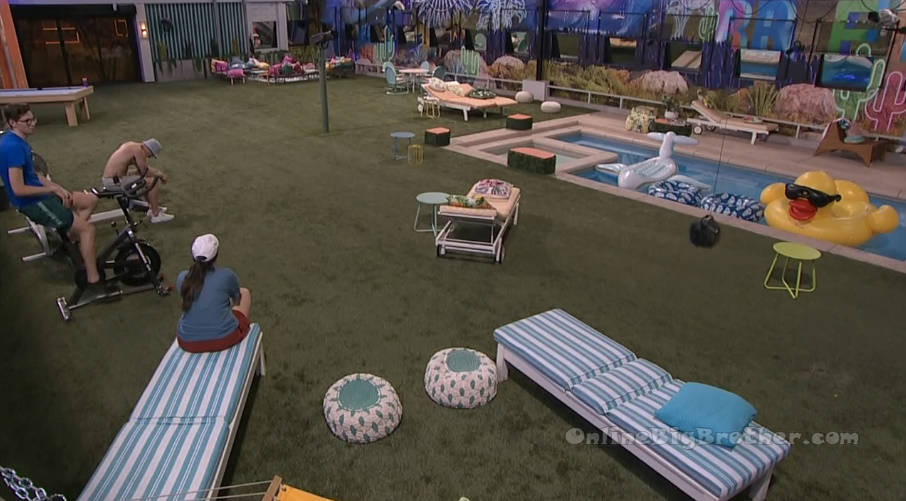 8:45pm Bedroom – Michael and Brittany
Brittany – I am increasingly getting more and more sad about her.. like I like her (Indy). Michael – I know. Brittany – but game wise, it makes sense. Michael – I don't think any of the four that are left are really threats to our game. Brittany – no. Michael – how do you think the jury is going to think of the Leftovers? Are they going to look at those four that were in that room night one and give them all the credit? And obviously I want us to be sitting next to each other.. so if one of us makes it to the end without the other I want us to be set up to win. Because if not .. Taylor is the only person .. but if she makes it with her story. Brittany – yeah she is going to win. Michael – so the only option would be to bring along.. (Indy). Brittany – those four .. oh oh yeah.. interesting because we were the three that were brought in. Michael – unless they really believe that Turner is some loopy wildcard that has no idea what is going on. But in jury people talk and compare notes. Maybe he will never get Jasmine's vote. I don't know, maybe its just something we need to think about. Brittany – I never thought of that. Michael – Prepare for the worst. Brittany – preparing for the worst I don't win against any of them either. Michael – I would hate for us to make it and anything we argue .. there's no chance. Maybe if we stack out resume it won't matter. Indy joins them and the conversation ends.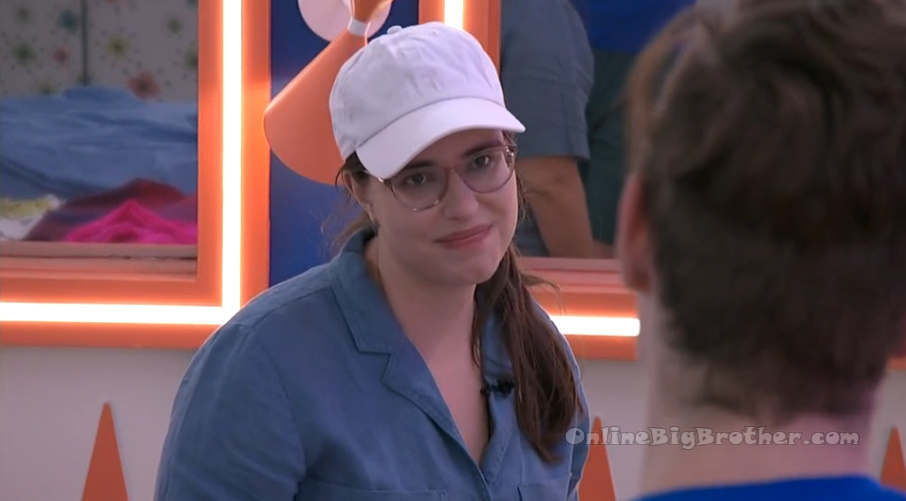 8:50pm Kitchen – Joseph and Taylor.
Taylor – it will be interesting to watch back to see the conversations Kyle had that made him feel very strongly that people wanted to keep Alyssa. That will be interesting. Joseph – my mood has been slightly dampened by the turn of events of this week. Taylor – Can you imagine if I took that trip? Can you imagine if it was someone else's HOH and I took that trip? Joseph – people would be pissed.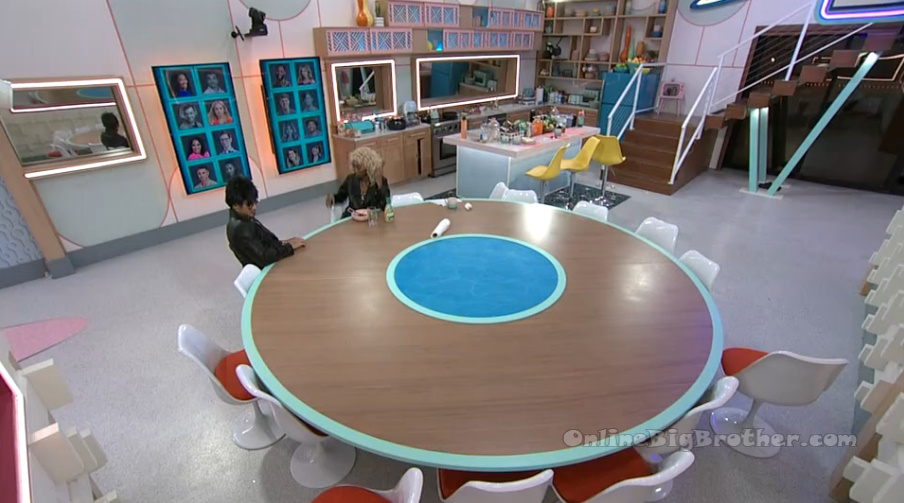 9:05pm Bedroom – Michael and Brittany.
Michael – I really wish we could talk to Alyssa.. and really talk to her. Brittany – I think we could do that once Jasmine is out. Michael – oh yeah she really likes you. She said she would have chained herself to you if she got that punishment. Brittany – yeah I feel really good about her. And I want to go there but its just too high of a risk to really talk to her. Michael – right. She really opened up to me today.. but I still can't trust if I gave her anything it wouldn't get back to Jasmine. And Jasmine is the only one left that I do feel threatened by. She is worried that Kyle views her as a liability. She feels like her game is attached to him and he is making bad game moves to protect her… and if she got to the end. Michael – but Kyle dragged her.. Kyle brought her. Kyle has protected her. Brittany – Kyle would win if they made it final two. Michael – yeah. Brittany – no I want Alyssa around. If the leftovers split I am just really not comfortable with the optics of that. Michael – we were out in the hammock when Kyle said how Taylor wouldn't put up Jasmine because she doesn't want to send a black woman home and Kyle said as a straight white man that makes me nervous if game decisions are being made off of .. and I was just like AHHHHHhhh I don't like that! I don't like that at all! Brittany – I know. I don't like that at all. Michael – Like I don't think he means anything by it but .. its still like that's not the game I came here to play. And I don't want to assume that someone is going to make decisions ..like I am not going to come in and assume there is going to be a reboot of the cookout. I am not going to assume people are in an alliance based on race or any other factor or go after then because of that. Brittany – I 100% agree. What do we do. Like if you just took race out of it .. like who you feel close to .. I would love to work with Kyle and Alyssa and if Turner is with them that would give us the numbers but .. Michael – I hope somehow Joseph gets knocked out so that we have Taylor. I would love that to be our final 3. I mean ideally we would make it with Terrance. Brittany – except if Taylor makes it to final 2.. she has a great story. Michael – but I think we could beat her in the final competitions.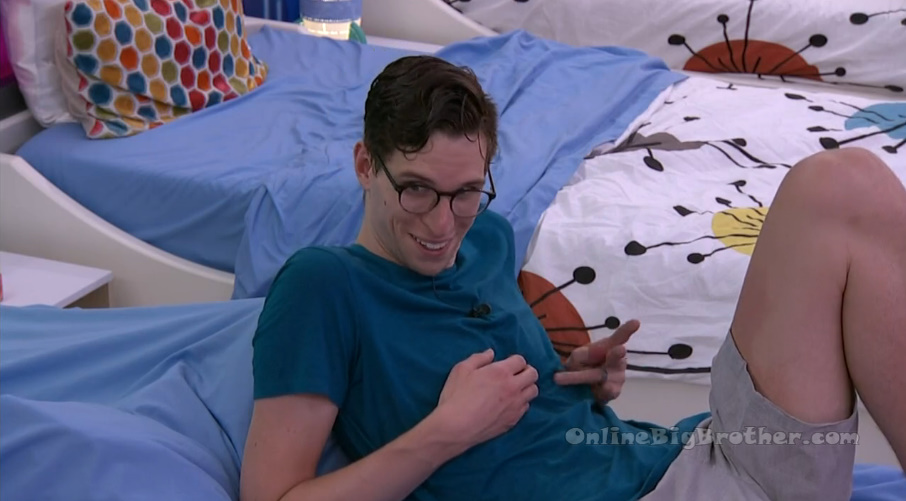 9:50pm The house guests are hanging out chatting..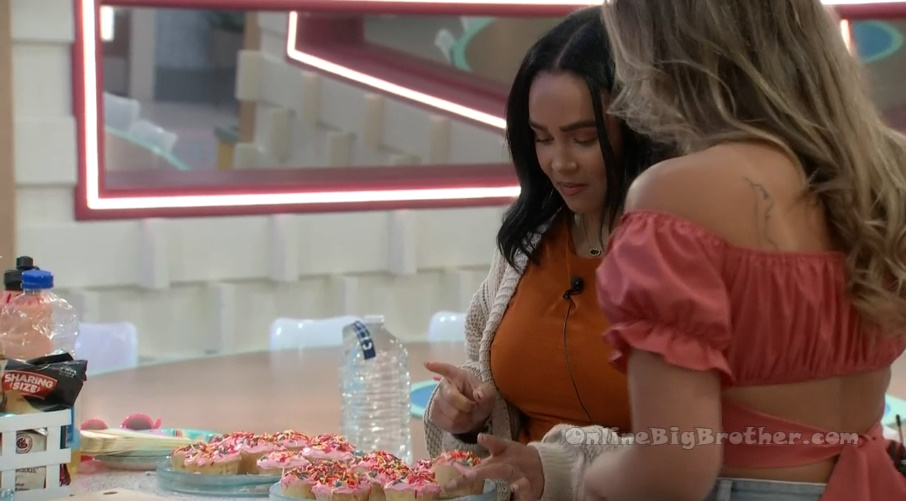 10:07pm
Jasmine takes a cupcake and heads to the storage room to eat it with Alyssa before her birthday. Indy comes in – B***HES! I don't want any. Motherf**kers! Alyssa – we just wanted to try it. Jasmine – its so good! Alyssa – that was delicious!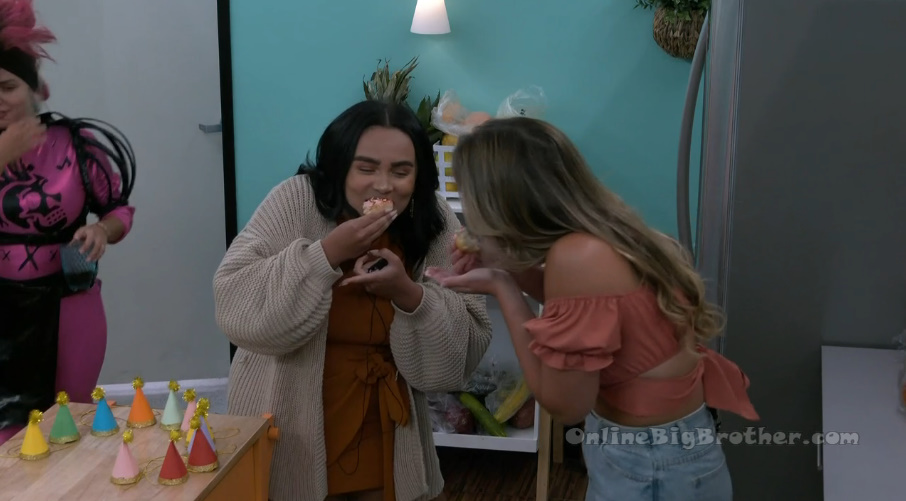 How long before Jasmine takes a slice of this before her birthday??

10:30pm Hammock – Indy and Brittany.
Indy – I am feeling good. I spoke to Kyle today and I may have his vote. Brittany – okay. Indy – and if I do, I am okay because that makes six. Brittany – yeah that would be good. I feel like today was really quite ..no one was really talking game. Indy – I don't want to stress myself. I feel like a lot of people don't have a lot to talk about with me. Brittany – if people know, they know and if they don't, they don't. Michael joins them. Indy – so we going to win HOH on Thursday and if its a double eviction ..its f**ked up. Michael – I know, I am so nervous about that.. I keep thinking they're going to give us a new twist or something. Indy – cause we won't have time to talk. Michael – I think if I got it .. I would be like come in one at a time .. you've got 30 seconds. Indy – my goal is to protect the girls as much as I can. And I know Michael, you're not a girl but you're included in that. Michael – I like to be included in that. Indy – I would love to have Kyle's vote. That would mean a lot to me because I love him but I can't force him to do it. Michael – I would imagine he would vote the same way as Alyssa.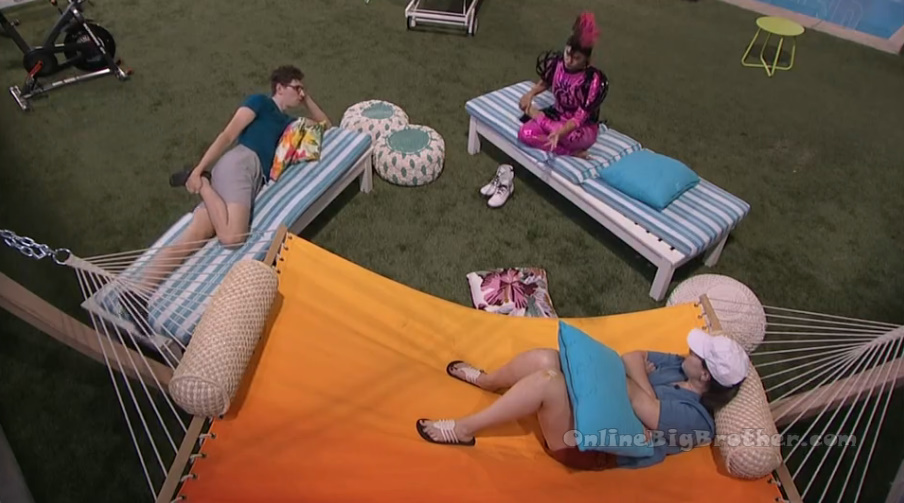 11:05pm Bathroom –
Alyssa and Kyle studying the days/events of the season. They head to the bedroom. Kyle – Don't lie to me if you share things with people. I don't mind. Alyssa – like who? Kyle – like with Turner. Or with anybody. You know what I mean? Alyssa – no. Kyle – Like if we have an intimate time and the next morning you tell Turner.. like just be honest with me is all I ask. You know what I mean? Alyssa – no. Kyle – come on.. its okay. What? What? Don't be mad. Alyssa – I'm not mad. Kyle – don't be mad. Are you mad at Turner? Alyssa – yes. Kyle – no, see this is what we can't have. Like just be honest with me. I don't mind but just be honest with me. Things like that can affect our game. No come on we need Turner. You have to promise me .. its when something like that happens and then you deny it .. that's where there's concern for me okay. We need Turner. Trust me we need him. Don't be mad at him. Are you mad at me. Listen its okay. Its okay. No you can't be mad at Turner. In this game everything you say to people.. people talk. We need Turner. Like you can't tell him that I know.. we will lose the game because of this .. trust me. Like just be honest with me.. I don't mind. Are you mad at me because you have distrust with me? You're upset and I can tell. Alyssa – I am not upset. Kyle – I shouldn't have said anything because its honestly not a big deal. You're visibly upset. Talk to me right now. Alyssa – I have nothing to say. Kyle – do you not like me anymore? Alyssa – why do you ask stupid questions. Kyle – what are you feeling? Alyssa – nothing. Kyle explains what happened that morning when Turner came to him. He came to me out of love for you telling me that you were emotional and that I should comfort you. Alyssa – I feel like that moment was like one of the weaker moments that I had in this house and now I feel like .. I don't know.. but its fine. I'm not going to say anything. I am fine.
12:04am – 1:30am
The house guests celebrate Jasmine's birthday. They all count down like its new years eve. They then sing happy birthday. They made a card out of a cereal box. It has their thumb prints / lip prints on it. Jasmine – Turner, even you .. you gave me a lip print? Thank y'all for listening to me .. this is perfect. They all eat cake and enjoy the alcohol. They then all tell her what they appreciate about her.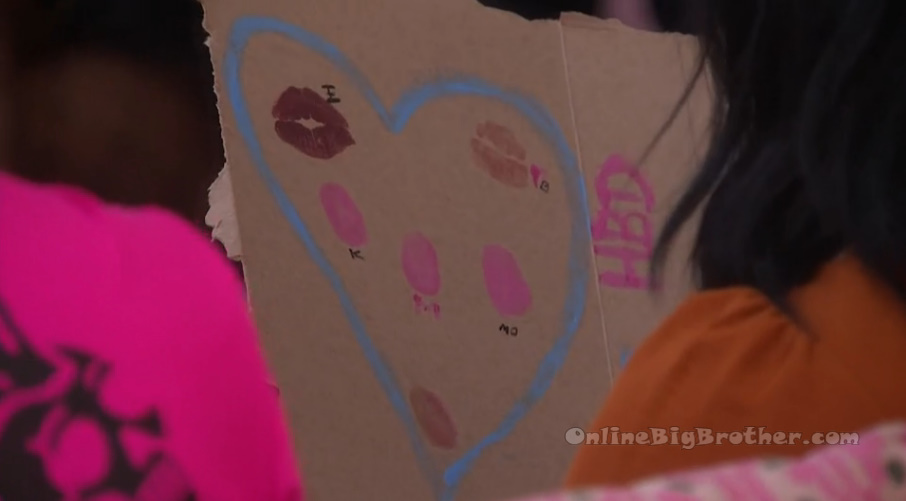 1:47am – 2:10am Backyard – Taylor, Joseph and Turner walk out into the backyard to join the others by the hammock.
Turner – DUDE! It was just too much! I was over stimulated. Taylor – hilarious. Joseph – Insane!