| | | | |
| --- | --- | --- | --- |
| POV Holder: | Cody | POV Used | ? |
| HOH Winner | Caleb | Nominations: | Frankie and Victoria |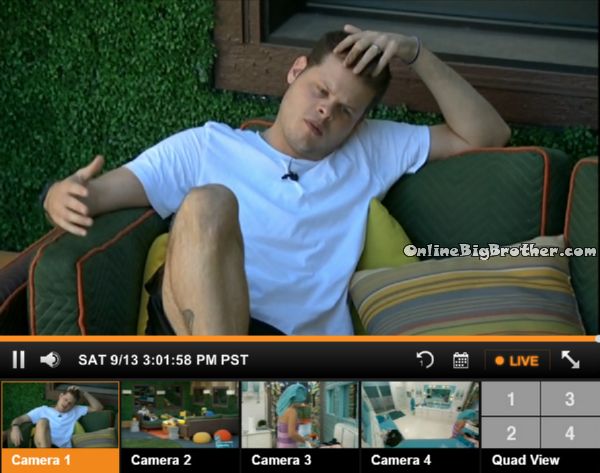 3:01pm Derrick and COdy Backyard
Derrick says he's anxious but anxious to get this over with. Derrick says he see an end to this. Derrick says his family is at home saying they need this to happen. Cody doesn't have the type of stress hanging over him.
Derrick – We're so f***g close.. If they put up Caleb and Victoria..
Cody -0 we send Caleb home
Derrick – you've never been one to just agree.. do you think that is the right move
COdy – Ya the best opportunity for us to win in the final 3.. ya is it the right move.. to help me sleep at night.. no
Derrick – he could win America's player I don't know how they're portraying him
Cody – Zach of Donny are smoking that.
Derrick thinks Cody has a good chance to win America's favorite player but he knows neither of them want to be in the running for that
Derrick – this is big brother and theres people that fu*k you over every week we've never done that.. (They "F***ked" over a lot of people this year unfortunately they are doing a good job of convincing people they… didn't even the fans..)
Derrick says Caleb wasn't part of the detonators "You haven't been a fan of him this entire game"
Cody – we haven't been that close we just needed him to get sh1t done
Derrick says if they have a bitter Jury and Caleb goes to final 2 he could beat them.
Cody says Nicole and Hayden are bitter with Derrick and Cody.
They go over the Jury votes..
Derrick – everyone that threaten our game had to go..
Derrick justify Stabbing Nicole and Hayden in the back because they would have taken each other to the end and not them.
Cody says they eliminated Nicole's groups right after another. "It was keeping our numbers"
Derrick – we're going to do this.. we got to win the next two comps"
Cody – I'm very irritated I'm not good at puzzles
Derrick – Cody whatever one you don't win I'm going to get it
Derrick and Cody thinks Caleb will honour their final 3 if he wins the Veto but they will not honor their final three with Caleb because they want to guarantee they make it to the end.
Derrick can't stomach Caleb using the money to open a club in Texas. "it would eat me alive for the next 10 years of my life and he's literally pissing his money away.. with that being said I like that kid..

Derrick thinks Caleb will be bitter when they stab him in the back but on finale night after he sees how many followers he's got he'll be the first one to party with them.
Derrick – If we make it there they have to vote for one of us.. Too f***g bad they have to vote for one of us
Cody – I'm going to give Frankie a nice goodbye message..
Cody is going to tell Frankie that they were manipulating Caleb the entire time.
Derrick says he's going to do what Andy did last year he's going to break it down with every jury member and tells them how he contributed them to be evicted.
They are amazed none of the other players caught wind of them working together the entire season all their moves were in unison.
Cody – In this game everyone gave hayden way too much credit .. everything Hayden knew came from Donny.
Cody is annoyed Nicole is so bitter because she knows the show.
Derrick and Cody are looking forward to seeing their families.
Beast mode and Frankie come outside..
3:30pm
Derrick tells the guys he had his "talk" with Victoria last night they are going to be cool in the house and friendly not awkward but they will probably not talk after the show.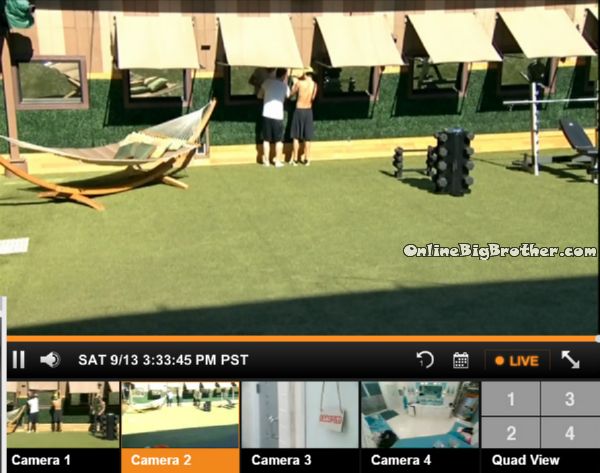 3:33pm Frankie and Derrick bringing down the outside awnings.. Frankie asks him if everything is good. Derrick says the stress of the POV competition is gone it's all fine now. Cody and Caleb help out.. The agree the pressure is not off and getting sleep is easier.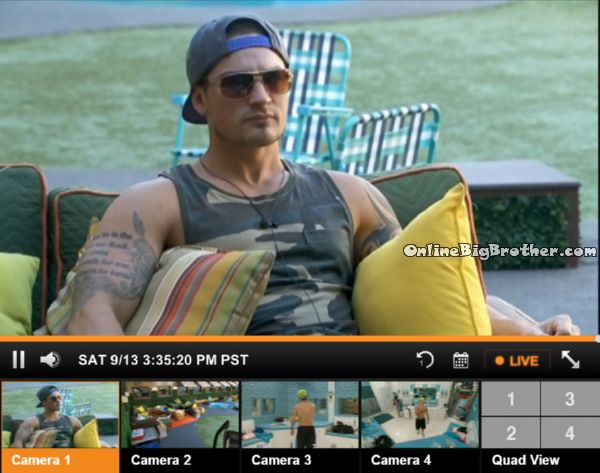 3:36pm Caleb and Derrick
Caleb – we smoked Frankie
Derrick – ya
Derrick – the days are dwindling bro..
They try to figure out what day it is. Derrick thought it was Sunday. They head into the kitchen to get help from Cody in figuring out the days. Derrick finds out it's just Saturday he;'s bummed out.
Cody – Today is a open day we're not going to get sh1t today..
Frankie joins them "Nothing.. nothing today"
Cody wants some brew-skies
Derrick – I hope we get some fun stuff.
3:55pm Running and having a discussion if humidity affect how much you sweat.
Frankie joins them says you sweat the same just here it evaporate faster so you feel like you are not sweating as much.
4:01pm in the kitchen Derrick and Victoria are talking about Frankie wanting Cody to use the Veto on him. Derrick says it's not going to happen. Vciotira says she cannot believe they didn't have the wall endurance competition this year.
Derrick says they have to win comps they will not get to the end if they don't. Victoria says his case is different. Derrick says Victoria, Derrick Hayden and Caleb were the only ones that won money this year above what they would normally get. Victoria grumbles that Hayden won, "A jury member"
4:30pm Backyard Frankie and Cody
Talking about the red carpet in the backyard he teaches Cody about the "Step and Repeat"
Cody "Is that what happens you've done this
Frankie – Ya
Cody – In the backyard
Frankie says he's never seen the Big Brother red carpet but he's done red carpet before for other things (Superfan)
Frankie says he's not going to get drunk during finale night he's not sure what he's got to deal with. plus that is usually not his style. He doesn't think he's pissed off all of America but he's sure he said something to make someone mad.
Cody doesn't plan to drink very much wither he wants to be coherent .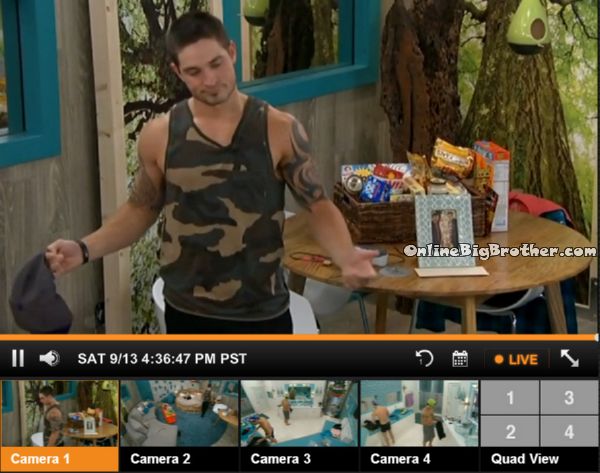 4:37pm Caleb and Derrick
Caleb says the one way for them to guarantee they make it to final 2 is to cut Cody next week
Caleb – I'm going to be honest to ya I love all these people
Derrick – gotta get there
Caleb – that's what i'm saying that's a way we can guarantee we get to final 2
Derrick – and if Cody makes it he has a good chance to win it… I get what you are saying I definitely get what you are saying bro.
Caleb – he'll be pissed about it but he'll understand
Caleb – by all means I hope it goes as planned and it's us three fighting for it but as a option.. the only way to guarantee final 2..
Caleb doesn't care who he is up against in the final 2.
Caleb hopes Cody doesn't cut him.
Derrick says he trusts Cody and he trusts Caleb but he doesn't trust Frankie "He'll slice us in a heartbeat"
Derrick says there is such a BIG difference between first and second place, "That's why You never take a big competitor to the end" Derrick cites Survivor when WOO took Tony to the final because he wanted to win against the best and he lost. "That man regrets it every day.. A million dollars and he got zero"
Victoria joins them and they start talking about the red carpet.. yawn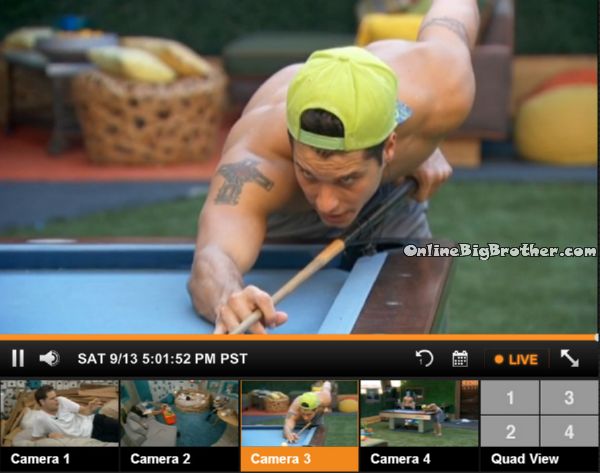 5:04pm Pool table Frankie and Cody.
Frankie is saying he's going to go back and teach at the schools that he built. Frankie says Madonna has built a school in Mali and build a annex onto that school and tech there. "I'm really excited about it"
Frankie says he has no way to build the school and teach the African children if he doesn't win some money on the show.
Cody suggests Frankie's sister might help him to win America's Player
Frankie – no no people would look at that as unfair.. if I won America's favorite player it's because I won it it's not because my sister is Arlie Grenade
Frankie clears up that he expects his sister will tweet about it and might do a benefit concert but if she give people incentive to vote for him as America's favorite that is unfair.
They start talking about casting Frankie says he went straight to semis (Semi finals)
Frankie – if all my fans mobilized I would have a great shot..
Frankie says there could be a army of Big Brother fans that hate him so much that they are trying to thwart him.
Frankie says that all the people of past season where "Cookie cutter"
Cody is amazed that Britney won America's favorite Cody says he loved Rachel and Brittney didn't like her so that is why he didn't like Brittney.
Frankie says Jeff was the symbol of America and Brittney was blonde beautiful typical winners of America's Favorite.
Frankie says he has a army of 12 year old that watch his YouTube channels as well as older moms.
Frankie – I think the twittersphere has my back..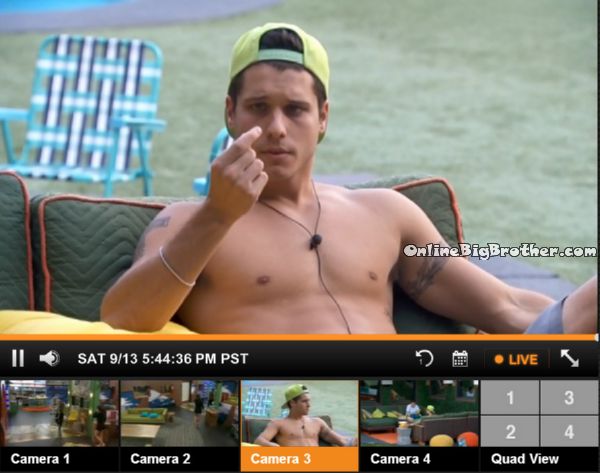 5:45pm Backyard Derrick and Cody
Cody doesn't want to blindside Frankie. Derrick agrees.
Caleb joins them. says he's alright telling Frankie the night before the eviction.
Cody brings up how Frankie keeps talking about playing with loyalty but he went after Zach he was pushing to get Zach out hard there isn't any loyalty in that.
Derrick adds that Frankie threw them all under the bus week 6
During the veto ceremony Cody is going to say he'll respect the HOH's nominations and not use the veto.
If you found the 24/7 live feed coverage valuable please consider a donation.
Another way to support us is to make your Amazon purchases through the links below.
No extra cost to you. links are valid throughout the year.
Amazon.com Link
, Amazon.ca Link
[polldaddy poll=8244330]