| | | | |
| --- | --- | --- | --- |
| POV Holder: | Cody | POV Used | ? |
| HOH Winner | Caleb | Nominations: | Frankie and Victoria |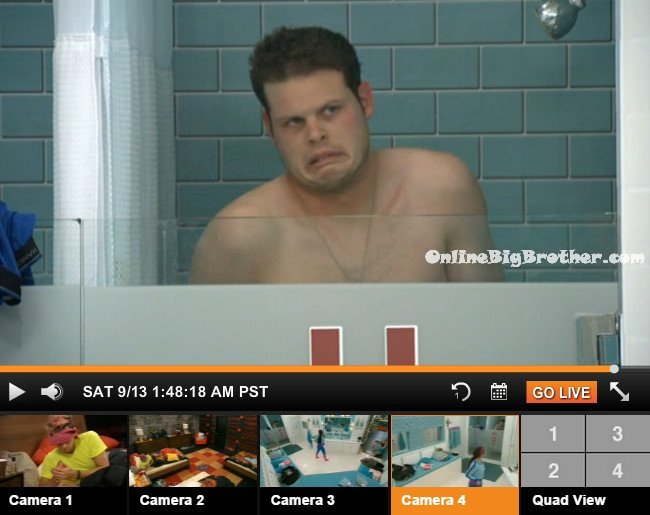 12:25am – 1:55am Derrick and Caleb are playing a game of pool while Frankie and Cody watch. Cody then plays Frankie. They finish up their games and head inside. Caleb and Cody make quesadilla's. Derrick showers in the bathroom and Victoria joins him. Victoria asks does Frankie think he's staying? Derrick nods yes. Victoria asks even if he doesn't get the veto used. Derrick nods yes. Victoria asks is everyone telling him he's good. Derrick says yes, gentleman's agreement just like last week. You have to just trust me! Victoria says I do trust you I just want to know where he is standing. Derrick says we're going to tell him Tuesday night before the live show. Victoria says he is going to be going crazy! Derrick says it doesn't matter. Victoria says he could change peoples minds Tuesday night. Derrick says Cody and I aren't keeping him. You're staying! Shut up! Its a guarantee! No one will go to the end with him, he has like 12 wins. Victoria says I know I'm staying .. he's going to go crazy. He's going to throw a huge fit! Derrick tells her to just keep working on Caleb.. and Cody as far as social games. You're good. Victoria asks Derrick "Hows my social game so far?" Derrick says its amazing. Victoria leaves the bathroom. Derrick looks at the camera and says its not amazing at all. He then
In the fire room – Frankie is practicing his eviction speech. "Before we pushed that golden orb of lies and deceit ..Ok, I was HOH and I kept all y'all safe! AND NOW its your turn to do the same for me! In front of the millions of American's watching and judging YOU! You are men of your word. Shout outs to all my fans. I love you more and more each day. Victoria joins him and he tells her about how he's practicing his speeches. I already wrote them. I'm being funny in both my speeches because that who I am. Victoria says what the hell. Frankie says that he's excited for it.. well not like that. I'm excited that I get this platform. Frankie tells Victoria that she's in rare form tonight. Victoria says she just got back from the diary room and says there was flirting. Well not like that .. just interacting with another person. And then we got off topic and started talking about how sexy I looked in my eve costume. Big Brother blocks the live feeds.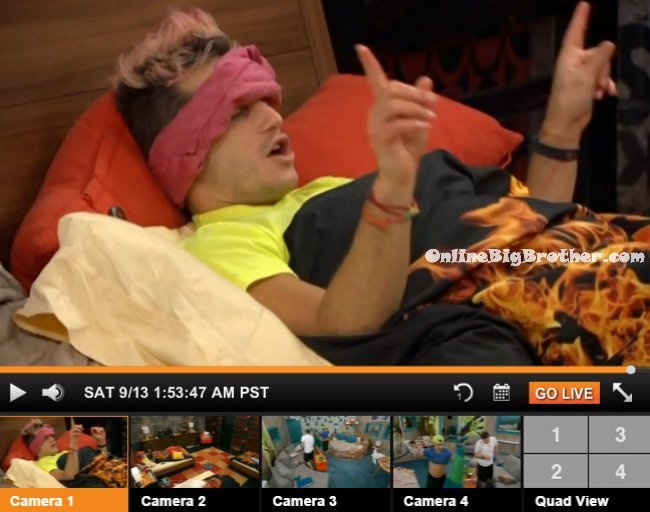 1:50am – 2:25am Derrick heads up to the HOH room – Derrick says obviously amazing win. I think he was the only person that could have broke us up. And he didn't. Cody says because she smoked him. Cody says he was the only one that could but he needed Caleb and we got to Caleb way faster than he did and we turned him on him in a second. Derrick says and it didn't hurt that Frankie's won so many comps.. that just built the beast. Derrick asks so what's the plan .. how do we get to our ultimate goal. Cody says I wanted to talk to you about it just in fairness to both of us. I don't know if Caleb is bullsh*tting but he is saying he would take me if it was us 3 and he wins. Derrick says okay. Cody says he has a better chance at beating Victoria. Cody says I am just saying that for you so if you win the veto you would have no problem sending him home. Derrick asks what makes you think he would take you over me? Cody says because we were just having a conversation and he said he wouldn't want to go to the end against someone like Derrick because I would smoke him. I would want to go to the end with someone like you because it would be like a 5/4 vote. He doesn't realize that he would get smoked by you any ways. Derrick says I am glad you're bringing it up because when you went down stairs. He said to me if by chance I'm not in the end and he wins he would help me out with my house and stuff like that. Bottom line is I think he is going to tell us both what we want to hear. Derrick says you're the only person I've been 100% loyal to this entire game. I would hate to get to the final 3 and for him to take me or you. I think he would beat me and frankly I think he would beat you too. It would be tough. Derrick says I don't doubt you for a minute and I truly don't believe you would double cross me. Cody says not in a million years. Derrick says if Caleb really wanted to take you because you could possibly beat him. ..If that was true he would take Frankie but he's not. I would rather be in the end with you. And the only way to get there is for us to back stab someone. Cody fears Victoria winning the final HOH some how. Derrick says Caleb has a better chance at winning it. Cody says I would just feel terrible to back stab Caleb. Derrick says well that makes me feel good because that means you wouldn't do it to me. We're taking Frankie out because we can beat him. Derrick says if we take Victoria she wouldn't take me. She will never take me. Derrick says I will promise you I won't dog you if I win. I can stomach you winning over me but what I can't take is him on instagram with a brick in his hand. Derrick says everyone has already said if Victoria gets to the end they're voting for her. I would rather go up against you. Cody says I would never cross you. Frankie joins them and the talk about if there will be a double eviction coming up. Victoria joins them to listen to the HOH music. Derrick, Frankie and Caleb head out to play a game of pool.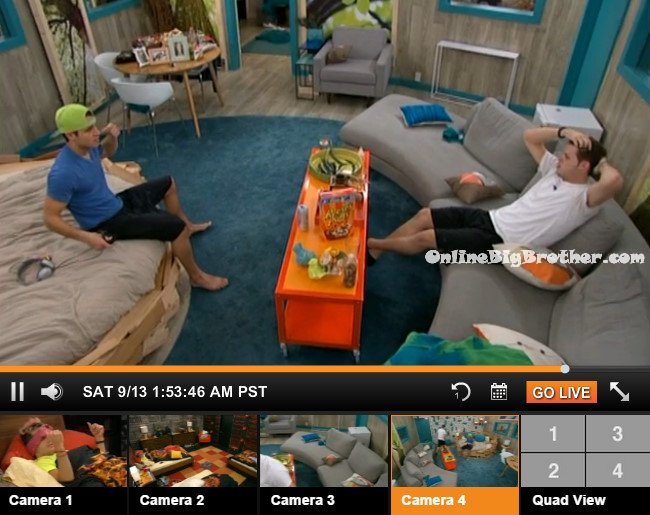 2:30am – 3am Derrick and Cody play a game of pool. Derrick says I think America .. if we pull it off we look like G's .. and if we don't beat him we're clowns. Derrick says I just want to be there with you. I just want us both to be there. If it ain't me winning it, I want you to win it. Cody says we used him (Caleb) to get to this point. Derrick says if all we have to do is get him out to get to the final 2 .. then sign me up. Derrick starts talking about the Renegades from BB10 (Dan Gheesling and Memphis Garrett). Cody says he never saw season 10. Cody says so we send Frankie out and then Caleb if its a double eviction or if not then we win the veto and send him out. Caleb joins them and plays Cody in a game of pool. They head inside. Cody lays out with Victoria on the living room couch and she runs her fingers through his hair. They talk about the veto competition. Cody says Christine and Hayden are going to hate me. Gosh this sucks.
See what they can't show you on TV! -Try the Big Brother 16 live feeds for FREE!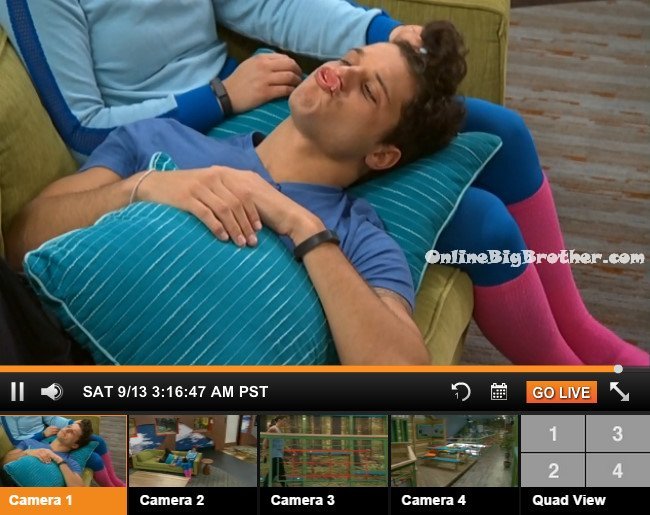 3:35am – 4:15am Derrick heads up to the HOH room and talks to Caleb about the veto competition. Caleb says if he didn't win it, you or I would win it. Victoria tries to come in and they lock the door. Caleb tells her he's talking to Derrick for 5 minutes. Derrick says I try to be respectful and leave the room but she follows me. They talk about getting Frankie out is a huge move. Caleb says of course we're going to tell him.. but you think the night before. Derrick says we just don't want to give him to much time to throw us under the bus. Caleb says I am just going to tell Frankie I put him up and he didn't win the veto. Those two guys are voting. Derrick says he will say what if the votes are split? Caleb says I'll just say it ain't going to happen. Caleb says love you (Frankie) as a brother but you've got to go. Derrick convincing Caleb that Cody could beat him in the end. It would be really close. Caleb says I don't really get why you're hated in the jury. Derrick says with Jocasta I prayed with her and she asked if she was safe and I told her she was okay even though I knew she was leaving. With Hayden and Nicole they came to me and Cody to get out Zach but we flipped it on them and got them both out. Caleb says no one in that jury is mad at me, I haven't done anything to anyone. Caleb says if it was me and Cody ..it wouldn't be that tight. I know I have you, Victoria, Nicole, Donny,.. and whatever Nicole will do Hayden will do, plus Jocasta, Christine ..she would vote for me over Cody because of that.. Derrick says you only need 5 and anything could happen. Caleb I have literally had 4 people look me in the eyes and tell me they're voting for me. All I need is one more .. a fluke. I know I have Hayden's vote because He hugged me first when he came in the house and Nicole told me his favorites were me and Frankie. Victoria interrupts their conversation and Derrick leaves with Victoria to go to bed. In the bathroom – Derrick tells Victoria that Caleb said you're really coming down on me. Just talk sh*t about me behind closed doors but be cordial around me.
Caleb counting his jury votes: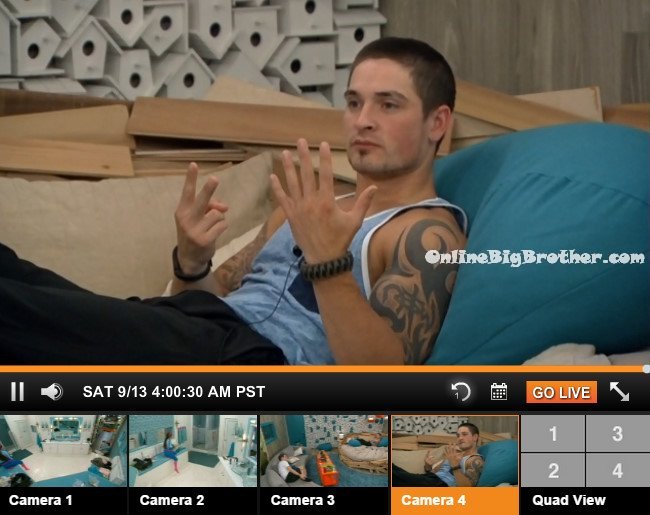 10am – 10:20am Big Brother blocks the live feeds to wake up the house guests.
12:20pm All the house guests are still sleeping..
1:35pm – 2:20pm HG's sleeping their way to half a million..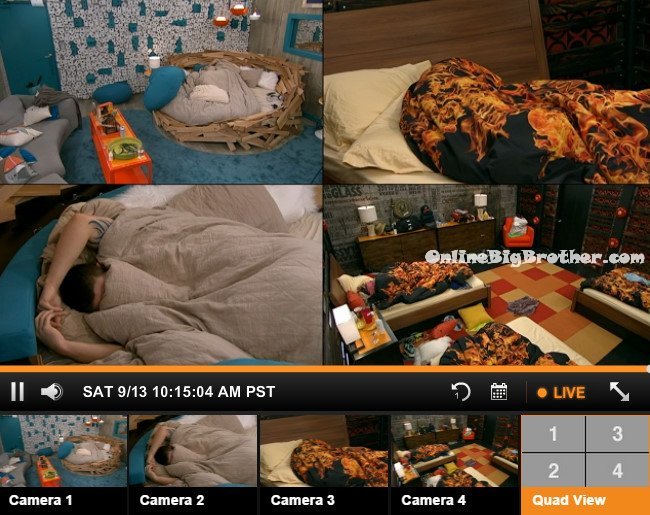 2:30pm – 2:50pm Derrick wakes up and heads into the kitchen. He listens to the backyard door to see if he can hear building. Big Brother shows a quick shot of the backyard with nothing being built of changed. Victoria joins him eats and goes back to bed.
If you found value in our site, the work we do and the community we foster please consider leaving a donation using pay pal below.