Quick Big Brother Spoilers
Head of Household:  Turner
Nominees: Taylor and Brittany Kyle
POV Players: Turner, Taylor, Brittany, Alyssa, Monte, Michael
POV Winner: Michael
Veto Ceremony: Micheal used the veto on Brittany. Turner nominated Kyle.
Havenots: 
Lock your ranks in before midnight
From what I can see Kyle will be evicted. There was some fallout inflicted on Brittany and Michael.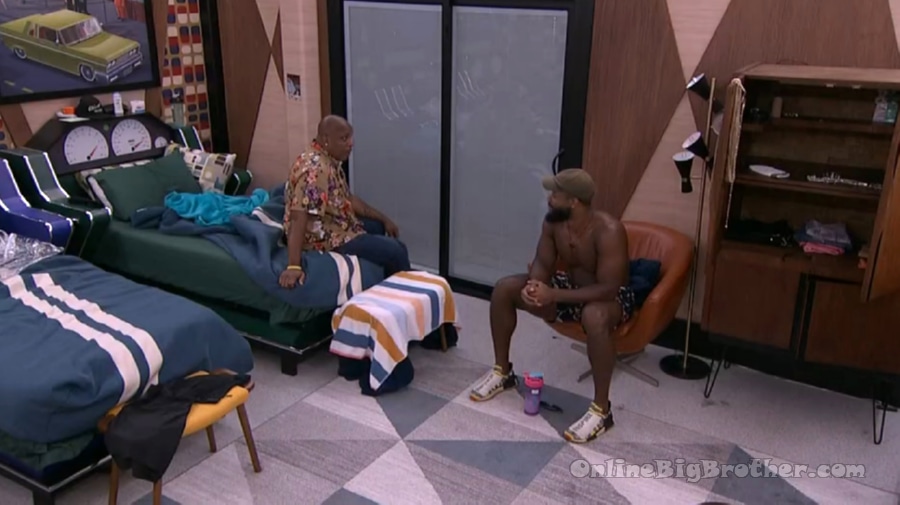 12:16 pm Monte and Terrance
Terrance – last night got in my head.. it will be an unpopular opinion I'm honestly really thinking of the ramifications that happen when we leave. Us sending him away does that really change anything in his mind? I think that encapsulates what everyone feels about him Americans included.
Terrance – my thought is would it be a better opportunity for him to stay and grow and possibly progress his thought process to give him the opportunity to change the stigma that he has.
Terrance – that's an easy move to me. The problem I have with that process is Taylor is up against him.. to me that was a weirdo move on Mike. use the veto on Brittany
Monte – yeah.. we saw that coming a mile away.
Monte – how do you feel about the trust component after this week?
Terrance – if we do save him it's me and you
Monte- I don't think he'd hesitate with that at all. That's my biggest concern.
Terrance- I got you. I was just spitballing I always need a sounding board.
Monte – My thing is I am big on actions.
Terrance – Me too. Words mean nothing. I tell my kids all the time I'm deaf. You got to show me cause I'm deaf
Monte – the toughest part from a game perspective is he's a strong competitor when it comes to the battles we'll have to face. We need as many as we can if Michael were to play in a veto. It's tough to beat him right now.
Terrance Says Michael and Kyle have been neck and neck in the HOH competitions.
Monte – that would be a game benefit for sure. Someone that can take that shot. Everybody has to be thinking the same things right now..
Feeds cut. When we're back..
Monte – if we were in the real world there will be no exiling of him from my life. If anything I would want to bring him closer. it's like kids if they don't face any consequences for their actions
Terrance – then they don't really learn
Monte – it's not a negative consequence he's not going to jail.
Terrance – true..
Monte- there will be more consequences once he gets out. That's the justice in the process. Sometimes the best thing is to let somebody experience the consequences.
Monte – I would hate the thought process to revert back like.. ohh well it's not that big of a deal.
Feeds flip/cut
Monte says they're all loving on Kyle and forgiving him. "that's the unconditional loves you don't see in the real world"
Monte – by him admitting in the living room 'I thought my thoughts were rooted in race'
Terrance – I told him upstairs you gotta admit your truth in this whole thing.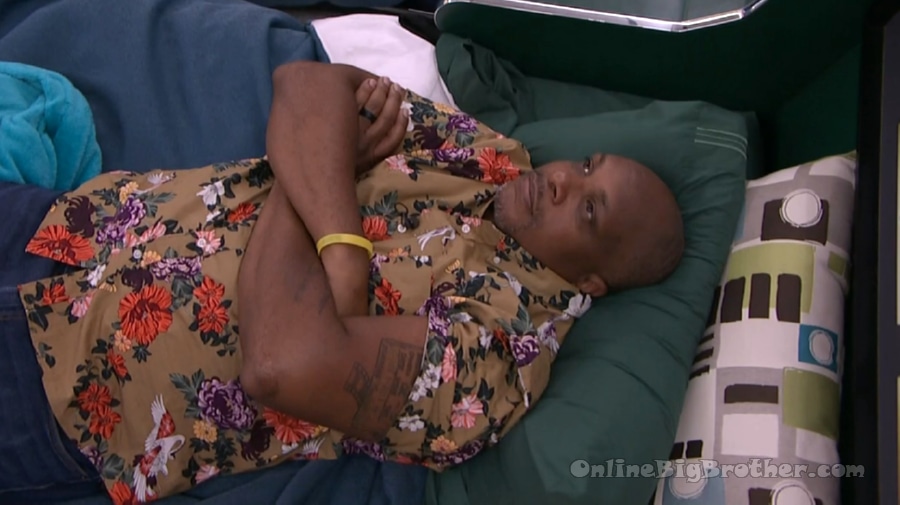 1:15 pm Terrance alone
"I don't know if I want to talk about it. I'm trying to be progressive. I'm trying to change the narrative I feel like if you do something different in the moment than what you can easily do you can see some type of change. I'm trying to be optimistic"
I do believe and this is my truth.. I truly believe that Royal Caribbean has figured out.. I have never experienced any feeling of racism. So whatever Royal Carribian is doing they have it downpat. You have every single melting pot in that boat and everyone just vibes out. If they aren't whatever they keep it in the tuck. South out to Seattle as well. You have it downpat too.
Weight loss journey I'm not at 255 I'm making a lot of great progress with that from where I was. Hopefully, the goal whether I reach it here or not is 230.
"I'm trying to be progressive and seeing past light and hope that I can navigate change and hope that the stigma to be the stigma. I look at the memory wall. I look at everybody that's left and.. you know.. I look at the fact that the majority of them are Nicole, Daniel, Jasmine, Joe, Indy, to know they left for many different game perspectives."
"The fun has been sucked out of the whole situation.. I was enjoying the experience as what it was.. now it's just like Phew.. "
"that doesn't make it a quit situation or you give up or you don't push yourself. It's just a stumbling block. taht's all it is."
"Being 47 growing up on the south side of Chicago I grew up on the part of Chicago that had its situation of being segregated. Where I grew up it's called The Morgan Park Beverly area in that are we had a grop of black people that live on the other side of western if you go across western you knew it was a different situation. you knew driving down west that you were taking a risk on the street. You knew it was better to walk up 119th street to eastern than cut across to Walgreens instead of going which would be more convenient up the backway. Walking up you might run into a situation. you just knew.
There are still parts of Chicago where you just know.
Terrance thinks still to this day there are people scared to drive up through Oakland "You know you will be pulled over"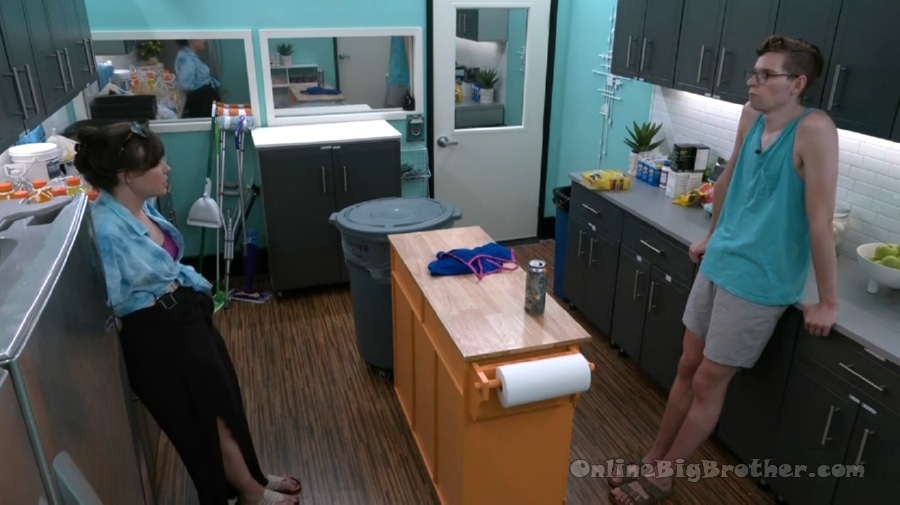 2:05 pm Brittany and Michael
Michael – I can't put up Turner next week.. I can't
Britt – no not next week. I fee like I need to know if Monte is with us still because if we did win next week and we can't put up Turner it would be Alyssa and Terrance and I don't want to leave Alyssa on.. I think Alyssa could be competitive-wise. She is very smart.. She is studying.. but it's Taylor level of Studying.
Britt – she had the day wrong today.. OKAY
Britt – I'm thinking Final 4 Monte or Final 4 Alyssa what do you think?
Michael – I don't know we'll be at 7 next week. If we can't put up Turner.
Britt – not everyone plays veto
Michael – one person doesn't
Britt – does it even make sense to win next week.
Britt – there has been a reset. An opportunity to lay low and have everything blow over a bit. They realize there was never a good time. (never a good time to be vocal about racism?)
Brittany says day wise they need another double.
Michael – I just wonder what Monte will do next week. If he's not going to put up Turner. I think Turner has a past for next week now. Would he really put up Terrance and Alyssa?
Britt – I don't know I think that's a conversation worth having.
2:18 pm Brittany talking to Taylor while Terrance sleeps.
Taylor – Have you talked to Alyssa to see how she's doing?
Britt – I did this morning.
Taylor – can't be easy
Britt – no
Taylor – I'm all rattled up about my friendship with Joe I can imagine .. I mean C'mon
Britt – there were lots of conversations yesterday for sure. All of us need this time to decompress.
Taylor – I do want to check in on her I just needed to lay.. they hit me with no naping I said 'did you know the 24 hours I had'
Britt – I didn't get any sleep last night
Feeds flip when we're back.
Britt says going into this game she knew there was a risk she might say something that will hurt other people. "You can hurt people on a very large stage"
Britt – I thought it was very binary you say those things or you don't. I didn't ever anticipate that you can be caught in the middle of something. All the complexities of us getting caught in the middle and what that shows about you about being caught in the middle.
Britt – I get really angry. Turner wasn't put in the same situation, Alyssa wasn't put in this situation why the hell was Michael and I. (britt keeps getting better)
Feeds flip to kitchen.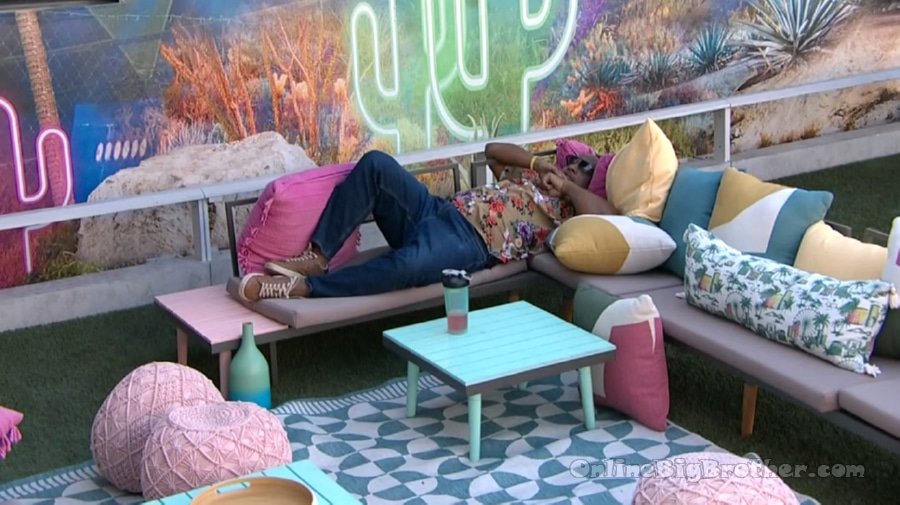 2:55 pm Terrance (and Brittany) has been doing a lot of thinking today.
Without reader support this site and these spoilers wouldn't be possible.
Please consider a donation to keep the madness going.
Any amount is greatly appreciated!