Quick Big Brother Spoilers
Head of Household:  Turner
Nominees: Taylor and Brittany Kyle
POV Players: Turner, Taylor, Brittany, Alyssa, Monte, Michael
POV Winner: Michael
Veto Ceremony: Micheal used the veto on Brittany. Turner nominated Kyle.
Havenots: 
Lock your ranks in before midnight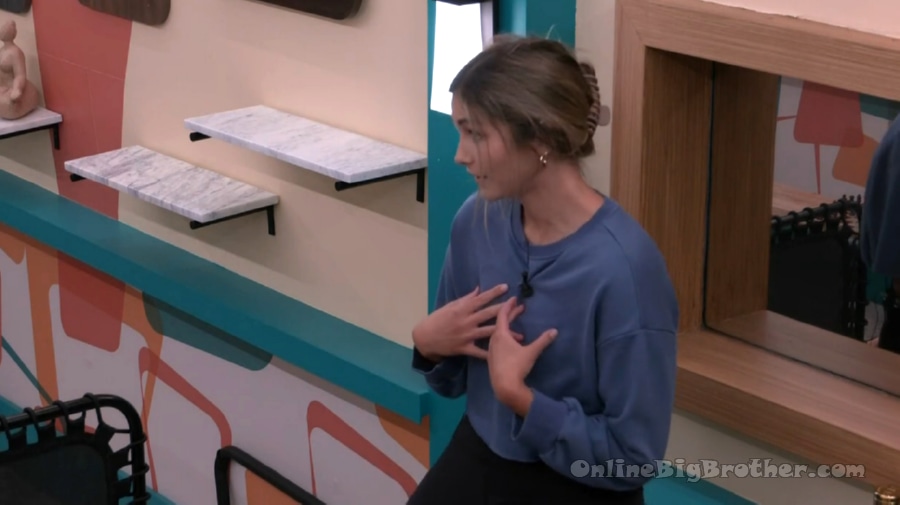 3:50 pm Alyssa and Brittany
Alyssa is going on about how it must not have been easy for Brittany to carry the weight of Kyle's racism with her. "that was extremely painful for you"
Alyssa- I'm so sorry you had to deal with it.. everyone is struggling in their own way right now
Brittnay says she never said it earlier because of the fear and uncertainty of what people will do.
Brittnay goes on about her decsiion to wait until the most opportune time to tell everyone about Kyle's "white alliance".
Britt – yesterday when you were having a move it was a war zone.
Alyssa – you raised your voice
Britt – ohh yeah me and Kyle went at it.. in the car room..
Feeds flip. when we're back. They are talking about the Ameerah vote. Brittany says the one thing she's noticed is a lot of people that have been evicted have played really hard.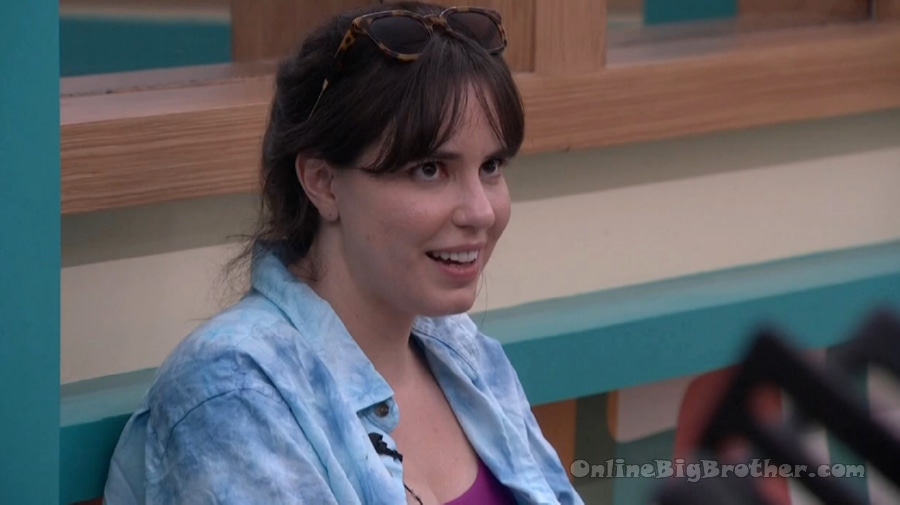 Alyssa says it's crazy being in the house with all her emotions right now
Brittany – a breakup would be fair to call that?
Alyssa – yeah
Brittany – a breakup is hard enough let alone in this game.. let alone the circumstances in this game. Let alone on national TV
Alyssa – and let alone I had a life before I came in here and I had a special person before I came in here and I made the decision to say to hell with it and this became my reality very quickly
Britt – Ohh my god.. Alyssa..
Alyssa – I've been through worse
Britt – that is terrifying that you've been through worse.
Britt – I am just so utterly convinced that after this.. this feels this could be a breaking point and I just know at the core of my being it gives me goosebumps just to say it you are goign to find someone that is ohh just so perfect for you.
Alyssa – thank you so much
Britt – EVERYTHING I KNOW IT SO STRONGLEY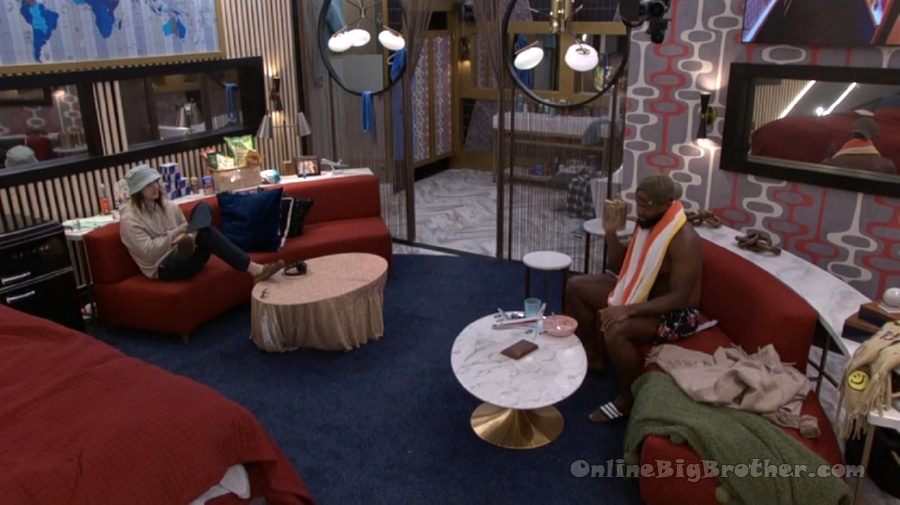 3:55 pm Monte and Turner
Monte talks about if he wins HOH he'll take out Micheal.
Turner – this coming week it's you vs Michael if he wins then he can't win the following week.
Monte – I almost feel good if he won HOH.. he's not putting me up he's not putting you up
Turner – from the reassurance I've gotten, it would be weird if he put me up.
Monte – I think we're fine dude.
Turner says before the nominations would have been a good time for Michael and Britt to tell him the 'whole Kyle" thing
Monte – 100% YEAH
Turner – why would you wait so we can do a backdoor if you feel that way. I could have just nominated.
Monte – I think it was strategic
Mont e- now that they are safe there's no potential of them being put up. Now you have a very narrow set of options whereas before it could have been incriminating..
Turner – the whole it's not good for our game when you're safe is easy to say when it is not not good for your game. If you really felt passionate enough for it to not be good for your game and say it it would have shown earlier in the week.
Monte – 100% I agree.. I think they are good people for sharing the information, in general, it's just the timing that I think it's very clear they don't just..
Turner – it's not the heavy on our hearts thing
Monte – it's the when is there a good time to do this? Michael is a thinker, and Brittany is a thinker. We've worked with them they've think through things they just don't feel something and say today is the day. so.. but.. anywhom man.
Monte says Alyssa and Terrance know with Kyle gone it's the four of them working together. "They want reassurance from the both of us"
Turner says he was lucky this week because a shot was taken but with a plausible out. "Which was lucky for me"
Monte – It's fortunate for Taylor very coincidentally fortunate for Taylor who is working with Michael and Brittany that Michael and Brittany share this information so.. you know. the sad thing is I talked to Taylor a little but last night the girl just doesn't see it. She's so .. enamored with the fact they are good people. Which they are. Like you said.. they are good people but they are also playing a game and could have shared this information before Dyre Fest"
Monte – immediately after that shit is said you could have said something.. Dyre fest what was that Thursday? when were these conversations had?
Monte – I think it was strategic for sure
Turner – One million percent
Monte – they don't want to admit it which is okay.. if it quacks like a duck and walks like a dock it's a duck
Monte – Kyle says he's going to fight so I am curious about what that means.
Monte – he needs to convince me, Or Michael or Brittany.
Monte says he's not voting to keep Kyle especially after Turner told him he wanted Monte on the block this week. "What did I do to deserve this"
Turner says when they were outside Kyle was very gung-ho in forming an alliance with Terance, Alyssa and himself.
Turner – it made sense to him. at what points do I say NO
turner – Until Kyle goes there's a general understanding of a group there and they were trying to bring you in so you were equally involved as I am or Kyle is. that is not my alliagnece. Till the end is me and you
Monte – 100% bro
turner – we've been working since week 2
Monte – I'm telling you, Terrance. Even the fact he was entraining that idea it shows how slick he is dude. If he would win HOH he's going after who is the next big target and he doesn't care what the repercussions are. he's swinging for the fences (Terrance for HOH)
Monte – he wants to build up his resume.. yeah I did that… he thinks that is what trumps staying in the game next week. To me that is the only person I am concerned about. Alyssa, not so much I feel solid with her.
4:50 pm Meditations (The special effects were added by the feeds)
The camera cuts to various things..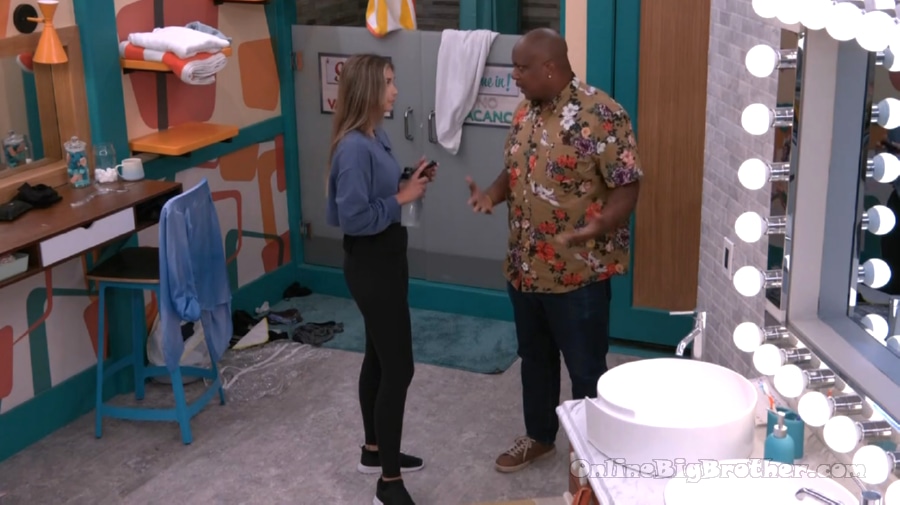 5:04 pm Alyssa and Terrance
Terrance says he told Britt he knew about the leftovers coming back into the house. He also didn't say if Alyssa knew.
Alyssa thanks him.
Alyssa – I kept telling her I knew but I didn't know the datails.
Alyssa – we should get together with Monte and talk
Terrance – we gotta talk. Monte kinda shot down that idea I had earlier..

5:20 pm Kyle transforming (into Audrey)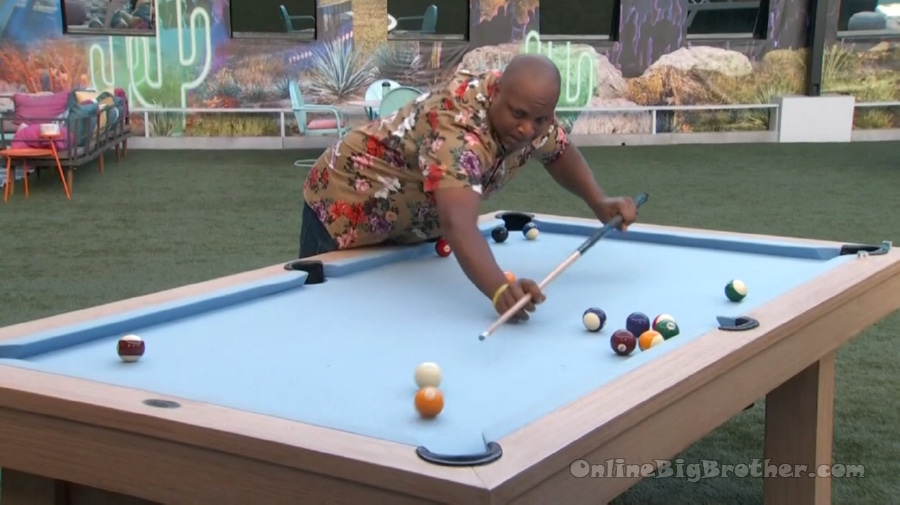 5:25 pm Pool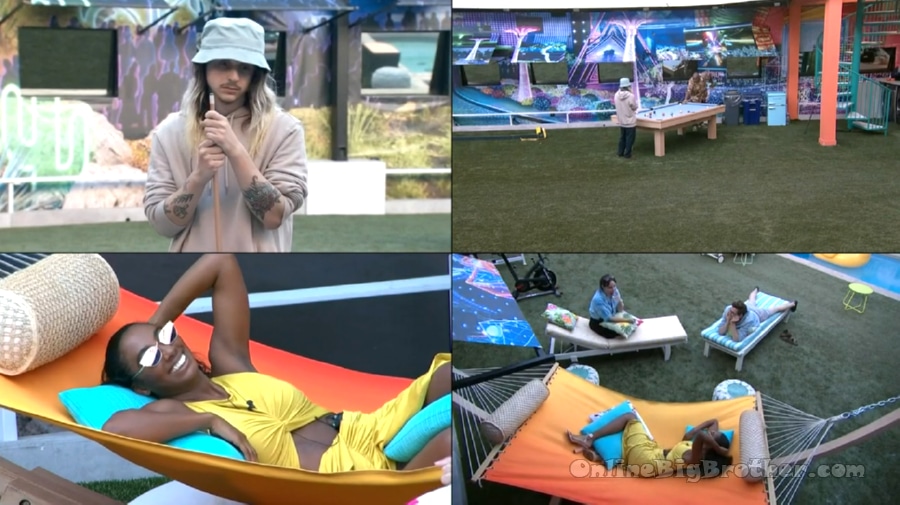 5:50 pm Michael, Brittany and Taylor have been on the hammock giggling. Terrance has been holding down the pool table.
6:20 pm Kyle has been in the cocoon for a while now that emerges will likley cause the feeds to go down.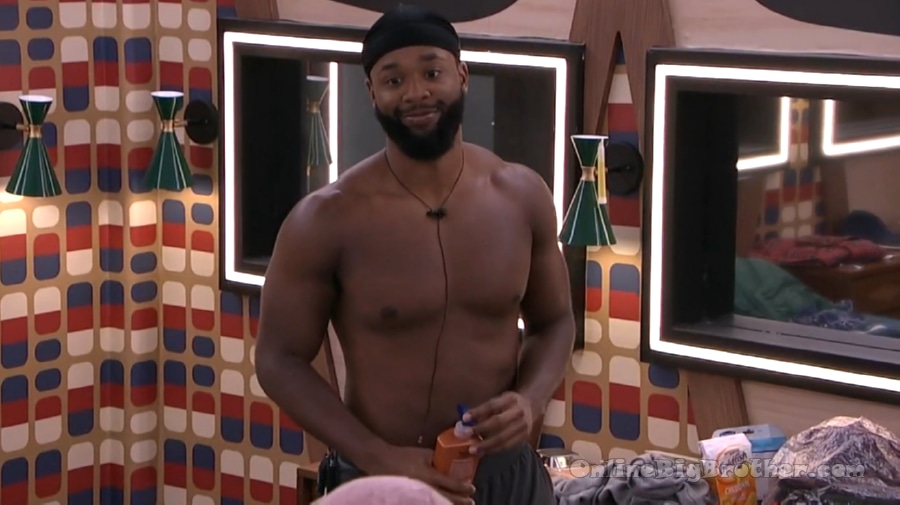 6:21 pm Monte tells Taylor he can't trust Terrance.
Monte – he came to me this morning.. he was like Hey Big bro I wanted to talk about this Kyle situation.. he said is evicting him the best way to show him..
Taylor – you're not the only one he said that to
Monte – who else
Taylor – Brittany
Monte – it's so reckless. Especially from him who was so upset about it. We wants your ass for some reason. I don't know why.
Monte – I cannot trust him
Taylor – he will not be honest about joe he will not.
Taylor says the other side will lose Kyle this week and they all knew about the leftovers coming into the house.
Taylor says the target was Micheal if not Michael than Monte "they are going to lose Kyle"
Taylor – then you, Me, Micheal and Brittany are in the game to win this HOH. The only person who is off-limits is Turner.
Monte – I wouldn't put Turner up, especially after what he did. He did the right thing you can't punish him for that. Although he did some egregious putting you and Brittany up. At the same time..
Taylor – that was game this is.. Way beyond that.
Monte says if he's HOH and there is an opportunity he will take a shot at Michael. He hopes they respect that because there's no way they can beat him.
taylor will respect that move.
Monte – outside of that I'm solid with us. I'm not putting any of us on the block
Monte – there's NOT A CHANCE IN HELL I can trust Terrance no chance. I'm not with it.
Monte looks at her "We're good"
Taylor – I appreciate it
Monte – no problem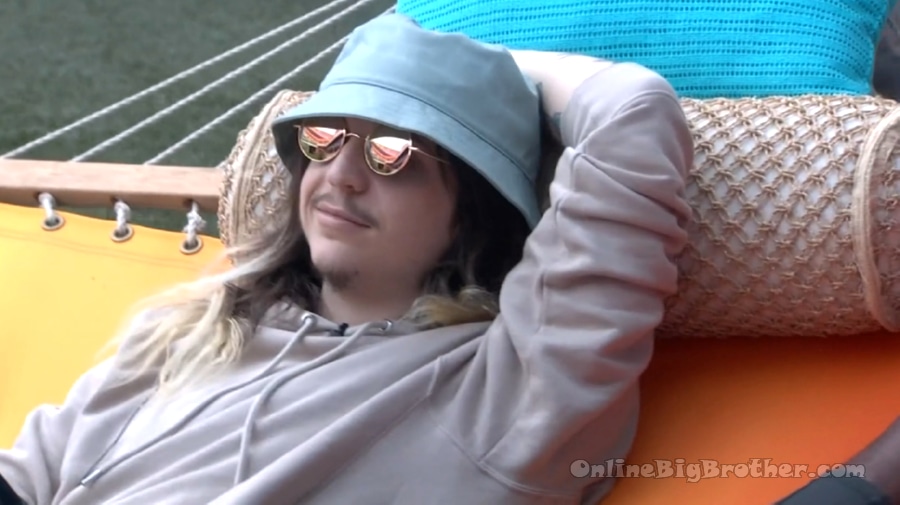 6:35 pm Turner and Monte
Monte – dude.. T is wild he went to Brittany with the same thing
Turner – To brittany?
Monte- To Brittany
Turner – My Word
Monte – what a blunder
Turner – not a good move
Monte – all you needed was my vote but I guess when he heard me have reservations he thought why not try to flip Brittany
Turner laughs
monte – you know how tight Brittany and Taylor are they make it so obvious why would you ever?
Turner – if anything makes it beneficial for us. My god that is the dumbest thing I've heard all day
Monte – Taylor was like are we still good with the four I was like Sure..
Turner – why are they cutting me out of this four
Monte – you put them up this week
Turner – well f** them… My word..
Monte says he wants to talk to Kyle on a personal level. So does Turner.
They talk about the muffin that Turner ate. Monte says last week Jasmine tried to hide the granola when there was just 5 of them.
Turner – do you think, 3 vs 4 or a 5 vs 2 the odds of getting Michael in a 3 v 4 are almost 1 to 1 VS 5 V 2 which is 2 and a half times.
Monte – that is fair
Turner – I see the way he talks with every word coming out of his mouth I'm feeling .. now I am giving Kyle the benefit of the doubt here when he was trying to put you up and that is the last thing I want bear with me here it was as a pawn not to get you out.
Turner says a 5 v 2 has him a lot less worried. "The 3v4 I can see it going either way with Michael winning"
Monte – I will say this..
Turner – Taylor is the threat within that side. If she was not here I wouldn't see a threat on that side
Monte – that is fair
Monte – the one thing about Taylor is.. she asked me if I was as good about the whole four thing.. YES whatever..
Monte brings up how he told her they have to take a shot at Michael otherwise none of them are winning.
Without reader support this site and these spoilers wouldn't be possible.
Please consider a donation to keep the madness going.
Any amount is greatly appreciated!