First HOH
Dan
Second HOH
Ian
Third HOH
 ?
Final HOH
?
Last Evicted Houseguest
SHANE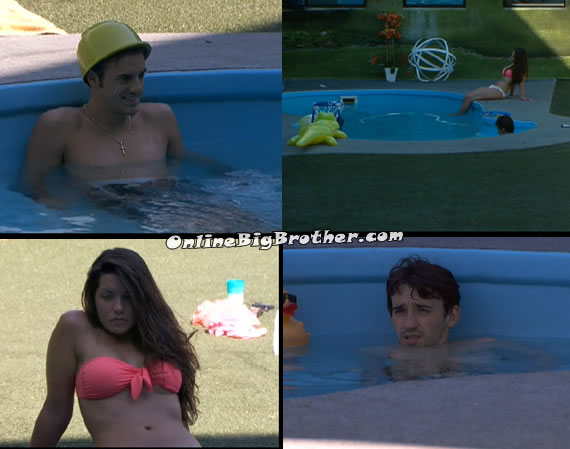 3:10pm Cam 1-4 Danielle is busy sucking in her gut while Dan and Ian talk about Bernoulli equation and how it's used to calculate inside velocity in a pipe. Danielle is being fairly cordial with Ian. He asked her what she was thinking about having for dinner and her response was normal.
They start talking about Websites, Dan mentions liking the Drudge Report. Ian likes The Best page in the universe. Ian: "It's that Maddox guy who wrote that book I'm better than your kids". Dan thinks there is at least 5 parody images done up about Ian and Taylor. Ian doesn't think they will find a clear picture of her. (Taylor is a girl that Ian likes) Ian does a shout out to 2 girls he knows Hayden jones and Taylor. Say they are hot and he likes their personalities.
Dan thinks the worst season was Big Brother 9. Ian says the worst season was 13. Dan laughs wants to know why. Ian: "everyone likable left early.. I ended up rooting for Shelly" Ian says he would rather Porsche won than Rachel"
Dan: "Who did you want to win Big Brother 12"
Ian: "Matt then Britney.. then Enzo and Lane.. Hayden I was lukewarm to but he played a solid game"
Dan: "Big Brother 9"
Ian: "Adam all the way"
Dan: "Big Brother 8"
Ian: "Eric then Dick"
Dan: "7"
Ian: "James had a very good shot then Janelle.. I didn't want Will to win it again, I thought he played a really good game though.. After Janelle left I wanted Boogie to win"
Dan: "6"
Ian: "Yvette.. but from the start Michael, James then Janelle "
Dan wonders why everyone hated Maggie because he never remembers her. Ian explains that Maggie was a giant bore and she said unpopular things like how she hated people coming into the hospital when they are on welfare. Dan cannot believe she said that..
Dan: "Season 5"
Ian: "I actually did like the Horseman.. I liked Scott and Drew.. Dianne played a incredible game though"
(Dan looks at Danielle who is across the yard suntanning.. Dan and Ian smile at the fact Danielle is kind of like Dianne that season)
Dan: "Season 4"
Ian: "Jack.. then Robert.. Then Allison"
Dan: "Big Brother 3?
Ian: "Roddy, Danielle, Jason and Josh"
Dan: "Season 2.. you liked Bunkie"
Ian: "Will"
Dan asks who Ian thought the alternative male and alternative female coaches were. Ian Enzo and Danielle Reyes. Talk moves to All stars and who was asked to come back. Ian mentions how cowboy was left on the steps of the Big Brother House twice.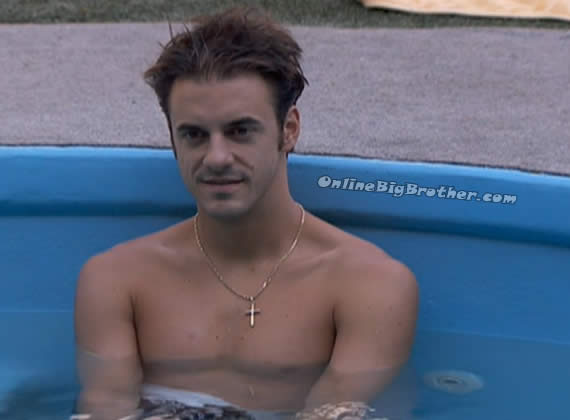 3:49pm CAm 1-2 Dan and Ian
Talking about America's favorite. Dan likes the idea but doesn't think the person who makes it to 3rd place deserves less than someone who is America's choice. Dan thinks Shane got a lot of votes for being scullduggered but he's not sure if Shane was popular enough to win it. Ian still thinks that Janelle has a chance to win the America's Choice. Dan mentions that Janelle knows all the Big Brother Alumni Gossip.
Talk moves to naming Kids. Ian says he always wanted to have a chemical twist to a child's name. He would want to take part of the name from the periodic table. Dan asks Danielle who is sitting on the couches. Carbon Murphree, Neon Murphree, Mercury Murphree. Dan comments that Mecury Murphree is a great name for a porn star.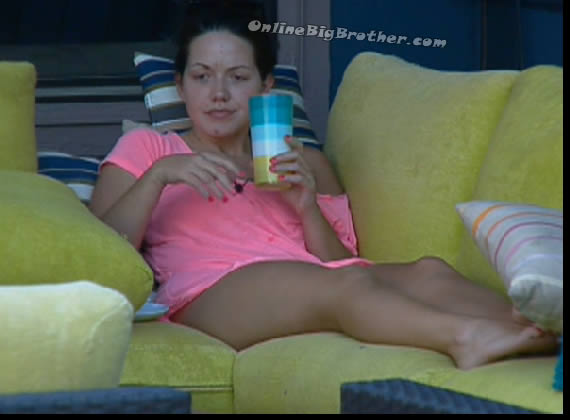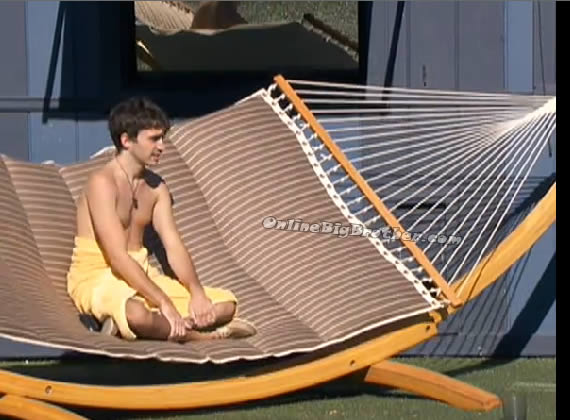 4:04pm Ian Rocking the Hammock, Dan and Danielle on the couch They talk about hearing a mouse int he backyard.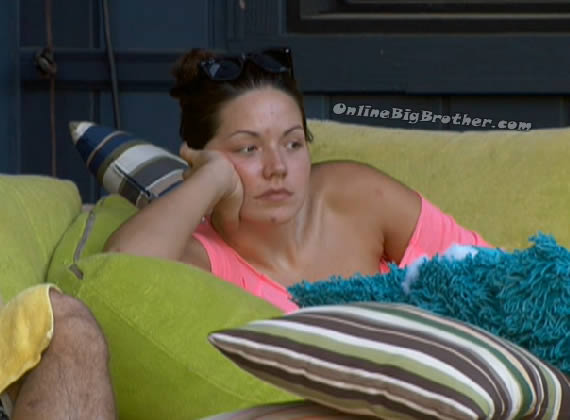 4:13pm Cam 1-2 Dan and Danielle
Danielle says she can read Dan's mind he wishes Memphis was here instead of her. Dan says no.
Danielle: "You and him didn't have to do this.. "
Dan: "What are you talking about?"
Danielle: 'You and me can't be normal.. Memphis has never this sad"
Dan asks if she's acting like this because the Diary room has given her a pill. Danielle swears she hasn't taken anything. She's just been thinking.
Danielle asks when Jerry Left. Dan says it would have been today and that left just him and Memphis in the house. It was the bests days for them.
Dan wonders if there is anyway Ian can "Fix" his need to always move. Danielle says medicine that can help him. She explains that he has too much going on in his head and that is why he needs to move all the time.
5:06pm
Cam 3-4 Ian rocking the hammock
Cam 1-2 Dan cutting veggies Danielle walks in and talks to him about wearing a "Big T" today. She leaves..
5:33pm Danielle comes out of the Shower Dan still cutting veggies asks her if she would date Shane and Trey at the same time. not serious dates but go out for dinner. Danielle says no walks into the bedroom.
5:37pm Dan asks her if Shane asked her to marry him on finale night. Danielle says she would say no they need to date a bit outside of the Big BRother House before jumping into marriage. Dan asks her if Shane says "I love you" would she reply back. Danielle doesn't answer says it's not for Camera's. Dan says the answer must be yes you would answer him back with those 3 little words. Danielle just giggles.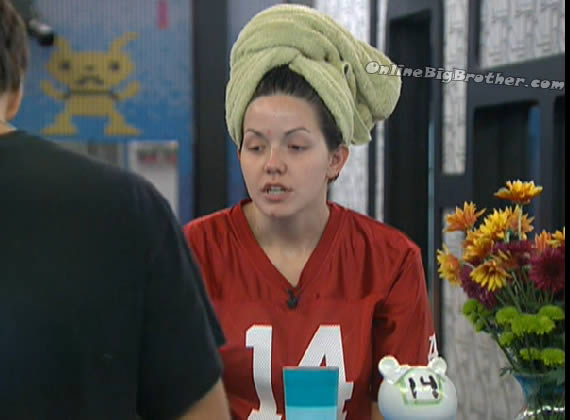 5:50pm Cam 1-2 Dan, Danielle and Ian Danielle saying that she will probably not talk to Willie, Jojo, Jodi or Frank after the show but everyone else she's cool with. Dan wonders why not Willie. Danielle says if he calls her she'll talk but otherwise she's not going out of her way to communicate with him. Dan jokes that he's going to tweet out JoJO and Danielle in the same tweet to force them to talk.
6:14pm Ian in the Shower, Dan still cooking and Danielle siting on the kitchen stool eating. Danielle wonders why Ian is acting strange and following her around. Dan says Ian is worried about Danielle influencing him and he knows Danielle is pissed at him so he's scared. Dan tells her he's going to do his bible readings later today if she's welcome to join in.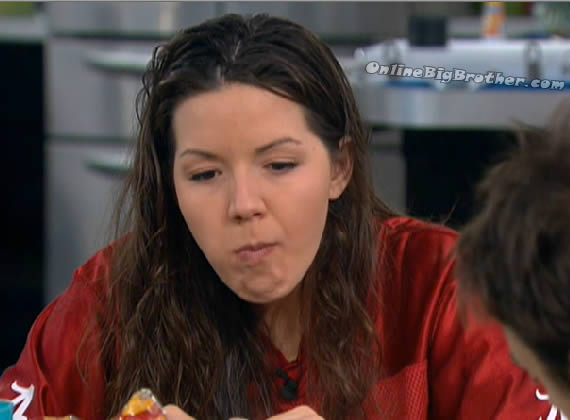 6:28pm Cam 1-2 Dan and Danielle eating Dan tells her he just cut meat for a hour and it was better than sitting around hearing Ian talk about how good of a Big Brother player he is. Dan tells her Ian is really concerned with Danielle tainting the jury. Danielle says she will taint the Jury it true.
Dan asks her if she will watch the season. Danielle will miss the final week, she might go back to see it later. Dan thinks the episode are fun to watch especially after being in the house. Dan mentions that regular conversations all seem more interesting when you watch them on TV.
Ian awkwardly joins her eating.. "Hey Dani.. hows it going"
Danielle: "Fine.."
6:48pm Cam 1-4 Danielle, Dan and Ian They are talking about bad neighbors. Ian mentions his playing loud music at 3:30AM . Dan says his wifes parents neighbors are out of this world horrible. Popping tires and keying cars, Dan didn't believe it at first but now he's seen it first hand and it's shocking.
Share it YO!!
Tweet