First HOH
Dan
Second HOH
Ian
Third HOH
 ?
Final HOH
?
Last Evicted Houseguest
SHANE
12:50pm – 1:10pm Ian grabs some juice and asks Danielle if she is alright. Danielle doesn't respond. Ian says okay I am going to head back outside. Dan asks you didn't say anything? Danielle says nope. I can be a b***h if I want. Dan says I've never seen you like that. Dan says I am not doing his dishes any more. Danielle says it would make me smile to go off on him about it. Danielle asks if Dan will throw that last comp. Dan says no, I didn't come 72 days to throw it just in the hopes of him taking me.. especially when I know I can beat him. Dan says he hopes Ian does throw it to me. Danielle says what would you say to him. Dan says I would say I have been working with someone since day one and it's not you. Danielle starts talking about the competition and how she can't believe she didn't beat him. Dan says that he is going to tell Ian that you are super pissed at him and nice to me. Danielle says good, tell him that. Danielle says that she is pissed at him. Danielle says number 1 you can't talk s**t about Dan only I can and I don't mean it. Number 2 I f**king hate you. Number 3 I f**king hate you! Danielle says the next time he talks to me I am going to f**king go off! I have been nice to him this whole time only because we were in an alliance, but I am done with him. Danielle says Ian started talking about her body and now I am in an anorexic mindset already. F**K YOU, F**K HEAD! I like Frank more than I like him! Danielle says that she is fixing to go off on him. Dan says just don't do anything you will regret. Danielle says that her friends don't even see this side of her. Dan says that she kind of scares him. Dan says we play differently, you play with heart and emotion. Danielle says if he says anything she will snap his neck. Dan says to the camera, just for clarification she isn't going to really do that. Danielle says that she wouldn't ever touch someone. Dan says but now they have it on tape, its motive and I am an accomplice. Big brother switches all four cams out to Ian swinging in the hammock.
Watch the last few days of BB14 for FREE:
Big Brother live feeds 3 Day Trial!
1:20pm Dan joins Ian out in the backyard and asks what's up. Ian says nothing just enjoying the beautiful day. Dan says that he is about to get into the pool.
1:35pm – 2pm Dan heads inside and goes to the arcade room and asks big brother if they can have some quarters to play the carnival game. He then goes to the living room and lays down on the couch and stares at the wall. Ian continues to swing on the hammock. Ian is mumbling to himself. "the captain goes down with the ship." "I've got a shot at the finals." "There's two on two" "Hook line and sinker" Danielle isn't on any of the cams. Ian heads inside. Dan and Ian talk about only having 3 days left. Dan asks has it hit you yet. Ian is worried Danielle is around. Dan says he checked and thinks she is in the diary room. Ian heads back out to swing in the hammock.
2pm – 2:25pm Ian mumbles to himself saying "Interesting, interesting, interesting. I trust you." "Family, family, family.. you shall stab me in the front." "Dan, my mentor in this game. Mentor. Mentor." "I ain't dealing with this s**t!" Ian continues to mumble and then says "No love from that camera in the center, no love!" Dan comes out. Ian asks if its salsa ball time? Dan says yeah but I only have 3 balls. Ian says well that's not going to work. I am ready for some pool action. Ian says that he felt like walking up to Danielle and saying "that's it you blew it! You lose!" Ian says that was a very fair game. Dan says yeah, its not like she didn't have a chance. Ian says that he wishes third place got something. Dan says yeah, they get like $10 grand but that's it. Ian says that he feels bad for her but ..in the final four it was two on two. Dan says yeah she had her chance ..it's over! Dan says it's over, go home! Too good for your home.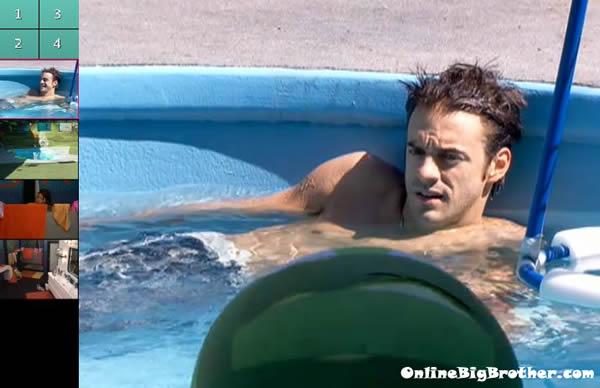 2:30pm – 2:40pm Ian says I wish we could just get a luxury comp or something were we got like $10 grand so that we could just give it to her so that she would stop complaining. Dan says she has been in there (diary room) a long time, maybe she self-evicted. They talk about how puffy her eyes are. Dan says that it would be so much better if she wasn't here. Ian agrees and says that they would have so much fun and get so many stop that's. Danielle joins them. Ian says hey. Danielle says hi. Dan asks where she was. She says that she was lying in her room and had to go the diary room a few times. Dan and Ian talk about the jury house and the finale night. They discuss when and how the other house guests will get to the finale. Ian says that they will send a bus for Jodi.
Watch the last few days of BB14 for FREE:
Big Brother live feeds 3 Day Trial!
2:45pm – 3pm Ian and Dan are talking about past events of the season. They talk about what punishments were the worst. Ian says he thinks the carrot costume went to the right person. They continue to talk about random things related to big brother. Ian says that Jodi was the girl that was supposed to be hot but that she just looked like she was constipated all the time. Dan laughs.
Simon and I work 24/7 all season long to bring you all the live feed updates and spoilers, please consider donating. Any amount is greatly appreciated, your donations go directly to paying the server and bandwidth fees needed to run this site. Donation Link