First HOH
Dan
Second HOH
Ian
Third HOH
 ?
Final HOH
?
Last Evicted Houseguest
SHANE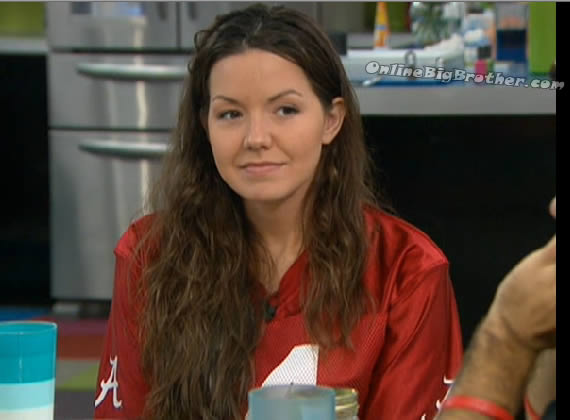 7:11pm Cam 1-4 Ian, Danielle and Dan Talking about it being a good idea that whoever wins takes all the quack packers on a vacation. Danielle mentions her brother has a "Speed Bike" Dan: "You mean crotch rocket" Danielle: "Yeah a crotch Rocket". Danielle mentions that if JOe ever found out she was in a Harley Davidson calendar he would have been all over her. Apparently Joe really liked that type of motor cycle. Danielle adds that when her father was going through his mid life crisis he bought himself and her brother motor bikes.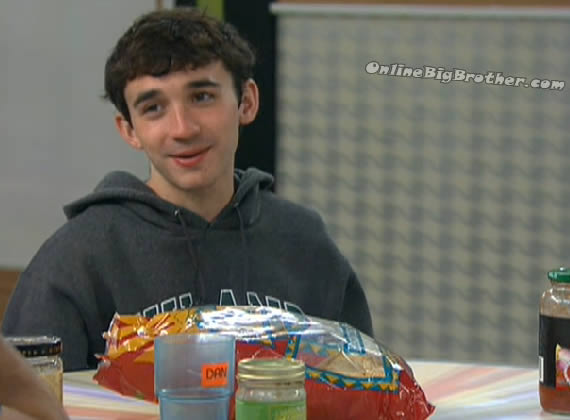 7:16pm Cam 1-2 Danielle and Ian kitchen talking about the competition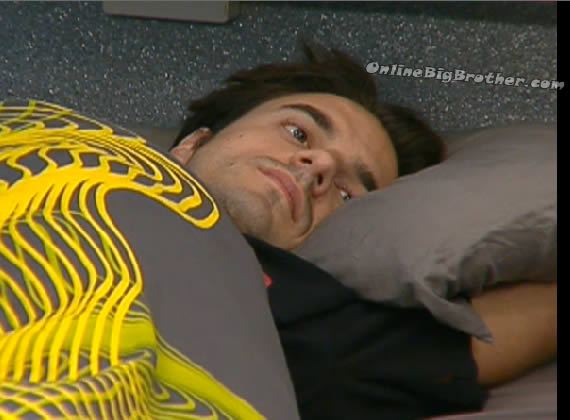 7:32pm Danielle and Dan Cam 3-4
Danielle is freaking out that Ian is following her around all over and it's driving her crazy. Danielle says Ian keeps talking about how bad a$$ the second Head of Household competition was. Danielle: "I told him he would not be saying that if he didn't win.. and he was all like Oh ya of course I would it was bad ass" Dan laughs agrees with Danielle.
Dan: "He doesn't have what I have.. Social awareness"
Danielle says Ian told her "I took out 13 people insinuating she is going home" . Danielle leaves to grab some chocolate, she comes back and starts complaining about Ian leaving all his stuff around the house. Danielle tells Dan he has to win the next HOH competition. Danielle says Ian cannot shut up about the "John Blaze" he's John Blaze this and John Blaze that.
Danielle: "I'm 2 seconds from losing it"
Dan: "Don't"
Danielle: "I'm so sick of him rubbing it in my face and following me around.. how do I get him to stop"
Dan: "ask him to give you space"
Danielle: "Do you think I should be mean to him.. what doe you think I should do"
Dan: "Personally I would try to rattle his cage.. "
Danielle: "What should I do"
Dan: "I don't know.. make some random comment about the jury.." Dan explains that right after Ian makes fun of someone in the Jury tell him "Ohh i'll make sure I tell them that right before they vote"
Danielle says that Ian thinks Dan is a easy win in the final. Dan smiles says he will mop Ian up in the jury speech. Danielle asks him to tell Ian something to throw the HOH competition. Dan doesn't think he can convince Ian without Ian becoming suspicious. Dan tells her it more up to Danielle. Danielle asks him if he thinks he can win the Final HOH. Dan doesn't think Ian will do well at the final competition because it is social. Even if Dan does convince Ian to throw it it's still just a A or B so he still could win it. Danielle: "You have to win this.. I didn't want to hear I told you so from Britney" Danielle explains that Britney told her that Dan was a selfish player. Danielle prays that Dan didn't keep Ian for only himself. dan says he didn't.
Danielle: "Just don't throw it Dan"
Dan: "I won't I promise I won't"
Ian walks in and Danielle leaves. Ian brings up how Danielle is saying she's going to mess the Jury up but he doesn't see how she can. She will not get much exposure with the Jury because it's the live show and why would Shane listen to her. Dan laughs says the last time Shane listen to Danielle he got Skulduggerd. Dan tells him that Danielle is pissed from him talking about the HOH competition being John Blaze and winning the Competition being John Blaze. Ian scoffs says he only said the Competition set up was John Blaze not him winning it. Dan and Ian saying Danielle will beat them both in the end with Jury votes. Ian agrees says it'll be 5-2. Ian says that him and Danielle were talking about the 2nd HOH comp and she really didn't have a strategy for it. Dan: "2012 not having a strategy in the most important comp of the year"
Ian says that no matter what he doesn't have Shane's vote so why is Danielle even selling it. (It's funny Ian talks like he'll win regardless). Ian now claims that he dragged the quack pack with him and never put any of them up.
Dan brings up again that Danielle will not have a substantial amount of time to talk to the jury before the vote, only the time between commercials. Dan asks Ian if he ever had a deal with Danielle. Ian says no, all he would do is nod when she talked to him about getting Dan out.
Dan says usually when they get to this part they are celebrating.. this is a really tough final 3. Ian agrees.
Ian is seems to be really worried about people not voting strategically in the final 2. Dan tells him they each have one person that is a lock in the jury after that it comes down to speeches.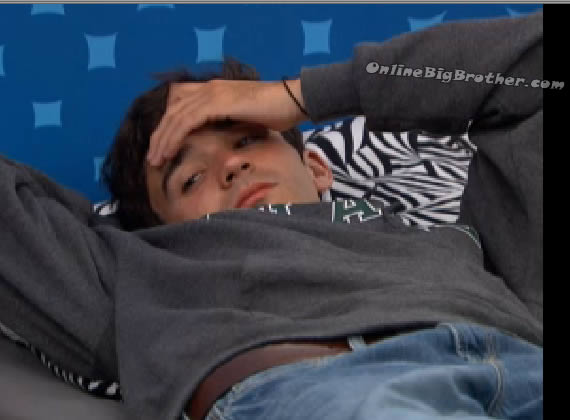 8:27pm Cam 2-4 Bedroom Dan and Ian Talking about how much easier the game was during Big Brother 1-6. Ian: "It's a lot harder now.. you have slop, cold showers, Have nots Beds, penalty outfits"
Ian mentions how happy he is that Danelle didn't win. Dan asks him if he would be sh!ting bricks right now. Ian: "For Sure.. I would be freaking out"
Ian: "What a f***ing sore loser to be acting like this.. When I was almost certainly going home last week was I like that"
Dan: "No.. you were like.. I had a good run"
They start talking about politics.. Dan says hipsters use to Hate on Bush because they thought it was cool. He wonders who the hipsters like now. Ian says Obama. Dan:"I wonder if he is going to win this election" Ian: "I hope not" (Feeds cut…)
8:46pm Cam 1-4 Dan and Ian Talking about Healthcare. Ian Brings up that he was watching crossfire with Tucker Carlson and he said that with universal health care you end up paying for all the obese people who do not look after their bodies.
(They both do not appear to be fans of Healthcare and are both republicans.. flashback to catch their political views.)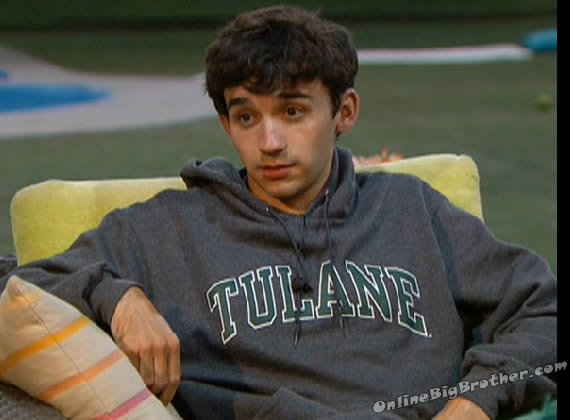 9:10pm Cam 1-2 Danielle and Ian Backyard Couch
Danielle says it's so hard to sit there with Ian and be betrayed by her coach.
Danielle pleads with him to be honest with her and answer her if after Britney left did he have a deal with Dan. Ian says they would look out for each other but there was no big deal made. Ian's final 2 was with Britney. Ian tells her he had no idea Shane was going he was certain he was gone last week. Danielle: "I saw Dan cutting me he's betrayed everyone in the house but never saw it coming from you"
Danielle: "you have full intentions on taking Dan.. you have no intentions on taking me you have zero.. tell me the truth"
Ian: "It's not a slam dunk"
Danielle starts bitching at him for not taking her to final 2 she's going to tell the jury and tell Shane. Danielle: "I'm siting beside Shane in the jury and I'll tell him.. the vote will be 5-2 for Dan"
Ian: "how on earth.. you are so sure frank and Ash.. they both hate Dan and Me"
Danielle: "everyone expect Dan.. not you"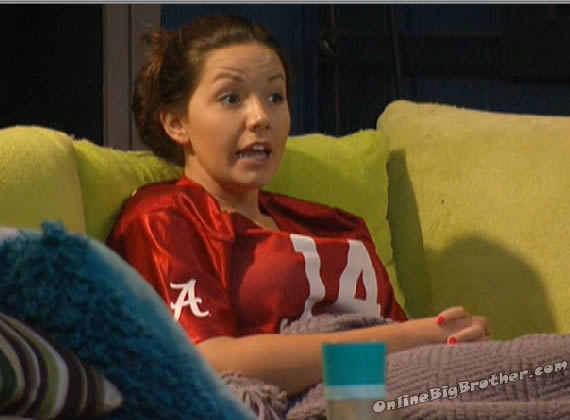 Danielle: "you've had the easiest ride since double eviction.. I've had to struggle since day One.. and to go home like this, that is why I'm going out guns glazing"
Ian tries to understand why she thinks he's had it so easy but she won't have any of it. Danielle keeps saying that Shane will not vote for him against Dan and she thinks Ian will have a better chance with her in the final 2 than Dan. ian says he'll have to think about that.
Danielle doesn't let up tells him that the secret deal he has with Dan makes her sick she doesn't want to hear any more from him she doesn't believe a word he says. She now starts up about how she thought Ian was going to play a ethical game and he's going to end up cutting a person that has done nothing but protect him all season.
After a couple moments she starts in again saying that taking Dan is a easy win. Ian tells her he would lose against her in the final 2. Danielle: "I'm telling you now because I've played with him this entire game he's going to burn you bad in the speeches.. he'll air all your little secrets"
Ian says he really doesn't have any secrets. Danielle: "I would rather go out fighting than coward behind a freaking villain like you are"
9:27pm Cam 2 Danielle tells Ian she has to take sleeping medication to sleep at night that is why she was called into the Diary Room. Danielle: "Just so you know if you do take me to final 2 I will not say anything bad about you in the speeches"
9:37pm Danielle says she's played this entire game personal. She hasn't thought about her Jury speech but she has thought about what she will say if she gets sent to Jury. Ian asks her what she will say. Danielle won't tell him just says he'll find out.
(Ian needs to tell Danielle to shut up.. OMG)
9:46pm Danielle tells him she bases her final vote based on who cuts her. Ian thinks that sounds a bit odd.
9:51pm
Ian: "I just hope we are all friends after this.."
Danielle: "I don't know.. I need my space" (danielle leaves)
Ian says "What Bullsh!t" jumps on Hammock starts rocking it..
Danielle runs inside starts looking all around for Dan..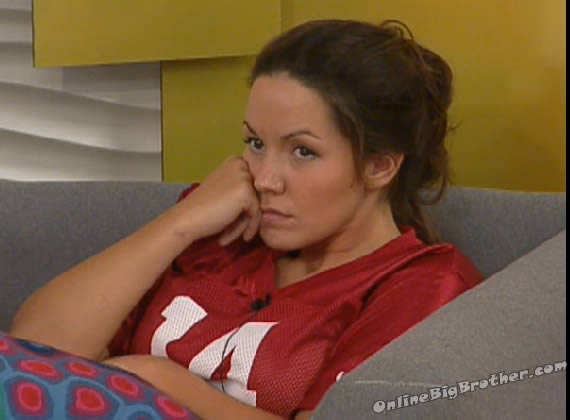 10:06pm Ian rocking the Hammock Danielle in the living room Dan must be in the Diary room. (Image Link)
(Ian did not respond to Danielle's threats the way she was hoping I think)
10:38pm Cam 3 Image Link
Dan reading the bible in his bedroom. Danielle joins him says that Ian told her he had a final 2 with Dan since day 55. Dan: "Fine.. it's a bullshit deal.. it's a Joe deal..whatever"
Danielle: "Why didn't you tell me"
Dan: "did you tell me ever single bullshit deal you mad"
Danielle: "YES"
Dan: "Whats the difference between that and the final 2 you had with Shane"
Danielle: "That is why he is still here isn't it.. I told you everything like we were a team"
Dan: "I forgot sorry.. I can control Ian I cannot control Shane"
Dan says that ideally they would have a floater at this point.
Danielle says Ian isn't a floater he's a freaking genius..
Danielle: "Dan what else am I going to go home and see that is going to piss me off"
Dan: "Nothing"
Danielle goes about to give Dan a rundown of her b!tch fest with Ian a couple hours ago. (read above)
Dan asks her if she thinks he'll throw it. Danielle: "YES"
11:13pm Dan: "four years ago I won"
Danielle: "good I'm happy for you and when you won I jumped up and down for you"
Dan: "You are lying.. I can tell.. You didn't like memphis"
Danielle: "He was nice and all but I never felt he played the game.. I felt you carried him around.. I guess that is what people will say about me"
Dan: "Maybe"
11:38pm
Cam 1-2 Ian rocking the hammock
Can 3-4 Danielle and Dan are talking.. (I officially cannot listen to her anymore tonight the hammock squeaking is better)
11:54pm Cam 1-2 Ian rocking on the hammock rambling random madness says "She deserves a scumbag and a feces sandwich"
12:06AM Cam 1-2 Ian rocking the hammock calling Danielle a immature girl. Says it's OK for her to have a final 2 with Shane..
Ian says that last week Danielle was going to get rid of him before Dan and Dan trick her and got rid of Shane. It's OK for her to try and get him out before Dan but he can't get danielle out before Dan. Ian: "Danielle's logic people.. child's logic"
Ian starts talking about how Danielle is saying she gave up so much to be here. Ian starts listing off the names in the Big Brother house saying they all gave up something to be on the show..
(Ian is pissed at Danielle.. All those things dan was telling her to tell Ian are making Ian want to win the comp more and take her a$$ out)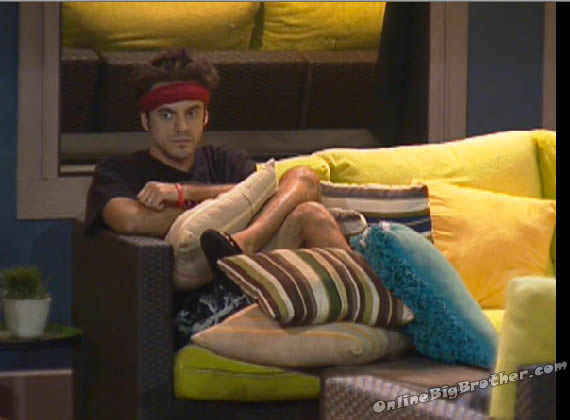 12:13AM Backyard Ian and Dan
Ian giving Dan a short rundown of his conversation with Danielle highlighting all the craziness she is spewing.
Ian: "She just sat me down and tore me apart for a hour.."
Ian tells Dan that he's done with this sh!t.. He's taking Dan and Dan will win Ian just wants to take his 50 grand and go home.
Ian: "She's obviously nuts.. I can't deal with this sh!t she's pushing my buttons and I cannot wait to get her ass out of here.. I want her out more than anything in the world… ANYTHING"
Dan: "you're not having second thoughts.. She'll f***ing slaughter us"
Ian say no he's renegades all the way and agree that they cannot beat her with jury votes.
Ian tells him he's been seeing the mouse running around in the backyard.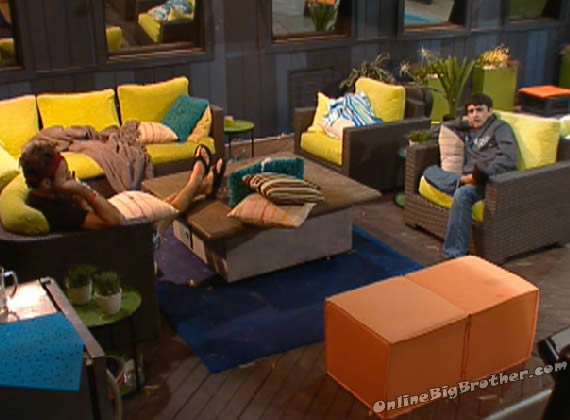 12:36AM Dan and Ian
Dan: "She's acting smug and it's got me worried"
Ian :"No get that out of your head I am not taking her"
Dan tells Ian to stop worrying about what Danielle is telling him because in the next few days they'll be cashing the big checks and Danielle will be cashing the "stipendo check"
12:44pm Dan tells him he kind of wants to site her down and be like "Look i'm taking Ian and Ian is taking me"
Ian likes this idea says they should do it. Dan dodges says that he doesn't want it to get to that point but if things start getting really ridiculous he will.
They start talking about bitter jury members in past seasons..
1:06AM
Backyard Cam 1-2, 4 Survivor talk..
Bedroom Cam 3 – Danielle sleeping
1:13AM dan tells Ian that Jonny Fairplay isn't right in the head
1:15am – 2:45am Ian and Dan head inside. Dan says that eh enjoyed their survivor talk. Ian agrees and says that he will be back. Ian goes to the diary room. Dan goes to the kicks room. Danielle asks Dan what he has been up to? Dan tells he that they have been talking about survivor. Dan gives Danielle a hug and tells her that he knows she has had a tough day. Danielle says thanks Dan.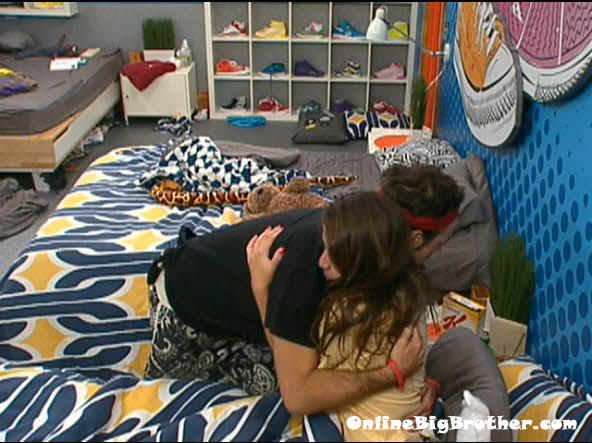 Dan leaves the room and goes to lie down in the arcade room. He then gets up and starts taking a shower. Ian comes out of the diary room and asks Dan if he wants to talk more survivor. Ian heads out into the backyard and starts swinging on the hammock. When Dan is finished he tells Ian that he is going to bed. Ian says that he will be going to bed soon too. In the kicks room Dan reads the bible and then reads his HOH letter.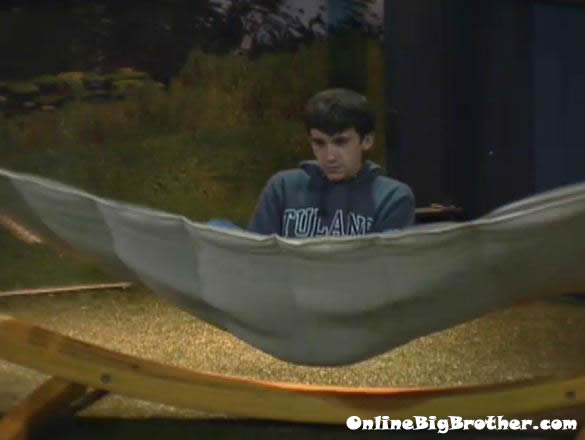 Ian is out in the backyard swinging in the hammock. He says to himself that he would bring Dan to the final two even if he knew that Dan would beat him. He says that Danielle's behavior the last few days has been unacceptable. Ian says that he wouldn't sully the Renegade name. Ian continues to mumble to himself and swing in the hammock. Ian then heads inside and heads to bed.
2:45amAll the house guests are sleeping..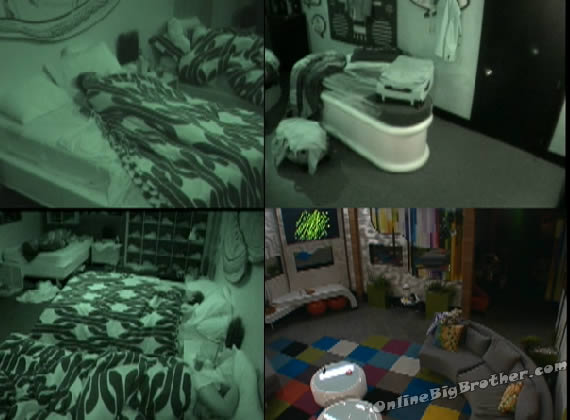 8:16 am Sleeping
9:05 am Sleeping