POV Holder:
Zach
Next POV
April 24
POV Used
No
POV Ceremony
April 26
HOH Winner
Zach
Next HOH
April 22nd
Nominations:
Godfrey and Jordan
Have Nots
Godfrey, Sarah, Jordan, Bruno
POV Players
Zach, Jordan, Godfrey, Sarah, Ashleigh, Pilar
If you are outside Canada and want to watch the FREE Big Brother Canada Live feeds sign up for a VPN service here https://www.hidemyass.com/vpn/r16399/. It's safe to use, easy to set up, and cheap. Need to know more check out this post explaining how to set it up.

9:30am – 10am Big Brother wakes up the house guests. Bruno and Bobby are in the storage room talking about voting out JP. Bruno says Zach was coming for us last week. The way he set up the nominations it was so obvious. Willow, Zach and Ashleigh. If we did this or not Zach is coming for us this week or next. He tried to this week. He knew he had to take a shot at us. We are the only people in our way. Bobby says we can say you forced our hand here. Burno says yup, you (Zach) put up Godfrey. Bruno says next week I am going for Zach or Willow. Bobby suggests going after the showmances. Bobby says what do you think of the "B-Headers?" Take off their heads. B like our names. Bruno says I love it.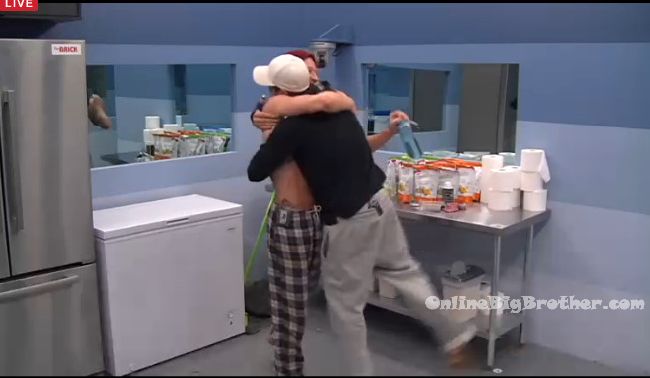 10am – 10:15am
The house guests are getting ready in the bathroom. Jordan heads up to the HOH. Zach says the Sindy, B, Willow things is still in play. Its not going to be a cake walk either. Then all we have is Sarah. Jordan asks if Zach talked to Ashleigh about it? Zach says yeah and she feels safe. Jordan says if I was to win in the second one or the first one… And Sindy was wins the veto I could convince her to use it. Jordan says I could say to Bobby that the little Willow tree told me you have a power. I don't know if its true or not so I have to throw you up. If he has it then its gone or if he doesn't then he is gone. Jordan says I think everyone would want to flush it, wouldn't they? Zach says I think so. If he has it that is a huge advantage in the game. Jordan says we just keep doing what we can with what we know.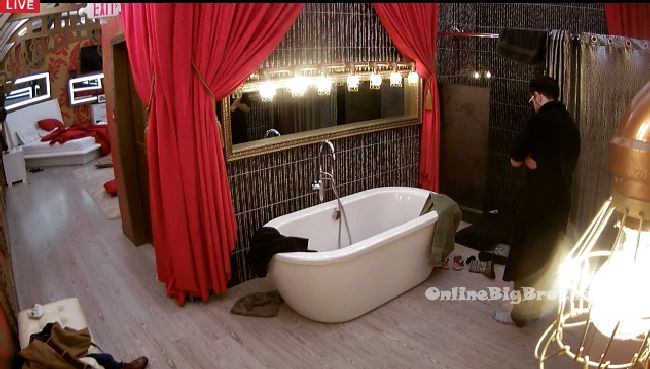 10:20am – 10:30am Kevin, Jordan and Zach are in the HOH bathroom. Jordan counts out his votes and says he thinks he has it. Jordan says next week I think everyone is going after Sindy. The odds of it being us is pretty slim I think. Willow joins them. Jordan and Willow leave. Kevin tells Zach you're in a good spot. Zach says yeah Sindy is next. She just can't win. We're on here side right now because of JP. Kevin says the dynamics of B have changed so much. Zach says I don't like her in this game. Zach says he is over Willow. Kevin says its just too much every time you see her. "Yes Willow you'll find a husband" Kevin says I am just trying to chill and relax. A double evict is scary. Kevin says you have good relationships with Bobby and Bruno. I'm trying to build that. Kevin goes to leave and says we'll talk again Wednesday night.

10:45am – 11am All the house guests are in the HOH on a lock down. Godfrey tells them about the movie "Training Day" and then the conversation turns to talking about Netflix and Shomi. Zach says he didn't even get to watch his movie or show because it stopped working part way through and he hasn't gotten it back. Bruno tells who ever is next to watch their show the first night in case that happens. He says when the battery would die on the ipod he would give it to them to charge and it would take 2 days each time to get it back.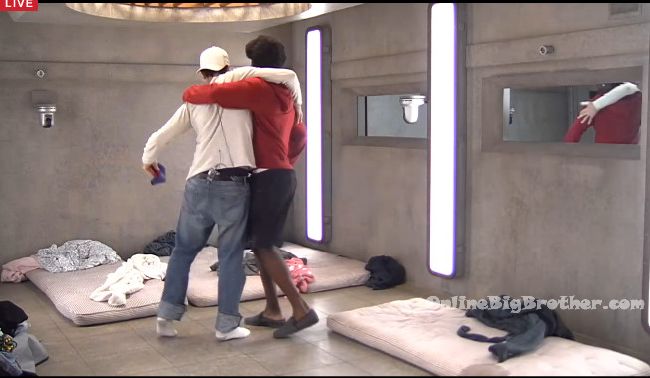 11am Bruno tells Godfrey we've got you bro. I've done work for you! Godfrey asks if he should confirm again with everyone. Bruno says I've confirmed with everyone. Bruno says if I go up I am going to need your help! Its you and Bobby! You're my two main boys!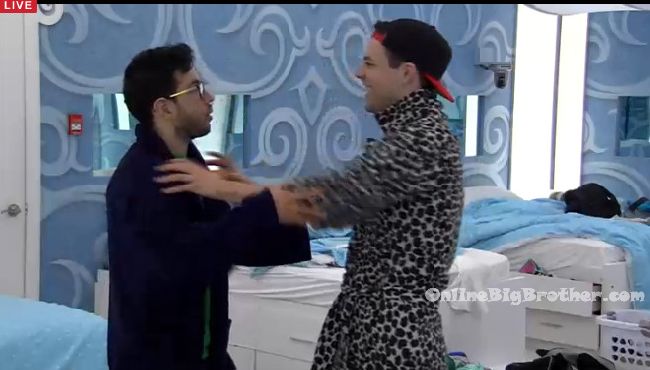 11:20am In the bedroom – Jordan tells Kevin about the secret veto Bobby has which he can use within the next 3 week. Zach doesn't want me to tell you. Jordan says there was a number on the two beds. Sindy went to the bathroom and Bobby found a key that he used to open up a vault box that had a secret veto he can use for 3 weeks. Kevin asks how does Zach feel about it. Jordan says Zach thinks oh well. Best case scenario is Sarah or I win it the HOH.

11:25am – 11:35am
Zach and Jordan have likely one of their last Newport meetings:
Jordan says so not much noise eh?! Outside? Zach says no. Zach says lets let this week play its course. Sindy plays the next big week there for us. Jordan says YUP Big Fish! Zach says then lets just address where we can go. Then whoever wins the next HOH if we can veer them towards like a B or Willow .. then we'll do that and then we're 2 down. Then we're still sitting okay and we've still got who we want. Worst case scenario we get into eighth and its a full out slugfest from there. Which will be great you'll sit there and there will be a huge battle going on there in front of you. Jordan says or they'll be so loyal to the chop shop that they'll just finish the job and take me out. You know what I mean? Because they're that stupid. Because if they were smart they would come after you and Ashleigh but they're stupid so .. Or yeah maybe they'll fight to pick me up to try and take you out. You know? They might be like hey lets go to war and take out Zach. Zach says yeah. Zach says if in then next two weeks we can get rid of 2 spares then we're f**king laughing because then they're down to 4. I think we're going to be okay either way here. Jordan asks does Bobby know that Willow told Ashleigh? (about Bobby's supposed secret veto) Zach says I don't know. They talk about how Sindy knows too. Zach says If Sindy is on her way out she would BLAAA…(tell everyone) (See photos below)
11:35am Big Brother blocks the live feeds..
2pm The feeds are still blocked in preparation for tonight's eviction episode..
2:40pm The live feeds are still blocked .. and no leaks yet…
ALLIANCES IN THE HOUSE
There are always a lot of Alliance but we've tried to make sense of it all.. Read our alliance help guide
[polldaddy poll=8810064]