Quick Big Brother Spoilers
Big BroChella SIDE
Brochella HOH (Inside the House):  Michael
TEAM BroChella:  Brittany, Jasmine, Monte, and Taylor.
Nominees: Jasmine and Monte
POV Players:  Michael, Monte, Jasmine, Brittany, and Taylor
POV Winner: Brittany
Veto Ceremony:
Havenots:  None this week
The Situation: As it stands now Brochella won't be using the veto and Jasmine will be sent out.
Dyre Fest SIDE
Dyre Fest HOH (Backyard):  Terrance
TEAM Dyre Fest: Alyssa, Joseph, Kyle, and Turner
Nominees: Joe and Turner
POV Players: Terrance, Alyssa, Joe, Kyle, and Turner
POV Winner: Terrance
Veto Ceremony:
Havenots:  None this week
Lock your ranks in before midnight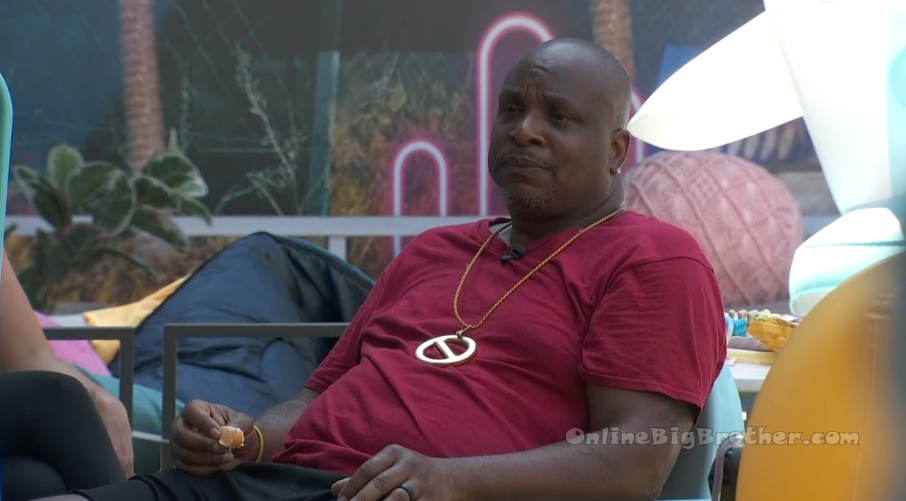 Terrance WON the Dyre Fest VETO
2pm The live feeds return from being blocked. Turner – Good job BRO! This is your week! God Damn! Alyssa – so Tracy (Terrance's wife) is going to be so excited when she sees Sunday's episode (HOH).. then Wednesday's episode (Veto). Terrance – I owe this to little mama! I said it in my vows when I married her. I said you're my super power! Alyssa – stop! You're going to make me cry. Terrance – I am serious. Alyssa – were you thinking about her when you were playing? Terrance – yeah this morning I was.
Over by the Backyard Kitchen – Kyle and Joe
Kyle – what do you think? Joe – I don't know, probably keep it the same. Kyle – you think? Joe – We should talk with Turner. Kyle – and say what? Try and get him to flip it to Alyssa. Joe – I still think there's a chance he puts up Alyssa. Kyle – How? We would have to mix something up. Anything we could do with the Fly Swatters ..like with Alyssa leaving him out or something. Joe – as long as Old School will back him up .. me, you and Turner.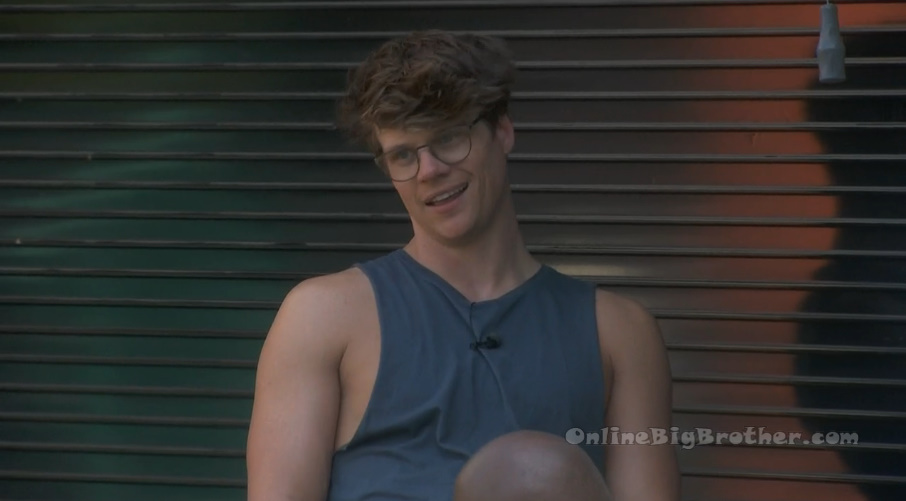 2:35pm Backyard – Turner, Joe and Kyle.
Joe – I think we approach Terrance together. Turner – absolutely, what's our pitch? Joe – Alyssa exposed Old School. And then if we go back in the house .. us four are one. Kyle – sure. I'm down. I have no idea if he would even be open to entertaining it. Joe – we might as well try him. Kyle – worth a try. Joe – otherwise he sends probably me home. Joe – Or Kyle because he keeps pitching to me that he's going after Kyle. Kyle – and then to me its you. Joe – yeah so we might as well unite. Turner leaves to change. Joe – yeah dude, he's telling me its you. Kyle – we'll see .. if he (Terrance) uses the veto, then I am f**ked. Joe – then if he does maybe we can get Alyssa up. Kyle – maybe. I wanted to cry dude when he won. Like frog in my throat. Joe – me too dude. We have one more shot (veto ceremony). I've seen you do it in bumper but it will take all three of us. Kyle leaves to go get in the pool.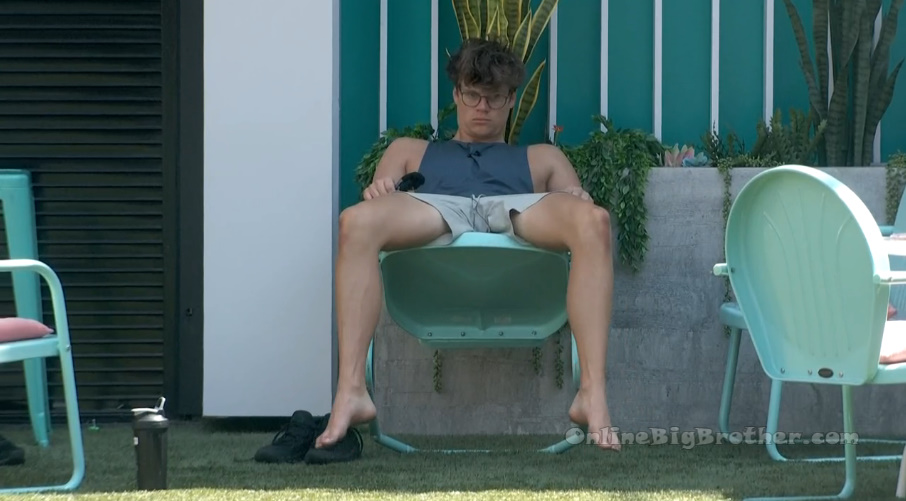 3:30pm HOH room – Jasmine and Michael.
Jasmine – have you been able to chat with Brittany? Michael – We touched base a little bit.. just briefly after the veto last night. I think she plans on leaving things the same. Jasmine – yeah that's fine if the plan is still just what it was supposed to be then. Michael – yeah. Jasmine – hopefully it could be … I talked to Taylor. I talked to Brittany. I told Brittany the exact same thing that I've told you that like y'all are no where near what.. like I have too many other fish to fry right now to be completely honest. When I talked to Taylor she asked did Michael tell you the plan before the veto thing and he was like hopefully one of us could get the veto. And that Monte was still the target and all that good stuff. Michael – in that one round when Monte and I were the only ones that stayed .. I was worried. I was like either this is the round that gets him out or.. Jasmine – that was my strategy to fold until he was out. Michael – that is smart. Jasmine – and then even if it came worst to worst.. I would have to go against him. That's why I kept folding. Everything I've said I was going to do, I've done. Michael – I think the four of us all knew before we even had one on ones this week what the plan was. Not that I would expect the vote to come out into a tie but I wouldn't mind if I got to stand up there and say it but I am not going to ask anyone to do it. Jasmine – I definitely think if it is on Thursday its going to be an emotional day whether I stay or go.
4:08pm Outside the HOH room – Taylor and Monte are studying the days/events of the season together. They talk about how well Michael does in the comps. Monte – I was like wow! I don't think I stood a chance. And you had asked, I wonder if this one would be a good one to see if he is beatable… and if Brittany hadn't been there we would have won. Its just something I'm taking note of. Like I don't know if he tries to hide how good he is but he was spot on on everything outside of the first one. Its just something I took a note of. Taylor – I know that it doesn't matter what the comp is he is GOOD! Monte – he is good! He's always been 100% with me. He's always been very transparent with me. He is really close with Brittany. So I am not going to assume he is going to pick me over Brittany. Do you think he would pick you over Brittany in any circumstance? Taylor – Brittany know and I don't think she is ready to talk about it… but there isn't a world where Michael takes anyone over Brittany… because its an easy win over Brittany. Monte – I don't know if this is anything you're thinking about.. like once we get to five.. and maybe I'm talking about this too soon and should be since I'm on the block. Taylor – its natural for us to think about our like 3, 2, 4… Monte – yeah. Its nothing to act upon right now because I want to get to five. Taylor – have you talked about this with Joseph or.. Monte – no. You may think this is weird but Joseph and I do not talk game. I feel like now I have to start playing the game again. Taylor – we HAVE to win! We have to win!
4:40pm Bedroom – Brittany and Monte.
Monte – I think we should probably gather around to make sure we get the same story from everyone because if there are any discrepancies that would be a tell tail sign. Brittany agrees.
4:50pm – 5:05pmThe inside crew are following Monte's lead in a workout.
5:37pm Workout room – Taylor, Michael and Brittany.
Taylor – Monte is 100% in. Michael – you think? Taylor – yeah. Brittany – what makes you think 100? Taylor – we talked upstairs. He was like we hope and pray that Joseph comes back but if he doesn't its final 4. And I was like …alright! Michael – I like that. Brittany – me too. Taylor – if Joseph comes back we can figure out where we want the final four to be.. but the decision could be made for us. Brittany – yeah I couldn't go to sleep last night because I was so excited. Just the adrenaline of everything and feeling so good about us. It feels good.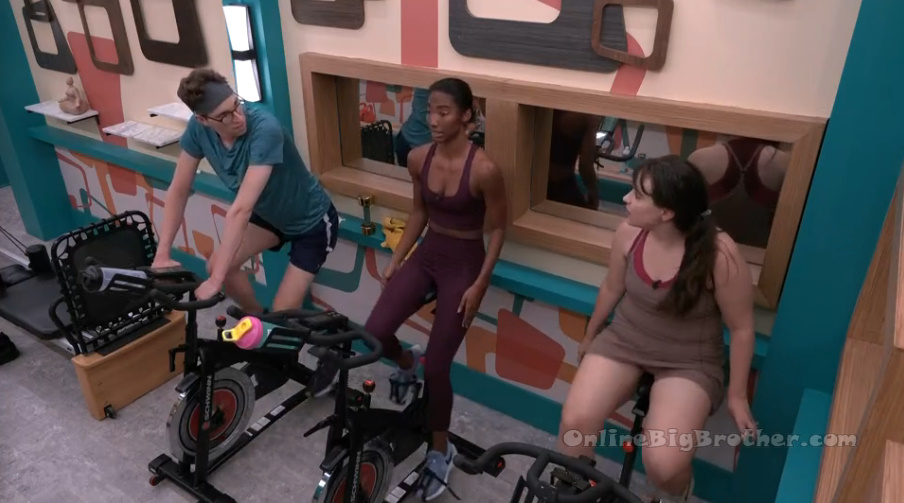 6:35pm Backyard – Alyssa, Terrance and Turner are sleeping. Joseph and Kyle are playing Chinese Checkers. Inside the house – Michael and Taylor are talking about wanting a tour in the maze behind the mirrors / who really plays Zing-bot and if its the same person each season. Monte is on the bike.
6:40pm Backyard – Kyle and Joe
Joe – is there anything else that I can bring up to Terrance? I just need you to back me up. Kyle – I have no idea what else. Joe is whispering and its really hard to hear over the other back ground noise. Joe – Turner betrayed him and unless he is her to just make friends it doesn't make sense. I just need you to always back me up. Joe talks about the gang inside the house. Joe – they're bonding over kicking Jasmine out .. that's it. Kyle – 100% they're chilling. Joe – we can probably get Monte back. If you're alone in there with just Alyssa.. you're done. Kyle – I bet I go before Terrance.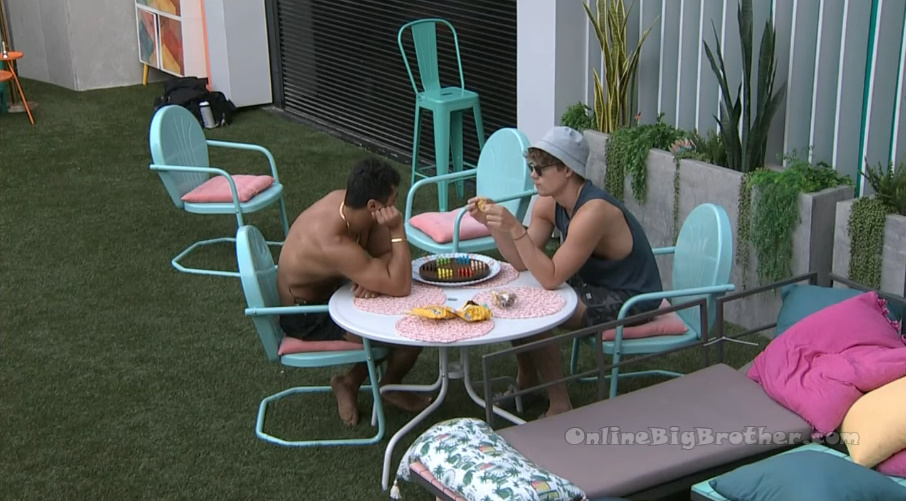 7:10pm – 7:35pm Bedroom – Brittany and Taylor.
Brittany – I think this is best case scenario getting us to where we want to get to because I think its an incorrect perception but I think the other Leftovers might have the perception that we're the easiest to beat out of the Leftovers. And let them think that all they want till we make the big moves. And we have the stories of what we've had to overcome. And I am sure that not using the veto is not a flashy move.. Taylor – but its the best move. Brittany – its the BEST move because you can't always think about flash because I want the Leftovers till the end. And I want .. even though its not true.. I want us to be perceived as the weakest ..especially when we can prove that's not true. Taylor – we've just got to get through and I am glad that Monte has Kyle as a target now because Kyle is hard to beat and the more people we have gunning for him the better. Let Monte try and go for Michael. Joseph is beatable. He has an impeccable social game but he is beatable in comps. And I am laughing because he knows. Brittany – we will just have to be really careful because we don't want Michael to find out. Taylor – if something happens.. we have a solid backup final 3. Brittany – we have to think honestly about being so close to Michael. We have to think about the contingency plan if he is not there anymore.
7:46pm Backyard – Alyssa, Kyle and Turner.
Turner – I don't think Terrance is going to use the veto. He made his noms for a reason so come the end of the week I think we are sitting pretty. Kyle – I think we need to think about how the four remaining in there are going to be bonded. Turner – oh for sure. I think if we could all talk to Terrance .. obviously without Joseph here. We could talk about that .. I hope I am not his target. I don't think I am. I am totally fine with him not using it. I trust you guys with my life. Alyssa – I would take a bullet for you bro! Turner – I honestly might now.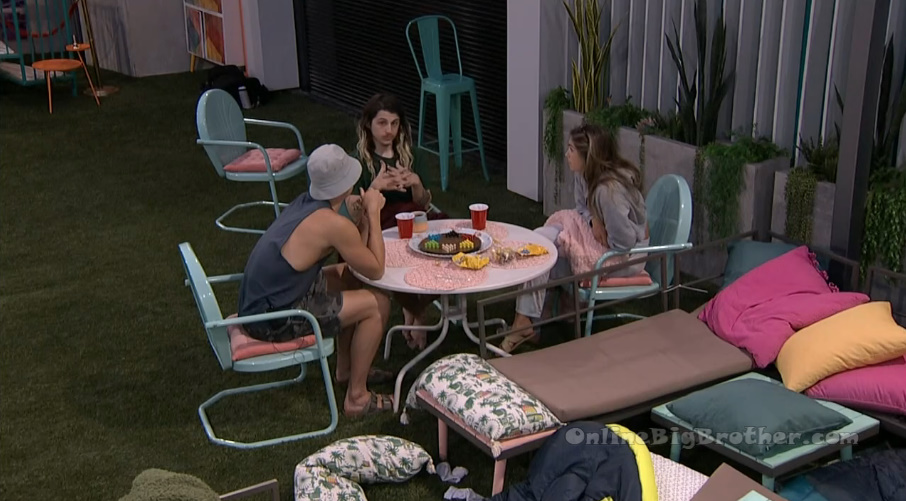 7:52pm By the Pool. Kyle and Terrance.
Kyle – in two days you win two comps! Straight shooter. I quickly chatted with him (Joseph) and what he is going to do is he is going to tell you that there's an alliance that doesn't include me, Turner and Joseph. That its just going to be like Michael, Monte, Taylor, Brittany, and whoever else is in it. I think that is it. He is going to try and pin the Old School thing on Alyssa. That is still his play to try and protect the boys. I will go along with it with him but at the end of the day I know his allegiance is with Monte. So I am like keep running your mouth dude. So he is going to pitch that. He is going to pitch like the showmance thing with me and Alyssa. Terrance – I already know that. What is your thought process when you go back in the house? Say they went really soft and got rid of Jasmine. Which I really think that they did. Kyle – I think so too.. I don't think Michael is willing to risk his game even more by taking a big shot and be even more of a threat. If he adds his comp wins to taking out a big threat he has already won the game at that point. Terrance – right. Kyle – if he gets to the end. I think he take a safe route and takes out Jasmine .. which sucks. Terrance – I think that's a whack move. I definitely can't come back in with a whack move. Kyle – I was talking to Turner and Alyssa when Joseph was shower and I brought that up .. I was like listen we're going into the house when four people that are already in an alliance …that have an entire week together. They're going to be rock solid when we go in. We need to be ready for that. You won HOH and veto. I don't have any blood on my hands for taking out Joseph so I can still stay in that group and try and get information. Terrance – okay. Kyle – if I win HOH next week. I am thinking Monte and Michael go up. And say f**K it .. you guys hit the veto .. one of you goes home. Terrance – I think that has to be the move at this particular moment. Anything else we will be playing ourselves. Kyle – I am not afraid of Taylor or Brittany. Its Monte has been running this game. You look at Joseph, he doesnt know what to do without Monte. So I don't think I told you the name of the alliance.. it was the seven of us and we called ourselves the Leftovers. Terrance laughs. I want to keep this momentum and build. I just want to make sure that we're locked bro.. because I am definitely going to make this move. I am not going to blow you up. He is going to come for you after my conversation with him. I am going to tell him I am 50/50. Kyle – he just has to realize that we have four people and there are four people when we go into the house.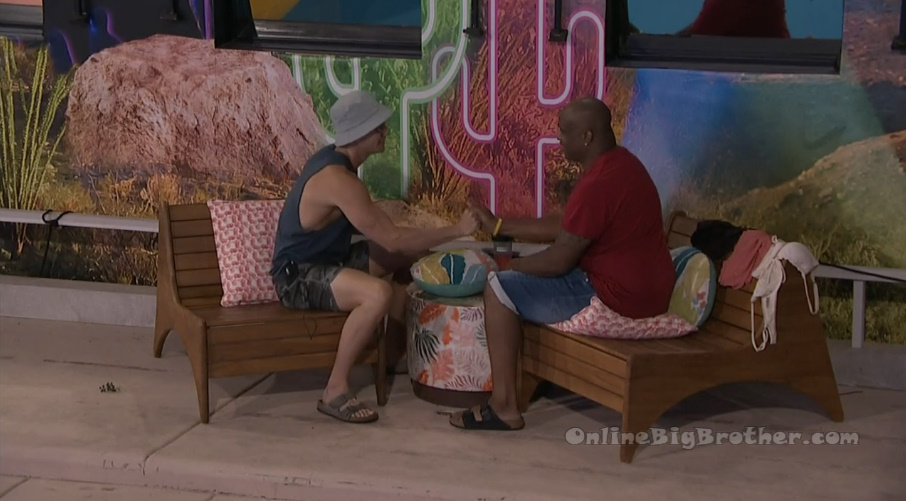 8:06pm Alyssa and Terrance.
Terrance – so we accomplished our goal today. I didn't want any pieces to be moved around. I wanted the control to stay right here so that I could do what I wanted to do and no blood would be on no one else's hands but mine. You can put all the blame on me. Alyssa – I am not going to do that.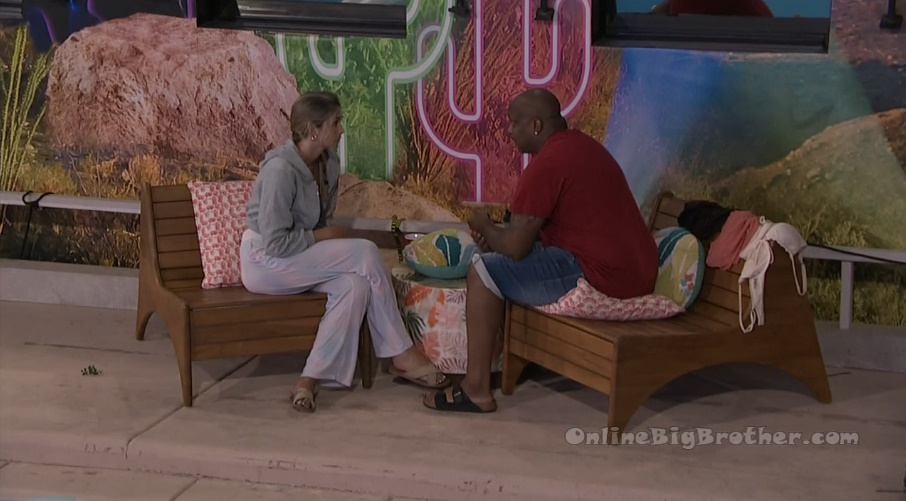 8:08pm Big Brother blocks the feeds.
8:20pm Big Brother switches the feeds to the kitten cams.
9:41pm Still blocked. (Apparently, there was a person outside the compound yelling so they've blocked the feeds.)
10:32pm Still nothing..
11:35pm Nothing but kittens
12am Still blocked..
6:30 am no feeds for you
9:00 am Feeds still down. Likely caused by a wall yeller.
10:14 am Feeds return to a sleeping Jasmine.
Show your support 🙂 Without your support, this site and these spoilers wouldn't be possible.
Please consider a donation to keep the madness going.
Thank you to those that have already contributed! We really appreciate it!