Quick Big Brother Spoilers
Big BroChella SIDE
Brochella HOH (Inside the House):  Michael
TEAM BroChella:  Brittany, Jasmine, Monte, and Taylor.
Nominees: Jasmine and Monte
POV Players:  Michael, Monte, Jasmine, Brittany, and Taylor
POV Winner: Brittany
Veto Ceremony:
Havenots:  None this week
Dyre Fest SIDE
Dyre Fest HOH (Backyard):  Terrance
TEAM Dyre Fest: Alyssa, Joseph, Kyle, and Turner
Nominees: Joe and Turner
POV Players: Terrance, Alyssa, Joe, Kyle, and Turner
POV Winner: Terrance
Veto Ceremony:
Havenots:  None this week
Lock your ranks in before midnight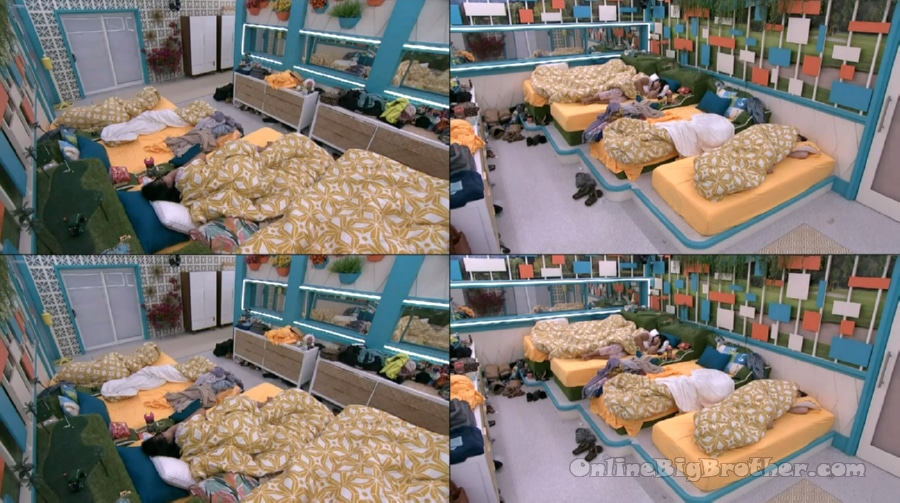 10:17 am the feeds have returned after being blocked for 14 hours.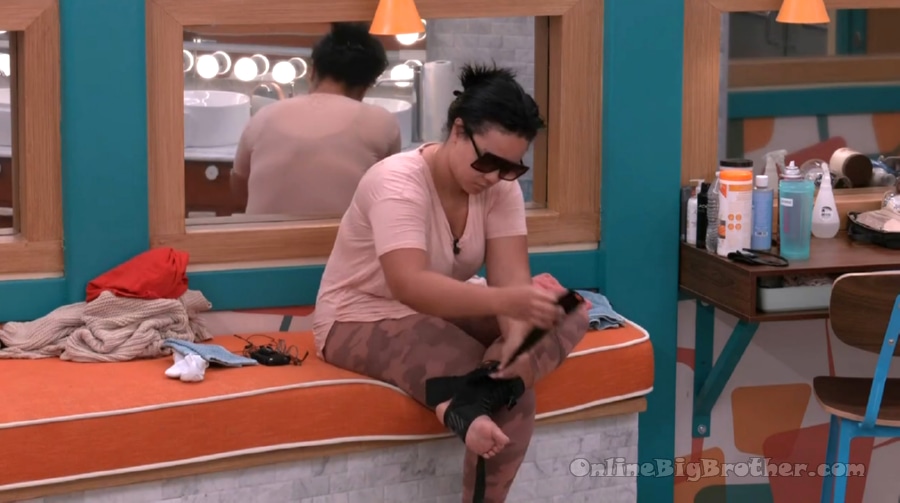 10:50 am Jasmine on her Birthday week making adjustments on the ankle brace.
11:02 am Brittany and Jasmine
Talking about makeup, earings and Nails.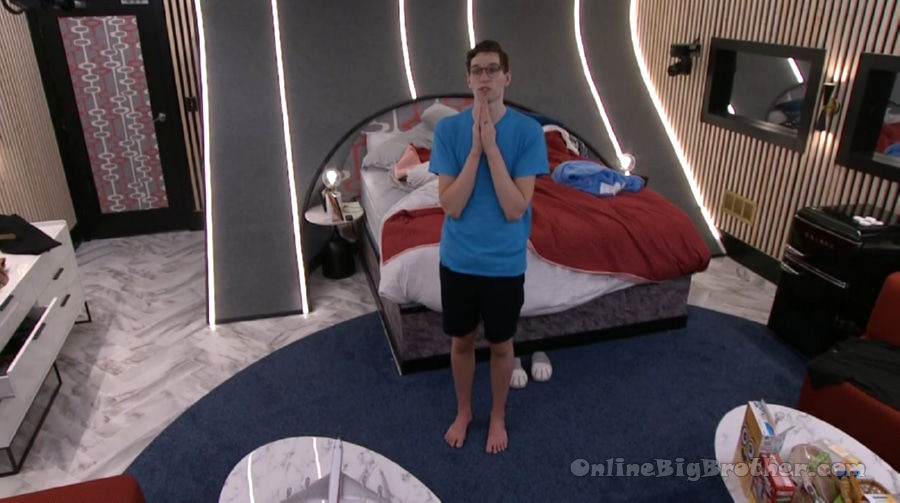 11:09 am feeds flip to this conversation near its end. Michael is talking to Hayden.
Michael is saying that his cat Lyla's birthday is September 23rd so remember to leave treats for her.
Michael looks at a cat picture
Michael – Ohh I miss Lyla.. ohh my Lyla cat how I miss you.. Ohh I miss those girls..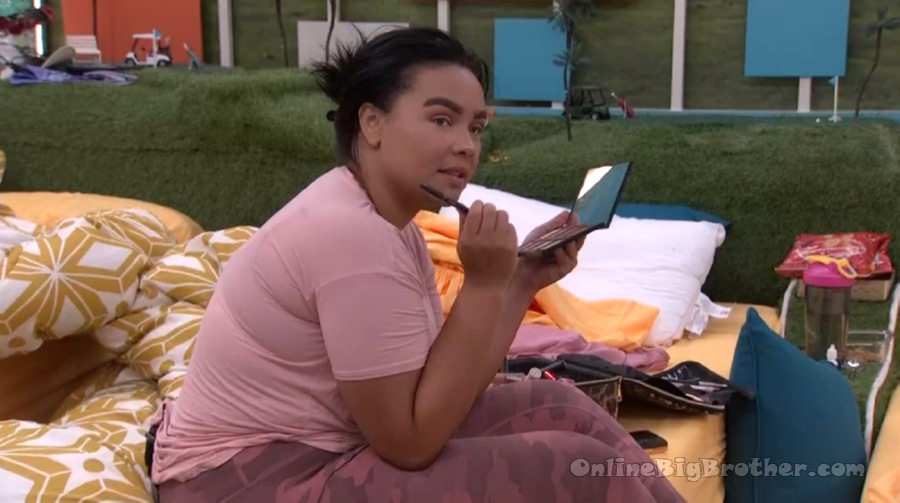 11:16 am Feeds flip back to Brittany and Jasmine talking about Makeup, Furniture etc….
Jasmine – I'm minimalist as well I can't shit everywhere all over my house (Minimalist eyebrows)
Jasmine talks about her kitchen where her "island is all marble"
They go on and on about how they had custom-made kitchens and all the Design decisions they made. Sounds like they both went all white.
Britt – for a hot minute I wanted to be an interior designer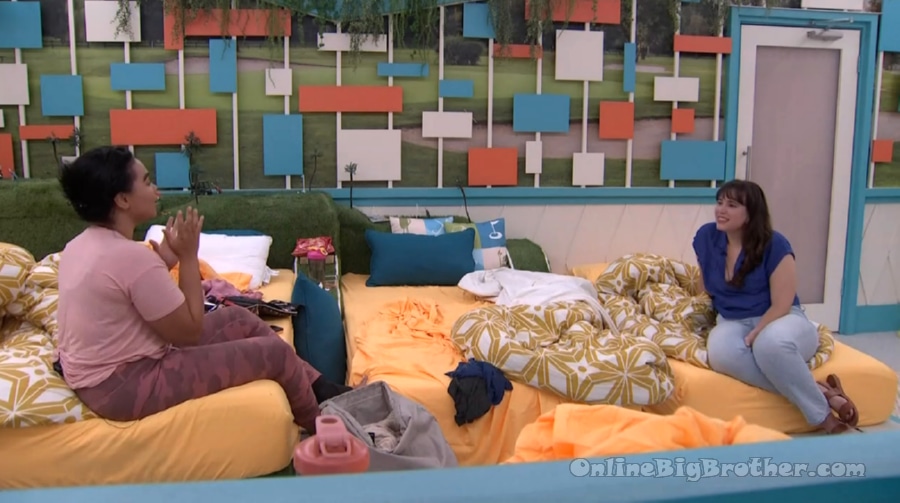 The conversation changes to their custom-made bathrooms. (Sounds like they both had custom houses built)
Brittany – when I was first designing the rooms and stuff I thought this might be what I use for the start of my portfolio to become a designer so steven was really letting me do everything. He really appreciated that and really liked the look I was going for.
Brittany starts to pick her nose.. Talks about becoming an interior designer. She didn't know how she would be able to launch that career during covid.
Jasmine – I would start on Instagram and TIKTOK
Jasmine talks about her business and how her "video content" has exploded she hired a person to help her. She does all the creative work and has someone help with editing and production…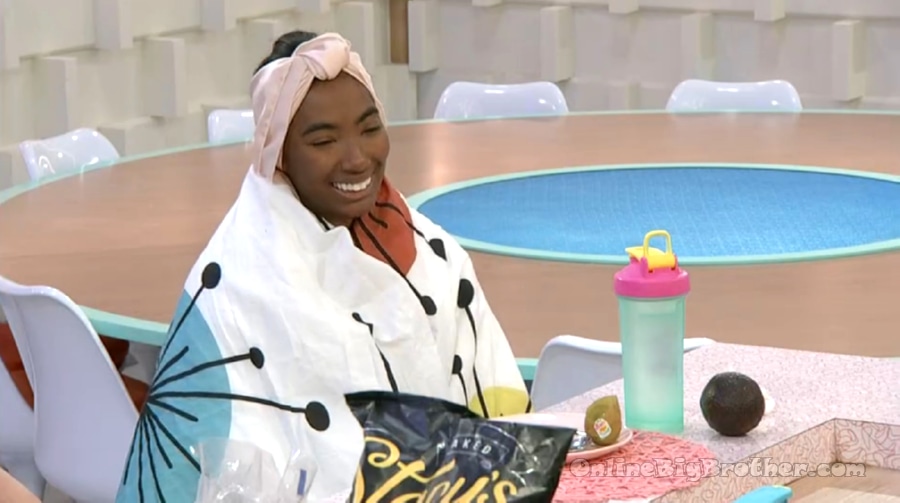 11:46 am Britt, Monte, Taylor and Michael
Brittany is saying she's mentally preparing when it's only this many people in the house.
Brit – Four weeks time. I don't want to send any signal out to the universe that I don't like this.
State of the Feeds #BB24 pic.twitter.com/CeE8VDzqjm

— OnlineBigBrother.com (@bigbspoilers) August 21, 2022
The state of the feeds right now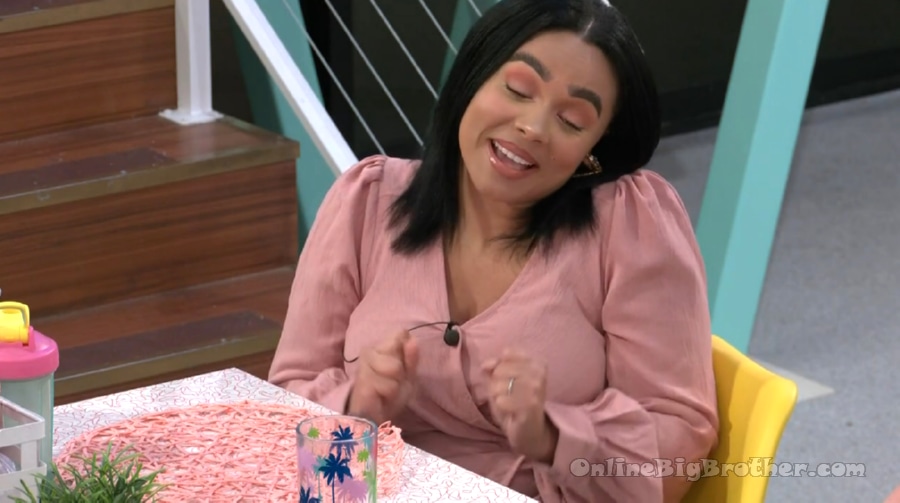 11:50 am Jasmine and her eyebrows join the group .. Chit chat..
Noon
More chit chat …
Jasmine talks about how the only thing she has in common with Turner is they are both business owners and they know how to edit videos.
12:32pm Feeds are blocked. FACTS!
1:12pm Still blocked! Gas!
2:10pm Blocked all day, all night! FIRE!
Show your support 🙂 Without your support, this site and these spoilers wouldn't be possible.
Please consider a donation to keep the madness going.
Thank you to those that have already contributed! We really appreciate it!