Quick Big Brother Spoilers
Head of Household: Jasmine
Nominees: POOCH and Taylor
POV Players: POOCH, Jasmine, Taylor, Ameerah, Terrance, Michael (Host Daniel)
POV Winner: Michael
Veto Ceremony: Veto was not used
Havenots: Terrance, Nicole, Pooch, Daniel
Lock your ranks in before midnight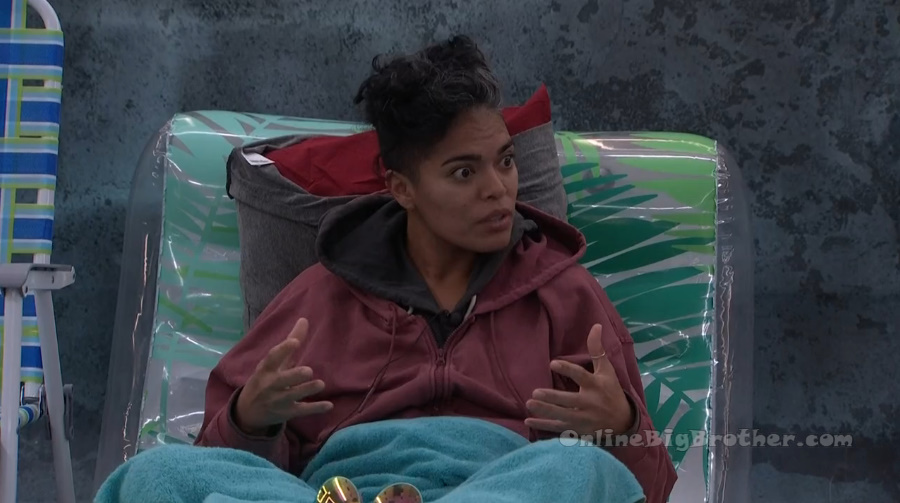 10:03pm – 10:55pm Havenot room – Nicole and Daniel.
Nicole – we busted Pooch in a lie. Daniel – what happened? Nicole – last night when Alyssa and all them left.. well before that when the girls stayed behind and the guys left and that is why Taylor said that she wanted to make out with you or whatever.. but everyone is aware of this so they leave.. so I am the only one in the room with Jas doing her hair Pooch comes in and says Ahhh.. Taylor just tried to make out with me and we were like what and he was like yeah. He said she came up behind me and asked what cologne are you wearing and would you ever make out with any one in the house? So I don't doubt that was true but then he said I just don't like her aggressive personality. She just about made Alyssa cry. Now Alyssa is Jasmine's like number 1. So Jasmine was like wait what? What do you mean? So then we made Brittany go down stairs and check on her and she was apparently okay. Then Ameerah comes up and we're like hey can you go check on Alyssa because she seems like something is wrong but Pooch isn't saying anything and I am like weird .. whatever. Fast forward to today.. I brought up Pooch saying Alyssa was upset and Ameerah said she was with Alyssa at the time and she was not crying. She was annoyed being around Taylor. He was trying to make it seem like Taylor made Alyssa cry.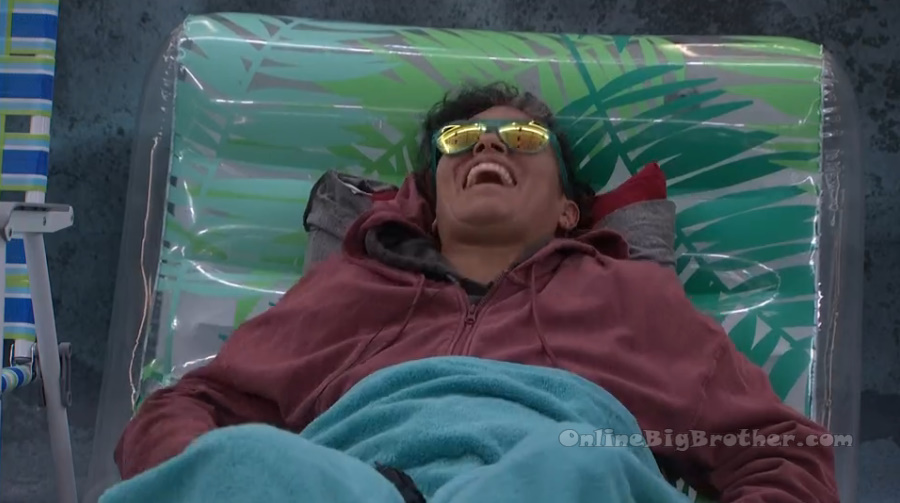 Terrance joins them. Terrance – she (Taylor) wants your boy (Daniel) bad! Bad, BAD! Nicole – bad, bad, bad! Like she is like I was I was a havenot this week. She would be cuddling up next to you keeping you warm. Daniel – she told me that down there. Nicole – yeah because she is for real! Daniel – Ugh WOOF! Nicole – he was like you ready of the latest!? Taylor wants to F**K! Daniel – at least it makes sense now but I am not trying to do all that. Nicole – no you better not. I would be so mad at you. Daniel – dude that would ruin everything. Nicole – that would ruin everything. Daniel – I doubled down down there.. I was like in October we're all going to get drunk.. I am going to be saying things I probably shouldn't just to give her something to hold onto. Terrance – I even walked up to her and told her she needs to chill out.
11pm Kitchen –
The house guests are sitting around chatting.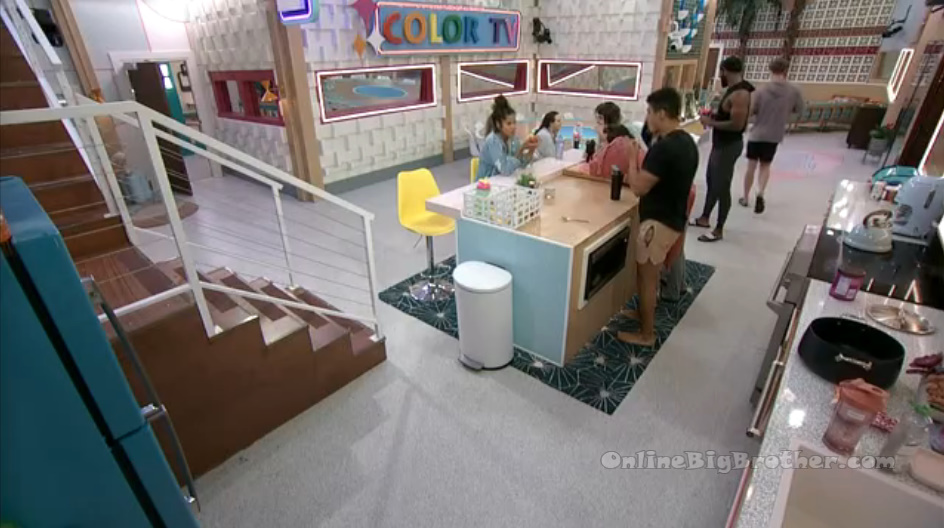 12:15am – 1am HOH room. Ameerah and Jasmine.
Ameerah – that is her (Brittany) cover up. The sweet, innocent. Jasmine – if y'all want to get rid of her we will get rid of her. Ameerah – we've got to get a guy to get rid of her. We need a guy to put her up. I don't even trust her as a number. Like oh we have the numbers .. I don't trust her. Jasmine – Damn .. she better not play with me because I could hurt her feelings. Ameerah – something is not right there. Ameerah – as a matter a fact, I am not talking around her anymore. I don't trust her. Jasmine – then she is going to know something is up. Ameerah – Y'all can but I'm out of the room. Jasmine – I am not going to mess up my game either.. sh*t! I am not HOH next week so I don't have to say sh*t. Ameerah – watch her be HOH and put two girls on the block. That would be f**king sick. Jasmine – I don't think she would. Ameerah – that would f**k up her game because we would gun for her. Jasmine – that is the same way Alyssa feels about Indy. Ameerah – I don't trust Indy either. Jasmine – I don't know if she got this thing for Monte or whatever. Ameerah – she is trying to work with Kyle and Joseph. Jasmine – you think so? Ameerah nods yes. Jasmine – like behind our back? Ameerah – yes! I really think so. Jasmine – it could be a ploy. Ameerah – the girls that I don't trust right now are Indy, Brittany. Jasmine – that's it. Ameerah – that's it, I was going to says Taylor but she's not in the group. I don't trust her (Brittany). I don't. She is not giving us any intel. What intel is she giving you? Jasmine – she will talk about the votes but she will not give an info like I heard Joseph and.. Ameerah – no she does not tell us any intel… she gives intel to other people! Jasmine – you think so? Ameerah – she did with Pooch! Luckily Pooch didn't realize she was telling the truth. Jasmine – I can't believe I am about to get a guy out of the house this week. Ameerah – yeah I think she needs to go on the block. I am not going to tell a girl to put her up but I am definitely going to tell Taylor that. She just has to go. She is on my hit list.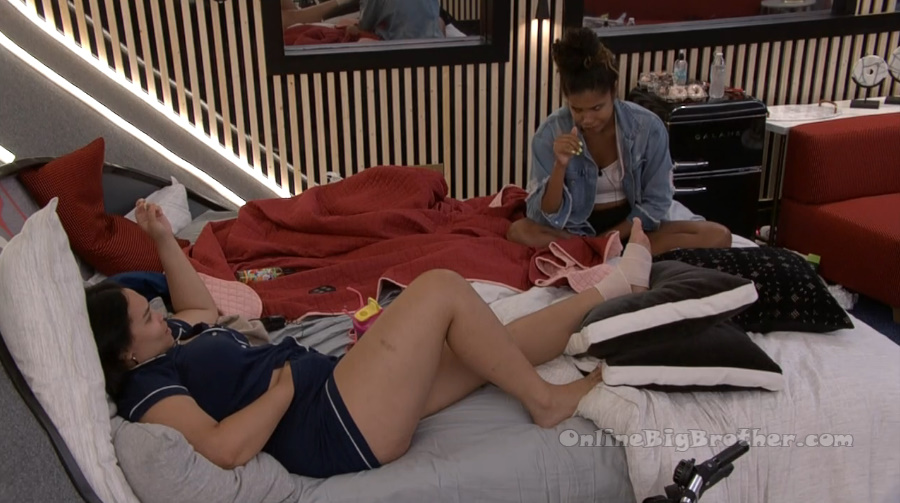 1am Bumper Pool..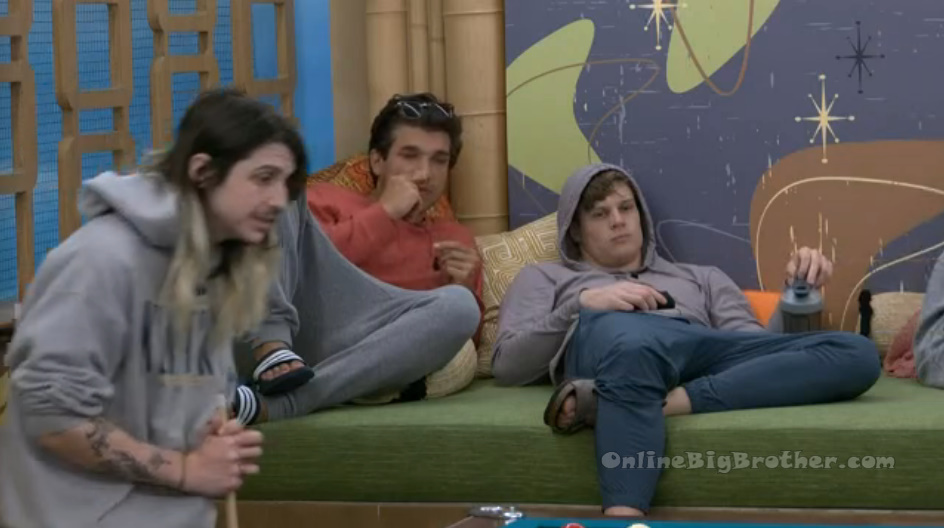 1:20am Bathroom. Ameerah and Joe
Ameerah – are you going for the HOH next week? Joe – probably. Ameerah – yeah me too. Joe – yeah, as you should. I think the next HOH will show.. Ameerah – it will show the most game play. Joe – and if there is any week to have immunity it would be that week. Like from a friend advice standpoint. Regardless of sending people home. I don't have targets so me thinking about HOH .. its not about the targets it people will start showing their cards in terms of their targets and I would rather have immunity when that happens. Ameerah – same, I'm scared.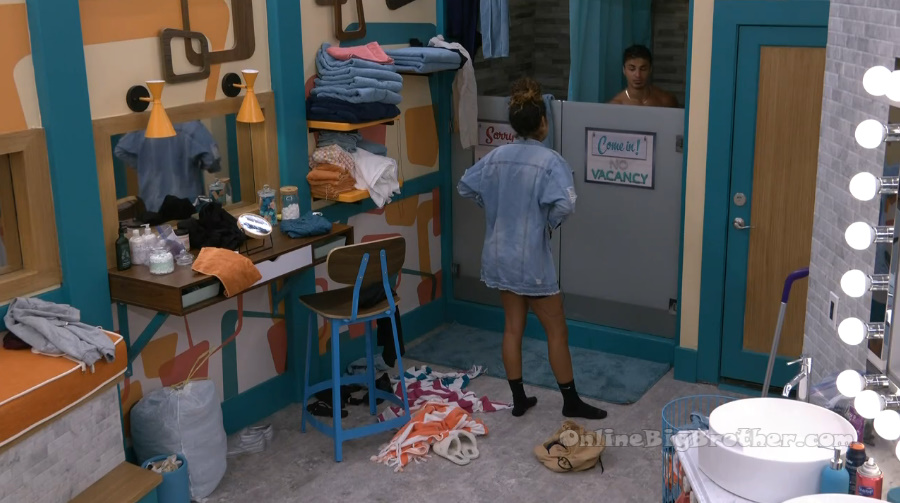 1:30pm – 1:50am Outside the HOH room. Turner, Monte, Michael, Kyle and Pooch. They're talking about BB22 All Stars. Michael – the reason all stars was sh*tty was because it was pre-gamed. Like alliances were formed before they got in there. They continue to talk about other past seasons.