Quick Big Brother Spoilers
Head of Household:  Michael
Nominees: Terrance, Monte & Joseph Kyle and Daniel
POV Players: Terrance, Monte, Joe, Brittany, Michael Jasmine and Turner; (Taylor is hosting)
POV Winner: Michael & Brittany
Veto Ceremony: Veto was used Kyle and Daniel nominated
Havenots:  None so far
Lock your ranks in before midnight
Festie Besties:
Turner & Jasmine
Joe & Monte & Terrance
Daniel & Kyle
Brittany & Michael
Alyssa & Indy & Taylor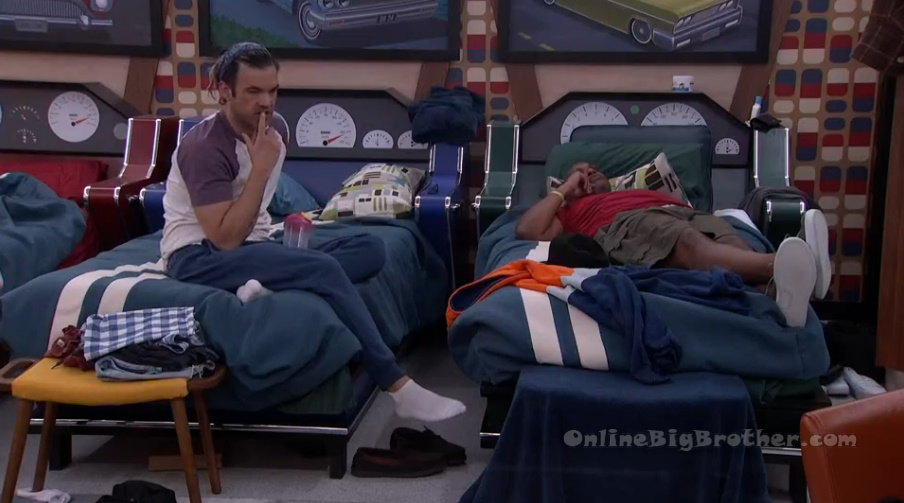 7:15pm Bedroom – Daniel & Terrance.
Terrance – I am still a little shocked that it was passed up (That Michael passed up taking out Monte). Daniel – right!? As a fan of the show, as a player of the game.. Terrance – I just can't get passed that part. Daniel – its not even about my safety.. I am already out. I don't even have numbers to be a threat. Its so crazy to me. Week 6 and 7 are crucial in this game and that double eviction is going to bite him in the a$$ I think. Terrance – yeah. Daniel – especially if he is an outgoing HOH at that time. Terrance – they keep trimming the fat, they'll get rid of someone like me… or.. Daniel – BUT why!? Terrance – just cause. Daniel – isn't that dumb!? I guess if they're a massive alliance .. you have to do that. I'll learn more when I watch it back. Terrance – there has to be a massive alliance bro. Daniel – it has to be 6 or 8. Terrance – I am thinking it is.. I think it has to be.. Daniel – Its everyone that we already assume .. Monte, Joseph, Turner, Taylor, Brittany and Michael. I think Kyle is involved. And the rest is whoever we thought we had. Terrance – who's on the outside.. Me, Jasmine, Indy and Alyssa. Daniel – but Alyssa is basically with Kyle.. so really .. NO. Terrance – they got three more options before me. And she already said maybe we should get Kyle out next. Daniel – who said that? Terrance – Taylor. Like after you. Daniel – why?! He's aligned with the group. So you think it will be you, Jasmine and Indy next? Terrance – MmmmHMmm. Daniel – and probably in that order too because they want Indy for the food and for the love. They don't want to deal with drama. The only people I would be happen that had the money would be you and Jasmine at this point. Terrance – I would have no where near the numbers though. I will never get close to it. Daniel – at this point I hope Indy just takes over. Indy for the win. Oh and Joseph, I do like him even though he's a part of this mass alliance.. But he needs to start winning. I know he's throwing comps and sh*t. He better be throwing comps because that would be bad.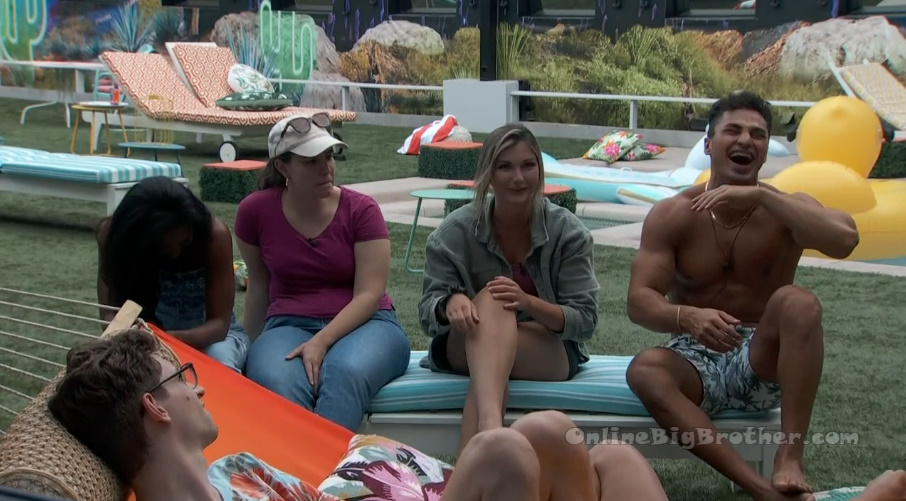 Backyard. Alyssa and Kyle.
Kyle – Do you think Jasmine and Joseph would vote me out? Alyssa – no. But I think its worth being like .. like I want to solidify something moving forward. Kyle – I can't think of why they would want Daniel over me. Alyssa – Jasmine would want Daniel to stay because he would take shots at Monte. Kyle – yeah. Alyssa – that we don't or can't. Kyle – yeah. I guess that makes sense. Alyssa – at least that's her theory on it. They head up to the upper level outside. Kyle says they could have a date night up there whenever they make their showmance official. Alyssa – we already did that. Kyle – publicly though. To the house. Alyssa – okay, the house next week. Kyle – alright, deal. Can you just win HOH already.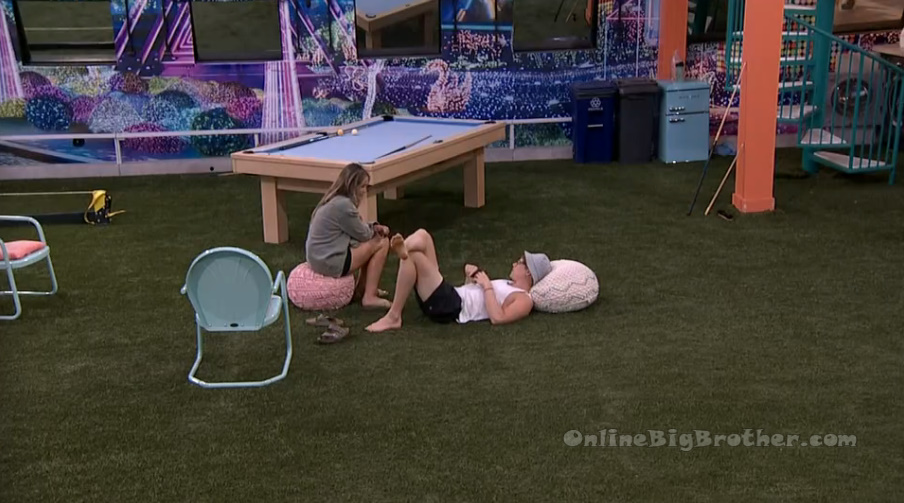 8:30pm – 9:05pm Hammock – Brittany and Michael
Brittany – have you heard about this faux-mance thing with Joseph and Taylor? Michael – faux? .. like she is pretending? Brittany – they're like both pretending to be in a showmance. Michael – why? Brittany – well I guess because Joseph is getting too much flack about hanging with Taylor now from the rest of the girls… so they're pretending they're in a showmance. Michael – that's not going to make it any better but okay. Brittany – they're pretending they're in a showmance so that any time he is hanging with her they think its personal and flirty and not game. Taylor is like… I am surprised she hasn't told you all about this… its every conversation I have with her now. She is heavily invested. Taylor very much wants to be in a showmance on this show just as much as she wanted to be a mean girl in the beginning but that did not work out. I am just like.. if you're having fun that's fine but ..it scares me. Michael – Everyone thinks and knows.. like showmances play the game together, they talk, they strategize.. its not just flirting. I am not going to to tolerate that.. if they want to go ahead. Brittany – yeah its fine as long as they aren't strategizing. There will come a time when they might have a stronger relationship and they're targeting us. Michael – I could see Indy getting jealous about the faux-mance.. not that she wants Joseph but they have a very good connection.. and Indy does not like Taylor. Taylor joins them. Michael – I don't want to be too cocky or confident but I'm feeling good (about Daniel going home). Taylor – yeah its going to be a good week in the house. Michael – how satisfying is it going to be to go in the DR (and vote out Daniel)? Taylor – I think they're probably going to make me the vote that decides it. Michael – I think so, I hope so. And he will definitely see your goodbye message. Taylor – I have to figure out what I am going to say. He's a good sport, he'll be good about it. Michael – you're not going to have to pack. Taylor – you have no idea how happy I am about that.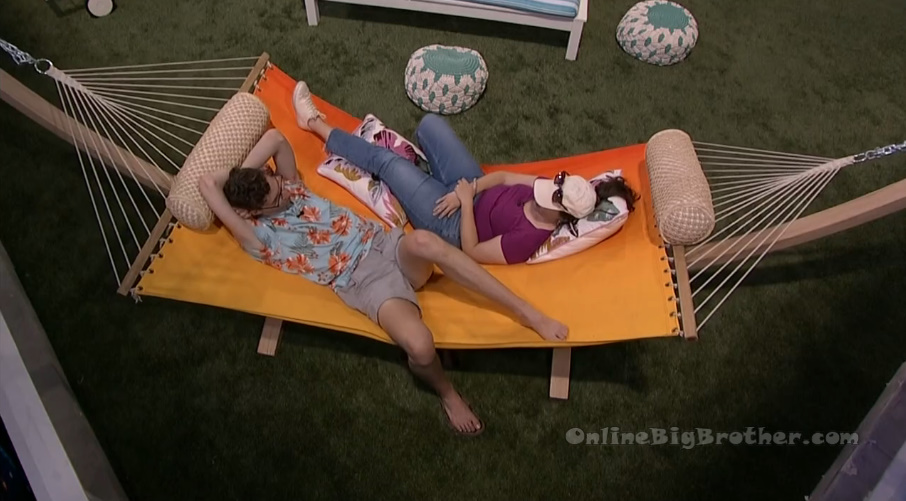 9:13pm – 9:30pm Living room – Joseph, Jasmine, Terrance and Daniel.
Terrance – pay attention to how close Taylor and Monte are. What's going to end up happening is.. Jasmine – Michael and Brittany they're all together.. Terrance – all of them. Jasmine – How they've been hanging out lately. I mean hopefully you're not in it because we're talking about it. Joseph – not every time we're chilling we're just clowning. And then I just clear it and come sit with you guys. Jasmine – you better not be lying to me! Joseph – no, I'm not. If I make sure you're good and you're good then y'all got to be honest with me. Terrance – this is the last honest thing that I will tell both of you .. Daniel already knows it. I wanted that shot taken. I GAVE Michael that shot. When it was me and him at the top of OTEV, I told him to win it. I threw the sh*t to him and he still didn't take the f**king shot. Joseph – OH that's wild then!! I threw it because he was going to take the shot and save Daniel. Joseph – oh that's wild! Joseph – do you think Indy is working with or involved in the Monte stuff. Daniel – Not working with but he has his hand on her. I will give you any information I've got. I'm going home so it doesn't matter. Joseph – what you're saying is exactly what Nicole would tell me. If you don't play.. you're nice but you will just get chopped later. Daniel – well I'll be rooting for you three (Jasmine, Terrance and Joseph) when I get home. Jasmine – well thank you Daniel. Joseph – I appreciate it.
10:05pm Bedroom – Jasmine and Alyssa.
Jasmine – Daniel told me everything cuz he was like I know I'm going home so I'm going to blow up peoples games. He said that Kyle is going to join Michael and Brittany so that way Michael protects Kyle and Kyle protects Michael. Alyssa – I just asked Kyle who he was going to pick and he said he was going to talk to you and see if it would benefit you because you're hurt and f**king Turner just hurt his knee.. but he was like if Jasmine wouldn't want that he said he wouldn't do it. He also said that he had no idea what he was going to do. Jasmine – all I know is that Taylor is probably going to be final five. She is f**king protected! Alyssa – Michael, Brittany, Monte, Taylor, Turner.. Jasmine – why didn't Turner put up Taylor? He put it on what? Daniel. That wasn't the reason, its because they had a f**king alliance together. Taylor was talking so bad about Brittany .. that she doesn't have a brain for herself. Anything Michael does he knows she's going to do because she knows he's good. He (Daniel) said if we don't take Michael out he has 5 competitions that he's won which is basically every week… I am not too concerned about Michael right now but.. (lol same as everyone else) Alyssa – Daniel should blow up people's games .. let him do it! I hope his speech when its him. Tell him to go down in history. Jasmine – and this is why I have to vote him out .. he was like if you don't get the showmance out .. they're always going to have two votes. I said Daniel, you know I am not jeopardizing that. He said I know but I know I am going home so I can say that. I was like Okay, that's valid. He was like that's all I have to campaign is the showmance.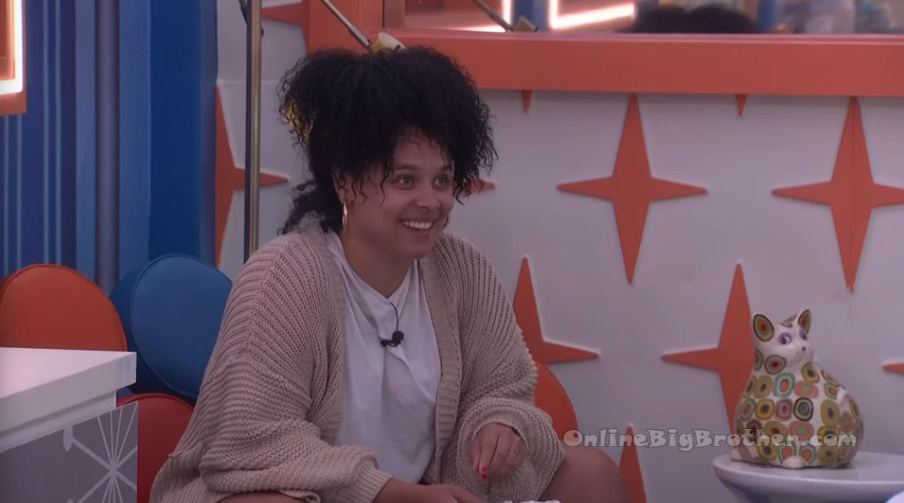 10:23pm Hot tub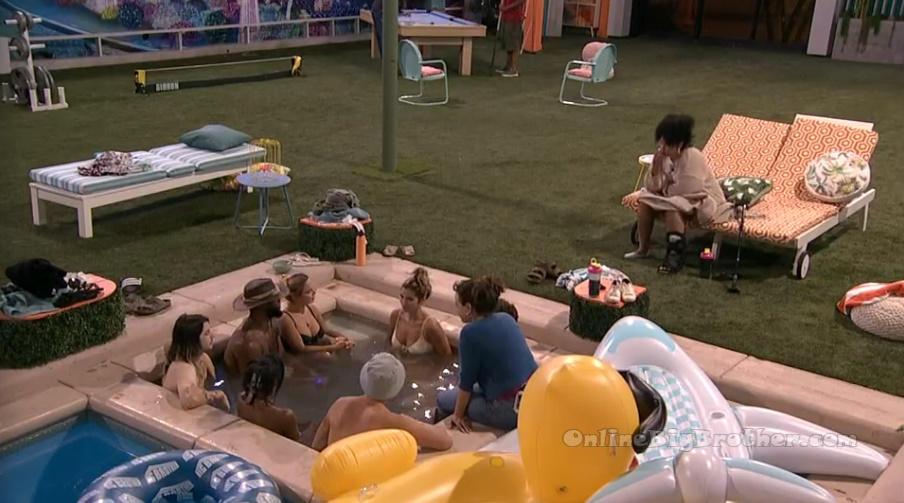 11:40pm Backyard – Alyssa and Kyle.
Alyssa tells Kyle about how Jasmine said that Daniel said when he does his speech on eviction night he is going to call out the showmance because they're two votes. Alyssa – even though we don't vote the same. Kyle – that is his only play right now. Alyssa – its not going to be anything. Kyle – I don't know who is going to be persuaded by that logic. Do you think my game is perfect or do you think I could do better? Alyssa – date me? Kyle – date you publicly .. that would help our game? Alyssa – you're not even dating me in secret. A showmance is not dating. Kyle – I mean pretty much, what do you mean? Alyssa – there is no pretty much.. we're in the talking stage. Kyle – like getting to know each other stage. Alyssa – so we're talking.. that's what people in florida call it. Kyle – what do they call dating.. we basically just kissed a lot. Do you do that with people you're talking with? Alyssa – no.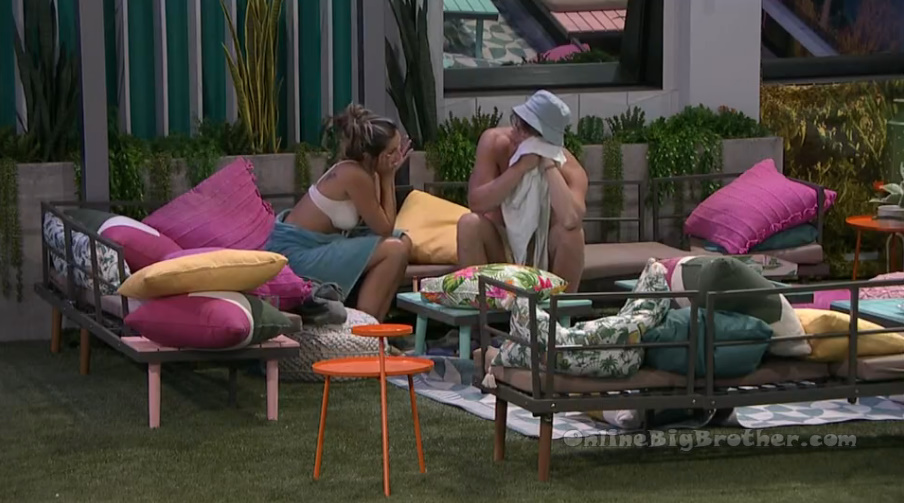 12:15am Bedroom – Jasmine, Terrance and Daniel.
Terrance – we would have enough votes to keep him and to vote Kyle out. Jasmine – I thought about this already.. me, you (Terrance), Joseph, Alyssa, Indy. Terrance – that's the plan. Daniel – that's the only way to do this. Joseph is worried that things are going to get out. I'm going to tell him. Don't tell him yet. Blame it on Brittany. Brittany told me she would vote for me. Step number one, we have to get Alyssa on board. If she is not on board, there is no point in doing any of this. And I don't want to f**k you guys game up with Indy or Joseph. So unlike the Nicole situation.. I want to go step by step. Tomorrow morning we need to get Alyssa. Jasmine – they will have Turner, Taylor, Brittany… Daniel – they'll have four. If we can't get her (Alyssa) there is no point. Jasmine – I don't think she is going to vote Kyle out. I mean I can try. Daniel – my only thing is .. he didn't tell her anything about the Ameerah vote. She was pissed about that. He would not have voted with her if she voted for Nicole. Jasmine – if I do this for you .. and it goes well… you have to go after the targets that need to be gone after. Daniel – I'm going after Monte. Jasmine – and if this doesn't work out .. your speech needs to be motherf**king iconic! Daniel – oh I am throwing people.. I am throwing Michael under the bus, I don't even give a f**k. Jasmine – you need to throw Michael and Monte under the bus so everyone goes after them. Daniel – Michael had 5 competitions .. that's one a week… just give him the money.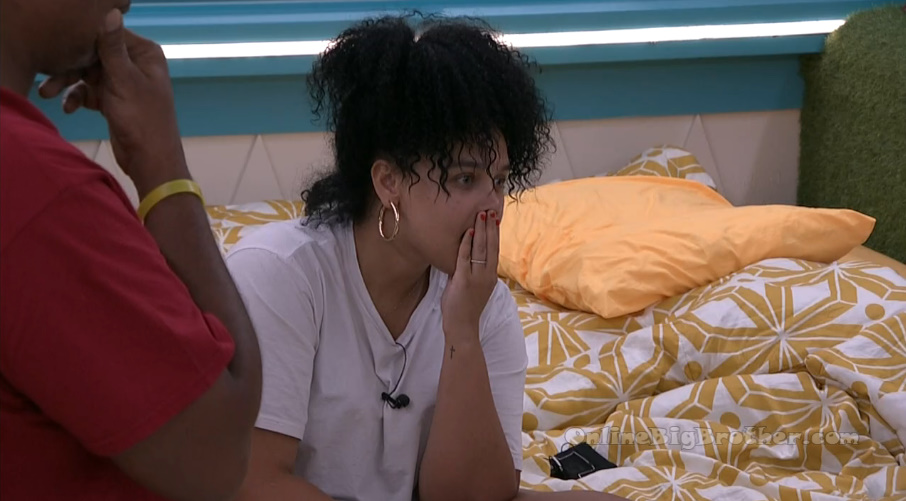 1:47am – 2am Outside the HOH room.
Michael, Kyle, Monte and Brittany chatting / playing bumper pool.