Quick Big Brother Spoilers
Head of Household:  Michael
Nominees: Terrance, Monte & Joseph Kyle and Daniel
POV Players: Terrance, Monte, Joe, Brittany, Michael Jasmine and Turner; (Taylor is hosting)
POV Winner: Michael & Brittany
Veto Ceremony: Veto was used Kyle and Daniel nominated
Havenots:  None so far
Lock your ranks in before midnight
Festie Besties:
Turner & Jasmine
Joe & Monte & Terrance
Daniel & Kyle
Brittany & Michael
Alyssa & Indy & Taylor
The Situation
It's been a slow day.. Nothing has changed Daniel still getting evicted.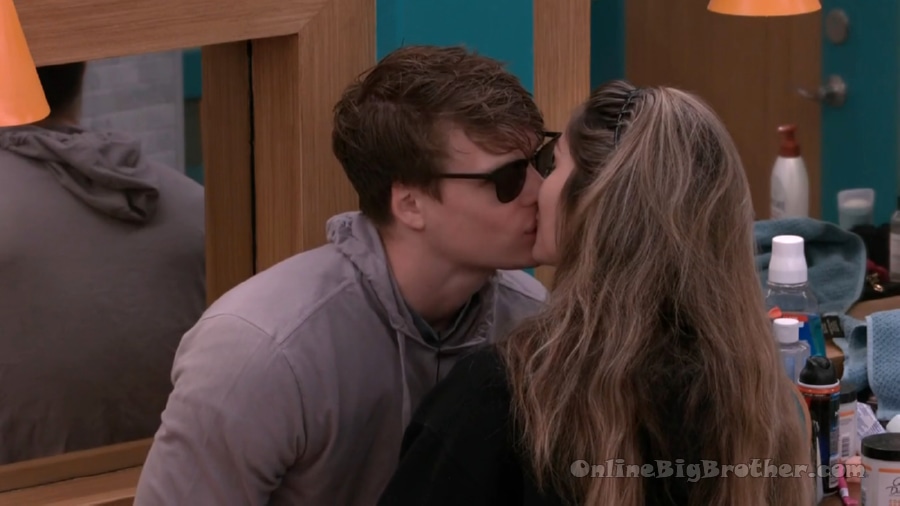 1:22 pm Alyssa and Kyle
Classic showmancing..
Alyssa – I'm trying to SHIP Joe and Taylor and Joe was like no Me and Kyle are the same. When you and Kyle decide (to kiss) I'll kiss Taylor
Kyle – in front of Taylor
Alyssa – he was like I want to take it slow I find her really pretty.. she was like what are you guys saying
Kyle – But she couldn't hear though..
Alyssa – not really
Kyle – Just in the room
Alyssa – I want that to happen because that takes our attention Plus it will piss off Indy and Jasmine.. and that will stir something else up"
Kyle – Oh my gosh
Alyssa – I'm really trying to ship it
Kyle – you think there's a chance they will
Alyssa – BIG TIME. Taylor pulled me aside and said thank you for saying that stuff.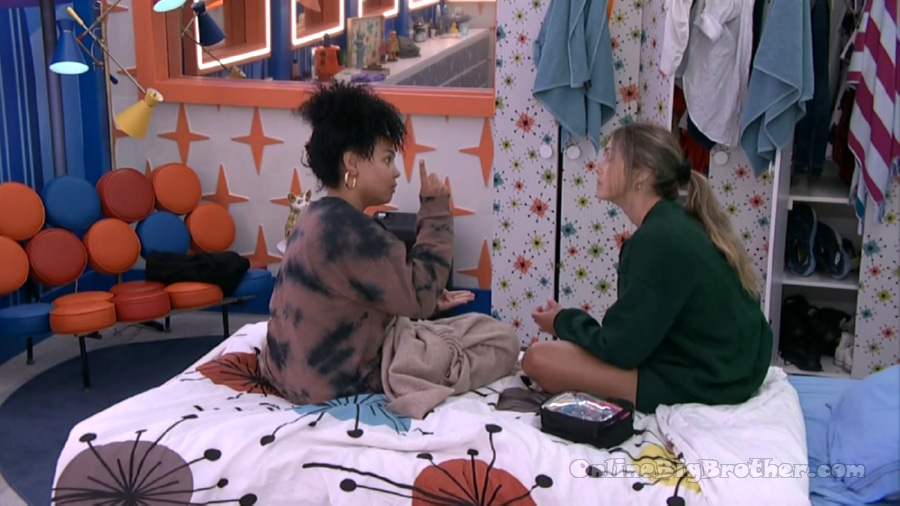 3:57 pm Jasmine and Alyssa
Jasmine – baby girl it's not looking good for Kyle
Alyssa – why?
Jasmine – they are taking over the house and if we lose Daniel we don't have the numbers they'll pick us off one by one once Daniel gets out. They're going to recruit Kyle onto their side.
Alyssa – who's telling you this Daniel? He's making shit up
Jasmine – no not Daniel. Terrance. Joe knows now he was up there last night with them.
Jasmine – Monte, Turner, Brittnay, and Michael they're all up there in the TIKI Room. WE look like the ones that are ODD out.
JAsmine – Kyle is like a neutral person.. I don't know it scares me. I'm like if we kept Kyle like that's all of our games. If we vote to keep Daniel then we finally split the house.
ALyssa – if we split the house our side will never win.
Jasmine- they'll kill us anyway
Kyle joins them..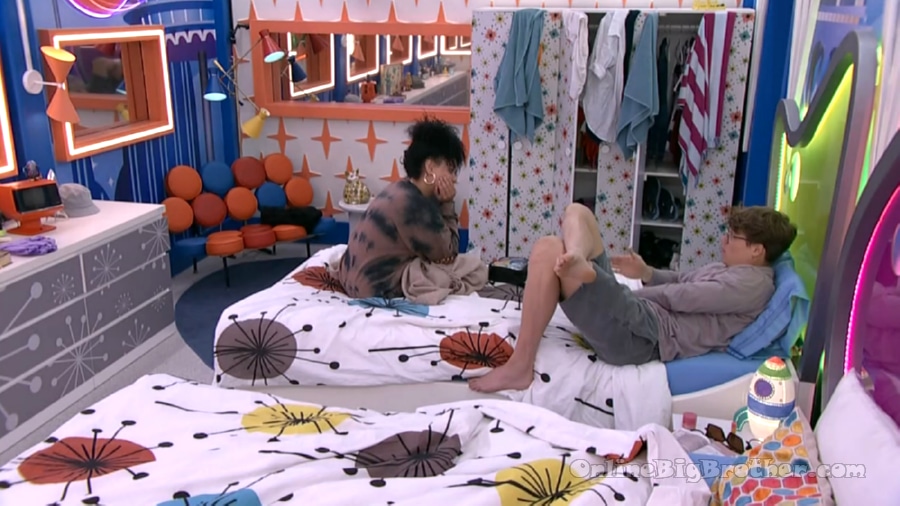 4:06 pm Jasmine and Kyle
Kyle explains the Monte HOH and how Daniel came to him telling him Monte doesn't want him to use the veto because they don't have the votes to get out Taylor.
Kyle – he talks to Monte with Nicole for an hour while I'm just chilling.
Kyle – Daniel comes down (from HOH) and tells me this whole spew about how Monte doesn't want him to use the veto to take out Alyssa or Indy. I was like WHAT!
Kyle – I'm like the plan has been Taylor this entire time. I go up to talk to Monte for 5 minutes before we're called into the DR and he basically said no plan is as is. I let them know some things that were said. He said I just wanted Daniel to know this information and that was it. I was never told not to use the veto I was not told any of that.
Jasmine – Daniel was like 'you need to keep me because they are coming for you all'
Kyle – you think monte wanted Alyssa gone?
Jasmine – he wants all the girls gone. He's coming for you next because he wants to break up the showmance. I wasn't there to hear this Kyle
Kyle – how could he think I wouldn't use the veto with Alyssa on the block? he must be out of his mind.
Jasmine – I don't know who you are aligned with but I don't want you coming after me.
Jasmine says she knows which alliance in the house is coming for them.
Jasmine – it is Monte, Turner, Brittany, Michael, and Taylor
Kyle – Joe?
Jasmine – he does not trust me I'm like this (crosses finger) with Joe.
Kyle – that's such a random group. How can Monte and Joe not be together
Jasmine – Pay attention. you have to really pay attention
Jasmine – that's the alliance they are trying to pick me off, Alyssa, Indy, and Terrance off.
Jasmine – you want me to be real with you. This is Big Brother. You've watched the game right?
Kyle -yeah
Jasmine – you're telling me Michael has a chance at Monte to take a shot and doesn't take it.. WHy?
Jasmine – everyone in America is wondering why. You just showed me your hand. You wanted to keep your word.. I'm sorry I don't believe it.
Kyle – I want to work with Alyssa moving forward and you're her number one.. we have to work together Jasmine
Kyle says he's going to have to pull some big game moves to win this game. Right now he would lose to Monte and Michael. He thinks he could beat Brit and Taylor. Unsure about Turner.
Jasmine about Joe – I know he plays around INDY but he's pretty close to me.
Kyle – Michael showed his cards by not keeping Monte up there.. everyone wanted him out.
Jasmine – baby this is big brother you know how it's played. It's too early to be like OHHH MY WORD
Kyle – I'm close with Alyssa, She's really close with you. I want to work with you. that was my intention I will never put you up I am never coming after you. I want me and Alyssa to go to the end.
Jasmine – I'm not one of those people that will take that out on you.
Jasmine – I had a final 2 with Ameerah.
Kyle – I'm sick of being last minute left in the dark.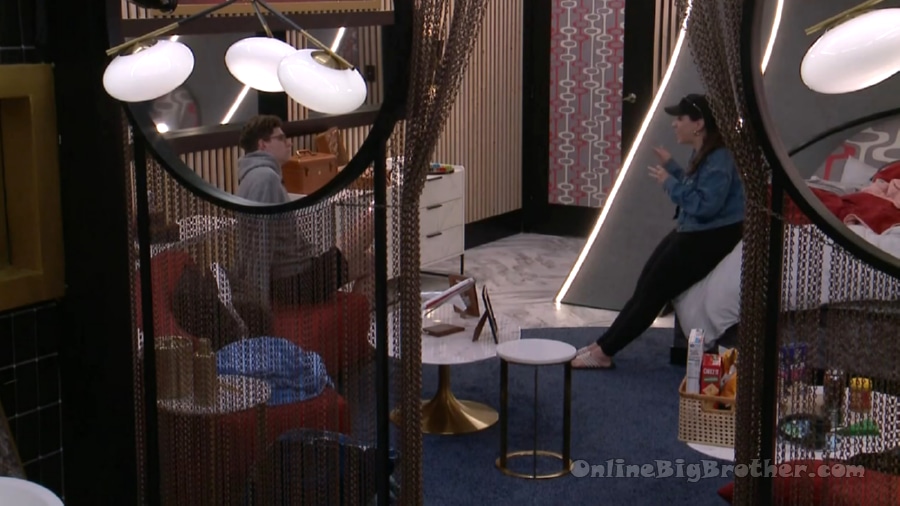 4:05 pm Michael and Brittnay
Michael – I know you said sometimes Monte makes jokes like WOMAN.. have any of the other girls in the house said that to you?
Britt – that's just what I picked up on
Michael – I did notice him say that.. Do yo think if I asked Alyssa and be like Hey is that something that is making you or any of the other women uncomfortable? if it is I noticed it yesterday I didn't notice it before. I don't want that to get back to Monte.
Britt says if it was a problem Taylor would pick up on it the most. "I don't think he means anything by it.. He's a very Alpha male-dominated thing.. his way of joking"
Britt – for me it's very.. Disconcerning.. we need him out here sooner than later in terms of leftovers..
Michael – yeah ..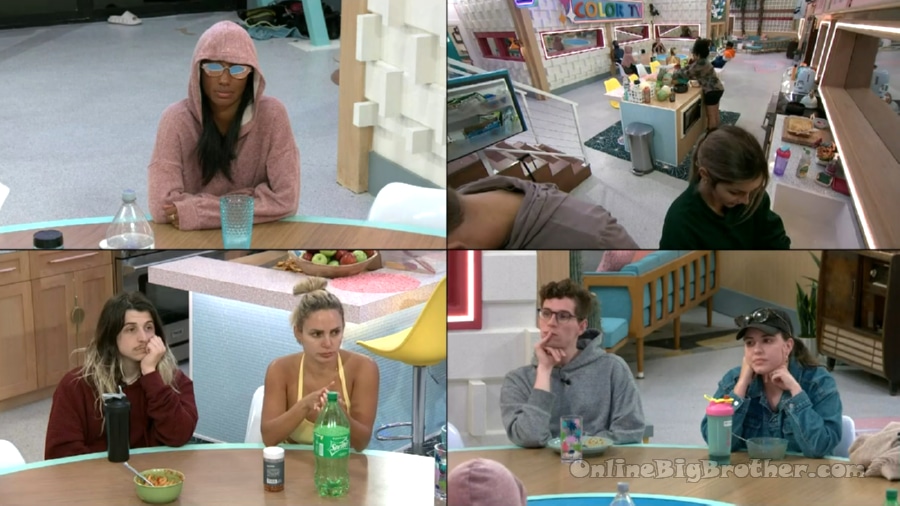 4:32 pm
4:50 pm Trouble?
Indy is telling him that staying up until 5am is bad for his body.
(so hoping for some nasty love triangle to start between them)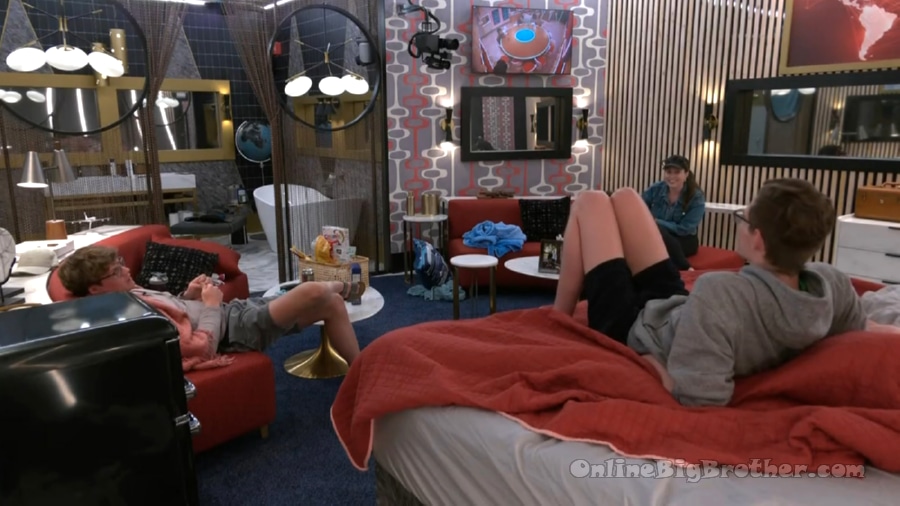 5:09 pm Michael, Brittnay, and Kyle
Kyle warns them about Joe. "he's all hyped about it oooh we're going undercover. I don't have those personal relationships with those people like he has. If I break that trust it's like F-Kyle"
Kyle – what benefits and risk are there.. they think I am Alyss's toy and then jasmine is like 'I can control Joe I am his Number one'
Kyle – I'm like .. it's insane
Michael – She's delusional
Kyle – she's delusional but Joe is also really good at this game. I was like Joe and Monte are so close that's like their one and two they have MOJO she's like NOPE not at all they are not working together he sat here with me Terrance and Daniel and told me everything how he was left out of the loop blah blah blah.
Kyle – I'm like that is a powerful thing he can do. Sit there with three people..
Brittnay – they believe him
Brittnay says Alyssa is realizing that how her side is playing is not smart "She doesn't want to sink with that ship"
Kyle points out that Jasmine is stepping up as the ring leader of the other side maybe they can take her out instead of Alyssa.
Michael – it's so funny, why are we so scared of the women in an ankle brace but at this point, I am full on board sending Jasmine home.
Kyle – maybe Alyssa is playing me I don't know
Michael – at some point she won't have the option she will need us. Once Daniel is gone and if jasmine goes next. What will she do? try to ride it out with Indy and Terrance.
They laugh
Brittnay says Alyssa has a good chance to win the wall comp. "So does Indy"
Michael – I would put my money on Indy.
Kyle points out that Turner stays up really late and is building a relationship with Taylor and Joe "really well.. I'm just thinking of the hierarchy in the seven"
Michael says Turner likes Alyssa personally if they get Alyssa on their side they can pull Turner closer.
Kyle – Joe has them completely fooled he's in there talking to them.
Brittany – Joe loves being the secret agent.. it could blow up in his face.
Kyle – Yeah..
Kyle says it's great that the other side is doing all this against Monte. "that gets rid of all my fears that JOe and Monte have a plan B"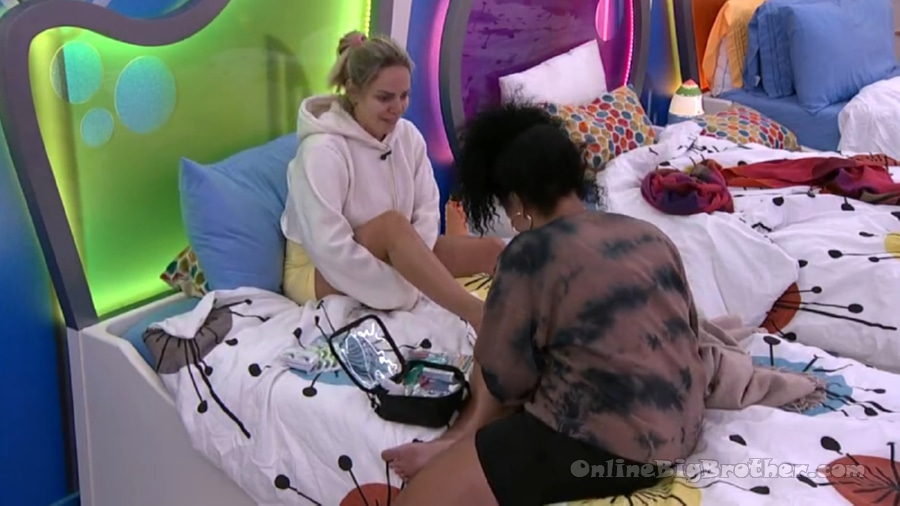 5:35 pm Indy and Jasmine
Jasmine – We need numbers
Indy – we have our Final 2
Jasmine – who?
Indy – we need to make a final 2
Jasmine – with who?
Indy – me and you
Jasmine laughs
Jasmine – me and Alyssa don't have a final 2.
Feeds cut.. when we're back
Indy – boyfriend I didn't come here for that..
Jasmine- I came here to bring home the money.
Indy says her man back home is a "freaking nerd" he's writing a book.
Indy – you can be handsome and hot so what That goes away my friend. I want a badass man that can raise my kids well that is what I want.
jasmine – I just feel so bad what i told you
Indy – it is natural
jasmine – ok
Indy – we're here.. you know.. we don't see much. we don't enjoy ourselves much. It's natural. That is why I don't pinch myself alot.
Jasmine – I know Joe won't do anything without us. We had a good talk yesterday. He was like you and Indy are my number ones (LOL)
Indy – awwww that's so sweet I love him
Jasmine – Michael will win this game unless we…
Indy – put him out
Jasmine – I'm not saying we do this next week. He can possibly win again. This is my thing I gave Michael my word I wouldn't put him up. his resume is incredible. He's been on the block he's won every Veto except one.
Indy – someone will backdoor him?
Jasmine – they will have to
Indy – when they do he's gone
Jasmine – he's going to take out Daniel who was bullying someone in the house. His resume is incredible right now. He's nice and nobody hates him
Indy – I love him
Jasmine – me too.. if he has a final two he's got a final 2 with Brittnay
Indy – this b1tch ..
Jasmine – I hate how she tries to lie to me and I see right through it.
They both go on about how much they like Brittany as a person "She'll make the sweetest mom but in this game"
Indy – I want to get the HOH during the double eviction I will take out everyone..
Jasmine – Taylor, and Brittany
Jasmine – it will be either this coming week or next week.

6:23 pm HOH Monte, Alyssa, Michael, Joe, Brittany, Kyle
Indy is hunting for Joe. They see her on the HOH TV. She heads up to the HOH so they all hide.
Indy comes in.. looks around "all the shoes are here"

They now hide on Jasmine
Jasmine – where is everybody
Turner – have nots..
Jasmine – why would they be there
Turner – conspiracy against us..
Taylor comes up and Jasmine tells her they are all in the have-nots. Taylor goes into the have-nots and of course, doesn't find anyone. She goes back to the HOH and finds the group "were you all in the bathroom?"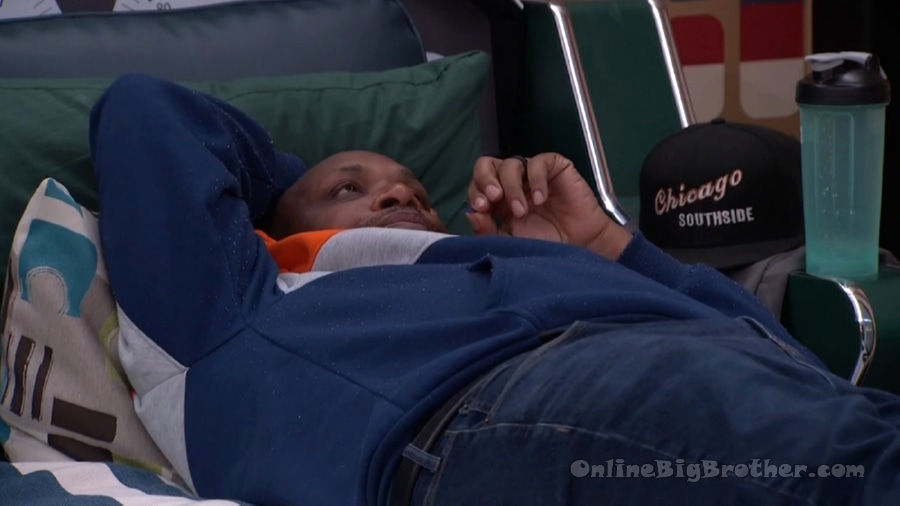 6:38 pm All four feeds on Terrance
"reverse the block.. reverse the block"
Production calls him into the Diary room.
6:48 pm Terrance and Daniel
Daniel – I have usch a good ploy for when they go "why did you guys vote the way you did Alyssa and Indy, I saved them so they want to return the favour if they stick to their word. Yours was a sympathy vote because I did that for you. Jasmine would be I made a deal with her week one that if I don't put her up she won't vote me out when I'm on the block. it's so easy.. She was like what do we say when they ask why we voted. Here I go.. Sympathy votes, we made a deal week one and you want to stick to your word. The girls want to repay the favour. It all flows.
Terrance- adn the last vote came from?
Daniel – Brittnay
Feeds cut.. when we're back Daniel is fantasizing about staying on Thursday..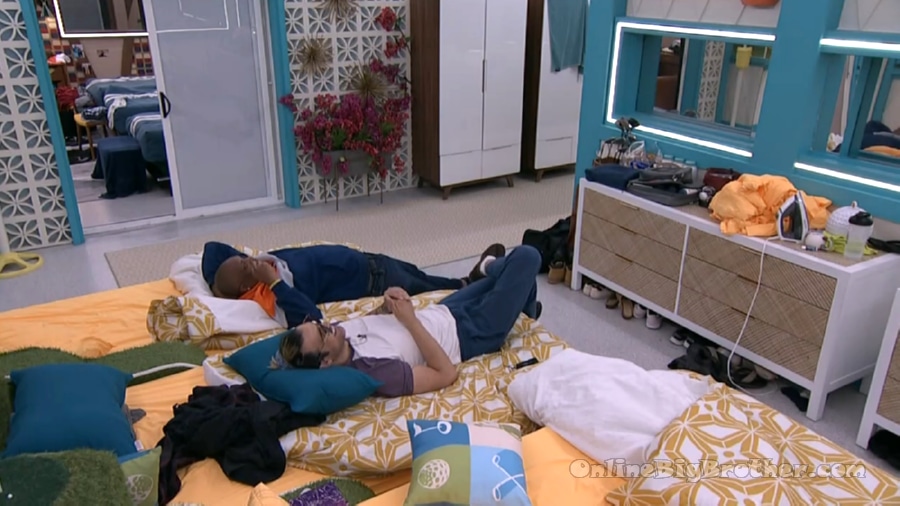 7:07 pm Daniel and Terrance
Terrance says Turner was compariing being in the big BRother's house to being a 1940's housewife.
Daniel – no..
Terrance – it's like Prison
Daniel – ohh yeah tell that to a prisoner and get your ass kicked.
Terrance – so many prisoners would love what we have. I was like ahh I started entertaining him.. Ohh I guess so.. Monte was like they get an hour of daylight outside
They both know people that spent time in prison so the comparison is ridiculous to them.
Daniel – my brother use to get it once a day
Terrance – tell that to someone that lost their freedom probably over some bullshit… or whatever. You know..
Daniel – yeah tell them you got paid to be on national television.. It's just like prison
Daniel – ohh you mean your business is more successful after doing this? ohhh
Terrance – just like prison
Daniel – they got you the food you wanted
Terrance – you get out to leave here you're more successful.. just like a prison. Just like when people get out of prison guess what? They're adaptive and go right back into the workforce.
Daniel – and no one judges them…