Quick Big Brother Spoilers
Head of Household:  Michael
Nominees: Terrance, Monte & Joseph Kyle and Daniel
POV Players: Terrance, Monte, Joe, Brittany, Michael Jasmine and Turner; (Taylor is hosting)
POV Winner: Michael & Brittany
Veto Ceremony: Veto was used Kyle and Daniel nominated
Havenots:  None so far
Lock your ranks in before midnight
Festie Besties:
Turner & Jasmine
Joe & Monte & Terrance
Daniel & Kyle
Brittany & Michael
Alyssa & Indy & Taylor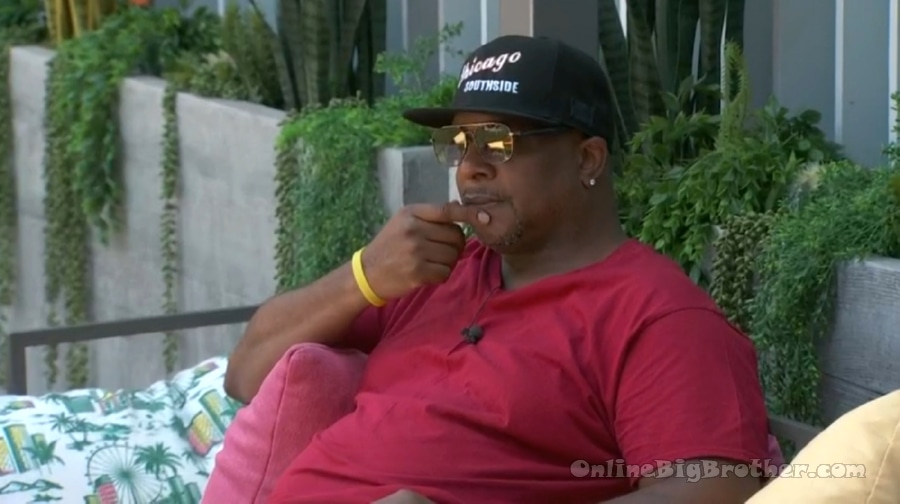 1:16 pm Terrance and Daniel
Daniel – even as a fan of this game it's unbelievable to see it happen in real-time.. Dude this is your moment
Terrance – that just took the gas out of my mother f***ing sails.. (LOL)
Daniel – Same
Terrance – Who wants to play this now. Just cut the check.. F*** it. It's stupid at this point I'm over it.
Terrance – I want to keep my word. Brother this isn't about keeping your word it's a f***ing game. It's clown now. This isn't even going to be competitive
Daniel – it's Clownery. My goal is to enjoy these next couple days. It's been a dream to be here. I'm not going to cause any bullshit drama. I'm not that person.
Daniel brings up during the veto Cereomy "Taylor and Turner were holding back exploding laughing.. Dude.. Chill I get it. If Anything Taylor I get it. Feel how you want to feel.. But Turner"
Terrance – when and if that day comes please do me a favour. Please out of everything I love. when we walk over and you put your black bag down tell everybody. tell the whole f***ing house. 'A' no one touch my bag.
Terrance – she (Taylor) makes it a point to run grab a person's bag and hand it to them like she's doing them a f***ing favour.
Daniel – I prefer you grab it..
Terrance – be like Terrance yo grab it I'll be like 'I got you bro'
Terrance – you don't have to say anything.. I'll be like 'Daniel I'll get your bag'
Daniel – I'll hug you at the end.. Thanks, I appreciate it
Terrance – I got you 100%
Terrance – I asked him this morning.. If you don't do it Bro how do you think the house will perceive it that you didn't make the move. "no one didn't express to me they would be mad at me"
Terrance – Okay
Daniel – Homeboy has 5 competitions under his belt if the game ended today he wins the whole thing. You're dumb if you let him fly under the radar. The next HOH better figure this out.
Daniel – part of me is just going to enjoy it.
Terrance – Kyle is going to join Turner. The new rotation of out is going to be Me public enemy number one.
Daniel – why there must be some mass alliance. I guess that happens every season.
Terrance – me and then Jasmine. Then they'll get rid of Taylor because she ran back and gave them information to prolong staying here.
Daniel says if Taylor wins HOH he would be dying "Take your shot girl"
Terrance – she ain't going to take the shot. She'll take the shot at me.
Feeds flip for a bit when we're back.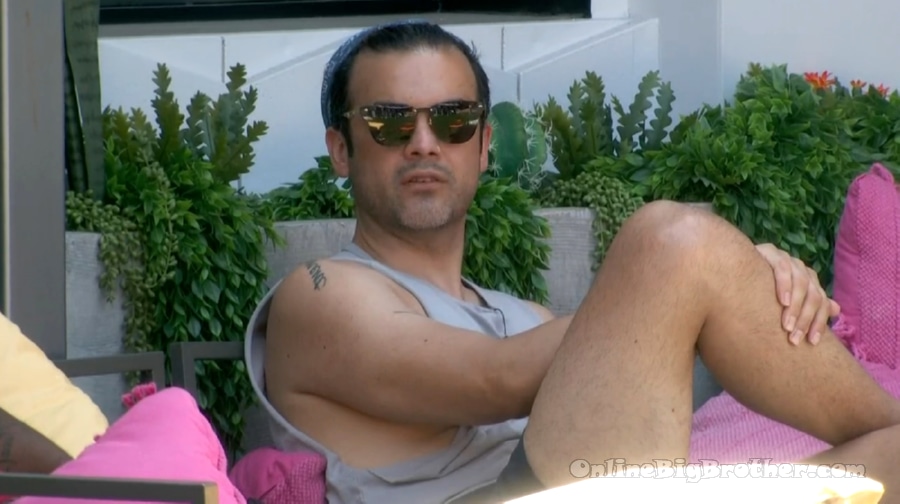 Terrance – this is stupid.
Daniel – I told him as long as I pass this week you have my vote.
Terrance – when they put me on the block.. Thank you this isn't how you play this game. I'm happy you guys are making this decision and I promise you you have managed the jury to the point where I will have something to say about who moves forward and you can be the most competitive, the most social game. but it's about how I respect your game at the end of the day. My vote is going to be a different way to vote.
Terrance – nothing adds up it's f***Ing stupid. I just can't respect the gameplay no more. (about Michael's HOH)
Daniel – like when Turner didn't have an actual reason to put you and Ameerah up. That's when it went to sh1t.. You're a BOZO dude did America tell yo to do this? it hin kit's America's vote. Even if it's not it's even worse.. I hope you're American's vote then at least there's a reason
Terrance – it's crazy I can't even respect his game.
Daniel – Kyle is likable he's rolling with the guys since day 2. The Oasis agenda was to get all the girls out first. Other than me and POOCH. Pooch was a different situation because a girl was HOH. They are getting out all the strong girls and then me I was aligned with the girls. Micahel knew that too. I even told Michael Dude I didn't come into this game to have the men win the game. He goes 'YEAH me neither'
Daniel – well you f***ing just handed it over BRO
Terrance – I'm just going to enjoy my next week in the sun and just relax BRO
Daniel – same.
Terrance says if he gets HOH "it'll be funny I'll be like HEY.. "
Terrance says he's going to read his HOH letter alone.
Feeds flip to the girls in the sun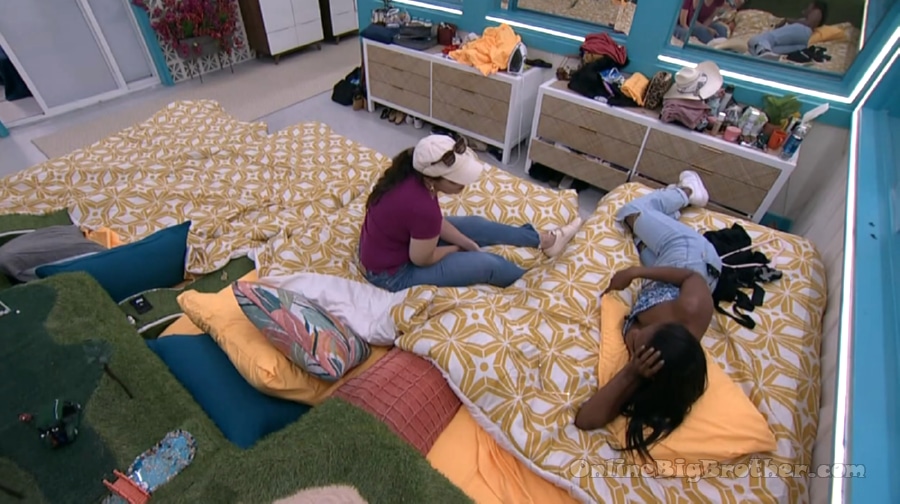 1:38 pm Taylor and Brittany
Talking about Targeting Terrance if they win HOH (A power move)
Brittany – the alliance is just Jasmine, Indy, and Alyssa the rest are leftovers. They are weaker in the house. I'm sure America is hating this thinking it's so boring.
Brittnay – I'm just happy we found ourselves like we did. It was a blessing in disguise. We got ostracized when we did. Who would have thought it would work in our favour.
Brittnay – 18 days..
Taylor – 24 hour 18 days of Six in the city (LOL)
Taylor – great name
Brittnay – Indy came up with that.
Brittany – this game would have been different if Paloma never left. It probably would have kept up with her.
Brittany – I hope she's doing good. Things have calmed down you get used to the house. Week one was SUPER overwhelming compared to this now.
Brittany – for you and me regardless if we win this show.. WE WON our own little medals. (LOL)
Brittany – Ameerah was throwing out my name she's gone, Nicole is throwing around my name she's out before me, POOCH was setting me up. Daniel is throwing around Michael's name he's out before him.
Brittnay – regardless if we won WE WON They can say whatever they want in DR they lost
Brittany – hopefully BIG BROTHER didn't edit them to the the wronged ones and we're the vilans. (You're a boredom villain)
Taylor – you can edit what happened before wood stack. yesterdays episode started with Monte and Daniel. I'm SURE
Brittnay – that is why I love Michael he loves this game he gives the people what they want.
They talk about how Terrance had Mote Convinced that they were a tight thing.
Taylor – Terrance next week.. We get jasmine out the week after next. Nominated and evicted her birthday week
Brittnay – really?
Taylor – her birthday is the 17th
Joe joins them "oh my god. Daniel and Terrance are talking.. "They are out of options. They're pissed.. they're like 'this is so shady'
Joe – Terrance is like 'dude I'm next'
Joe runs away "I can't let them see me after that CONVO"
2:00 pm enjoying the pool
2:07 pm Joe spends his time hunting Flys.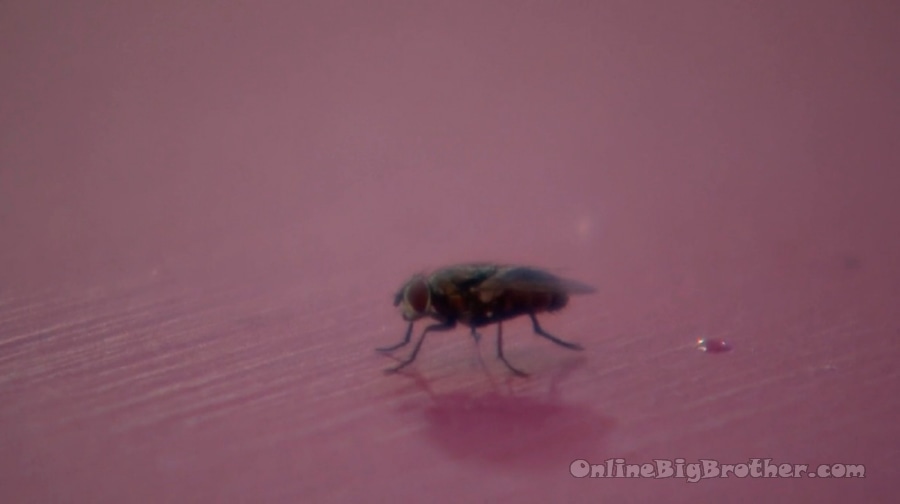 2:13 pm A fly remains.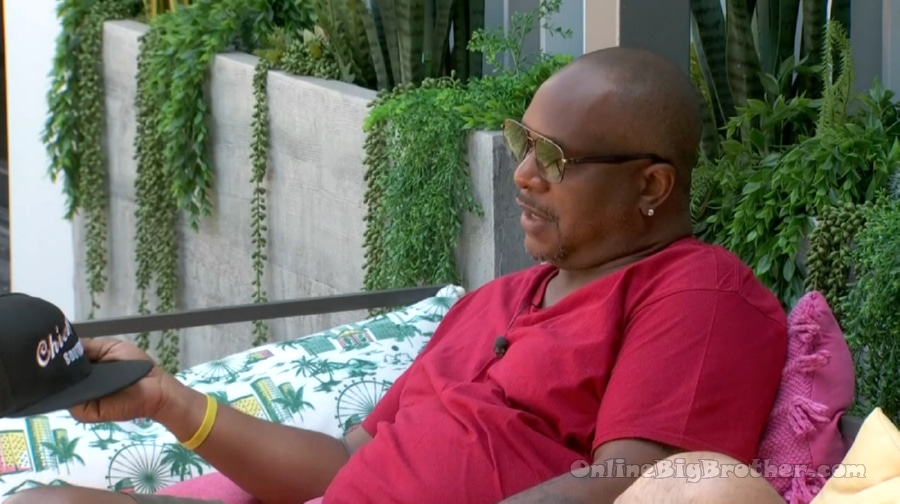 2:16 pm Terrance and Daniel
They talk about upbringing and how they respect Kyle for saying and recognizing how privileged he was.
Daniel – when I talk about upbringing I make sure to say it could have been worse it wasn't always amazing but the city is better now
Terrance – I purposely wrote.. you could write Chicago on here people think Glitz and Glamour that's why I made the hat the way it is. the copper makes it look all beautiful (Copper?)
Terrance – but southside… is really f**8ed up. Look at the stitching.
Daniel – did you design that?
Terrance – yeah
Daniel – that's f***ing sick
Terrance – yeah I designed it… I made it purposely so people can see OHH Chicago beautiful why does Southside look all f***ed up?
Terrance- Becuase it is. this is the reality.
Terrance – I said mess up the southside when you do it.. She was like well.. I said bump the table or something.
2:23 pm Everyone getting outside today even Turner.
Joe executes a near-perfect floaty drop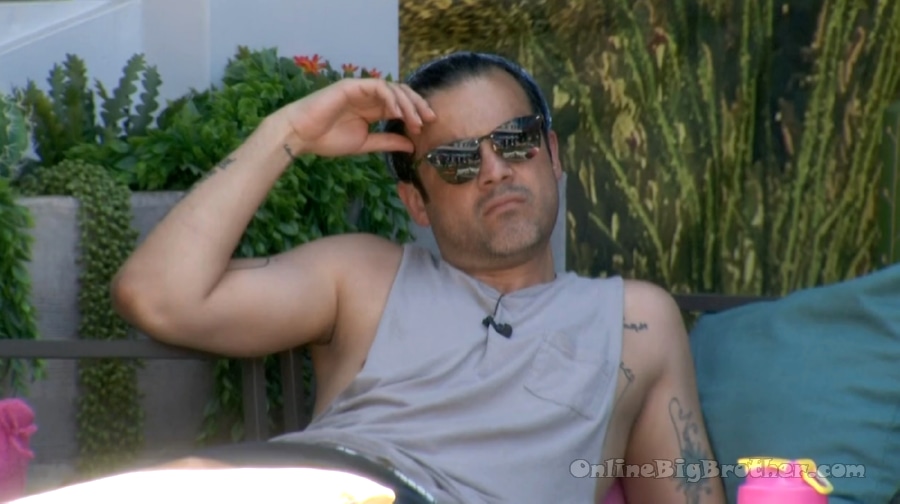 2:40 pm Daniel and Terrance
Daniel – I just don't care about these people
Terrance – say what?
Daniel – I don't have an attachment to these people you are the only one I'll be like F*** I'll miss you, dude.
Terrance – think about how I feel at this point. How crazy Thursday to next Thursday is going to be for me?
Terrance – I see stuff I can't rock with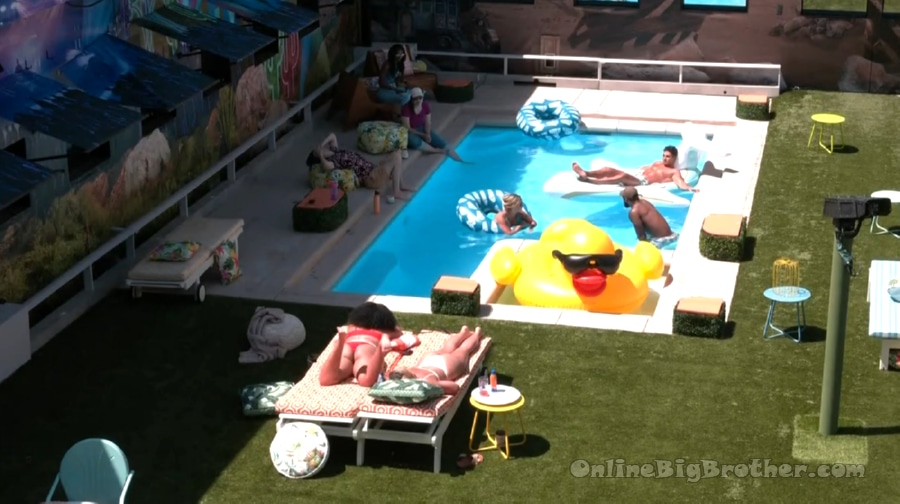 2:50 pm lotsa chilling today.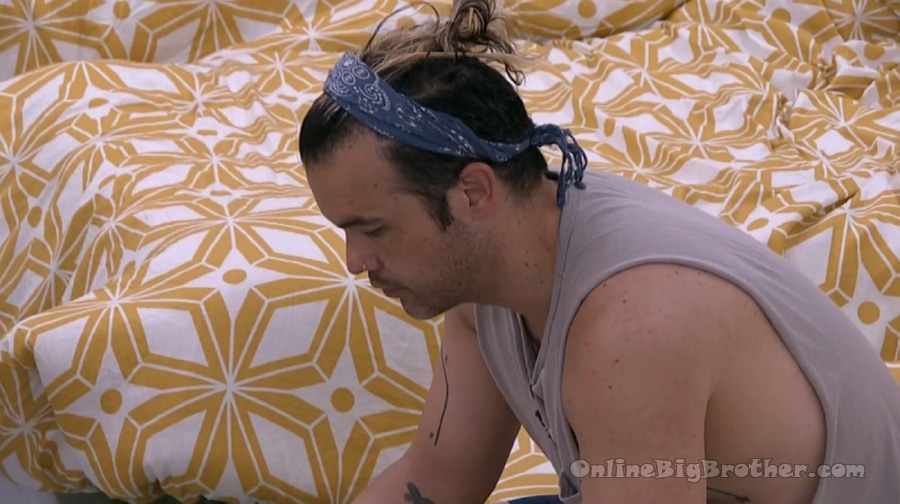 3:13 pm Daniel alone
"No point Campaigning. You've worked 10 years to get here. Your week going home is… what's the point? Massive alliance has taken over there's nothing you can do about it. It's been a dream to be here. I did it the best I knew how. That is all I have. I will walk out Proud. Then I get to see Nicole and Paloma the people I f***ing love. that's the best part of going home pre-jury I get to see my favorite people I don't have to wait two more months. I get to put on my Blue Suede Shoes Baby"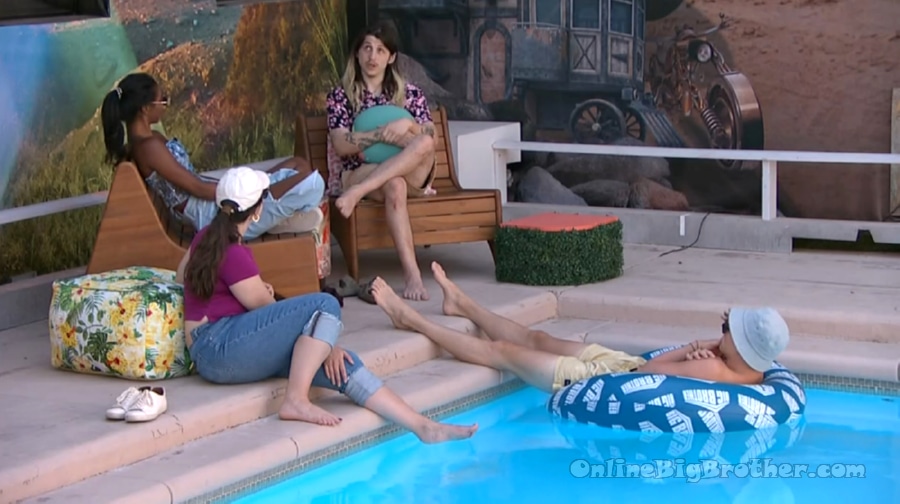 3:23 pm
Turner says he likes his MAC computer "By Far especially for editing it never crashes never"
Brittany – I've never done any editing on MAC I have a mac for work.
Taylor – what system do you have
Turner – I know it was WAY TOO expensive it's an i9 processor.. like
Taylor – no no which program do you use to edit
Turner – Ohh I use Adobe Premiere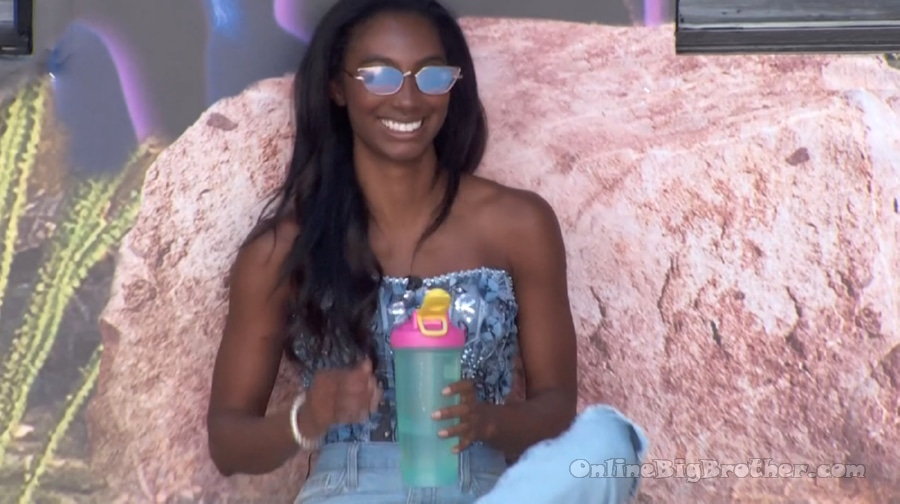 4:04 pm Brittnay, Kyle, Michael and Taylor talking about the Girl's Girls
Taylor – "how did I win Miss congeniality if I'm not a GIRL'S GIRL Miss congeniality at Miss USA 51 women write down the name to say who do I get along the best. who do I mesh with the best here and i'm not a girl's girl. "
Brittnay – ridiculous
Taylor – I got the girl's girl reward.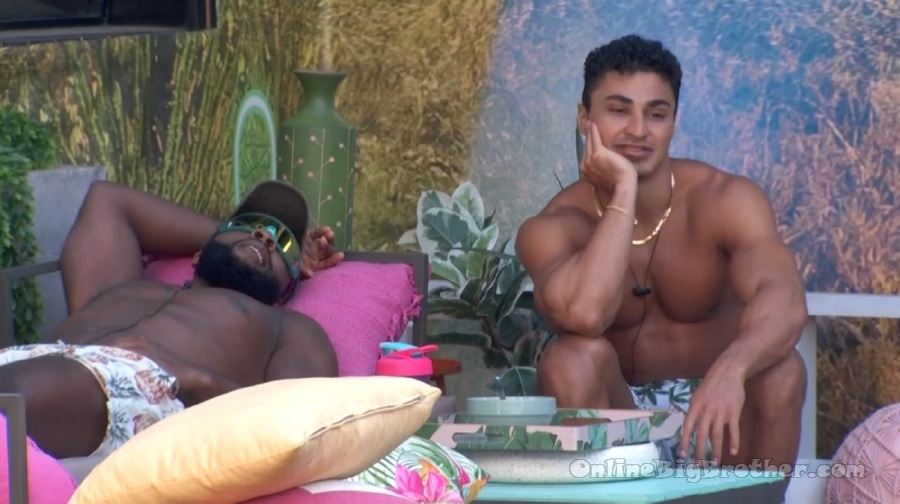 4:13 pm Muscle bros talking about "dodging a bullet" by being taken off the block
4:24 pm
Michael – Before I came on here Hayden was wondering about Big Brother Twitter and he really didn't use Twitter. I told him Big Brother Twitter is a crazy place. he search Big Brothe Twitter and was like 'do yo know how much porn Big Brother'
Michael talks about the infamous BIG BROTHER TWITTER
Michael – Super fan Twitter the people that tweet about the show all the time.
Brittany – how did you describe it
Michael – The fan base is just very Passionate and tweet about everything and they try to dig up dirt about every single. Like cast reveal I'm very excited to see what everyone said. They will look up like THIS PERSON LIKED THIS TWEET IN 2016 they're a horrible racist.
Brittnay – I consider myself a super fan because I just watch Big Brother (Sigh)
Brittnay says her sister is more of a super fan "She watches the live feeds she's part of the Big Brother Twitter community"
Michael – they'll pull clips and be like LOOK WHAT KYLE SAID
Brittany says she went through all her Instagram posts and deleted anything that was too personal "everything else is on privte"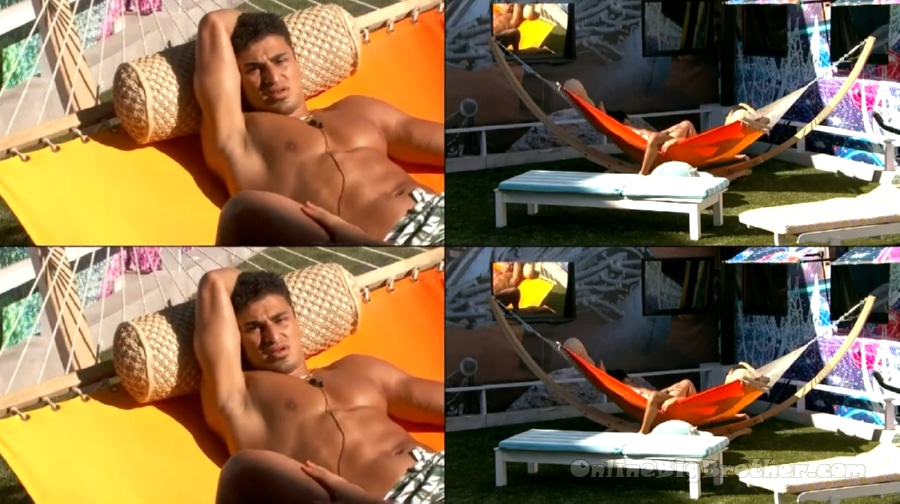 4:55 pm Joe and Jasmine
They're talking about people that were recruited or applied.
Jasmine applied Joe was recruited. He applied for Survivor and got really far. jasmine had Applied to the Amazing race and was going to be on it but her partner couldn't do it.
Joe – Taylor asked me to do it but let's get it.
Jasmine – at least you know what to do with me if I pass out
Jasmine – I've only ever applied for CBS stuff
Feeds flip to Michael and Brittany. When we're back.
Joe – I wasn't involved last year but I would have got booted
jasmine – no
Joe – I had no shot. they wouldn't put me in the cookout
Jasmine – why not?
Joe – I don't think.. they might invite me but they wouldn't put me in it
Jasmine – you would have been fine
Joe – when is your dad's birthday?
Jasmine – same as mine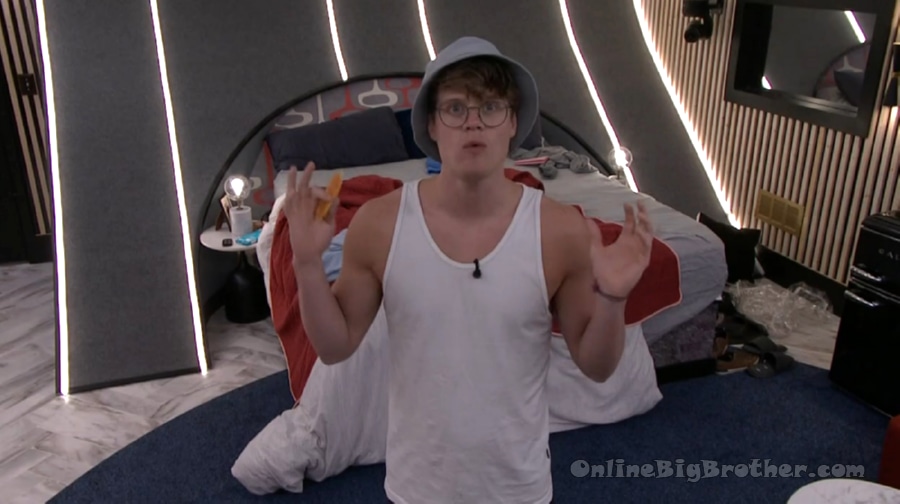 5:38 pm Kyle alone
Kyle – I wanted to play with Alyssa so I was planting seeds on how me, Michael, Brittany, and Turner could flip to Alyssa.. I was laying those seeds with Michael. then she went all awol that whole side did on Monte. Now there's no trust over there. So I'm back with square one I'm riding with the leftovers. Alyssa, I'm sorry that was a sloppy move to go all in on Monte without any like strategy. I don't know what options I have to play with Alyssa.. I want to keep her along but.. DAMN JACKIE I don't know what to do. Last night it got a little bit wild. we were kissing in the have no room. then Michael and Brittnay walked in. Like mom and dad it felt like mom and dad walking in on us kissing.
Kyle – I'm surprised no one knows we've kissed. At the moment in the game if I'm in the final two I lose to Monte, I think I can beat Alyssa, Terrance, Brittnay, Turner I would lose to Joe, Jasmine, Indy maybe, I beat Daniel and lost to Taylor.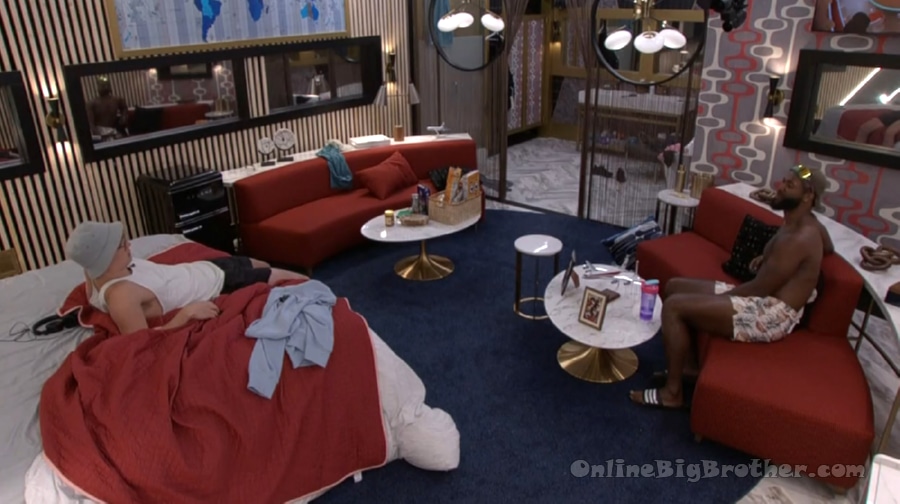 6:05 pm Kyle and Monte
Kyle says he feels great with Turner and Joe. They kept Oasis a secret" they had close relationships with those girls. You and I never mentioned Po's Pack to anyone. We have a track record of being loyal if we can run it to the final 4 man that would be… so sick "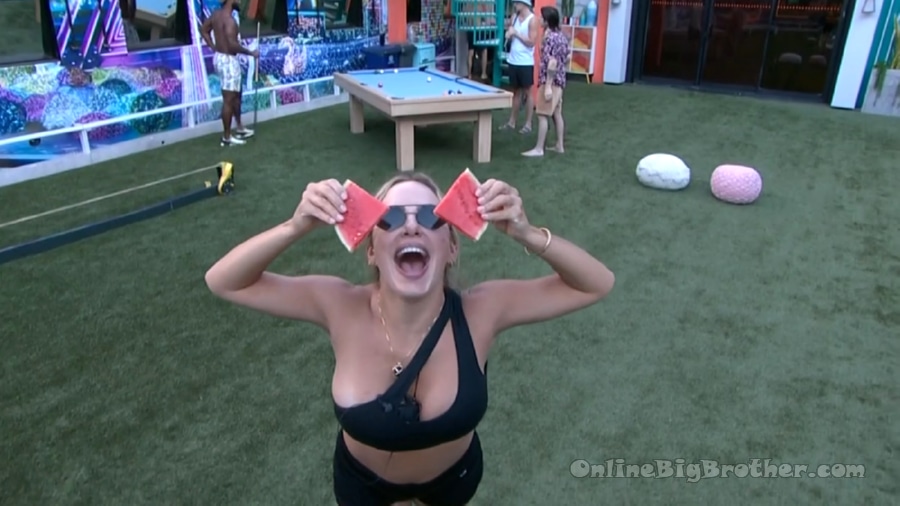 6:30 pm Bros playing pool. Indy is eating watermelon.