Quick Big Brother Spoilers
Head of Household:  Taylor
Nominees: Indy and Terrance
POV Players: Taylor, Indy, Alyssa, Kyle, Terrance, Jasmine (Host is Turner)
POV Winner: Kyle
Veto Ceremony:
Havenots: 
Lock your ranks in before midnight
The twist
Wording from the Thursday night show
For the first time ever the game will completely change as the house splits into two groups. These two groups will have no interaction and in a Big Brother first, two completely separate games of Big Brother will play out simultaneously all week long all of it culminating with a double eviction like no other"
Reward / Punishment Veto Results:
– Kyle won the veto
– Alyssa won $5000
– Jasmine won a trip to London, England
– Terrance – "Ink 182" 182 temp tattoos
– Indy has to wear a "Punkitard" for 1 week and perform concerts
– Taylor and Joseph will be chained together for 24 hours.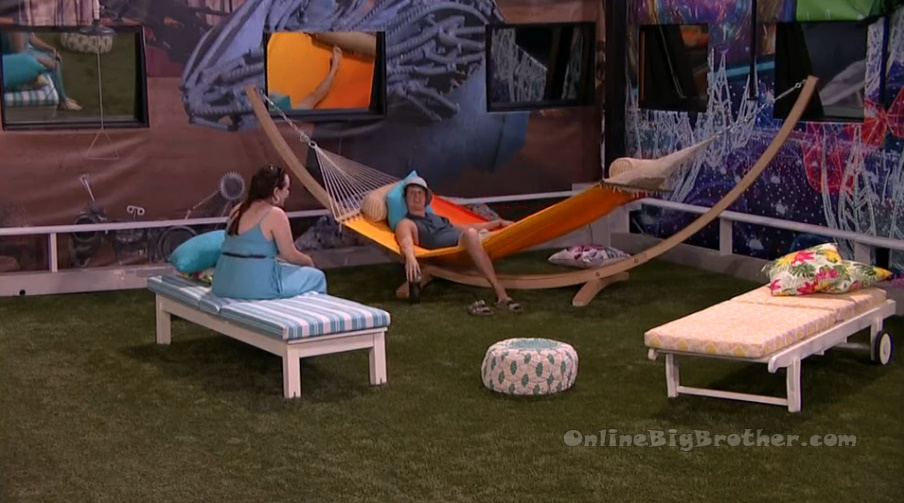 8:08pm Backyard – Kyle and Brittany.
Kyle – I don't know what is going on. Brittany – me either and that's why I thought we could talk to Taylor and do a check in because we hadn't gotten everyone in the same room. I just wanted to reinforce that its still a thing. Kyle – no yeah, I agree. I hope one of us wins HOH. Brittany – me too. Kyle – I am very curious once we're all in the same room how that conversation will go. Brittany – I know, we need to do it because we need a ra ra moment. Kyle – I know. I agree. Brittany – it concerns me that Taylor hasn't .. like at least when Monte was HOH he was like we will all meet tonight… and with her it hasn't. Kyle – I tried to go up and talk to her and she didn't let me in. She hasn't been outside at all. I am just wondering because she talked to Terrance for like an hour and then Terrance came inside and he was like hey we need to talk. So I am sure that Taylor told Terrance that she is going to try and get me to use the veto on him which puts me in a really bad spot. So maybe I will talk to him and then go to Taylor and be like you told Terrance I was going to use the veto before we even chatted about it!? Like what the heck is that?! And like that puts me in a really bad spot if I don't use it now… and the HOH wants me to use it.. and I go against that?! I mean I am not going to use it because I am worried they might take a shot at Michael. Its just my gut. I could be completely wrong… I feel like it could have been me. And then now that I get safety they're like ..do you think? Brittany – I don't know. She is very easily persuaded. Kyle – just the fact that its gone from Terrance, Indy and now to Alyssa .. like I don't buy it. I might just go talk to Terrance and see where his head is at and see what that conversation was like. Brittany – yeah.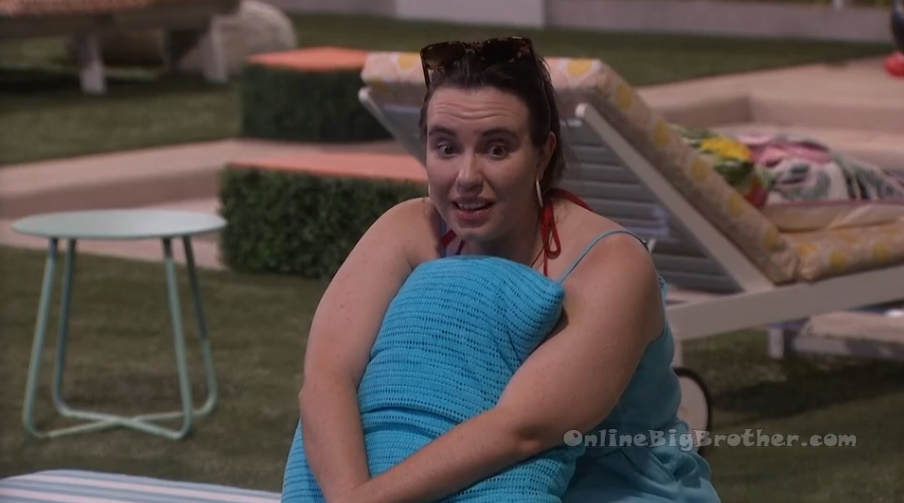 8:13pm Bedroom – Terrance and Kyle.
(FYI – Monte the personal trainer has messed up Alyssa and Terrance's back. They're both in a lot of pain and can't move much.)
Kyle – so how are you feeling? Terrance – I talked to Taylor earlier today. Kyle – what was her sentiment? How did that conversation go? Terrance – good, she said she was going to talk to you. She said that she would ask you to use it to pull me down. She said make sure you talk to Kyle as well. Kyle – I haven't talked to her yet but I feel like every conversation I've had with people in the house .. its like something different is going on. At the moment I'll be honest I am leaning towards not using it. Terrance – okay. Kyle – but I mean if that conversation changes things .. my biggest worry is she told Alyssa that she is safe, then picks Alyssa for the veto comp, and then Alyssa takes her freaking reward and then gives Taylor the freaking punishment. Terrance – well she talked about that to me and she said that she didn't care about it. Kyle – yeah I didn't think it was a big deal. I mean you're in the comp, Alyssa isn't going to keep the punishment.. like it just made sense. Alyssa is worried that she might get backdoored or something. Terrance – yeah have the conversation with her .. but I didn't see you or her name being used in that regard. I don't know who her big target is but I am definitely not it. Kyle – yeah I will have a conversation with her but I think it is pretty set that if the noms stay the same, then Indy goes. Terrance – okay. Kyle – Indy bosses me around and with me and Alyssa she is constantly telling Alyssa and I how bad it is to be together. She is the biggest threat to my game. If she won HOH she would probably put up me and Monte. Terrance – I am totally freaking fine I promise you that.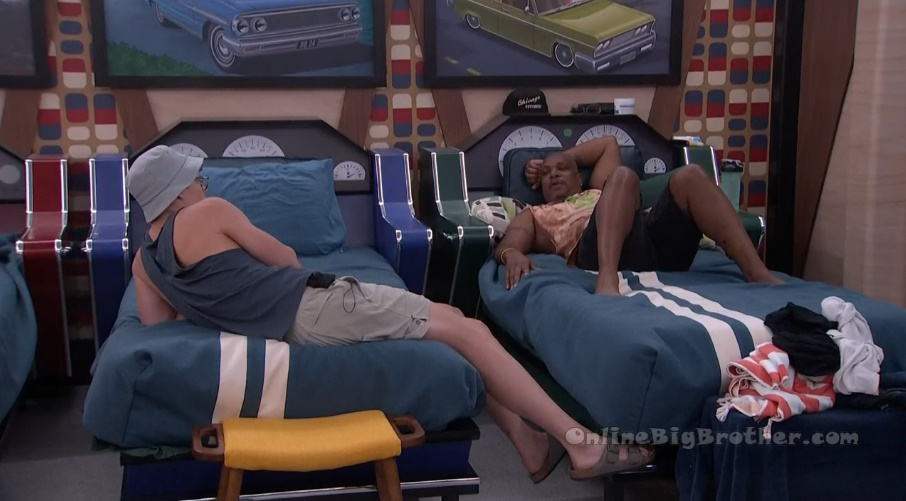 8:27pm HOH room – Kyle and Taylor.
Kyle – I just talked to Terrance and kind of let him know where my head was at. I talked to Joseph and Monte and most people in the alliance and I guess there is kind of an idea floating around about Alyssa? Can you maybe explain where you're coming from? It just went from Terrance, to Indy and now Alyssa.. so catch me up kind of a deal?! Taylor – for me number one.. like this is why I said I was going to be such a bad HOH. Two its almost embarrassing to have targets moving like that so quickly but I have my personal reasons for wanting to get Terrance out of the house and then being a team player.. I had reasons to get Indy out of the house. Like she gets on my f**king nerves. And then .. and so I have to walk you through it because on the surface it seems like the pettiest reason to nominate somebody. I from Alyssa's perspective joined the Festie Bestie group to protect her. I promised her I would not put her up this week as a nomination. I promised her I would not put her up on the block. I picked her for the veto competition so I am giving her all these reassurances and promises that her in this house matters to me .. I promised her that I would not come after you. Like I was protecting her in ways that I don't need to be doing. Considering that I also have information that she is not doing the same for me. Kyle – has she said that she is coming after you? Taylor – no. Kyle – I am curious what do you mean outside information? Tylor – it was more the comments that she made about me. Kyle – like on the wall? Taylor – yeah. Kyle – the jealously stuff. Taylor – yeah and I get it but it still happened. And again I don't want to go after someone for that but don't say those things in the heat of the moment and then act differently to my face. We get to the veto comp and she swaps the punishment for the prize. Its not about a trip to London for me. I don't give a f**k about a trip to London. For me in that decision .. my social standing in this house is so good that you with power after announcing multiple times to everyone in the house that you would consider a nomination .. my social standing is stronger than any power you have. For me and anyone that watches the show .. you always take the veto. She is really really good socially. None of us have a reason to get her out of this house. That moment not taking London but the judgement that she was trying to make in that moment that is a reason to send her. Kyle – yeah. Taylor – I hate this. She knows that was a bad decision. If we keep her she will never show a card like that again and we will never have a reason. A good reason or an easy reason to send her to the jury house.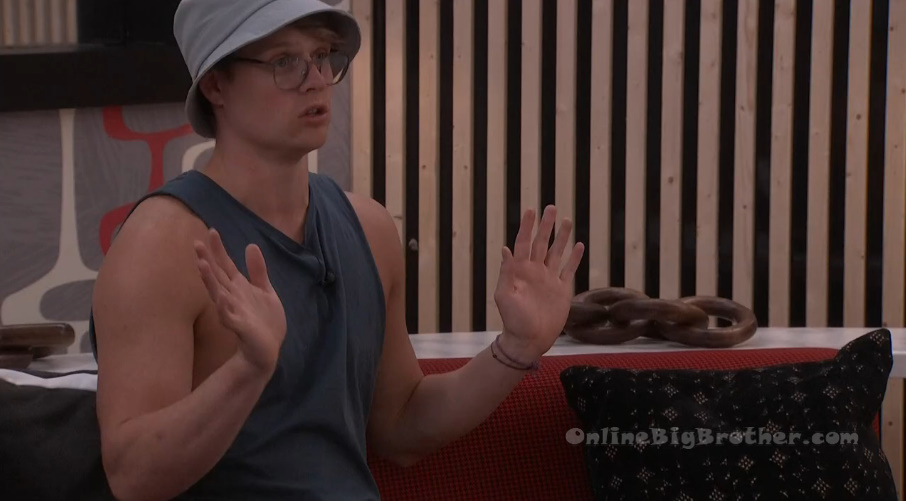 Kyle – from the conversations I've had Monte said that he was indifferent between the two, Joseph I got the same vibes, Michael wants Alyssa to stay, Brittany wants Alyssa to stay, Turner would rather Alyssa to stay, I would rather Alyssa stay. And have Indy be the one that leaves this week. Taylor – oh.. so little flip flopping from some people. Kyle – that is literally the conversations I've had today. Taylor – I don't like you taking the blow back. Kyle – oh I am fine with it. Do you think I am getting Indy, Terrance, Jasmines vote at the end of the game?! I don't talk to them any more ..I don't like even having the fake alliance. Taylor – if you were told that I was hard sold on Alyssa. Kyle – no it was never like that. What risk is it that they know we're working together at this point. Taylor – the second you get like big muscle, whipping your d**K out, we're the alliance, you're going home.. that's when things get tested. I am so afraid of taking that risk because this is so good. What if you're HOH next week or the week after and you have to put Alyssa on the block? Kyle – I am fine with it. Taylor – that is easier than all of this? Kyle – I think so honestly to use the veto knowing that she is going to get backdoored is … when there are three other options is more difficult to me than saying listen I had this alliance that you never knew about it was either you or Terrance or whatever ..like you're going home. That to me feels.. its just the necessity of it. Alyssa has to go at some point and I hope this doesn't reflect that I am trying to save a showmance because its not like that. Taylor – no. Kyle – its more that the two that are on the block .. I don't feel comfortable saving either of them and I want one of them to go home and that is Indy. Taylor – I respect that.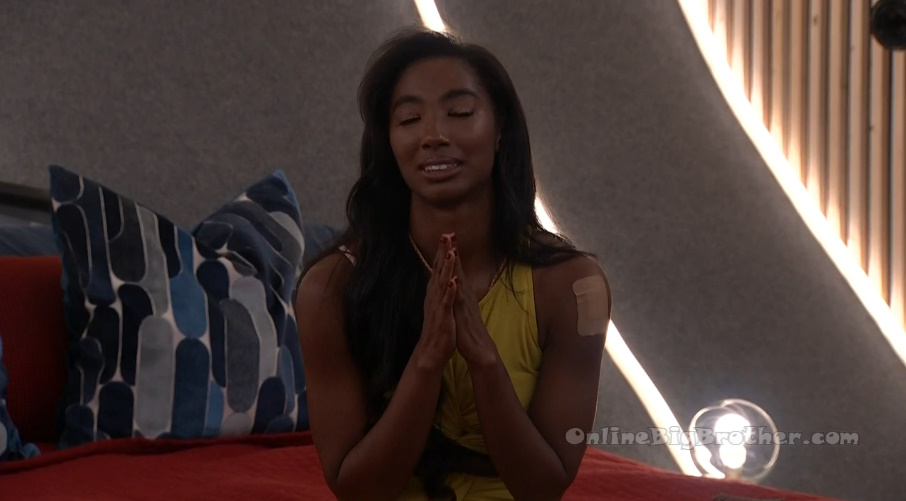 9:15pm HOH room – Kyle, Monte, Taylor, Joseph and Turner.
Kyle explains everything that he just explained to Taylor above. Taylor – for me the shifting targets all week was about exploring options. Joseph – Alyssa's bad gameplay presented itself for us to entertain the option for her. There is no good reason to.. like Kyle if you get HOH next week you will just have to basically say I am in an alliance Alyssa, I need to send you home. Kyle – Well I mean at that point I feel like more people are on board with Jasmine? I don't know. Turner puts his hand up (lol). Jasmine joins them and the conversation ends.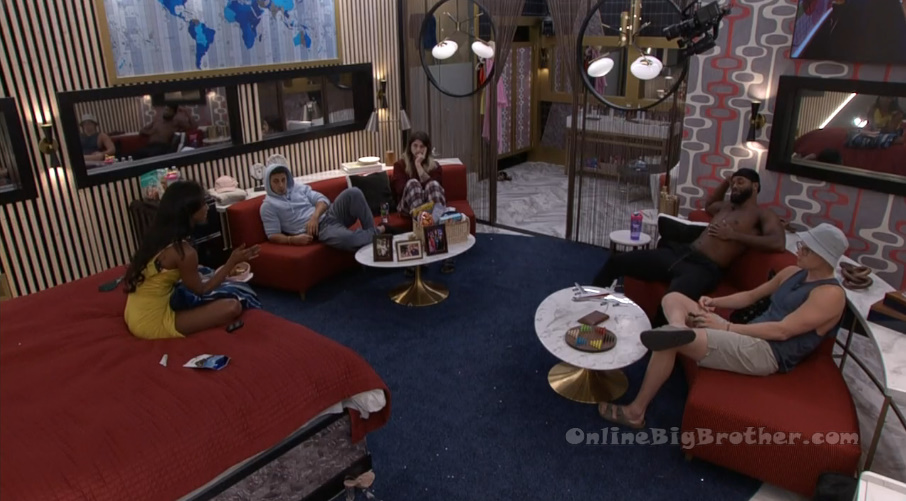 9:25pm Big Brother gives the house guests alcohol and birthday hats, cake, etc for Jasmines birthday in two days.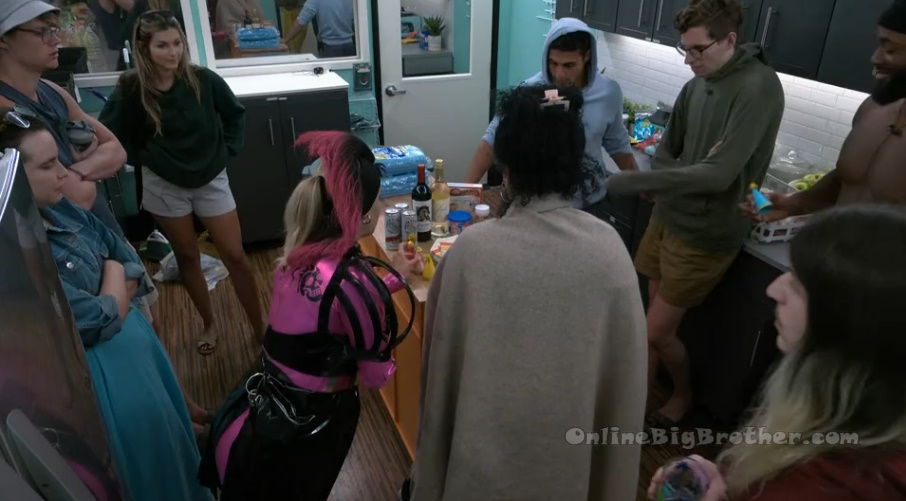 9:35pm HOH room – Michael, Brittany and Taylor.
Taylor – before they walkin .. this is going to sound really aggressive but did you guys tell Kyle that you prefer Indy to go instead of Alyssa? Turner and Monte walk in. Michael – I will say in front of everyone ..my order is Jasmine on top of everyone and between the other three the only other person that said they would put me up is Terrance. So to be honest Indy and Alyssa are my bottom two but I do note that they are the two most physical competitors that the other side has so if one of them goes this week.. Taylor – that prevents them from winning and having the opportunity of putting you up. Michael – but between them I am open either way and I told Kyle that. From my personal game I don't see either of them as a direct threat to me. Brittany – I feel the same. Jasmine distrusts me the most and among the three others its all kind of a wash. I don't recall talking to Kyle about that specifically, I think we talked in more general terms. Turner – for my personal game Alyssa is all the way at the bottom but that's because I am friends with her. Taylor – do you guys feel exhausted with how I have shifted targets over the last few days. Monte – no I think the conversations have to be had because you have to consider all options. I think opportunities have presented themselves in the last few days. I think if Kyle feels that its best for his game not to use the veto and he is fine with whatever repercussions come from that as far as me not being the backdoor option or whatever.. then I am fine with it. I'm indifferent with whoever on that side goes out. Joseph talks about how pissed Terrance is if Kyle doesn't use the veto. Joe – Terrance was like he (Kyle) is thinking with his d**k and I am quoting ..Kyle is thinking with his D**K and them damn showmance things always lead to sh*t like this. He is pissed!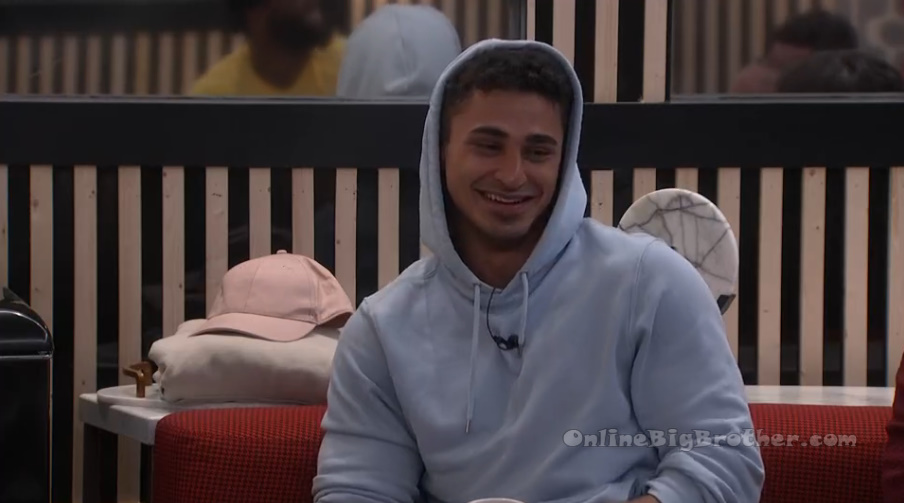 9:56pm HOH room – Alyssa, Michael, Brittany, Turner, Taylor, Joseph and Jasmine are hanging out and chatting.
10:22pm – 10:45pm HOH room – Taylor and Indy. (Taylor playing dumb to protect her jury vote with Indy)
Indy – I think Kyle is afraid to use the veto. Taylor – why? Indy – do you have any … did you say anything about Alyssa for him? Taylor – no why would he think that!? Indy – I think that he is afraid that you gonna put Alyssa up. Taylor – why would I put Alyssa up?! Indy – I don't know .. maybe because of the London thing or stuff like that. Taylor – that's petty. Indy – if you can please tell him. Talylor – yeah, have you talked to him? Indy – yeah and he is seconds thoughts .. bla bla bla. Taylor – he told you he is having second thoughts? Indy – yeah. Taylor – when did he say that to you? Indy – right now. Taylor – okay. Indy – he came and talked to you? Taylor – yeah but not about .. he basically knows that I told Alyssa that I would protect her so I don't know why he thinks that I would put Alyssa up. I don't know why he wouldn't use the veto. Well I need that veto used because I have someone I want to put up that I need to get out of this house… so if that veto isn't used .. my HOH is f**ked!! So I will be sure that he uses that veto and as soon as I have confirmation that he is going to use it .. I will come talk to you. You said that he told you he was going to play for you and use it on you. Indy nods. Taylor – so why the f**k would .. does Alyssa think I'm going to put her up? Indy – no I don't know. Taylor – We'll take care of this. If noms stay .. Terrance would go. Indy – yeah I know but.. Taylor – I know, lets not put you there. One time I get HOH and I trusted Kyle.. Do you think he is working with Monte? Indy – I don't see that. Taylor – at least this is easy to fix, I'll fix it. Jasmine joins them. Taylor continues to play dumb. Alyssa joins them. Taylor – I don't know why Kyle doesn't want to use the veto. Its seems very straight forward .. Terrance was the one vote to get rid of Kyle last week. You take Indy down and put up a bigger target. Kyle can have his revenge moment and then we get the actual big target out. Alyssa – and who is the bigger target? Taylor – I am going to keep that close to the chest.. Its obviously Monte but I don't want to be spreading and causing chaos before the veto ceremony tomorrow. Alyssa apologizes for taking the London trip and for giving Taylor a punishment. If I could do it again I wouldn't take it. Taylor – its okay, we'll have more than enough money to go to London after all of this.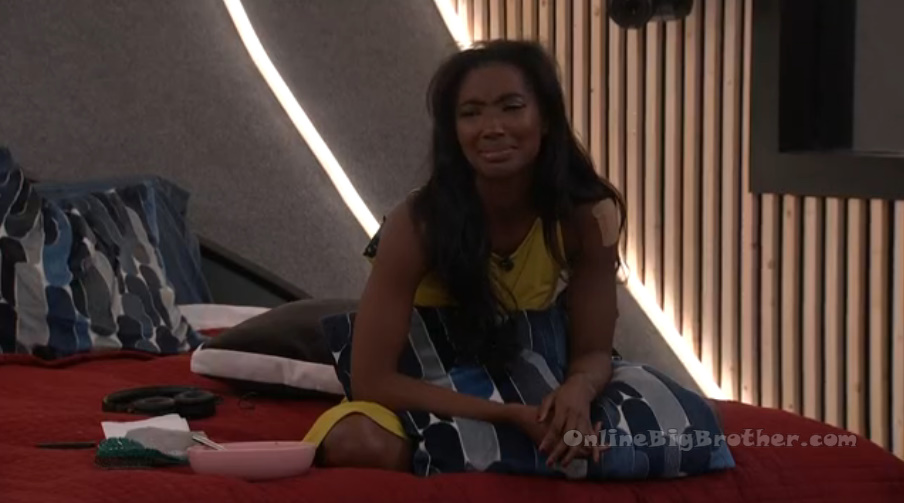 11:10pm Backyard – Joe, Turner, Kyle, and Taylor.
Kyle – Indy gave me a huge hug. Turner – it was a good 3 minute hug. Kyle – and I've never hugged her before. Joe – she made a comment.. Kyle – so I am talking with Indy and Jasmine out here and just basically saying I am not dead set on it.. which is a red flag for them. And Indy throws in my face last week we had the votes to keep Daniel but we kept you. And I am like Okay that makes me feel great! And then she said if I don't use the veto and she remains on the block she said just vote me out.. I am not going to go to the jury house. I am going home.. that's what she said. I was visibly upset and I said do you understand how many people would die to be…. and then she started to backtrack very quickly. Joe – she threw the towel in. Taylor – it goes back to what I've said .. you drag that person till you don't need them anymore. So we're on opposing sides of this.. you said take me out.. take me out.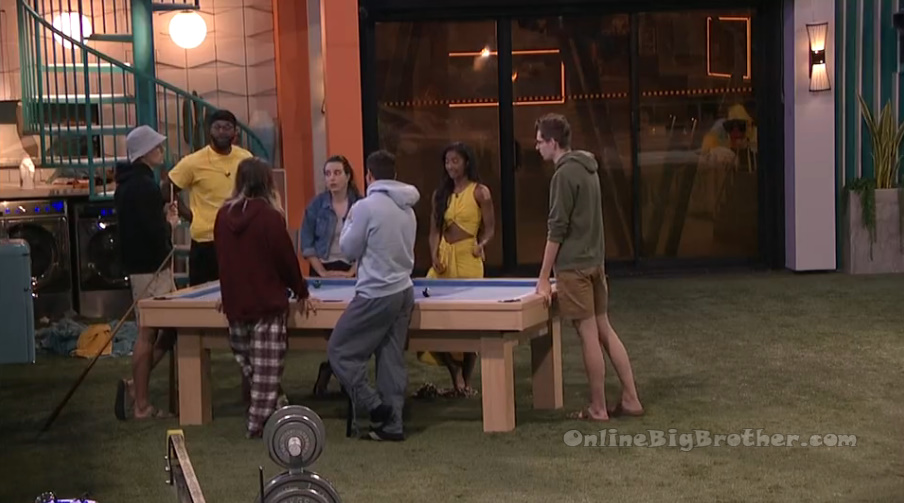 11:30 pm Backyard
Joe – Noms stay the same.
Kyle – is everyone cool with it?
Taylor- Cool with it
Michael – I'm okay with that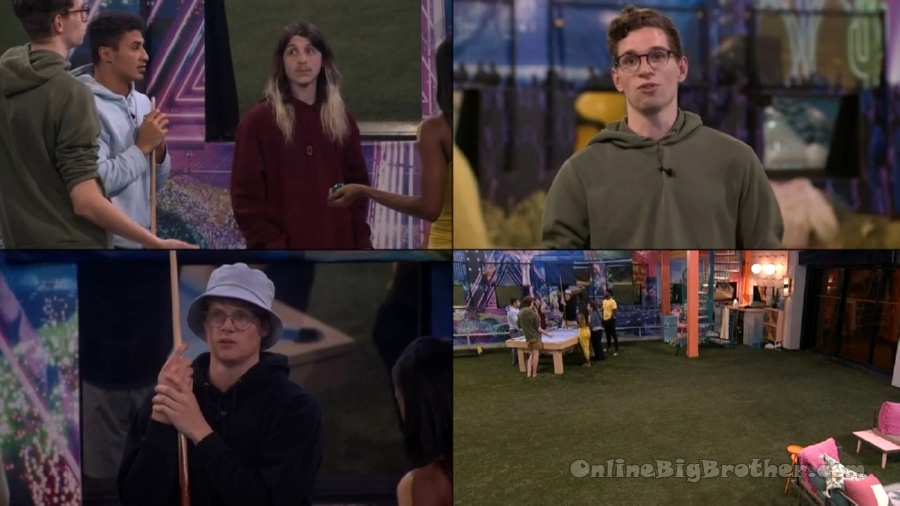 11:35pm Backyard – Monte, Joe, Kyle and Turner.
Kyle – Does he (Terrance) really think that I am going to use it (Veto) on him after he voted me out!? Joe – he literally calls me Monte brothers and Indy comes in and is like why are those two still in the house?!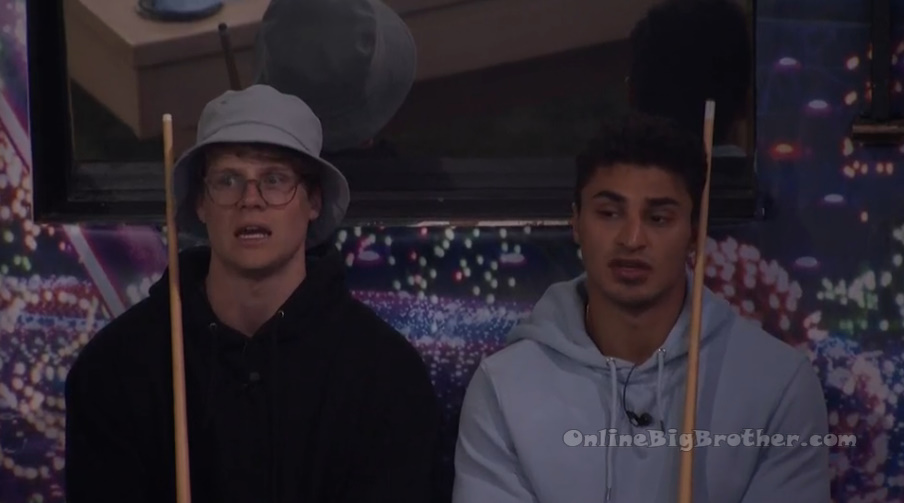 12am Hammock – Michael, Taylor and Brittany.
Taylor – just use the f**king veto Kyle! Its fine I am just slightly perturbed. Its fine, I'll be a bitter betty for 24 hours. Brittany – before the veto what was established? Did he say he was going to use it or not? Taylor – MMMMmmHhmmm Because Joseph was going to go up. Brittany – right, things have changed so much its hard to remember. Taylor – so they'll let Joseph go up as a pawn before they'll send Alyssa out the door!?!? Michael – I didn't think about it like that. Brittany – man that veto really screwed up everything didn't it.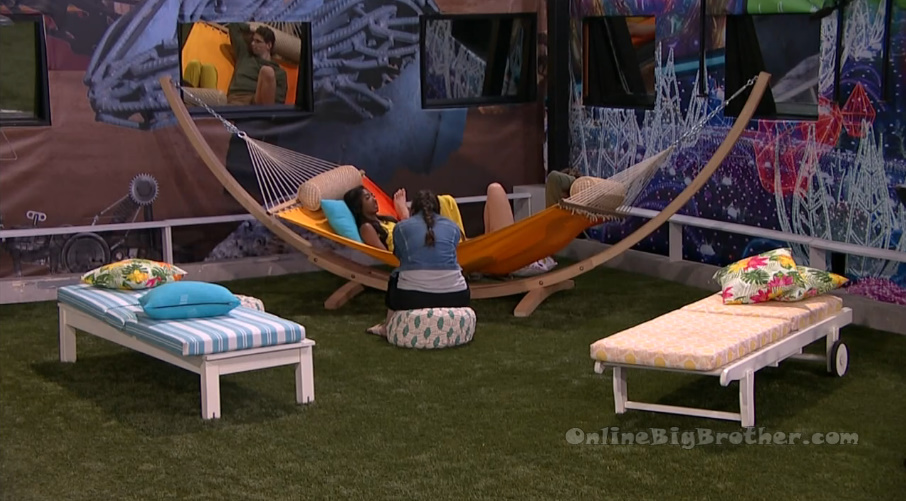 12:39 am Kyle, Brittnay
Kyle – I just get the feeling something was up after we all got talking and were chilling over here. I asked 'is there anything else we need to talk about as a 7?'
Kyle – there might be a double eviction coming up.. they were like NO things were good.
Kyle adds that Monte said he would put up Alyssa, Joe would put up Jasmine/Terrance.
Kyle – what was this whole charade for the last three days then?
Britt – I know.. I really think a lot of it was fueld on trying to make good TV.
Kyle – I'm telling you she had a FULL sales pitch when I was up there. FULL it took like 15 minutes and she explained it all in detail why Alyssa should go.
Kyle – did you feel like Monte, Joe, and Taylor were all on one side of that issue.
Britt – yeah..
Michael joins them. "How are you feeling?"
Kyle – fine I think we're all on board.. it felt slike me versus the three of them.
Michael – Turner wasn't on their side.
Kyle – I could tell that but if it's like that moving forward. They are easily going to bully.. PUSH their agenda because there are three strong opinions Versus ME.. that is why I was tryign to include you.
Brittany says when she was talking to Taylor she said "Sides of the leftovers"
Britt – Hold on a second there are no sides.. YET.
They tal about taking Jasmine out during the double
Michael – I don't know the double is a day after her Birthday.. she can't go up
Kyle – my gut is saying something fishy was going on. Maybe we put Alyssa up and then take Indy out.
Michael – what was the point of all this?
Kyle – that is what I am trying to decipher. I don't understand any of it. If I don't understand something it means there's probably something else going on.
Michael – expecially or Taylor's game. Why would you want to piss off all the girls (LOL after Promising them all they weren't going up)
Kyle – they were not happy with me not using it in that conversation. You guys go that feeling to?
Britt – I got that feeling.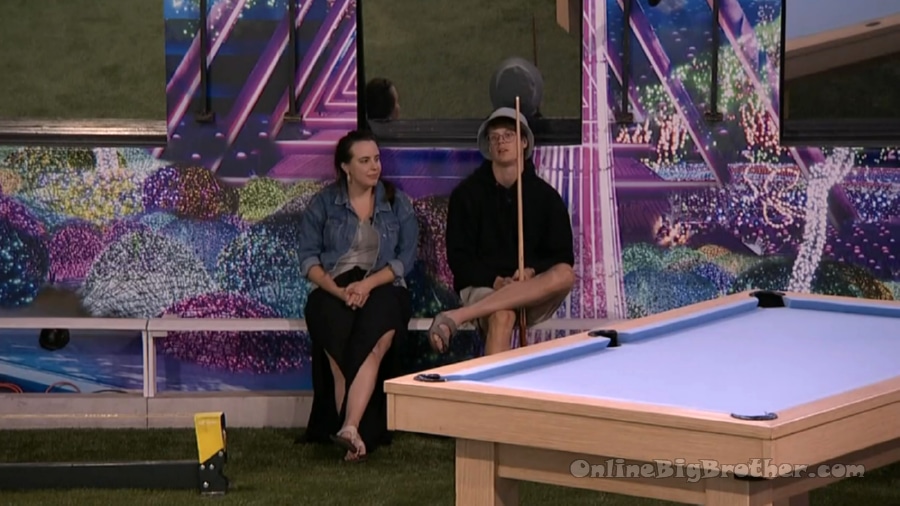 12:40am – 1am Kitchen – Joe, Turner, Monte, Brittany, Michael, Taylor and Kyle are chatting and making food.
2:04 am Taylor, Kyle, Brittnay and Michael
Taylor – Indy asked Alyssa to talk to you about using it.
Kyle – I don't think she cares if Indy goes.
Kyle – what should I say in my speech?
Michael – I'm sorry
Kyle – I'm sorry Brazil.. Indy is going to lose it. I wonder what will happen?
Brittnay – I wonder how the girls will react when she goes home?
Kyle – I think they'll be fine honestly. Jasmine might be surprised.. Terrance isn't going to give two shits.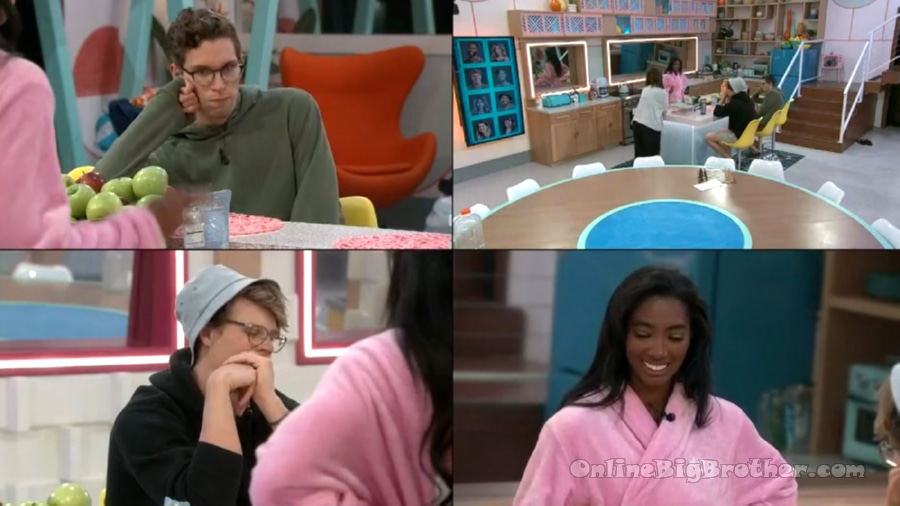 2:14 am to 4:04 am Chit chat and retells in the HOH.
4:25 am They start talking about Indy. She really didn't understand the concept of the game nor did she respect the game.
Taylor says Indy only knew about the Brazilian version of Big Brother.
Taylor – we're all going to get some chaos tomorrow.. you me and Kyle.
Kyle – I'll tell Indy straight up I'm not going to use it.
Kyle says Alyssa already knows the veto isn't being used and He doesn't think Jasmine will throw to bit of a fit.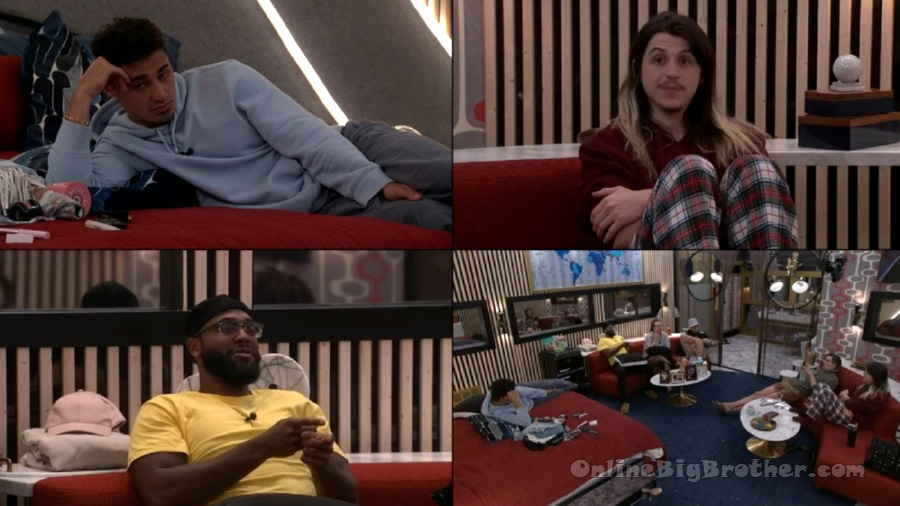 5:03 am Taylor and Joe
Joe says Turner is coming out and he's on the same page with Kyle.
Taylor – I'm very angry. I feel like my HOH is not a bust it's just not what I wanted it to be. I'm f**ing furious right now.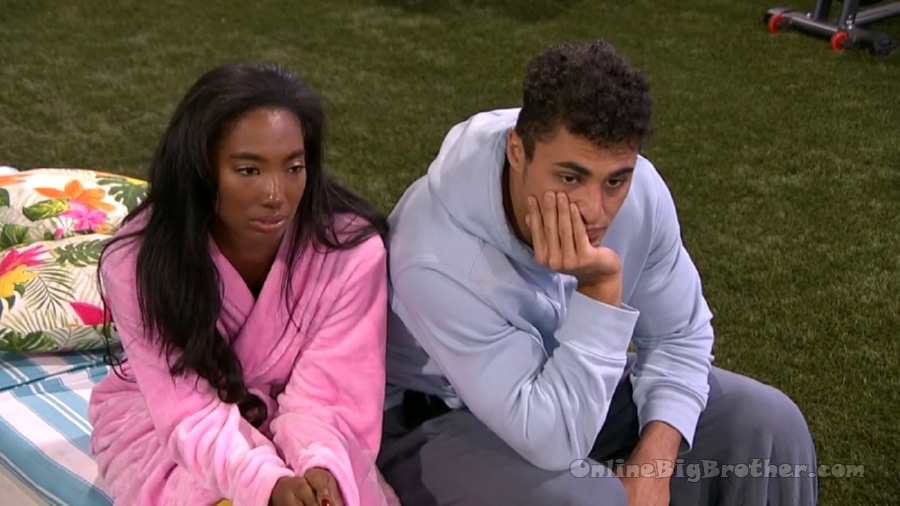 5:04 am Taylor, Turner and Joe are still up the rest of the house is zzzzzz
5:25 am
5:34 am Turner and Joe
Joe – taylor wants Alyssa to go home but she doesn't want to force Kyle.
Turner – it will serve Taylor well to not put Alyssa up because Alyssa thinks she's going up.
Joe – Kyle never used the veto so she'll never know which leaves the target on Taylor's back.
Turner asks him if he's in a showmance with Taylor
Joe – no… you can ask me anything you're my boy.. you're the only boy guy.
Turner – are you like interesting in one another?
Joe – I think she's cute i think there is potential.. we're doing the fauxmance thing. I don't want the leftovers to think we're the new Kyle and Alyssa.
J oe – she's cute, there's potential. we've never crossed any line or boundary.
Feeds cut.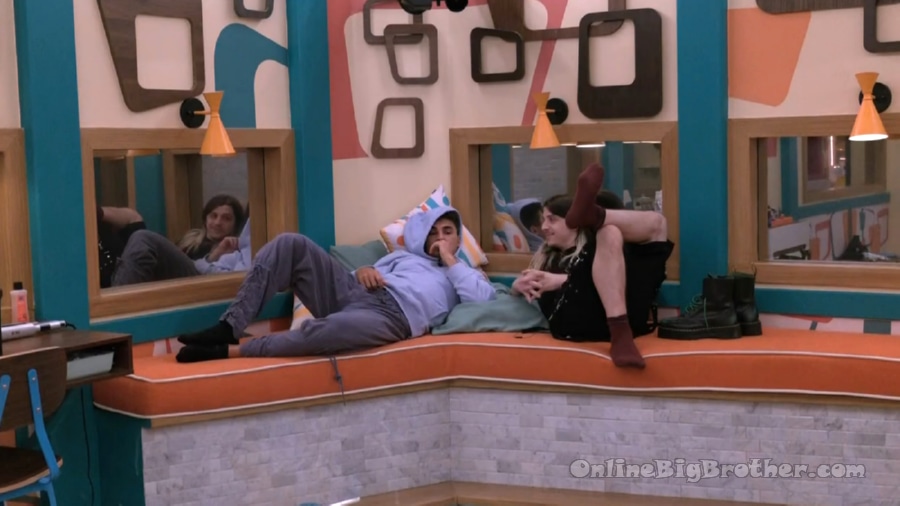 5:55 am Taylor, Turner and Joe are still up chit chat..
8:00 am zzzzz. Before finally going to bed Taylor told Joe she's going to make another attempt to get Kyle to use the veto on Terrance so she can nominated the girl he's haveing s$x with in the house.