Quick Big Brother Spoilers
Head of Household:  Taylor
Nominees: Indy and Terrance
POV Players: Taylor, Indy, Alyssa, Kyle, Terrance, Jasmine (Host is Turner)
POV Winner: Kyle
Veto Ceremony: Kyle didn't use the veto nominations stay the same.
Havenots: 
Lock your ranks in before midnight
The twist
Wording from the Thursday night show
For the first time ever the game will completely change as the house splits into two groups. These two groups will have no interaction and in a Big Brother first, two completely separate games of Big Brother will play out simultaneously all week long all of it culminating with a double eviction like no other"
Reward / Punishment Veto Results:
– Kyle won the veto
– Alyssa won $5000
– Jasmine won a trip to London, England
– Terrance – "Ink 182" 182 temp tattoos
– Indy has to wear a "Punkitard" for 1 week and perform concerts
– Taylor and Joseph will be chained together for 24 hours.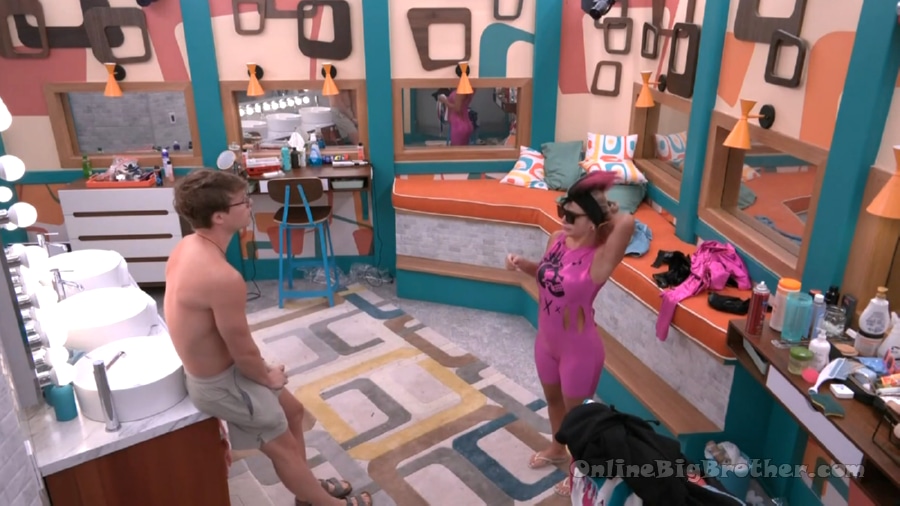 9:38 am Kyle and Indy
Kyle – I just want to tell you I'm leaning towards not using it. I just want you to know before the ceremony and stuff cause I know it's important.
Indy – that's ok honey.. don't worry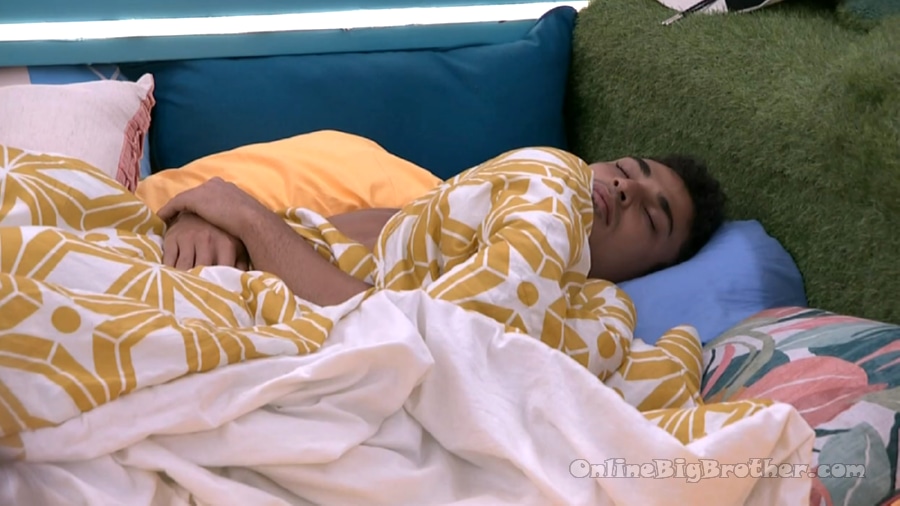 10:00 am The houseguests that were up until 6 are having a tough time getting up.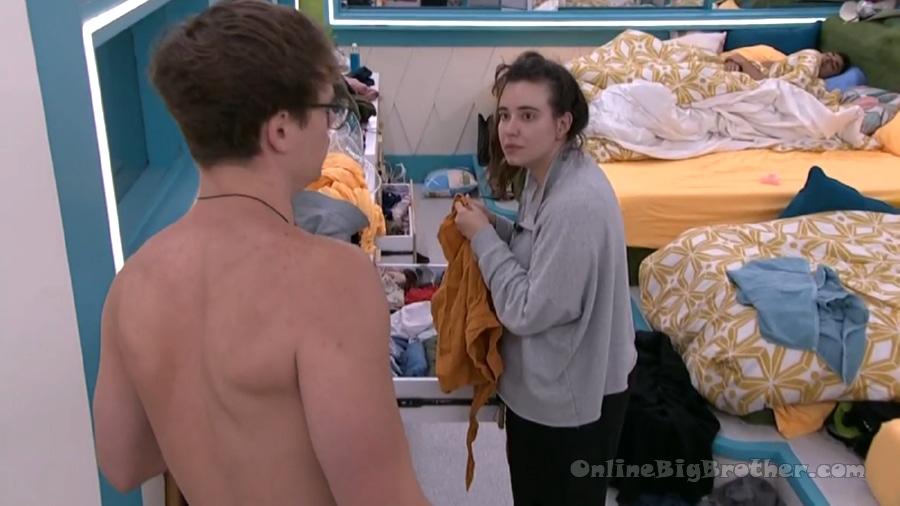 10:02 am Kyle tells Brittany he just told Indy He's probably not using it. 'She seemed fine'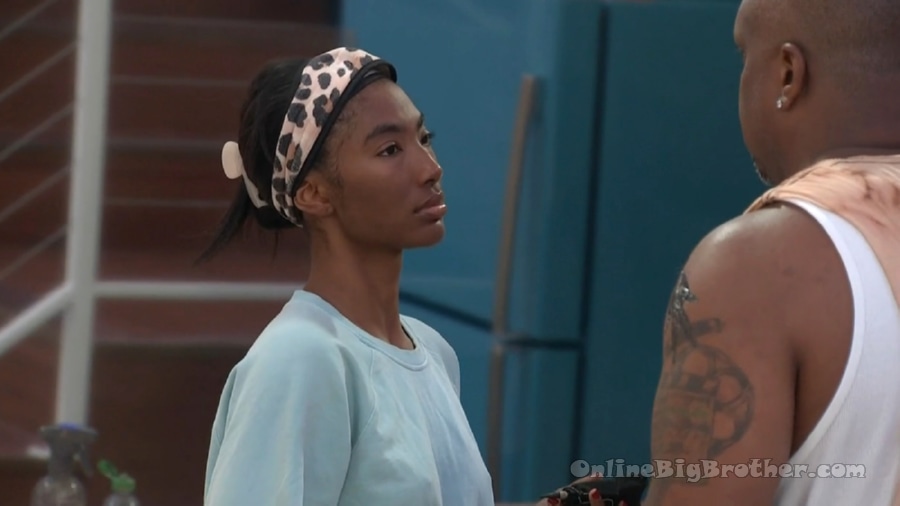 10:07 am Terrance and Taylor (Hard to hear)
Terrance – That's a bigger situation than protecting somebody. They are working together.
Terrance – If they working together
Taylor – you have nothing to worry about
Terrance – we have to move strategic as hell now. Without making a big move you made a big move.. this is going to come back to bite in the a$$
Taylor – you don't know how angry..
Taylor – I will never forget this.
Terrance – you had the opportunity to let someone make a big move and you took that off the table to protect.. (Kyle using the veto so Alyssa could go up is the big move?)
Taylor – Me.. the most vengeful bitch in this house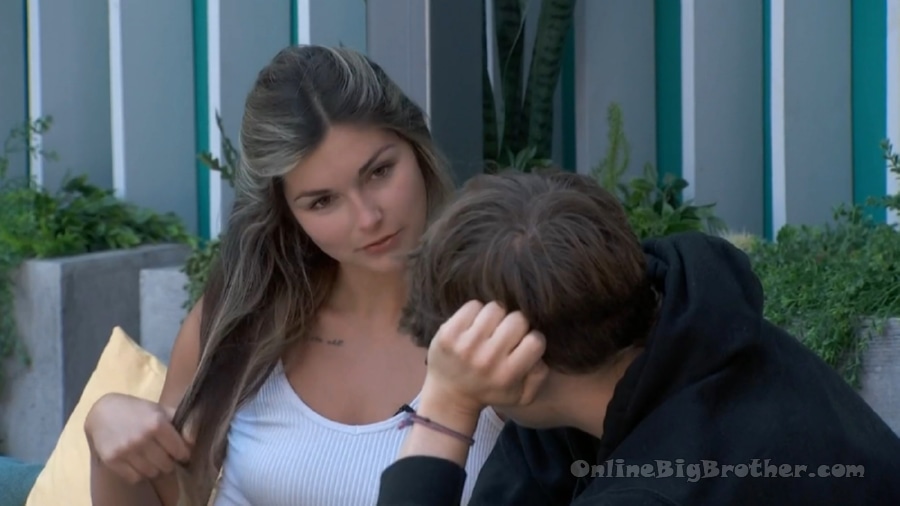 10:20 am Kyle and Alyssa
Kyle says he told Indy he's leaning to not using it.
Alyssa – I would prefer you not to
Kyle – I'm not going to use it, especially when it's the two people I talk the least amount of game with.
Kyle – Indy last night was kind of threatening she was like 'we had the votes to keep Daniel instead of you last week'
Kyle – I was like WHaaat?
Kyle – and then she said if I stay on the block just vote me out I would rather go home than to Jury.. I would rather leave than go to Jury. She's ready to risk the game. She was talking to THEM (production) about leaving the game. She told me all that.
Kyle – now you expect me to save you and use the veto? ummm NO
Alyssa – did you talk to Brittnay and Michael about it? They seem like they don't want you to
Kyle – yeah exactly.. Turner doesn't want me to. From what he said to me.
Alyssa – have you talked to Monte?
Kyle – yeah..
Alyssa – I just don't know what to say to Indy..
Kyle – I told Terrance yesterday I'm not going to use it.
Alyssa – Brittany says every time she goes to talk to Taylor it's something new. That doesn't make me feel super comfortable at all.
Kyle – when we get through this week a lot can change especially if I get HOH.. just try and stay under the radar. Play up that your back is hurt. Trust me we'll be good.
Alyssa – I trust you.. and you're hot..
Kyle – we have to win HOH next week. Me, YOu, Turner, Michael, or Brittany. If we win HOH we'll be in a good spot.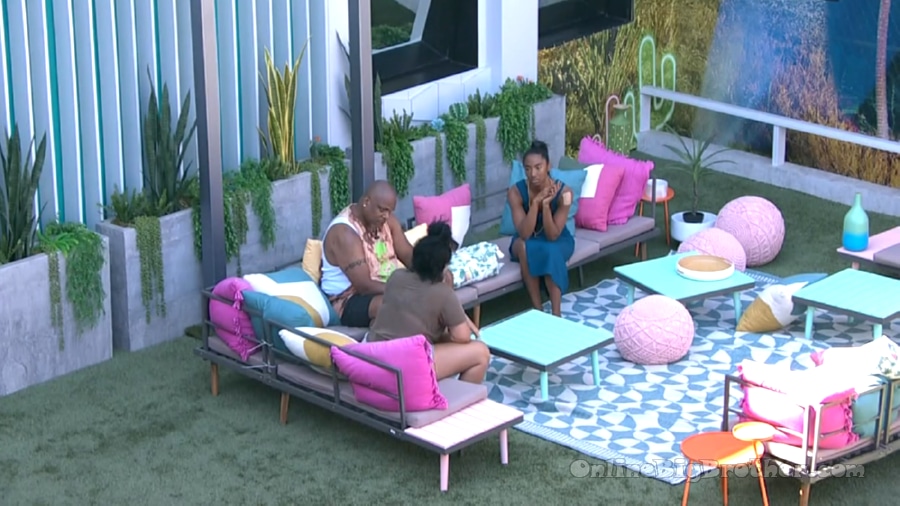 10:35 am Terrance and Taylor
Taylor – So I am f***ed
Terrance – I tried to talk him down.. Bro.. he's like I think she's mad at Alyssa for taking the trip.
Terrance – Bro everybody is fine about that. He was saying to me you'll be good anyways.
Taylor – WOW
Terrance – He was like I checked the temperature.. no one likes Indy. Who the hell you talk to? You ain't talking to anybody bro. You know what I'm saying.
Jasmine joins them.
Taylor says Kyle is wavering..
Jasmine – Why?
Taylor – he's trying to protect someone else if it's not Alyssa.
Jasmine – who?
Terrance – you got to play the game and think about week one. Who was all in the have not room?
Terrance suggests that Kyle is trying to protect Monte.
Jasmine – I don't see that
Terrance – how can you not see that? how are you so blind?
Terrance – Him, INdy, Mother f***ing Kyle and Alyssa. You can't see that? you can't see them playing chess?
Jasmine – But Indy is on the block so what does that have to do with …
Terrance is adamant that Kyle is protecting someone else, not Alyssa.
Terrance – he said Alyssa is going up for something petty like a trip
Taylor – Imagine if I actually did that? You took my trip to London so now you are going home. (wasn't that the reason?)
Jasmine – are you really upset it's not going to work out?
Taylor – I am furious at him. Are you kidding me?
Jasmine – I didn't know
Taylor – I'm f***ing furious this whole time I thought he was working with me to be on my side with this veto and he goes out here and it's like Actually no I'm not going to use this veto.
jasmine – last night they were on the hammock I think Indy f***ed herself. She said.. You know Kyle you were just on the block and campaigning.. she was like everyone could have kept Daniel and you would have gone home but we didn't
Jasmine laughs
Taylor – why would you say to the person with veto we could have sent you home but we kept you so be grateful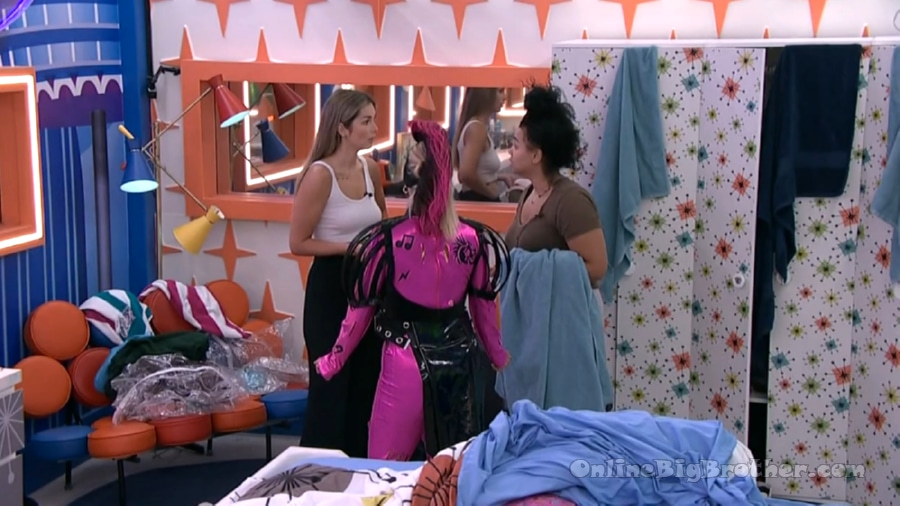 10:45 am Jasmine, Alyssa and Indy
Jasmine says Taylor is saying she asked Kyle to use it and he told he wasn't
Alyssa – she asked him to use it?
Jasmine – that can mean two things Alyssa and I hope this stays between us and not Kyle. That means he's working with Monte to protect him or he's not really aligned with us and he only cares about you. I love you and the only reason I love him is because I love you so that's like a slap in the face we could have kept somebody that was a number for us.
Jasmine – if he doesn't use that veto he shows his hand.. Taylor is PISSED
Indy – you guys will be a target now as a couple
Jasmine – if he makes this move..
Alyssa – he's making this move cause she feels she's coming for me.
Jasmine – she said I'm not coming for Alyssa I love Alyssa.
jasmine says Taylor told her "I want him to use the veto so I can put Monte up"
Alyssa – and she seemed genuine?
Jasmine – Yes, she was almost crying. (What a powerhouse player)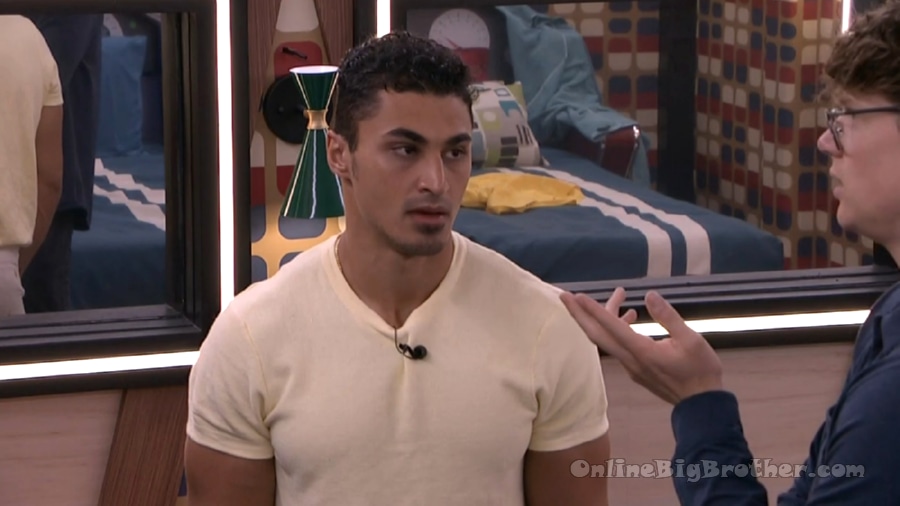 10:49 am Kyle and Joe
Kyle – I just had a weird feeling. These are the two people I talk game to the least There's no point in me taking either of them down for my game it doesn't make sense.
Joe – I'll back you up on it.
10:53 am Feeds go down for Veto ceremony.
(Kyle won't be using the veto, Indy and Terrance on the block hopefully both will get evicted on Thursday)
11:56 am Feeds return Veto not used.