Quick Big Brother Spoilers
Head of Household:  Taylor
Nominees:
POV Players:
POV Winner:
Veto Ceremony:
Havenots: 
Lock your ranks in before midnight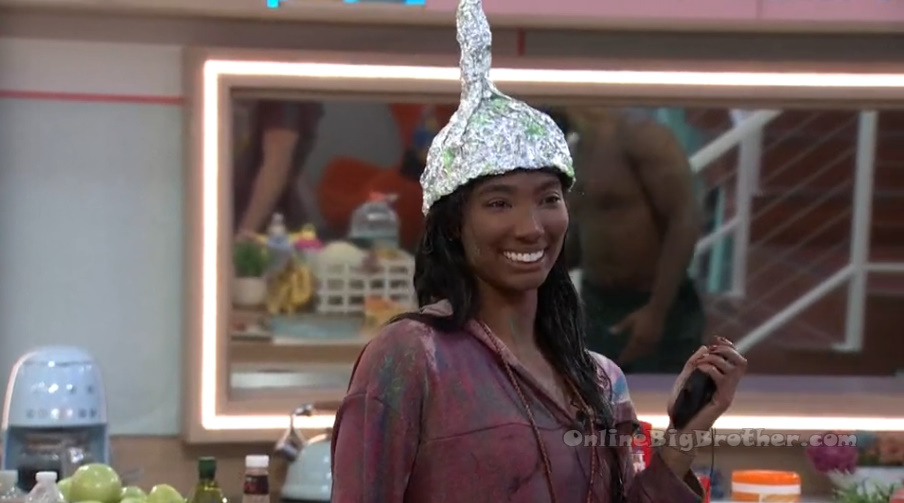 TAYLOR won the HOH Endurance Competition!
8:01pm The feed return to all the house guests in the kitchen talking about the comp. Everyone is freezing. Michael – are you going to get the new Beyonce?? Taylor – I don't know or something I know and love …I think I'll go for Janet Jackson. Michael – congratulations! Taylor – I thought I was out the door! Michael – Boring season my a$$! Oh he (Daniel) is going to be pissed! And I don't feel bad at all about my goodbye message. Taylor – did you do the sandwich? Michael – you'll have to watch. I talked to him before he left. He was like I am not going to go out with an F U type speech .. I am going to keep it classy. I wanted to say something real bad. Taylor – he only hugged one person and walked out the door. Michael – I just sat, I was like I am not getting up for you. Taylor – Kyle really tried the whole time (in the HOH comp).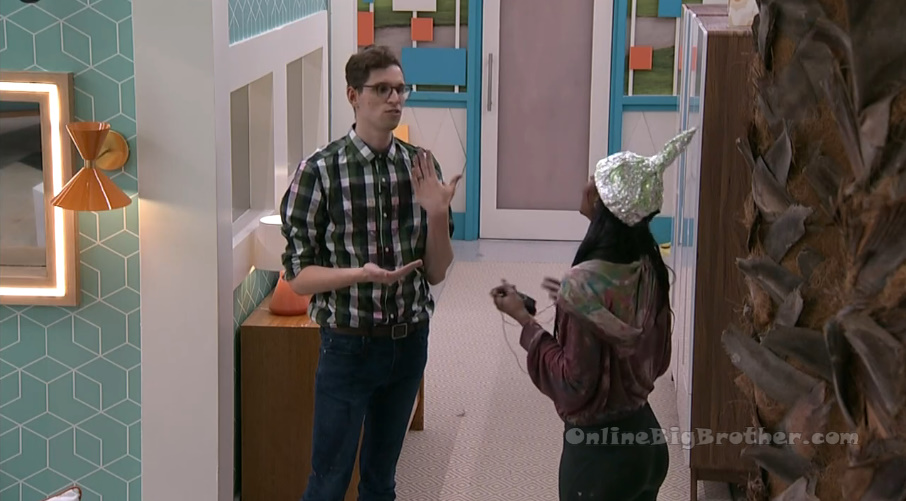 In the kitchen the house guests talk about how they all made it to jury. Michael – we're here till October.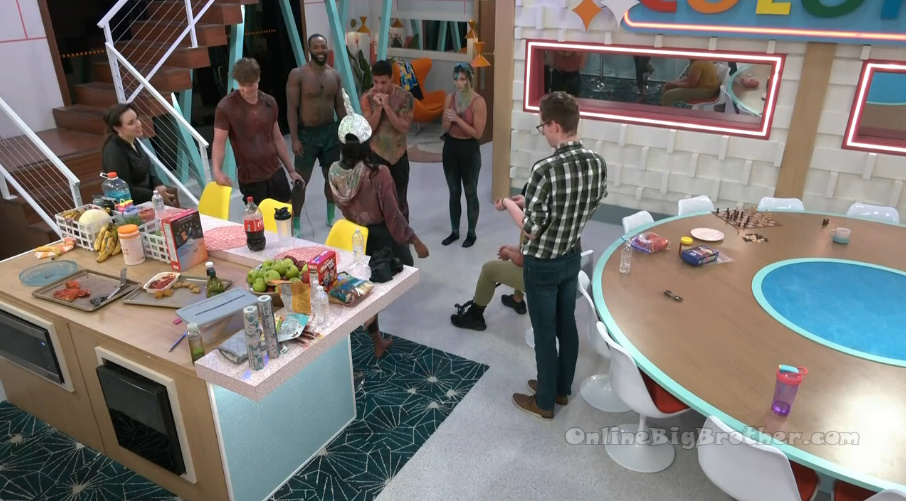 Alyssa – Dude I am so proud of you! You really really really did amazing! Brittany – you rocked it! Taylor – thank you! Brittany – you were so solid up there. Alyssa – Daniel went home and you won HOH! What is going on! Taylor – clown show though!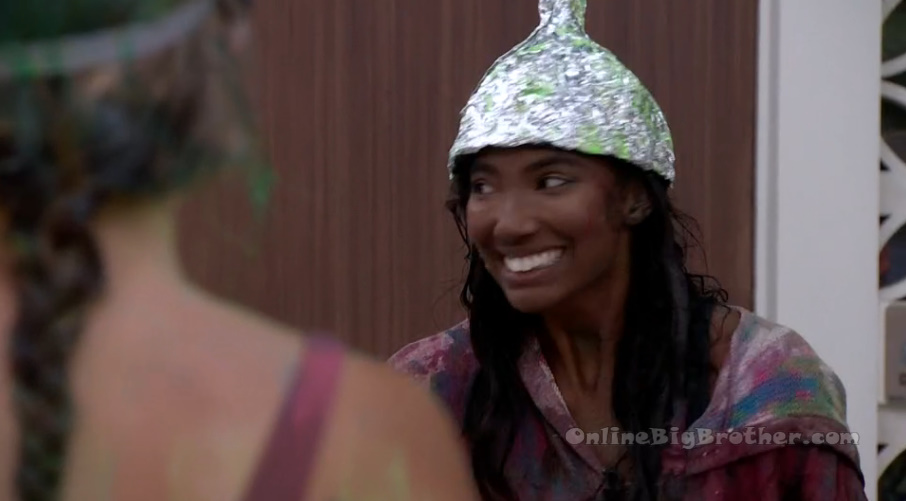 8:24pm Storage room – Taylor and Brittany.
Taylor and Brittany celebrate. Brittany – you did! I don't know if you heard me but I was saying girl this is your week! THIS IS YOUR WEEK! You couldn't write this sh*t any better!!! Jasmine, Alyssa and Indy .. complete silence! Taylor – I know. Brittany – no hiding it anymore! No hiding it anymore! Because Nicole is out of the house, Daniel is out of the house and you're HOH!
Taylor & Brittany celebrate #BB24 @bigbspoilers pic.twitter.com/Ov1ERYNEas

— Dawg (@DawgsBigBrother) August 12, 2022
Kyle "It was so quiet over there.. I'M SO SORRY!" #BB24 @bigbspoilers pic.twitter.com/5GR0uYoHBR

— Dawg (@DawgsBigBrother) August 12, 2022
8:40pm Bedroom – Kyle talking to the cameras.
Kyle – I"M STAYING!! When Daniel did that I had this in the chamber ..I was going to say and here we have another childish outburst from a 35 year old cosplay player. Thanks for making this easy for me Daniel. Oh my gosh! I couldn't do it! I didn't have the heart! But next time I have the opportunity to be savage I am going to take it. Well I get to stay another week and I take second on the wall. Taylor won that fair and square. I was never going to throw it. Indy joins him. Indy – you guys didn't make any deal? Kyle – I didn't. I didn't even think about it. Indy – I don't think she will go after you guys. Kyle – who else is she going to go after if she is working with Michael and Monte. Indy – if she doesn't put up Monte.. its because she's working with him. Kyle – well then who else is she going to put up .. me and Joseph? That's what I was hoping to avoid. Indy – or Terrance. Kyle – no way. I bet its going to be me and Terrance or me and Turner. Indy – and backdoor someone? Kyle – or backdoor me. I should have made a deal. I didn't even think about it. I need to talk to her. Kyle – ah.. I don't want to go up again. ..I'll just keep my suit case packed. Na, I'm just kidding.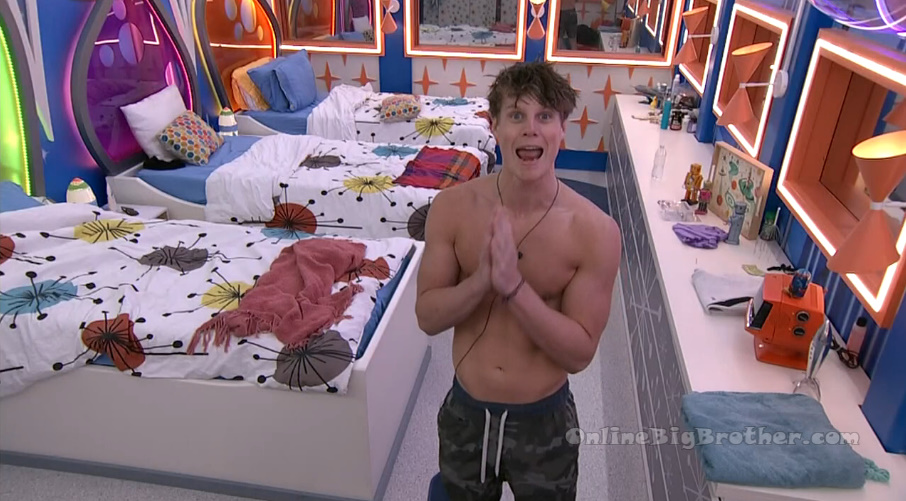 Bedroom – Michael and Brittany.
Michael – they just expect us to win everything and they're going to cut us the first chance they get. We don't need their allegiance anymore. Brittany – we don't. Michael – I am so happy that Taylor won. I wonder what she is going to do. Brittany – at this point .. they know. Michael – they know. Brittany – and I know what you're doing too. Michael – the other thing too is Joseph and Kyle. I am sorry but I don't want to give them a free pass for them to be at the end and for them to be like wow look at Joseph and Kyle what great players they played the middle. You don't get to be in an alliance and not protect the alliance. Brittany and Michael talk about how Joseph is not good for their game.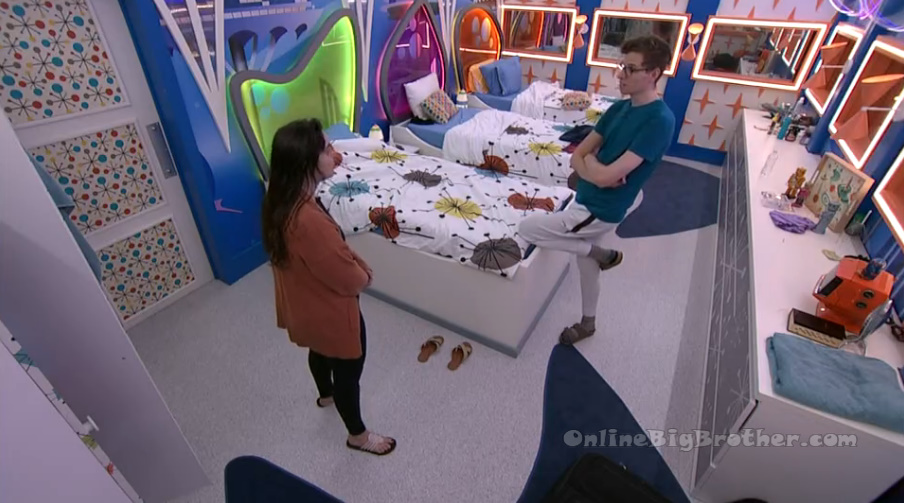 9:30pm Bathroom – Taylor and Kyle.
Kyle – you deserved it. You crushed it. I couldn't throw it. We nodded. We said we're good me and Joseph. I was like I can't throw it. Taylor – no, I know. Kyle – I think it meant more that you rightfully beat everyone out there. Like I could not hold on another moment. I was like at the end of the day, any of us three win it and the fact that you won it was just the icing on the cake. Hopefully you don't hold it against me that I didn't throw it. Taylor – no, no, no. I will never ever ever be mad at anyone for going all the way. Kyle – we will chat about it. In the "lets get lit" comp, I threw it. Daniel went up .. it was Ameerah, Alyssa and Turner .. If Ameerah & Alyssa had won it ..I would have been done. Turner won. I had no idea that could have been the result and so I said to myself never again would I throw one. Taylor – I am proud of you for doing what you did.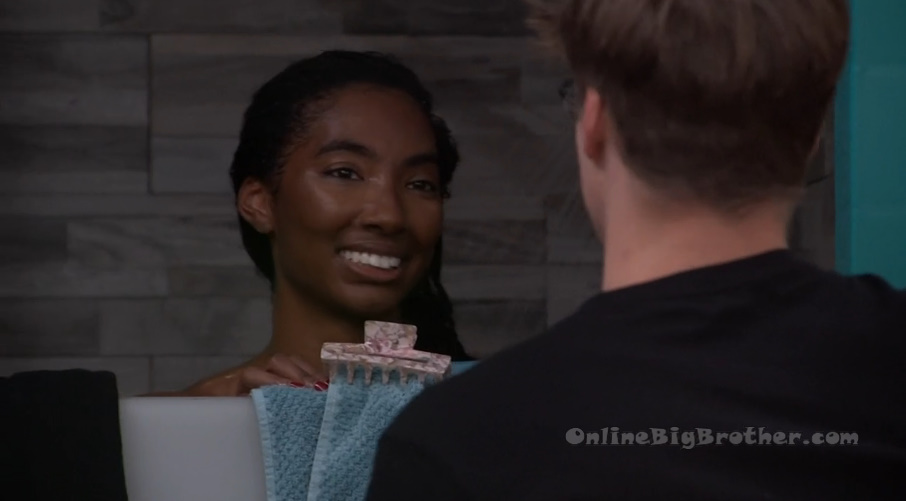 Jasmine – I am just going to beg her not to put me up on my birthday week.