Quick Big Brother Spoilers
Head of Household:  Taylor
Nominees:
POV Players:
POV Winner:
Veto Ceremony:
Havenots: 
Lock your ranks in before midnight
9:30pm Bedroom – Indy, Joseph, Jasmine and Alyssa.
Jasmine – I caught her (Taylor) and Brittany in the storage room like whispering really low like jumping up and down. And then when I walked in Brittany tried to like play it off. I am like girl, please! Joseph – She invited me up to the HOH room tonight so I'll try to see what's her idea for tomorrow morning I guess. Alyssa – try to keep us safe. Jasmine – f**k me! Joseph – yeah you all should talk to her too. I am going to go to her last so that she can be like I am going to do this.. And Terrance just told me this too… no one knows what the f**k is going on with her. Jasmine – and now Daniel is out so who would her target be. Alyssa – and she said she wouldn't put any of us up. Jasmine – any girls. Alyssa – and Joseph. Any of us. Jasmine – oh okay. Alyssa – or Joseph, or Turner or Kyle.. but that's a lot of people. Joseph – I don't know .. but who does that leave?! I don't think she would put Turner up after that .. there is no shot. It would literally look really bad. Jasmine – when I pawned her I said what happened and I voted to keep her the other week so she said she wouldn't. I am just doing what she told me. I just don't know where her head is at. I mean I still think she would go for Monte. I think! Joseph – I am going to ask. Indy – she doesn't want Monte on the block at all .. cause they have an alliance .. 100%. Jasmine – you can get that out of him.. if they have something. Alyssa – I feel like Monte is going to be like .. put up the showmance. Jasmine – why would he do that? Alyssa – what else is he going to say. So try to do damage control and if she asks .. if he tells her what I said just say I don't think she meant it in a malicious way. When they (Taylor and Kyle) hugged I said haha that's enough. Joseph – everyone on my side heard it and was like haha Alyssa is jealous.. and then I laughed. Jasmine – you (Joseph) and Kyle were so close. Joseph – it was demoralizing. Jasmine – well I will say its confirmed that Michael, Brittany and Taylor definitely have something because I caught them. It is what it is now. Joseph – so Michael, Brittany and Turner are not going up. That leaves me .. I don't think she would put me up but if she wants to pull some savage tv.. Jasmine – why would she put you up, she is like in love with you. Joseph – I know but if she is like f**k it, I am going to pull some savage tv sh*t .. but I really don't think she would. Jasmine – I put her up but she was okay with it. Its not like she didn't know what the plan was. Kyle was so close. Alyssa – I'm excited to see her HOH. Jasmine – I am just going to beg her not to put me up on my birthday week. Alyssa – I don't know what is going to happen with Havenots either.. I wonder if she will have to pick. Jasmine – I hope she has to pick. Joseph – I really don't want to be a havenot this week.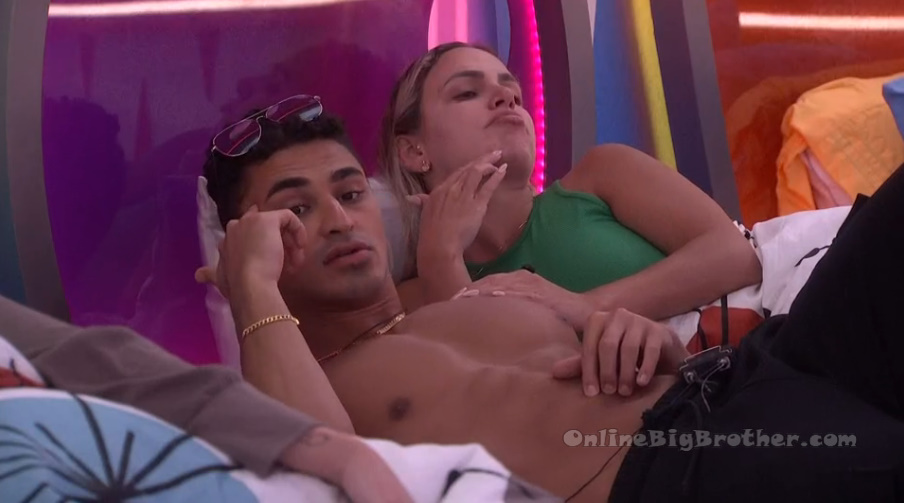 10:05pm Bathroom – Michael and Taylor.
Michael – you think your letter will be from your mom? Taylor – it has to be, it has to be. Michael – and now you made the jury phase of the game. Taylor – oh my god, I didn't think Julie was going to let us know this week.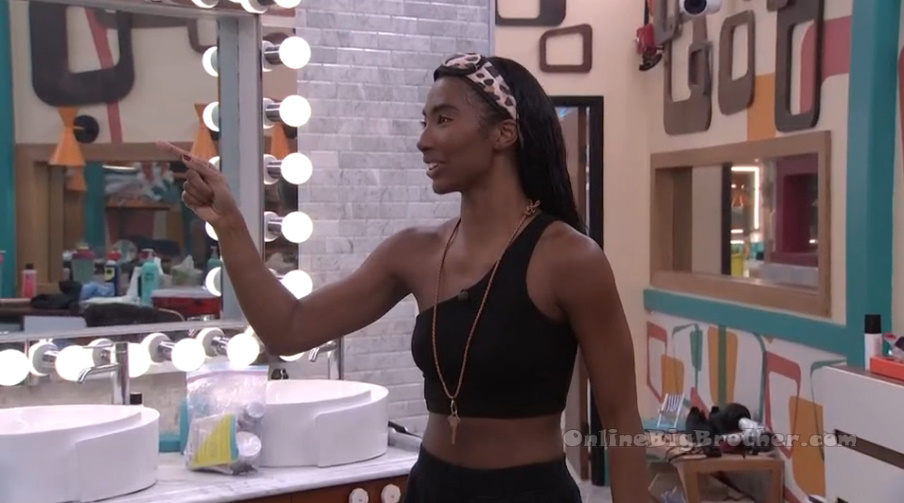 10:35pm Bedroom – Taylor and Terrance.
Taylor – I know my mom is losing her f**king mind right now. Terrance – she supposed to. Taylor – like if someone looks at me the wrong way she will get online and blow sh*t up.. so I know this whole experience is just bbbrrbrbrbrbb for her. Terrance – now everybody is going to be like are you good with Taylor!?? And I'm like YEAHHhhh! Taylor – it was Ameerah… Nicole… Daniel.. where they at!?! Knock, knock, ding dong jury house! OH?! Its empty!? Terrance – its waiting for us.. Taylor – whether I show up at the door or not. Terrance – they had us all on that chopping block. Kyle, Turner and Alyssa join them.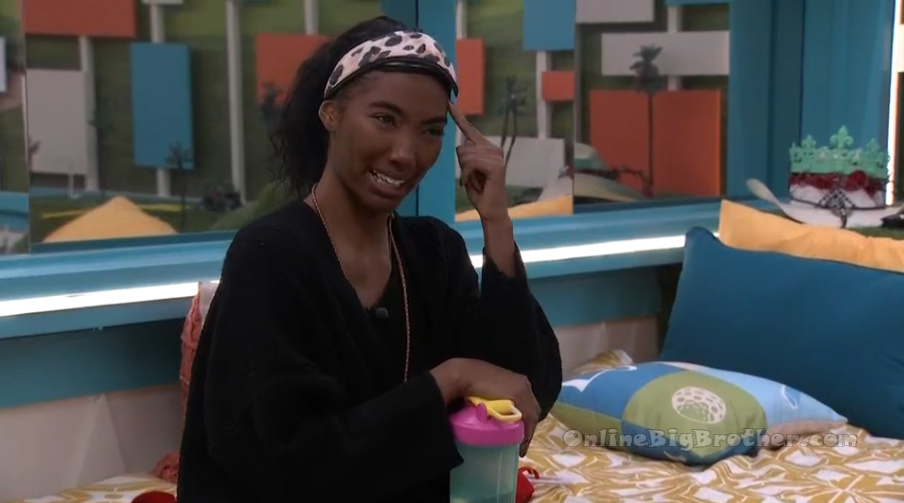 11:07pm Bathroom – Alyssa and Taylor.
Alyssa – have you even thought about it or are you just going to wait to talk with everyone. Taylor – I do want to hear from everybody. I've just been in a position where I don't know everything that's been happening across the whole house so I just want to hear everything because I feel like I am always the last one to know anything. Now I kind of need to know everything. So I don't know if Jasmine told you but you know you're safe. Alyssa – really? Taylor – of course you're safe.. that's why I joined you guys to show you that I am not coming for you.. Festie Bestie ends but okay now I'm in a position of power to show you outside of just that.. Alyssa – thank you. Taylor – its done! And Jasmine is not going home during her birthday (oh thank god!) Alyssa – yeah. Taylor – its easy stuff. Alyssa – and I know people are going to pitch .. showmance .. put them up. I know that is happening. I know what else are they going to say. Taylor – even if that is happening .. I made a deal with Kyle on the wall.. like if you drop now, you're safe. You guys aren't going anywhere. Alyssa – I really appreciate that because what else are people going to pitch to you. Taylor – that is so lame! Alyssa – that's why I want to have fun! LET ME HAVE SEX! Taylor – YES!!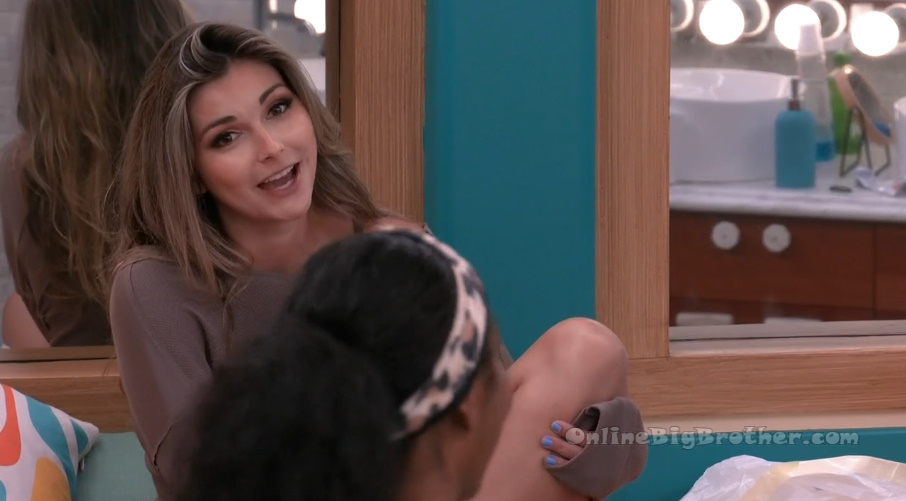 11:30pm Turner is snoring..

11:21pm Bathroom – Taylor, Brittany and Michael.
Taylor – so Alyssa was asking about protecting her showmance. I was like don't even worry about that! I had to make a deal with Kyle if he were to beat me on the wall and I told all the girls that I am not coming for them this week and I can hold to that. No issues! I said they weren't my targets.. I didn't say they wouldn't be pawns! Like they made me. Michael – were you thinking Terrance? Taylor – Mmmmhmmmm. You know he's already come up to me saying you know you're my day one! Good job little sis! Michael – are you serious. Brittany – After Jasmine found us celebrating in the storage room she ran back to the girls. Taylor – whatever! Its was a celebration in the storage room. Brittany – and they were acting like I was hiding something. I'm like, I am not trying to hide anything. First off, shouldn't you be celebrating because.. Taylor – and if you're not celebrating with me in the storage room .. what is going on? Brittany – Joseph said that they were mad. Taylor – no, I know. He told me. Brittany – and they were mad that I was happy that you won.. I don't own them anything. God give it up. Taylor – I hope I don't have to pick havenots. Brittany – if you do.. you can pick me. It would help me if you did pick me. Michael – it will be very curious what pitches you get.