Quick Big Brother Spoilers
Head of Household:  Taylor
Nominees:
POV Players:
POV Winner:
Veto Ceremony:
Havenots: 
Lock your ranks in before midnight
The Situation
Taylor is telling the girls Monte is her target and she's looking at a backdoor. The real plan is for her to nominate Indy and Terrance. Terrance is the target but the door is open for Indy to be evicted if she "POOCHES" herself. Alyssa could also be in danger but it's more remote than Indy Terrance at this point. Jasmine is safe.
The twist
Wording from the Thursday night show
For the first time ever the game will completely change as the house splits into two groups. These two groups will have no interaction and in a Big Brother first two completely separate games of Big Brother will play out simultaneously all week long all of it culminating with a double eviction like no other"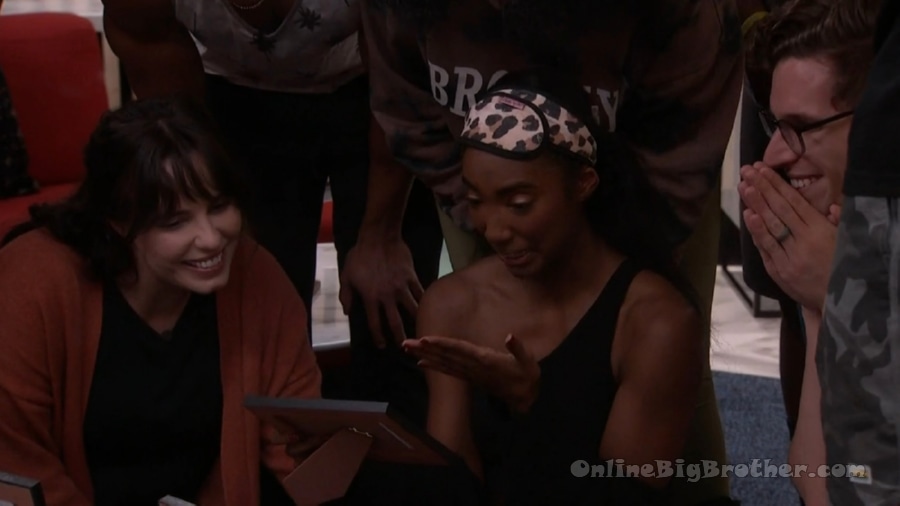 12:33 am Taylor gets her HOH room.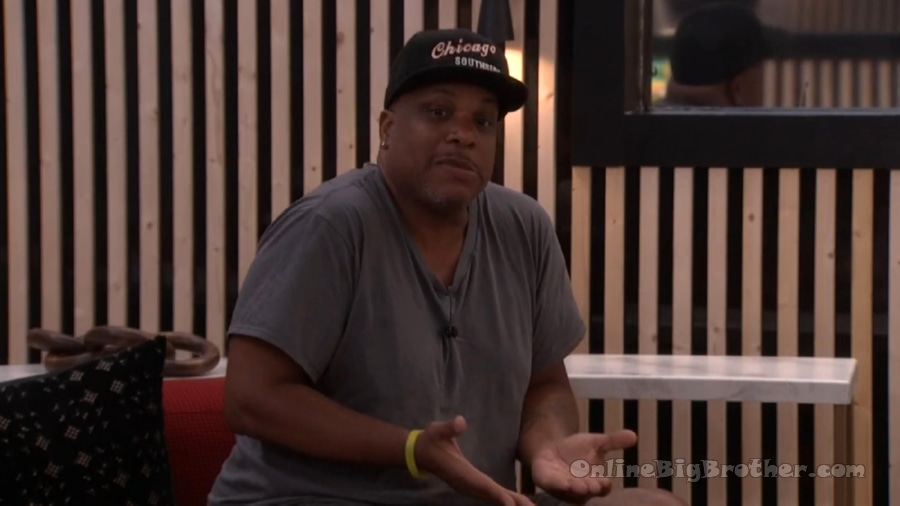 1:03 am Taylor and Terrance
Terrance – just to see G all the sh1t you've been through.. This is what it's for just like your mom says 'DO NOT dim your light'
Terrance – stay who you are and move how you want to move. This is your game. PERIOD
Taylor – there's a lot of people in this house that are expendable to me.. because I've been fighting for my life this entire time. I'm not involved in any deeply.. like.. it's all handshakes like 'I got you'
Taylor – I've been a number for many people.
Terrance – whatever you feel whatever you want to do I have no allegiance other than with y'all. However, you move I support you 10000%
Taylor – do you find there is a target that the majority of house would want to see out this week?
Terrance – I don't know because everyone was so gung-ho initially on that but accepted Daniel.. Michael did say he would be on board this week.. I don't know (Monte)
Terrance points out that there's showmance in the house "A lot of things that will hurt the longevity of the game"
Terrance – take your shots and just.. you know let me know what you want me to do.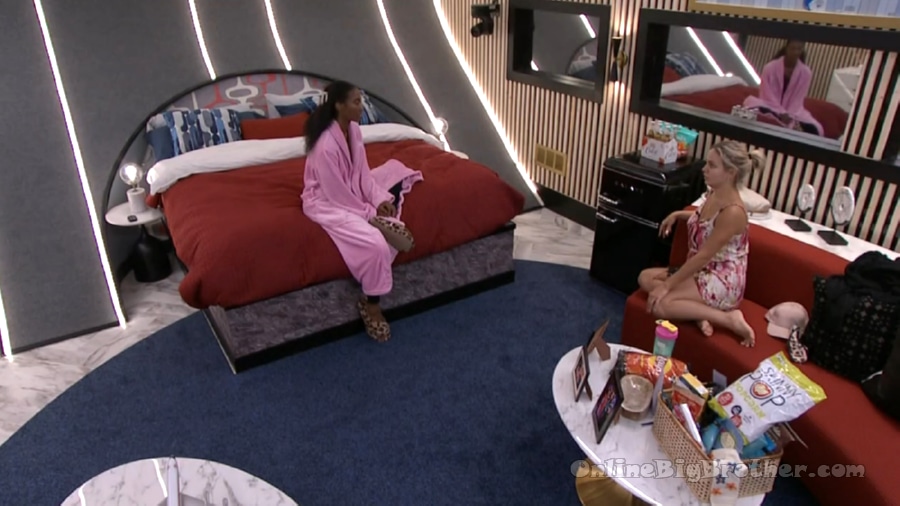 1:10 am Taylor and Indy
Indy – we need to think together. We need to count numbers and everything else.
Taylor – there are 5 girls.. I want to get a temperature overall.. I have an idea who people want out. I have to figure out how to backdoor.
Taylor – he's already won two comps basically. HOH. He's a big strong guy but he's also very smart I don't want to give him the opportunity to run away with this.
Taylor – do you know anybody that would be comfortable being the pawn?
Taylor – NO, I would prefer to put up two guys
Indy – you can ask Kyle
Taylor – maybe
Indy – Maybe Turner, he's been good at competitions and he knows he's not a target
Taylor says she and Turner don't talk game. "he's kinda just here I don't see him close to anybody"
Taylor tells her a girl won't be going home on her HOH. "Monte is number one on my target list"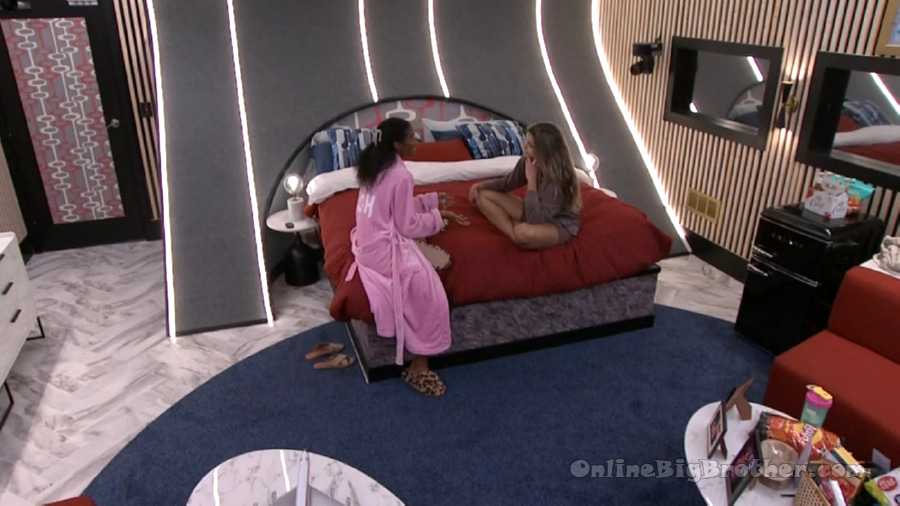 1:23 am Alyssa and Taylor
Taylor says she doesn't want to put up two girls and pawns and she isn't looking to put up Kyle and Alyssa.
Taylor – I'm not worried about Monte we have the power to get rid of him.
Taylor – I'm not going to put you on the front line especially if you feel vulnerable.
Alyssa goes on about how if she goes up she's worried she'll be evicted.
Taylor – you are fine you are not touching it I'm not putting Kyle up. I may have to ask how he feels about being a pawn. I've been on the block two weeks in a row I don't want to do that to someone else.
Taylor – it's a sexless a$$ house and I'm not going to get rid of the two people that will do it.
Alyssa – Thank you I appreciate that.
1:34 am Jasmine and Taylor
Jasmine going on about why she put Taylor up in her HOH. She was safe all along "I didn't think you were going away.. there was no way"
Jasmine – there were two targets last week one is gone I would think the other would be the target this week. That is who I would think. I can't see why that person wouldn't be the target anymore.
Taylor talks about last week she wanted Daniel out "I have my target we can go after Monte at any point I need to get him out of the house. I'm going for this one and you can fall in line if you want"
Taylor – now that it's done this is an easy week for me I know who my target is (implying MOnte)
Jasmine – the house already decided it last week.. you would be good with everybody. That is the move I would make.
Taylor – When it comes to pawns.. obviously it has to be a backdoor. Do I put up two guys that want to put up a fight and win the veto? or two guys I'm more like MEH whatever.
Taylor says she's thinking of Turner and Terrance as pawns.
Jasmine – if you have Monte and Terrance together, Terrance is going home If you have Monte and Turner together
Taylor – Monte is going home
Jasmine – you sure?
Taylor – yeah
Jasmine – I've never talked to anybody about turner
Jasmine says Monte is one of the people she cannot read.
Taylor grabs a cider out of the freezer. They hug. Jasmine goes to get Brittany.
"pink robe.. pink pink robe"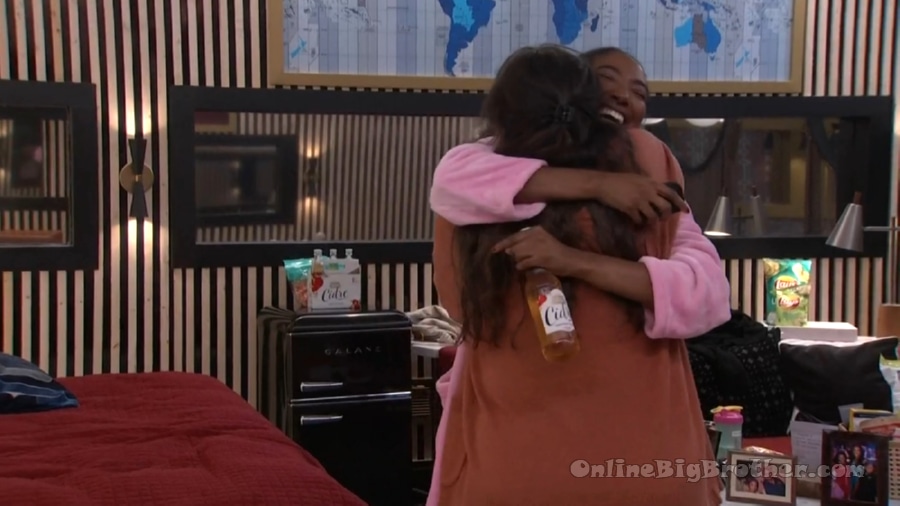 1:58 am Taylor and Brittany
Taylor points the cider away and grabs a kombucha.
Taylor says Jasmine, Indy, and Alyssa are all about girl power. They want her to target Monte.
Brittany – they are so mad you won. I understand why you don't want to target Jasmine it just irks me she doesn't give you that same respect.
Brittany – when they say girls girls girls it is so fake.
Brittany thinks Jasmine would target Taylor if she won HOH.
Taylor – I would love to put two guys up and send a guy out anyways.
Taylor – I told them the truth I told them I'm putting up two pawns which are men. Either two powerhouses I know will win so I can backdoor Monte or two whatever's
Taylor – I told Alyssa I would not put up Kyle and Alyssa as a showmance together.. I told Alyssa I wouldn't put her up as a pawn.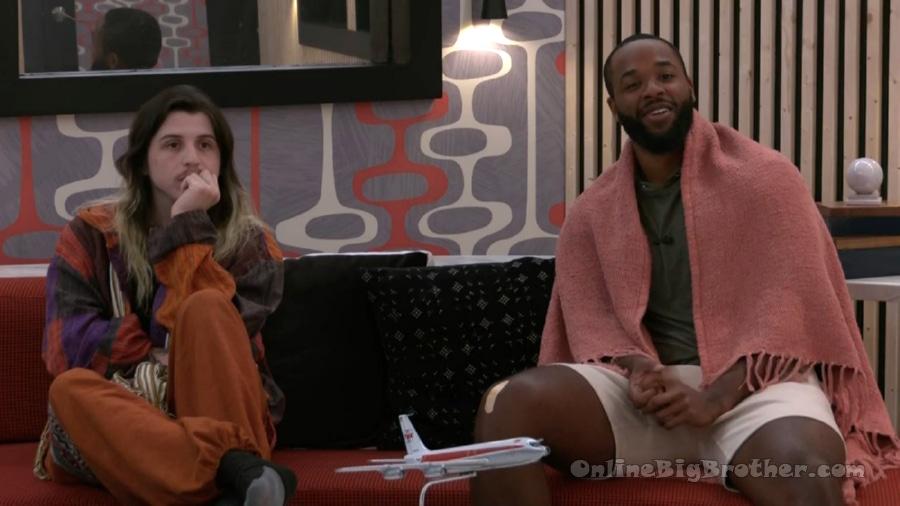 Turner and Monte join them..
"I told Joe and Kyle if they fell they were safe.. of course, they are safe.. apparently Kyle didn't hear me say that and Kyle told Alyssa .. I fell and I didn't make a deal"
Taylor says her style is not to take out a showmance "I call this a sexless a$$ hour I'm not going to get rid of the one couple that will have sex anyways.. they are fine"
Taylor says they wall Monte gone "You are public enemy number one"
Taylor – none of the girls will be touching the block this week which is fine. It's going to be two guys as pawns and you (monte) as the backdoor but I am not going to backdoor you
Monte – copy that.. I appreciate that
Taylor says the girls think they have the numbers to get Monte "All the girls and Michael"
Taylor – I would love to nix Jasmine this week but you all heard what I said earlier
Monte – we respect that
Taylor – I made that promise to Indy and Alyssa.
Taylor doesn't want to break her word this early in the game.
Taylor – it will likely be you and Terrance that are nominated I need to have a guy that is not Michael, Joe, Kyle or You. That leaves you and Terrance
Turner – what would you do if Terrance won the veto? He won't but what if he did
Taylor – maybe I put you two up and play the card Monte I'm not afraid of a challenge.
Turner – what if someone else in the house won and they didn't use it?
Brittnay – this is a lot harder now that we don't have festie bestie and the insulation
Taylor says she's telling the other side MOnte is her backdoor target.
Turner – would you consider Indy and Alyssa.. that side of the house implodes on itself. The week following that side is enemies. It won't be four more like 2 and 2. They will fight and campaign against each other we will have less of a threat next week because that alliance will not be an alliance at all.
Taylor says she could have been given information that allows her to go back on what she told Indy and Alyssa.
Brittnay says as a friend of Taylor it's hard for her to see the girls tell Taylor one thing and then say another thing behind her back.

Turner – two of them on the block will split up that four into two twos and it will benefit us for weeks to come.
Brittnay says Alyssa is already primed for that she was asking "how to I distance myself from Indy and Jasmine"
Turner – I really don't want to be on the block.
Brittnay – Terrance was second in OTEV, Indy lasted on the wall we can't get complacent with them winning veto. We don't know what it is could be luck related.
Taylor – I have no problem playing around with Indy and Terrance and their lives in the game.
Turner – that's fire
Taylor – I don't want to put you (Turner) in jeopardy
Taylor – who would have thought I would protect more buys than girls but here we are.
Turner, Brittany, and Monte leave.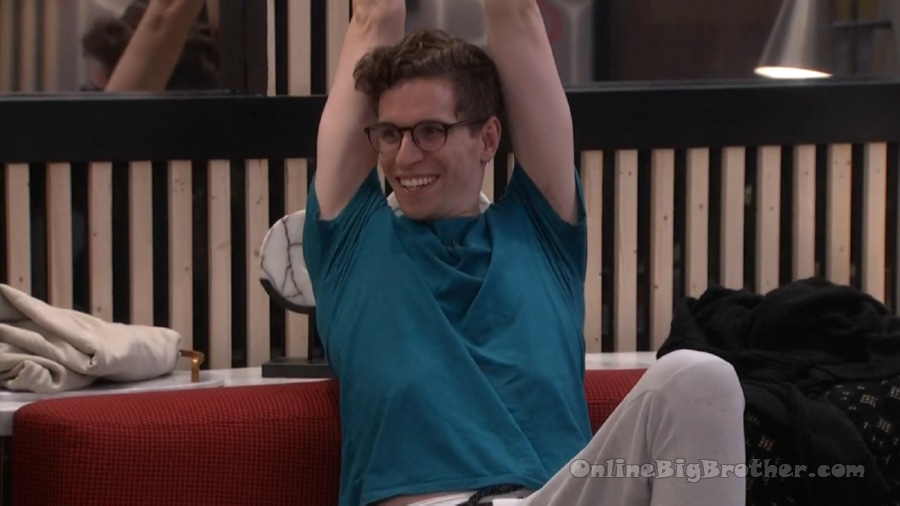 Michael joins Taylor.
Taylor says she made some stupid promises to Indy, Jasmine and Alyssa that she'll have to go back on now.
Taylor – No girl is a target this week.. which is true no girl is the ultimate target this week I am gunning for Terrance. It's going to be really hard but I have to do it.
Taylor – I told Joe and Kyle before they fell they are safe with me. I didn't have to say it out loud. For appearances. I told Alyssa that Kyle and Alyssa were not going up because I want somebody to f*** in this house
Taylor – I told jasmine I'm not putting her up and sending her home on her birthday week. I'm not evicting a black woman I'm not doing it. Sucks because she's given me a million reasons why I should but here I am.
Taylor – Makes sense for Indy and Terrance to go up this week
Michael – yeah
Taylor – it will suck if Terrance wins..
Michael – did you give Terrance a head up?
Taylor – no.. he said whatever you want.. I don't think he'll like it. Apparently, I'm his day one
Taylor says Terrance is her target and "Indy is not going to be easy this week"
Michael points out that Indy showed them how she could win an HOH "She's rising in threat level"
Taylor has reasons to take Indy or Jasmine out. 'My only concern is if Terrance wins the power of veto then I will have to put up another one of the girls which is not all I want to do there is an option to put up a leftover but I don't want a leftover up on eviction night"
Michael – what do you think of Kyle and Joe's double agent thing? do you think it's necessary?
Taylor says there's no need for double agents now that festie bestie is over.
Taylor – Indy can be mad she's going on the block.. whatever.
Michael- turner said we've been in the HOH for a month now.. (sigh)
they laugh
Taylor says she would normally want Jasmine out right now but she has "too much of a heart" to do it on her birthday.
Taylor – the guillotine will fall on Terrance's neck.
Taylor – you and Brittnay are my priority
Taylor says she will have to figure out what she'll tell indy and Terrance. She may say something like new information came to light.
Michael – hopefully she keeps her cool and doesn't POOCH herself
Taylor – if she POOCHES herself that is a target out of the house
Michael – I don't see anyone other than Terrance pulling Terrance down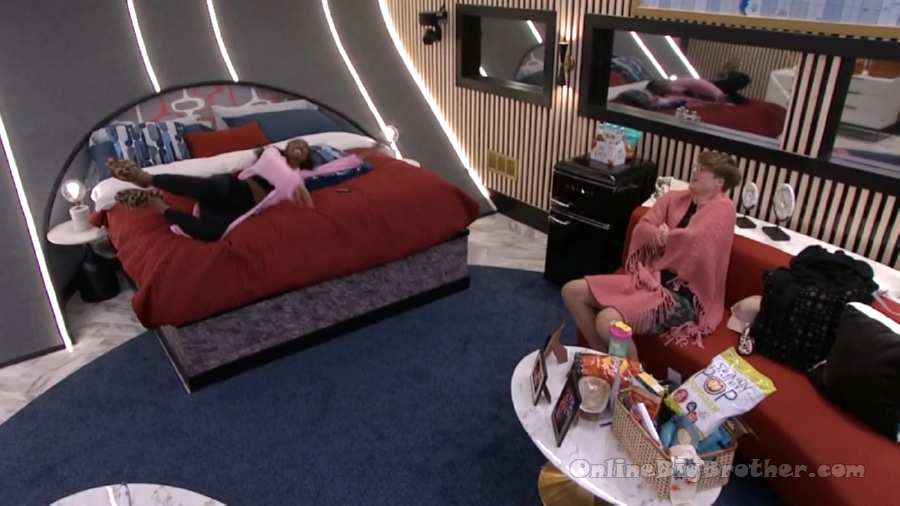 Kyle joins her.
Taylor – "You didn't hear me that you were fine when you jumped off the wall"
Kyle – I did. I wanted you to win but I didn't want to throw anything. I feel comfortable with you winning.
Kyle – I was dying I couldn't do it. Once Indy left I was sleek OKay pressure's off.
Taylor says she Won't evict a "black woman. it's not my game not now"
Taylor says she promised the girls none of them will bar targets this week and she promised Alyssa she won't be a pawn. She was thinking of Turner and Terrance but Brittnay, Monte, and Turner and they pointed out if Terrance wins HOH she'll have to put a girl up.
Taylor – it's looking like it will be Terrance and Indy nominated
Taylor says indy is going to be upset "It is what it is.. the best option"
Kyle – I'm fine with that. Is there any way I and Joe can leverage our relationships to lessen the blow.. Joe especially.
Kyle – I really like Alyssa but I'm in this alliance to the end.
Kyle says Joe is more all in with the girls girls "I'm more of a fly on the wall"
They hug.
Taylor – I adore you
Kyle – I'm so excited for you
They head downstairs.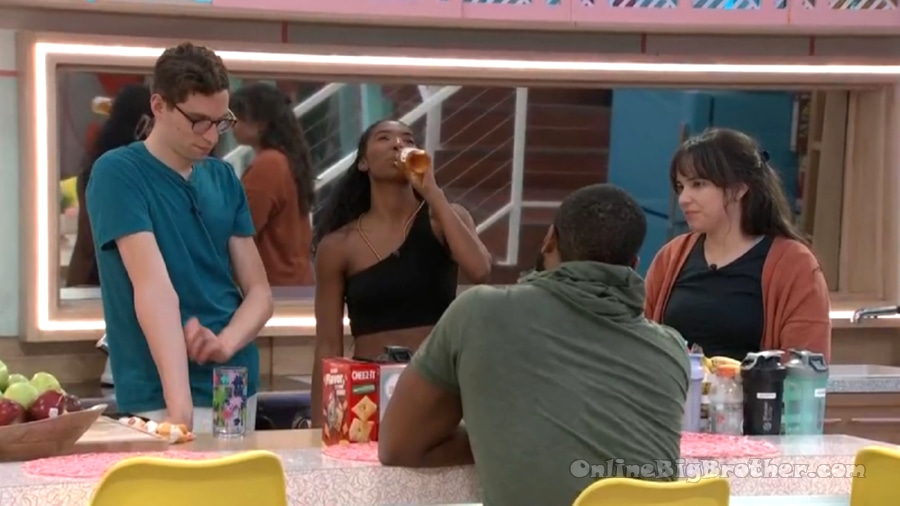 3:17 am Taylor opens her cider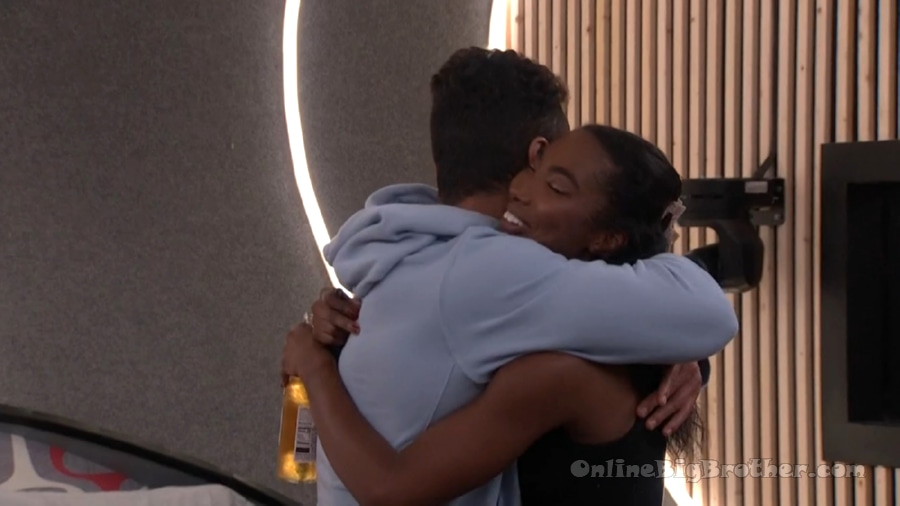 3:19 am Joe and Taylor
They hug. Joe says he doesn't care what she does this week as long as it's the 7 to the end.
Taylor – I'm thinking Indy and Terrance. Terrance as the target
Joe – Terrance goes home after that
Taylor – to jury
Joe – to jury.
Joe points out how fake jasmine was in the HOH,
Joe – they full-blown told me to sleep up here and get out of you what out of you. you need to give me something to go back to them with
Monte joins them.
Joe – out of the three Indy would make the best pawn
Taylor – I'm not putting jasmine up no matter how much shit she still talks about me to this day I'm just not doing it.
Joe – I can respect that.
Joe says that side is going to blow up once they go up. "The alliance is going to blow up they will say Kyle and I are in it too. If one of them win the veto they will start to put Ideas in your head"
Brittany joins them.
Joe says the girls think Monte and Taylor are working together. They are watching everyone he gets to see "hall monitor" in real-time (hall monitor is what they call Indy)
JOe says Jasmine told him her ankle boot comes off next week "her foot is basically back"
Turner joins them.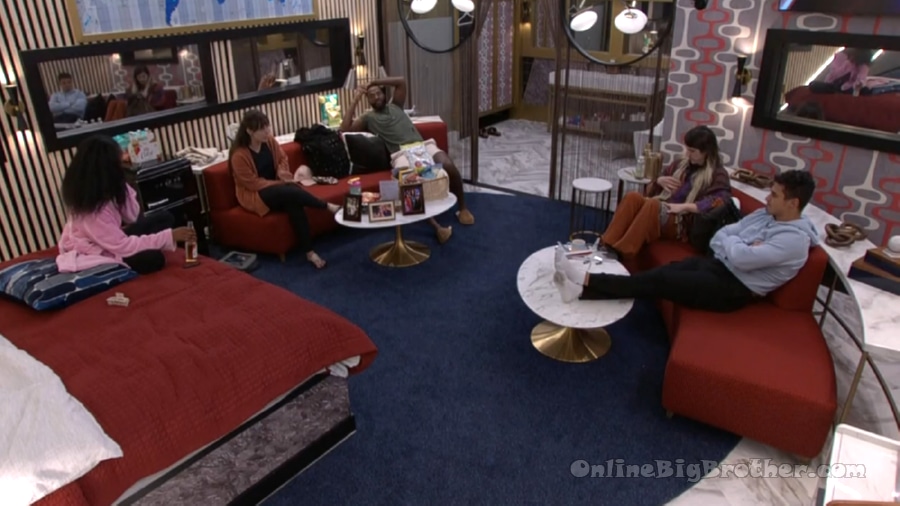 Joe – you have to give me something because I'm supposed to be sleeping up here getting information ..
Taylor – You little slut OHH MY GOD. They are whoring the f** out
Joe – they were like go up there spend the night.
Joe points out it's amazing they would think he as a person would be capable to do that. Says what if I was really in an alliance with them "Do you really think I would go up there and Sleep with the girl just to hear what her move is"
Joe – they want names. They want proof you are not working with Monte. They are watching Brittany.
Joe tells them the alliance with the girls is called "The fly swatters plus Terrance" When Indy and Terrance hit the block and veto isn't play they will blow that sh1t up.
Brittany says Alyssa is distancing herself from Alyssa and Indy
Taylor – do you believe that?
Britany – yes I do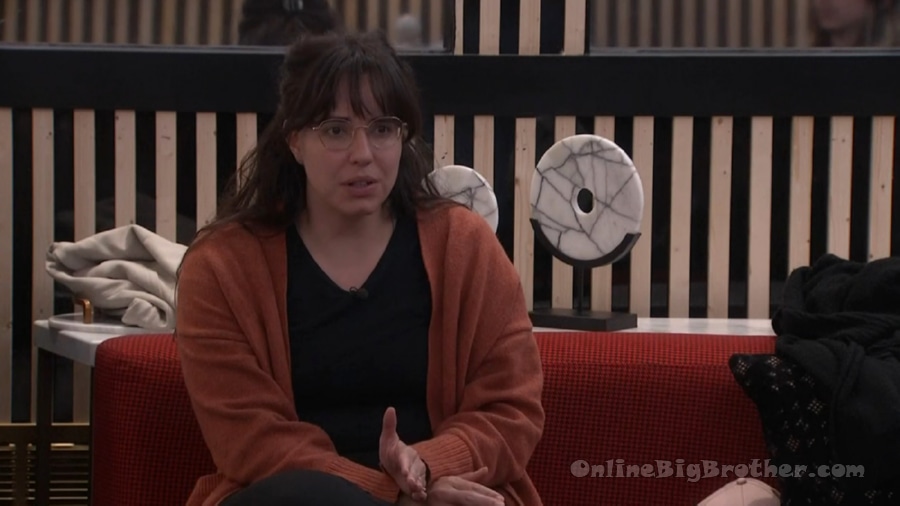 Brittany doesn't think there will a big explosion unless Jasmine is part of the nominations "I know you aren't putting her up know that isn't an option"
Joe – I don't think you should put her up it's her birthday BUT Jasmine would be the one to explode she holds the most secrets she runs the show.
Joe – Kyle is in our Alliance and they were begging me to save Daniel. 24 hours before the vote they are BEGGING me. It's absolutely wild they don't give a f*** about Terance the alliance is literally called the fly swatters plus Terrance.
Monte – what do you think about and Indy and Alyssa
Taylor – f** my morales.. I need to Jasmine to blow the f** up and if it's going to be Jasmine and Alyssa so be it
Brittany – the only reason jasmine will blow up is if she thinks she's in danger. She will not go to bat with either of those girls
Joe – we just get Jasmine up there to YELP we use the veto and pull her down then we put Alyssa up and do the final smash that alliance will explode.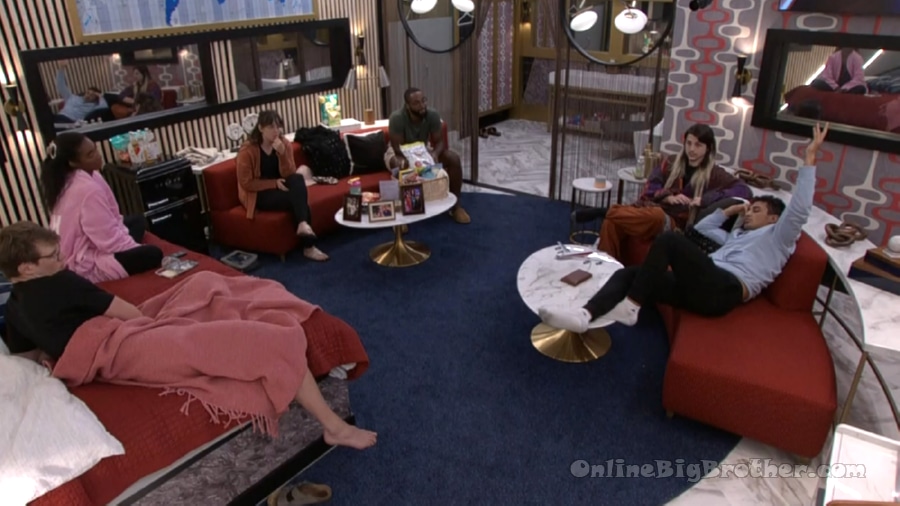 Kyle joins them.
Joe tells Kyle if Taylor puts up Jasmine they Taylor will have to tell them the two of them sold out the fly swatters
Kyle – that is not ideal..
Kyle says Joe has Jasmine fooled
Brittnay again stresses the only way to get Jasmine to blow up is to put her on the block.
Joe – I don't think we forcibly blow up leftovers.. right now leftovers don't exist because Kyle and I are in an alliance with them.
Joe says the girls are "Thinking of recruiting Turner now"
Monte doesn't see that much value in keeping the alliance such a secret. Points out it's like a train coming down on them and it's too late for the girls to step out of the way.
Joe – who do they want you to put up Taylor
Monte – my black a$$ who do you think?
Kyle is saying he's trying to ease out of that group he's been dropping the seeds with Alyssa that Terrance never talks game to him, jasmine is a jerk and INdy is rude to him.
Kyle stresses the only reason he was in the fly swatters is in the event they had won the HOH he could keep Monte safe.
Monte – the longer you guys stay in it the worst it's going to be when it blows up
Taylor – you got to pull out
(Joe losses jury votes if the fly-swatters blows up without considerable damage control)
Joe – Indy, and Taylor that will cause a full ripple throughout the house.
Alyssa enters the HOH Joe jumps on the HOH bed.
4:24 am Jasmine joins them.. Chit chat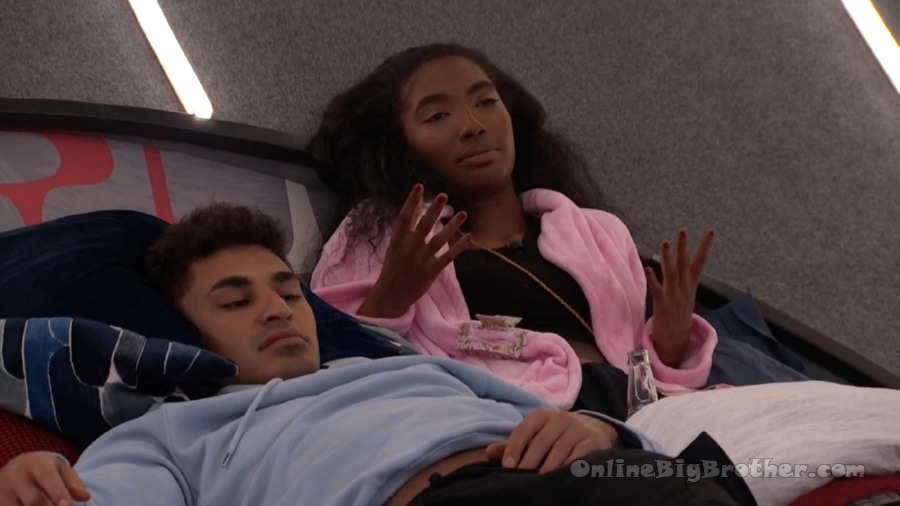 4:48 am Alyssa and Jasmine leave.
Joe had fallen asleep after they leave he wakes up 'F*** I hate when they hall monitor"
Taylor – Initially I'm going for Indy and Terrance. Whatever happens with the veto if one of them takes themselves down put up another one of the girls Go back on my word I have a reason to go after all of them. becuase people in the house could have told me all the things they said about me.. Whatever.
Taylor – I have a reason to go after all of them.
Turner – imagine Jassmine is up and Indy is up. They are both trying to campaign to their best friend Alyssa.. That could be a big fight.. Indy and Alyssa could also be a huge fight
Brittnay – I could see Indy not wanting to campaign because it's toxic bad energy
They talk about how Jasmine asks people to do things for her all the time. She asked Alyssa to make her a sandwich and then asked Turner to deliver it.
Turner – first thing she said is why is it so smooshed.. I don't know I didn't make it.
Taylor – there is a million reasons to evict her this week a million
Joe – not on her birthday
Michael – I'm sorry she used her birthday to guilt me last week she does not get to guilt two weeks of safety out of the birthday like there's other reasons to keep her safe but I don't give a f** about the birthday
Taylor – you are not the ones doing it.
Michael – there are people that have been evicted on their birthday
Taylor- she shared her birthday with her father who passed away.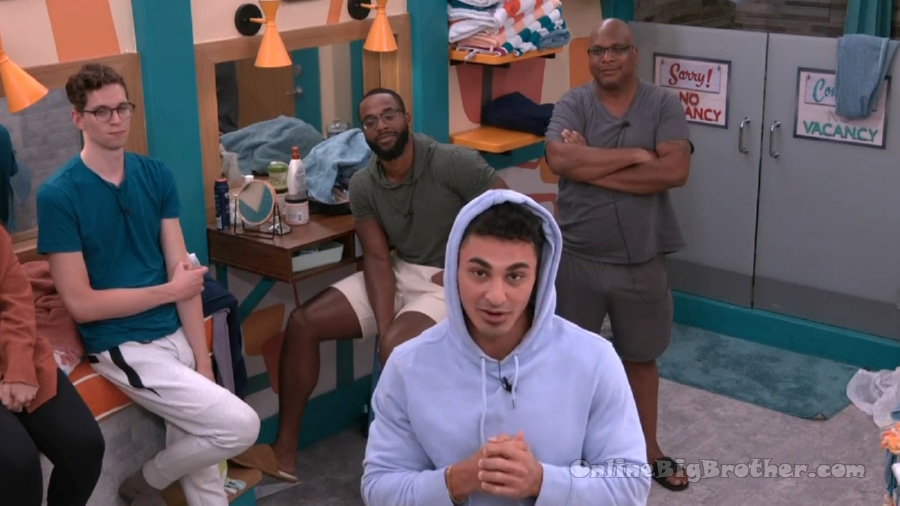 5:30 am Joe giving shoutouts for everyone's grandma. List them off.. Kyle's Grandma Pat, Taylor's Grandma betty, Michael's Rita, Terrance's Grandmas Anne.Grandma Mildred.
5:43 am zzzz
8:23 am Zzzzz
9:35 am Wake up
Kyle comments last night he had the best sleep since being in the house.