Quick Big Brother Spoilers
Head of Household:  Taylor
Nominees: Indy and Terrance
POV Players:
POV Winner:
Veto Ceremony:
Havenots: 
Lock your ranks in before midnight
The Situation
Taylor is telling the girls Monte is her target and she's looking at a backdoor. The real plan is for her to nominate Indy and Terrance. Terrance is the target but the door is open for Indy to be evicted if she "POOCHES" herself. Alyssa could also be in danger but it's more remote than Indy / Terrance at this point. Jasmine is safe. (only a savage would nominate her on the week her birthday is on)
The twist
Wording from the Thursday night show
For the first time ever the game will completely change as the house splits into two groups. These two groups will have no interaction and in a Big Brother first, two completely separate games of Big Brother will play out simultaneously all week long all of it culminating with a double eviction like no other"
9:44 pm Monte and Kyle
Kyle – has Taylor decided who is going up
Monte – ohh shit you weren't there
Monte says Indy and Terrance 'The easiest people to put up"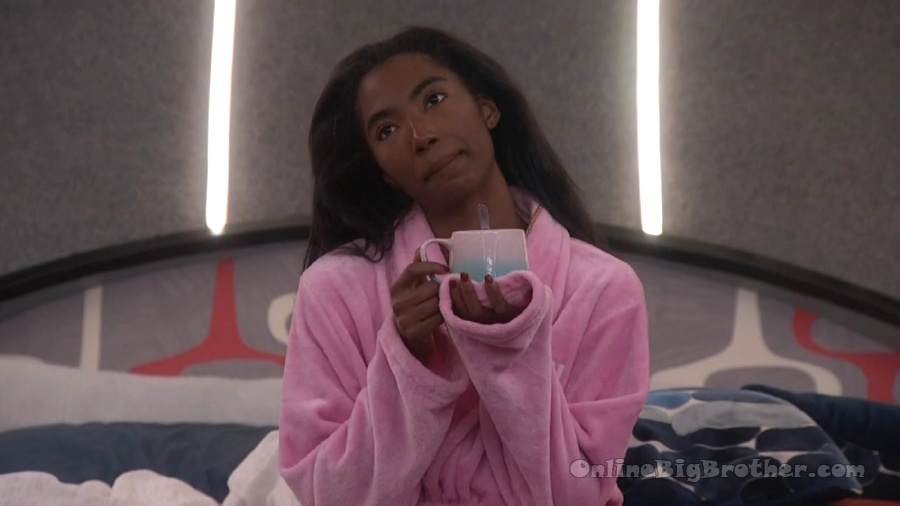 10:00 am Taylor tells the camera she's putting up Indy and Terrance she just needs to figure out a lie for each of them. Terrance is her target but she needs Terrance and Indy to think Monte is.
"well today is the day I have power and will have to betray my word of protecting the girls but why am I so adamant to protect people when they didn't want to protect me? EVER."
"I felt so strongly about never nominating or evicting a black woman Jasmine is SO LUCKY that circumstances are what they are this week because I would go after her with a vengeance if I had no conscious. I have to make decisons that I can live with"
"It doesn't make sense for me to come to this game because of the cookout and completely abandoned everything for that. to evict Jasmine"
"Which is frustrating because I know she has actively to this day kept my name in her mouth.. I would love to target and evict her I would. I just can't do it. So the next person that is a threat is Alyssa. Someone that can win HOH's and that is terrible for our alliance. I don't like that for Kyle"
"For my game, it makes sense for me to take out people I have a reason to get out"
"Do I tell Indy and Terrance the truth or do I wait until the veto is played and I think that is the obvious case I'll wait until the veto is played. I'll apologize for taking back my word to protect the girls. I'll tell Alyssa specifically she is someone I've always wanted to protect and come Monday depending on what happens with the veto I'll do whatever the F** I want to do.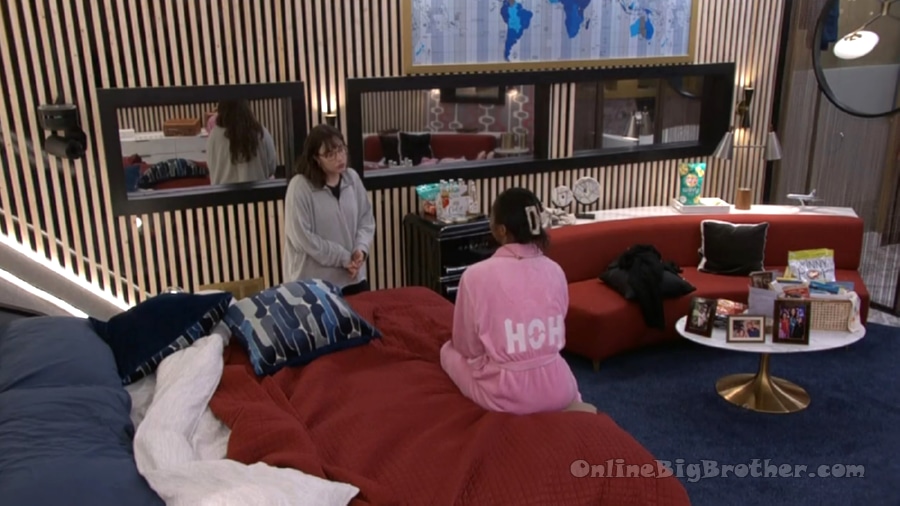 10:20 am Britany telling Taylor about Indy cornering her asking for her to go talk to Taylor.
Britt – this is going to draw a line in the sand for both of us with the girls.
Taylor in quotes "it will be a plan to backdoor Monte until Monday"
Taylor- I need two people up there I'm sorry Is aid I wouldn't nominate you I have to show the house it's not Girls girls girls
Taylor is going to tell Terrance he knows the "plan" is to take out Monte so go out there win the Veto.
Brittany says if the nomiantions stay the same the majority of the Leftovers will not target Indy over Terrance.
Taylor – I can't go after Alyssa this week and I won't go after Jasmine this week.
Brittany – I just don't want you to be surprised if Terrance doesn't go home (and veto is played on Indy) if he's up against one of the girls this week.
Taylor – not at all. For me, it's all about jury management if I am getting a girl out it better be some benefit to them because even though they are the ones that are hypocrites they are going to be using that against me.
10:48 am Indy talks about a dream she had about Alyssa, Jasmine, and Ameerah. They had a fight in her dream.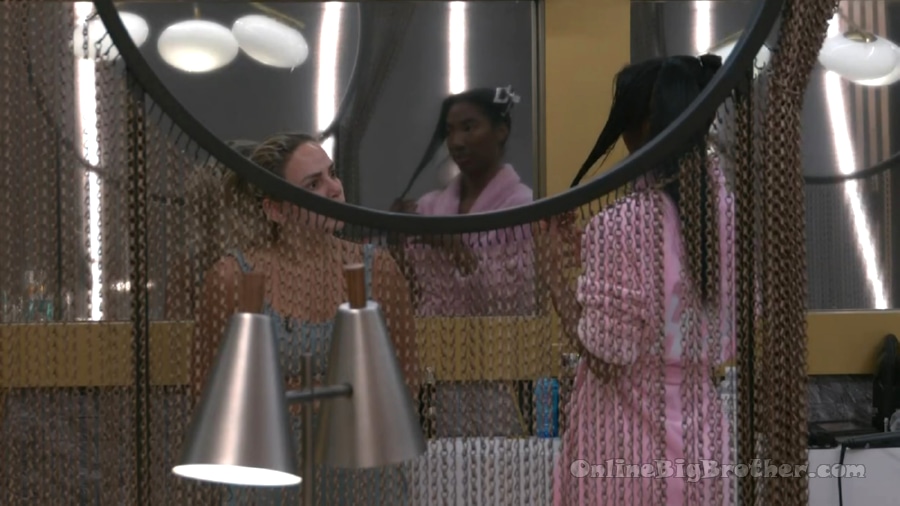 10:56 am Taylor and Indy
Taylor – I'm still going Terrance and Turner that is still where I am leaning. I am a little frustrated that.. just to be completely honest I've done so much to prove to you all the girls like I'm with you guys I'm with you guys.. The thought has crossed my mind having one of the girls play veto and just protecting that and putting Terrance up there. Monte is the target. I'm between Turner and like any of the four girls honeslty.
Taylor tells her if they are thinking about a girl as a pawn the options are Indy or Brittany
Indy – I was scared of that happening that is why we talked before the fesite Bestie was over.
Indy – it would put me on the risk I wouldn't do that to you as a pawn. Like the day before the festie bestie was done.
Taylor – all the girls that second week.. I was disposable then.
Indy – ohh that wasn't me I wasn't in the power..
Taylor – everyone was telling Jasmine like..
Indy – I wasn't in the power so.. I didn't put you as the pawn Jasmine did. so..
Taylor – Ok
Indy – I was there two weeks ago and it's not a good feeling
Taylor – I know
Indy – I thought we were good for the next time we won.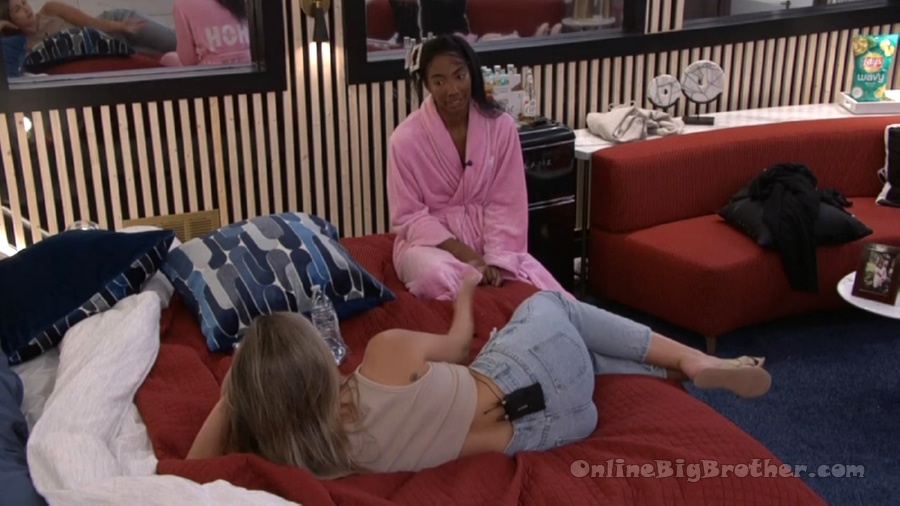 11:05 am Alyssa and Taylor
Taylor one of Brittany or Indy is going up beside Terrance. The target is Monte she wants the veto used on Indy.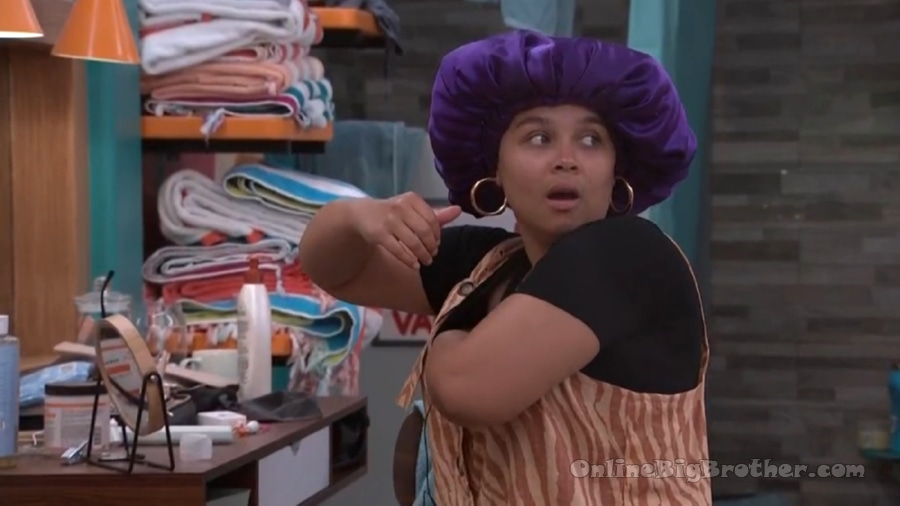 11:17 am wait. Did Jasmine get a punishment costume?
Jasmine says last night Taylor told her she wouldn't put any girls up.
Alyssa comes down and says that Taylor wants to put up a Guy and a girl.
Jasmine – how can you change your mind that quick?
Alyssa – that's a little bit scary.
Indy – if I was going home I would go home I just don't want to go into Jury right now.
Jasmine – I think her target is Monte.
Indy – this is the time she has to prove to us that she's on our side. It's the only time that she has real power and she puts a girl up.
Jasmine – I did it. I used a girl as a pawn too. SO.
Indy – yeah but we never had to question you.
Indy – if Monte gets picked for the veto he'll win.
Jasmine – then Terrance goes home
Indy – we don't know baby we don't know.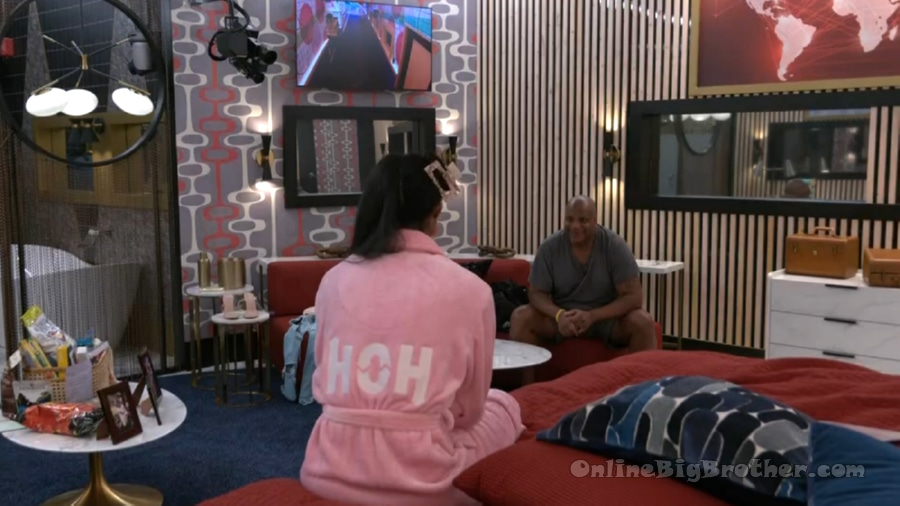 11:23 am
Terrance and Taylor
Taylor tells him he's going up next to either Turner or Indy. The target is Monte.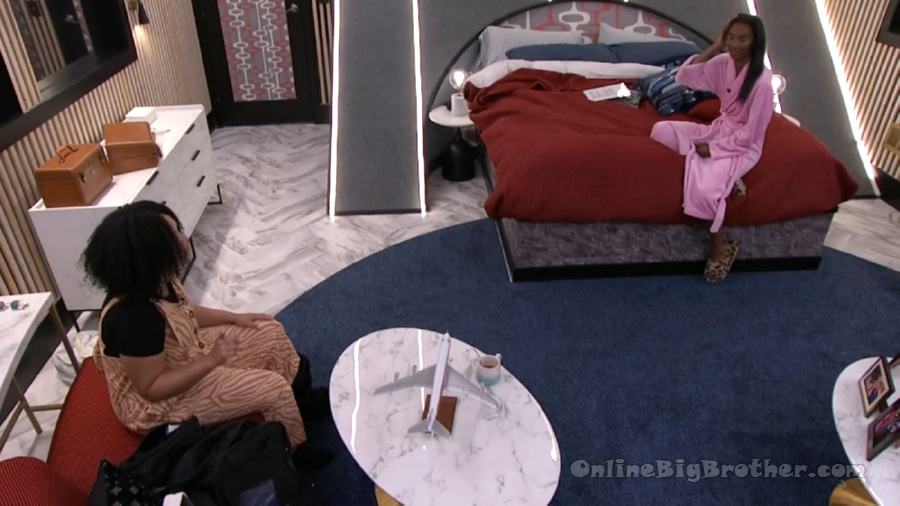 11:24 am Jasmine and Taylor
Jasmine – is everything still good? where's your heads at?
Taylor – you are not going up as a pawn you are fine. I did tell indy I was thinking of putting her up as a pawn.
Jasmine says she understands "If you put two guys up it looks like you're targeting the guys if you put a guy and a girl up it's mixed. That was my strategy"
Taylor says she needs a girl to play in the veto so the girls can build up their resume (LOL)
Taylor – the whole house wants Monte gone.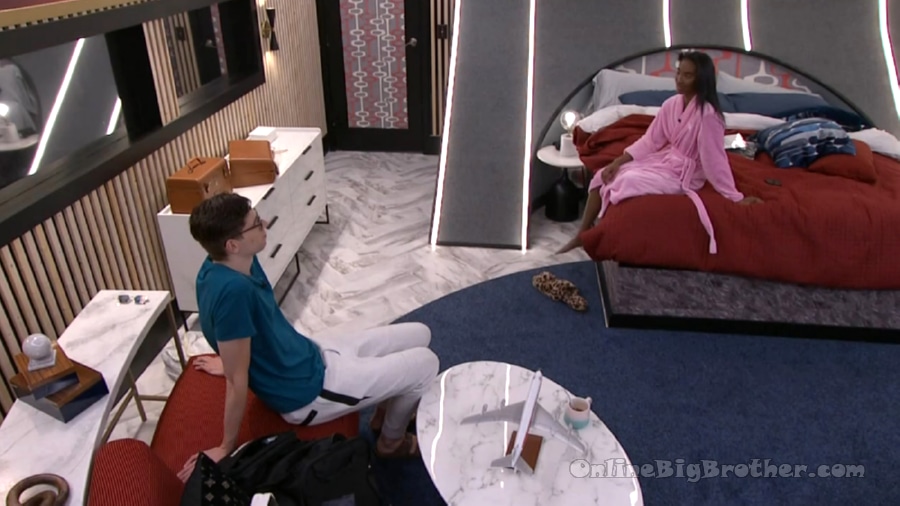 11:34 am Taylor and Michael
Taylor – Terrance knows he's a pawn Indy knows she's likely a pawn. She played it smart.
Taylor – I don't give a f** which one of them goes home.
Michael wonders if Monte gets picked and wins the veto who will the other side pick?
Michael – do Jasmine and Alyssa know it'll be Indy
Taylor yeah .. we'll see what happens between now and MOnday.
Michael – have you thought about what you'll say
Taylor will keep it light today and "Shed blood on Monday"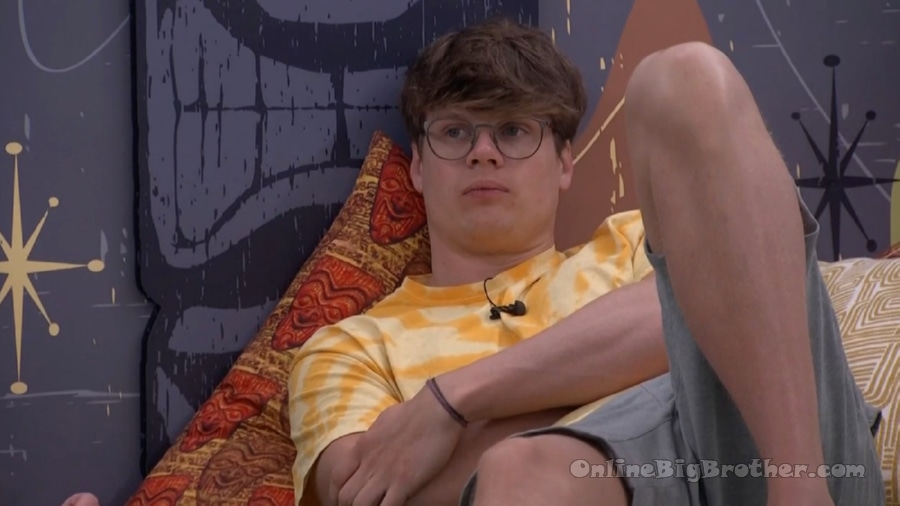 11:36 am Michael and Kyle
Michael – after you went down last night Joe was saying the girls will be mad tomorrow and start fighting. I think that is the perfect excuse to be like I don't want to be part of this thing.
Kyle – 100% I've already planted this seed with Alyssa.
Kyle – we made the alliance two days ago and didn't talk any game. It's not like they will be shocked that I'm not in. Did anything change with Indy and Terrance?
Michael – I don't think so, it feels like a missed opportunity to go after Terrance.
Kyle – It think Joe is fighting to keep Indy because he's always like Alyssa is the physical threat.. Alyssa Alyssa. He realizes the same thing we do his Indy is his number moving forward just like Alyssa is ours. I can see it in every conversation we have.
Kyle – Alyssa is a better person to keep over Indy
Michael – it sucks that all the shit jasmine has talked about her and to not be an option to go up.
Kyle – it's insane. It's a moral thing at that point.
Michael – I can't argue but it's frustrating.
Michael – the only good thing about Terrance going is he could be an easy person. Let's keep him around till the end.
Kyle – they're leaving the three girls that are tight so there's still; the threat of two people in our alliance picking them up.
Michael – Joe said 'I don't want to be in your alliance'
Kyle – he's really good at lying to protect himself.. it's amazing. it's mind-blowing to me how good of a liar he is.
Michael – I don't think it's a good idea for him to try to please people outside of the alliance.
Kyle – it's for Jury votes and in case they win HOH he wants to be in the room with them.
Michael – this is still an individual game but if you are only benefiting from an alliance and not contributing people are going to notice.
Kyle – people in the seven are going to notice
Kyle – He has all those jury votes.
Kyle – did you hear Taylor immediately say let's put up Turner as a pawn?
Kyle – Monte was like you and Joe need to go up there and settle her down.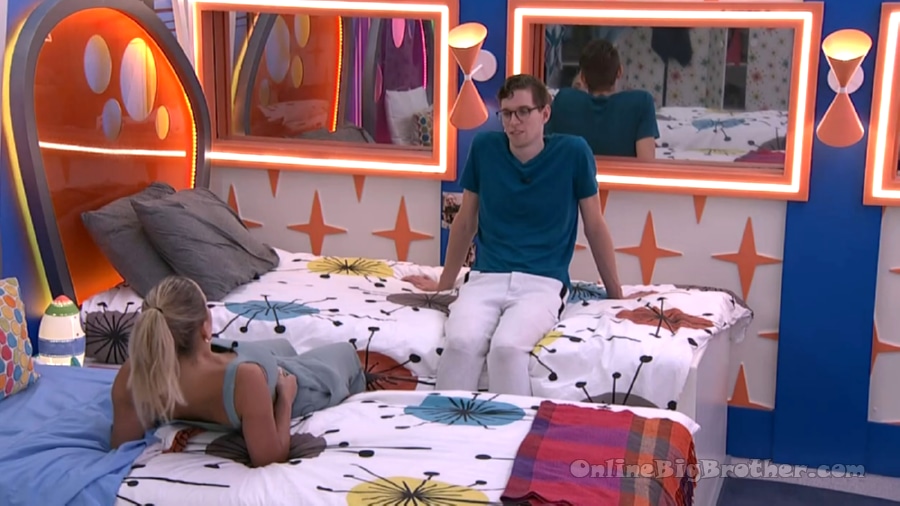 11:50 am Indy says her friends are going to die.
Indy – they are going to hate her
Michael – ohh no
Indy – she promised me and Alyssa. she wouldn't put us up. we promised each other we wouldn't put each other up
Michael – when was that?
Indy – A day before yesterday
Indy – it's ok it's life.. If I was going home I would be more relaxed. I can go home anytime I love my house I don't want to be the first one in Jury I will die there.
Indy – there are so many other people that should leave before me.
Indy – she told me she's still figuring out me or Turner.
Michael – He was one of the last people to talk to her.. I don't know if he got in her ear
INdy – maybe a deal? A Better deal I didn't offer any deals.. (LOL)
Indy – I would never put any girl and you up.
Michael – I appreciate that
12:06 pm Taylor is Ready for noms.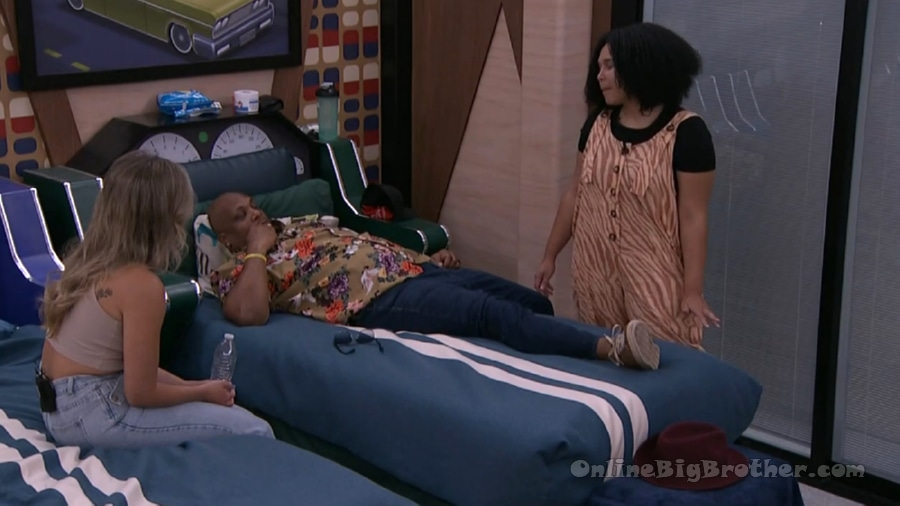 12:30 pm Terrance, Alyssa and Jasmine
Terrance – I will say this. It's fine I don't have the energy for it this is the fourth time I'm going up on the block. I'm f***ing tired so at this particular point, it's jury Management. You are f**ing up your jury.
Jasmine – I thought you were close I thought she f***ed with you
Terrance – it doesn't matter.. so from what I've heard I am going up against Indy.
Jasmine – I don't understand this
Terrance – I Don't have the energy for this.. I'm going to manage jury. I don't give a f** how you move. Jury is important and I bet you one thing for sure two things certain. I know a lot of f***ing skeletons in this f***ing house. Jury is going to be very influential when I hit that b1tch. I'm going to have a lot to say once I hit jury.
Terrance says Taylor loves Joe she's "never never going to touch him"
Jasmine – she doesn't even get to f*** with him like that
Terrance – doesn't matter she gets to look at him every day.
Terrance – if you guys don't see now that there are two sides and that side is already aligned. You got to see it now.
Jasmine – do you think she's getting Monte out?
Terrance – I'm supposedly the pawn to get him out.
Terrance says he's supposed to win the veto take himself down so she can put up Monte "what's the likely hood of that?"
Alyssa – if you get houseguest choice pick me. I'm serious I want to play. I want to win.
Indy joins them.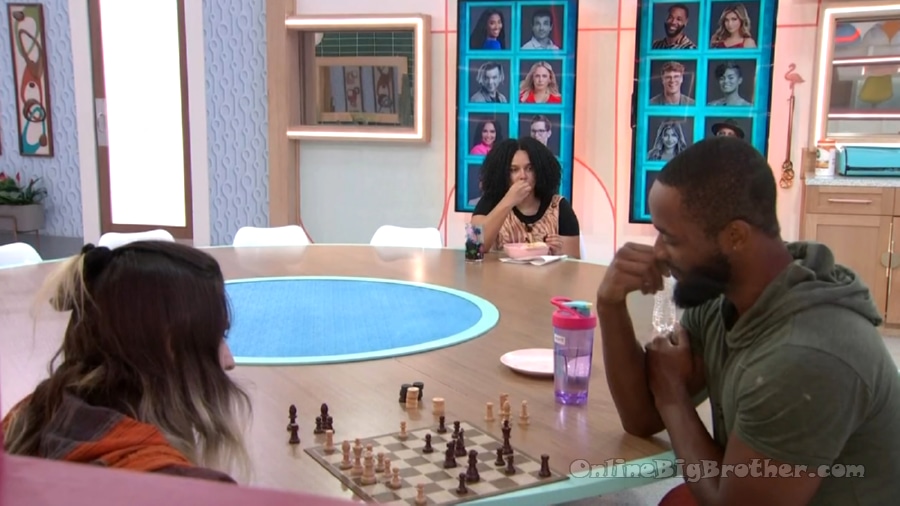 12:41 pm Chess
Waiting around for Nominations.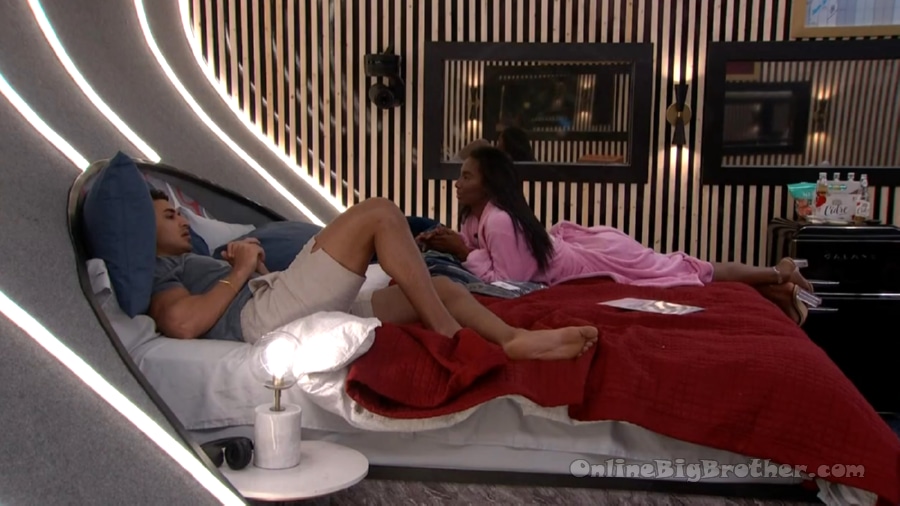 1:14 pm – 1:50 pm Joe and Taylor
Joe says if he wins the veto it will be very hard for him not to use it on Indy.
Taylor says if Indy comes down Alyssa will go up.
Taylor says it's against everything she came into the house for her to go after Jasmine.
Joe – putting up Jasmine won't be good for your image outside of here.
Joe leaves on his way out Taylor goes "Hey thanks for reminding me I'm a sword"
Joe – you are you 100% are you don't have to thank me for that. You are the girl that whooped all the guy's asses on the wall is the sword.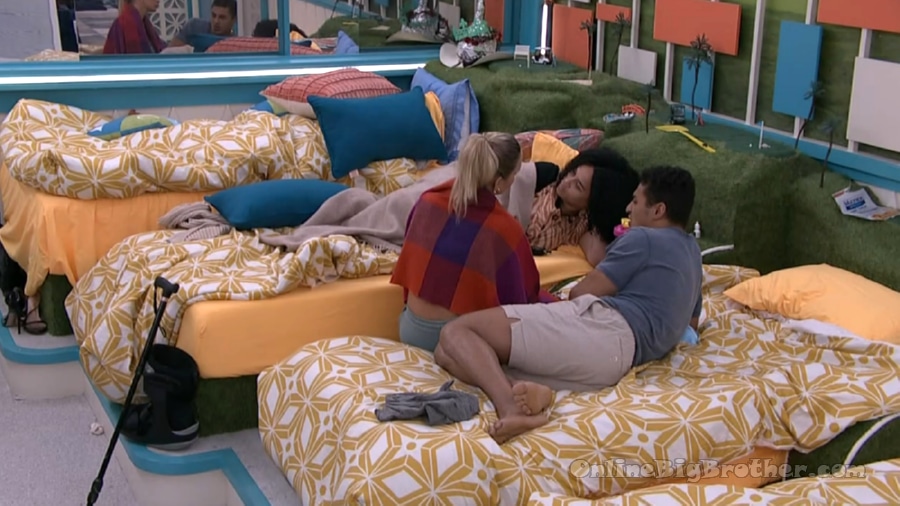 1:52 pm Joe, Indy and Jasmine (hard to hear)
Joe – best case scenario you win the veto and we're done
Joe is saying that Taylor told him she's hoping their games can work together there's no point of them "Sparking something" if one of them has to send the other one next week.
Jasmine – Dammit I should have come into this f**ing game single..
Joe – I haven't won shit and I am a physical threat.
Joe is saying he gets the worst of both "swords"
Joe – I get the threat level ohh shit he's a physical threat and then doesn't get the benefit of being a threat and winning.
(since about 1 Joe has been chatting with everyone non-stop. First Taylor, then Indy/Jasmine, and now back in the HOH with Taylor and Brittany. He's either playing too hard to engage in some next level Social game)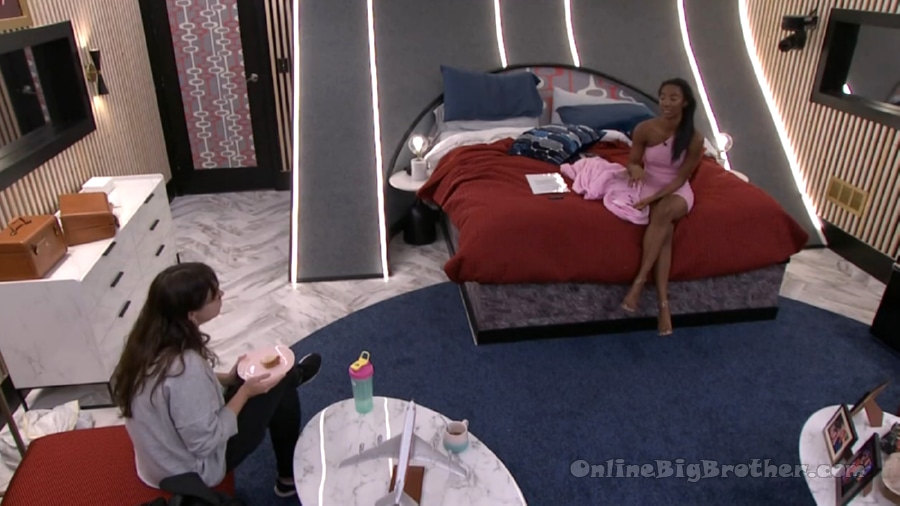 2:06 pm Taylor and Brittany
Brittany says she, Micheal, Turner, Monte had to stick their necks out for the leftovers. "We don't have that extra blanket of security. Jury Management that's not even a word any of us can say."
Taylor – not you or Monte that's for sure.
Brittany – you can see how perpetuating a fake alliance
Taylor – that benefits some but not the rest.
Brittany – yeah.
Brittany – You are in two alliances and we're in one alliance. that is what it is at the end of the day. If you are in an alliance and you call it fake but they are in it with them you are in their alliance.
Taylor – he [joe] is working really hard to make it so that the only options for them on that side of the house is to put up Turner and Monte. They don't think they can control Monte and they don't think they can control Turner.
Taylor – he said by their logic it will be Monte and turner they target.
Britt – how can it benefit the leftovers and by the leftovers I mean all 7 of us. Especially those that had to draw hard lines in the sand for others earlier on.
Britt mentions they had talked about this when they joined the leftovers. What if they are there to do the dirty work only to be axed eventially.
Britt – then you feel used.
Britt says if Terrance is Taylor's target that is not what she's hearing from the other leftovers. "I just want to make sure YOUUUUUU accomplish what you want to accomplish on your HOH"
Taylor – they will pull me in anyways.
Britt – pulling you in doesn't mean anything.. that is why I caution joe.. They are very beguiling they will tell you exactly what you want to hear. That is the reason Joe and I got real close they were saying his anme week two and I was the only one with guts to tell him.
Britt – I could see these people do not keep their word
Britt – Pulling you in.. doesn't actually, it's sand it doesn't actually mean anything. I wonder how hard we should fight for something that doesn't mean anything.
(Joe was going to try and pull Taylor into the fly swatters Brittany doesn't see the benefit)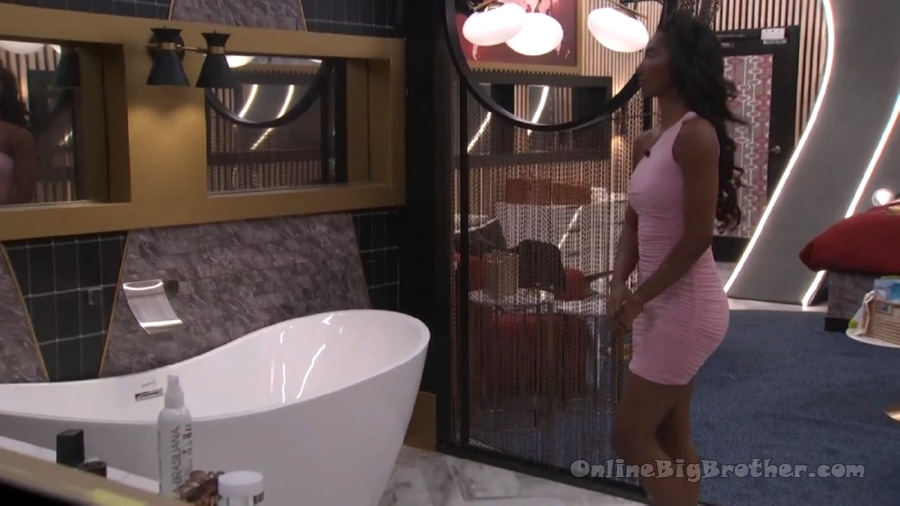 2:57 pm Taylor
"Everybody always knows there's always a bigger target in this house.. I'm sure you all know there's always a bigger target in the Big Brother house. Michael may have been afraid of a challenge last week but I always make sure when I take a shot I don't miss"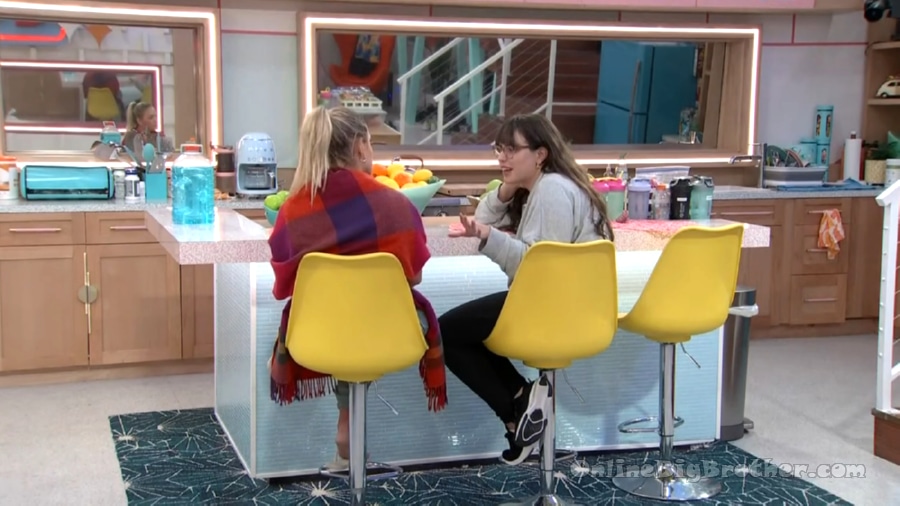 3:00 pm Indy and Brittany
Brittany thinks the plan is still to get out Monte but if the veto isn't played she still has the votes. "I don't think there's any scenario where it's you"
Indy – you, Jasmine, Alyssa, Michael probably Joe so I'm okay.
3:13 pm Feeds cut to pound puppies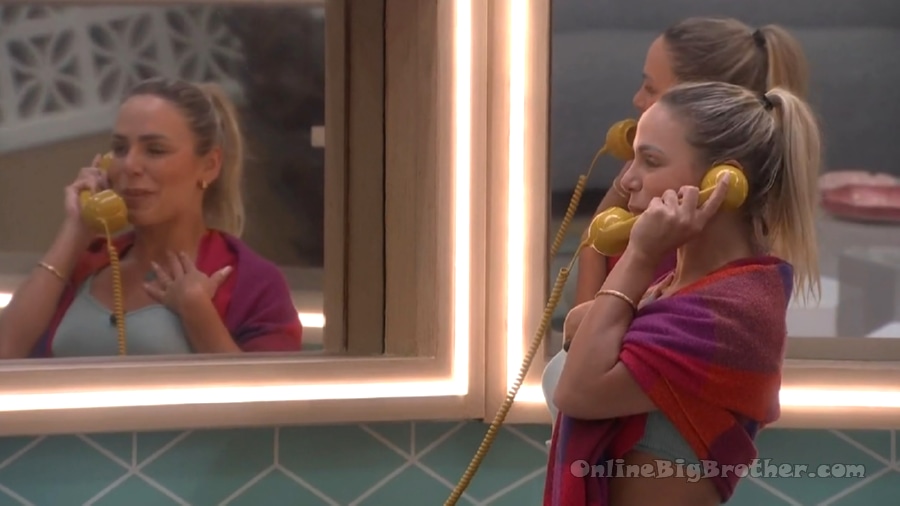 4:30 pm Feeds return Taylor nominated Terrance and Indy
Indy picks up the phone and pretends she's talking to god.
"We know that Veto is coming and I hope you can help me out so I can win and pull me out of the block so someone else can take my place"
"Going to save me from the veto and you are going to give me the next HOH ohh that sounds good.. ohh and I maybe device who is going to go home in the double eviction ohh.. that sounds amazing okay perfect deal I'm going to be a good girl I promise"
"Okay thank you god talk to you soon it was always a pleasure thank you so much bye bye"
"Now I feel safe I have the best alliance in this game. It's god you guys know that. he is my sugar daddy God is my sugar daddy so I'm 100% I'm going to be fine. "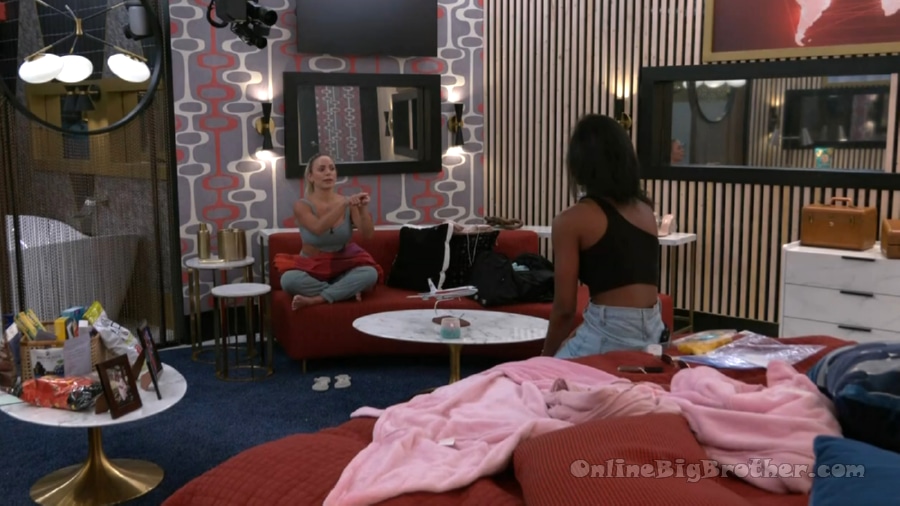 4:40 pm Indy and Taylor
Indy going over moves this season and explaining why she made the decisions.
Indy "I never say I put Taylor up"
Taylor – I'm not letting a girl go out in my HOH Period.