Quick Big Brother Spoilers
Head of Household:  Michael
Nominees: Alyssa and Terrance
POV Players:
POV Winner:
Veto Ceremony:
Havenots: 
Terrance and Alyssa will be nominated. Terrance is the target. (Not confirmed but if Veto is played there is a chance Turner is a target)
Lock your ranks in before midnight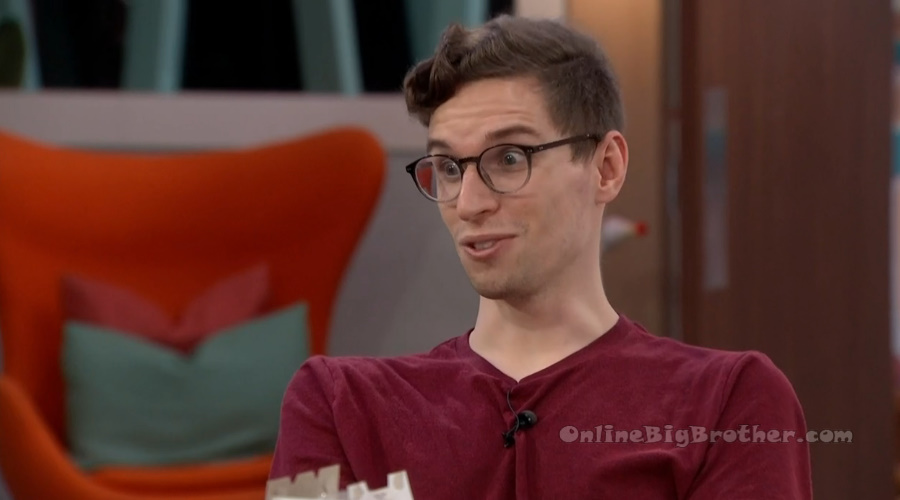 5pm Kitchen – Michael, Brittany, Turner and Taylor.
Michael – I was not wanting to talk a lot of game before the veto meeting. And then he told me, well you told me you were done talking game. And I said you know that's not what I meant. I am not done talking game. And he was like well that is why I didn't come to you with the Kyle thing. After last night it was emotionally draining. I get that it is frustrating. Like he has tried to pull off moves and its not worked so get that its frustrating. But just because you couldn't pull off these moves doesn't mean the rest of us have not played the game. Just because we didn't play the game you came in wanting to play, doesn't mean we have not been playing. Turner – The game is being played. Michael – if he wanted to imply that you were the one that wanted to backdoor me and I should be going after you instead .. then its like so you want me go back on what I told everyone!? Turner – yeah. Michael – and he was like I really respect that you're holding to that but you're basically saying that I am wasting my week.
Kitchen Table – Monte and Taylor
Taylor – you're about to hear some sh*t. Monte – who Terrance? Taylor – yeah. Monte – He already went in on me and Alyssa. I was just trying to be a friend to Alyssa to be honest with you. It wasn't talking any game. So it was just like uh huh.. alright Terrance. He already talked to me about it before so.. anyway. Monte – did he talk to Michael yet? Taylor – oh did he! Monte – you talked to Michael? Taylor – yeah, he came down. Monte – how's he doing he seems a little quiet. Taylor – he is fine. He (Terrance) basically told me he is going to poison the jury. Monte – I heard the same thing and I was like alright dude!?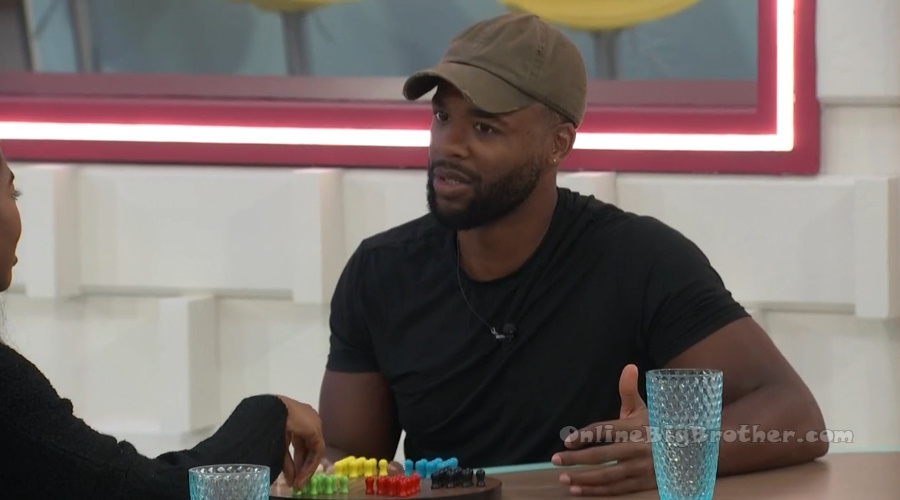 5:50pm The house guests are cleaning in the kitchen. Michael is cleaning out the fridge.
6:22pm Chinese Checkers.. and more fridge cleaning..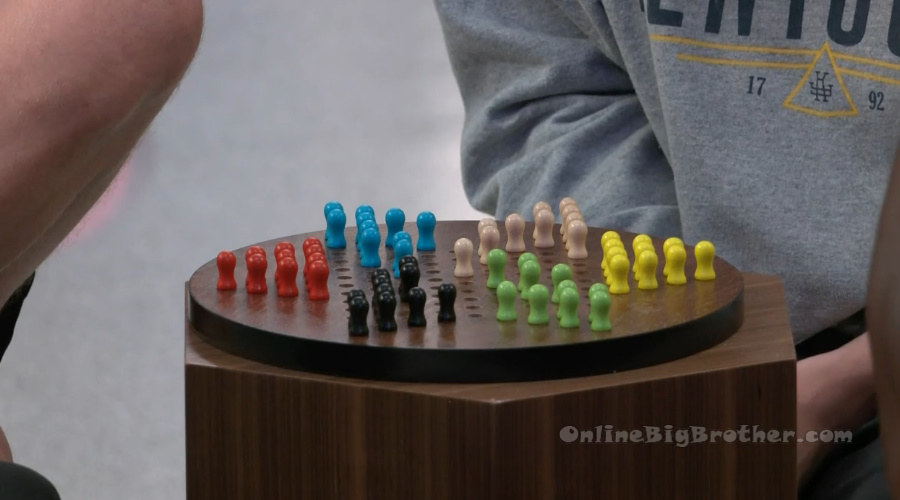 Storage room – Alyssa and Brittany.
Brittany – how are you doing? Alyssa – I kind of wanted to talk and we can talk anytime over the next couple days but.. I touched base with Michael and he made it very clear what his intentions were and he said if there is any talk of anything flipping you know I am open to using the veto and I have your back. I really do trust him and I really do want to work with you guys. And if this is what it takes to prove myself then. Brittany – not a single person I have heard and myself included has any intention of you leaving. Alyssa – I really appreciate that. So if this is what it is to build trust and show you that I am a team player and I really want to be here then that's what it is. And the following week, I want you guys on my side just as long as I can prove that and it can workout.. And I 100% trust him and any decision you make I know you put so much thought into it.. so I know you're not just like throw her up. I love everyone and I trust everyone. Brittany – I don't think anyone wants to see you go. Alyssa – I am excited to play veto and see what happens. I would prefer not to sit there on eviction night but I do, I trust you guys.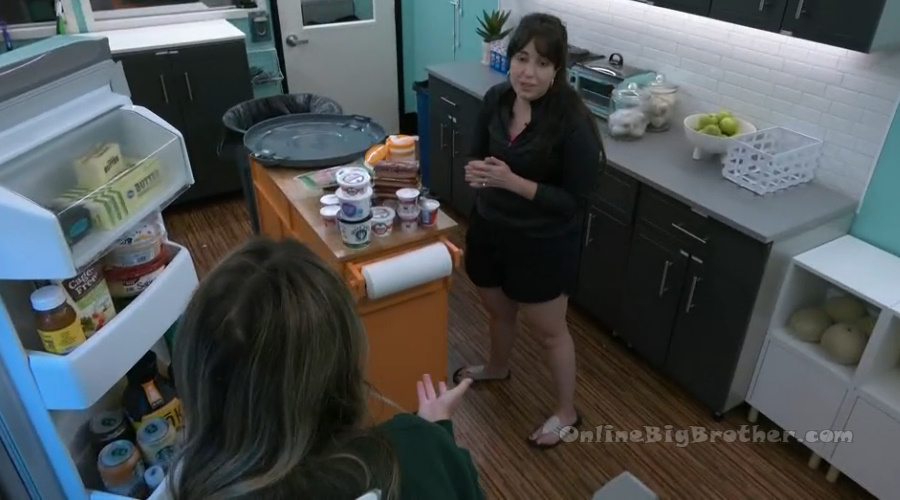 6:40pm Michael joins them. Michael – I don't know if Brittany has told you anything about what Terrance said? Alyssa – no. Michael – Terrance has basically given up which I feel bad but .. He was very unhappy. He feels like he is done. He basically said he is going to jury and is going to influence them… and try to tank me in the jury. And like no amount of threatening… Like I am not going to respond to that. The whole situation with Kyle.. he doesn't like how I handled it and he is going to use it against me. All I can do is tell him my thought process. I just put him up on the block and this is his fifth time. Alyssa – this is his fifth time? Michael nods. Michael – he didn't say he is giving up but he was like my game here is done, I am going to go to jury and play my game in there. Alyssa – that is stressful.. that is a lot.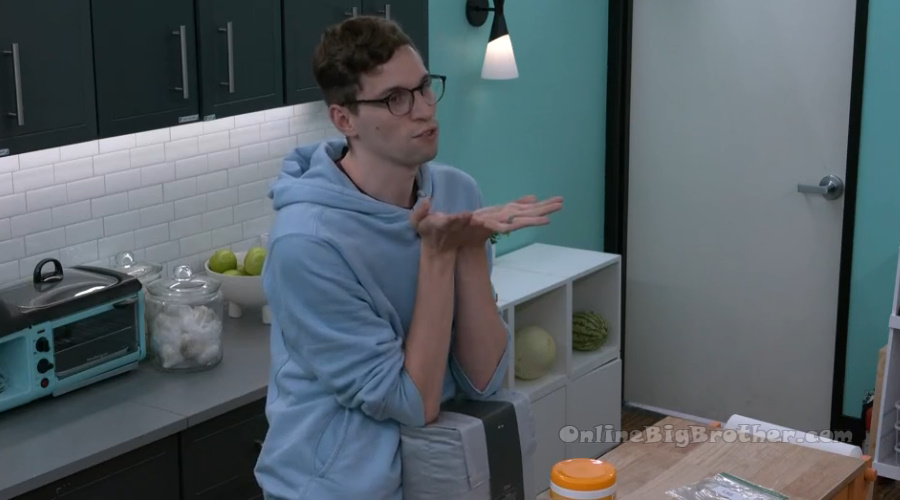 7:28pm Kitchen – Michael, Brittany and Turner talking about random things..
7:45pm Monte is sleeping.
8:28pm – 9:05pm Bedroom – Terrance talking to the cameras.
Terrance – I think this is why I wanted to be a part of this experience is because or I have never seen a me in this game. And when I say a me, is a person that is really believes in something to the point where its not game anymore its just principle. And some people will tuck in all of this and just be like yo let it go… its not worth it. Who cares. You fighting for the bad. Then there is me. Monte joins him. Terrance – when I went up stairs he (Michael) was like everybody told me that you (Terrance) had another plan about the nominations and you were trying to keep Kyle. I was like yeah, you got that right! But it was quickly dissolved. So whoever brought that to you it was just on some vindictive f**k sh*t. Monte – I think for her she is looking at it as a personal attack because she is on the block… so she probably ran right up and (told Michael about Terrance trying to keep Kyle this last week). Terrance – you want to hug me… man get the f**k out of my face! What the f**k is you doing!? (Wow, anger issues?!) And I've always said, have a conversation with me first. And if you don't take that time to have a conversation before, then go on your own devices. And I am going to have a long conversation with her before I go to just let her know like .. I just feel.. Big Brother switches the feeds. Monte – it was actually a dumb move for their game. Terrance – dumb as hell. Monte – because now you got me, who they could have had me.. but now they lost me because they don't know that they lost me but they lost me. ..Because once you tried to play that fiddle in the living room about how this is bad for our game and how we had to do our due diligence before we got here. Two points of bullsh*t.. its not bad for your game and you did no due diligence between two weeks ago and now because you were in two separate houses and all this week you (Michael) didn't have any conversations with Kyle. Next week Michael can't play HOH, that leaves me, Turner, Alyssa and Brittany to go after him. Terrance – I'm going to pull her to the side and have a real heat to heart with her. And I kind of hope it sinks in somewhere. Monte – she has to know that she is coming in 3rd place.
11:17pm Terrance is sleeping.
11:37pm – 12:09am Kitchen – Alyssa and Monte are playing Chinese Checkers. Michael and Taylor are listing off music pop stars. They talk about what time they would be watching the live feeds if they were at home.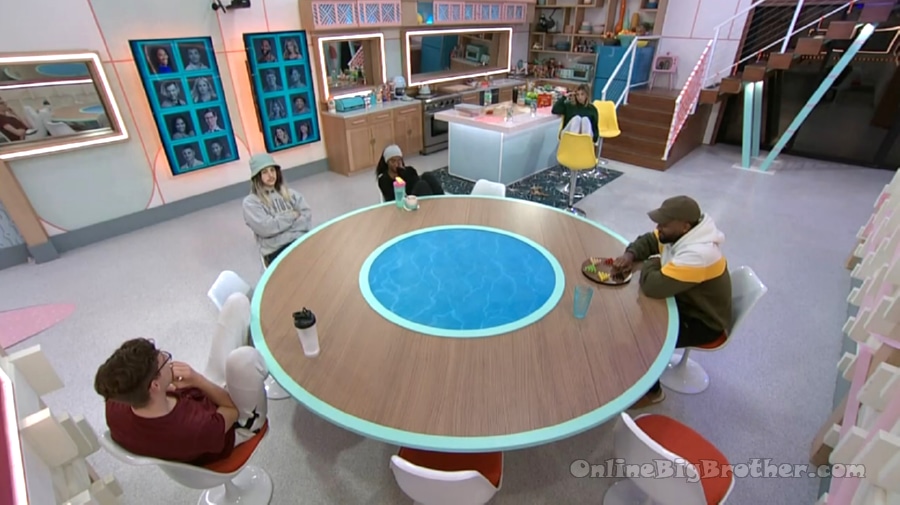 1:20 am Chit chat..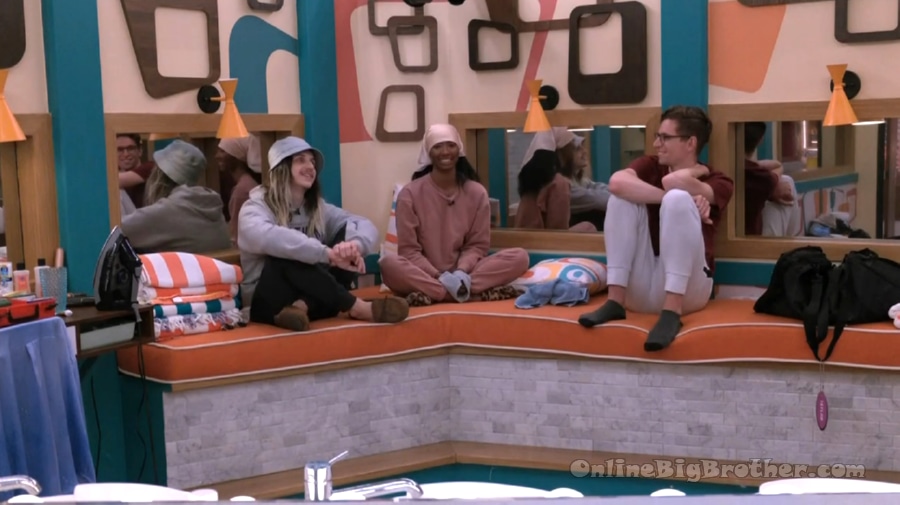 2:50 am Chit chat
They did comment about Terrance being mad he's getting send out.
3:40 am everyone left up heading to bed..
4:20 am Zzzzz