Quick Big Brother Spoilers
Head of Household:  Michael
Nominees: Alyssa and Terrance
POV Players: Monte, Alyssa, Michael, Terrance, Taylor, Brittany
POV Winner:
Veto Ceremony:
Havenots: 
Terrance and Alyssa will be nominated. Terrance is the target. (Not confirmed but if Veto is played there is a chance Turner is a target)
Lock your ranks in before midnight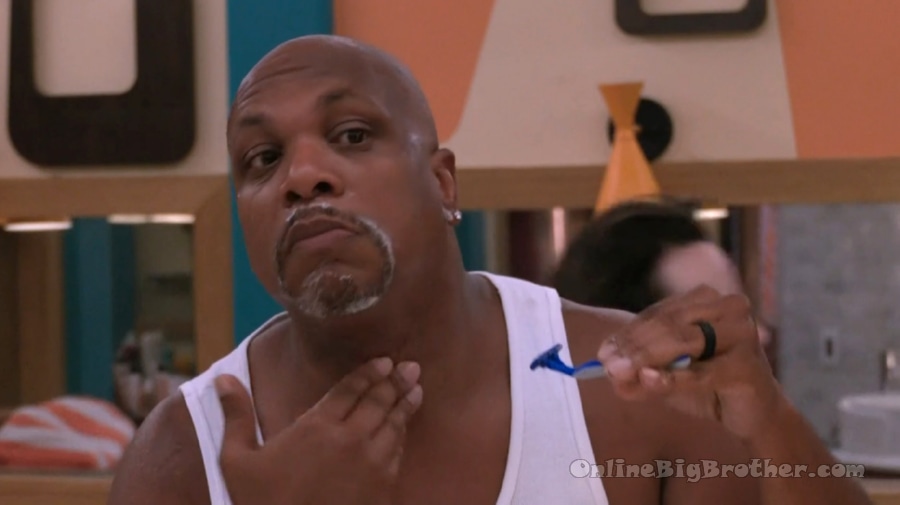 8:00 am Sweet T getting ready for a big day.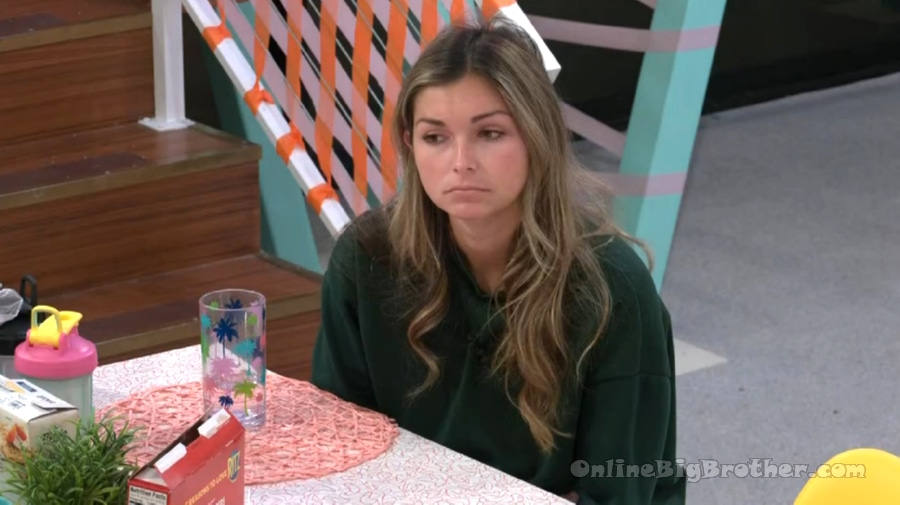 8:07 am Big Brother blues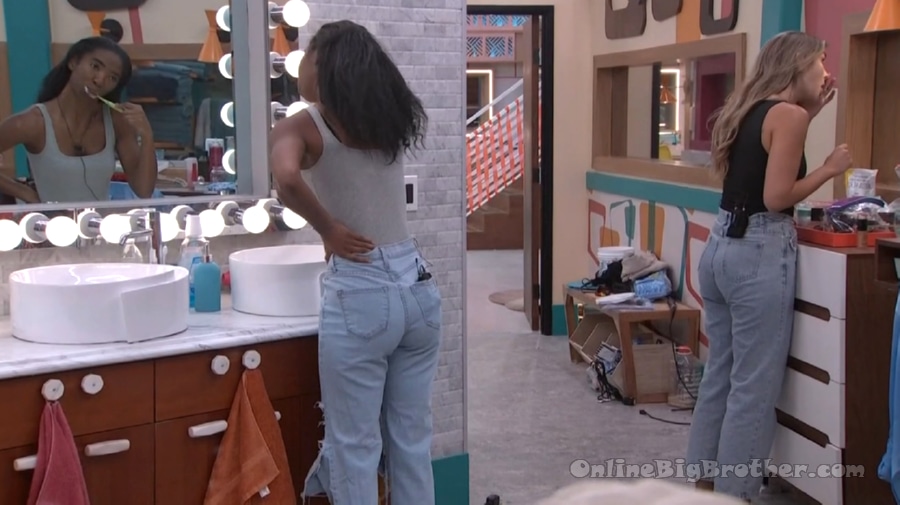 8:49 am Frumpy pants appear in fashion today
8:55 AM Feeds cut to the pound for Veto player picks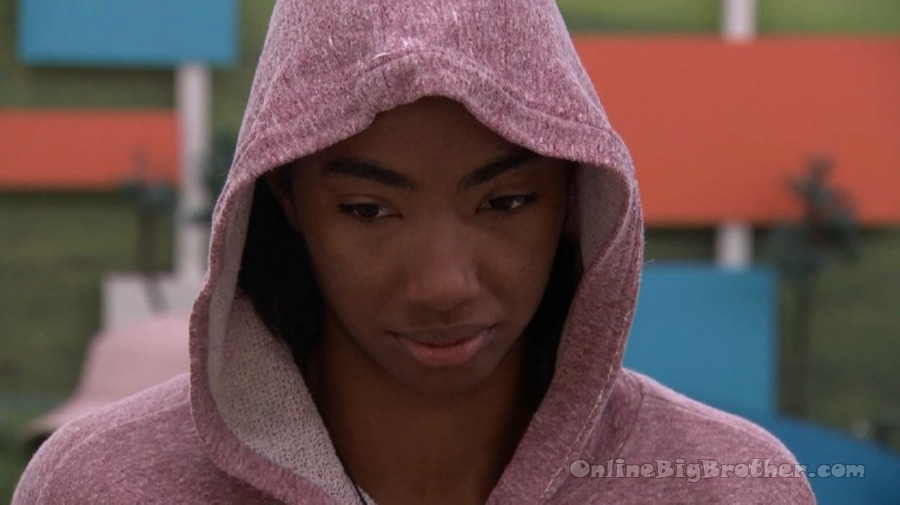 Feeds return Taylor and Monte are playing.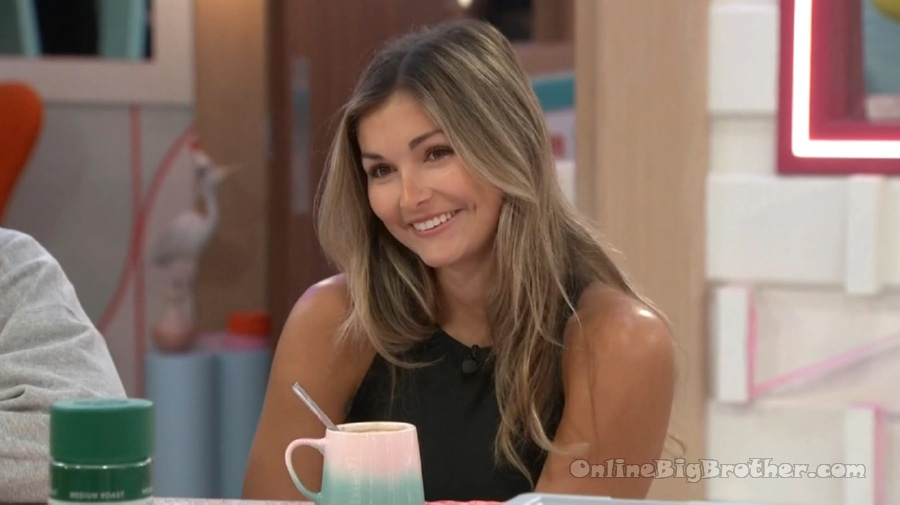 9:16 am Alyssa – I hope it Bowlerina that's the only way I stand a chance..
9:17 am Terrance and Taylor
Taylor – why haven't we spoken
Terrance – there's been a strong disconnect G. Part of it is my fault. I will own that part that is my part.
Terrance – when everything rode out with the Kyle situation umm.. umm.. I was just so angry about everything that happened. I'm goign to speak on this later in a house meeting but you get a preview.
Terrance – I was just angry at the whole thing I understood that Kyle a role to play. A significant role to play but I still feel other people held the bat to. You know what I'm saying?
Taylor – mmmmmm
Terrance – With that I am a very detailed thinker you can't tell me something and I don't dig deeper into what it is.
Terrance says there has been a anger inside of him about all this it was never directed at her.
Terrance – before we left for Dyre fest Brittany and Michael knew damming information that affected every minority in this house that umm.. information that to me if we look at it on a real scale you know how I look at things IN Chicago..
Terrance – if you knew of someone conspiring to do something against multiply black people and you stood by..
Feeds flip to Turner and Monte chatting
When we're back. Terrance talking about after Michael saying after he won the veto either Terrance or Kyle said "There goes plan A"
Terrance – I don't know who said it I addressed the situation like If it was said I can't Make a plan A I can't make a plan B I can't make a plan c I have no power who can make a f***ing plan? Do the f**iing math on that part
Terrance – So long Story go away we wins the veto..
Taylor – I love when you say that .. Long story go away
Terrance says Michael and Brittany exposing Kyle was "Purly a game move" because they were going to lose Taylor.
Terrance – have all these discussion and tell everybody it's not game it's all these things.. to not exposé the situation days ago.. WEEKS ago
Terrance says it didn't "Sit well with me" that Michael used the veto on Brittany and not Taylor after all that happened that week.
Terrance – as A black man in this thing.. and to see umm.. the relationship with you is one that just disgusts me it seems like you are being taken for a ride.. I don't and I can't rock with that shit it's like.. manipulative to me. To the point that.. I know a lot of F**ing information from Dyre fest.. A lot.. I know that when the girls started there little whatever crew. They didn't include you and they didn't include Brittany
Terrance – it's so manufactured .. you care about everything.. and you fake care
Terrance says Brittany and Michael have no answer to why they sat on the Kyle information so long. "As smart as both of you are and you tell me you don't make BIG moves you make smart moves. So you thought about everything you were doing. You knew the information that you had. You calculated to tell people umm.. you are in their face every day as a minority you vote out a minority..
Terrance – you are just to much to blame as Kyle is
Terrance – Kyle is the only one that has taken the repercussions of what happened.
Terrance says he did say they should keep kyle 'For me it was for a moment to teach him something.. yes it would have f**8ed up your game.. I hear you" (LOL)
Terrance – I don't like that he (Kyle) was the only one reprimanded for this
Terrance tells her he would like her to see her game right now the optics. "A lot of the emotion and the empathy (from B/M) is manufactured and I don't like it G you understand
Terrance says he's not angry at her he's angry at the situation with the people she "rocks with"
Terrance – it affects me as a black person knowing that they were okay with the situation for so long what they knew affected each and every one of us in this house and it's OKay for them to still be comfortable and move without NO problem in the house. They felt they did such a great thing and .. it was the timing it was the timing.
Terrance – it was the f*** not the timing it was purely my game and how I see this game going is in Jeopardy so this is what we have to do to further out game. It's going to look a way but guess what it's not going to look away.. Brittany you are safe I won the veto
Taylor – and leave Taylor on the block
Terrance – if it is and they do.. well we're still here.
Terrance – everything could have flipped G
Terrance – when you think about it Kyle had to go for their game to.. not just the minority situation.. but for their game he had to go.
Terrance – I wanted you to see that perspective. I truly see things for what they are and I can't allow for it to continue going forward.
Terrance – if I leave.. you all have to play in pairs.. you know Turner had Alyssa, Brittany has Michael.. you and Monte will have to be a team.
Terrance – I do not believe in my heart that either one of them (M/B) deserve 750K dollars. The way it stands they look to walk in (final2 together)
Taylor – you say they've been feeding me a lot.. I can hold a lot in my mouth doesn't mean I'm chewing doesn't mean I am digesting
They laugh
Taylor – I didn't say swallow.. (LOL)
Taylor – there will be a time where I can say everything but for all the shit I had to endure since day one I see clearly and have for awhile. The moment you let people know you see clearly is the moment you sit on the block out the door.
they laugh
Terrance goes on about not wanting Michael or Brittany to make it to the end. He would rather it was Taylor and Monte.
Terrance points out how the jury is stacked for players like Alyssa.
Terrance – she's got four.. (jury votes)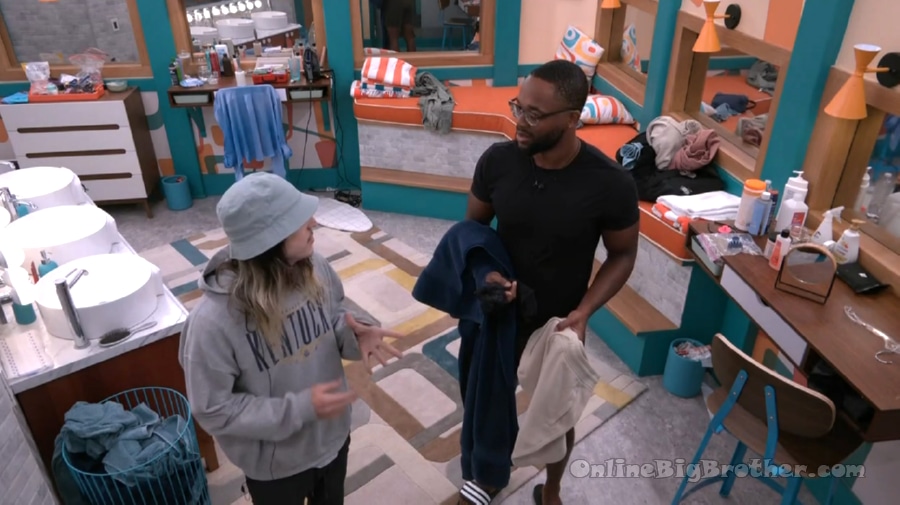 9:18 am Turner and Monte
Talking about how crazy it was for Terrance to pick Taylor for Veto over Turner.
Monte wonders if this is a way for Terrance to build a bridge to Taylor since he hasn't really talked to her since Kyle.
Monte – he doesn't trust Michael and Brittany because of how things went down with Kyle.. so he's like you can win the game in here but there's a whole other game in Jury
Monte – I told him how we talked about the timing thing as well..
Turner – last night Taylor was saying if will have the most savage speech when I don't use it.
Turner – maybe he's trying to get closer to her
Monte says when he was talking to Terrance in the car room they were discussing getting Brittany out next (if they can't get Michael)
Monte – I don't know why he stopped talking when you entered the room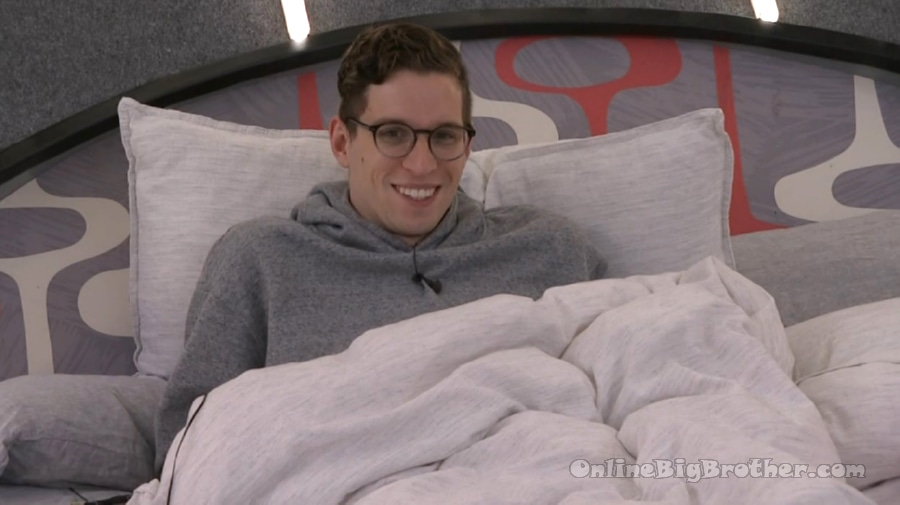 10:09 am Monte and Michael
They're confused about Terrance picking Taylor to play in veto.
Monte – Taylor came up to me asking 'are we okay with the four' I like YEAH! I have no idea what is his reasoning behind this
Michael talks about still wanting Terrance out.
Michael – he said he's going to taint the jury because I'm not paying the game right.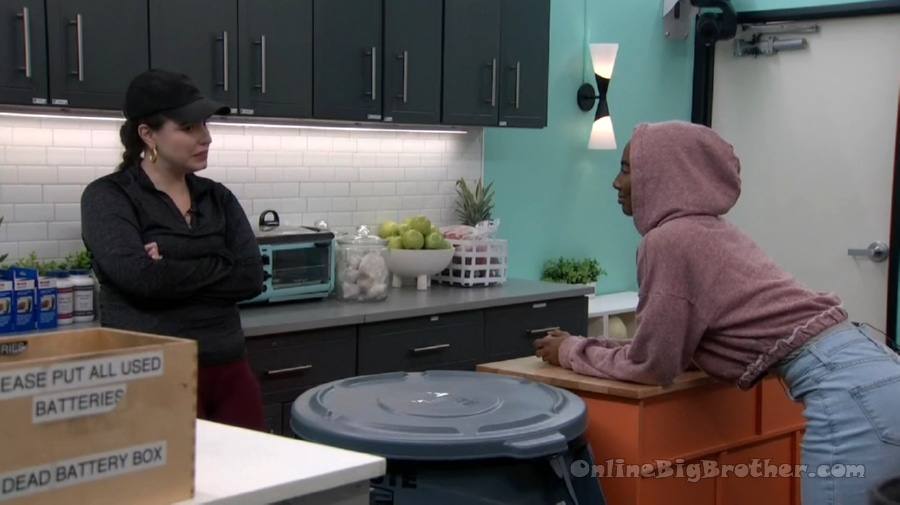 10:15 am Taylor and Britt
Taylor says Terrance admitted he tried to flip the house last week against her and with Joe int eh bathroom "Back in the day"
Taylor – he explained why he was angry .. he said I picked you because I love you and support.. it was an apology pick
Britt – that's not a thing
Taylor – he knows he's going it's to save his reputation with the house you know
Britt – do you think he picked you because he thought he could beat you more than Turner?
Taylor – no
Taylor – if one of us wins keep noms the same.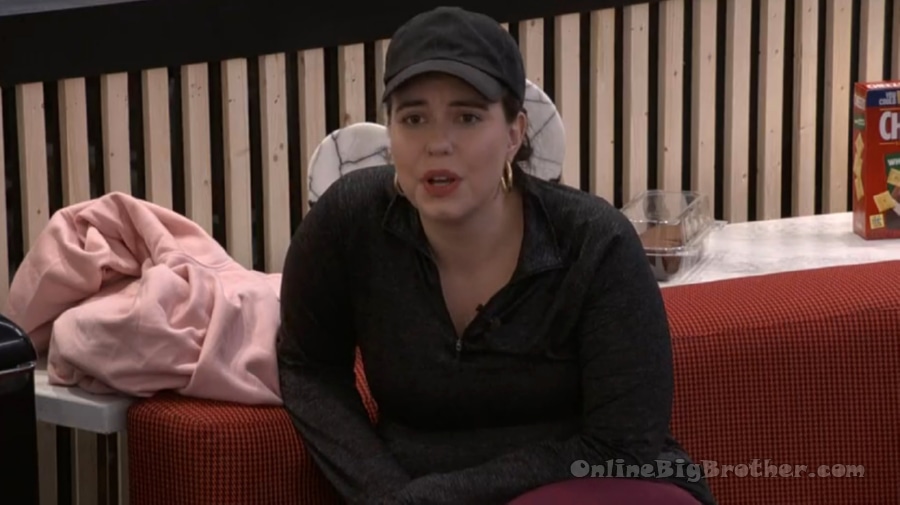 10:34 pm Brittany and Michael
Brittany going over what Taylor told her in the storage room
Britt – she's totally convinced.. He admitted this joe flipping thing..
Michael – she's not buying into it?
Britt – OHHH she's completely buying into it.
Michael – like will she use it on him if she wins?
Britt – NO I don't think that but she's completely buying into it
Britt – I love Taylor to death she's very similar to Joe.. I don't think she has a handle … I think she gets caught in her narrative and it's not the narrative.. you know what I mean
Michael – she doesn't think he's serious though?
Britt – ohh she is buying it..
Michael – he's clearly doing it because he realizes how bad he f***ed up yesterday with his reaction
Britt says what Taylor is doing isn't best for her game and their game.
Michael – don't let her forget that twice he tried to flip the vote on her
Britt says Terrance has been "USELESS this whole game" She thinks he's now realizing that and that is why he's lashing out.
Britt – he's not making smart moves but it's his moves..
Michael – I wouldn't want to make those moves
Britt – it sucks he's playing so AWFUL.. and going after everybody ..
Michael – we shouldn't be sending him home this week but.. I'm sorry I don't want him here. if he pulls out a win then..
Britt -he's coming after us (Who isn't though)
They talk about Alyssa's "Derrick Cody talk"
Britt warns that Taylor has a "Plan B" with Monte.
Britt – If I were here I would think I had a better chance with Monte.
Brittany says with Michael out of the mix there's two people in the house she has a shot against winning in finale, 2 she's not sure and one she knows she won't win against "that's monte"
Michael – if Monte gets to the end he'll win he's played a very clean game while being a BIG target
Britt – I don't win against MOnte I don't think I win against Alyssa and there is a chance I win against Turner and Terrance.
Britt says taking out Turner would be best for them right now "This is the telling the Kyle thing is bad for our game this is the repercussions of that"
She laughs
Britt goes on about how she would feel better going into next weeks HOH without Turner in the mix.
Britt says turner will take a shot at Michael next week.
Britt – I just wonder where his head is at then what does he think is his path forward his jury management SUCKS
(OMFG M/B critiquing other houseguests on their jury management.. Kraken time)
Britt – we essentially hijacked his HOH
Britt goes on about getting Turner out saying it's better they leave a Terrance/Alyssa in the game over a Turner/Alyssa.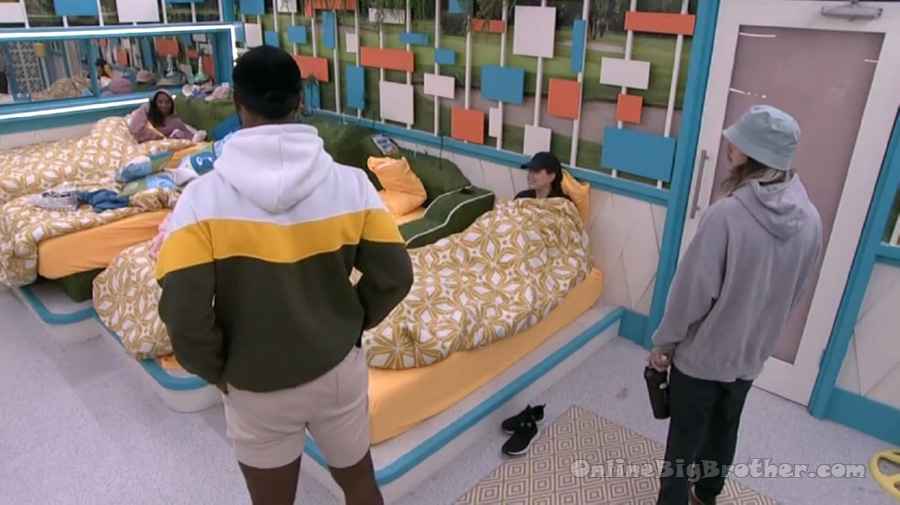 11:21 am
Brittany – I'm pretty sure I woke up late at night to some activity
Turner – ohh I head about that
Taylor – it was under the covers if that makes you feel better.
Monte – okay.. okay
Taylor – and it doesn't sound like there was any finishing
Mont e- Ugh.. alright.. umm.. I'm going to use the bathroom now..


11:53 am waiting for veto