Quick Big Brother Spoilers
Head of Household:  Michael
Nominees: Alyssa and Terrance
POV Players:
POV Winner:
Veto Ceremony:
Havenots: 
Terrance and Alyssa will be nominated. Terrance is the target. (Not confirmed but if Veto is played there is a chance Turner is a target)
Lock your ranks in before midnight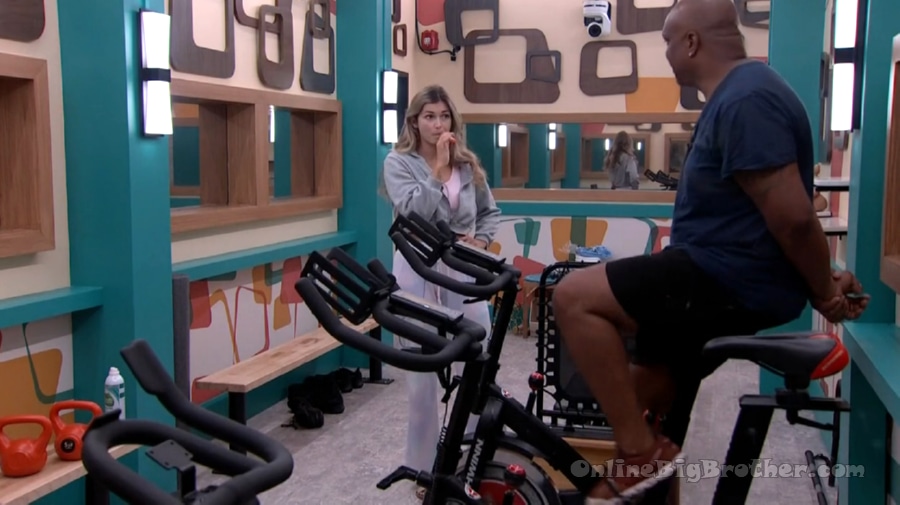 9:25 am Terrance and Alyssa (Hard to hear Alyssa has a tooth brush in her mouth as she talks)
Alyssa – how was your conversation
Terrance – I was okay.. I still think I'm going up though.
Alyssa – I might be too
Terrance – really? why I didn't think that from him.
Terrance – it's going to be me and Monte
Alyssa – really?
Terrance – definitely me
Terrance says if he's on the block he needs her vote.
Alyssa – I got you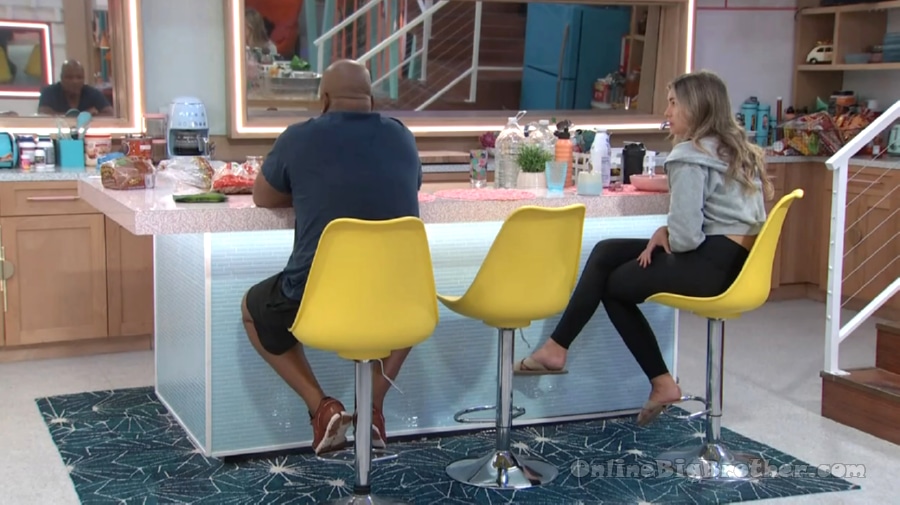 10:16 am Alyssa and Terrance
Alyssa says people watching won't even know she's ion the show. "Who is that one girl I can't remember her name.. What did she do? I liked her though"
Terrance – At least you won't be the old guy
Alyssa – you're not the old guy.. weren't you and Nicole pretty close in age.
Terrance – Nicole was 42
Alyssa – how old are you?
Terrance – 47
Alyssa – Kyle was really thankful that you helped him with what to do going into Jury.
Terrance – I just wanted him to have as best of a landing as he can possibly have based on the situation I just feel like… he did not act alone in his though process. It wasn't just him you know what I'm saying.
Terrance – Yeah he got ahead of himself and he felt a way but I play attention to just his thoughts when we had the house meeting. 'Brittany Michael you guys were really comfortable you guys really made me feel okay.. '
Terrance – I believe him that he wasn't alone in that thought process.
Feeds flip to Turner sleeping……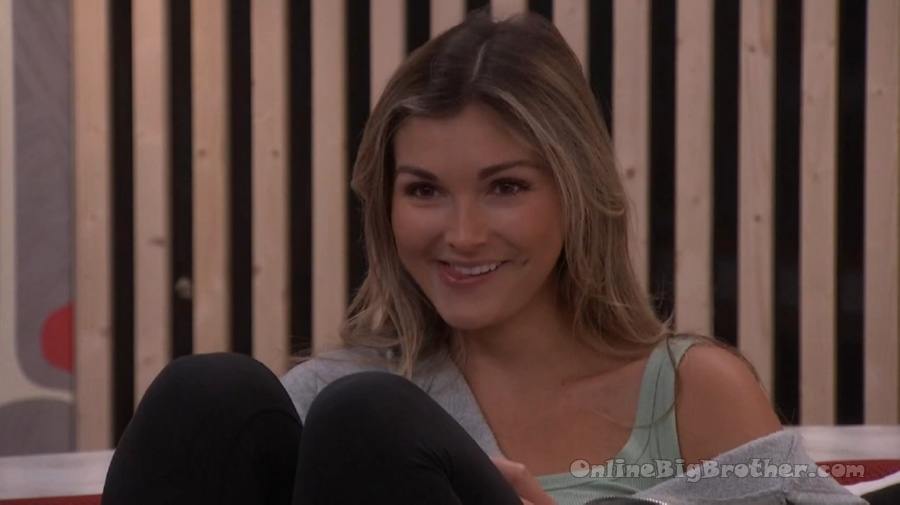 10:27 am Michael and Alyssa
Alyssa came up to see if he had any thoughts after his night conversations. Michael says he does he has one person in mind.
Michael – I've heard they've thrown my name out in the past.. I get the feeling is still holding some things back.. I'm just trying to figure out who to put next to this person. that's where I am struggling ..
Alyssa – that makes sense.
Michael says she is not the person he's referring to
Alyssa – I would love to work with you and make you feel comfortable so you don't feel like you have to win everything. I would love to sit next to you a great player. WE ddi what we could we worked to get here, we played different games but we're happy to be in the final 2.
Alyssa brings up Cody and Derrek and how Cody took Derrek to the final 2 knowing he would lose but he made a promise to him. He went out in a respectable way and then came back to win Allstars.
Alyssa – If that could be my story in the Big Brother House that would be the most insane thing ever.. (LOL)
Michael says in deciding who the second nomination is he's been going over the conversations he's had. "where I think the votes may fall that will be important"
Michael – I want to make sure if I have a target in mind that is what happens this week
Alyssa says the backyard is closed and "they are doing work out there"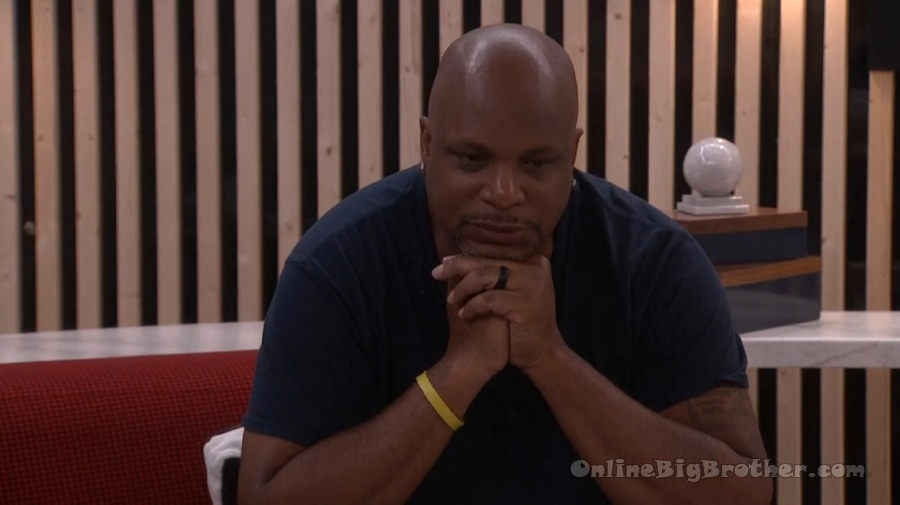 10:42 am Terrance and Michael
Terrance says he know Brittany and Taylor are his girls and he's not putting up Turner so that leaves Monte, Terrance and Alyssa.
Terrance – I know I've been up a million times I would respect the game if you did or didn't. where would you see your forward game going with that decision with the three we have?
Michael – I'm not sure your breakdown is pretty accurate.. I'm kinda at the place for me Okay I have a target on my back do I go forward to try and maximize my chances of winning competitions do I trey to go forward with keeping people that I thin that maybe wouldn't put me up if they Won.
Terrance says it would be DOPE if the two guys that were on the block week one are the two that made it to finale.
Terrance – I'm nostalgic I can see that.. mathematically how everything is playing out I can be more of an ally than an enemy to you.
Michael asks if there's been talk downstairs about taking him out.
Terrance fumbles around "you know … you know.. nobody saying.. you know.. we got to get him.. you know.. "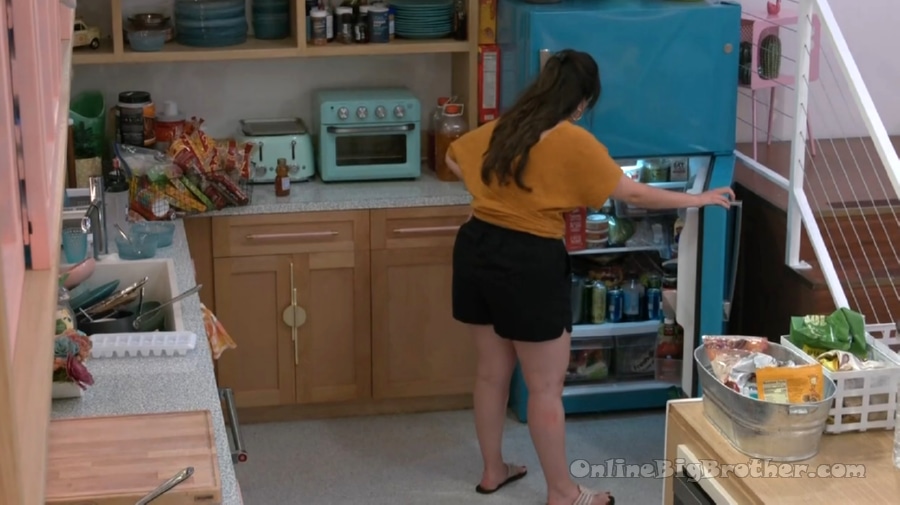 10:50 am Brittany searches for food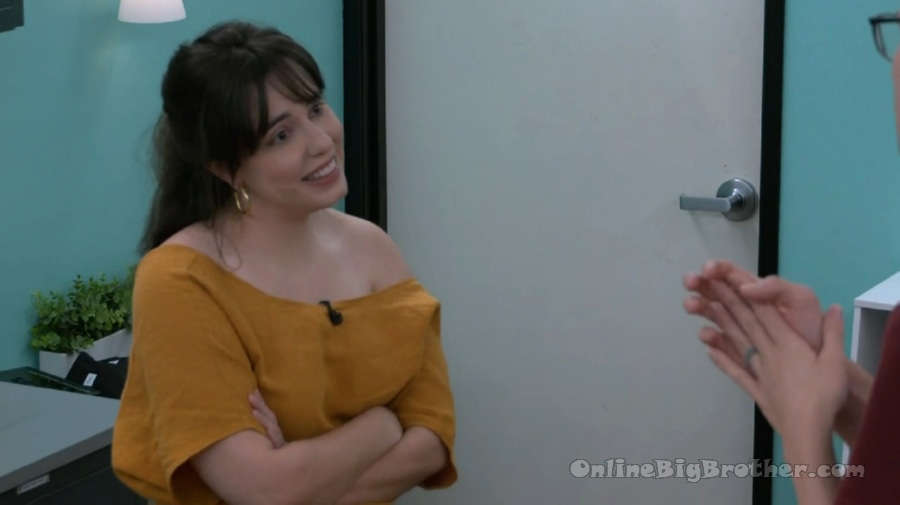 10:52 am Brittany and Michael
Michael – of course Alyssa and Terrance were the first two up.
They agree Terrance and Alyssa know they're nominations.
Michael goes over his conversation with Terrance.
Brittany – what's his pitch to you like what is he..
Michael – he's staying he wouldn't put me up if he won
Britt – that's so not true. if he's talking to me like 'Plan A is out the window' .. to me
Britt – he got too caught up in the .. 'I know about the leftovers…. we came in with a plan then that plan went out the window'
Britt – meaning when you won the veto. he's like 'onto Plan b'
Michael says Terrance saying things like you have to think about who you can win against in comps.
Michael – implying Monte is coming after me.
Brittany says Monte is smart enough to not say that to her. He is saying it to Taylor "unless she's lying to me"
Michael – I don't think she would lie about that
Britt – I think it's a lot more up in the air if she would take me to final 2 in that scenario than us three.. Us three I think she for sure would.
Britt – I think Monte's whole threat level is assuming he's throwing things.
Michael – He's been up and nobody's taken a shot. It's because he's so good
Michael – what do I say in my speech?
Britt – you could go the non leftover route.. with the two nominees.
Michael – I don't want to say that. I kind of hinted to Alyssa.. you know I'm not making any promises I have someone in mind I would like to see go home this week. Whoever I put next to them it'll come down to votes. I think can tell her you and Terrance are close.
Michael – other people are supportive of Terrance going this week
Britt – there was a reason Terrance and her were up this morning
Michael – Yean
Britt – they know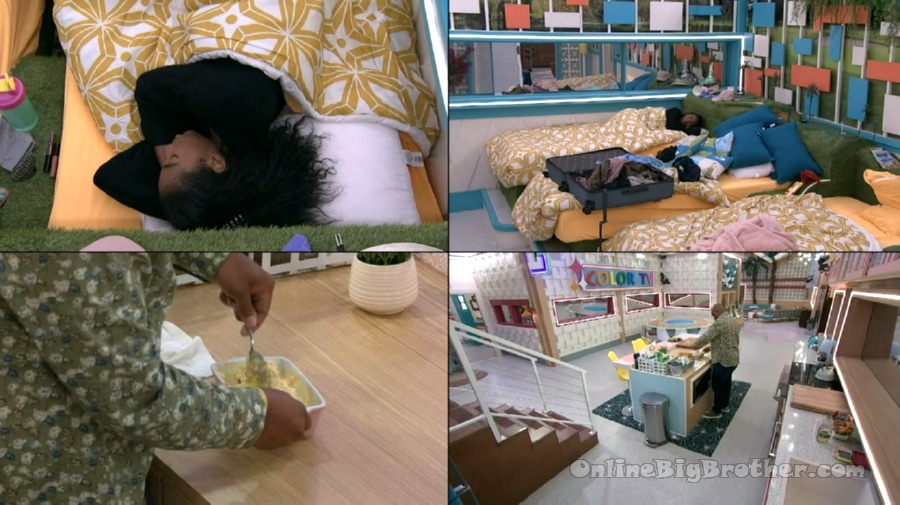 12:14 pm For the last hour it's been sleeping houseguests, eating houseguests, daily pleasantries type chit chat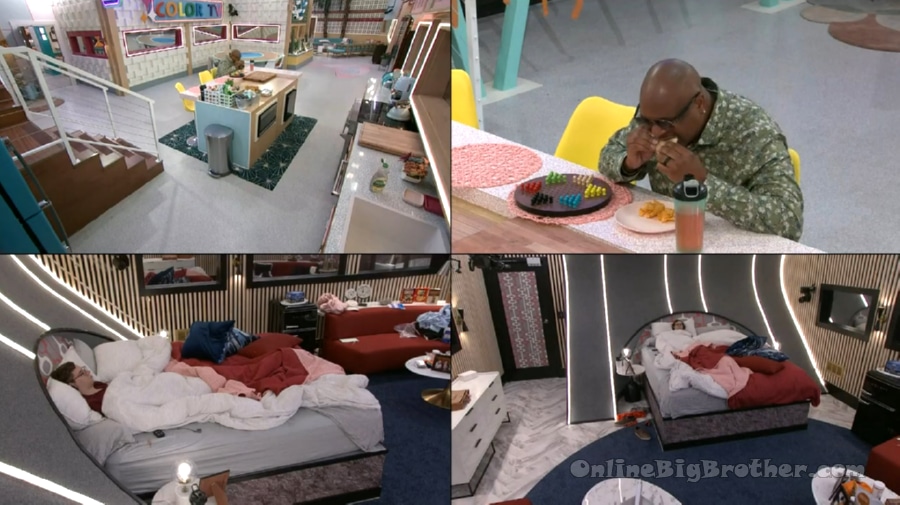 1:34 pm Terrance enjoys a sandwich.
2:05 pm nothing
3:10 pm Nominations haven't happened yet. Chit chat or sleeping houseguests on the feeds.
3:30 pm we cut to the pound for noms
4:30 pm Feeds return Alyssa and Terrance are nominated
Turner reassures Alyssa she has the votes to stay it will be Terrance leaving.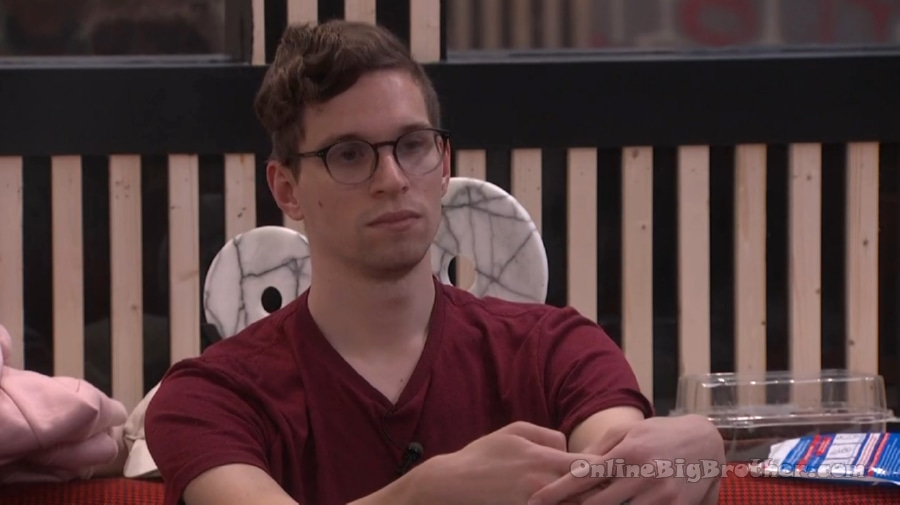 4:45 pm Michael and Terrance
Michael says it's not personal this is a smart move for him