Quick Big Brother Spoilers
Head of Household:  Taylor
Nominees: Indy and Terrance
POV Players: Taylor, Indy, Alyssa, Kyle, Terrance, Jasmine (Host is Turner)
POV Winner: Kyle
Veto Ceremony: Veto was not used.
Havenots: 
Lock your ranks in before midnight
The twist
Wording from the Thursday night show
For the first time ever the game will completely change as the house splits into two groups. These two groups will have no interaction and in a Big Brother first, two completely separate games of Big Brother will play out simultaneously all week long all of it culminating with a double eviction like no other"
Reward / Punishment Veto Results:
– Kyle won the veto
– Alyssa won $5000
– Jasmine won a trip to London, England
– Terrance – "Ink 182" 182 temp tattoos
– Indy has to wear a "Punkitard" for 1 week and perform concerts
– Taylor and Joseph will be chained together for 24 hours.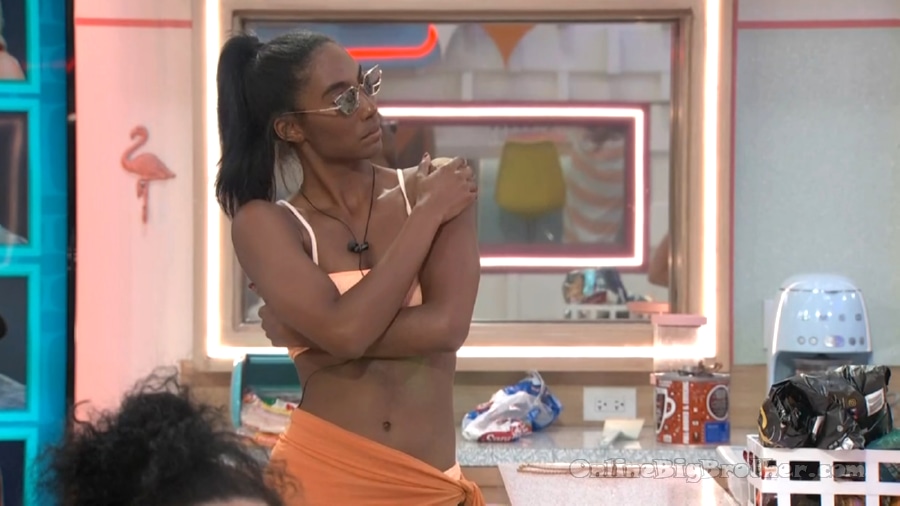 2:20 pm Apparently there was a drone.
Joe – Brittany, you see the drone? once the alarm went off it shot all the way up into the sky really high like a airplane
Britt – somebody wasting their sunday
Joe – Monday. Go to work.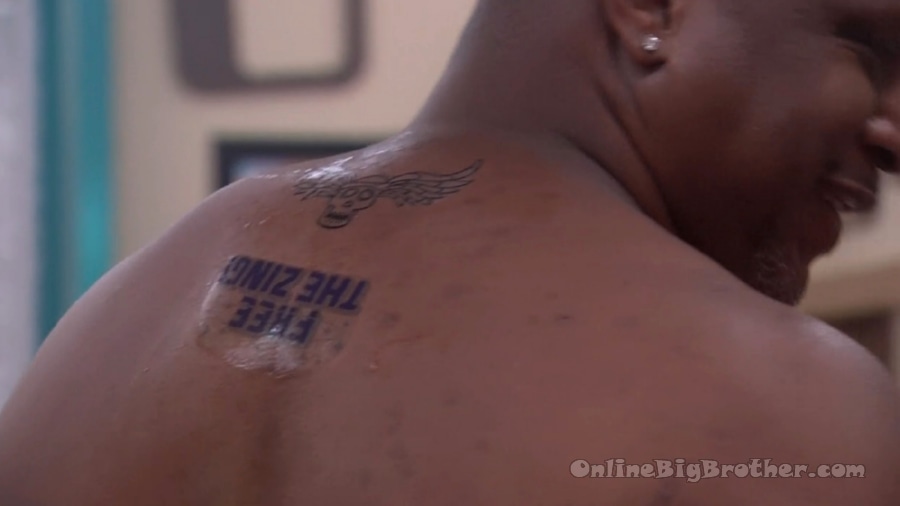 Off in the bathroom, Terrance is getting more tattoos. Indy is helping put them on.
Indy – ohh I put it upside down.. Free the zing.. who is zing?
Terrance – Zingbot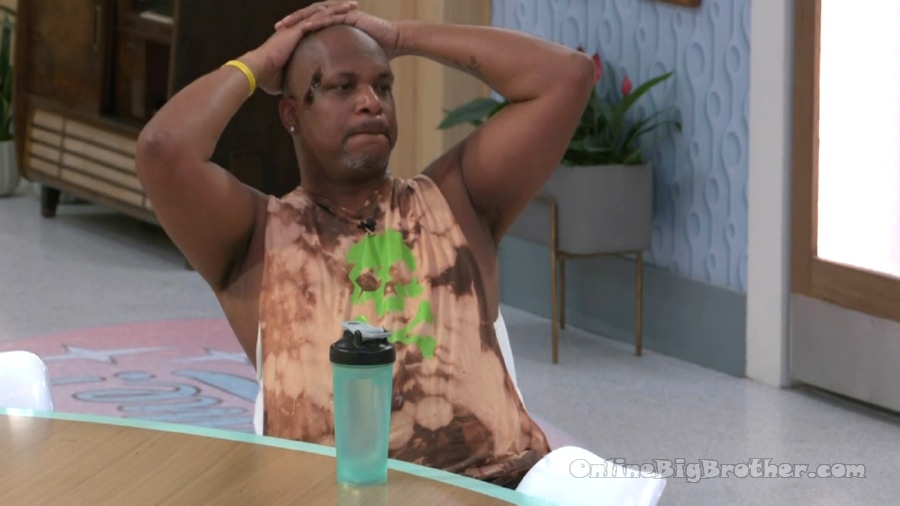 Feeds cut.. Feeds keep cutting off ..
2:47 pm Turner, Monte, Joe, and Terrance
Turner is asking Terrance what his favorite fruit and vegetables are.
Terrance – Asparagus and Watermellon
Turner- Asparagus that's fire.
Joe – whose hat is that can I wear it?
Turner – Indy's it's fire
@2:51pm Turner – I want to make some breakfast I don't know what to make.
3:32 pm Brittany and Michael
Brittany says Kyle threw out their names as people that were behind him.
They agree they can "chalk that to the miscommunication"
Britt says Alyssa is a competitor but she also has the best relationship with her.
Michael – I hope he wasn't saying we were telling him
Britt – he said we were ambivalent
Britt – it was enough for Monte to go to Taylor and question.
Britt – I'm not ready to draw a line in the sand.. there's no reason we can't be the swings, have Kyle and Turner on one side and Monte and joe on the other. Have them battling for us.
Britt – Kyle's getting the heat for doing this and he is. Let him
Michael – that's ok
Britt – I do not want which side Turner goes to to be the majority
Michael – one thing I noticed last night was MMMMMM red flag. Monte kept repeating.. do you remember when we were talking about HOH he won. He is studying he is memorizing. Do you know the order people found their invitation.. how does someone who is not a fan know to study the order of invitation?
Brittany says they'll go to the side that wins the HOH.
Britt – According to Taylor Kyle is taking some heat from Monte and Joe
Britt – they noticed that Kyle stayed up late. "He's employing their tactics"
Michael when has Monte ever stayed up until 4:30 – 5:00
Britt – everyone knew they had to stay up.
Michael – I have a hard time seeing Turner going with Monte. on a threat level.
Britt – he has to see he's the third wheel with Kyle and Alyssa.
Michael – yeah.. Turner will see his position moving forward with Taylor and Monte or be in the middle with Alyssa and Kyle and me and you.
Michael – which is the better position
Britt – I'm not against the other side I just want to make sure we have the option to choose.
Britt – Kyle is very accurate he needs aside. He does not have a side unless he has us. We don't need him at this very moment. Let's see who wins HOH Great.. we're on his side.
3:35 pm Terrance gets another OTEV tatoo
Terrance – number 15 people.. that's 15 on deck.
3:40 pm more tattoos
3:41 pm Kyle and Taylor
Kyle – Indy I felt kinda bad.. she came up to me today and said.. please don't tell anyone I was willing to go home.. I didn't realize at the time that did play into my decision.
Kyle – that to me is like.. she's throwing in the towel.
Kyle – Alyssa is fine with it she will vote either way we want. jasmine I think she's okay with it. She may have been a little blindsided by it.
Taylor – maybe a little bit. I was sitting out here with Jasmine and Terrance.. and jasmine was like So he's not using it.. are you doing something about it?
Kyle says Jasmine is trying to play it off like she's not close to Terrance.
Taylor – Brittany said you know you are close to both of them right, Jasmine this will be a hard decision for you. She was like 'WHAT? I'm not close Terrance"
Kyle – I honestly felt bad.. ugh.. I felt bad for yesterday. I'm totally open to every possibility I didn't want it to be like I was the only one that wanted to keep it the same. From the conversations I had. I Promise you the narrative was one thing and maybe to you it was different. I had no control over that. The majority was either indifferent or wanted Indy gone and me to not use it.
Kyle names Turner, Michael, and Brittany all being silent when he asked.
Kyle – "At the end of the day if it was we all feel like Alyssa needs to go this week that's what we do"
Kyle says people would tell him in private they wanted Alyssa to stay but in the group settings, they were silent.
Taylor – I don't want you to feel isolated I don't want you to feel like there was this group decision it's just a matter of who was able to talk to whom.
Kyle – I'm being told one thing when I'm alone with individuals and then in the group setting.. even when I asked Michael. Michael what do you think we should do .. he said I'm fine either way.
Taylor – the only conflict we have with anybody is.. do we as a group have an order that we prefer or do we each have shots we want to take. Yesterday was just a matter of do we go with opportunities that present themselves or do we go with the shots that make sense to people.
Kyle – yeah
Taylor – it's the first time we had to face that it's not the end of the world
Kyle – yeah.. exactly.
Taylor – I'm good.
Kyle – it's refreshing to be in an environment where we have different views and come to terms with those views.
Kyle about Alyssa "there's a reason she doesn't talk game with me. She knows once we talk game then she will have to betray me.. it'll be a tough decision. I'll have to do the same with her"
Kyle – What do we do me and you? Distance?
Taylor – it's not really that hard
Kyle – yeah.. yeah
Taylor – we don't cross paths anyways
Kyle – yeah.. right
Taylor – you know
Kyle – yeah
Taylor – what I've been telling Jasmine, Indy, and Alyssa is that Monte planted that I would be going after Alyssa and you were like I'm not going to use it. My narrative is. "Kyle and Monte are working together"
Kyle – that makes sense because Jasmine was like 'are you and Monte working together
They laugh about what happened during the veto ceremony
Kyle – you should have slapped me.
Kyle – you should have seen everyone's face when I walked out of there.. OHH SHIT. they were like are you good?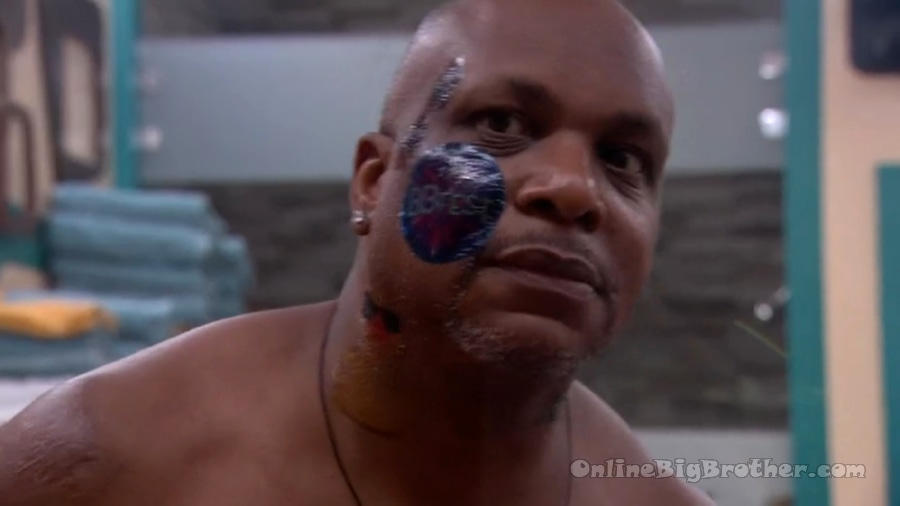 3:57 pm more tattoos.
Terrance – get my MIKE TYSON on ..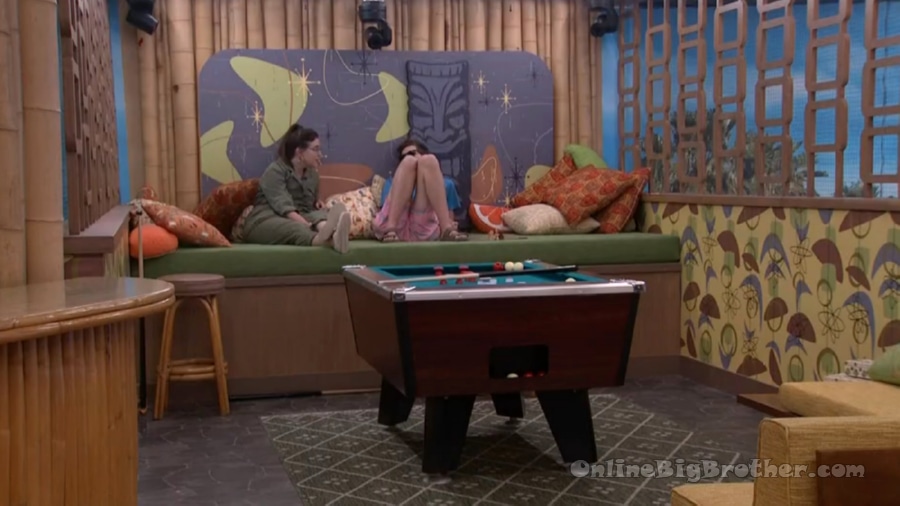 4:20 pm Brittnay going on about Kyle throwing their names out there as wanting Lyass to stay "he's never going to save us over Alyssa.. and he's a strong competitor incase he wins HOH"
Britt – he's got bigger people to go after him. I think building with that side in the off chance they win HOH.
Britt says the girls are already distancing themselves from Indy.
Britt – I don't feel I can have an honest conversation with Alyssa until Jasmine is gone. That's not this week, unfortunately.
Michael – she has no one but Kyle
Britt – she'll go after Monte and Taylor.. We need Monte, Joe, and Taylor to go after Kyle and Alyssa.. We need to stay in that balance not overplay.
Britt – would there ever be an advantage to you go one me I go the other?
Britt – I don't know, Taylor and joe. They just.. they are very Scattered
Michael – they need to be split
Britt – yeah. There's a ploy there at some point where Taylor would take a big shot at her showmance
Feeds flip when we're back
Britt – Taylor wasn't even thinking of Alyssa until Monte got in her ear about it. She's easily swayed by Monte
Michael – yeah
Britt – they're a threesome.. and there's THREE OF THEM and two of us. so..
Michael – yeah
Britt – I just don't want them against us too early
Michael – right
Britt – if they're against Kyle ..
Britt – I do not think Joe will fair well in the memory comps
Michael – Monte will do better
Britt – I think Joe was in the Navy..
Michael – why
Britt – just some lines he said. he doesn't have the discipline.. the routine for the navy though..
Britt – Joe is hiding something though.
Michael – I got back and forth between is he good and if he's that good how is he see through.
Britt – who is playing the best game right now.
Michael – up until recently I would have said Kyle. I don't think it's Terrance, Jasmine, Alyssa or Indy. I love her but I don't think it's Taylor
Britt – Monte maybe.
Michael – he's playing a good game. the other side especially looks at him the leader of what is going on. regardless, of how they see it the Jury votes will reflect that. So it doesn't matter if it's true or not.
Britt points out that Taylor and joe want to create good TV they get bored easily 'they want to do something unexpected
Michael – is there any way we can spin a narrative that Monte is puppeting JOe? But they are convinced that Monte and joe are not working together.
Michael says they need to convince Joe that the other side thinks Monte controls him. "Play on his pride and his ego"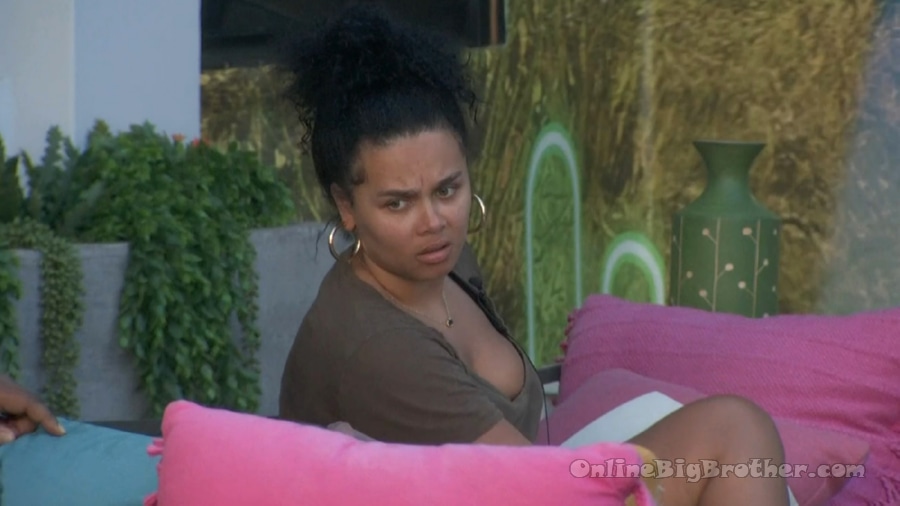 4:54 pm Terrance and Jasmine
Terrance counts 30 tattoos
Jasmine – please lord help me make it to the final 5. it's going to be tough.
Terrance – I'm close to getting what I need. I only need 5 votes..
Jasmine – who did you talk to
Terrance – Kyle, I haven't confirmed confirmed with Turner. I'm hoping yeah.. that's two. If Kyle I would think Alyssa so that's three right there. If I have you.. you know what I'm saying.
Jasmine – this wont' be easy for me.
Terrance – I know it's the same as with Ameerah.
Jasmine says it might not be a "good look" if she votes indy out they've been together for so long.
jasmine – who do you think will be final 5?
Terrance – looking at it right now as it is. Monte, Kyle, They'll keep you.. they won't keep me.
Jasmine – why keep me
Terrance- they can overtalk you..
Jasmine – I thought maybe because I'm hurt
Terrance- that too.. they know they can count on you.. Then between Taylor and Alyssa..
Jasmine – not Brittnay.. I feel like she's a floater
Terrance – she is. She ride whatever wave that gonna get her to go wherever it is (LOL)
Jasmine says she sees Michael, Kyle, Alyssa, Monte, and either Terrance or herself in the final 5.
Jasmine – I don't want it to be Michael, Kyle, and Monte that's three guys
Jasmine – do you think she was really mad that the Veto wasn't used?
Terrance – that was no bullshit.
Jasmine – I'm just going to keep praying I make it to the final 5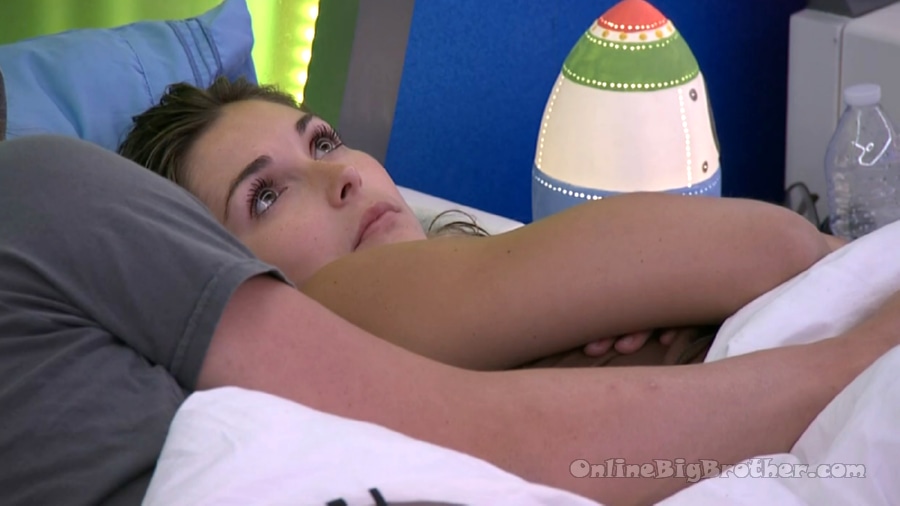 5:16 pm Kyle and Alyssa
"I'm getting the vibes you are breaking up with me.. "
"You are the one out of my league let's be real you will be the one breaking up with me"
Alyssa – I just don't know what you want from me
Kyle – I'm trying to balance like.. personal side of things I want to spend every minute with you. that's it. The game side of things I realize like.
Kyle – what do you think?
Alyssa – I understand what you are saying. I think .. I dunno.. I understand what you are saying I agree.
Alyssa – from the very beginning you were like okay.. I really like you and it's a lot.. you are like hot cold.. hot cold.. whatever you want .. just be consistent. It's a lot for my heart to handle
Kyle – mmhmmm
Alyssa – it annoys me when you say OHH well I like.. it makes me mad when you say Ohh don't worry Alyssa I don't want to hurt your feelings. Cause I care for you.. Okay, I've heard that a million times in my life.

20 minutes of this shomance talk and they start kissing

5:40 pm
More tattoos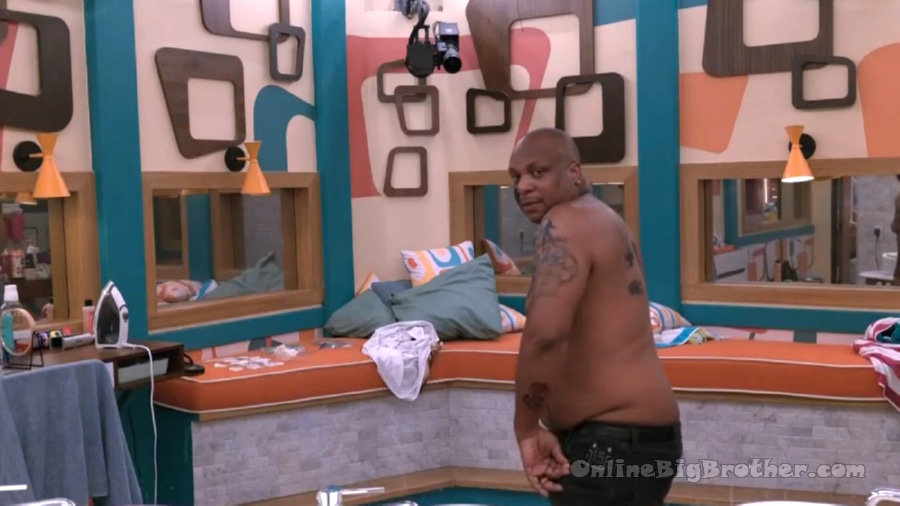 5:51 pm
Terrance – wow .. this is getting good.. This is getting good.. back coming together.. Front. Big boy representing in this tattoo vibe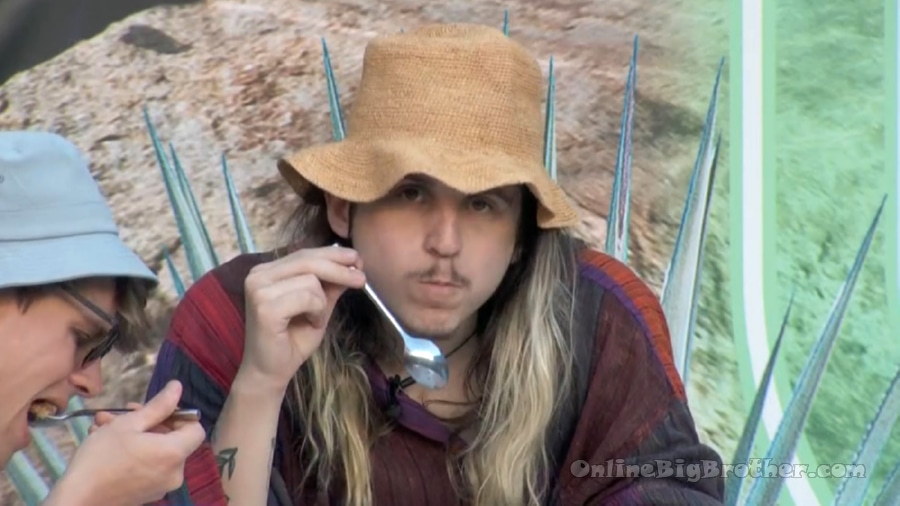 6:09 pm Turner and Kyle
Kyle says Indy doesn't even acknowledge him and Alyssa.
Turner – I wonder what Jasmine's goal is right now Terrance or Indy to keep.
Kyle – No idea bro.
Feeds cut.
when we're back .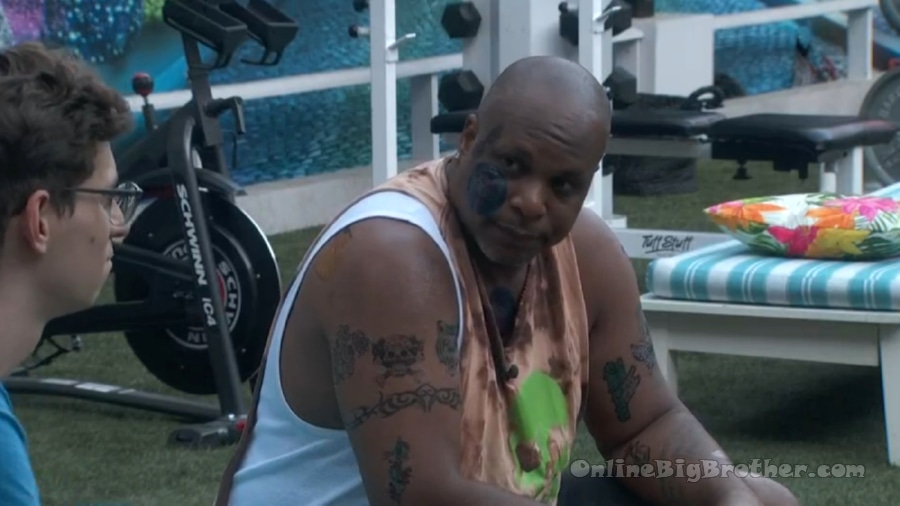 6:46 pm
Terrance- we keep moving like this we'll behind in the game. We have to make a move this week lke 1000%
Michael – seems like this week would have been a perfect opportunity