POV Holder:
TOM
Next POV
March 9th
POV Used
YES
POV Ceremony
March 11th
HOH Winner:
TOM
Next HOH:
March 14th
Original Nominations:
Gary & Suzette
Current Nominations:
Suzette & Aj
Last Evicted Houseguest
Danielle
Have Nots
Alec, Topaz, Aneal, Jillian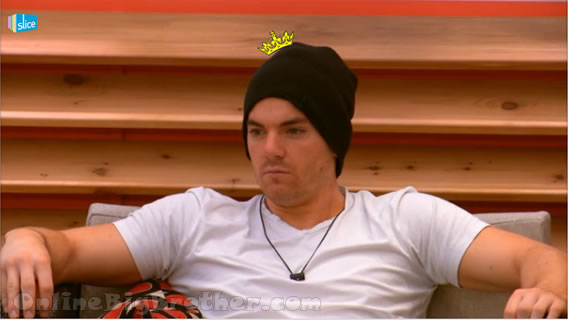 10:05AM Peter, Andrew, AJ, Alec, Emmett, Tom
Peter is trying to become a actor he was trying out to be "Background Actor" for the new superman that was filmed in Vancouver but he never got the part. Andrew asks what is a background actor like a extra. Peter says Yes but Extra is a derogatory comment.
Peter: "I want to be a voice agent.. need to to get an agent"
They start chatting about actors that are a$$holes on set. Peter met Tom Cruise and says he was the nicest guy. They chat about christian Bale and how he freaked out on someone on the set. Talk moves to other christian bale movies.. The Machinist, Batman.. etc etc.
It's your run of a mill morning conversation
Talla joins them and starts telling them she doesn't want to see pillow on the ground after she's gone through all this trouble to organize them. Talla also wants them to reuse their towels because right now they are washing too many towels and wasteing detergent. She goes on and on about these pillows and she really doesn't make sense. Andrew leaves when He comes back Tom: "you missed it" Andrew: "I know I went to look for a gun" Tom: "Everything she said is pointless.. we f**** with her for 15 minutes.. she got mad but now she's over it"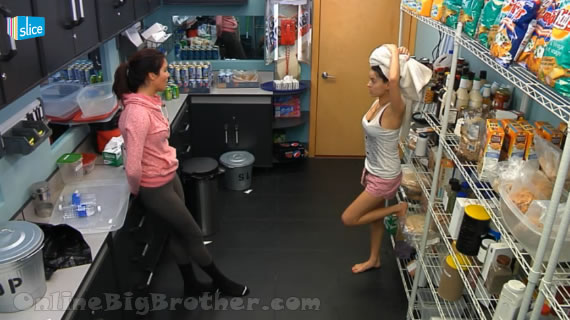 10:27AM Talla and Jillian Storage Room (The audio was messed up for the first minute of this conversation :( seems to be a common occurrence with these feeds)
Talla is worried that Topaz isn't talking to her, Liza or Jillian she doesn't know where her head is at.
Jillian mentions that Emmett really doesn't talk game with her, he just kinda listens to her ideas.
Jillian says she's been telling Emmett that the girls are easy to beat so they should start targeting some of the guys. Jillian adds that there is only so much she can do until Emmett win HOH then hopefully she can talk him into putting up the guys.
Emmett joins them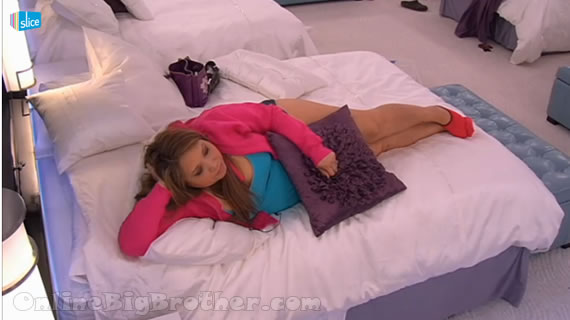 10:37AM Bedroom Suzette and Garry Suzette tells Gary that she's seen Alec, Peter and Emmett talking a lot and she's sure they have a final 3. Gary isn't sure about it he's thinking that Alec and Topaz are really close. Suzette disagrees, she thinks the "Boys" will drop the girls off in a heartbeat. She tells him if Gary wants to make it in this game he must get in with the "Boys". GAry is busy working on his brand. While Suzette gives him Mad game talk. Suzette suspects that the boys had a system during the last HOH competition to ensure one of them would win she mentions that "You could see in the mirror all the answers?" . Gary continues to work on his brand while agreeing with Suzette and muttering "Gotta get in with the boys.. how did the boys get to run the house"
Suzette thinks Talla is on the way out after her then Maybe Aneal and GAry. She calls Aneal a rat says he won't even talk to her. Gary agrees
Suzette: "where I come from we don't respect a rat.. Game or no game a rat is a rat.. even in prison you're a rat your still a rat" Gary: "A rat is a rat"
Gary is scared that the showmances are so tight that they might be targeting him next once Aneal is gone. Gary says he can see Alec in the kitchen through the mirror in the bedroom. Gary says he wants to get a makeup expert to learn the style Gary does his makeup then perfect it.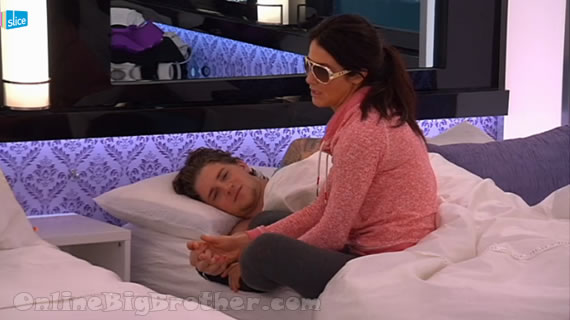 11:13am Bedroom Emmett and Jillian milkmancing Suzette and Gary are also in the room working on Gary's Brand..
Gary: "How's your pu$$ Jillian"
Jillian: "My privates?"
Gary: "Ya your ovaries"
Jillian: "It's hurt more my Legs"
11:21AM Talla and Topaz wrestling (Video uploading)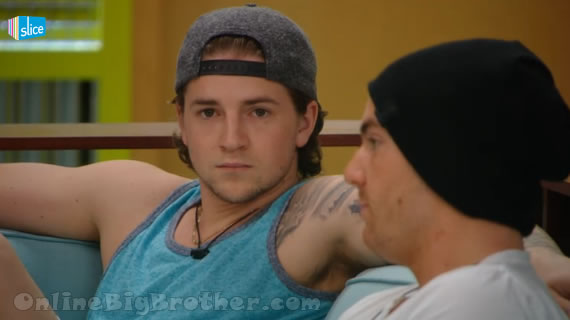 11:38AM Tom and Emmett
Tom says they don't have Aneal, Liza has Aneal. Tom is thinking if he wins HOH then he
Tom: "If you win HOH man I know you will put up Aneal and Gary.. but I want us to BAckdoor Andrew"
Emmett: "On a personal level I talked to Andrew and he said AJ doesn't want to make enemies"
Emmett says he's worried that Liza is controlling Tom, he's seen strange behaviour ever since Tom and LIza started spending a lot of time together.
Tom says that Anderw is making final 2 plans with Everyone Lilza included.
Emmett: "She controlling you"
Tom: "She's not controlling me.. man.. I called her out last night told her poeple are startign to talk about her throwing comps.. "
Emmett thinks Liza's next play is to take out one of the boys (Alec or Emmett) Tom:" I won't let that happen" Emmett: "We'll if she wins HOH you can't to f*** all can you"
Tom: "If she wins HOH and puts you guys up IU will treat her like sh!t"
Tom reiterates what he wants the play to be next week. He wants Aneal and Aj nominated and when Power of Veto is played
Tom: "Andrew has a fire in his belly because he likes Liza and she's with me"
Emmett reminds him that Andrew only likes Liza because she's flirting with him, he points out that LIza is flirting around with a lot of guys in the house. Tom says he doesn't feel the same way about Liza as Emmett does about Jillian she can do whatever the F**** she wants.
Emmett thinks that Liza is controlling Tom and the Game.
Tom: "there's always a C*** Behind the pu$$y my friend" (Wise words from Tom)
Tom asks Jillian if she would put up Aj and Topaz this week'
Jillian says that would not be her play
AJ Joins them
[polldaddy poll=6954869]
Share it YO!!
Tweet