POV Holder:
?
Next POV
?
POV Used
?
POV Ceremony
?
HOH Winner:
Alec
Next HOH:
?
Original Nominations:
AJ & Suzette
Current Nominations:
?
Last Evicted Houseguest
Tom & Liza
Have Nots
?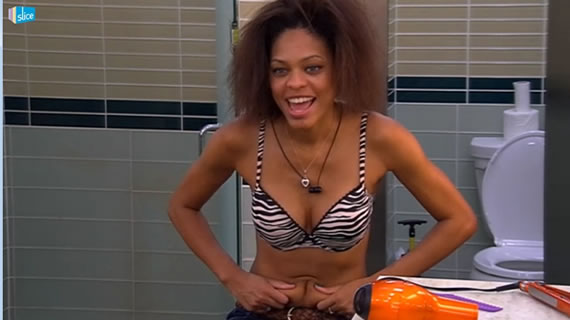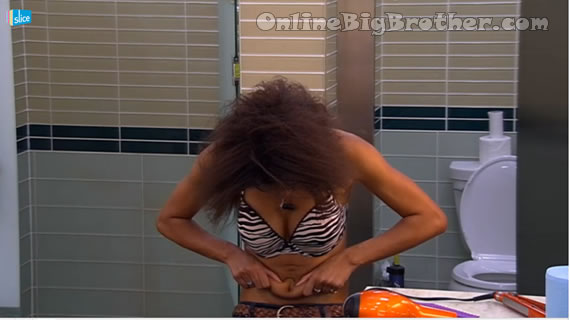 7:00PM Bathroom Talla, AJ, Topaz and Alec
Talla is saying that she doesn't date too many guys, "I'm not in a committed relationship… "
"I'm not chasing it (Serious relationship) but i'm OK"
Topez: "But were you chasing it?"
Talla says a bit.
AJ mentions if he was interested in Talla it wouldn't be for a one night thing it would be serious. AJ usually can tell by date 5 that the girl is someone to be serious with or not. He mentions that Talla and him have been together for 30 days now.
Talla: "Do you have feelings for me?"
AJ: "No"
Topaz thinks AJ is fibbing, "I can see it in your face". Aj: "you will never be able to to read me at a poker table"
Topaz: "I think I just want to leave my hair like this and not blow dry it"
Talla: "Why do you want to leave your hair like that"
Topaz: "Cause i'm lazy as fu*** …. ahh my comb is upstairs.. "
Talla asks AJ about the infamous Girl from Cuba. Aj goes on to explain his feelings for her.
Talla says that looking back she thought she would be in something more serious at this point in her life. Talla: "The thing is what I want in a guy is what I want"
Aj explains Women to her. They set aside some sort of template in what they want in a man.. but they will never find that template.. they fall in love and they don't get that template of a man they had wanted.
Talla: "You are very wise in relationships"
Topaz: "AJ how many relationships have you been in"
AJ: "5"
Aj goes on to list off his 5 serious relationships. He adds that there is one girl that has been floating around for the past 7 years. He only see her when he's not in a relationship, "She's a friend with benefits.. total FWB"
Talla tells him when Aj finds a girl she knows he'll treat her really good. Alec wishes they could work out. They all doubt that the POV competitions will be today because the construction will take a long time. AJ mentions that it could be another physical. Topaz starts to sing a song with her stomach puppet.. (Video uploading)
7:38pm Topaz wonders if the rest of the house is sleeping.. AJ: "Sleeping! any minute now we have a POV contest" Topaz mentions how Peter has been in the Diary Room for a long time.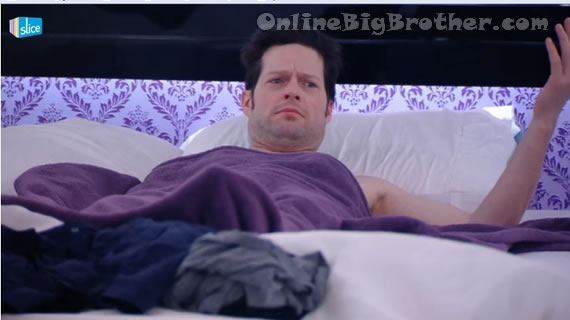 7:00pm Bedroom Emmett, Gary, Jillian, Andrew and Suzette
Gary: "All i want is a mother f***** luxury competition"
Andrew: "Someone just won 10 thousand dollars Gary"
Gary: "That's a HOH not a luxury competition"
(Really boring conversation)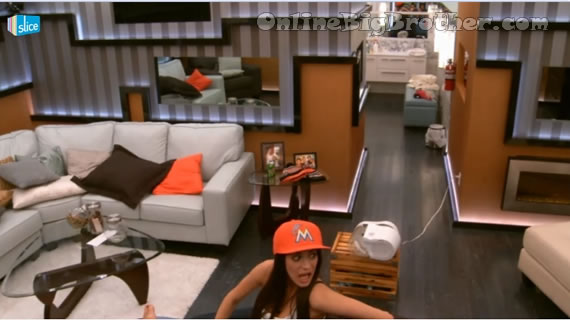 8:10pm HOH AJ, Talla and Alec
Talla tells him that Gary is feeling bad about Suzette. Talla asks Gary "How bad do you want to win POV" Gary replied <"Obviously I want to compete" Alec: "was suzette in the room" Talla: "No it was Topaz jillian and me" Alec: "When did they talk about this because he came up here and talked to be said he was going to fight hard to get it" AJ: "I don't want him to throw it I want him to win it" Alec: "There is no way he will use it.. NO WAY" AJ : "Is Gary stupid enough to jeopardize his game to save suzette" Talla: "Everyone did exactly what he wanted to last week.. Including AJ" AJ: "Everyone in the house wants Suzette gone.. he uses POV and he's burnt every bridge he's built" Alec doesn't want Gary to throw it either, "Thats a possibility that Suzette will win it" Talla: "Why does he want Suzette.. she's a one person army in this game" Alec tells them about Suzette coming in the storage room to talk to him earlier today, "she came to me Bawling.. she came in and was all crying her eyes out.. I was like look suzette it's nothing against you personally.." He explained to her that it's come down to the fact that he's met people in the house and has created personal bonds with those people, "We talk about stuff and we decided what to do as a group.. I have talked game to Suzette in 4 weeks" Alec continues that he told her she should fight hard for POV and this is what the house wants, "We don't want you to feel bad or awkward in the house". (Alec is a bit spineless) Suzette told him that she feels like the punching bag and feels like she's always been the target. (Video Uploading)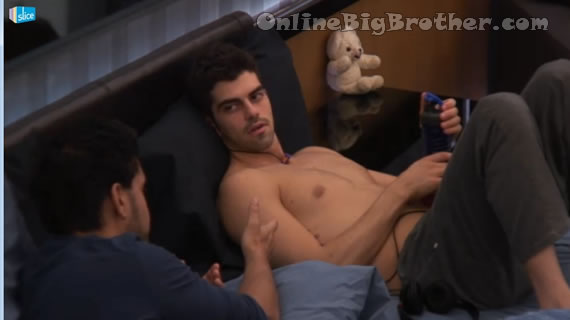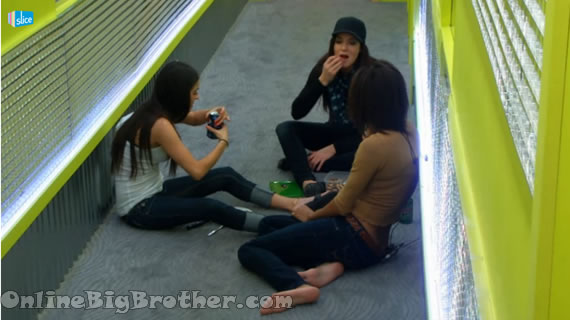 8:27pm Lots of Random conversations going on.. lots of nervous energy around as they wait for the Power of Veto competition which is suppose to be tonight. Jillian is sharing a story about all the serious relationships she's been in she's live with the guy.
(Bascially how I see it is.. Suzette needs to win POV or get another POWERSHIFT to stay in the game. Alec is one slippery player doesn't really man up to anything. Oh and Peter has been in the Diary Room for hours. )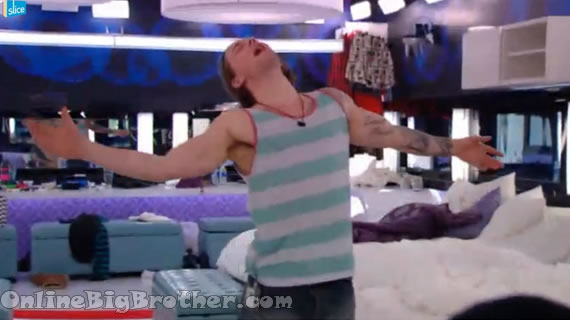 9:00pm Bro's talking about partying..
Alec talks about "Thai bucket" it's when you mix Red bull and a bunch of sprites and everyone grabs a straw. He did it once with 6 people
Andrew mentions "Shambles" it's when you get Vodka, champagne and Red Bull in a big old bucket. Andrew explains that these British guys that he works with guzzle it down "They're from the UK they want to get wrecked "
Emmett tells them about the "3 wise man" it's three shots of hard alcohol that you take in a special order one after another. The middle one is goldschlager the last one is jagermeister and the first one escapes Emmett, "I want to say vodka or some other nasty shit" Emmett tells them you do three shots and when you hit the jagermeister you almost puke. Andrew: 'It's very medicinal that jagermeister" (Lots of Drinking stories)
Jillian joins them tells them she was telling a personal story and using real names. She thought the feeds were off because they are on lock down. Jillian adds that production told them "Attention houseguests please be careful using names we are live right now"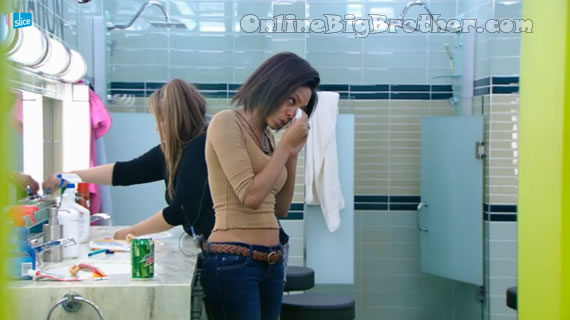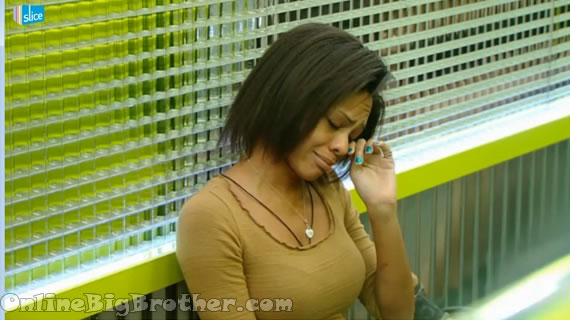 9:10pm AJ, Jillian, Talla, Topaz and Suzette
Topaz is talking about getting out of the hood. She brings up stories about people getting murdered etc etc.. She shares one story that involves an entire family being killed in the floor above her. She also tells a story about when she was in the 6th grade and someone got stabbed. (I'll let you watch the video Which is uploading)
[polldaddy poll=6985048]
OnlineBigBrother.com
Stay connected and interact with other Big Brother Fans on our Facebook page.
And Follow: @BigBspoilers and @Dawgsbigbrother on Twitter for the most up to date spoilers.
Share it YO!!
Tweet