POV Holder:
Steve
POV Competition
Aug 8th
POV Used
Yes
POV Ceremony
Aug 10th
HOH
Becky
Next HOH
Aug 13th
Original Nominations:
Shelli and Steve
After POV Nominations:
Shelli and Vanessa
Have Nots
Meg, James and Jackie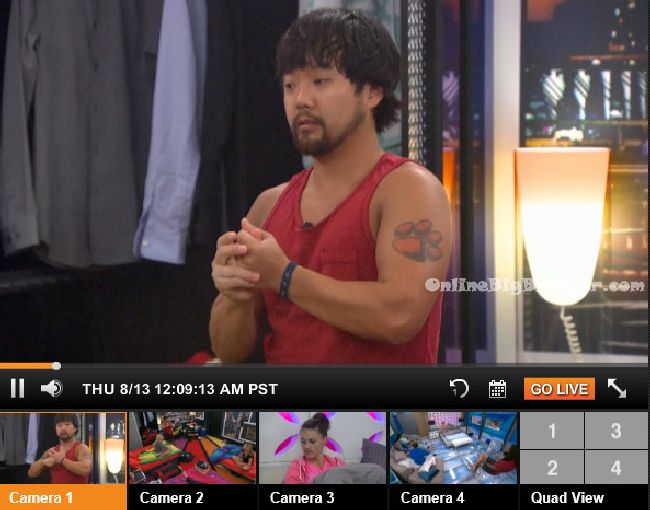 Try the Live Feeds FREE for 7 DAYS! Click here for your: Big Brother 17 FREE Trial
12am Comic room –
Steve, Julia, Vanessa and Steve. Julia and Liz are quizzing Steve on the video clips. James joins them. Vanessa asks James would you tell me if I'm staying or going? Big Brother switches camera and then switches back after a minute. Vanessa says I went and told Becky that if I stay we could have a conversation if she wanted. Just to clear the air. I'm 32 years old this is a game. James says you're fine. I'll make sure on brass tacks. Vanessa says if I'm getting evicted just let me know. Please don't let me get blind sided on national television. James says yeah, you're not. The information that I have. If they blind side me that's different but I doubt it. Julia tells Vanessa you have our votes. The conversation turns to talking about Vanessa's goodbye speech. Vanessa wishes they could get a phone call in jury. James says Jason said you get a censored phone call. They talk about Johnny Mac being weird. James says that he lost Clay and now he's probably losing Shelli. James says what Austin and I were talking about was people in the middle coming together and taking us out. Julia says if we win we have to put up Steve & Johnny Mac. James says the people in the middle are Steve, Becky and Johnny Mac. Vanessa says I would put up a different order but I am amenable. I would put up Becky. But I am amenable on the order. James tells Vanessa I am 99.99999999% sure you are staying tomorrow. And the .99999% on a DNA test means you are the father. Vanessa says if at any point I am not the father just let me know. Vanessa suggests Shelli someone tell Shelli also so that she isn't blind sided either. Vanessa says if Becky wins the second HOH I'll just take my seat in the nomination chair.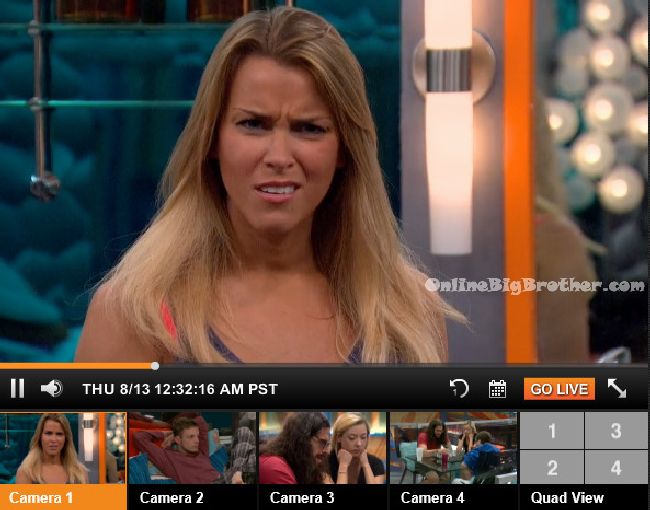 See what they can't show you on TV Try the live feeds for FREE!
12am – 12:50am HOH room – Austin, Meg, Jackie and Becky are also studying the video clips. Steve joins them and he and Austin head out of the HOH room to play a game of chess. In the bathroom – The camera's switch to Shelli and Johnny Mac talking mid conversation. Shelli says to put me and Clay up… and asks how can I feel good about someone like that (James) who then comes to me and says I have your back more than anybody. How can I feel good about that? She says I'm never going to campaign against you. Which is smart because she is going to campaign against Becky. She doesn't have anything bad about me. Johnny says she is good and for my game going forward I just have to nod my head until I get to (he then gestures stabbing with a imaginary knife.) She really trusts me right now. She asked for my vote and I said I don't know. I'm going to ask James some time tonight and find out what is the bottom line just tell me. Shelli asks do you think there is any shot of him (James) coming around? Johnny says no not really, you would have to sell your soul for the whole game. Shelli says I don't get why because its better for Meg, Jackie and Becky to keep me. I am just starting to get pissed. Vanessa says she (Vanessa) trusts me enough to ask me for my vote. I don't know if she does or not though.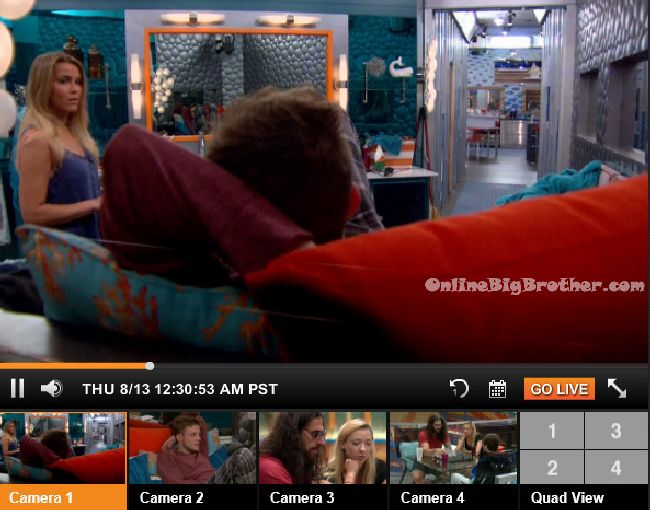 12:35am HOH room – Shelli says I don't know if I need to even start studying. Shelli asks why is Austin blocking me every where I go. Do I even have a shot at all? Jackie says I don't know. Shelli says I know I there is this new 8 person alliance to target Me, Johnny Mac and Steve. Meg says it wasn't an alliance it was a plan for double eviction last week. Shelli says I have heard things in talking to people about what Vanessa is saying. She is saying bad things about Becky. If you vote her out then you have the twins and Austin who are weak without her. They you've gained me and Becky. If you keep Vanessa just to target the bottom two Steve & Johnny then after they are going they will come after y'all. Becky says I am scared if Vanessa win HOH I am gone. Meg says the votes count so much. Becky asks Shelli if you were to win HOH who would you put up? Shelli says definitely Austin and then Steve, Johnny or one of the twins. I don't know that's all that's left. Shelli suggests maybe I don't even try to win HOH. Meg asks why would you do that? Do you want to? Shelli says no. Shelli says nothing buries the hatchet more than a vote. If y'all vote for me I would not put y'all up. 100%! I am not the type of person that can promise something and then not do it. I would promise that to James too. Shelli says I am pretty sure Clay would tell me to bury the hatchet with James as well. Do you guys honestly believe she wouldn't put y'all up? Jackie and Meg both agree Vanessa will come after them. Shelli says she will go after Becky first and then y'all. I love the twins but are they ever going to experience this? Austin is their shield. If he or the twins win HOH who would they turn on .. y'll they won't go after Steve or Johnny Mac because they can use them for numbers. Shelli says it would be bad if I got voted out and then Vanessa started winning. Jackie says I would rather have you here. Shelli asks does James have a connection with Austin? Jackie says no he attaches onto guys because he gets sick of being around so many women. James joins them. Shelli asks have you thought about our talk? James says its up to the group. Shelli says I am extending an olive branch and its up to you if you accept it. I know if Clay was still here he would be saying the same thing. They talk about how Vanessa said we need to get out the other Clelli. Shelli says that's so perfect. She was perfectly happy with everyone voting me out. Shelli tells James she will not put him up and if they vote to keep her they will have her loyalty. Shelli reiterates her reasons to keep all over again to James. Shelli leaves.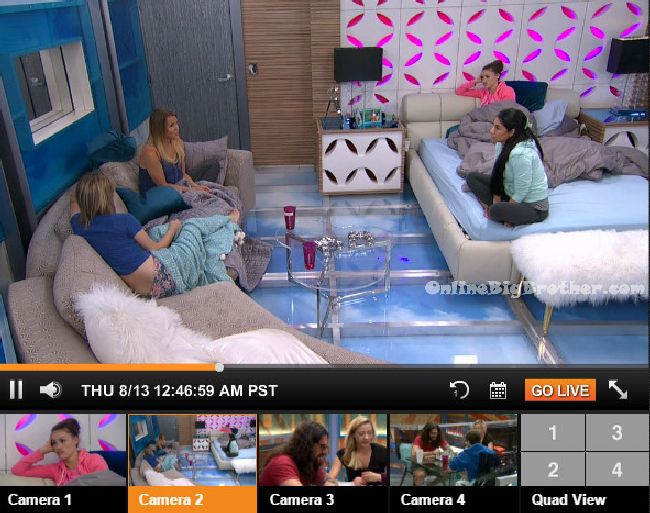 1:20am HOH room – Becky, James and Jackie talk about the choice between Shelli and Vanessa. Becky says if we keep her Shelli she won't put us up but Vanessa will. Jackie asks if I win what do I do? Becky says if you win and we keep Shelli what do I do .. put her up? Becky says yeah. She is either 100% out this week or she has a chance of staying in the game. James asks so we keep her for one more week and then send her home. Jackie says that's what we're doing for either of them. Becky says we are far more likely to be taken out by Vanessa during double eviction. Jackie says if we did keep Shelli she could take out Austin then we take on the twins. Becky leaves. James asks Jackie what do you think? Jackie says I want Vanessa out so bad but I am honestly okay with either. But Vanessa is tied in with Austin and the twins and will manipulate them. Either way we have enough people to take her the f**k out come double eviction. James says Shelli is more well rounded to win different comps. If she does stay she could come together with other people. James asks if we didn't win that week would Becky still be on their side? Would she target the rest of us. Jackie says no never. James says change of events week to week. James says if you trust her then I trust her. Jackie says she didn't put us up. And we've all worked with Clay and Shelli at some point. James says I just don't want to play someone else's game who was always with us. Becky joins them again and starts pushing for Shelli to stay again. They continue to talk in circles each saying the same points over and over again. Becky brings up how hard Austin is pushing for Vanessa to stay. There's a reason why the other side is pushing so hard to keep Vanessa. Jackie says if we keep Shelli the other side will go after her. They won't go after Vanessa. James leaves. Becky says that Meg is so adamant about keeping Vanessa. Meg joins them. Jackie says lets just let them both freak out till the last minute so they won't study and be shaken for the HOH comp.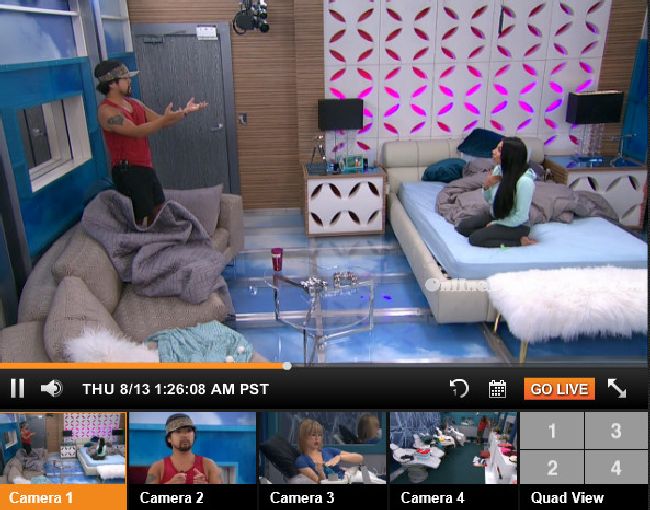 1:20am Havenot room – Austin tells Meg we need to make a group thing. Meg agrees. Everyone's big concern is Vanessa after us and she (Shelli) makes a lot of good points about that. Austin asks like what? Meg says just like in the past. Who she's been going after and .. Austin says she's been swearing up and down that she wants to avenge Clay. So then all of a sudden she just changed her mind. Meg says I know. Austin says I know for a fact that Vanessa will go after Becky. Shelli was angry as f**k about James having Clay's shirt. She hates him and wants to stay and take him out. I would be shocked for her to stay and take me out. I am pretty sure her, Johnny Mac and Steve have formed something. Austin says I could see either one stay and could figure out a scenario for either one. Meg says we need to win tomorrow.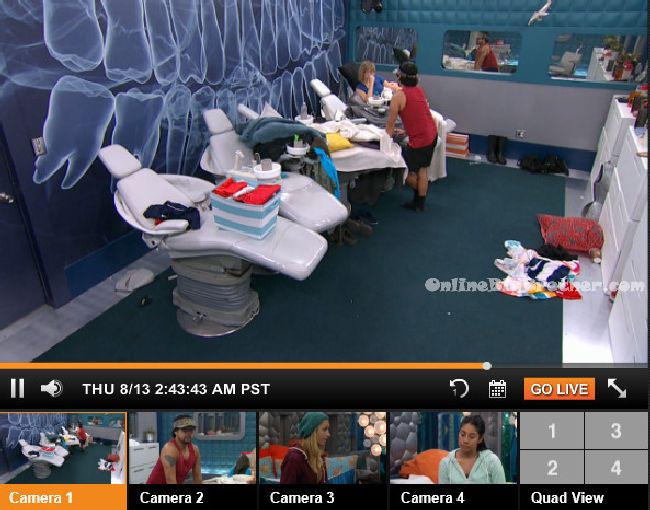 2:40am Havenot room – Meg and James are talking. James says we just have to do what's best for our game. What Becky is trying to do is for her game not ours. Meg says when all of a sudden did our game become our game. I didn't sign up to work with her! James says I didn't either. She wasn't there for none of the sh*t we went through she was part of it. Meg says I know. James says I mean damn. The Generals and Sh*t. Meg says Austin is becoming too nosey right now. James says we're working with him. Meg says yeah but what are we going to say its all the same old sh*t. James agrees. Meg and James start studying.

2:40am Bathroom –
Vanessa talks to Jackie. Vanessa shakes Jackie's hand tells her they are good. My integrity is everything. Shelli and I know so much about each other's games and haven't blown each other up. Vanessa says if I win HOH I am open to doing what you guys want. I would even do Steve and Austin if you want. I am not coming for you. Jackie says eventually we all have to come after each other.
3:15am Kitchen –
James tells Steve I think it pretty much came down to who would win the competition if they stayed. And we're thinking maybe Shelli would be better at the comp. Steve says okay. That's probably where our votes are going to go. Steve asks to keep? James says to get Shelli out. Steve says okay. James says I was just letting you know. Steve asks do you think Shelli would be better a the comp than Vanessa. James says 50 /50. Steve asks is this decision made? James says pretty much. Steve asks so you are promising me that you, Jackie and Meg are voting to evict Shelli tomorrow? James says yes that's my promise. Steve asks so you're not asking me for my opinion you are telling me. James says yes, so you can make yours. Sorry it took so long. James heads to the havenot room.
Watch the NEXT WEEK of the Live Feeds for FREE! Click here for your: 1 Week Trial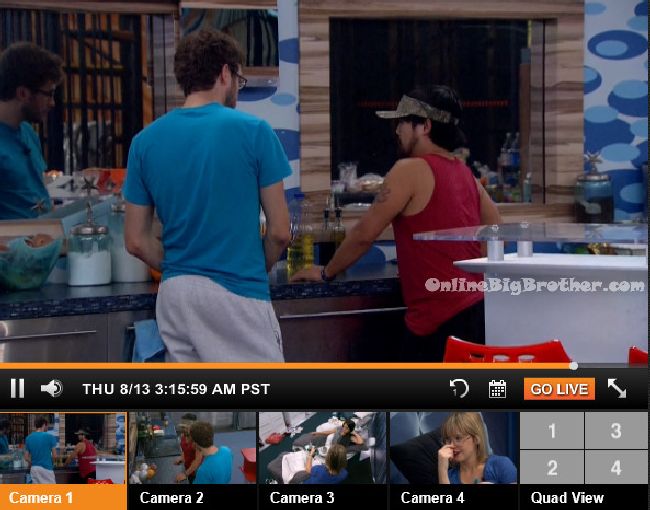 3am – 3:40am Havenot room – Jackie, James and Meg are talking. Jackie comments how she believes Steve will win the first HOH during the double eviction. She says he's really good at the video questions. James says that's scary we haven't seen him in power. Jackie says it will only be for five minutes. He is going to put up Austin. I asks if he would put up Vanessa and he said he needed to know what was going on. I think he would put up Vanessa and Austin .. then we just vote her out. Meg says Shelli isn't selling us the right deal we want to beat Austin and the twins in the end. Meg says Becky hasn't been working with us the whole time she knows she's next to go. Meg says she knows what she is doing (voting out Shelli). For us to keep Shelli it really benefits Becky's game. James comments on how he was wearing the sh*t out of the Clay sweatshirt. They agree they're going to vote out Shelli. And for double eviction Jackie says we all agree we put up Vanessa and Johnny Mac and then backdoor Steve if we have to.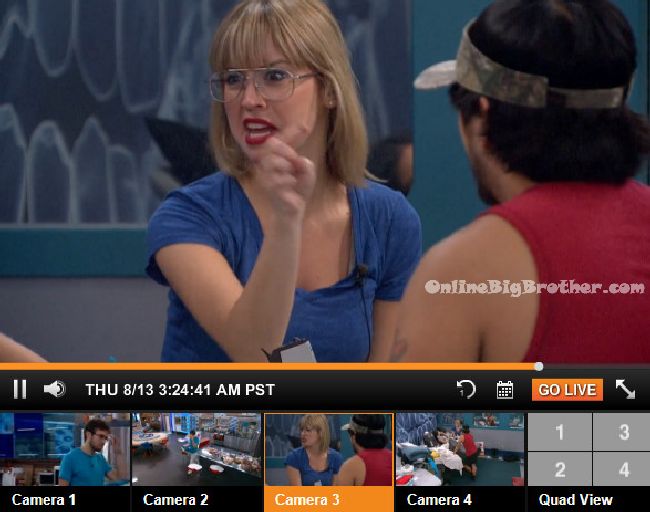 3:45am – 4:30am Cabana room –
Steve and Meg study the video clips. Steve knows the clips inside and out. James joins them. James tells Meg that he told Steve how the vote is going. Meg says yeah we already talked about it. Steve asks is it a secret for both of the votes? Meg brings up how crazy last Thursday was and how its better to keep it quite. There could be a lot of drama tomorrow. James and Meg head back to the havenot room. Meg tells James and Jackie the moral of the story is that when you're HOH you treat everyone like they're staying. Jackie says why would Becky not talk to her .. she is going to jury and is going to vote.
ALLIANCES:
Goblins/Gremlins = Jackie, James and Meg
Generals = anyone allied with Becky
SOS = Steve and Vaenssa
Rockstars = Steve and Jmac
? = Becky, Shelli, Jmac, Steve
Freaks n Geeks = Austin, Twins, Steve, Vanessa
AUS-Twins = Austin, Julia and Liz
"Brass Tacks"  Gobins and Austwins
[polldaddy poll=9015303]