POV Holder:
Steve
POV Competition
Aug 8th
POV Used
Yes
POV Ceremony
Aug 10th
HOH
Becky
Next HOH
Aug 13th
Original Nominations:
Shelli and Steve
After POV Nominations:
Shelli and Vanessa
Have Nots
Meg, James and Jackie
– The live feeds are going to be crazy leading up to Thursday's Eviction –
Watch the next week for FREE with the 7 day Trial!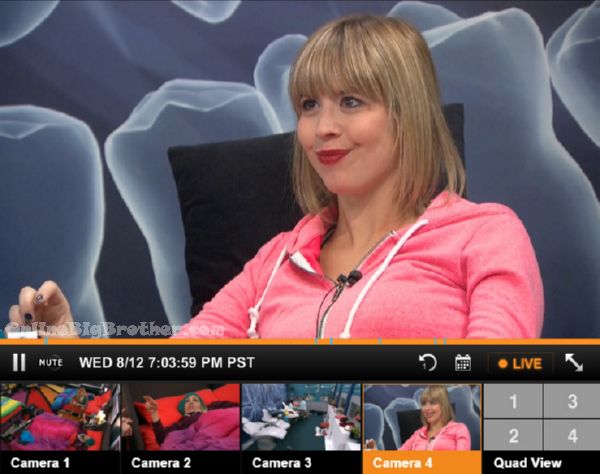 7:03pm Goblins forming up their circle to study
The last hour they got to see video clips which will be for a competition tomorrow. Tomorrow is double eviction. They are going to play a HOH, POV during the show then another HOH later that night.
Becky joins them starts in on getting Vanessa out. The goblins decide to Study all night but first they're going to get something to eat.
Becky suggests they have some drinks (Don't think they mean alcohol the goblins run a tight ship)
7:03pm Comic room Julia, Austin and Vanessa
Drilling
Johnnymac gets called into the Diary room. Again they say, Austin flips out (See gif below)
Vanessa goes over the videos .
Austin suggests he starts studying with the other side to gather video clip information they don't know. He won't really tell them anything they all think he's dumb at this.
Liz joins them. They continue to drill.
Jmac joins them puts the bandana over his eyes lays in bed.
The twins and Vanessa stop studying just chit chating. Its not until they leave jmac alone.
7:29pm Vanessa and Shelli studying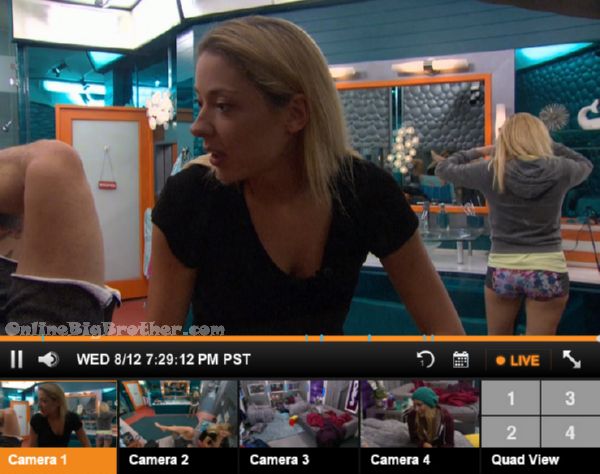 7:25pm Twins and Austin
Studying the video clips.
Liz – Austin I feel like you're going to suck at this again
Austin – it doesn't matter nobody will beat steve.. He's a computer, he has the pictures in his head he can see them whenever
Liz – I think I can
Austin – you want to
Liz – ya
Austin – I don't know if that's best
Liz – I'm going to give it my all
Austin – I am too, the only person i'm worried about is JOhnny mac but you know what this isn't his comp.. it's not his comp
(Might be the POV)
7:41pm Outfits for tomorrow
Julia- that's super CUUUUUUUUUUUUUUte
7:56pm Jackie and vanessa
Vanessa says her word is good. Tries to claim she won't be good at this competition.
jackie says if the vote is a tie Becky will vote her out.
Jackie – we're looking at the longer aspect of the game right
Vanessa says she respect their decision 100% either way
Jackie – there's always a chance to come back into the game.. I know I'm sorry it sucks
8:23pm Bedroom Vanessa and Jmac
Vanessa says the 8 person alliance she was the last person pulled into the room. She adds the deal was for them to get through double eviction, Shelli, John and Steve were going to be the nominations, "That was the deal"
Vanessa says she couldn't have won that HOH the slip slide one but if she could she would have thrown it because she was not capable of honouring the 8 person deal.
Vanesa – in no shape or form was I personally targeting you
Vanessa tells him he's the last person in the world for her to be worried about. She says that one argument they had was clay's fault he pulled them into that.
Vanessa tells him she's not a bullshitter she's going to tell him straight up Becky is her target.
Vanessa adds she's not coming after Johnnymac
Vanessa – I'm in the worst spot ever, If I stay i'm most likely going on the block with Steve if Shelli Stays you're the most likely to go up with Steve.
Vanessa- you understand that
Jmac- yes
Vanessa – you know how you are going to vote or are you going to think about it
Jmac – I'll think about it
Vanessa warns him about Becky tell him she's flip flopped twice now. "Two weeks ago she told me and Shelli she trusts us most in the game"
Vanessa – having her in the game is not good for anyone, she was trying to play all side it's hard for me to respect
Vanessa asks him who he is worried about going home against
Jmac – Steve
Vanessa says people are really sketched out with Steve, "You're actually in the best spot man"
Vanessa- you look so down you down
Jmac – I feel down
Vanessa – you are a happy go lucky guy
Jmac – it's been a rough week
(Jmac just umm hmmm through this conversation it's quite funny)