POV Holder:
?
POV Competition
Aug 8th
POV Used
?
POV Ceremony
Aug 10th
HOH
Becky
Next HOH
Aug 13th
Original Nominations:
Shelli and Steve
After POV Nominations:
? and ?
Have Nots
Meg, James and Jackie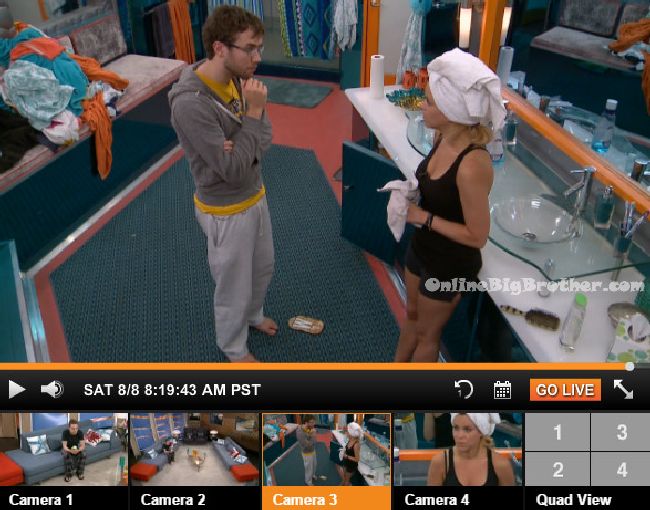 Watch the NEXT WEEK of the Live Feeds for FREE! Click here for your: 1 Week Trial

8:20am Big Brother wakes up the house guests. Steve talks to Shelli in the bathroom. Shelli asks did you talk to Vanessa at all? Steve says she told me she would save me… but she also told you she would save you. If I picked her she would save me. If you picked her she would save you. Shelli says she told me you told her you would pick Johnny Mac. Steve says I did not tell her that. Shelli asks you didn't? Steve says I don't think so… I told her I didn't know. Steve says its just weird because she's saying she will save me and Johnny Mac is admitting he won't. Shelli says I think she just wanted you to pick whoever you wanted. Steve says I just didn't want to pick her, she wins it and Johnny Mac goes up. But I don't think she would put Johnny Mac up. Shelli says I don't think Becky would either. Who do you think she would put up? Steve says Austin or Liz. Shelli says that's what I was thinking. Steve says maybe I should pick Vanessa, I really think Johnny Mac is safe. Shelli says I can't imagine Becky putting him up. Steve says everyone know they're loyal to each other, everyone! She would be pulling a James. Shelli says yes, she wouldn't do that. Does John really think that she would. Steve says I think he is just nervous because of that meeting that wend down. Shelli says I think we're on the same page I don't know what else there is to say. They hug. Steve says I hope you lose. Shelli says right back at you.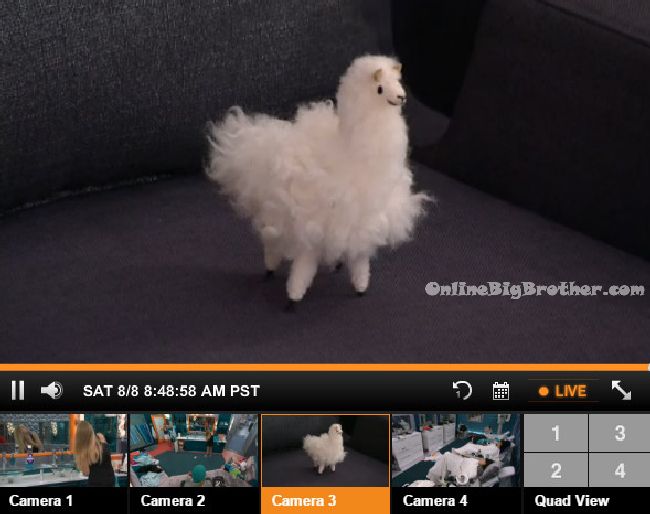 8:30am Cabana room – Vanessa talks to Steve and tells him she thought it through and would like him to pick her for house guest choice. I will gun for it because I am scared of being backdoored and I will take you down. And I will swear on my mothers life. Steve says okay. Vanessa says if you get the chance to pick me. I realize its complicated and that there are only 4 people she can put up. If Johnny gets picked and wins, I am 100% going up. Steve asks do you think Johnny would go up if you won it and saved me? Vanessa says yes, but he's not going home. Steve says Shelli would. Vanessa says right but me next to her its not as clear. Steve asks do you think Becky will put Johnny up? Vanessa says there's no choice she's not going to do Austin and the twins. She already made a deal. Steve asks she did? Vanessa nods. Steve says okay. You're saving me? Vanessa says I swear on my mother. I already told Shelli. Vanessa says also the twins and Austin will pick you over Shelli. We already talked about it. Steve says thanks you.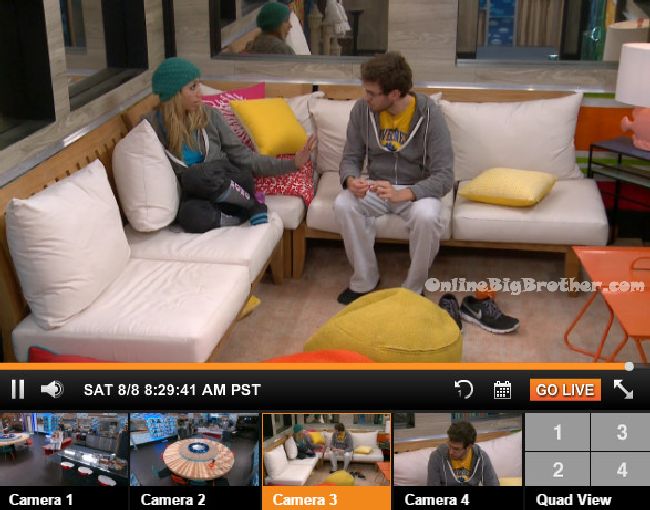 9:20am – 9:55am All the house guests except for Shelli are trying to sleep until its time to pick players for the veto competition. Shelli heads to bed.
10:05am – 10:20am Big Brother calls Becky to the diary room.
10:20am – 10:45am Big Brother blocks the feeds. Time to pick players for the veto comp!!
VETO Players: Becky, Shelli, Steve, Vanessa, Meg, Austin
Host: JOHNNY MAC
*** Shelli picked Vanessa for House Guest Choice!
HOH room – Meg and Becky. Becky says Vanessa winning all these HOH compettions. Meg says but if its counting Steve has a good shot too.
Bathroom – They speculate on what the Veto comp will be and if it will be the counting competition. Austin says its taking them a long time to set up a counting competition. Vanessa says she hopes its a prizes one too. I want to win some prizes. James says Audrey taught me the ways of the force that's I knew Meg was going to get picked for the veto. That's why I made a voodoo doll last night. I know if someone called my name right before they picked me I would think it was rigged.
10:55am Comic bedroom – Steve and Johnny are talking. Johnny says it doesn't look good. Steve says what the f**k! Johnny asks what did Shelli.. Steve says I have no idea! Steve says Johnny you told her (Shelli) you would use it on her. Johnny nods and says you told her too right?! Steve says yeah. I guess if Vanessa wins she will take her off. That's bad! Johnny says yeah. Steve tells Johnny well good luck hosting. Johnny says thanks.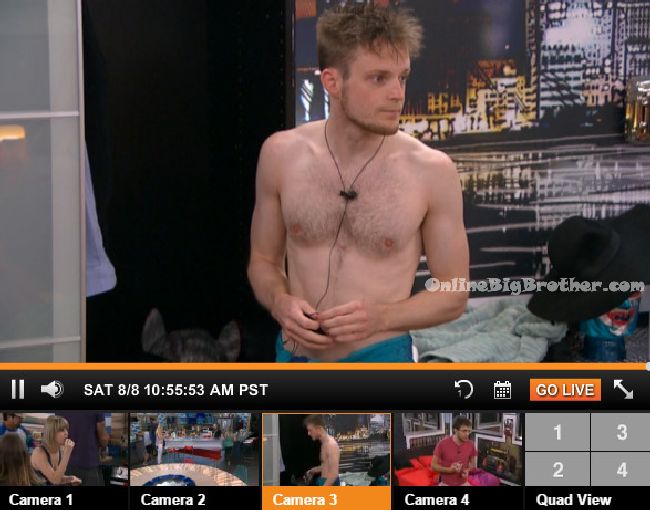 Shelli tells Johnny if I didn't pick her she would be blowing up right now. That's the last chip I wanted to pull. Sorry. Johnny says I understand. I have a backup plan if she wins. Its a gamble but it might pay off.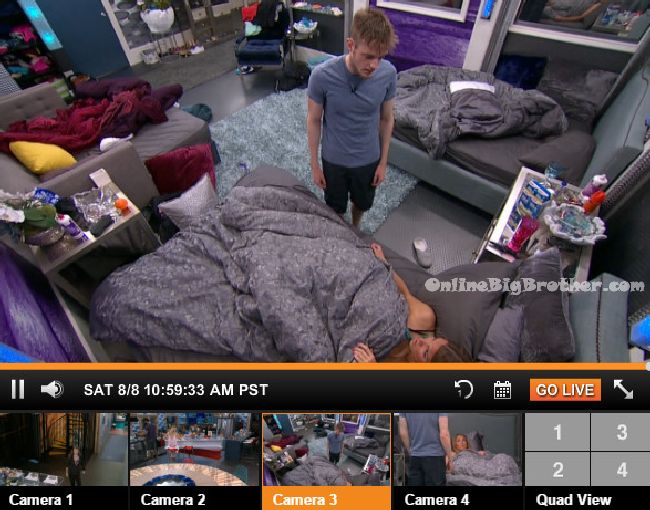 11:10am Steve talks to Shelli. Steve asks what happens if Vanessa wins it? Johnny tells them they need to win it. As soon as we finished Austin and Vanessa ran into the havenot room. Shelli says she doesn't think Austin will want to win it. Johnny leaves. Steve tells Shelli to fight her a$$ off for the veto.
[polldaddy poll=9015303]