POV Holder:
?
POV Competition
Aug 8th
POV Used
?
POV Ceremony
Aug 10th
HOH
Becky
Next HOH
Aug 13th
Original Nominations:
Shelli and Steve
After POV Nominations:
? and ?
Have Nots
Austin, Liz, Julia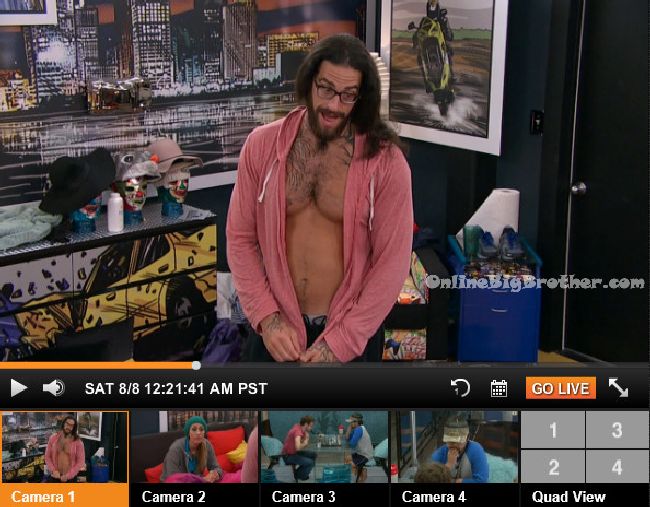 Watch the NEXT WEEK of the Live Feeds for FREE! Click here for your: 1 Week Trial
12:10am – 12:40am Bathroom –
Vanessa asks Austin if Steve gets House Guests choice pick in the veto competition. Austin says she should do something random like picking Meg. Vanessa asks so she shouldn't pick Johnny Mac? Austin says don't do that. Vanessa asks wouldn't Johnny Mac keep noms the same? Austin says he might do something crazy like take Shelli down for Clay .. who knows!? Tell Steve to pick Meg. Austin and Vanessa finish up in the bathroom and head to the comic bedroom. Vanessa tells Austin that we can keep her (Shelli) if Johnny Mac goes up. If Steve comes down. Austin asks do you think she would put him (Johnny Mac) up? Vanessa says sure. Why not. Even if I went up, I know I'm safe. Austin says but she wouldn't do that or she better not do that! Aust says I just don't want Johnny Mac to get picked to play and then win and pull Shelli down. Then we're really f**ked!! Vanessa says then I go next to Steve. Austin says if has to be like if they put you up they're crossing the line and we're all coming after them. And they do not want to do that, they do not want to do that. Not with Double Eviction and it being anyones game. They want it to be a safe double eviction. Vanessa says talking strategy with them is like talking to a brick wall. Austin says he might try talking to Meg. Vanessa says she's good. Vanessa says that Shelli said she would pick me. If I win it, I could take Shelli down and they would have to put up Johnny Mac. Liz joins them. Vanessa talks about how Becky wouldn't make a deal with her but she did with them. Austin says maybe you are her backup plan ..then we just keep the noms the same? Vanessa says unless I win it. Becky is so two faced. She's a flip flopper. She's queen floater of the year. Vanessa says if it doesn't happen I need you guys to go up there an tell her to stick to the plan or you're not keeping her safe for double eviction. Johnny mac joins them and the conversation ends.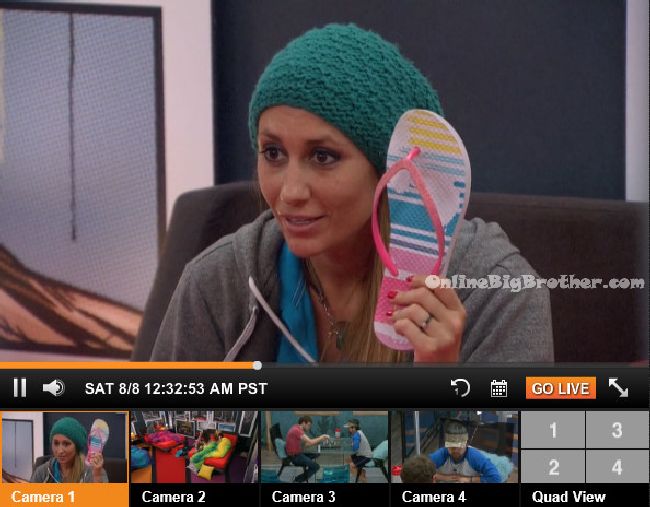 12:30am – 1am
James and Steve are playing Chess. When they finish their game they head back down to the living room. Becky talks about how her friend was driving and a bat flew in the window and hit her in the face. Julia says you have the craziest stories. Everyone thought you meant a baseball bat. Jackie says a bat and a train holy Jesus!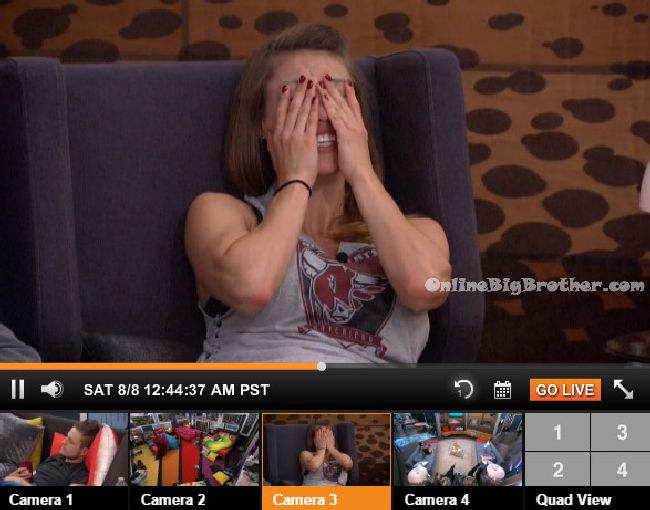 12:50am Bedroom –
Shelli asks Johnny Mac did Becky tell you what the plan is? Johnny says I don't know. Shelli says no one told you, yeah I have no idea either. (Lie – Shelli knows what the plan is) Johnny Mac says we're in trouble. As far as anyone knows its you, me and Steve fighting for our lives. Shelli asks because she thinks you're the one to be backdoored? Johnny says no. Shelli asks why would it be us 3 that are scared? Johnny says I think thats what we want her to think but I think she thinks something is up. Shelli asks why? Has she said anything? Johnny says she's good. She said she wants to come to me with information later. Shelli says she told me that too. Johnny says I think you, me and Steve need to act like we're alone to every single person in here. Shelli asks if I get house guest choice what am I supposed to do? Am I supposed to pick her (Vanessa)? Johnny says no. Shelli says people think I am close to her and she would think something is up if I didn't pick her. Johnny tells Shelli that Vanessa was part of an eight person alliance that is supposed to take out the remaining Shelli/Clay and Me. Johnny says that's how I figured out she has to go. Shelli asks is the plan to really backdoor her (Vanessa). Johnny says I think so. I want to win it. SHelli asks so do I pick you if I get house guest choice? Johnny says yeah. We're either in a lot of trouble or we're not. Shelli asks why do you think you're in a lot of trouble? Johnny says because of her (Vanessa). Shelli asks if you win will you use it on me? Johnny says I will use it on you.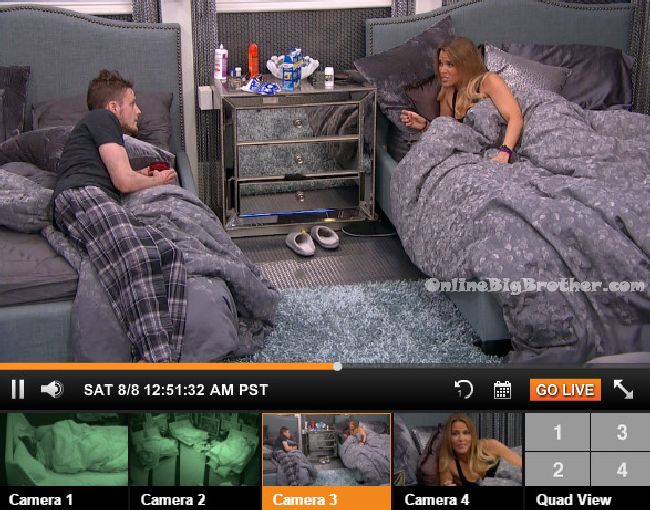 1:10pm Cabana room –
Johnny tells Steve if you get house guest choice tomorrow you have to pick me. Steve asks I saw you whispering with Shelli, is this what you were talking about? Johnny says yes. Steve asks so if you win it you'll use it on me? Johnny says no I have to use it on Shelli. You have to be okay with that. Steve says okay. Johnny asks is that alright? Steve says I don't know. Steve says tell me what's up? Johnny says last week you and I were in here and Shelli & Clay were outside, you were worried and Vanessa said nothing was going on. The next morning Vanessa, Clay and Shelli were in the bathroom talking and I came in. Shelli & Clay included me in on the conversation but Vanessa didn't want me to be a part of it. Vanessa was telling them there was a meeting with Vanessa & seven other people in the HOH room the night before. Vanessa told us the night something happened that nothing happened. There was a meeting of 8 people upstairs and the plan for those 8 people which is everyone but you, me Shelli & Clay. Steve asks am I the target? Johnny says no. Steve asks is Shelli? Johnny says I think so. I trust Shelli. Steve asks do you not trust Becky? Johnny says no. Steve and Johnny break up their conversation.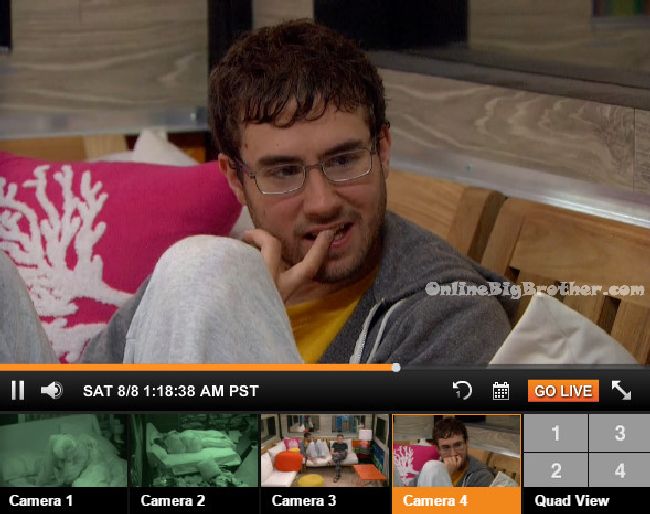 1:25am – 1:45am Vanessa tells Shelli that Steve told her he is going to pick Johnny Mac (HG Choice if he gets it). If he wins and takes Steve down I go up next to you. If I tell him to pick me .. I would have to tell him if I win it I would use it on him. But if I did Johnny Mac would go up next to you. And you would 100% stay. Shelli says I wouldn't! Vanessa asks what do you mean? Shelli says VANESSA?! Vanessa says Me, Steve, Austin, Twins (votes for Shelli to stay). You have the votes 100% you're staying. Shelli asks who the twins and Austin are with. Vanessa says they listen to me. Shelli asks is our alliance kaput? Vanessa says with us but they're just trying to get by till we're in power again. You would be 1000% safe. Shelli asks do you think that's why Austin didn't try to win? Vanessa says because I think he felt safe. They talk about a juror returning. Vanessa heads to bed. Julia tells Vanessa about how she keeps seeing Johnny Mac talking to Steve. She says that Johnny Mac also got called to the diary room 12 million times. Austin says that Steve won't betray us. Julia says Johnny Mac never stays up this late. Julia says Johnny Mac is scampering so much. Something is up! He's been called 5 or 6 times to the DR today. Vanessa says no 12 times. Julia leaves. Vanessa tells Austin you're bit*hes are freaking out! Liz laughs.
1:35am – 2:40am
Steve and Johnny talk again in the bathroom. Johnny says the number one rule this week is we can't know what is going on. If someone finds out I go home. I'm someones target. Steve asks who? Johnny says Vanessa. What it has to be is you, Shelli and I have to feel like the outsiders and that one of us is going home. Steve asks if Vanessa is the target. Johnny says we don't know who the target is. Lets just assume if its not you, its me and if it not me its Shelli. One of the three of us are the targets. Johnny says those 8 people have a pact to come after us 3. They're on to Vanessa too and will send her home but if Vanessa finds out you and I have information she is going home she will call out me and Becky. Becky will be forced into a spot to send one of us home or she will throw up one of the other 3. Johnny says the best thing for us to do is to feel left out. Steve says Vanessa told me if I get HG choice I should pick her. Johnny asks how many of the greyed out faces had a fight with Vanessa? Jeff, DaVonne, Audrey, Jason and Clay. Johnny says 5 of the 6. And she started a fight with me yesterday. Steve asks so if Vanessa goes up she goes home. Johnny says yes. We have to win this veto tomorrow out of self preservation. We just have to pick a side. Either you stick with us or you go with Vanessa and I'm coming after Vanessa. Johnny says its either Vanessa or me going home. Steve says he saw Vanessa talking to Shelli. Johnny says she was asking Shelli to pick her if she gets HG choice. Steve says wow this is war! Steve asks is Shelli an honorary RockStar? Johnny says no. Steve asks then why the f**k are you saving her?! Johnny says no because do you want people to be in on the RockStar? .. because she is a big target and Vanessa could take it out on any of us. Steve asks do you trust the goblins more than than Austin. Johnny says no, I don't trust any of them. I do trust them to help with this. Once we get Vanessa in that chair she is done. Johnny says all hell is going to break loose. Who ever is up there you or Shelli. You just lay down and let her dig her grave. Johnny says Vanessa can't win the veto, Austin / Twins can't win .. anyone else is fine to win the veto. Johnny says I want the blood on my hands but I will throw it to one of you. I can't make it look like it though or people will wonder why I feel so safe. Johnny says I will have to tell Becky I told you and Shelli all of this. Steve asks why? Johnny says because I like working with her. Steve asks why does she ever have to know. Johnny says because honesty is the best policy. Johnny says we're at a point where I have Vanessa in a choke hold and she has me in a choke hold. One of us is going to win and I don't know who. Steve talks about needing to talk to Shelli. Johnny tells him to wait till tomorrow. They hug and Johnny goes to bed.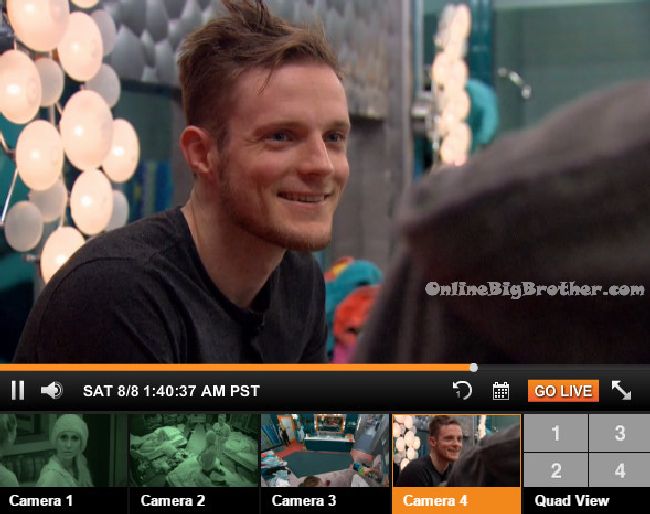 2:40am – 2:50amSteve heads into the cabana room and starts crying. He asks do I tell John about the Freaks & Geeks? Steve says this is embarrassing because I know the cameras are on me right now. Do I tell John about the Freaks & Geeks? Do I tell John about the SOS? Its what Vanessa told me. This way I can pick John and me and Vanessa are on the block for eviction. Mom I need you right now! I need you right now MOM! Its the first time in 52 days. ..no its not but I need you right now. I need to decide if I'm winning it and if I get house guests choice? I am picking John if I get house guest choice. I'm throwing it. I'm sorry I'm throwing it! Its done! Which means I am on the block eviction night. Steve gets up and heads to the diary room and then comes out and goes to bed.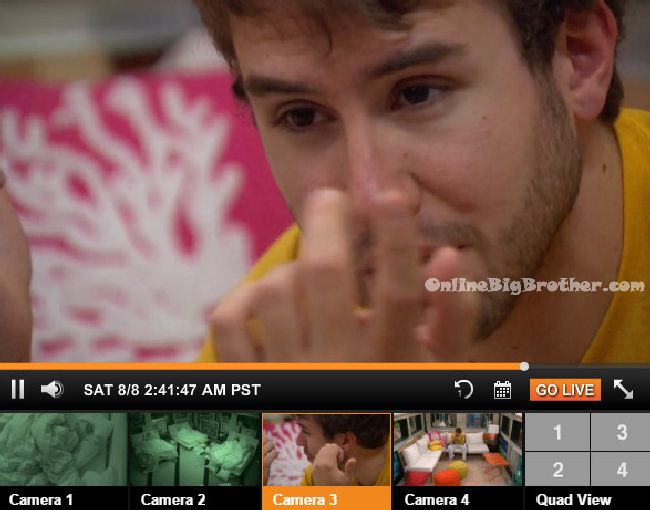 "Do I tell John about the Freaks & Geeks? SOS?" "I'm picking John for HG Choice" "I'm throwing it (Veto)" #bb17 pic.twitter.com/0hM4i2XeBr

— Dawg (@DawgsBigBrother) August 8, 2015

3:30am All the house guests are sleeping..
[polldaddy poll=9015303]