POV Holder:
?
POV Competition
Aug 29th
POV Used
?
POV Ceremony
Aug 31st
HOH
Vanessa
Next HOH
Sept 3rd
Original Nominations:
Meg and James
After POV Nominations:
?and ?
Have Nots
Johnny Mac, Julia, James, Meg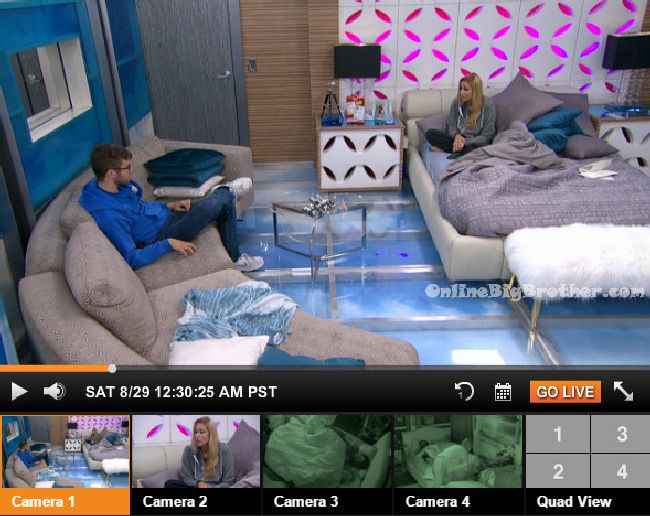 Watch the last month of the feeds for ONLY $5.99! Try it 1 week for FREE!

12:30am – 12:42pm HOH room – Steve says I am pretty sure every scenario we have the veto is advantageous. Vanessa pauses for a while and then says MMMMMHHhhmm. I just realized something. She pauses again and then says you might have information I need. Steve says Okay, how can I help? Vanessa says but I might not need it and I don't want to put you in the position of asking you for it unless I need it. So remind me of this question if either you or I win the veto. Steve says this week, Okay! Vanessa says just ask me what is that question you need to ask me to remind you of what you might need? Steve says you don't… Vanessa says don't guess mister impatience. You have no patience. Steve says not much. Steve says I would love to win HOH next week. Vanessa asks because you're scared? Steve says yes just safety in general because everything gets so dicey. Steve says lets win veto. I'll be totally honest I was kind of trying to play for America's Favourite with that speech. Vanessa says do you think that stuff works? Steve says no idea. Vanessa says can't hurt. Steve says I am a cute and adorable kid in this cast. I am sick and tired of people in real life telling me they will tell me when I get older .. for people that are younger than me. Vanessa asks Steve if Meg and James have talked to him at all? Very little at all. Vanessa asks what about outside? Steve says that's when Meg told me she felt played. So I told her I didn't know if I was supposed to come talk to her or leave her alone. I can't tell because I don't have the people skill to tell. Vanessa asks so she didn't elaborate? She just said feels played period. Steve says yes. Vanessa asks do you think she got played? Out played? Steve says out played yes. Her and James should never have offered the information on you. Just like last night they told me they would go after 2 of Austin and the twins. Vanessa tells Steve we have to win HOH once we get down to final 5. If we don't one of us will go home. They feel the same way or one of them go home. Essentially its you and me against Austin and Liz. I have a feeling Austin hasn't been trying his hardest, if he hasn't been then they have the edge. If he has then we're even. Vanessa asks how Steve feels about the 5. Steve says numbers.. 2 vs 3. Vanessa asks but the final 6 with Johnny you like? Steve says better. Steve leaves.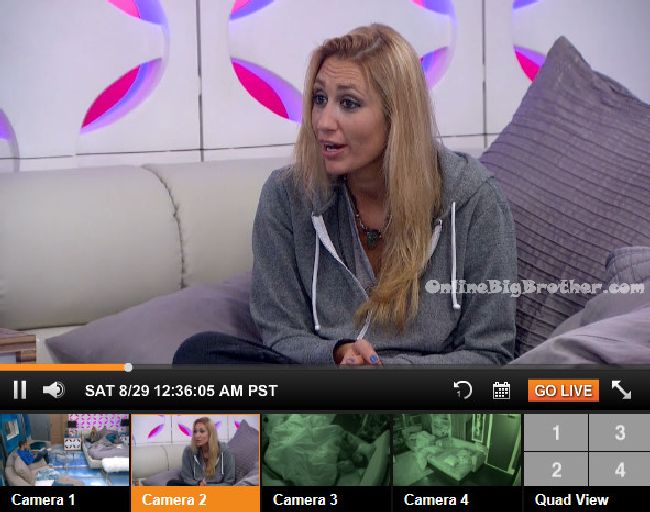 12:45am – 1:20am Bathroom – Julia tells Vanessa that James has 2 different personalities. He has one where it is hyper 20 year old guy and then its the mature 30 year old man. Today he was the 30 year old man. Isn't that weird? He knows he f**ked himself saying what he said. Vanessa says and he knows I have good credibility and he knows I'm telling the truth. Julia says they are probably going to want to be in a room with you and say it didn't happen. Vanessa says if you, Austin or Liz would like to verify it we can pull people in a room and I would be more than happy to and I will quickly checkmate them! Julia says no we believe you. I am just pissed I have to go in the room with them. I feel like John is kind of on their side now. He's been spending a lot of time with them. Vanessa says interesting but if James wins the veto then he would go up. Julia comments on how Meg lied for James. She asks how do you tell when someone is lying. Vanessa talks about the signs she looks for to tell if someone is lying. Vanessa talks about how she was 1 semester away from getting her law degree. I knew I didn't want to be a lawyer so I stopped. Vanessa asks so Johnny is starting to pull more towards them? Julia says she thinks he is pulling more towards them. Vanessa says I bet they would pick Johnny Mac for house guest choice and he would take James off. Who would I put up? Julia says oh f**k. Vanessa says I would have to put up Steve. Steve joins them. Liz joins them and Vanessa leaves. They head out of the bathroom. Julia tries to scare Austin but fails.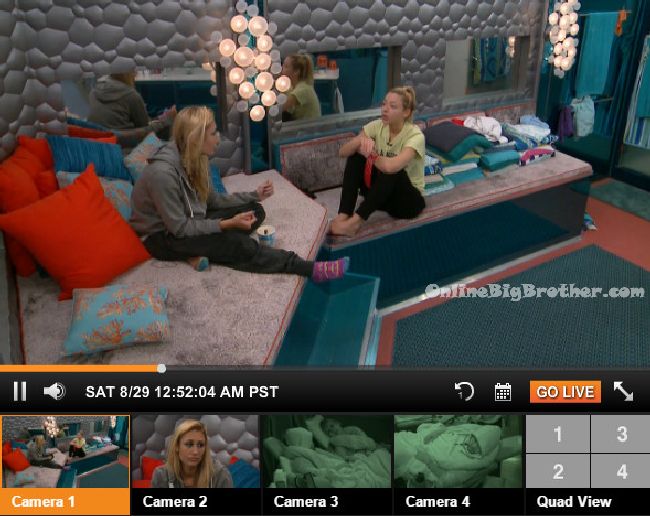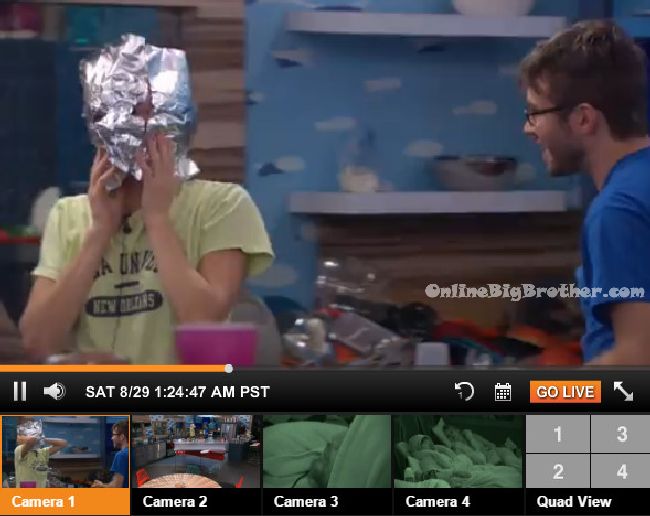 1:20am – 1:30am Julia makes a tin foil mask to scare Austin. She then gets Steve to put a blanket over her head and then goes to scare Austin. Liz screams. Austin yells oh sH*t! Tomorrow is the f**king veto! Seriously!! God! Respect. Steve says sorry, he's right. I'll go to bed. Liz says its not you Steve it's Julia. Austin says what the hell is she going to do .. she is going to break someone's leg and then be out of the game.
JUJU with a Tin Foil Mask and an "@OddreyM blanket" scare Liztin @bigbspoilers #bb17 pic.twitter.com/zfsdk3lwwb

— Dawg (@DawgsBigBrother) August 29, 2015
8:05am Big Brother wakes up the house guests. When the feeds return the house guests go back to sleeping. At 9:30am Big Brother switches the feeds to the live feed highlights.
9:55am The feeds are still blocked. Its likely time for the picking of the veto players..
Help support all the live feed updates we provide.
Show your support by making a donation. Any amount is greatly appreciated!
ALLIANCES:
"Goblins/Gremlins" = James and Meg
"The Generals" = anyone allied with Becky
"SOS" (Students of Sound) = Steve and Vanessa
Rockstars = Steve and Jmac
AUS-Twins = Austin, Julia and Liz
"Austin's Angels" = Austin, Liz, Julia, Vanessa
"Brass Tacks" = Gobins and Austwins
The new "Brass Tacks" = Aus-Twins, Meg, James + Vanessa
"Freaks and Geeks" "The Scamper Squad" = Aus-Twins, Vanessa, Steve
"The new Freaks and Geeks minus Vanessa" = Austin, Liz, Julia, Steve, Johnny Mac
"The Authority" = Austin, Liz, Julia, Steve
[polldaddy poll=9046808]