POV Holder:
?
POV Competition
Aug 29th
POV Used
?
POV Ceremony
Aug 31st
HOH
Vanessa
Next HOH
Sept 3rd
Original Nominations:
Meg and James
After POV Nominations:
?and ?
Have Nots
Johnny Mac, Julia, James, Meg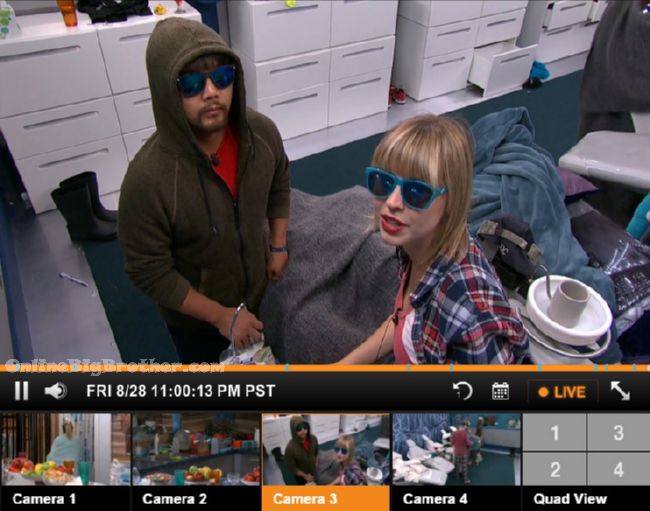 9:56pm – 11:43pmGoblins in the have nots
Meg suggesting he go and talk to Austin about what was said to Vanessa. James doesn't want to thinks it'll go back to Vanessa and become something. Meg still thinks he should.
Meg says Vanessa is coming up with things way back in the past
James – She thinks everyone is scheming in the game
Meg – I know
James – but really she's the only one that's scheming And she plays the victim every time
meg – every time
james- she plays I have nobody and dda dda dda
meg – Yeah I wonder hwy .. we were even offering her our hand last night
Meg – Saying we're not coming after her
James knows he shot himself in the vote when he went up to Vanessa last night.
Meg says that they twisted what he said.
James – every time Vanessa wins HOH she's targets me
Meg – they've been coming after us since Da
James – from week 1 we've been targeted
Meg – we've lost all of our peeps
James – if I have that veto.. I'm going to scare the shit out of them.. I'm going to run around going crazy.. oh you're all fu*ked up now.. just doing crazy shit..
James- you better hope I don't win HOH next week… Ohh you better hope.. Vanessa you can't play HOH next week OHHH YAA
Meg is pissed that Vanessa twisted their words
JAmes – Don't sweat the small stuff, Don't worry every dog has their day .. if she's doing dirty work she'll see it coming
Meg – I'm going to confront her on it.. just warning you
James – we don't know if we're going home.. If I win Veto they have to put up Steve or Johnnymac
Meg thinks they might put up Austin. James doesn't think she will the house could flip.
James tells her for Houseguests choice pick weak players. Suggests they pick, Julia. Steve will throw it so pick him. Don't pick Liz. Austin might throw it to.
They agree JOhnny mac will keep the nominations the same.
James is cursing he didn't hold on in the endurance longer.
James – you know on the endurance wall I found my strategy she found her strategy I didn't
James laughs hoping that a coup d'etat falls from the ceiling (This actually happened in BBCAN3 but they're it came out of the floor. It was horrible)
Meg – what have we done in this game I don't get it
James – we're not the cool kids
James – we were f*** when we walked in that front door
Meg – we never trashed talked people
James saying they should have evicted the twins early
James- For real Meg I don't want you to go
James – make it a fabric comp
James – make if a james Meg comp
Meg – Unless we win Veto Nominations will stay the same.
James now suggesting he would use the veto on Meg if he won it.
Meg – Crazy talk
Meg – Vanessa says she's getting sick
James – that's the karma
meg – Whats her beef with me.. she's always had it
Goblins start talking to the camera…
Johnnymac joins them. chit chat ..
[envira-gallery id="131018″]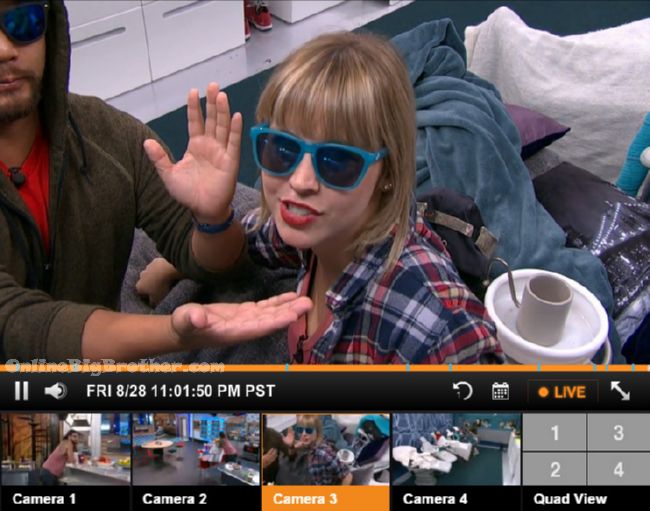 James – look at this face she's ready for dates..
11:20pm Chess
Every move Steve makes he's accused of being sneaky
11:48pm -12:30AM HOH Steve and Vanessa
Vanessa – Meg and James the one thing they said that concerns me Meg said, 'I feel like I'm taking the fall for not being a tattle tale"
Vanessa – What is she insinuating
Steve thinks it involves Becky,.
Steve tells them he feels like James and Meg are being referred to as the friendship alliance like season 6
Steve says America usually hates the alliance that calls themselves the good people.
Vanessa says she doesn't have a preference who gets evicted but she really doesn't want JAmes to win it. It will be harder for her to find someone to go beside Meg to ensure she goes home. JAmes she can find plenty of pawns that work.
Vanessa asks him who the best move is if James wins the veto.
Steve – So Meg goes
Vanessa – what's the best game move at that point
Steve – you might be able to get JAmes to save Meg instead of himself..
Vanessa asks him if she should take a shot if JAmes wins the veto
Steve – take a shot.. who would you take a shot .. there's me, John and Austwins.
Steve asks her is she's still close with Austwins
Vanessa – yeah as much as everyone
Steve I thought we were all going to hang out here
Vanessa says they were tired went to sleep
Vanessa says if they get lucky this week and Meg stays james goes they might want to throw the next HOH
Steve – you trust Austwins will take us to five
Vanessa – I do
Vanessa – they will put them both up Meg and Johnnymac .. and Johnnymac will go home.
Vanessa says she can't turn on Austin and the twins early "I have so much blood on my hands it's retarded"
(Vanessa starts going all over the place with scenarios)
Steve – are you suggesting a final 4 with James
Vanessa – we leave Meg in the game
Steve – she's just going to get dragged
No w Vanessa is saying they should win HOH next week and put up Meg.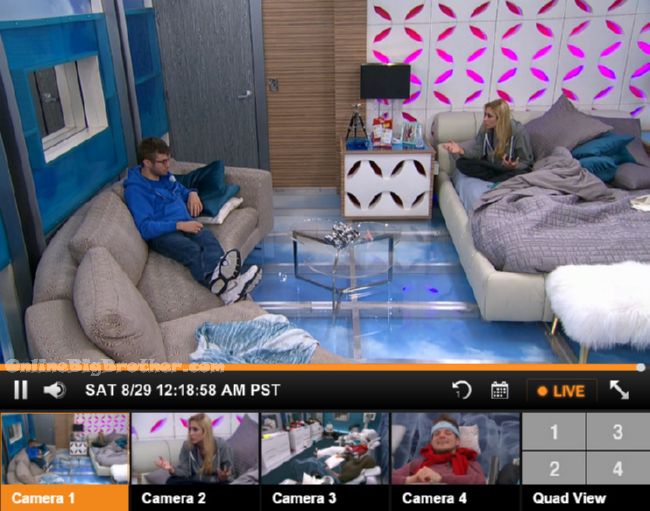 ALLIANCES:
"Goblins/Gremlins" = James and Meg
"The Generals" = anyone allied with Becky
"SOS" (Students of Sound) = Steve and Vanessa
Rockstars = Steve and Jmac
AUS-Twins = Austin, Julia and Liz
"Austin's Angels" = Austin, Liz, Julia, Vanessa
"Brass Tacks" = Gobins and Austwins
The new "Brass Tacks" = Aus-Twins, Meg, James + Vanessa
"Freaks and Geeks" "The Scamper Squad" = Aus-Twins, Vanessa, Steve
"The new Freaks and Geeks minus Vanessa" = Austin, Liz, Julia, Steve, Johnny Mac
"The Authority" = Austin, Liz, Julia, Steve
[polldaddy poll=9046808]