POV Holder:
Vanessa
POV Competition
Aug 22nd
POV Used
No
POV Ceremony
Aug 24th
HOH
Austin
Next HOH
Aug 27th
Original Nominations:
Steve and Jmac
After POV Nominations:
Steve and Jmac
Have Nots
No have nots this week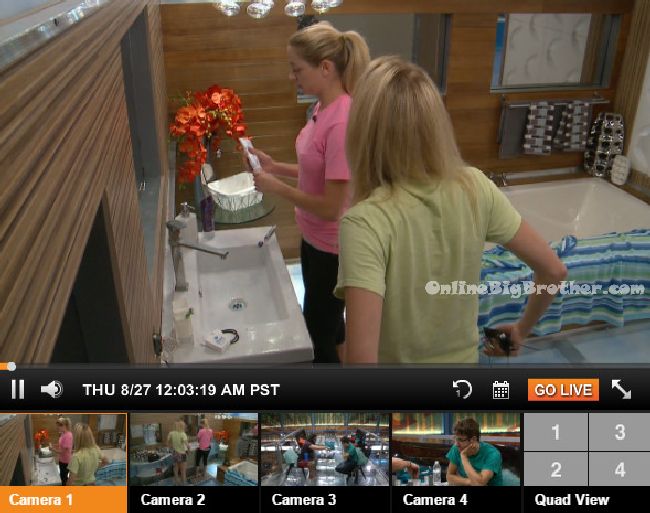 12am HOH room – Liz says he (Austin) his so annoying! Julia says you get too mad, like I feel like he is starting to get annoyed that you always get mad at him. Liz says whatever, get mad at me because I give zero f**Ks!! Julia says get mad and get over it. Liz says he gets so nasty! Did you not see who mean he gets?! Julia says we were being kind of annoying. Liz says no I wasn't, I was picking my nails the whole time. The one time I try to help him (in chess) he yells at me! I haven't tried to help him at all!!! Ughh.. so stupidddddddaaahahahhhhhggghhhh! Julia says I want to know when I was in the shower, what did Meg and James say? Like were they trying to make an argument against Steve? Liz says they are more threatened by Steve but Steve is better for our game so whatever! We said that Johnny Mac has more connections with the jury and… (They hear Austin yelling and go to see what's going on.) Austin says I got him (Steve) in checkmate. Julia says oh what a coincidence you get him in checkmate when we're both gone!! Austin says of course because you were doubting me the whole time! Steve says I think you got me. I got cocky and you got me. Steve says he is heading to bed, its a big day for me tomorrow. Liz says last night up here! Austin says UhHhuh.. this is going to be a tricky week! Liz says I know I'm scared! I was scared last week too so f**k it! Austin says if the wrong person wins it's going to be really tough to make any strategies. Liz says I know. Austin says we'll have to hope for the best.
See what they can't show you on TV Try the live feeds for FREE!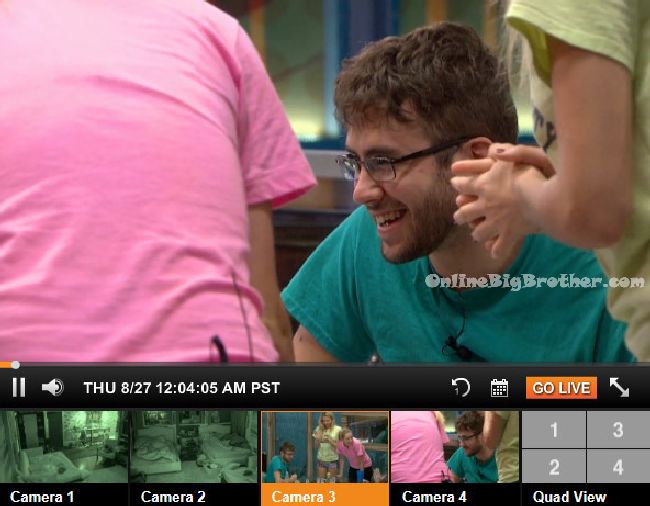 Steve tells Liz we're on a TV show that's on a parking lot. Liz says thank you Steve. That does make me feel a little bit better. Steve says like seriously we're playing a game of monopoly. Liz says that's a great way to look at it, I love monopoly. I love this experience. Steve says my motivation for coming here had zero to do with the money. Liz says right mine neither. Seriously! Steve says my though was hey, this is my shot to do something that not a lot of people get to do. Liz says I know, like I am even considering getting a big brother tattoo after this. Me and Julia want to get a twin thing like a key. Steve says that's a very common thing to do. Liz heads back up stairs.
12:15am – 1:40am HOH bedroom – Austin and Liz head to bed. Austin says that Johnny Mac went rogue and now doesn't even talk to us. Liz says yeah but we kind of made it hard for him to talk to us. Austin says well he kind of makes it hard to talk to him. Liz says I know that's why he should go! So awkward! We've never got along with him in this game. It sucks that its the week before jury because he could very well come back. Austin says I just a little scared for tomorrow. Liz says I know. It just sucks because 2 out of 4 people are coming after me and you I bet! Austin says yup! Liz says Becky and Him (Johnny Mac). Austin says you just have to try an win again. Liz says I want Julia to win. Austin says if its down to you and here, then throw it to her. I would rather have you guys win it then Meg or James. They might throw it, they might feel safe with everyone. Austin says Jackie and Shelli might not be gunning for us. Liz says things have worked out for us in this game too so we can't be too mad. Austin agree and says just relax and let it happen. Austin says just tell Johnny Mac we're making the decision as a group and that Meg and James are all voting the same. Liz says we'll have to tell him because no one likes to be left in the dark with someone coming back. We just have to tell him we need to talk to Meg and James one more time. Austin says maybe Meg will win one. Liz says I hate how we always have to tell them. Like there's no element of surprise any more. Has it always been like that? Austin says they've always pretty much known. Liz says he is just so two faced. He's hated the whole game and now he's dying for her. Like if he comes back he comes back he isn't coming after Vanessa he is coming after us like we're the bad guy. Austin says if you don't win I am probably going home. Liz says don't say that! Why would you say that! Liz starts studying the days events in the house.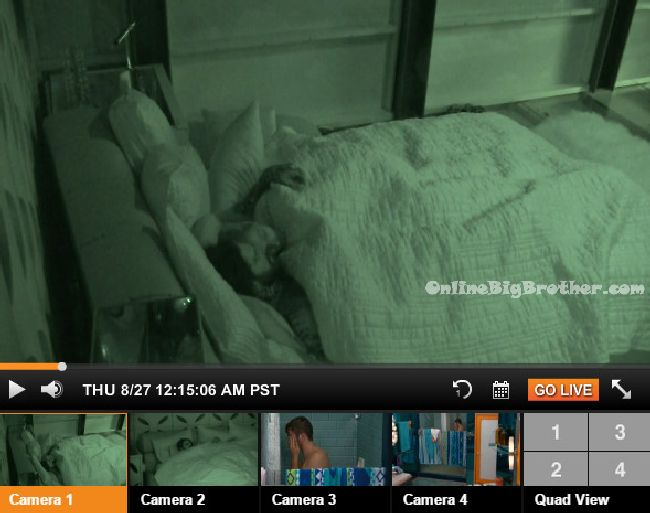 12:35am – 1:50am Steve in the cabana room. Steve is whispering really quietly. First a huge thank you to my family. I don't want to seem fake that's the thing. I have a minute, a whole minute! That is a lot longer than I thought I would have. Looks at the camera and asks are you enjoying me rehearsing my speech. Not rehearing but kind of writing in my head. I want to say the names its what's thrown them. You're making me really uncomfortable that you're following me. Steve practices his speech and then comes back into the cabana room and asks the camera if it wants to hear his speech. They said I have a minute and this is exactly a minute .. I think.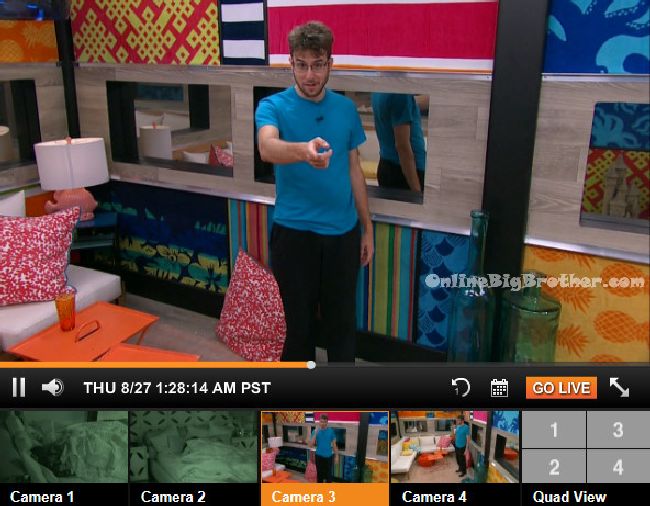 Watch the last month of the feeds for ONLY $5.99! Try it 1 week for FREE!
First off a huge thank you to my friends and family back home! Mon, Dad, + list of other names. Also a huge thank you to whoever helped get me to this point and help make this childhood dream come true. House guests when I walked in that front door 71 days ago I was as Zingbot pointed out a nerdy and socially awkward trombonist that loves his mom! Since then, I've had a lot of really cool experiences.. I've played my first game of spin the bottle, I did my first non-academic al-nighters, I've played my first game of truth or dare, I gave my first kiss in spin the bottle to Meg which is the single most awkward kiss she is ever going to have in her life! I want to thank you for not only being a part of this life long and life changing experience with me but also for being a part of this life changing, life altering experience for me. It has made me feel the most socially confident I have ever felt in my life! I really appreciate your votes tonight but I also understand you have to do what's best for your game and I totally get that. But if I do walk out that door tonight despite all these experiences I am still going to walk out as a nerdy and socially awkward trombonist but now with a really cool new beard, a really cool new hair cut… I'll be a semester behind in my degree but I'll have a life long experience I'll never forget so thank you.
He continues to practice it and changes parts here and there. He then heads to bed.
The kiss Steve is referring to in his speech:
Steve and Meg KISS @bigbspoilers #bb17 pic.twitter.com/NTukpY5jK1

— Dawg (@DawgsBigBrother) August 2, 2015
Help support all the live feed updates we provide.
Show your support by making a donation. Any amount is greatly appreciated!