POV Holder:
?
POV Competition
Aug 29th
POV Used
?
POV Ceremony
Aug 31st
HOH
Vanessa
Next HOH
Sept 3rd
Original Nominations:
Meg and James
After POV Nominations:
?and ?
Have Nots
Johnny Mac, Julia, James, Meg
8:05am
Big Brother wakes up the house guests. When the feeds return the house guests go back to sleeping. At 9:30am Big Brother switches the feeds to the live feed highlights.
VETO PLAYERS: Vanessa, James, Meg, Julia, Austin, Liz
Veto Host: Johnny Mac
– Vanessa got House Guest choice and picked Austin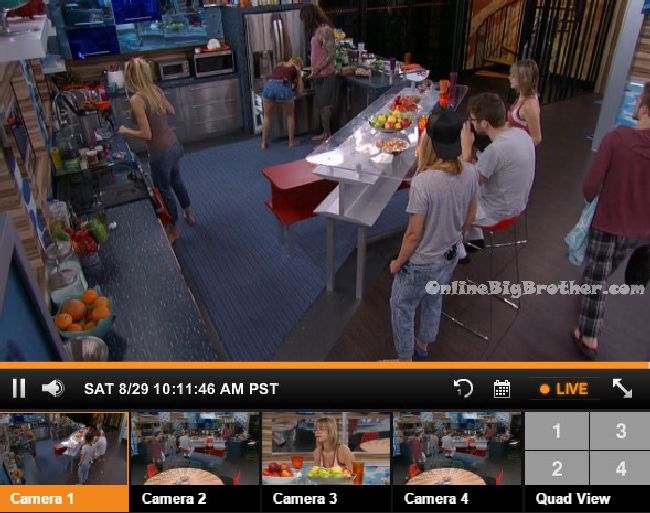 10:10am The feeds return – The power is out in the big brother house. (The fridge, stove, microwave, etc are not working.) Steve tells Meg it was very inconsiderate for you to not pick John. Meg says I know. Meg says she is really nervous about what the veto will be.
In the bathroom – James tells John sorry you don't get to play in this one. Johnny Mac says I know, its only my second one (that he hasn't competed in). John tells Julia this is her first veto! Julia says no its my second! Meg joins them. She apologizes to Julia for being so noisy last night in the havenot room.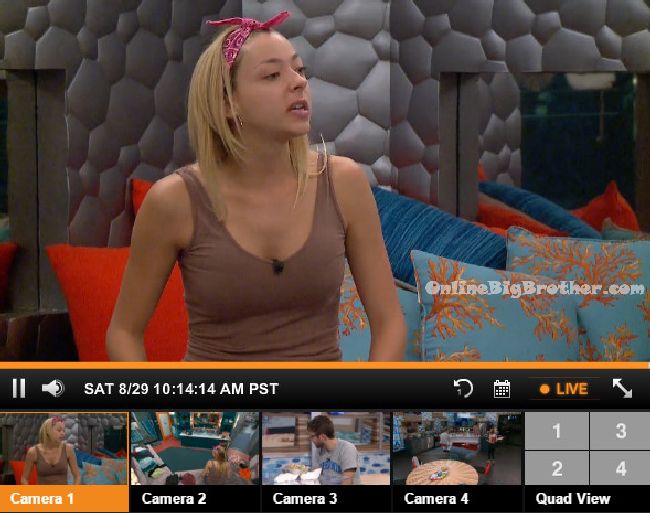 10:15am – 10:35am Havenot room –
James says its good, it means me, you or Vanessa. James tells Meg Maybe we need to tell Austin that. That this is your shot to get Johnny Mac or Steve our. He'll be like I don't want to piss Vanessa off. Meg says Vanessa put us on the block, she is terrified of me. I can tell by her looking at me. James asks do you think she is terrified of me? I've been pretty quiet lately. I only get crazy when people start getting crazy with me. Meg says they are all such babies! I can't get over how little they've done in this game. James asks do they not realize when it get down to it they'll have to be up on the block. If I was Liz and Austin put me up I would be pissed! Meg says I am so annoyed at everything!! James says whatever this comp is .. if I don't win it I deserve to go home! I hope its something you get down and dirty! Meg says I don't! James says I hope its a who wants it the most!! Meg says I hope you win it. James says I've only lost one veto. James says try not to let us down. At least we will have some power. James asks how many votes do we need? Meg says 3. I'm going home this week, I know it. Meg says she thinks they (Aus-twins) are worried about going up as a pawn. James asks why wouldn't she put up Johnny or Steve… oh yeah she made a deal with them. Meg says she is trying to build her little army right now. James says Austin is really athletic. James says if we're meant to win, we will win. Meg says I am telling you I have a feeling I'm going home. James says well you were right about us going up. Meg says the only thing that makes me not think that is that you planted the seed that you're going after the twins.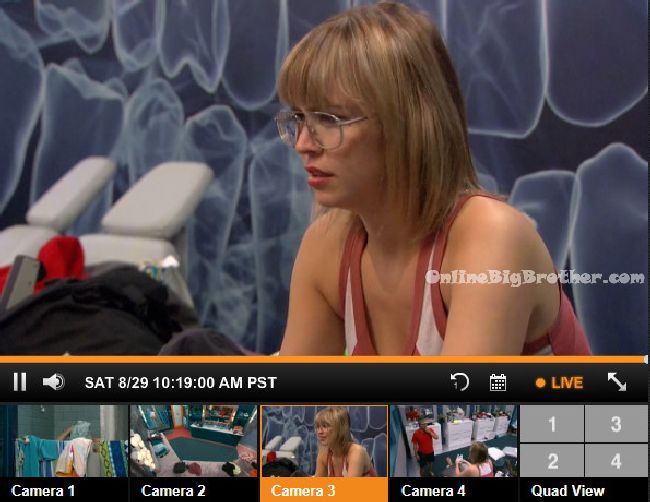 10:40am – 11:20am HOH room –
Austin comes up and says that was good! (Veto player pick) Austin says he thinks they (Meg and James) have been working on Johnny Mac to use the veto or something. They've been working hard on him. Vanessa says that's why I picked you because I figure you're the only person that could beat James… whatever he's good at. I didn't pick Steve just in case we need to use him as a pawn. Austin says no there's no need for them to even talk to Johnny Mac because he didn't get picked. Vanessa says that's why I didn't pick Johnny because he is a bit of an x factor and what if he did get convinced to take James down. That would really f**k me. Austin says we would just put Meg out then. Vanessa says James can't come down, its terrible, that can't happen. If I put up Steve are we stupid not to (vote him out) compared to Meg? You see what I'm saying. Vanessa says Johnny hasn't come up here one time since I've been HOH. Austin says Johnny has a grudge against me only this week. I told Meg we could figure it all out after the veto. She thinks Liz and I are really mad about it. Vanessa says Meg knows I wanted to target her this whole time now.. They feel set up. They feel like I never intended to put them up as a pawn. They think all four of us set them up. They speculate on if the veto will be the counting one. They discuss strategies to win it. Vanessa says I would be shocked if I'm terrible at this. They start counting things to see if they're good at guessing. Vanessa says that Meg made fun of me for thinking Brass Tacks was real and then lied about doing it. They're (James & Meg) only saving grace … is if James wins veto, Meg stays on the block and Johnny Mac or Steve really f**k up and make me want to target them. Vanessa talks to Austin about the 4 person deal with the twins. She explains how it would work and which each of them would agree to take so that it was even for all of them. Vanessa asks if the twins would agree to it? Austin says I think so if you explained it slowly. Vanessa says I think they would agree to it once they see the logic of it.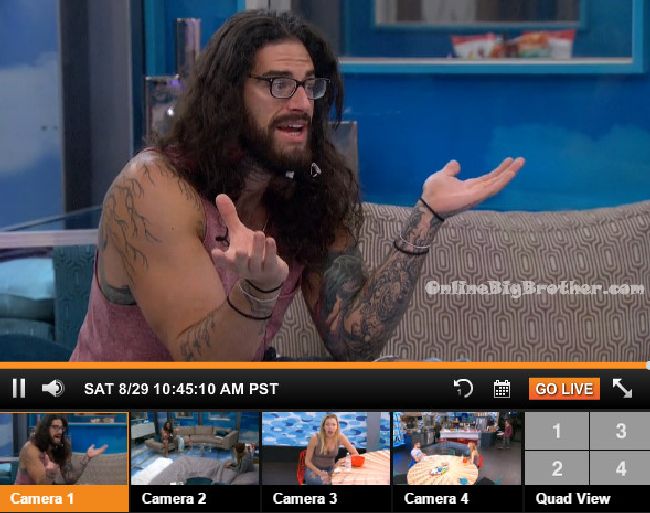 10:50am Havenot room –
Meg says I am pissed! James says I am pumped because I know I need to win this veto for both of us. If I lose, I let both of us down. Meg says I'm going to get my act together. James starts pulling the covers off Meg. Meg asks what are you doing. James says stripping you naked so we can go camping. Meg goes to shower. Johnny Mac comes into the havenot room to nap.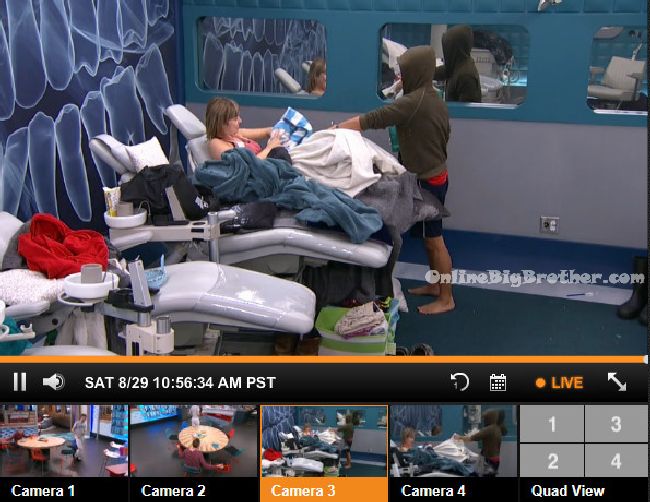 11:05am – 11:20am Bedroom – Julia and Liz are whispering. Liz says I can't wait for the veto to get played and for them to come talk to me. Julia says James doesn't even want to play pot ball. I always say in the diary room that he is my target. He insulted me. If he had won HOH, he would have put us up. He has no mercy. They feel like they got played.. what are you talking about .. they haven't been with us since the beginning. Liz says I don't need to have a reason. You are a threat competitively! Thats it! Julia says I am happy Johnny Mac is here. Liz says I can't wait till after the veto happens and I can confront James about saying he would put both of us up. Julia says we just have to make sure Johnny Mac doesn't win (HOH). Its getting down to us needing to win or we'll be the ones going.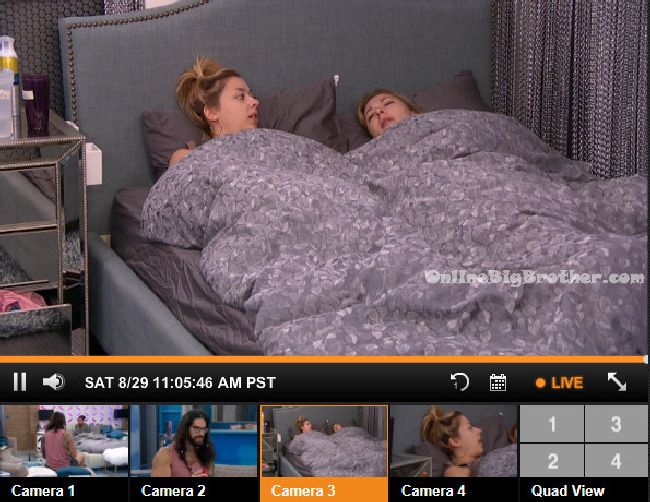 11:35am Austin joins Liz in the bed. Austin explains the strategy the will use if its the counting competition. Liz says that Meg was crying last night because her knees are really bad. Austin tells Liz that Vanessa is real worried about Johnny Mac now. If he goes up he might go. Which means Meg and James might stay. Johnny Mac and James are a deadly combination. We don't know what is going to happen though. Either way those people on the block will need to make huge deals with us. Liz says James needs to go. Austin says we will need to see what happens in the veto.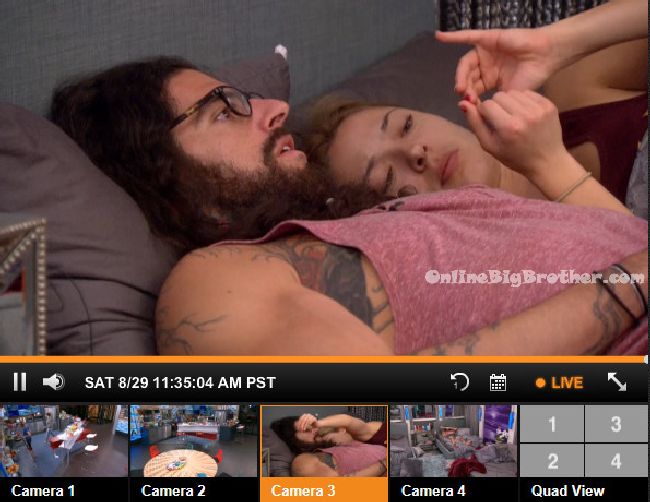 11:55am – 12:05pm Big Brother calls Johnny Mac to the diary room. Liz screams and jumps up. (Johnny Mac is the veto host so the POV might start soon.) The twins start getting ready in the bathroom. Austin, Steve and Vanessa join then. They talk about their strategy if its the counting competition.
12:05pm Havenot room – Meg tells James people have no social skills. Just everyone is so awkward and weird and don't know how to handle things. James says that's why I'm not talking to anybody. Meg says I know. I kind of want to stop too. James says theres no point in being fake! The thing about it is I don't want to talk to anybody because all of them know the plan. That's what's crazy. You know everyone knows. I guarantee even Steve knows the target this week. So there's no point in being like hey what's up buddy! Meg says I know and then it all resets anyways. I am just thinking for one of us whoever stays here… That slop bothered me so much.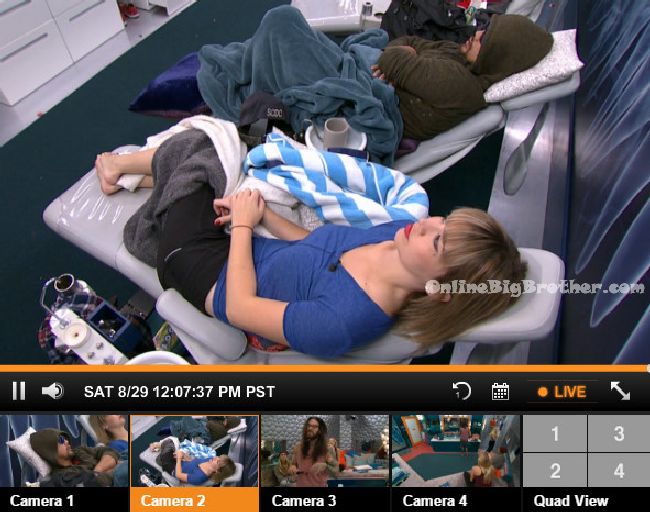 12:10pm Big Brother switches the feeds to the live feed highlights … looks like its time for the power of veto competition…
1:20pm The live feeds are still blocked.
2:20pm Still blocked..
2:41pm Feeds still down yo
4:56pm NO
Help support all the live feed updates we provide.
Show your support by making a donation. Any amount is greatly appreciated!
ALLIANCES:
"Goblins/Gremlins" = James and Meg
"The Generals" = anyone allied with Becky
"SOS" (Students of Sound) = Steve and Vanessa
Rockstars = Steve and Jmac
AUS-Twins = Austin, Julia and Liz
"Austin's Angels" = Austin, Liz, Julia, Vanessa
"Brass Tacks" = Gobins and Austwins
The new "Brass Tacks" = Aus-Twins, Meg, James + Vanessa
"Freaks and Geeks" "The Scamper Squad" = Aus-Twins, Vanessa, Steve
"The new Freaks and Geeks minus Vanessa" = Austin, Liz, Julia, Steve, Johnny Mac
"The Authority" = Austin, Liz, Julia, Steve
[polldaddy poll=9046808]