POV Holder:
Liz
POV Competition
Aug 15th
POV Used
No
POV Ceremony
Aug 10th
HOH
Liz
Next HOH
Aug 20th
Original Nominations:
Johnny Mac and Becky
After POV Nominations:
Johnny Mac and Becky
Have Nots
Vanessa, Johnny Mac, Steve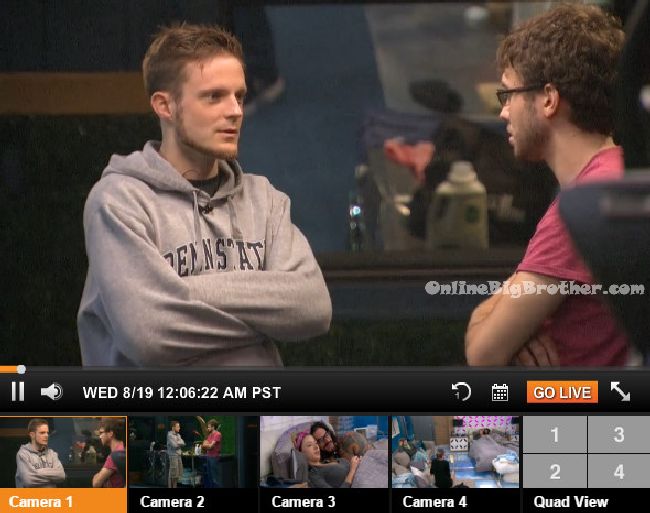 12:05am Backyard – Steve tells Johnny that he is heading to bed. He missed his nap on purpose so that it would force him to go to bed early. Johnny says that he is going hangout with Becky tonight. He says that she is handling it well. She pretty much knew that she was going home when the plan went down. Johnny says if I win HOH, I pretty much have to put up one of ours to ensure that it (Vanessa goes) happens. If they win they will probably take out James. Steve says probably. Johnny asks if you win would you take out James? Or are you just going to let me win? Steve says honest to god answer I don't know. Are you going to be up for awhile? Johnny says with her (Becky). Steve says because I have a really good plan about Vanessa to make her feel like no one is coming after her. Johnny asks we have to make her feel like no one is coming after her? Steve says of course, did you not see how much time I've been spending with her? Johnny asks does she feel like? Steve says that's what I'm trying to make her feel. I think she is going to throw the HOH. Johnny says I'll go to her her with a deal. Steve says she does like deals, she's a big fan of deals. Or you could go to her an try being a decent person. Johnny says yes sir! Steve says for her you could try being a decent person. Steve heads inside.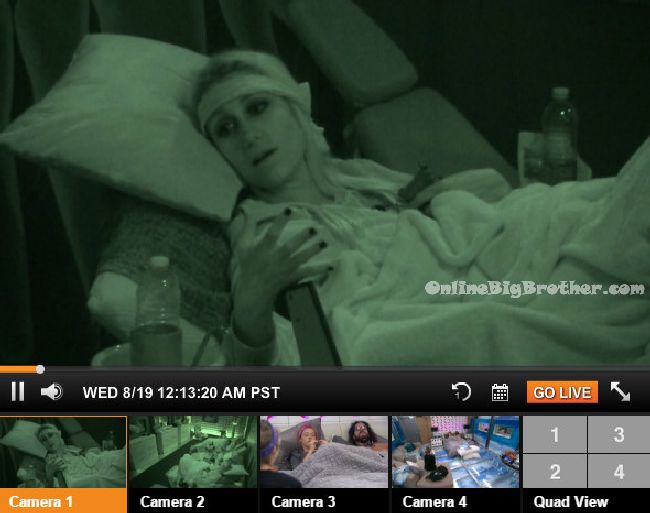 12:08am Havenot room – Steve talks to Vanessa about how a part of him is just done. Part of me is stoked to be her but part of me is just done. Vanessa asks are people scampering? Steve says no because everyone knows what's going on. It's pretty cut and dry at this point. I'm just hoping for a Scamper Squad to win. Vanessa says Austin.. I think he throws HOH's. Steve asks did he throw the emoji? Vanessa says yeah. I don't think we can count on him to win.
Watch the NEXT WEEK of the Live Feeds for FREE! Click here for your: 1 Week Trial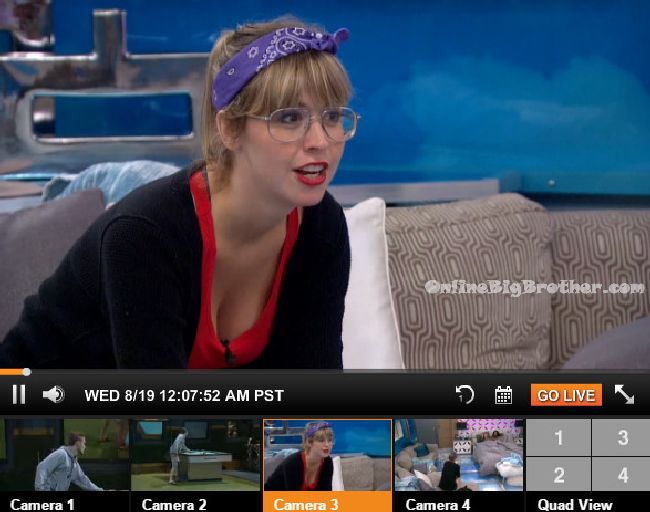 12:05am HOH room – Meg talks to Liz, Julia and Austin. She says that she talked to Steve and said that she feels like no one really feels like they're going home this week. Steve said that's weird because Beck came and told me that she knows that she's the target. Austin asks she's going around telling everyone she's the target because she thinks she's not the target? Meg says yes. Austin says great! Meg says I said to Steve that seems like a funny game play because wouldn't that mean that you would just vote her out? (Voting with the majority) And he was like yeah that's why I thought it was kind of like weird that she was so okay with it. I tried to make it seem like she just thinks if she goes out she will come back. But what she is doing, which is dumb is she is going around telling people that she's the target, that she is going home. When .. she is the target now. Austin says its hysterical. So do we tell her that she's not or do we blind side her? Meg says I am going to have to tell her the day of that I'm voting her out. Austin wonders if she has any compelling evidence about Johnny Mac. Meg says I dont think she does. Austin asks how do we tell her. We could be like Johnny Mac finally came and talked game and presented some compelling reasons why he should stay in the house. So you need to give us compelling reasons to stay here. Meg says and just add that it was nothing about you (Becky). Liz asks why does she believe she is a pawn? Austin says because we told her she was a pawn. Liz says but why doesn't she realize she is a big competitor. They talk about Becky's speech and how it wasn't a good idea what she said. Meg says I would be a little careful with Johnny Mac. Liz asks have you promised him your vote? Meg says no, he told me I should probably vote for Becky. And I was like what are you pulling a Clay?! Austin says I guess he truly believes me and Julia are going to vote for him and he knows he has Steve. Meg says I guess. Austin asks is he trying to set you up to be on the losing end of the stick. So he can go after you. I need him to be truthful that he is going after her (Vanessa) next week. Meg says they're playing a very good game with her because they're spending a lot of time together. Austin says this is why I don't like not winning HOH. You never know what is going to happen. Meg says we just need to win HOH. Who is Vanessa saying is her target? Austin says she is going after Johnny Mac but she only asks us who our target is and doesn't give us information any more. Meg says we need to get Steve out. He is going to be good at the questions.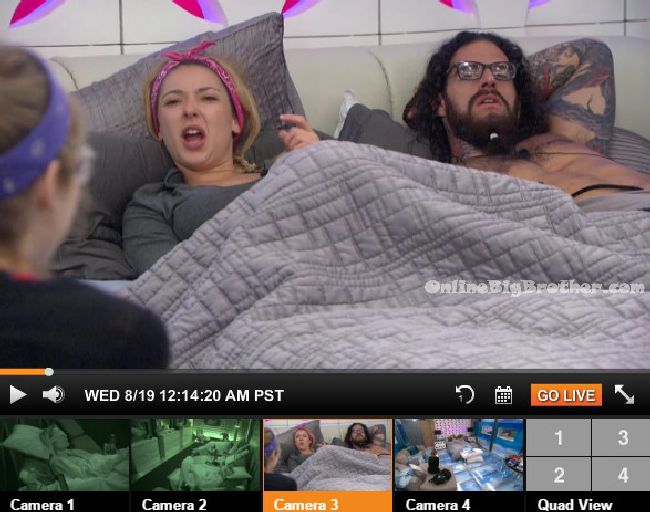 12:50am HOH room – Julia tells Steve I am really concerned for your health. You really need to start cooking your pork chops more. Austin says yeah its risky. You can get food poisoning. Steve says I can do that. Only 2 more days (being a havenot). And then YOU'RE TURN!! Austin says unless I get HOH. Liz says then you're turn again. Steve says I'm not .. NO! I will f**King win HOH the next week and backdoor your a$$ if you make me havenot next week if you're HOH. Austin says good enough. Liz says I love feisty Steve! Steve says I will go after you like nobody's business if you make me havenot again. Austin says I won't. Steve says you know what I won't target you… I will find you at night and cut your pony tail off. Austin says that could be ground for expulsion. Steve says also grounds for a thank you. Austin says okay Zing Bot! Liz asks on who's end? Steve says Liz is nodding in agreement with me. Steve says you against 3 to 1 here. Austin says but I'm not on the block. Steve says but your beard is. Austin asks are you going to ask Rich (Rich Meehan Executive Producer) to go and .. on Thursday? Big Brother blocks the feeds. Julia and Steve leave. Liz says we need to talk to Julia to be careful. She keeps making comments in front of Meg about Steve and she has no idea we're working with Steve. Julia comes back and Liz warns her about being careful about what she says. Julia says oh sh*t I forgot.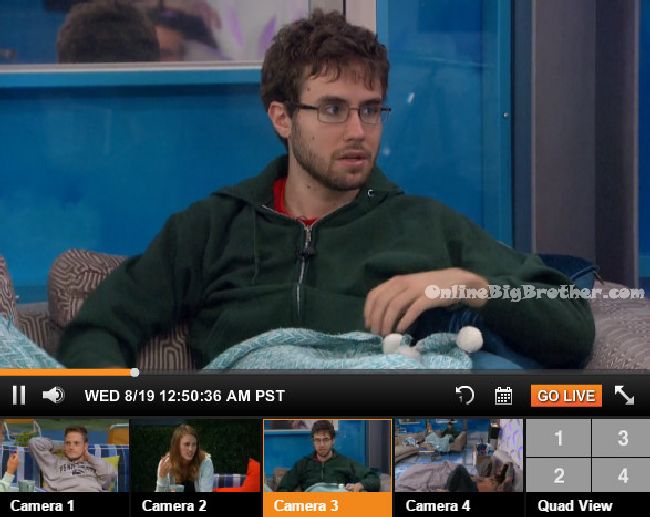 Steve making a move.. @bigbspoilers #bb17 pic.twitter.com/6k1PBgYu1b

— Dawg (@DawgsBigBrother) August 19, 2015

12:20am Backyard – Johnny Mac and Becky play a game of pool. Johnny says if we pair up with James and Meg we're the strongest two and we're the first to go. Becky says James is strong but he is really good at being quiet. Johnny says I don't think there is anyway we can win if we go with them. Becky says you have two friends that will fight for each other (James & Meg) and 3 people that will fight for each other (Aus-Twins). No matter who you pick, you and Steve haven't been with them since the beginning so it super hard. Its almost like 1 of each group needs to go to the end to the final 3. Finals are creeping up quick. Johnny asks if its endurance and one of you, Jackie are up there I could throw it to one of you. And you can let Jackie know that. Becky doesn't think it will be endurance. Becky says I don't know where Steve's head is at. He doesn't talk game. Johnny says he comes with me information but he doesn't have an accurate view of what's going on in the house. Becky says I don't think anyone is coming after him but Jackie. Becky says I definitely learned my HOH. You can put people up but the house decides. Johnny says that's Vanessa has lost all credibility in the house. Becky asks really? I think everyone else will go after her but won't. Becky says Julia or Meg will 100% be in the final 3. I think James will get plucked off. Johnny says that's why I can't work with him. It makes no sense to make a deal with him because of that. Johnny says I need to work myself in some where. Everyone I've been working with has been picked off one by one. Johnny says Steve or I will try to win this HOH. Becky says he won't try. Becky says I will go talk to them one more time and asks them to confirm or deny if I am going home. I know they won't do it. She's so scared to do it.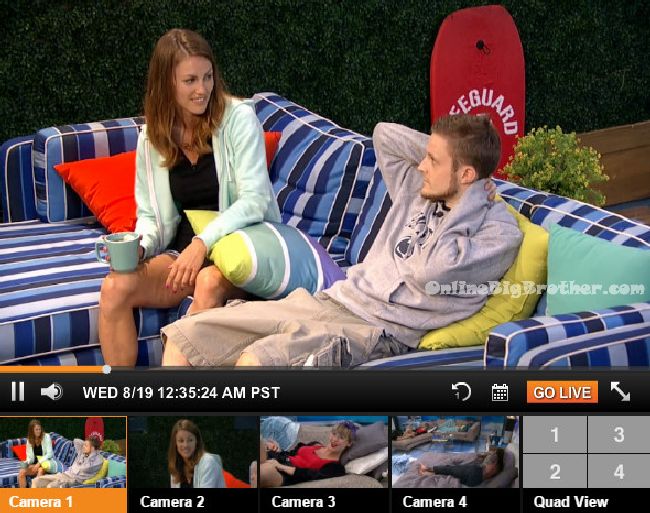 1:30am Bedroom – Meg tells James she doesn't think Steve will do that to us again. (Go after them like how he put Meg / Jackie up during the double eviction) James asks what about Johnny Mac? Meg says I don't know. James says that's the question mark. Maybe he could be saying he would throw Vanessa up but he could throw me up. Meg says it is what it is. James says it sucks because if I win this week, then I can't play next week. Meg says but if its endurance you know its not going to be next week after that. James says true. Meg says and you're the guy for that. James thinks Austin would be good at endurance too. Meg disagrees.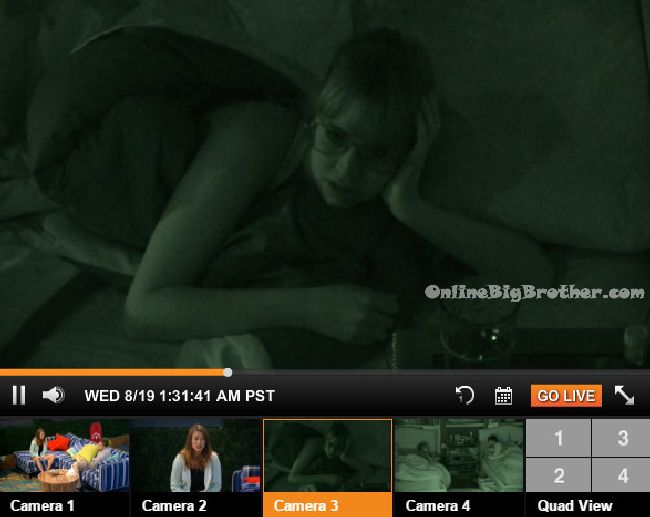 1:45am Steve and Vanessa play a game of chess. Steve tells Vanessa that it doesn't seem right that Becky isn't doing anything. If she does go with anything she won't come to me since she knows I'm a vote to keep Johnny. Vanessa brings up how she asked Becky to give her words last week. Which I find very laughable. Steve says he thinks Becky is lying about being found on Tinder.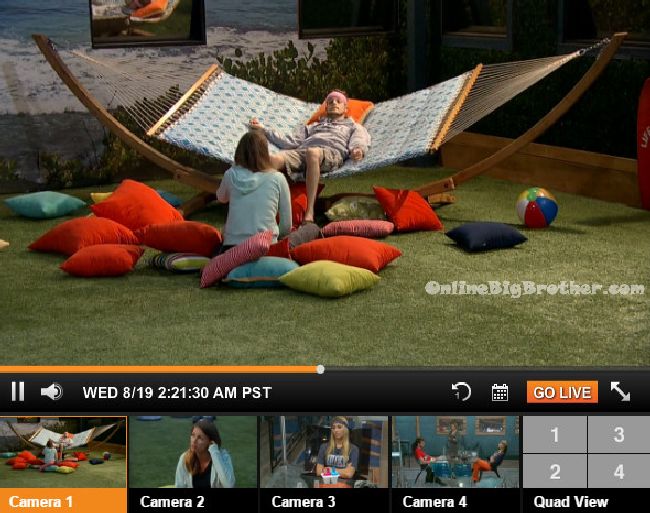 2:15am
Meg and Johnny Mac head over to the hammock. They talk about Brittney Haynes (BB12) and the Brigade Alliance. Johnny tells Becky I will smooth things over this week so don't come back in with a chip on your shoulder. Come in and try and win HOH. Don't come in with a game plan in mind. Becky says I won't, I'll be humble. Johnny says one thing about the HOH room. If I get it, I don't want to be up there. It feels awkward and I don't want to be a part of that. Becky says I just want Thursday to happen. I'm sick of waiting. If they could just tell me hey, we're voting you out. Just the waiting draws it out. Johnny says when I talked to them I just pretty much knew I was going up on the block. Becky says no one is talking game to me. Not from James, not from Meg, it has shut off. I want them to tell me by 5pm. Johnny says they had to put me and you up. They think we're more likely to win then anyone that's left. Becky says if I was in the game and you left, I wouldn't have the man power. Johnny says I would still have Steve but we're still a target. Johnny Mac talks about his  
calling Vanessa out for telling him about the 8 person alliance
.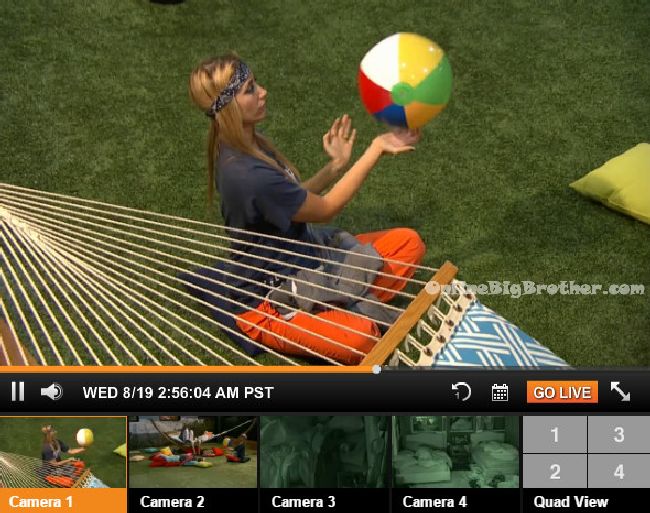 2:55am – 3:40am Steve and Vanessa join Becky and Johnny by the hammock. Vanessa comments that she uses quick books to do her income/expenses. She says she taught herself how to use it after she got audited. Becky asks why did you get audited? Vanessa says 2 reasons .. one its random and two my accountant reversed 2 number gross income and gross receipts. Vanessa says I went through a lot of work to fix it and at the end they ended up owing me money. Johnny comments that how they cap the student loan interest deduction to $2500 a year but that he pays $15,000 a year in just interest. Why would you cap it off so low!? I probably put $40,000 a year into student loans and $15,000 is just interest. Vanessa tells him he should consolidate all his loans to get a lower interest rate. Vanessa heads to bed. Johnny, Steve and Becky talk about past events of the season. Johnny asks where did all that dental dams go? Steve says James and the wackshack.
See what they can't show you on TV Try the live feeds for FREE!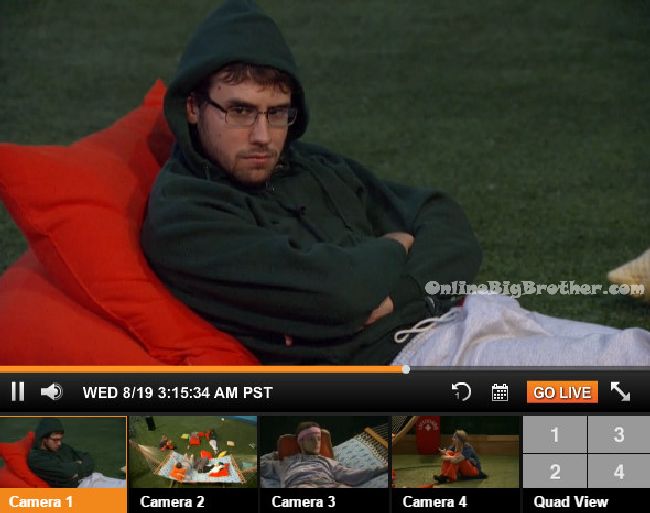 4:10am – 5amSteve asks Becky if Jackie were to come back and I were to be open with her about what happened and the way everything went down it would seem like I'm just trying to cover my a$$. Becky says I would just start with her and say that Meg and Becky talked to me after and I really realized that things were different than I perceived them and I would really like to tell you what was going through my mind when I made it. Not to cover my a$$ but to just let you know. Becky says proceed with caution because less is more. Little things can open pandora's box. Steve says kind of like James opening pandora's box? Because he's a little thing opening pandora's box. Becky says that's actually funny. Steve says I'm just always worried about coming across fake. Johnny says you're never fake. The conversation turns to talking about jobs other house guests said and if they're telling the truth. Vanessa going to Duke, has an Economics / Political Sciences Degree, went to law school, poker player and a DJ. James never talks about his job and Meg doesn't like talking about her job. Becky comments on her toe is really bad and that she's really feeling it. They talk about it being infected. Becky heads inside. Steve asks Johnny to be blunt with him… Do you want me to go inside so you can hang out with Becky? Johnny tells him yes. Steve says okay and heads inside.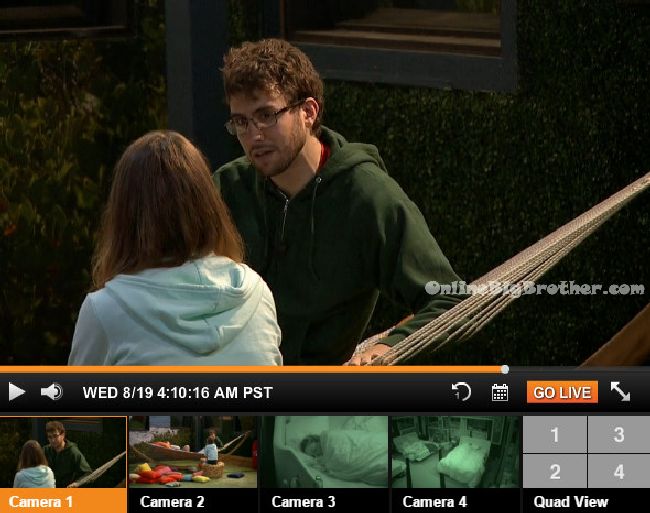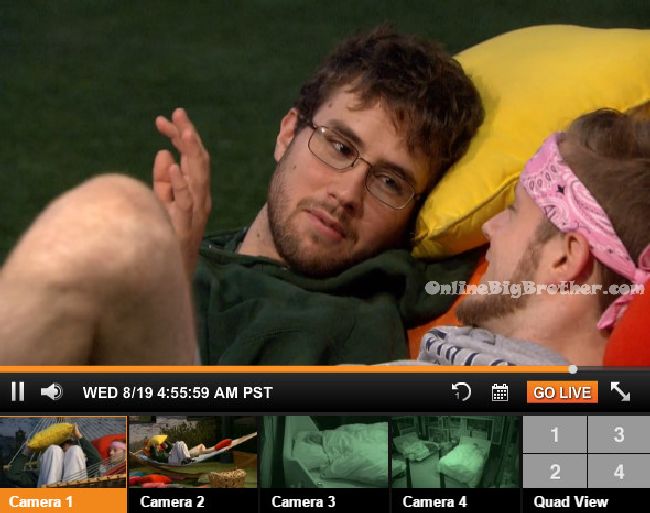 5am Becky comes back out to join Johnny on the hammock. They talk about how becky will get medical attention for he toe just like Steve got it for his tooth/canker sores. Johnny asks have you ever felt stressed in here. Becky sarcastically says never once. They head inside to go to bed. Becky gets an ice pack, climbs in bed puts in on her foot.
ALLIANCES:
"Goblins/Gremlins" = James and Meg
"The Generals" = anyone allied with Becky
"SOS" (Students of Sound) = Steve and Vanessa
Rockstars = Steve and Jmac
AUS-Twins = Austin, Julia and Liz
"Austin's Angels" = Austin, Liz, Julia, Vanessa
"Brass Tacks" = Gobins and Austwins
The new "Brass Tacks" = Aus-Twins, Meg, James + Vanessa
"Freaks and Geeks" "The Scamper Squad" = Aus-Twins, Vanessa, Steve
"The new Freeks and Geeks minus Vanessa" = Austin, Liz, Julia, Steve, Johnny Mac
[polldaddy poll=9025485]