POV Holder:
Liz
POV Competition
Aug 15th
POV Used
No
POV Ceremony
Aug 10th
HOH
Liz
Next HOH
Aug 20th
Original Nominations:
Johnny Mac and Becky
After POV Nominations:
Johnny Mac and Becky
Have Nots
Vanessa, Johnny Mac, Steve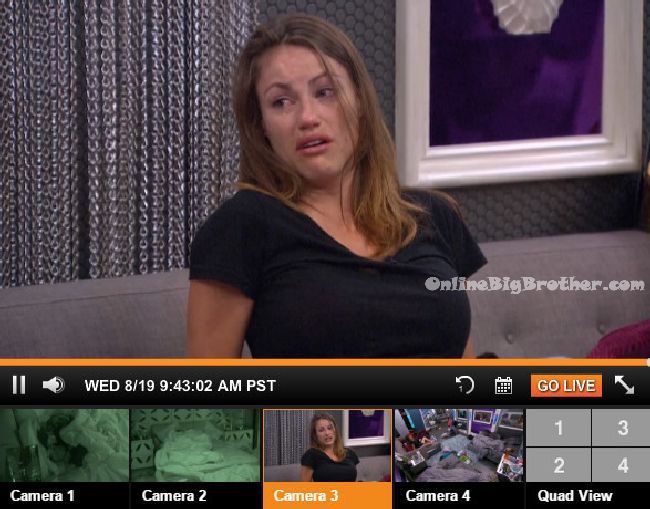 9:35am – 9:50am Bedroom – Becky wakes up crying in pain over how painful her foot is. James gets up to turn on the light. Becky says that she her foot is so big its double in size of the other one. I'm about to get a razor and cut it open.Meg asks don't they have the medics on call always. Becky says last night I told them I needed a doctor and stayed up till 4am and that's when I went back at 4am and said this is serious. This is really serious. I was scared it would double in size and now I wake up and it's double in size. I'm like UHHHHH.. NOW!! James says staph infection are bad. We used to have a lot of guys in the prison that would get those. It swells up and they take the puss out of it. Becky says I'm ready to do it myself. Meg says no don't do that! Becky is cry saying this needs to be solved. Its at the point where if I were at home I would be in the emergency room. I went in there again and they said they're doing everything they can to get someone soon. I'm supposed to elevate it but it hurts so bad. James asks have you taken any advil? Meg says yeah she's taken too much. Becky says 8 of them. Becky lays back down to try and wait and not think about it.
FYI – Before coming into the house Becky broke her toe nail off. She aggravated it recently by hurting it in the endurance slip n slide HOH and then again in Saturday's OTEV competition.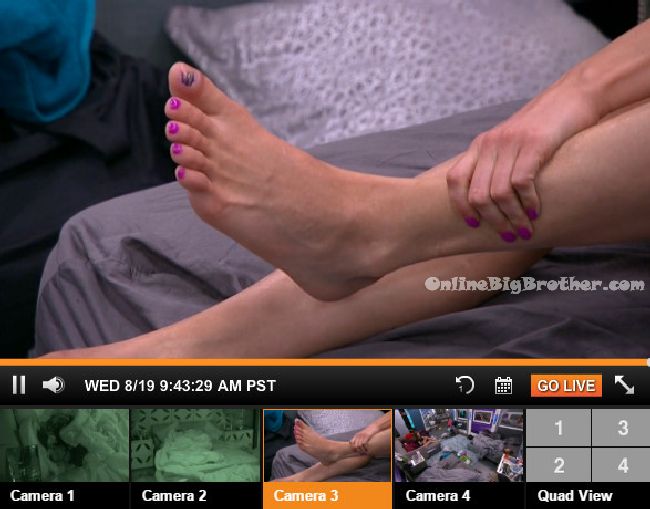 9:55am – 10:50am Big Brother blocks the live feeds to wake up the house guest. When the feeds come back – Meg says that she misses her mom. James asks do you think she misses you. She's probably on vacation right now. The camera's switch to Becky showing her tearing up over the pain. Steve asks Becky if having the ipod might help take her mind off it. He says he'll go ask first if its okay to bring it down. James says god bless Steve .. he cares so much but also cares about not breaking the rules. Steve comes back and says its can't leave the HOH room. Steve says as I've said before I think we're under the best medical care we've ever been under in our lives. They conversation turns to talking about survivor. Steve asks James would you to the race (Amazing Race)? James says yeah. Steve asks with who? James says not Meg. Becky says she would do it with Cody (BB16). James says you just say that because you want to bow chicka wow wow with him. Becky says he is super capable. James asks super capable at what?! Becky says no one is going to date me with a Staph infection.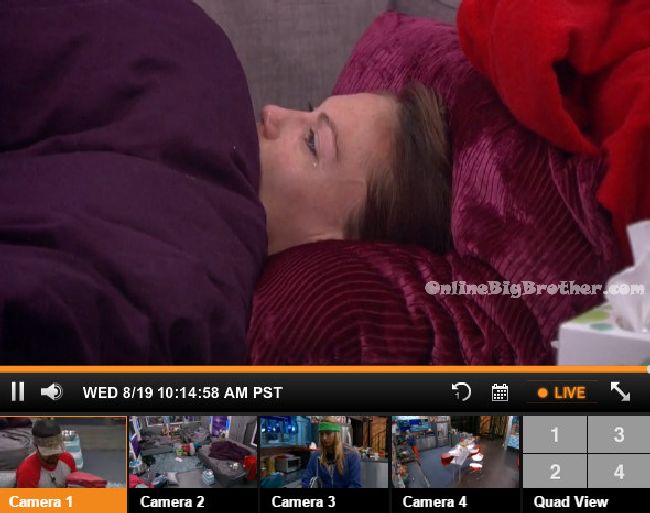 11:30am – 12:35pmAll the house guests have gone back to sleeping. Austin is the only house guest awake. He's in the kitchen making breakfast for himself and Liz.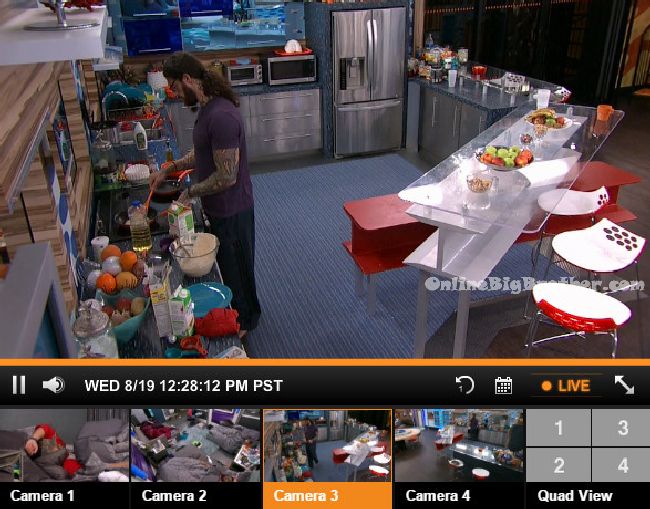 12:55pm Austin brings Liz protein pancakes with Nutella. Austin says do we know what we're going to say to Becky. Liz says I don't. Austin says you don't have to say anything, just sit there and look pretty. Austin says what Meg was saying. Johnny Mac made a really good case to why he should stay. He didn't say anything against you. I don't want to say what he said to me because that wouldn't be fair to him but.. Liz says what can you offer. Austin says he is probably making a good case to everyone so you should probably make a good case not just to me but everyone. Do you have anything that could turn the tides back in your favor? Austin and Liz head downstairs.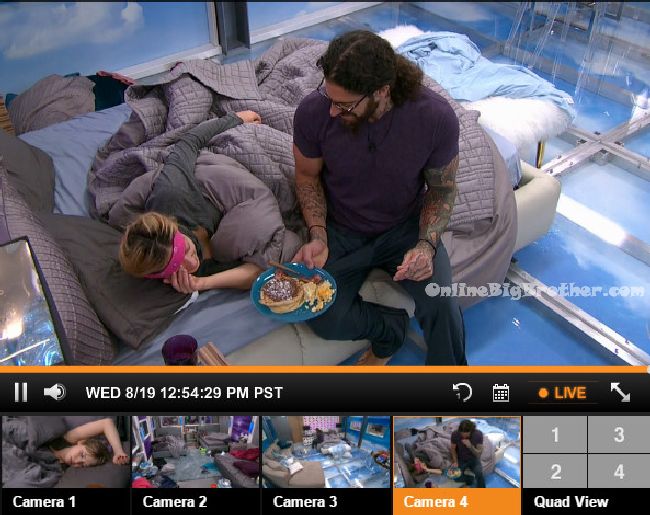 1pm Becky comes out of the diary room after receiving medical treatment for her big toe. She elevates it in the bed and goes back to sleep. After 10 minutes Becky starts crying in pain. Julia comes and to help her. Becky tells her that the doctor cut her big toe open to drain it.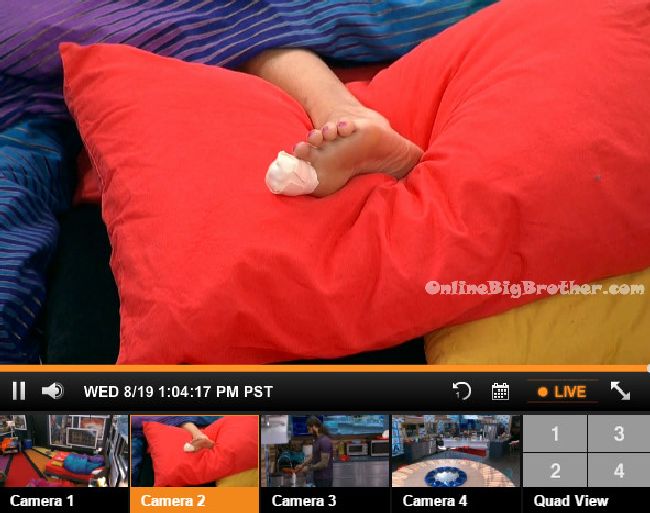 1:05pm – 1:20pm In the kitchen – Liz goes to pull the coffee pot out and hot coffee shoots out hitting her. After she calms down they realize that Austin didn't put the plastic part back into the coffee maker. Austin complains that he had so much going on trying to make Liz breakfast. Julia tells Liz the least she could have done would have been to make the coffee herself. Liz says I was sleepinggggggaaaaa!!! Julia says okay good point. Liz says it was attempted homicide. I think we need another court case.
Liz "I just got pelted with HOT COFFEE!!" @bigbspoilers #bb17 pic.twitter.com/k7PhMF2U3m

— Dawg (@DawgsBigBrother) August 19, 2015
1:35pm – 1:45pm Bathroom – Austin apologizes and says that he messed up. Liz says thank you for admitting you messed up but you're still in time out. Austin and James talk about Becky and if she has a staph infection. They think its contagious and if so big brother would need to remove her from the game. James says in the prison if someone had a staph infection they had to bleach the cell. Austin says it would be illegal to leave her in the game if it was infectious. Maybe they'll remove her and cancel the eviction for Thursday. James says it will limit her ability to compete if she stays.
1:55pm Becky explains the James that its not a staph infection but it is infected. She was told it should clear up in a couple of days.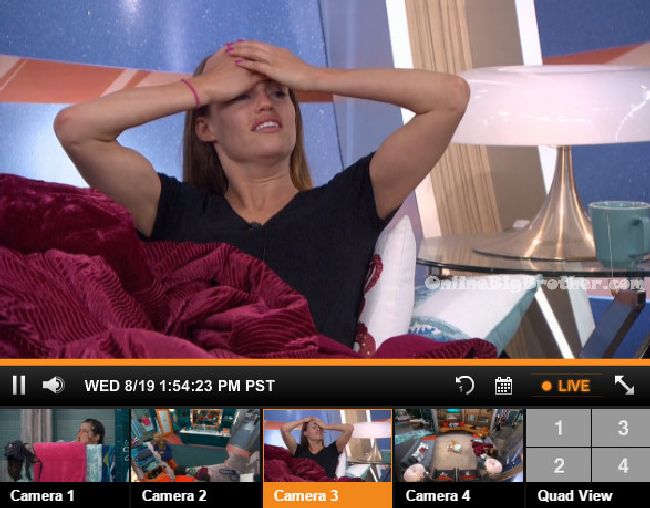 ALLIANCES:
"Goblins/Gremlins" = James and Meg
"The Generals" = anyone allied with Becky
"SOS" (Students of Sound) = Steve and Vanessa
"Rockstars" = Steve and Jmac
"AUS-Twins" = Austin, Julia and Liz
"Austin's Angels" = Austin, Liz, Julia, Vanessa
"Brass Tacks" = Gobins and Austwins
The new "Brass Tacks" = Aus-Twins, Meg, James + Vanessa
"Freaks and Geeks" "The Scamper Squad" = Aus-Twins, Vanessa, Steve
"The new Freeks and Geeks" with JMac minus Vanessa = Austin, Liz, Julia, Steve, Johnny Mac