POV Holder:
Liz
POV Competition
Aug 15th
POV Used
No
POV Ceremony
Aug 10th
HOH
Liz
Next HOH
Aug 20th
Original Nominations:
Johnny Mac and Becky
After POV Nominations:
Johnny Mac and Becky
Have Nots
Vanessa, Johnny Mac, Steve
7:25pm Pillow fight
7:33pm Meg, James and Liz
They tell Liz about vanessa talking to Steve and Jmac. James adds they were talking game.
7:55pm James, Liz and Meg
Talking about how pissed Shelli was that James was wearing Clay's shirt
James – when a predator takes an alien out he puts it's head on a stick
Meg – I told him to take it off..
They start talking about how everyone has a person in jury they don't want back.
James- Jackie won't hold a grudge
Meg – Jackie is going to be livid at Steve
Becky, Julia and Jmac joins them and the chit chat start
(Below are a collections of lines that make up the chit chat… )
James – people get sick eating the mad cow disease
James – Squirrels got big bawls
Becky – you can't bring up Nazi or Hitler in Germany
Becky – Tequila makes me sick, Vodka and Tequila I don't do, I like whiskey
Julia- The best margarita I ever had was in mexico everything was so fresh they used.. basically it was the best margarita I've ever had in my life
Julia- do you have a Roccos Tacos
Becky – Artisan means so homemade uber fresh.. tastes so good it's artisan style
Becky – hear that.. that is the sounds of a bat.. that's a bat squeak not a bird squeak
Becky tells them a story about getting hit in the face with a bat while driving home from a soccer game (A living bat)
Becky – I had salamanders, I had a water turtle we had a 4 foot snake
Jmac – my friends sister bred ball pythons and the mice
Becky – do you know Taylor swift's cat? .. do you follow her on instagram
Julia – no
8:08pm Vanessa destroying Steve at chess
8:50pm Steve and Jmac
Chit chat. Steve gets Jmac wet with the hose.. Apologizes after.
[envira-gallery id="129255″]
8:53pm Julia and James FIGHT
Another Claw fight James wins this one #BB17 @DawgsBigBrother pic.twitter.com/08Aq6Ofiu2

— OnlineBigBrother.com (@bigbspoilers) August 19, 2015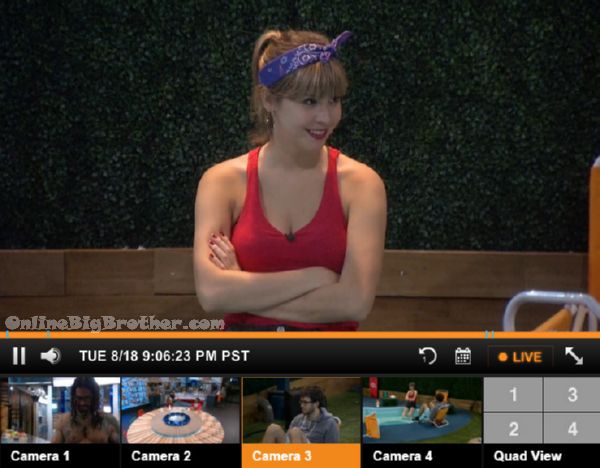 9:05pm Hot Tub Meg and Steve
Steve – it's been light hearted this week which is nice
Meg – I don't think anyone believes they are going home though
Steve – Becky and Jmac think they are safe..
Meg – Yes, to a certain extent
Steve – I didn't know that.. Becky has told me repeatedly she's the target
Meg – that's strange.. She hasn't told me sh is safe, She seems confident about it all
They agree with Becky leaving on Thursday there is some stiff competition in the jury house to come back in.
Steve -gender split will be even if Becky leaves.
Steve says he doesn't blame her for not talking game with him any more
Meg says she's not talking game with anyone right now, adds that the blindside makes her think the whole house was against her.
Meg – I know that was the case
Steve – can we talk during the music tomorrow morning.. something is on my mind about Home and I want to get it off my chest
Meg tells him for sure just wake her up in the morning, "Yes of course Steve"
James joins them.. tells them they have BB court tonight.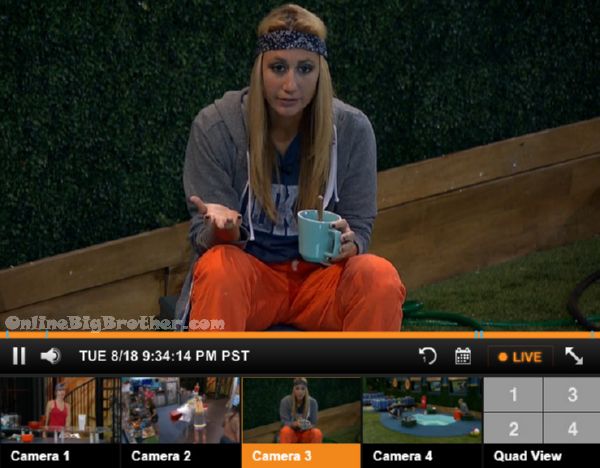 9:30pm Big Brother Court preparation
Vanessa is the prosecutor Meg is the 'Victim'. She's the victim of James and Austin throwing candy at her hard during the choclate candy fight.
Austin and James will represent themselves. Becky is the judge. Jmac is the medical expert because Meg (Aka Grandma) had been injured from it.
Vanessa is working on the case and her opening statement "If Grandma gets hit you must convict"
Jmac – RWWWWHAAAAAA wyyyyyyRAAAAaA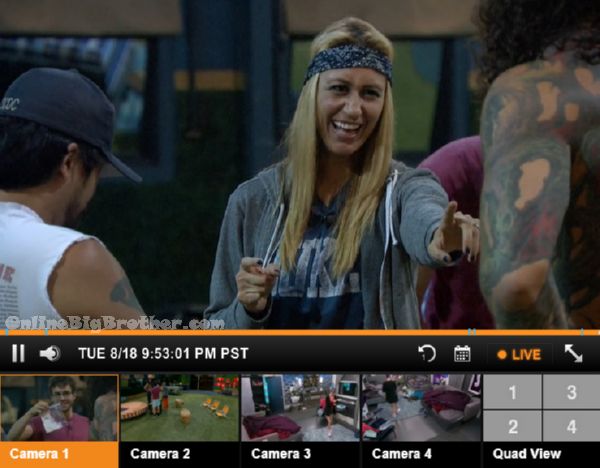 9:50pm Hammock room Vanessa and Becky Vanessa explaining to Becky the judge how courts work "It's very important they don't lead the witness"
Vanessa – if you agree sustain if you don't agree over ruled
Now in the backyard Vanessa telling Austin and James how a court case works
Vanessa – I'm calling Grandma and the medical examiner
Jame's- I'm calling the daughter, Julia
Austin – I'm calling Grandma
Vanessa – you can't if I'm calling her you can cross examine her
Vanessa – opening statements, I call my witness you cross, You call your and I cross, closing arguments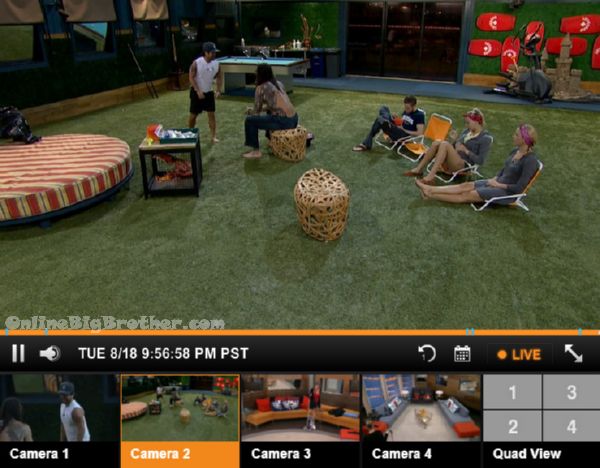 Austin and James left outside scheming about the court case. They are going to they and say Meg slipped on tresemme and fell on a chocolate.
James – I feel we're in court for real
Austin – They're taking this seriously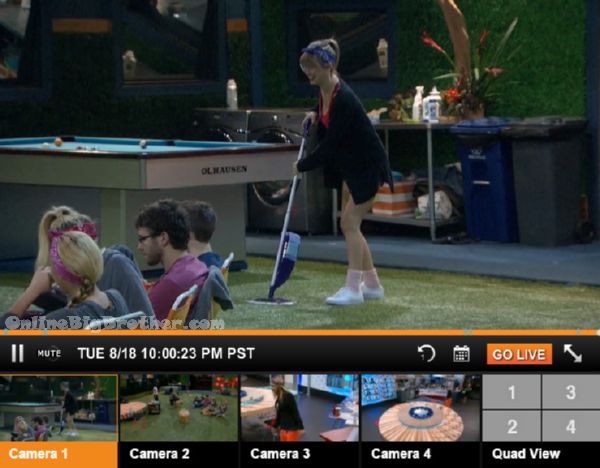 Grandma joins them
Grandma makes it out #BB17 @DawgsBigBrother pic.twitter.com/x11KHqBCXI

— OnlineBigBrother.com (@bigbspoilers) August 19, 2015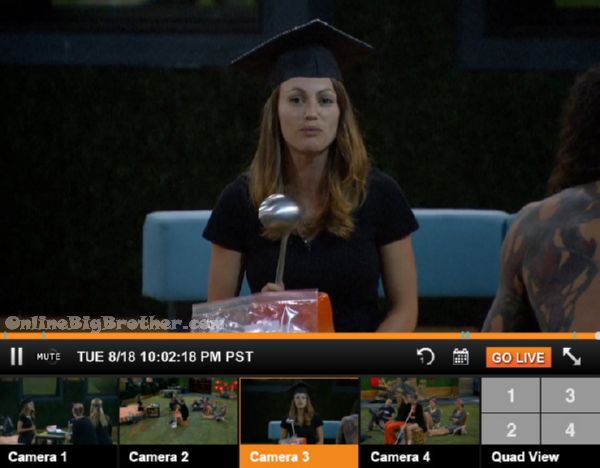 10:02pm The court begins
Becky tells them no throwing chocolate candy and now mentioning Irish Springs