POV Holder:
Vanessa
Next POV
July 18th
POV Used
Yes
POV Ceremony
July 20th
HOH Winner Team 1:
Liz
HOH Winner Team 2:
Shelli
Nominations 1 :
Jackie & James
Nominations 2:
Jason & Johnny Mac
Battle of the Block Winner
James and Jackie
Next HOH/ Next BOB
July 23rd / July17th
Original Nominations:
Jason & Johnny Mac
Current Nominations:
JohnnMAC and Audrey
Have Nots
Jackie, Audrey, JohnnyMac and Becky
TRY the Big Brother 17 Live Feeds FREE for 1 WEEK:
Click here to ensure your live feed subscription supports OnlineBigBrother.com at no extra cost to you.
1:05pm Backyard – Austin tells Vanessa that would be my openings with if I had to I would put a Steve up. Just to throw people off the track. He needs to come correct this week. If he doesn't, he doesn't. I need to protect us. Austin goes back to working out.
1:15pm Jason and Clay are on the backyard couches. Clay says I have these random thoughts that this experience is amazing. Jason says same with him. Clay says I can just imagine someone like you whos seen ever season from different countries. Jason talks about how he calls Julie Chen something different every time he's in there. This week it will probably be Miss Thang! Jason says I always forget the name I'm supposed to say. Even during the fake ones I say the name that I should be saying later. Clay says me too. Jason says then one the real ones I'm like UUhhh. UUhhh.. Clay says I have to keep saying in my head okay this person, this person, this person. Jason says you don't want to get in there and a random name pop into your head. Clay says or same the wrong one. …No NO WAIT!? Jason says they're not even up for eviction.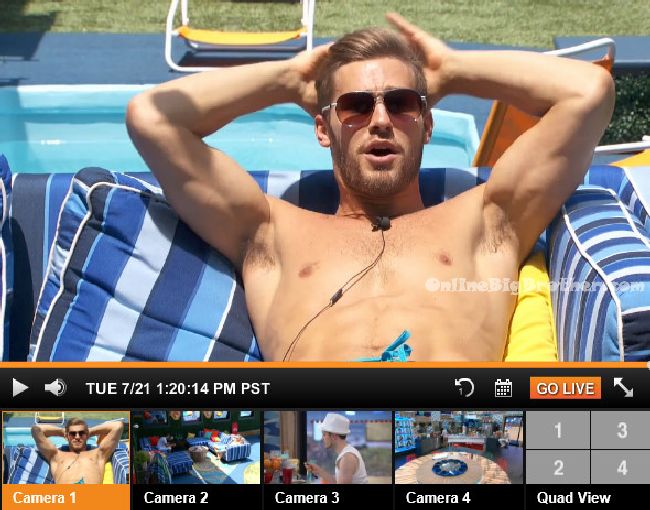 1:55pm Shelli says that she hashtag'd about Liztin. Jason tells that Meg walked in on Austin telling one of them that she made mash potatoes, we had dinner up there. She, She?! She is who you're talking to. Johnny says that maybe he knows so he doesn't care any more. Shelli says they're pretty similar but really sweet.
2pm – 2:15pm
Liz asks Steve have you checked in Audrey yet? Steve says I'm afraid to. I'm happy to support her on a personal level as much as I can. I think right now its best to just leave her alone. If the opportunity presents it self I will talk to her but at this point I think it would do more harm than good. Liz says she doesn't think she will go up to the HOH room when they have the lock down. Steve says I don't think she will have a choice. The reason they said its up to her is because there is stuff they don't want us to see. Its not like she's supposed to be somewhere else, the problem is she can't be where she is. Liz says but they don't do anything in the havenot room. Steve asks do you think they would have her stay in the havenot room while everyone else is in the HOH room. They let her miss the veto meeting and gave her an exemption from havenots so maybe. Steve says I don't think they've ever made a have / havenot exemption before. She's allowed to eat. Audrey is allowed to eat whatever she wants. Liz asks does she get a penalty vote? Steve says I think she was given permission. So no I don't think she did, I think she was given permission. Austin joins them.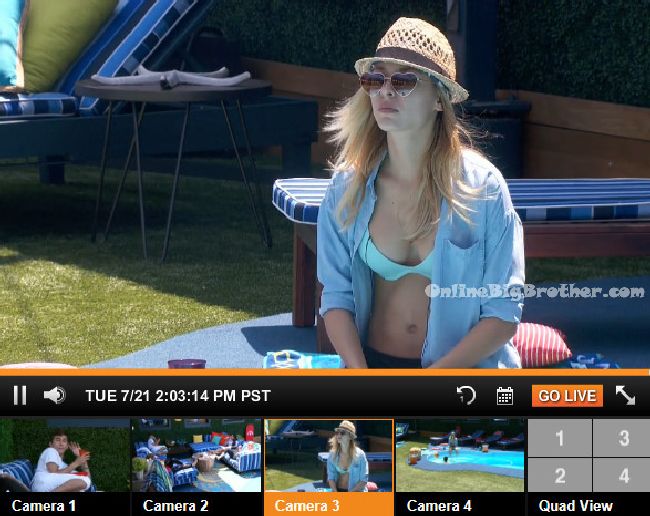 2:20pm Jason, Shelli, Jackie, Steve and JMAC are on the backyard couches. They talk about how maybe Audrey isn't part of a twist (America's Player) because if she was she wouldn't be hiding like this and be as emotionally affected.
2:35pm – 3pm Shelli asks JMAC how he feels about the Audrey situation? Johnny says if there was any week to be on the block this would be it. Shelli asks have you talked to her at all? Johnny says no, I don't think she wants to talk to me. I asks how she was doing and she just didn't.. Shelli says she kind of doesn't want to talk to anyone. Johnny says she didn't reply. She might have grunted a little bit or something. Shelli says its awful. Johnny says she can dish it out but she can't take it. Shelli says I haven't heard anyone say that before but its actually true. Johnny says I tried to reach out before and she started talking game immediately again you know. I know you really feel bad this time but how do I know. Even then she was going to hurt both of our games. I don't think she knew we were working together. There was only a matter of time that she figured it out or made it up. Shelli says she was saying that I made up the alliance with you, Jackie, Becky, Jeff and Steve. Johnny asks oh she tried to put that on you? Shelli says she tried to say that I made that up. That is complete BAFFONITY! if that's even a word! Johnny says it is now. Johnny says its good that you held that meeting. Shelli says I didn't want to be the one to put her up but it had to be done. Johnny says if she feels its personal she has to get over that. YOu messed us up in the game so what are we supposed to do? Shelli asks I wonder if she is going to attend the eviction? Will she turn that down too? Johnny says that pisses me off! Shelli says she says its chemical so maybe its something none of us would understand. Johnny says yeah maybe. Clay joins them. Jason, Jackie and Becky join them soon after. The conversation turns to being havenots, talking about music and pets.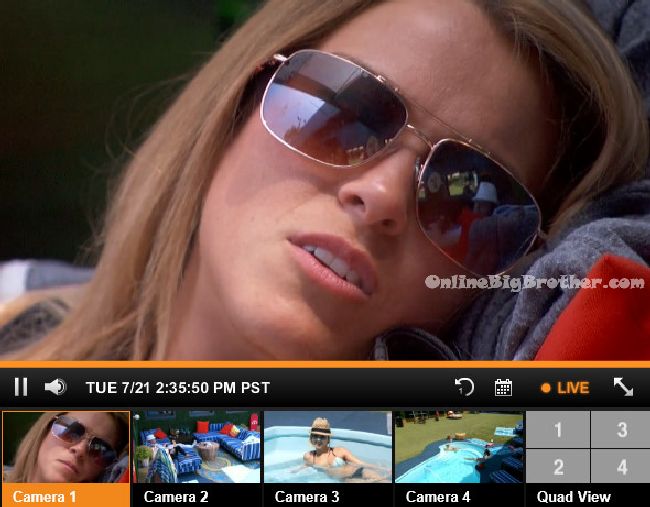 Audrey sighting. She's still alive.

Live Feed subscription gives you CBS All Access thousands of archived shows. Live Shows like Big Brother, all the Big Brother Seasons, and 24/7 coverage of what is happening inside the Big Brother House. Plus there's flashback that lets you go back to any second of the feeds and rewatch what happened. Simon and Dawg will index the season just watch the parts worth watching. All this for $5.99 a month try it out 1 week free. Support our efforts and get your feeds via a link on this site. Live feed subscription Sign up
[polldaddy poll=8983592]
Share it YO!!
Tweet