POV Holder:
Vanessa
Next POV
July 18th
POV Used
Yes
POV Ceremony
July 20th
HOH Winner Team 1:
Liz
HOH Winner Team 2:
Shelli
Nominations 1 :
Jackie & James
Nominations 2:
Jason & Johnny Mac
Battle of the Block Winner
James and Jackie
Next HOH/ Next BOB
July 23rd / July17th
Original Nominations:
Jason & Johnny Mac
Current Nominations:
JohnnMAC and Audrey
Have Nots
Jackie, Audrey, JohnnyMac and Becky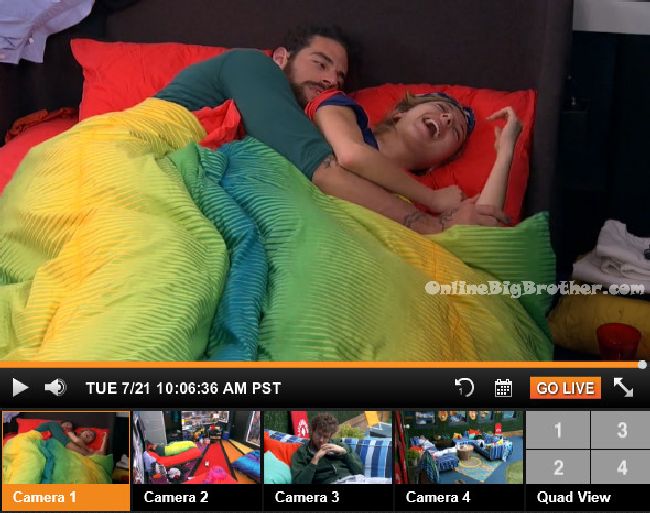 TRY the Big Brother 17 Live Feeds FREE for 1 WEEK:
Click here to ensure your live feed subscription supports OnlineBigBrother.com at no extra cost to you.
10am
Austin says I almost want to offer him (Jason), Meg and James safety next week. Liz asks who do we target then? Austin says we put up Jackie and Steve. We have people on to us we have to throw them off the trail. Liz says unless we tell Steve because he's not going to win. Austin says but everyone else we have deals with. Austin says then I wanted to explain to him (Jason) my relationship status outside the house because I don't want him to think we're doing this showmance thing and like I'm like cheating or something. Because I don't think he knows, yet. He can then tell the whole house. I can lead in on how every few days its tough on me. Liz says I definitely think you should talk to him. Those are good talking points. Austin says I'll have a honest conversation with him to build trust. Liz says I can see having deep conversations with him but not James .. he just wants to get to jury and have fun. Liz says I feel like if you were here last season you would showmance Christine! Austin asks who the hell is that?!! Do you sell me that short?! Really?! Liz says no I was just thinking about her sleeve of tattoos. Austin says I don't even like that. Liz says you don't even remember her. Austin says no I never watched that sh*t!
10:20am Bedroom – James tells Meg and Becky that he thinks he is going to go make Audrey an omelette. Becky says she thinks that's a good idea. She had the pizza last night and today all she's had is water. James says that will be my good deed for the day and then I'll terrorize all of you all day. James makes the omelette and takes it to Audrey. He says you don't have to eat it but its there. Audrey doesn't say a word. James leave.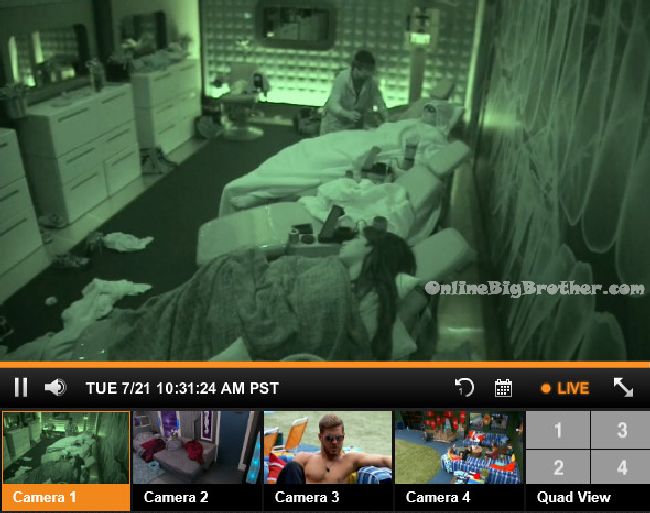 10:20am – 10:35am Backyard – Clay asks Johnny if Becky talks game with him. Johnny says no. Clay says I would really like to replace her and Jackie. Johnny says there's been nothing else. If there has been any game talk, I avoid it because I don't want to be caught in anything. I just want Thursday to come and Audrey be evicted. Johnny says Steve came at me with a final 2. Clay asks so you have influence over him a little bit. Johnny says a little bit. Clay asks does he talk game with you? Johnny says a little but he initiates it. Clay asks is he not wanting to win HOH. Johnny says he doesn't think so, not yet. Clay says we're building trust with him little by little. I think it would be good for us to eventually come together. Johnny says I like that. Clay says a final 4 with you, me, Shelli and Steve its a pretty good deal. Johnny agrees. Clay asks who would you take Becky or Steve? Johnny says I thought Becky up until this week but I've gotten a weird vibe. Johnny says you might disagree with this but I don't like mixing business with pleasure. Becky joins them. Johnny says I don't know what Audrey is trying to pull here. Clay says all of it is things she's said.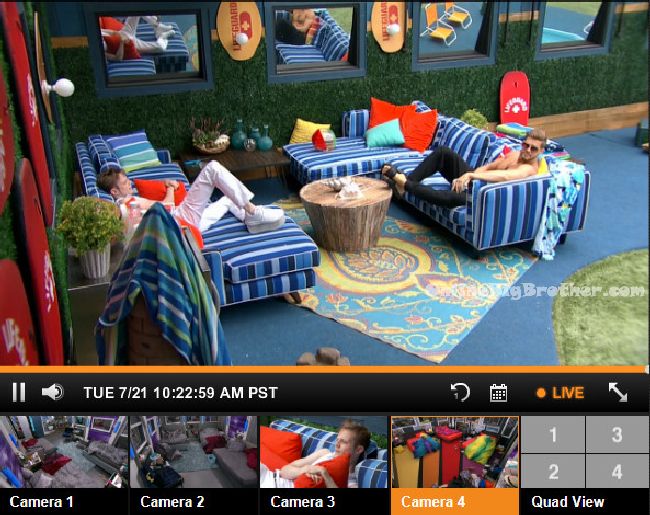 10:50am Backyard – Clay, Johnny Mac and Becky are on the backyard couches talking. Becky brings up how big brother told them as usually that the bedroom lights must remain on during the day but Audrey's allowed to have the lights off in the havenot room. Big Brother blocks the feeds.
11:15am – 11:30am Comic bedroom – James and Steve are talking. James says she didn't want to watch herself get nominated. It's pretty much a done deal she's going home on Thrusday. Steve wonders if she will show up to the eviction on Thursday. James wonders if she will even get ready on Thursday, like get dressed and pack her bags. Steve says well she would be shooting herself in the foot if she didn't. Steve says that I'm sure that big brother is doing everything they can to get her the help she needs. James says everyone is being very nice to her. Steve says that's why I do my loud talking with her. James says that Becky cooked her dinner last night and I made her breakfast. Steve says so she's pretty much not a have not any more. James says no, there's no point if it will make her feel better. Steve says except for being a good sport about the game but I guess that is out the window at this point. James says I think she'll feel a lot better when she gets out of the house. I'm sure Julie will have a lot of questions for her. She did stir up a lot of stuff but was there any truth to it. Was a 100% a lie or was there 25% truth to it.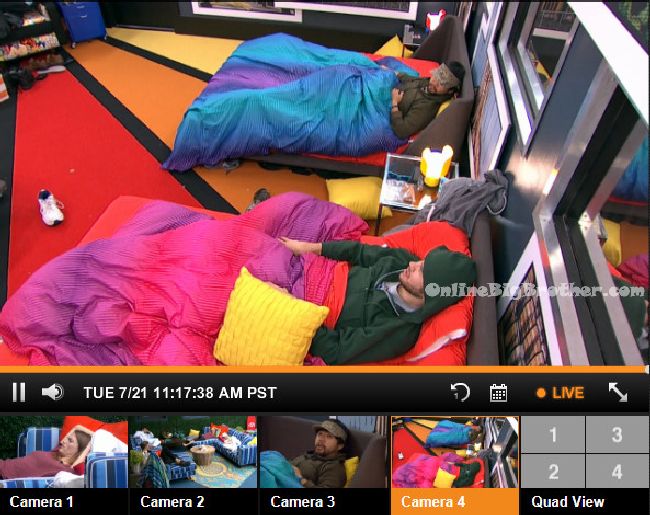 11:35am Becky goes into the havenot room and then heads to the bathroom. She comments that "She (Audrey) ate half the omelette! That's a good sign, she's eating again. (She ate pizza last night that's hardly worth worrying if she's eating or not. Its a rough life being a havenot.)
12pm Austin says that he wants to make a truce with Meg, James and Jason. His veto speech touched a cord with me. I also watched since season 1 and always wanted to be on. I'm going to have a heart to heart with him. To see if I can establish some trust with him. Plus he is one of the biggest people on top of the Liz twin thing. He is always on top of when they switch. Vanessa asks how do you know? Austin says Steve told me. I think I have a way to counter act that. Big Brother blocks the feeds.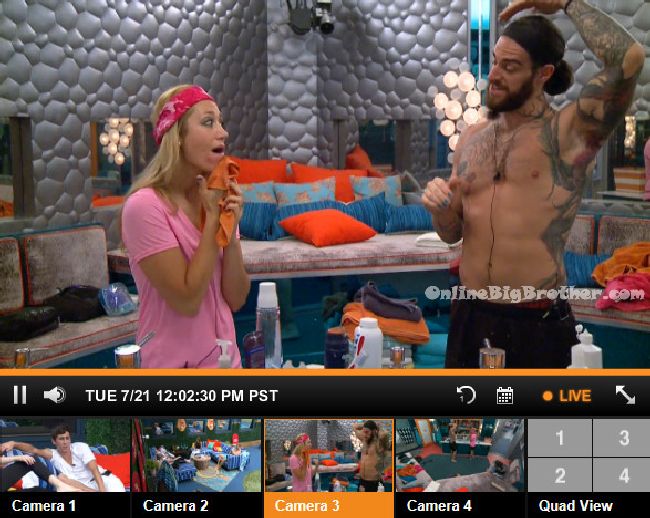 Jason and Becky are talking on the backyard couches. Jason says everyone knows at this point. Vanessa is the one that brought it to me during her HOH. Becky says that Steve told them. Jason says he's the one that leaks information. I told him yesterday to stop scampering around collecting information. Becky says I don't think he is smart and deadly, he's just Steve. The think is he isn't going to try and win HOH. He's playing a game where he doesn't have to win HOH and just collect information. Jason says that's why he made that deal with me not to put him up. Becky says if you don't win HOH you have to be worried about going up on the block.
12:15pm Shelli gets the HOH camera and they start taking photos.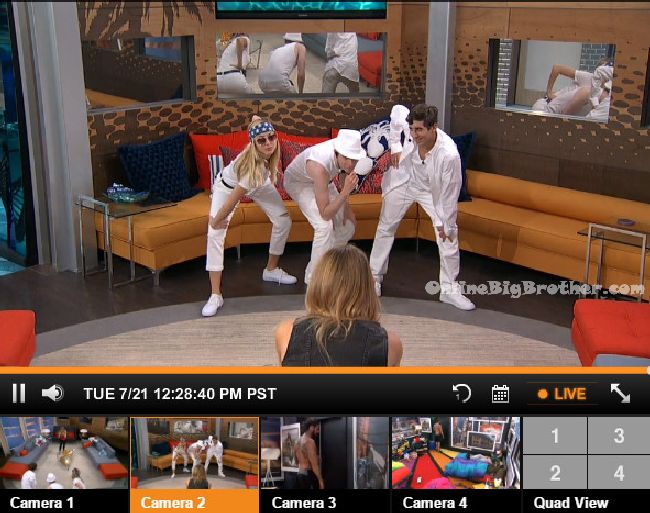 12:20pm – 12:35pm Clay talks to Meg. Meg says we have to win. Someone has to win on our side. Clay says I know. How much do you trust Jackie? Meg says she will be fine she is going after the Austin, Vanessa, Steve. Meg says Steve isn't really associated with anyone so he would be an easy out. Meg says I would put up Steve and Austin. I wouldn't backdoor anyone either. I would have good reason to because Austin put me up. I also have a great speech. I would put up Austin and someone. Meg says if you guys do go up on the other side you just need to play really cool to get out of it. Clay says I think Austin needs to go first. Meg agrees. Clay says we for sure have to win double eviction. Meg says if you're going to go up thats when it would be so you for sure have to win it. They head inside and the HOH photo time continues.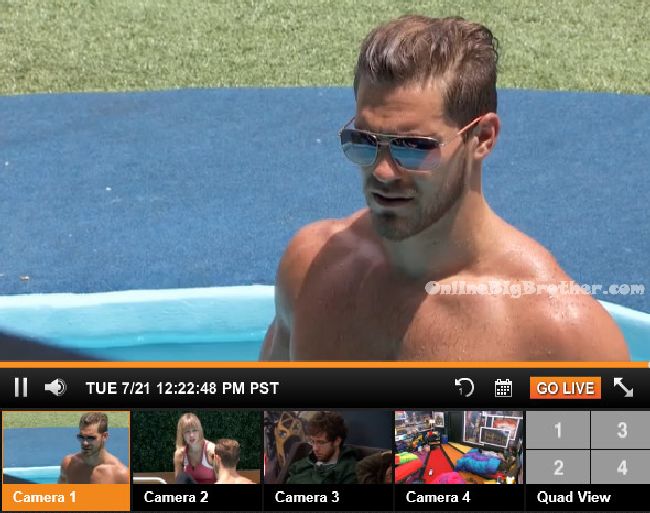 12:40pm
James tells Clay that Steve is very interested in people that haven't gone up on the block yet. Clay tells James you seem kind of skeptical the last few days after talking with Audrey. James says no, this is just my week to lay low. Clay says okay good. If you have any questions just come ask us. Clay says hopefully one of us 5 wins. (Clay, Shelli, Meg, Jason, James) She (Shelli) put up Jason but hopefully he understands. James says you and Shelli don't have anything to worry about from me.
12:45pm Backyard – Austin says at this point I have to get my moneys worth on the showmance. Johnny asks what about the situation back home. Austin says yeah I wanted to talk to people about that because I don't want people to get the wrong idea. We left being open that I am free to do what I want to do. Johnny says if its open its open. Austin says You're Johnny Mac you know!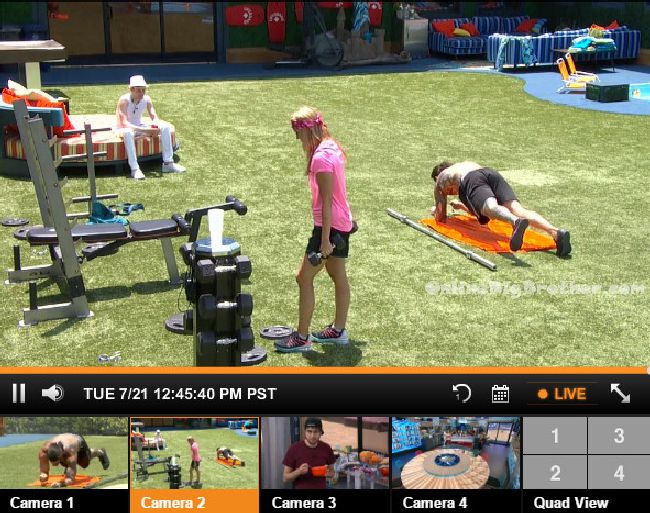 Things I never thought I would hear … Jackie "Who ate my slop!??" @bigbspoilers #bb17 pic.twitter.com/OdY5vwHJff

— Dawg (@DawgsBigBrother) July 21, 2015
Vanessa "how do you like being a havenot?" JMAC "I don't like making food so its easy!" @bigbspoilers #bb17 pic.twitter.com/bd3PdNBSMN

— Dawg (@DawgsBigBrother) July 21, 2015
They head into the havenot room to take photos. Becky says sorry Audrey we're going to take a photo real quick! Don't worry you won't be in it!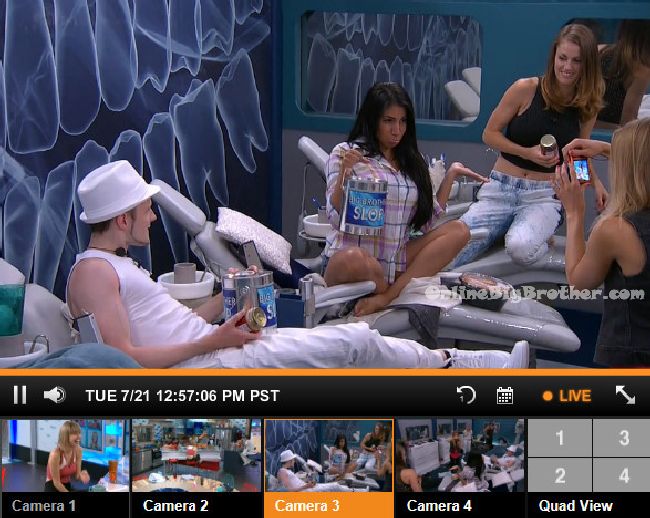 1pm Meg tells Clay he looks like a lady girl in the photo they took below.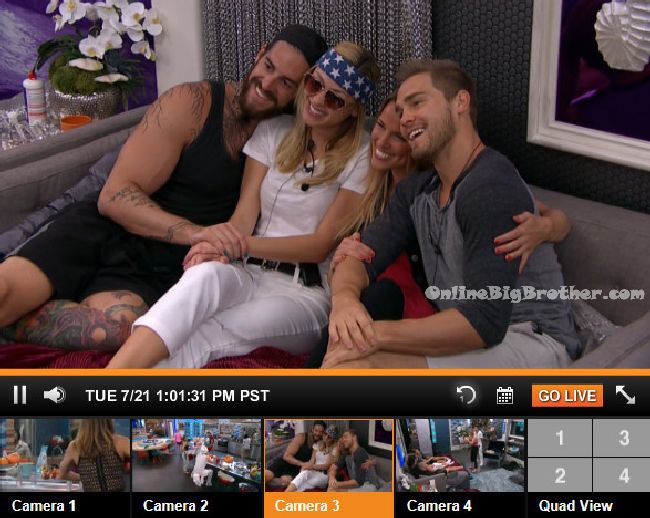 Live Feed subscription gives you CBS All Access thousands of archived shows. Live Shows like Big Brother, all the Big Brother Seasons, and 24/7 coverage of what is happening inside the Big Brother House. Plus there's flashback that lets you go back to any second of the feeds and rewatch what happened. Simon and Dawg will index the season just watch the parts worth watching. All this for $5.99 a month try it out 1 week free. Support our efforts and get your feeds via a link on this site. Live feed subscription Sign up
[polldaddy poll=8983592]
Share it YO!!
Tweet