POV Holder:
Clay
Next POV
July 25th
POV Used
Yes
POV Ceremony
July 27th
HOH Winner Team 1:
Jackie
HOH Winner Team 2:
Vanessa
Nominations 1 :
James & Liz
Nominations 2:
Clay & Becky
Battle of the Block Winner
James and Liz
Next HOH/ Next BOB
July 30th / July 24th
Original Nominations:
Clay and Becky
Current Nominations:
Jason & Becky
Have Nots
Shelli, Clay and Steve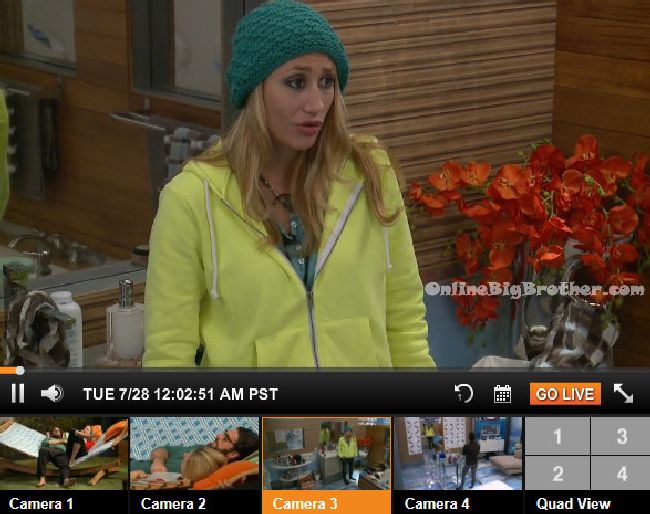 TRY the Big Brother 17 Live Feeds FREE for 1 WEEK:
Click here to ensure your live feed subscription supports OnlineBigBrother.com at no extra cost to you.
12am HOH room Jackie asks Vanessa how do you feel about Meg? Vanessa says fine, totally fine. People perceived Jason as a threat that's why. People are threatened by him. Jackie asks because he knew the game so well? Vanessa says yeah. Jackie asks and not Steve? Vanessa says they're threatened by him too but more so by Jason because he has a good social game and Steve's all alone in the game and everyone is already against Steve. And Meg, I really like Meg. I know she is really pissed at me. And I just said everything that was the truth and I hope she understands where I was coming from. I don't think she took it personally. I am so super open minded about her. She is going to be emotional, its going to be a hard time for her.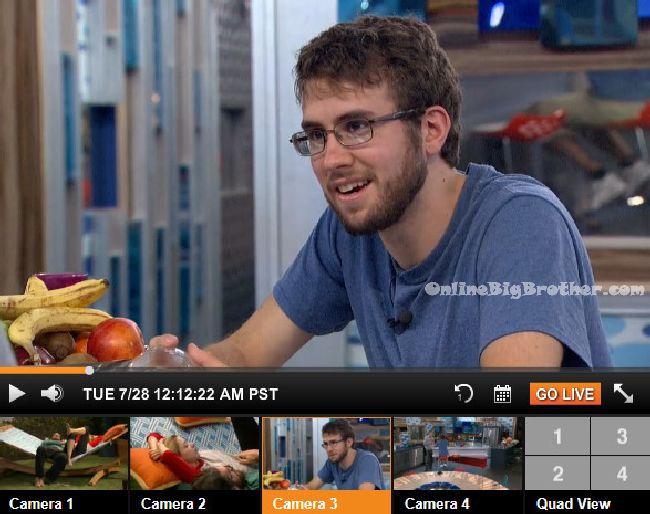 In the kitchen – Johnny comments how Jason is leaving just before jury. It just sucks! Steve says I know its my last chance for a fall semester too. Johnny tells Steve to keep killing it. Steve tells Johnny I need you here. Last night Vanessa called me up and told me to tell you. Steve talks about how he tried to avoid everything today by sleeping in the havenot room. I was out in the backyard and in the hammock room with the door closed so it didn't look like I was eavesdropping on the kitchen. Johnny says yeah people think you're some kind of mastermind that you're not. Steve says I'm aware of this. Its because I wear glasses, went to engineering school and spelled trombonist. It think a lot of it will be better now with Jason good because I think a lot of it is coming from Jason about me being a snooper. Steve says keeping your mouth shut is why people leave this game. All five of them so far is because they couldn't keep their yap shut. Steve & Johnny play a game of chess.

12:10am Hammock – Liz asks Austin if anyone else knows about his other name Judas? Austin says just Shelli and Clay .. but their cool. Liz says that she is worried someone might use it against him later on down the line. Austin says if it gets down to just our alliance its okay. But its really nothing. It doesn't mean anything. Austin says we're going to stick together and not backstab each other till final 6. After what they did for me I have to believe it because they really saved me. Liz says I just feel bad that Vanessa even thought to choose that side. Like what were they saying to make her do that? Austin says well they're good, Jason's good! Austin says I only want to remember the good stuff this week. Liz brings up how it was so disgusting how James asked if we were into incest. Austin says I think Jason actually said it. He admitted to it later. I was like oh you both said it. Liz says after hearing that I am really worried how we're being portrayed. Austin says its not going to be portrayed bad at all. I've talked about this so specifically in the DR. I understand why you're concerned because that means you're respectable and a good person. And people are going to know that.Julia says I am just really sick and tired and want her to come in. I haven't really seen her in over a month. I hope you're not worried because when she comes in we're going to spend a lot of time together. Liz says I'm also cautious because of what was said about you trying to separate us. Austin says I never said that, Jason flipped that. That's why I was so hurt. Liz says obviously my sister and I love you. Austin says this week was a really mess but now we can move on.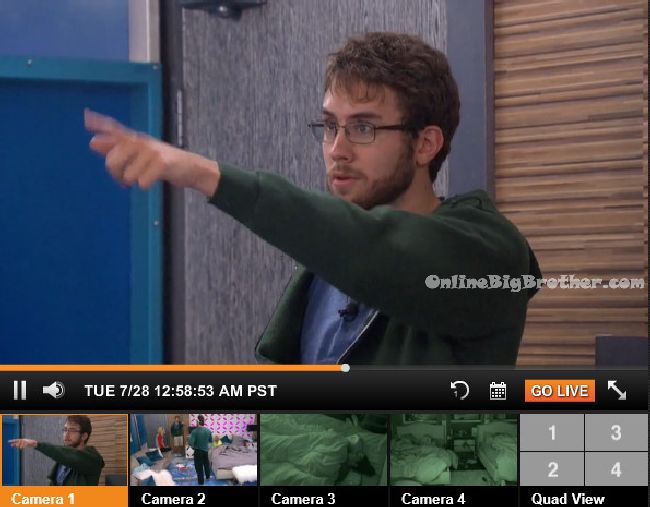 1am – 1:50am HOH room –
Vanessa, Liz, Austin and Steve are talking about what they think the coming HOH competition will be. Steve starts asking Austin questions. Who was HOH week 2? Who did they nominate? What was the POV called? Who played? Who hosted? etc. Austin says he thinks they would tailor the HOH comp for the twins to win it. Like an endurance comp. Steve says if this wasn't BOB, I would be 100% confident this next HOH would be an endurance. Austin says they might go back to the original format and have an endurance and if Jason isn't here we can nail this! I'm going to stay up there for 48 hours at least! Steve says that endurance competitions have been getting shorter recently because they've been making them hard. Endurance comps used to be how bad do you want it and now they've become how long can you physically do this for? Steve asks did we recruit Becky and Johnny Mac? Vanessa says to this side in terms of feeling comfort yes but do we have … I look at it like levels of loyalty. We have a higher level of loyalty. Steve asks so the nominees next week are going to be? Vanessa says those that are left. Steve says there's only 3 of them. Vanessa says it might involve one of us throwing it. Liz says Jackie, Meg and James. Vanessa says and different people have different goals so it really matters who wins HOH. They continue to study past events and then talk about past seasons of Big Brother and who they liked from the seasons. Steve says he really liked Kail (BB8). Liz like Jace for (BB6). Austin likes Evel Dick and Jen (BB8). Jeff & Jordan (BB11). Steve comments that he sent Christine (BB16) an email in January about how he thought the majority of the hate she received we undeserved. He says that Christine wrote back. He says he didn't like her game but liked her personally. Austin and Liz leave the HOH room.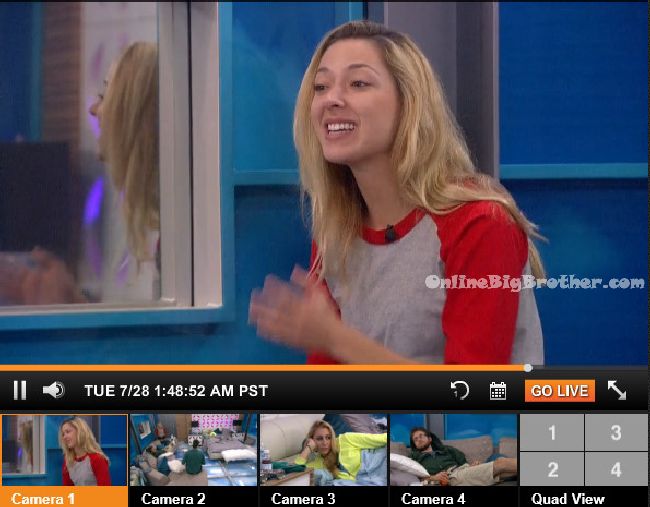 2am Austin and Liz talk about how they wonder how they're going to bring in Julia in, where her HOH photo is going to go / if its going to be split with Liz's photo and where her key would go.

1:50am HOH room –
Vanessa asks Steve .. are you Ian's brother?! Steve says no. Steve asks what happened in the HOH earlier between Jackie and Shelli / Clay. Vanessa says that essentially Jackie interrogated Shelli/Clay & myself. They had an awkward moment and then they fixed it. Steve asks so is Jackie focus now on Clelli? Vanessa says yeah, I don't know if she is targeting them. She's more concerned they're targeting her. Steve says so I've moved off her radar? Vanessa says she hasn't said your name all day. She actually said positive things about you. Steve tells Vanessa that he is really nervous because when we didn't have Becky on board we had 4 people. So it would have been bam, bam noms. And it would have been a way to unit that group before we started pawning our own. Now we have to pawn one of our own to make that work Vanessa says we never made a long term deal with Becky it was just a one week deal. I think she's trustworthy and a good person to work with. Steve says I would have liked to have had Jason on the jury. He would have made a good juror. Steve says all the house guests that were recruited were: Meg, Clay, Becky, Jackie, Liz & Julia. That's a really heavily recruited cast. Vanessa says its a good cast. Steve says a young cast. What do you want to do after this is done. Lets assume James, Meg, Jackie are out. Vanessa says best case is that it doesn't go all 3 in a row. So they have to make a move and hopefully it doesn't hurt us because I don't want to have to pick. Steve says hopefully the obvious targets are targeted before we are. Vanessa says she's banking on it. Steve says he really liked Jace. He didn't annoy me at all. Steve tells Vanessa that she can talk about how annoying he is behind his back like Austin does with him. Vanessa tells Steve that he isn't a threat to anyone now that Jason is going. Steve says no one is going to want to compete against me in the final hoh. Vanessa says I do. Steve says he know he needs to win an HOH just for the simple fact people don't think I'm trying to throw competition. Steve says I want to start thinking about after Meg, James and Jackie are gone. Steve says that Meg is mean to him. She is not attempting to pretend we're friends. I try to pretend. Steve tells Vanessa he loves her and then says I just dropped the L bomb. Can I get one back. Vanessa says I love you Steve.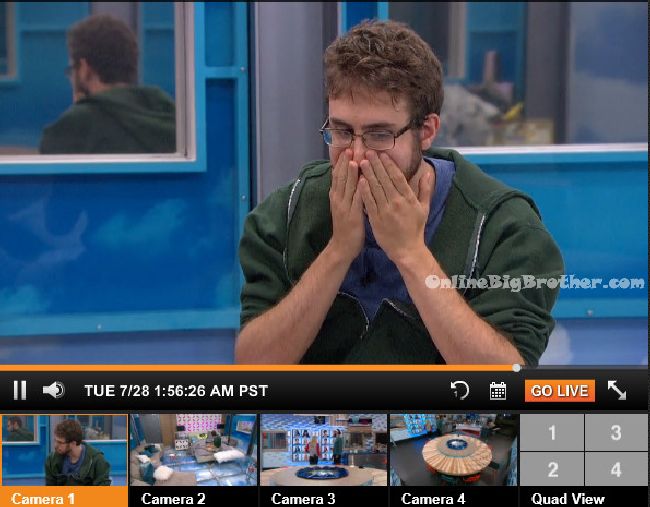 Steve @bigbspoilers #bb17 pic.twitter.com/y2QV1JUMR4

— Dawg (@DawgsBigBrother) July 28, 2015

Try the Live Feeds FREE for 7 DAYS! Click here for your: FREE Trial
2:30am Jason says she is literally that fakest bitc*h in the world. I can't wait to sit back and watch all this bullsh*t. I know I'm not the smartest player but I did the best I could.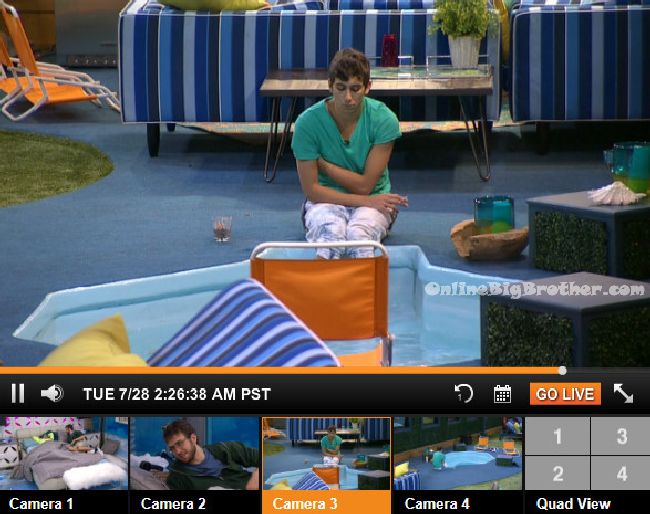 3:10am – 3:20am Steve is in the backyard throwing pillows / the hula hoop / oranges into the air. Steve then heads inside to take a shower.
3:30am All the house guests are in bed sleeping..
[polldaddy poll=8994045]
Share it YO!!
Tweet