POV Holder:
Clay
Next POV
July 25th
POV Used
Yes
POV Ceremony
July 27th
HOH Winner Team 1:
Jackie
HOH Winner Team 2:
Vanessa
Nominations 1 :
James & Liz
Nominations 2:
Clay & Becky
Battle of the Block Winner
James and Liz
Next HOH/ Next BOB
July 30th / July 24th
Original Nominations:
Clay and Becky
Current Nominations:
Jason & Becky
Have Nots
Shelli, Clay and Steve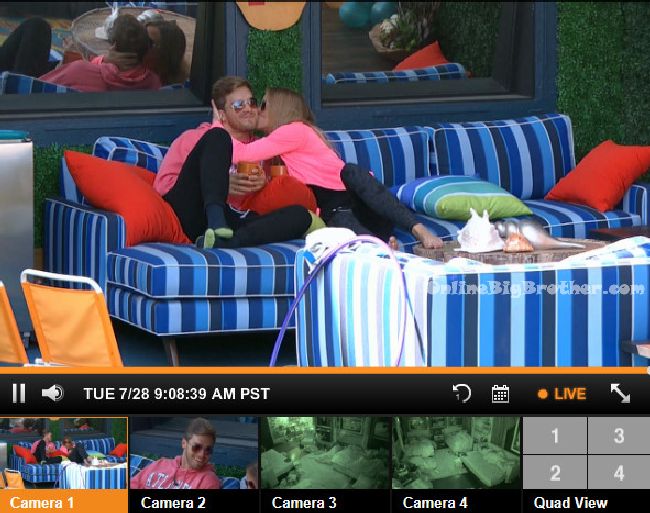 TRY the Big Brother 17 Live Feeds FREE for 1 WEEK:
Click here to ensure your live feed subscription supports OnlineBigBrother.com at no extra cost to you.
9:10am – 10:30am Backyard – Clay says only a couple more days of being havenots. Shelli says that she's not sick of the popcorn yet. Clay jokes about how he was up early thinking about their barnyard wedding. They talk about watching the season together when they get out. Shelli says that she likes how the season has been very divided getting out boys and girls. She says she likes that. They start talking about all the fast food they love. Johnny Mac joins hem. Shelli asks if he shared a bed with Becky. John says no we don't do that. Clay and Shelli head inside to eat slop/popcorn. Steve says that he was freaking out a bit because he hadn't eaten. He describes it being like vertigo. He says they only have 1 more full day of being havenots but figures they'll have to still be havenots until after the HOH competition.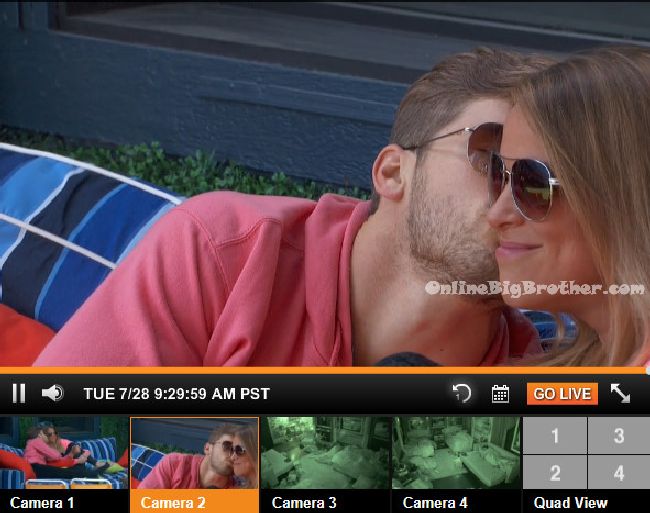 10:30am – 11:15am
Big Brother wakes up the house guests. Shelli says in the beginning Jason thought Vanessa was America's Player because she got called to the diary room so much. What if she was this whole time. Shelli says that Becky said to talk about her and Johnny as individuals.. I was like why so you & I / Austin & Liz can be the bigger targets? We brought you into this. Clay says that Becky said she would put up Steve and someone like Austin. When I heard that I was like bullsh*t no you're not. Shelli says You're not taking our Stevie. Shelli says that she doesn't know Steve is close with us. She thinks it me, you, Vanessa and her, with Johnny as an extension. When it comes to a double eviction people need to remember we're not the only pairs in here. There's Liz & Austin, Liz & Julia, and other pairs.. Clay says he doesn't think anyone would put us up. Meg wouldn't. Shelli says one of us has to win that double eviction HOH because it will be so easy for someone to put us up there. When it comes to that never put the twins up. Clay says I know. The thing is no matter who they put up we have the numbers. Jason and Becky join them. Clay and Shelli head back to bed in the havenot room.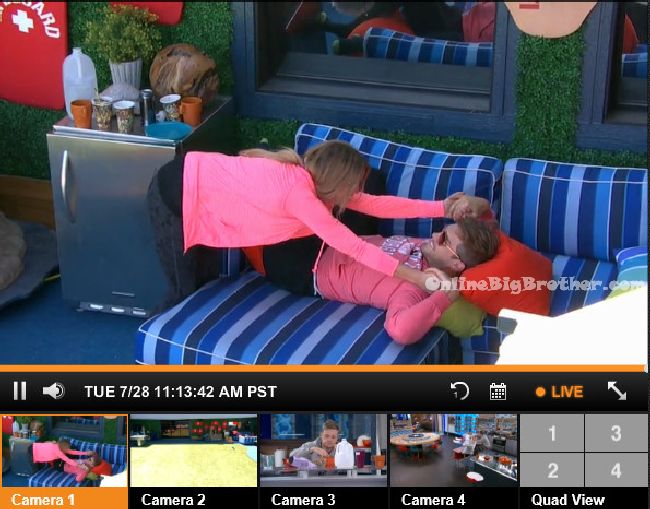 11:45am Becky and Johnny Mac are the only house guests awake. Johnny's doing the dishes while Becky suntans.
12:10pm – 12:20pm Vanessa goes to the bedroom and wakes everyone up asking them to please get up so she doesn't have to take selfies of herself with the HOH camera.
12:25pm – 12:50pm Backyard –
Vanessa talks to Johnny. Johnny says they really haven't asked me if I knew before hand so I haven't had to make anything up. What would you want me to say. Vanessa says it would be better if you did say you knew before hand so that way it was like a house thing and the only people that didn't know were his 2 closest allies. Which makes sense why they wouldn't know because that would put them in a hard position. They would have had to side with the number and sell out your friend. I knew you would be on board with this. Clay thought strongly you would be on board with it as well. Johnny says Steve and Becky told me it was happening. Vanessa says that Austin did lie but it was a foolish in love kind of a lie. Austin was the only common ground Jackie and I could come up with. She really wanted Steve but I didn't want to do that. I'm good on HOH for awhile. Meg joins them and they continue taking photos.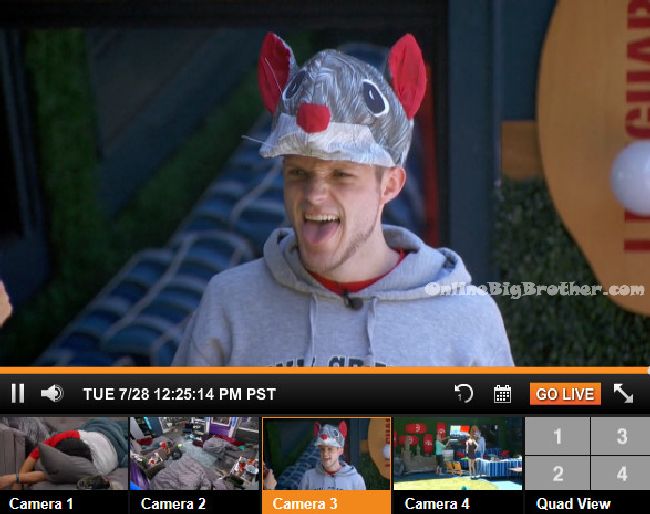 1pm Austin talks to Johnny Mac. Austin says that Liz is worried about how I will feel when her sister gets here and won't be able to spend as much time with her. She thinks I'll be weird about it. Johnny says yeah family problems. Austin says I'm excited for her to be here. I'm a big boy. I'm not 23.

1:20pm – 1:50pm Vanessa asks Liz when she is switching. Liz says I don't know we were supposed to switch yeterday. Vanessa jokes that Liz should tell Julia that Vanessa is HOH and we're the target. She hates us. Liz says she is going to kill me! She gets anxiety. Liz says that next week she is volunteering to be havenots with JUJU (Julia).
Backyard – Clay, Shelli, Jackie, Becky and Meg are hanging out by the pool chatting about random things like music.

Steve & Liz @bigbspoilers #bb17 pic.twitter.com/QCxZgK1gLn

— Dawg (@DawgsBigBrother) July 28, 2015
2:15pm – 2:35pmBecky says yeah no take overs? Liz asks what do you think happened to the BB take over thing? It's so weird!? Shelli says I know its so sad. Jackie says it would be weird to think that the people are like over it. Liz says that's what I think. Big Brother blocks the feeds.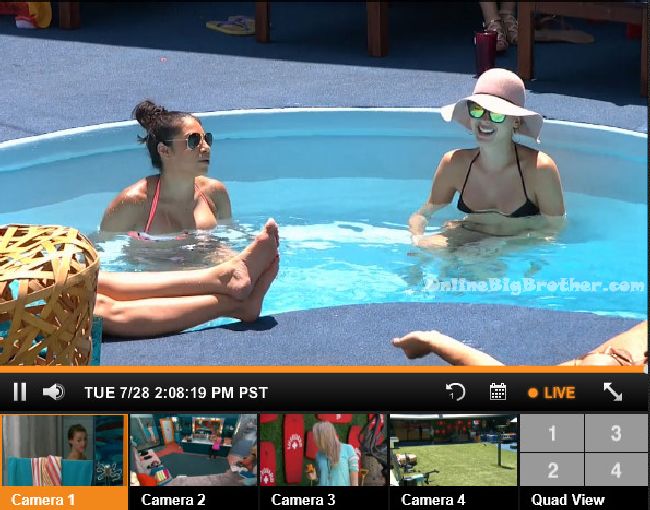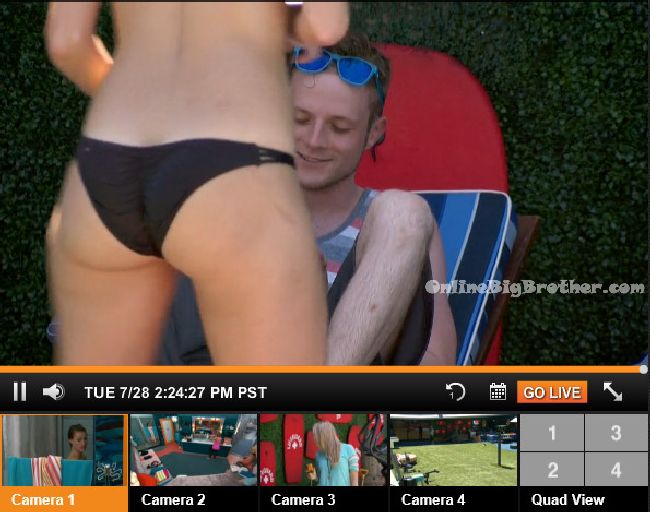 [polldaddy poll=8994045]
Share it YO!!
Tweet