POV Holder:
Clay
Next POV
July 25th
POV Used
Yes
POV Ceremony
July 27th
HOH Winner Team 1:
Jackie
HOH Winner Team 2:
Vanessa
Nominations 1 :
James & Liz
Nominations 2:
Clay & Becky
Battle of the Block Winner
James and Liz
Next HOH/ Next BOB
July 30th / July 24th
Original Nominations:
Clay and Becky
Current Nominations:
Jason & Becky
Have Nots
Shelli, Clay and Steve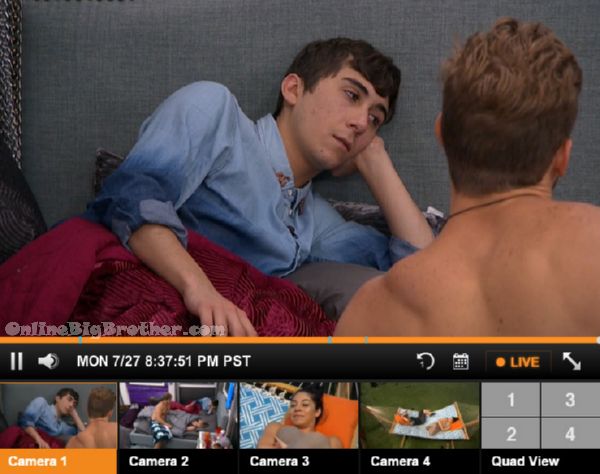 8:38pm Clay, Jason, Meg
Clay – Shelli is having a rough time with it.
Clay says they weren't the ones coming up with the idea to put Jason up.
Clay leaves
Jason – At least I can say I'm some powerhouse player that got backdoor..
Meg – Bring back the goblins
Jason – Bring back the goblins
Meg says they did a very good job at not letting this slip
Jason – My brain didn't even compute my body just moved me to that seat
Meg – I haven't had a surprise like that for a long time
Jason – that was the first blindside of the year.
Meg – I would pee my pants if something happened
Jason – pray for a telephone booth
Jason – I got got
Meg says if Austin wins HOH next week she'll laugh. They think Austin will go after Jackie and James.
Meg – I don't think he sees me as a threat
Jason jokes that James probably doesn't have a accent he's a businessman from New York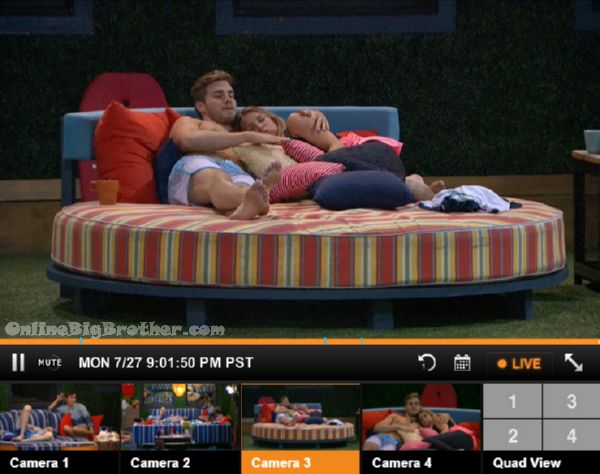 8:53pm Shelli and Clay
Comparing notes mostly chit chat. Clay says he's worried about Becky.
(At one points all for cams were on these two talking about their dogs.. )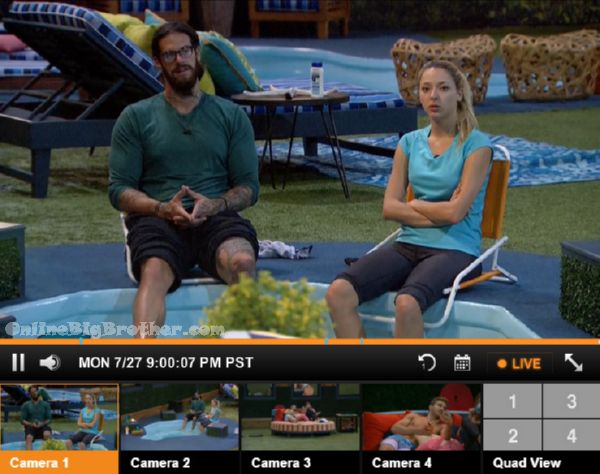 8:59pm Hot tub Liz and Austin
Chit chat.. What better Sauna or Steam room?
9:08pm Backyard Jason, Steve, Jackie and Becky
Becky says all the guys working at Abercrombie are hot straight acting gay guys
Jackie says the guy that cast her for "The Race" is now a good friend of her.
Jackie says 1% of the guys that dance are straight "And he's very questionable"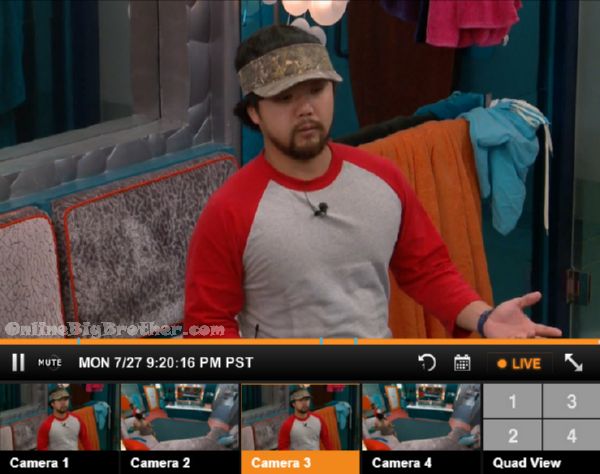 9:20pm Bathroom JAmes and JAckie
James says Clay's been asking about where he's at with Jackie and Becky.
James – that's all I got
Jackie – when they were talking to me they made it sounds like they are protecting Becky that is why they didn't let her know.
James – you me Becky and possibly Meg are on the outside of something we don't know about.. whether they call it an alliance or not I don't know
James – All i know is one of us gotta win HOH,.. period
Jackie says Clay was the one that brought up the alliance. (The dark moon alliance that lasted a couple days)
They agree to stick together.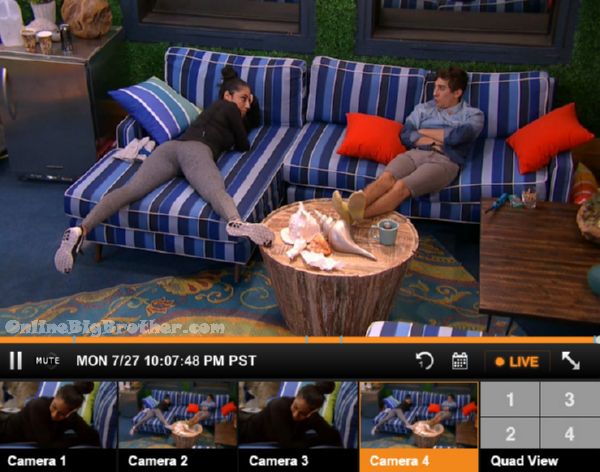 10:10pm Backyard Jason and Jackie (There hasn't been a lot going on)
Jason says they are going to keep Meg because they don't think she can win any competitions. He warns them that Jackie and James will be that sides next targets.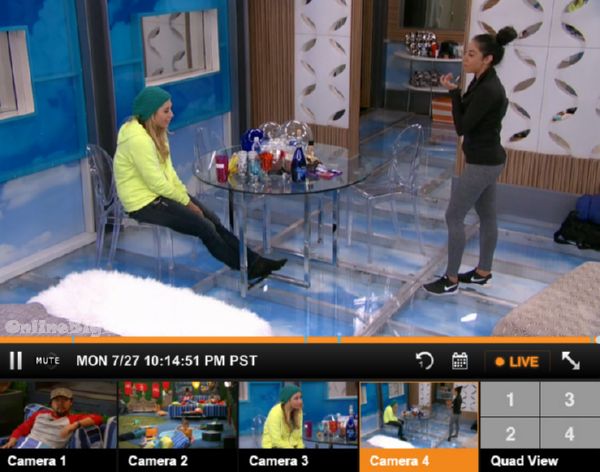 10:14pm Jackie and Vanessa
They are going to share some wine. Vanessa asks if the house is all a buzz and asks if Jason is campaigning. Jackie says no he hasn't been.
Vanessa – what a day
Jackie – I don't question you.. just my place in the house
Vanessa – I would be shocked
Jackie – Do Shelli and Clay have something
Vanessa – You got yo my word I don't
Jackie brings up James telling her Clay/Shelli were asking James how he feels about Jackie and Becky.
Vanessa says cheers to the irony of having a easy week and turning it into ta cluster fu**
Jackie says the part that sucks is all the trust has been broken she's tryign to decide who to work with "Whose working with who"
Vanessa – it's a fact now whose working together
Jackie – You shelli and Clay
Vanessa – obviously ya
Jackie – where do me and Becky sit
Vanessa offers they can join Shelli and Clay.
Vanessa says there's the twins and Austin, Meg/Jason/James, Sheli/Clay/Vanessa and JAckie/Becky/Johnnymac
Jackie says she has nothing with Jmac. She never talks game to him he was never part of darkmoon if she was close to him she would have pulled him into it.
Vanessa says they are still building trust and she's wanting to work with her.
Jackie doesn't want to be a target because people think she is targeting them. Jackie is worried Austin is targeting her now because he knows she was trying to backdoor him.
Vanessa – with me you have nothing to worry about Shell and Clay you need to talk to them.
Vanessa – you need to look out for them and they'll be there for you
Jackie – I was kinda doing that this week..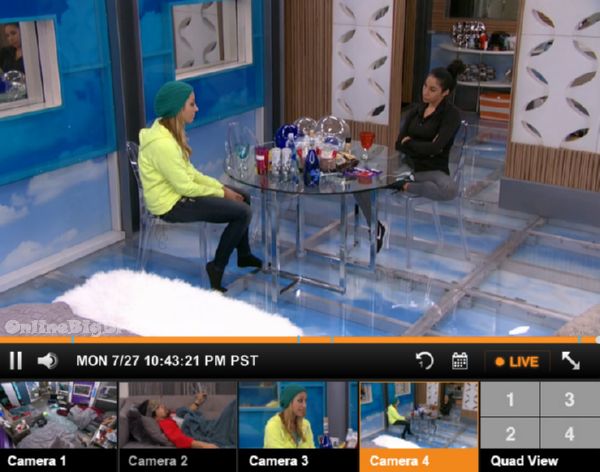 10:40pm Vanessa explaining to Jackie why she didn't trust their 8 person alliance.
Vanessa says things were found out by Shelli and Clay that really worried them. She's not sure what it was.
Vanessa says the alliance was not loyal. Jackie says she talked to everyone before this morning and they all seemed fine with the plan. Vanessa says people were not going to stay loyal.
Jackie can't understand why people weren't they had a plan to get to final 8
Vanessa says he made a tough decision "I think I made the right decision"
Vanessa says being scrappy in this game is smart..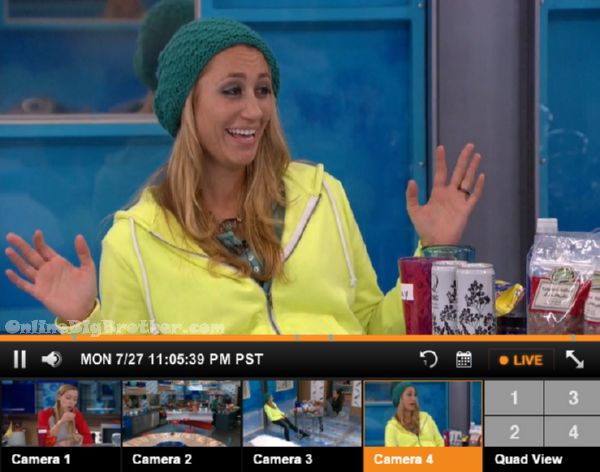 11:00pm
Jackie mocks Liz for all of a sudden playing the game and acting like she knows what is going on. (During one of the HOH conversations today Liz and Jackie got a little bit of attitude)
Vanessa laughs "She doesn't even know about this group of 8″
Vanessa says nobody talked game to the twins because they're only around 1/2 of the time.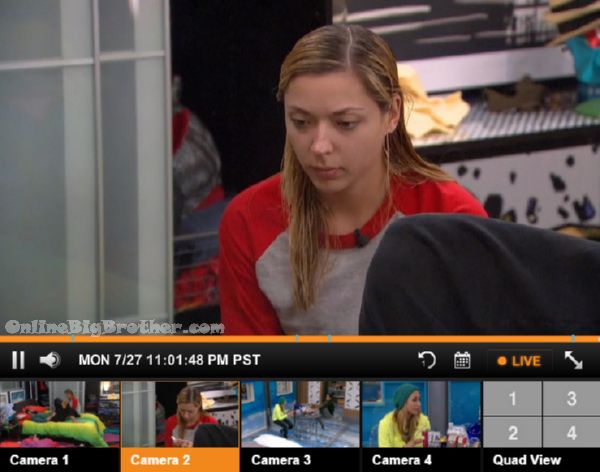 10:58pm Bedroom Liz and Austin
Austin saying they need to hangout more with Becky and as Vanessa had recommended separate from Clay and SHelli to hide they are working together.
Austin adds they need to hang out with Steve and JOhnnyMac
Liz mentions how Jackie was acting today.
Austin – she's upstairs by herself like she has an army behind her.. Meg and James.
Liz – we have the numbers
Austin – I'm still really bitter these people had be down.
Austin says last night during the outback dinner nobody was talking to him he started sensing they were all ignoring him because they thought he was gone.
Austin – Ice cream time
liz – Ice cream Ice Cream
They head to the kitchen.
Liz says she feels bad for Jason
Austin – he tried to tear us apart
Liz – I don't think he's even going to campaign
Austin – he's going to campaign he's already started.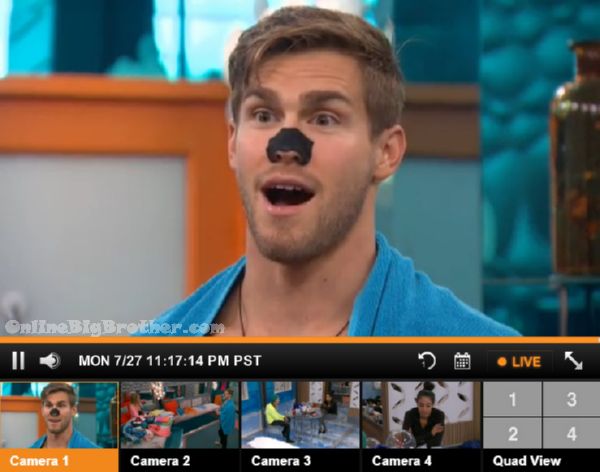 11:17pm Bathroom Clay and Shelli
Shelli – if one of us does not win on double eviction we're going up against each other
Clay – No
Liz joins them tells them about her conversation with JAson. Told him there was people that didn't handle things well with her sister and she's always going to stick with her sister.
Shelli says Jackie is the biggest threat socially and competitively.
Shelli – she's mad at us
Liz says she coming after them.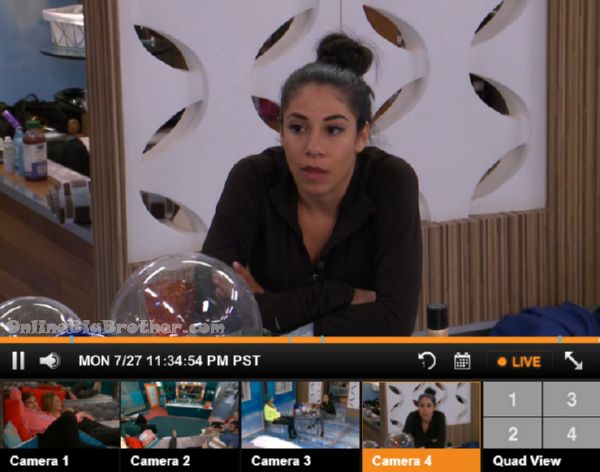 11:25pm Vanessa and Jackie still in the HOH Still talking in circles.
Vanessa telling her there was people bringing previous loyalties when they formed their final 8 so when they had two of them up there people started questioning their position on the totem pole.
Vanessa says there was so many facts put on the table from all over the house. Austin was a wounded bird he's not good at this game. her head was "Spinning" she made the decision right before the ceremony.
They talk about James not being able to throw the BOB, Jackie mentions it's going to be hard to hide that from Liz eventually she'll find out. Jackie hopes she understands she was never the target it was Austin all along.
11:40pm Vanessa telling her there was people bringing previous loyalties when they formed their final 8 so when they had two of them up there people started questioning their position on the totem pole.
They start talking about the last POV competition. Vanessa thinks Becky is strong in competitions it just depends what type they get. Like the last one was more hands which favored Clay over Becky. "He does football with his hands she does football with her feet.
[polldaddy poll=8994045]
Share it YO!!
Tweet