POV Holder:
Next POV
Aug 17th
POV Used
POV Ceremony
Aug 19th
HOH Winner:
Aaryn
Next HOH:
Aug 22nd
Original Nominations:
Elissa and Helen
Current Nominations:
Last Evicted Houseguest
David, Nick, Jeremy, Kaitlin, Howard, Candice, JUDD, Jessie
Have Nots (head cheese and habaneros)
GM, Amanda, Helen and Elissa
1:15am Up in the HOH bathroom – Aaryn and Ginamarie are doing facial masks and start watching the fish. They notice that one of the black fish are doing well. Gina asks what is he doing flips and sh*t? Aaryn says that fish is pu$$y popping on a handstand like Candice. We are calling that fish Candice. Aaryn asks why do fish die whenever I'm HOH, I don't get it? Meanwhile down in the havenot room, Elissa, Amanda and Helen get ready for bed. Elissa uses one of the have bed comforters and says that she hopes she doesn't get in trouble but she couldn't find a havenot blanket.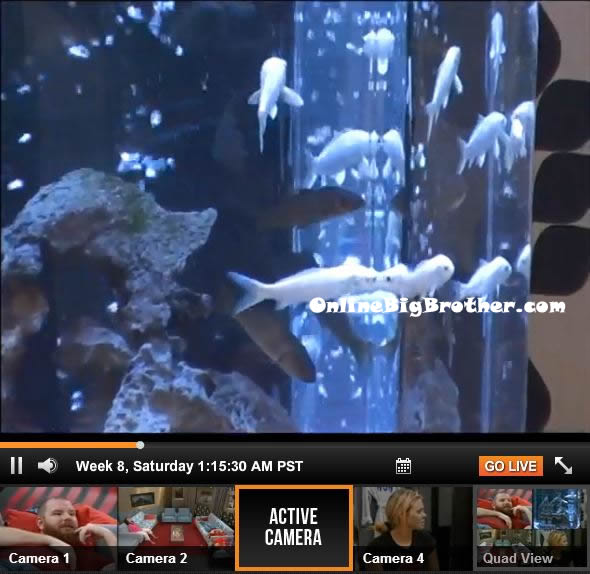 1:30am – 2am In the HOH room – Aaryn and Ginamarie talk. Aaryn tell Ginamaire that whenever Elissa's memory wall photo goes dark you will be over there all by yourself. Gina says I don't care. Aaryn says didn't I tell you everything was going to be okay. Back when you thought you we were going home I told you we would be okay. They head down to the kitchen. In the kitchen Spencer, McCrae, Aaryn and Ginamarie climb under the kitchen table. Aaryn says in BBCA they had $ex under the table with a sheet over it. Spencer says now we can bang, any takers? Aaryn notices the smaller table under the larger table. McCrae says whoa COOL! Aaryn says I show McCrae my vag!n@ and he says WHOA COOL! Big Brother tells them to stop that. McCrae says who wants to use this dental dam with me?! The get out and look at the memory wall. Gina starts kissing Nicks photo. Spencer says every night he wipes his a$$ with his hand and wipes it on Nick's memory wall photo. Ginamarie looks at Nicks photo and says that she is going to stealing Spencer's Bahamas trip. She says that she will drop Candice's body in the ocean there. Spencer says I hope Judd is f**king the sh*t out of Jessie right now. McCrae says I know he is he is getting his full plow on right now. Ginamarie says tapping that a$$.
Gina goes to open the protein powder and says oh great now I don't even know if this is f**king vanilla or chocolate?!!? That's a lie, it's vanilla! Aaryn says I don't know what Candice is either? Ginamarie says me neither, she is a mix – a black cap and a white body! Aaryn laughs. Ginamarie then grabs the protein tub and thrusts with it. Spencer watches her and says Ginamarie I bet you're horrible at sex. Gina says no, did you see that thrust! Aaryn says that if she sees her do that thrust one more time, I am going to self evict! Gina does it again. Aaryn says no one wants that. Spencer and McCrae head up to the HOH balcony and finger the HOH spy screen camera thinking Andy will see them. Spencer then moons the camera.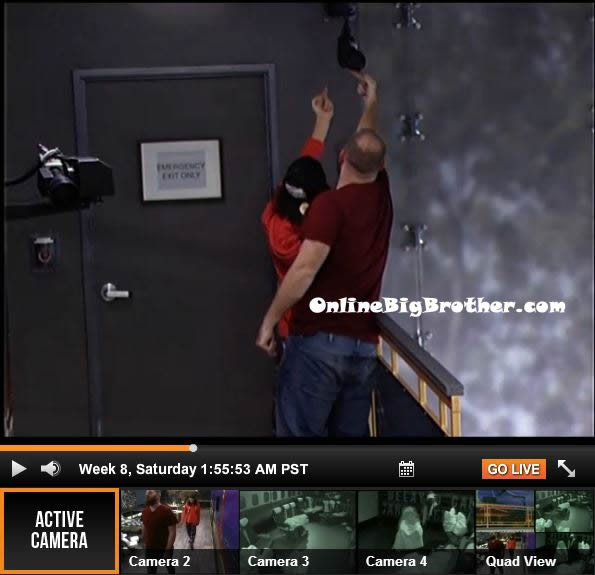 2am Up in the HOH room – Spencer, Andy, Aaryn and McCrae are talking about random things. They make fun of Candice. Aaryn sings it's my mouth I say what I want. Andy says its actually my mouth, my words. Aaryn says that Helen said she thinks Zingbot is coming soon. Aaryn says Helen Zingbot isn't coming for 2 or 3 weeks. Aaryn says that she wants Frank to come back and says that she'll c*m on him. Aaryn asks do you think anyone would want to c*m on me? Spencer says yeah! Amanda joins them. They talk about Jessie. Amanda says that she doesn't understand how someone could be attracted to someone like Jess with her personality. Spencer says he wasn't. Amanda says that he was always staring at her a$$. Spencer says what he has at home is much better. Ginamarie says that Jessie didn't even have a good body, she looked like a Pterodactyl. Spencer says Jessie was 6 months past her prime. Amanda says I think I looks better now than I did in my early 20's. I am aging well. Spencer says you're rare then. They talk about Jessie. Amanda says she was fine until 3 weeks ago. Aaryn says no she wasn't. Aaryn says she wanted to work with Helen to get you out. They were trying to nominate you just like America was. Amanda says America didn't nominate. Aaryn says I'm joking. Amanda says she was so mad when she was nominated the first time. Aaryn says Marilyn will get her tv debut and be asked about Spencer being nominated 19 times while he rubs Jessie's shoulders. Spencer says I could have been rubbing lotion on her t*ts and she wouldn't care at all! Marilyn gave me a hall pass and said if it will help your game you can. Aaryn asks what?! That's s.. Big Brother cuts the feeds. Spencer leaves. Aaryn says that explains a lot that's why after the first week he started talking about Marilyn. If some girl had wanted him we never would have heard about her.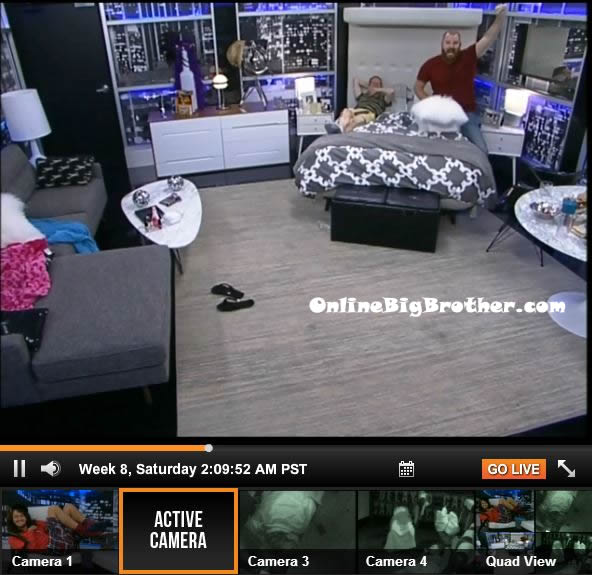 3am – 4:10am Ginamarie says Nicholas, I'm going to f**k your brains out, he is going to be scared! Aaryn says I don't want to f**k anyone scared of me. Ginamaire says that Nick got scared when I tried to do a strip tease. Aaryn says I wouldn't want to be with anyone that was scared. Amanda asks Aaryn how big David's pen!s is? Aaryn says I don't know I didn't touch it, he was here for 13 days. Amanda asks Ginamarie how much time is that in big brother time. Ginamarie says like 3 months. Aaryn says that she misses Judd. She says that he is probably railing Jessie hard now. Amanda says Judd was pissed at Jessie when he left. Amanda says that she can't wait to f**k hard, I want to be sore like a cowboy and not be able to walk around for like four days.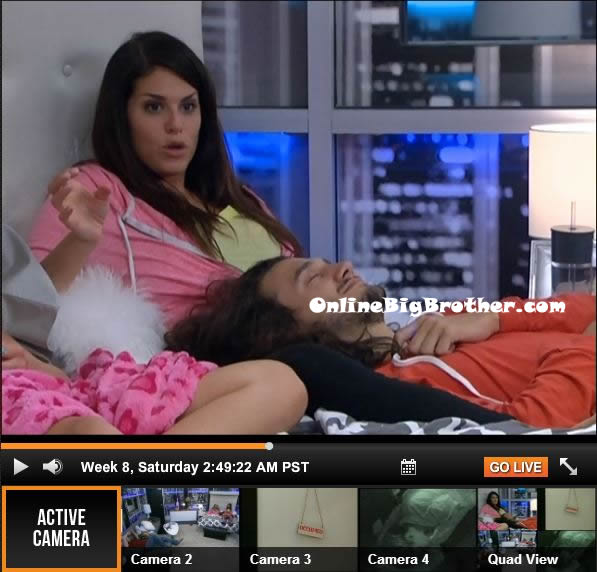 Ginamarie says that she wants to play in the POV tomorrow. She says she hasn't played in a while. Aaryn says you played today, queer girl. Ginamarie says not POV though! McCrae says we need to figure out what we're going to do. Amanda says anal, but you need to start out slow. Spencer says that he is going to play in the POV tomorrow and kill it. Amanda jokingly she that she will rape and kill it and c*m all over its face. Spencer says yeah! McCrae says that he plans on making Elissa walk. He says he will say are you going to let these scum send you out? That means you are lower than scum. You need to just leave before even going to the jury house! The conversation turns to talking about the POV competition tomorrow. They think it might be the punishment / luxury competition. Andy says that he will take slop for the rest of the season. They're surprised he would be able to do that. Aaryn asks if he'd really do that to send Helen home. Andy says that he will if he has to. Aaryn says holy f**k balls, I guess I'd have to go for that too. They continue to talk about random things and then head to bed.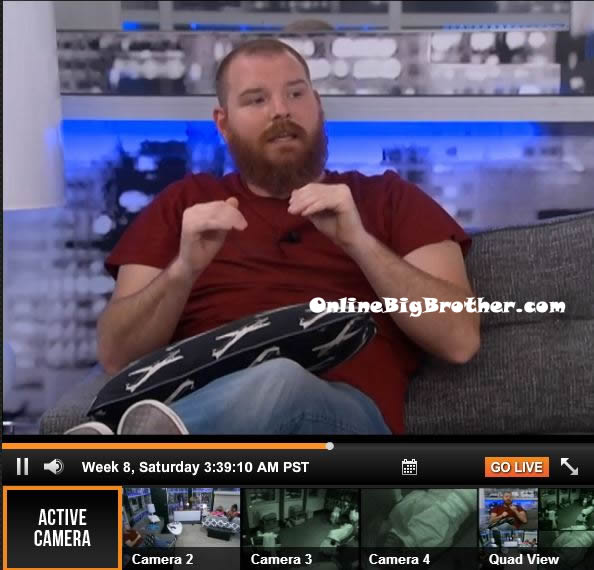 7am All the house guests are still sleeping..
8:25am – 8:40am Big Brother wakes up the house guests..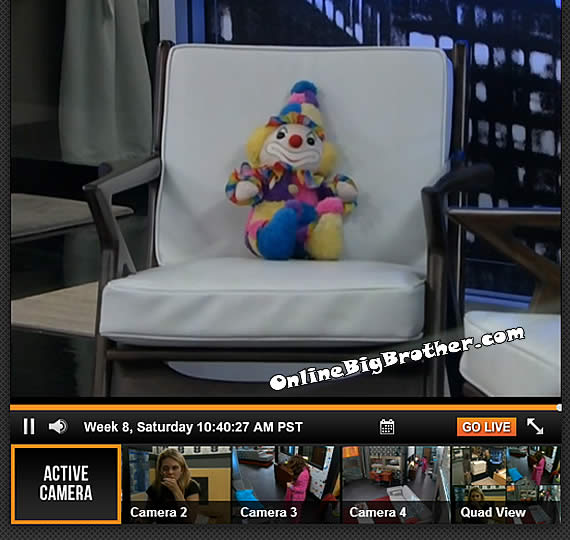 9:30AM GM and Aaryn HOH
GM mentions how Andy asked Elissa how old Rachel is and Elissa says she's not sure she can say. GM: "Are you serious it's you f*** age". Aaryn says Rachel is older than Elissa, Aaryn thinks she's 32.
GM: "Janelle blows Rachel away.. looks, competitions, class, everything dude"
GM: Rachel looks like a fu**ing warthog"
Aaryn: Rachel looks like a betta fish that got in a fight.. I can't believe she use to be my favorite" Aaryn says the reason Elsisa and Rachel are so famous is because they are such jokes.. they are finny to watch. Aaryn adds that people watch them because they cannot believe people are so ridiculous.
GM: 'You think Nick got my twitter when I tweeted him.. "
Aaryn: "YEs"
GM doing situps.. says her body feels sore from the beds..
10:20AM TRivia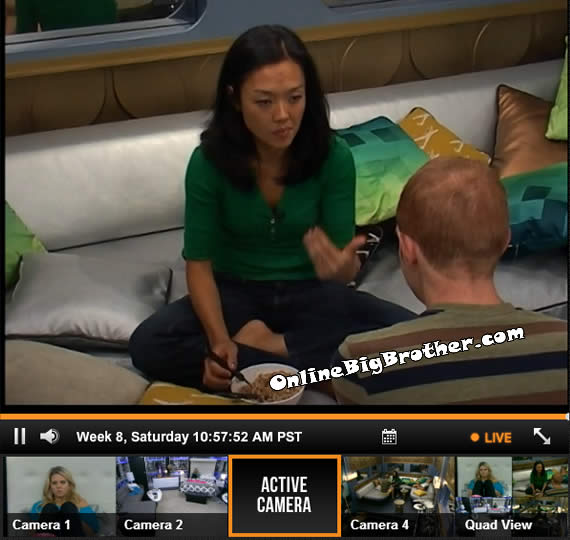 10:57pm Cockpit Helen and Andy
Andy: "Om my god pulling spencer "
Helen of course I'm the one that pulled him.. Do you think if GM wins it she will pull someone off"
Andy: "depends what Aaryn tells him"
Helen: "do you think they will pick me or Elissa"
Andy: "Everything I've heard is ELissa is the target but I don't think
Andy: "You have me and Mccrae for sure… and Amanda will do what MC says"
Helen: "How loyal is McCrae"
Andy: "He's pretty loyal I mean at this point there is still 8 people"
Andy: "At least Elissa got Houseguest choice.." (She picked Andy)
Elissa joins them, "are you glad you are playing"
Andy:" Ya"
Veto players are ELissa, Aaryn, Andy, GM, Spencer and Helen
Amanda is the host
Use the Big Brother Live Feeds to FLASHBACK to SEE what they can't show you on TV: BB15 N!p Sl!ps / N*des