POV Holder:
Elissa
Next POV
Aug 24th
POV Used
Yes
POV Ceremony
Aug 26th
HOH Winner:
Aaryn
Next HOH:
Aug 22nd
Original Nominations:
Elissa and Helen
Current Nominations:
Helen and Spencer
Last Evicted Houseguest
David, Nick, Jeremy, Kaitlin, Howard, Candice, JUDD, Jessie
Have Nots (head cheese and habaneros)
GM, Amanda, Helen and Elissa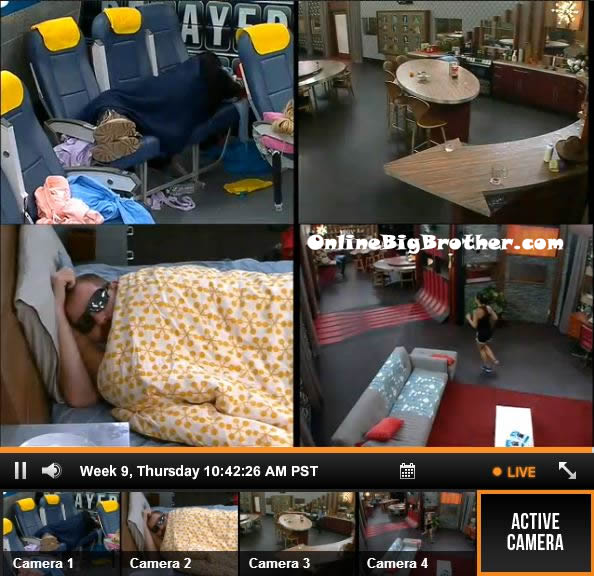 10am Big Brother wakes up the house guests. When the live feeds return – Helen, Ginamarie and Elissa are awake and getting ready for the day. Ginamarie was happy with the wake up songs and says that it was the best birthday ever! Helen starts her morning run inside the house. Elissa keeps getting in Helens path. Elissa says I'm your obstacle, jump over me! Elissa then joins Helen and they run together through the house. Amanda wakes up and heads to the bathroom. Elissa joins her and does some stretching. Elissa says I feel super good today, I am ready to see photos and a letter from my family! She asks Amanda how she is doing. Amanda says good. Elissa says I am so excited to sleep in a normal bed tonight. Amanda agrees and says she can't wait to take a warm shower.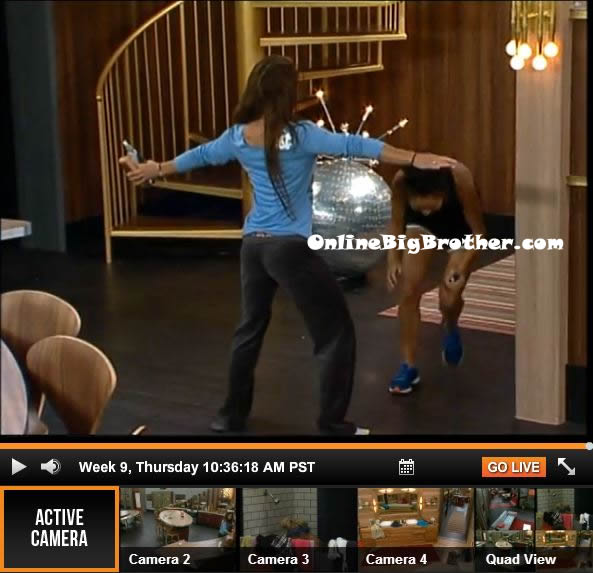 11:10am – 11:35am In the havenot room – Helen says if I was America I would want to give it to you Ginamarie. You are passionate and fun. The title and money would not change you unlike some people on this show. You are underestimated in this game and not seen as a threat. Ginamarie says can't say for Aaryn but I won't put her (Elissa) up. Helen says you and her (Elissa) should make a deal and not go after each other, there are bigger fish to fry. Helen says I was never going after Amanda, I've wanted Spencer out since the moving company. Helen says Amanda, McCrae and Spencer are like this! (Close together) Ginamarie says I've told Aaryn this too she just won't listen. Helen says you make a deal with Aaryn and Elissa and then one of them (Amanda/McCrae) will go. They are making you go against each other when you should be working together. Then you can make deals with Andy and Spencer. If I had won HOH, I would have put up Amanda and McCrae. I am the only one in this house that is brave enough to do that. I did it with Jeremy and I would do it with them. I didn't want to do it earlier in the game because it was too soon. Helen says she will tell Elissa to put McCrae and Amanda too if she wins. McCrae will win this game. I am praying for you, Elissa and Aaryn to win. Gina says she doesn't think Aaryn will do it. Helen says if she doesn't then she is working with them. Gina says why would I vote for you to leave when you aren't against me and not coming after me. Helen says exactly. Why would I go after her when she has done so much for me, I owed her. Helen explains her moves in the game until now. Helen says she knew she didn't have Andy when he wouldn't put up Amanda/McCrae. Helen says I am going to tell you something – Andy made a final two deal with me in the beginning of the game and what does that tell you when he is not voting to keep me in the game. He will try and make a final three with you girls but he won't keep it because he is with Amanda / McCrae. Amanda joins them. Helen asks if she want's to know anything before I leave. Amanda asks is there anything I should know? Helen explains why she wanted Jessie and Howard out of the game and then tells Amanda that they can talk privately later to talk more if she wants. They talk about the HOH lock down happening soon. Amanda heads up to the HOH room and gets into the bed to go to sleep.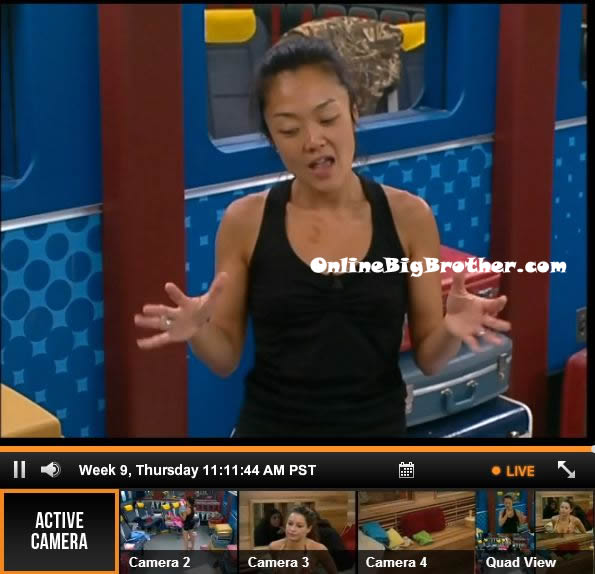 11:40am Big Brother calls Amanda to the diary room. Amanda asks why. Aaryn says probably for your Adderall medication. Amanda whines NO I DON'T WANNA TAKE IT YET!!!! Big Brother calls all the house guests up to the HOH room for the HOH lock down. The live feeds then switch to TRIVIA for the HOH lock down.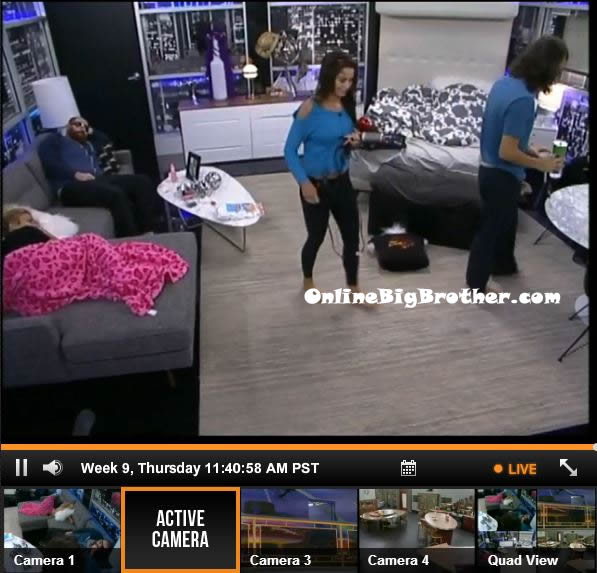 1pm The HOH lock down is over. All of the house guest leave the HOH room. Amanda and McCrae are the last ones to leave the HOH room. McCrae says I am sorry about Ginamarie but we have to play smarter not harder. They then both head downstairs. Meanwhile Aaryn is unpacking her things in the rainbow bedroom. In the kitchen Elissa calls Amanda "AMANder" Amanda says that's what my dad used to call me. Elissa says that's the twist I'm your dad! In the rainbow room – McCrae, Aaryn and Andy are talking. McCrae says that if Elissa did win HOH I don't think she would put Amanda and I up right away. Aaryn says that's a good thing. Andy and McCrae talk about how they really need to win it and make sure Elissa doesn't win it. McCrae thinks that Ginamarie's finger is going to come into play so she'll not last as long if it's endurance. Amanda joins them. She comments that she get weird vibes from Elissa sometimes she is nice and some times she isn't. Amanda and McCrae leave. Aaryn asks Andy should I be worried. Andy says no you have nothing to be worried about this week. Andy says that they switch between wanting to put up Ginamarie and Spencer but you know I don't want Ginamarie to go anywhere so I will try and make sure that doesn't happen. Andy and Aaryn leave the room.

1:15pm – 1:20pm Andy, Spencer, Amanda and McCrae are talking about selling their BB items on ebay. Amanda wonders if she could sell her bathing suit. McCrae says yeah there are probably some perverts out there that want it. Andy comments that he wonders if there are people that beat off to watching him sleep. Aaryn joins them. Amanda says I was thinking about how her and Aaryn were scissoring last night and how there is probably photos of it all over the internet. She says that people will google her name for real estate and it will come up. Amanda says I want to put in on my business card.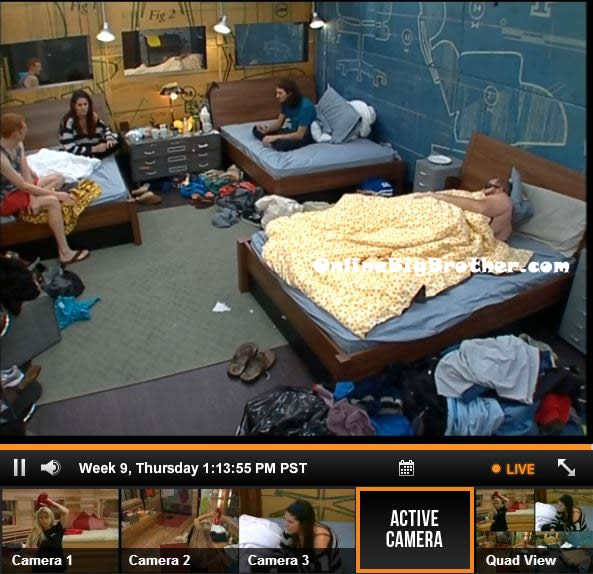 1:20pm – 1:35pm McCrae says Pandora's Box this week and Judd will be back. Andy says no, Candice will come back. McCrae says that would be awesome. Andy says it would be bullsh*t for someone to be able to come back after the last two critical weeks. Andy says he thinks were ever Ginamarie is Candice will be. Like if she wins HOH Candice will be in Pandora's Box and if she isn't HOH Candice will be down here. McCrae agrees. They discuss the type of clothes to wear for tonight competition just in case its a wet weather endurance competition. They tell Amanda she should wear her tanning bikini.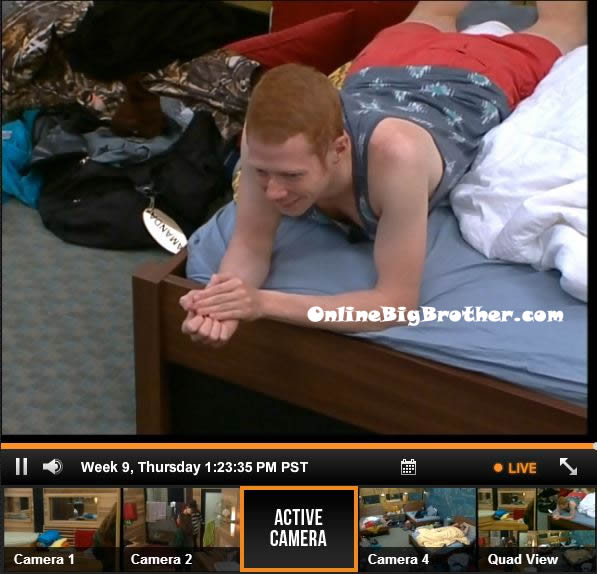 1:40pm The Super Friends Helen and Elissa talk in the bathroom about their business they will start when the show is over. Helen tells Elissa I think they knew you were going to be on the show so they cast me to be your friend. Elissa says yeah.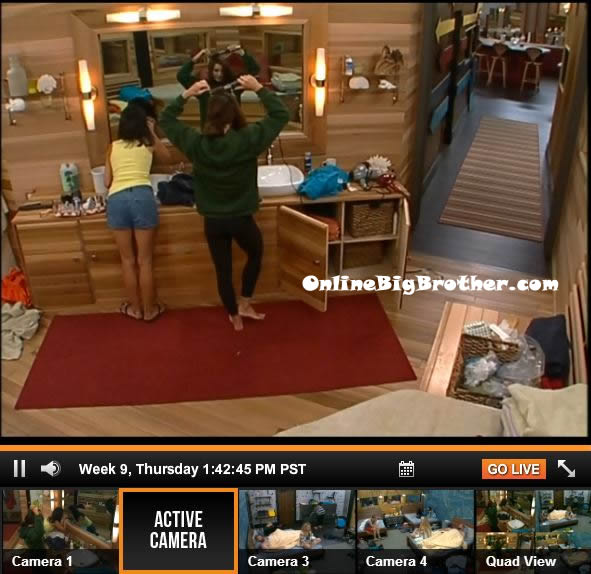 1:45pm – 1:50pm Aaryn says after this I am going to vacation with daddy war bucks! Andy says well he has to be white because daddy war bucks is not black. Aaryn and Spencer start talking about Eskimos and McCrae says that they are called Inuit, Eskimo is a racial term. Aaryn says that people need to stop being so sensitive and get a tampon shove it up their a$$es.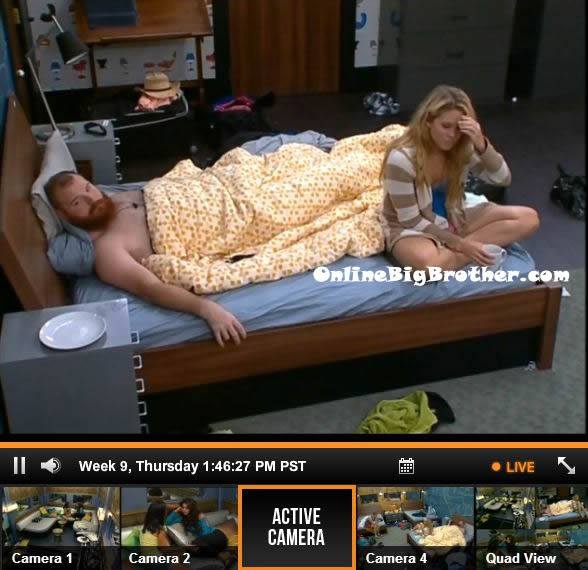 1:50pm – 1:55pm In the lounge room – Helen warns Elissa about how she can't trust Andy. She tells her that she made a final two deal with him and now he is voting me out. She tells Elissa she needs to win today and if McCrae wins she needs to kiss his a$$. Helen and Elissa head to the bathroom. Helen gives Elissa something and tells her to win tonight with it. America knows it's mine I've been wearing it to the diary room the last feek weeks. Ginamarie joins Helen and Elissa in the bathroom. Gina says I don't like how Spencer isn't even packing his sh*t. That is just rude! It's f**king disgusting! Helen tells Gina to come together with Elissa and to mend things between Elissa and Aaryn. I wish Aaryn could see that!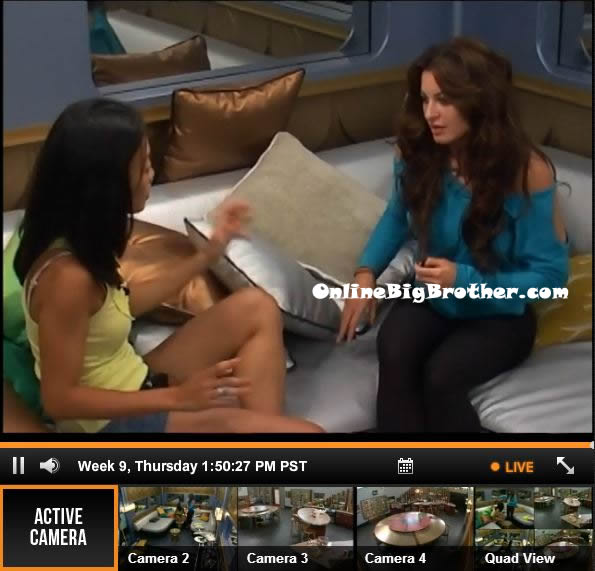 Use the Big Brother Live Feeds to FLASHBACK to SEE what they can't show you on TV:
[polldaddy poll=7329443]
Share it YO!!
Tweet