POV Holder:
Next POV
Aug 17th
POV Used
POV Ceremony
Aug 19th
HOH Winner:
Aaryn
Next HOH:
Aug 22nd
Original Nominations:
Elissa and Helen
Current Nominations:
Last Evicted Houseguest
David, Nick, Jeremy, Kaitlin, Howard, Candice, JUDD, Jessie
Have Nots (head cheese and habaneros)
GM, Amanda, Helen and Elissa
POWER OF VETO PLAYERS: Aaryn, Helen, Elissa, Andy, Spencer, Ginamarie
POV HOST: Amanda
11am – 11:20am Up in the HOH room – Aaryn says she doesn't want Andy to play in the veto because she is worried he will throw it. Amanda talks about how she is hosting. Andy joins them and talks about dropping. He says I don't want to win so I will drop first or last. Amanda tells him don't throw anything unless you know they are out of the competition. Andy says that Andy would be pissed if I took money instead of the veto. He says she said you are playing for $500,000 not $5000. Andy says damn it I thought I would get away without playing. Amanda says just try for it. Amanda says even if you win it you can say that Aaryn is a strong competitor and will come after me if I use it. She says that we'll tell her that Elissa would go home any ways. They talk about how production is still building the competition in the backyard. Andy says I knew she (Helen) was going to pick me. Amanda says that she knows Spencer is going to take all the punishments. Amanda says I will take slop for the rest of the summer. I would take a luxury though, I haven't won anything. Aaryn says my goal is to win 10 competitions this summer. Aaryn gets called to the diary room. Aaryn sings Adderall time, Adderal time.. America knows I'm a crack addict. Aaryn leaves. Andy complains that Ginamarie was asking how it feels to lie to Helen and go run and tell everyone. Amanda says well she (Helen) wouldn't be in this position if she didn't start turning on her alliance members. Andy says she is going to be pissed. They talk about what Andy can say and that he will probably lose Helen as a jury vote but that it's only one vote. Aaryn returns and tells Andy that he can tell her that she taught us to vote with the house so that's what you did. Spencer joins them and talks about he's ripped shorts. Amanda says that this is going to be the worst week if I even think about slop I am going to throw up! Andy agrees this is the worst week to be on slop with head cheese.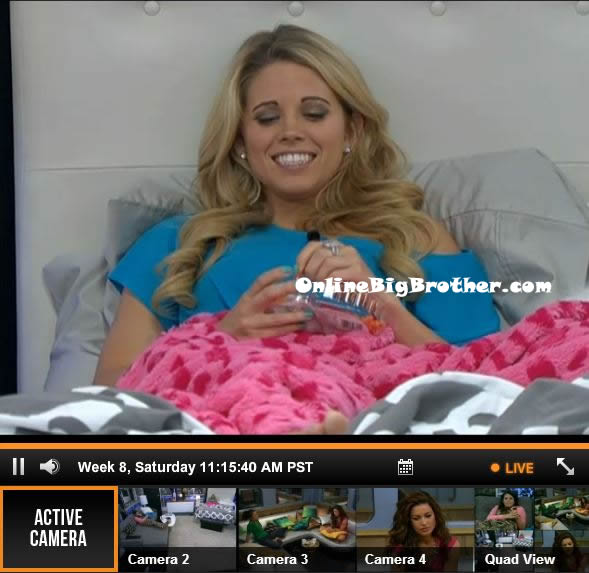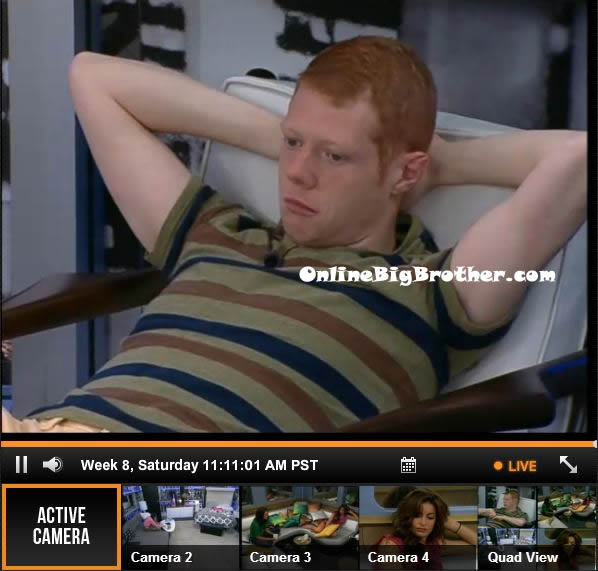 11:25am Spencer asks so now that I am up here with you guys, what is the plan if it's a luxury / punishment competition? Amanda says you are taking all the punishments. Andy says that he will take some too. Amanda tells Andy to take the money, you deserve it. She tells him to take some small punishments too, just to make it look like you tried. Amanda says that Ginamarie is going to punish it up too.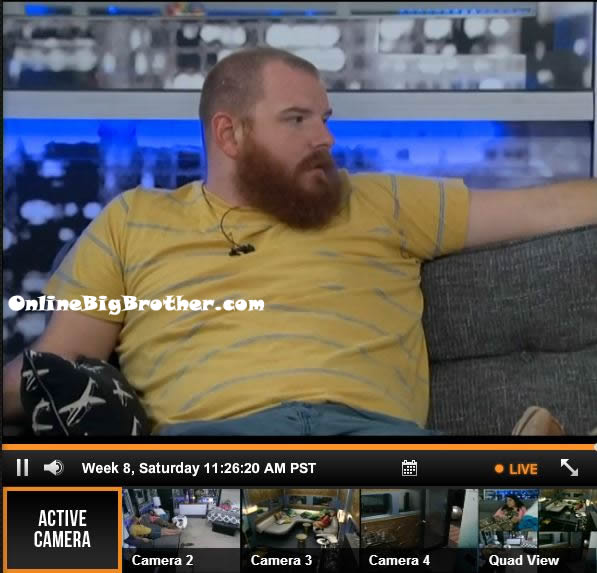 11:30am In the bedroom – Helen talks to McCrae who is just waking up that she is nervous. He tells her that she will do great. Helen says that she is going to try really hard to win it. Helen asks him to cheer her on. McCrae says he will. Helen heads into the lounge with Elissa and they start studying the events of the house.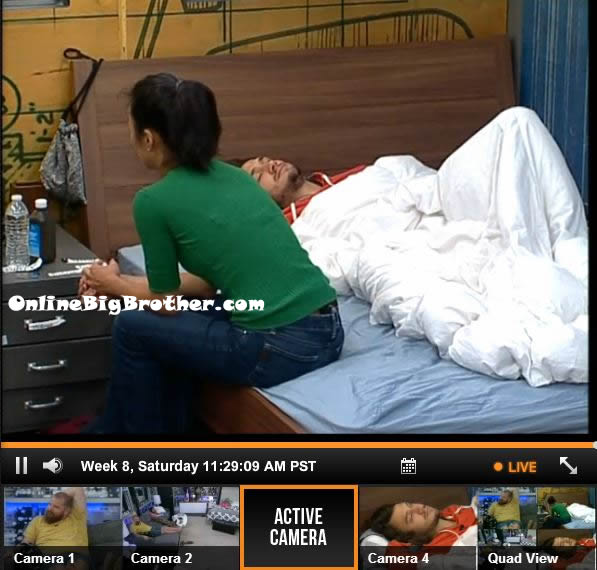 11:35am – 11:40am Amanda complains that she needs to eat something quick or she is going to throw up. She says that the slop muffins are f**king gross! She says Elissa make something good to eat b***h! Amanda says oh my vag!n@, I have swamp vag!n@ right now! I need to go eat something sloppy! Amanda leaves. Aaryn, Spencer and Andy talk about Jessie's attempt to terrorize the house before she left.
11:45am – 12:05pm Amanda tells Elissa in the kitchen that other people are saying that Spencer is the target he is going home no matter what. Amanda tells Elissa do not give her (Helen) the veto because you will go home if you do that. Elissa says I'm not going to do that. Amanda tells Elissa even if you stay up on the block with Helen you are safe, you aren't going anywhere. People want to break you and her up. Amanda says it would be better if you let someone else win. Elissa says that she doesn't think Andy would want to win it because he doesn't want to have to use it. Amanda says he won't use it. Amanda says yeah this is a sh*tty situation. Any couples together now people are going to be targeting. You and Helen are strong and have people that you are loyal to. Amanda says that people are now branching off on their own and they don't want you and Elissa together anymore. Amanda says I am not going to pu$$y foot around and tell you that Helen isn't the target. Maybe Spencer would be the target if it was Helen and Spencer on the block. The only potential way for both of you to stay is maybe if you win the veto, Spencer goes up and he might go home over her, maybe. Amanda tells Elissa I trust you more than Helen and would vote to keep you if it was between you and Helen. Swear on my life! That is why I want you to win the veto or for the nominations to stay the same because I know you are 100% safe if you are up there with her. I can convince Aaryn and Spencer to keep you. Amanda says she thought it was weird that you picked Andy instead of McCrae because he might have used it on you but Andy would probably use it on Helen. That puts you in a bad situation. Elissa says yup. Amanda tells Elissa that she has had her since the beginning and doesn't want her gone. Having you here helps my game and having Helen here helps other peoples games. If you were up against Spencer – he is someone that will go against Helen so I would keep him here because you won't go after Helen. Elissa is worried about not winning it and Helen winning it. Amanda tells Elissa that Helen has a 1 in 6 chance of winning the veto. Amanda says that there was truth in what Jessie said. Elissa doesn't think so because Jessie lied to her before. Amanda says most likely one of you are going and I would rather you stay.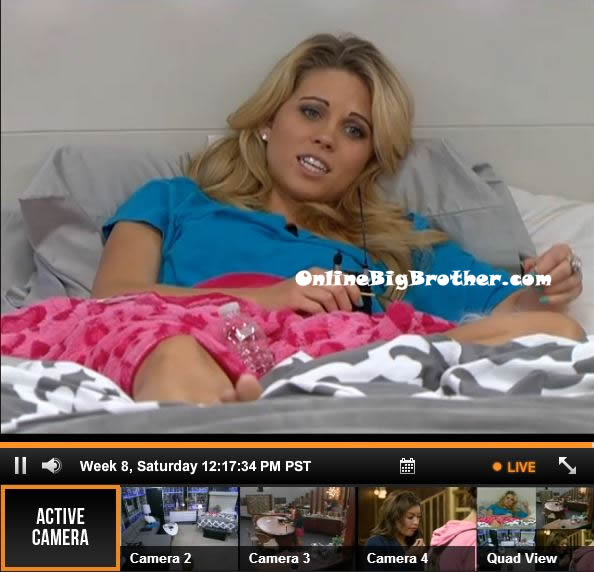 12:15pm – 12:30pm Up in the HOH room – Aaryn tells Andy that Aanda talks about not taking McCrae to the final two and I know its a lie. Andy says that he will go to Amanda and tell her that he will take her to the final two. Andy tells Aaryn but really I would take you. Aaryn says she has a feeling Andy and her are going to make it to final three. Aaryn brings up Helen's 3PM package alliance and Andy says that Helen tells me everything but never told me about that. He says that he has reasons to vote Helen out. They speculate on what might happen next week. Aaryn comments that we have them fooled, just look at how Elissa picked you for house guest choice to play in the veto. Spencer joins them. He comments that it will likely be another couple hours till the veto competition.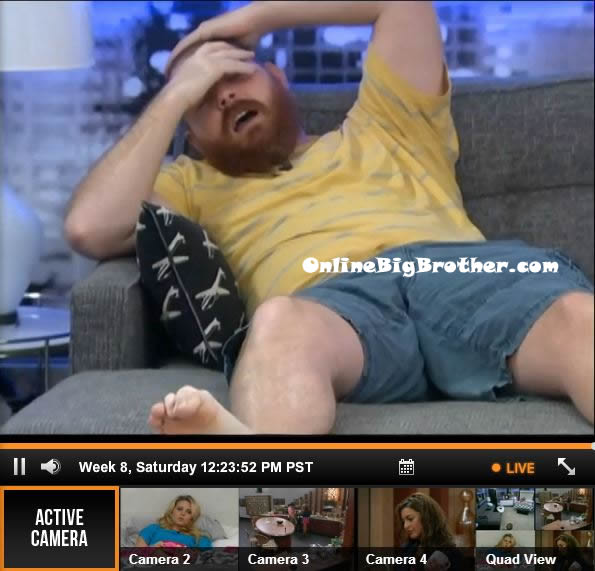 12:35pm – 12:40pm Aayrn talks about a cancerous mole she had on the back of her thigh. She describes how they had to try and remove it three times and now she has an indent. She shows Spencer and gets him to run his finger over it. The conversation turns to talking about wanting to win the veto. Spencer says he has to win it. Aaryn says if Me, Andy, Ginamarie or you win it the nominations will stay the same. The odd are in our favour.
Meanwhile, in the kitchen Amanda tells Andy about her conversation with Elissa. She says that told her that she need to win the veto and to not let Andy win it because there might be a possibility he could use it on Helen. Andy worries that Elissa will talk to Helen about what Amanda told her. Amanda says no she won't because I told her that I trust her and if she went back and told Helen – then I woudn't have her back any more. Andy says okay good.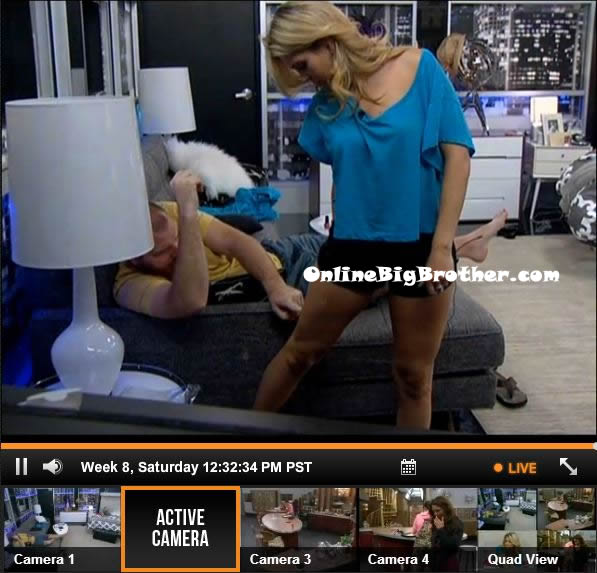 Use the Big Brother Live Feeds to FLASHBACK to SEE what they can't show you on TV: