POV Holder:
Elissa
Next POV
Aug 24th
POV Used
Yes
POV Ceremony
Aug 19th
HOH Winner:
Aaryn
Next HOH:
Aug 22nd
Original Nominations:
Elissa and Helen
Current Nominations:
Helen and Spencer
Last Evicted Houseguest
David, Nick, Jeremy, Kaitlin, Howard, Candice, JUDD, Jessie
Have Nots (head cheese and habaneros)
GM, Amanda, Helen and Elissa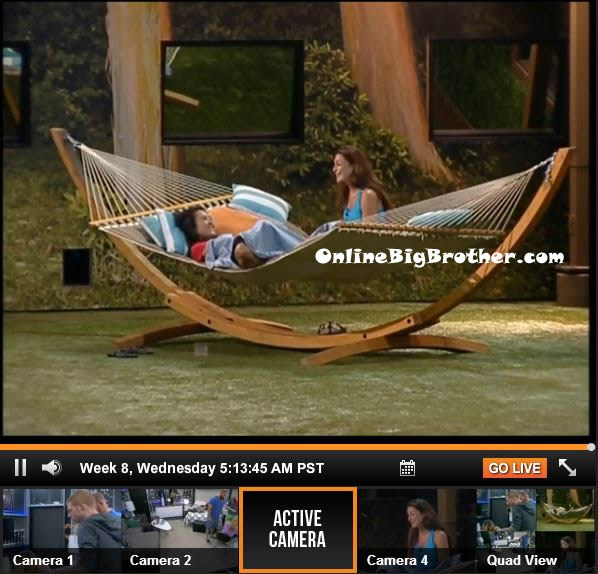 12:15am In the backyard Laying on the hammock are Helen and Elissa. Helen asks Elissa who she thinks would win America's Favourite. Elissa says I don't know. Helen says if you are in jury they would vote for you to get it. Elissa says I would have to thank Brenchel Army because they're the ones that kept me here. Helen says I think if you didn't get it, it would be Ginamarie. I would vote for her if I was watching. Elissa says I don't think so, I think you or Judd would get it. Helen says I don't think I would get it, I am too boring in the diary room. Elissa says I am boring too. Helen and Elissa head inside.

Up in the HOH room – Aaryn, Andy, Spencer and McCrae are in the HOH room hanging out and talking about random things. They talk about all going to Vegas together after the show is over. McCrae asks isn't Vegas a dry state? Andy asks if he means Nevada? The others are confused and then McCrae asks isn't Nevada a dry state? Spencer says he doesn't know. Ginamarie thinks he means dry weather wise. McCrae says no if you are caught with drugs you go straight to prison immediately. McCrae says that's one thing I would worry about. Spencer says well you know my rule never carry any more drugs than what you're willing to shove up your butt hole. McCrae says yeah exactly. Ginamarie says yeah that's true. McCrae says that you're willing to eat. McCrae says that he has so much garbage in his car and says that his theory is that if I was transporting drugs .. which I never do .. I could roll it up in a McDonald's bag and jam it down to the bottom of all the garbage because no cop is going to dig through all of that to find it. Aaryn says well everyone knows now. They talk about how they might not have the money to go to Vegas unless they get their stipend. Aaryn asks Spencer what would you have done if Kaitlin wanted to jump your bones. Spencer says I would have rejected it. McCrae says and you did a couple times. Spencer says I know, I saw her left tit one time. McCrae says I walked in on your one time and you were like no way. Andy says I've seen Ginamarie's, Amanda and Jessie's boobs. Aaryn asks have you seen mine? Andy says no. Andy says oh and I saw Helen's once too! She was in a bed next to me changing and I looked over and saw nipple.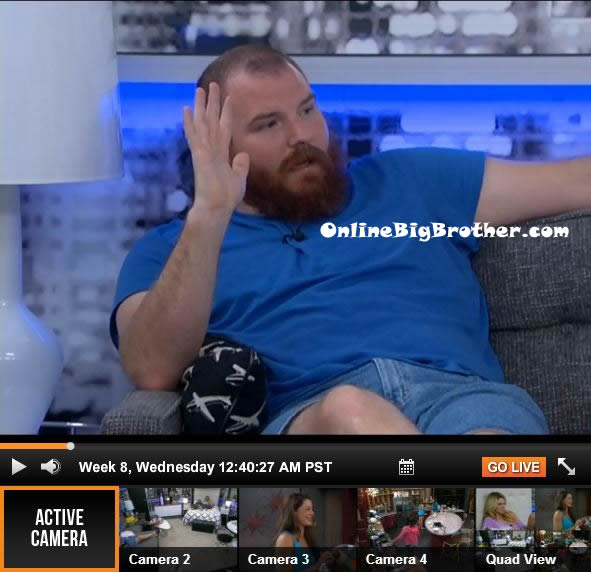 12:40am The cameras switch to Amanda and Elissa putting fruit in Andy's pillow as a prank. Elissa laughs at how Andy wears glasses and says he's such a nerd. They try on his glasses and Elissa says oh my god he is legally blind. They laugh and leave the room.

1am – 1:40am The camera switch back to the HOH room. They're talking about Jeremy. Aaryn says that there is someone about him that is hot. She then says it doesn't matter because Frank Eudy (bb14) is my soul mate. Amanda joins them. They talk about Jeremy coming back. Aaryn says you don't think the internet would be in an uproar if Candice came back. Andy says it's more likely that someone would come back from jury. The conversation turns to talking about who was hotter Nick, Jeremy, David. Ginamarie won't back down off thinking Nick was hottest. Helen asks Andy if Nick was gay would you have hit on him. Ginamarie says stop with the Nick is gay! Helen says I'm not saying he is, just asking if Andy would hit on him. Andy says I would have hit on David and Nick. They continue to talk about random things.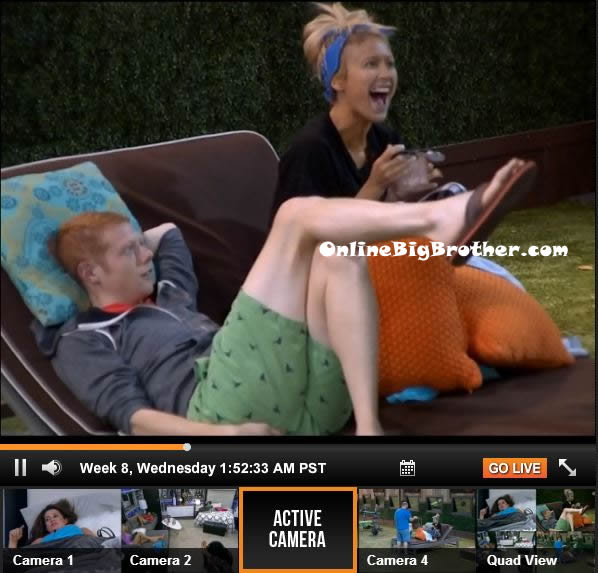 1:50am Out in the backyard – Andy, Ginamarie and Spencer talk. Andy says he is annoyed that people keep saying they couldn't beat me in the final two. I just don't want people to actually think they can't beat me. I don't want to be taken out next week because of it. The conversation turns to talking about competitions. Spencer says its sucks being a guy because in that OTEV competition we couldn't shove Elissa's face into the mud. They talk about how up in the HOH room Amanda and Elissa are talking about money. Spencer says that Amanda talked about a family friend that takes a family vacation using a private jet that costs $50,000. He says that Elissa was telling her they should just buy it, it would be cheaper. Spencer heads back inside. Ginamarie asks Andy are we still voting out Helen? Andy says yes. Andy says that Helen being here, she makes Elissa stronger. My head is telling me it's the right decision and my heart is telling me its not. But for my game she has to go. I am going to tell her Thursday she is going. We just can't let Elissa win HOH. Ginamarie says I've got you and Aaryn's back. Gina is worried that if McCrae wins Amanda is going to take all his money. Andy says we have to get Elissa out next week. Gina agrees. Andy says if you had HOH and Elissa won veto who would you put up? Gina says I don't know maybe Spencer but if Amanda got to cocky or started fights with Aaryn then maybe I would have to get her out. Andy and Ginamarie head back inside to go join the other in the HOH room. They talk about renovating houses and travelling. Amanda says my question is if I murder a house guest can I use their meat and eat it? Elissa says EWWW! Elissa leaves. Amanda comments that Elissa's husband is rich as F**K! Like RICH AS F**K! Big Brother cuts the feeds and then when they return all four cameras are on Elissa in the bathroom.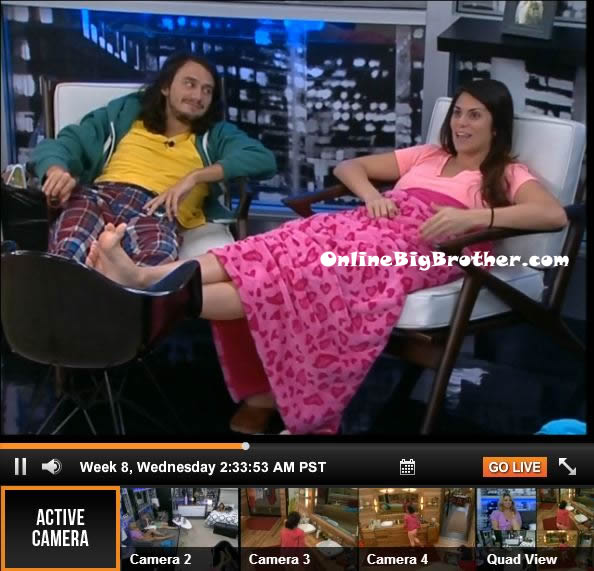 3am Out in the backyard – Amanda and Andy talk about if there is anything new. Andy says that he will tell Helen she is going on Thursday. Amanda says I think she knows she is going. Amanda says poopy (Aaryn) was acting like a psychopath this morning. She pokes at me when she is drunk too trying to instigate things. They talk about taking out Ginamarie. They will take out Elissa next and probably Ginamarie after that. Ginamarie joins them. They wonder if tomorrow there might be a Pandora's box where Judd or Candice come back into the house. Amanda says that would be so annoying. Gina says we just wont talk to them. McCrae says it's annoying because these are crucial weeks. Amanda asks if we could vote someone back in who would it be. Andy says I know you are going to hate this Gina but Candice. Gina says no why?! Andy says because she is so weak we could easily get her out. If Judd came back it would be so dangerous. Amanda says but if Candice was so easy to get out everyone might be like we could get her out any week and then she would stay. Gina says f**king hoe!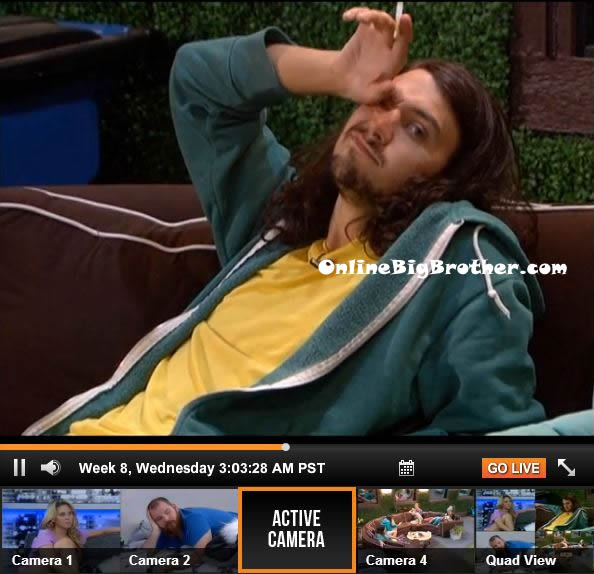 3:20am Up in the HOH room – Aaryn and Spencer are talking. Aaryn says that it's better for our game to have Elissa at the end because anyone could beat her. Spencer says for personal reasons I don't what her at the end. They talk about how they could beat McCrae at the end because he's done nothing but that Amanda would win because she's been the one making all the moves. Aaryn asks who is going to make the move though. Aaryn says maybe Ginamarie. She says she thinks she could get her to do it. They talk about waiting till they find out who wins HOH first. Aaryn says if you are ever on the block at the end I would keep you over Amanda, McCrae and Andy. The only person I would keep over you is Ginamarie. For us to go far we need balls and I have balls to do sh*t. Aaryn says Amanda and McCrae would only want to keep me if they thought they could beat me but with my wins its getting harder and harder. Spencer says with your wins and what it took for you to get here you would win in the end.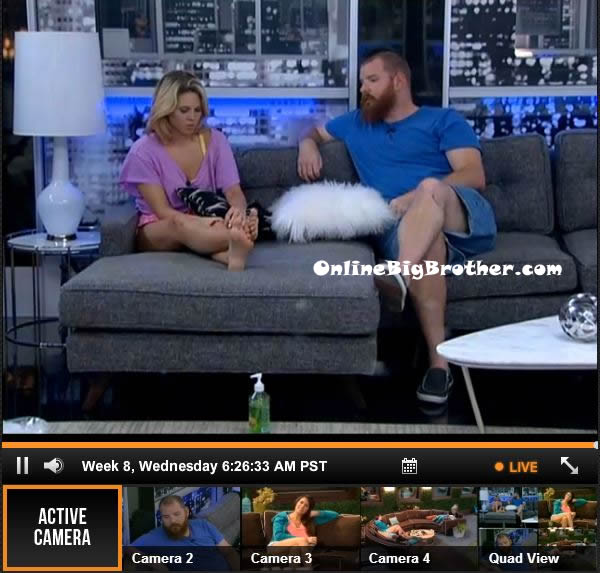 3:30am Andy and Spencer are in the rainbow room talking. Andy says I feel like McCrae is trustworthy. Spencer says Aaryn wants Amanda out bad. If Ginamarie wins HOH she is going to try and get her to get Amanda out. Andy says that's fine as long as it's not us. Let Amanda keep pissing of Aaryn. They will keep being the targets. Spencer agrees. He says that Aaryn is trying to make a deal with me, her and Gina. She just isn't sure about where you stand. So you need to do some more trust building. We can wait till after the HOH to see if we have to make that deal. Spencer says I'm loyal to you number one and McCrae as the third. Spencer says that Gina wont put Andy up if she wins HOH.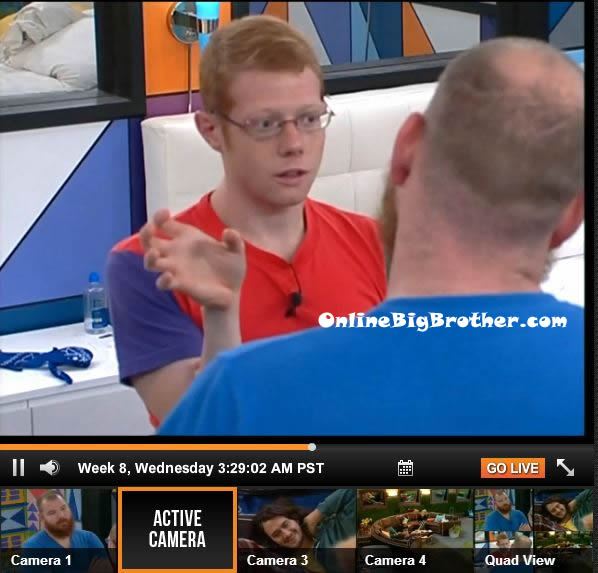 3:30am Andy finds the fruit Elissa and Amanda put in his pillow. He says damn it! He digs it all out and puts it on the floor.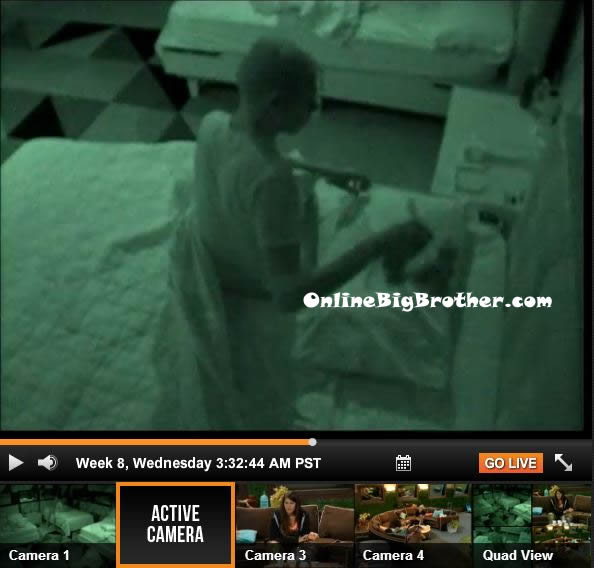 3:40am Out in the backyard – Amanda and McCrae alone. McCrae says that Andy is acting weird, he doesn't talk to me as much. Amanda says she thinks everything is fine. McCrae says that if he wins HOH he would probably put up Spencer and Ginamarie with a plan to back door Elissa or Aaryn. McCrae says that Spencer is dangerous but would be more loyal if Aaryn is gone. Amanda says if I put up Aaryn, I will lose Ginamarie. Amanda says it would be best if Spencer won HOH so that he could take out Aaryn. McCrae says he thinks Spencer will throw this next HOH. Amanda thinks they really need to break up Aaryn and Ginamarie. Amanda says that she doesn't like that Aaryn questions Andy and thinks she is trying to turn Amanda against him. Amanda says it has always been you and me 2AM (Amanda & McCrae). McCrae agrees.
4am – 4:20am In the bedroom Spencer and McCrae are talking alone. McCrae says that he is going to keep close to Elissa and try and talk game with her. McCrae says it would be really nice if you won HOH. Spencer says that would be awesome. McCrae says that Aaryn scares him but says that he hopes if Elissa won HOH she would go after Aaryn and Ginamarie. McCrae says that he wants to go to final two with Spencer. Spencer says I am down with that. McCrae says that he doesn't how far Amanda will go. McCrae says he needs to keep her here as long as possible. McCrae says that he trusts Andy but doesn't know if he would pick Amanda or him for the final two. Spencer says he thinks only Aaryn could beat Amanda in the end. McCrae says me, you, Amanda and Andy are solid. McCrae says that he is scared if Ginamarie were to wins HOH because he doesn't know what she would do. Spencer says Ginamarie would probably put up Elissa. Spencer tells McCrae that Ginamarie "has a bug up her a$$ about ya'll relationship (Amanda & McCrae). Spencer says that she likes you but hates Amanda. McCrae and Spencer talk about needing to break up Aaryn and Ginamarie. McCrae asks Spencer who he would put up if he won. Spencer says I would put up Elissa and Ginamarie with Aaryn as the replacement. They agree that it wouldn't be a bad thing if Elissa won HOH because they think she would put up Ginamarie and Aaryn. Spencer says if Elissa won HOH she would probably try and put me up because she's an idiot. Spencer says Elissa is a robot, we call her the Terminator because you can't f**king reason with her. McCrae agrees and says the more you try and reason with her the more she thinks your against her. They talk about if its an endurance. Spencer says I am too damn heavy to hold myself up but you have freak strength. Spencer says if I am up next to Elissa I will grunt and spit a bunch because that sh*t will drive her crazy. McCrae says I need to start winning now. Spencer agrees. McCrae and Spencer go to sleep.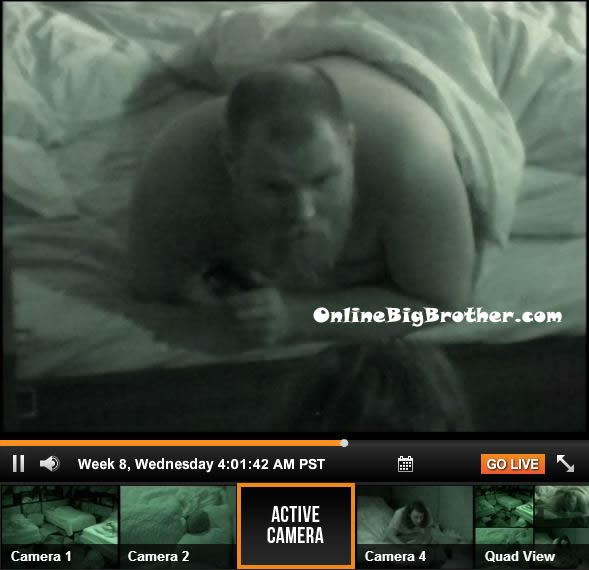 7:20am All the house guests are still asleep..
9:30am – 10am Big Brother wakes up the house guests. When the live feeds return – Helen is awake in the bathroom doing her make up. All the other house guests are still sleeping.
10am – 11am In the bathroom – Helen and Elissa complain about how horrible it is to sleep on the airplane seats. Elissa heads into the diary room and Helen starts running inside the house from the bathroom to the living room. All the other house guests are still sleeping.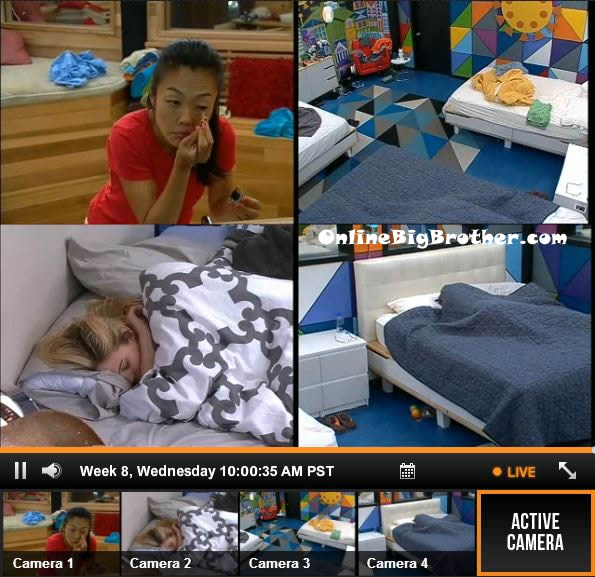 Use the Big Brother Live Feeds to FLASHBACK to SEE what they can't show you on TV:
[polldaddy poll=7329443]