POV Holder:
Elissa
Next POV
Aug 24th
POV Used
YES
POV Ceremony
Aug 26th
HOH Winner:
Aaryn
Next HOH:
Aug 22nd
Original Nominations:
Elissa and Helen
Current Nominations:
Helen and Spencer
Last Evicted Houseguest
David, Nick, Jeremy, Kaitlin, Howard, Candice, JUDD, Jessie
Have Nots (head cheese and habaneros)
GM, Amanda, Helen and Elissa
7:55pm HOH Everyone but Helen and Elissa
S$x talk…. you gotta flashback to get it all.. very graphic
Andy is gay and his last boyfriend had a magnum sized _______
"During Or@l a well placed f!nger in a b***h**** can make a person c** much faster" -Andy
"Two in the pink one in the stink" -Amanda/GM
Amanda has done a lot of different things in bed pretty much everything you can think of.
Aaryn has never been with a girl doesn't want to try @nal
GM punched a guy once when she was having s$x
Amanda/Gm like to be choked a little bit
Spencer loves Marilyn
You can re-watch ever second on the feeds using the flashback feature.. It's just like a DVR and is super easy to use. click this link for a Free Trial —> Subscribe to the Big Brother Live Feeds
7:55pm Elissa and Helen Kitchen making slop food
Elissa: "The Vetos are harder than HOH's"
Helen: "you are right.. the Vetos are mental and physical whereas the HOH's are just mental.. I get straight A's it's weird I don't do better'
Helen saying she wishes the show would be filled with people that are 30 and up she thinks the conversations will be much more interesting.
Elissa: "This seems like a young cast"
8:30pm HOH Spencer, MC, Andy and Helen
Talking about Adam from Big Brother 13, Helen asks if he looks like Specner.
Spencer says he looks nothing nothing like Adam.
Helen:' I haven't met anyone that looks like you.. I have only seen a half dozen people in my life with a beard like you"
Andy asks her is she's seen Rudolph with Yukon Cornelius
McCrae says Adam was funny on the feeds he had to dress up as a elf for a week.
Aaryn comes up says shes making them chicken and mash potatoes
Specner: "Hey Aaryn.. you're wifey material"
Aaryn: 'Thanks Howard"
8:47pm HOH Helen, Andy, McCrae and Spencer
Talking about the new arrested development episodes. McCrae thought they were good he thinks they'll get better as the season progresses. Andy says his friends had mixed reactions towards it.
8:50pm Gm and Aaryn
GM checking out Nicks, Aaryn and her own memory wall images.
Aaryn: "Holy sh!t balls America I just made gravy"

Helen joins them in the kitchen. Aaryn making mashed potatoes GM is helping her out. Aaryn: "How many blondes does it take to make mash potatoes" Helen tells them mashed potatoes is really hard to make in the house. (Very little talking going on)
9:07pm HOH Spencer, Andy and McCrae
Andy says he gotten along with Helen since week one they had a good connection. She's more conservative than him but they both enjoy each others company.
Andy:" It's weird Helen is this strange mixture of a very cut throat person that does what it takes to succeed.. but she's also goofy.. You know what I'm saying"
Spencer: " Goofy sweet"
McCrae and Spencer agree they can see people in Helen's office hating her. MC adds that people probably don't mind because at the end of the day the job gets done.
Andy:' I'm very conflicted on how she is being portrayed on this show"
Spencer:' me to"
Spencer: "I think it's what we see.. She's sweet and caring but sometimes her tactics are way off base"
Andy and MC agree.
Spencer: "You know" (lol spencer is doing it now)
MC mentions how early in the season people were saying that Helen is from virginia she could be a CIA agent, "That freaked me the f*** out"
Andy: "There's no other way" McCrea agrees now but at the beginning they didn't know.
Spencer: "She doesn't do what she says she does.. I think she's talking about a previous job when she's talking about her employer"
Andy: "She's a lobbyist"
Spencer:' I heard she works for the oil and gas companies"
Andy tells them that Helen has been downplaying her job with everyone in the house. Andy:" She was a very active lobbyist"
Spencer: "She's is savvy… Dude"
MC: "Really thats awesome"
They head downstairs to eat dinner.
9:30pm Backyard Elissa and Helen
Helen says Andy is kinda with everyone in the house but his loyally is with Amanda.
Helen: "You know.. Amanda and Aaryn kiss each others butt you know.. I don't think they will ever get rid of each other.. you know"
Elissa: "Maybe not.. and that means Aaryn had a really lucky game"
Helen: "that means you gotta do it you know"
Elissa: "All the HOH's she won.. she was the last player and that song played for 15 seconds"
Helen: "I don't know why no one picker early you know.. because they are protecting her"
Elissa: "Another skank player"
Elissa says if Candice had to choose between Aaryn and Amanda she will resign from jury as well.
Helen: "I think she will cry"
Elissa: 'What was JUDD's strategy.. I like JUDD"
Helen: "JUDD probably hates me but we're going to have a couple beers and get to the bottom of what he was doing"
Elissa: 'I loved JUDD it was you, Aaryn and Amanda"
Helen: "It was us.. JUDD didn't want us in jury"
Elissa: "I think he wanted one of us out so we're not together.." Elissa blames Amanda for telling JUDD to target Helen/Elissa.
Elissa about Aaryn "She's such a liar don't you think "
H: "I won't call anyone a liar in this game you have to lie"
E: "She's inconsistent"
H: "yes I'll say she's inconsistent"
E: 'Un-reliable.. someone you don't want in your alliance"
H: "there was some things she's done that has worked out.. all together she's not my lieutenant she is going to do what's best for her game"
Elissa thinks the jury is going to be super biter she says if she was in the jury she would never vote for Aaryn to win the game.
They go through all the jury members and come to the conclusion that Aaryn will not win against McCrae and Amanda.
Elissa: "She's not going to win period"
Helen: "Unless she's up there with Ginamarie.. "
Elissa: "She's won two HOH's out of pure luck"
Helen: "She taking me out of the game I'm a HUGE person to take out of this game"
Elissa: "She didn't put us up under her own mind she's putting us up because of Amanda"
Elissa asks her if she would vote for Aaryn to win. Helen says it depends on how her game plays out. Helen thinks if Aaryn takes out her, Elissa and McCrae she might get her vote.
Helen says she has 36 hours to decide what to do to be safe in the Big Brother house.. Everything she is coming up with isn't sticking.
Helen points out that Spencer has gotten really close to Andy and McCrae, they will side with him over some of the girls. helen thinks Spencer is on the verge of winning the hOH.
Elissa: "Aaryn wasn't a decent human being until we found out there was a jury house.. she wakes up every morning san say to herself just be fake for 4 more weeks.. She's been awful to everyone in this house except for her little mean group"
Helen says she is going to get drunk if she gets evicted.. Helen: "How can I get Amanda to get pissed off at Spencer.. I get pissed off at Spencer all the time because of all the things he says is crude"
Elissa say Aaryn says the worst things in the house followed by Ginamarie then Spencer, "He's not very PC"
Helen:" NO spencer is worse.. Oh my god his mouth is so dirty.. he's a judge's son he should not be speaking like that.. and at the same time he amuses me"
10:00pm Bedroom MC, Elissa and Amanda
Amanda says she doesn't have a yeast infection in the form of a song.
With Helen leaving the house Amanda claims Elissa as hers #BB15 pic.twitter.com/nXXGXNb0AV

— OnlineBigBrother.com (@bigbspoilers) August 21, 2013
10:40pm Helen and GM are alone in the hot tub. Helen trying to get GM's vote on Thursday GM is trying to get Helen's jury vote.
Lot's of chit chat going on. They get 6 Beers .
10:46pm HOH Andy and Aaryn
Andy telling telling her Amanda and McCrae are 100% behind the moving company they have not told him anything to make him think they want her out.
Spencer joins them.
They talk about how scary the game is getting. Aaryn complains about Amanda talking to Elissa.
Spencer: "I'm at the point where I have to win Veto every week to stay"
Aaryn says she wanted Elissa gone this week and Amanda wanted Helen gone
Spencer:' To me one is as good as the other.. they both are coming after me"
Aaryn getting upset about the possibility of losing GM next week. Spencer mentions he lost Howard. Andy says he's losing Helen this week. He Explains that he knows Helen would have not come after him but on the flip side Helen is going after the people he thinks have a better chance of getting him further in the game.
Aaryn: "I wouldn't be upset if us four made it far (Spencer, Andy, Aaryn and GM) .. I love Amanda and McCrae but I'm also worried about them moving forward" Andy and Spencer agree. Spencer says historically showmances
Spencer: "I know if i'm back on the block i'm not the pawn.. this is my last week as a pawn"
Spencer: "People don't talk sh!t to me past Elissa.. "
Aaryn brings up that once Elissa is gone they will be the targets, "I don't know I guess we have to take it one week at a time"
11:11pm HOH Spencer, Andy and Aaryn
Aaryn says what is pissed her off more than anything is Elissa comes to her and GM and says she wants to work with them to get out Andy, Spencer, Amanda. Now Elissa is going to Amanda and trying to get them to turn on her.
Andy: "The thought of her winning HOH makes me want to die"
Andy says the last time he was this worried about going into a HOH was the before Aaryn first HOH win.
Aaryn tells them that Amanda tells everyone the exact same thing and when the people are in power she becomes their bestie. Aaryn warns Spencer if he wins HOH Amanda will be up in the HOH 24/7.
Andy: "It's getting real"
Specner goes into the HOH bathroom
Aaryn asks Andy if he's thinking about throwing. Andy says hell no. They both hope GM wins the HOH but Andy says he would never throw it.
Aaryn: "once Helen leaves.. me you GM and McCrae are the only ones t
Aaryn: "Do you think McCrae is coming after me.. do you think if I am up he'll vote me out"
Andy: "No"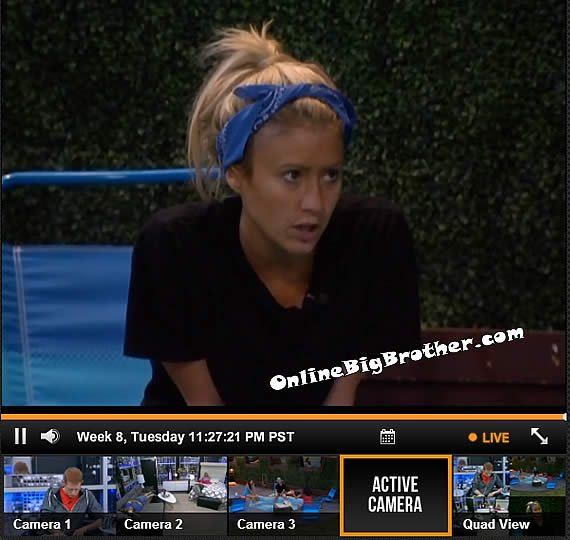 11:20pm hot tub Helen, Elissa and GM
Helen and Elissa are back on the lets go after Amanda and McCrae angle.
Helen is telling them they have to tell Andy if he doesn't vote Specner out this week then when Elissa wins HOH she will put him up. Elissa agrees says that is what she'll tell him.
Helen thinks GM should go Andy and tell him all these people will put him up next week if he doesn't vote to Keep Helen.
Gm plays along says she'll talk to Aaryn, GM says She likes Helen as a game player and a lady.
Helen: "if you guys threaten tell him he's going on the block if he goes against me that will scare him"
Helen:" Why does he want to hang out with people that have only won one competition" (Psst Helen stop talking)
GM: "Ladies you are always cool in my book I'll talk to her… I'm not a manipulator .. Goodnight i'll see ya"
Helen: "Love you GM"
Gm leaves
Elissa:' We just have to do what it takes to get you to stay.. I think GM realizes"
Helen agrees, "GM knows GM knows.. you know.. .
Elissa:' Aaryn needs to know if you stay I'm cool with them but if you leave I'm putting Aaryn and Amanda up"
Helen:" Tomorrow it's going to have to be guns blazing"
Hleen:' How do we get Andy and Amanda to fight.. "
Helen:' He's so up her but.. you know.. McCrae, Andy and Spencer are super close"
Elissa: "They are working together.. why are girls so stupid.. they are so stupid it's embarrassing.. it's so embarrassing"
Helen:' Yup"
Helen:'Aaryn's biggest regret will be getting me out of the game"
11:50pm HOH Andy, Gm, Spencer and Aaryn
Andy says they had a very weird conversation with Elissa on the livign room couch.
Andy explains that Elissa got really mad at Specner for saying her son danced, "do not say things about my son that are not true"
Spencer: "She said he sang…"
Aaryn: "How mad"
Spencer: "Elissa mad creepy mad.. "
Aaryn:' Reenact it"
Spencer: "uhh Spencer I did not say my son dance stop putting words in his mouth"
Spencer points out that 5 minutes after Elissa was saying her son has the cutest little dance to a song.
Spencer:" So you son does dance"
Andy: "It's bizarre.. I don't seem like I can have a conversation in this house with her that is real"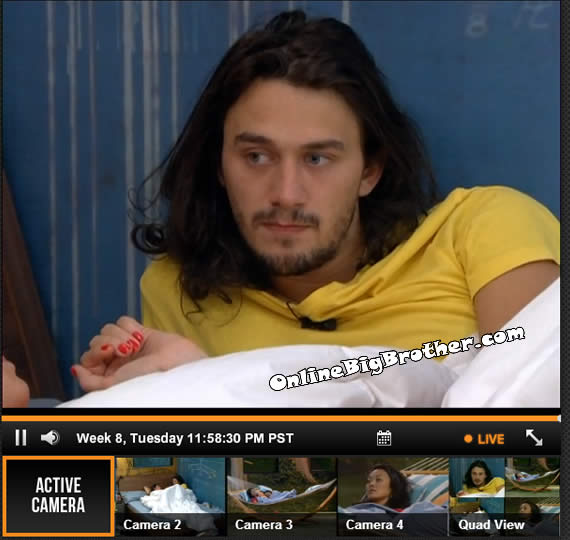 11:59pm Bedroom McCrae and Amanda
MC says if Amanda goes out he's going to go with Spencer to the end. He thinks Andy is a much harder sell
Amanda: "Lets stick to the four for now"
MC: "Yes.. but we need to worry about Aaryn.. Aaryn scares me.. if she keeps going rogue… what the f*** is wrong with her"
Amanda:' We have to break up Gm and Aaryn"
MC": Ya"
Amanda: "We don't want Gm to win either"
MC: "No not at all"
Amanda says she will stick with the "mom squad" and McCrae should hang with the "Cool Kids"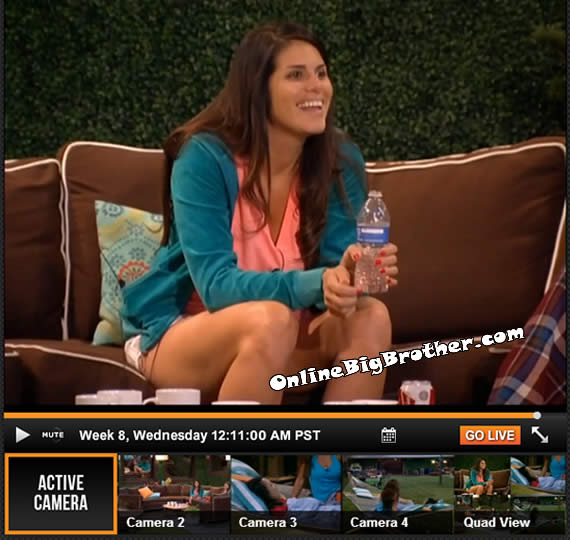 12:11AM backyard all cams. mom squad and MC/Amanda
Amanda being extra nice to the mom squad.
[polldaddy poll=7329443]